La-Z-Boy Paxton Sectional: An In-Depth Review
June 2, 2021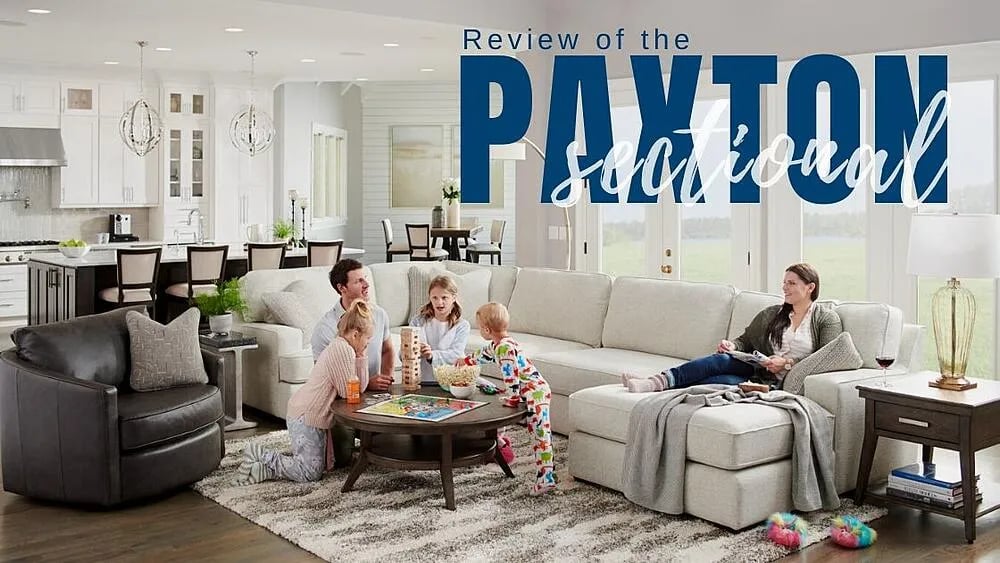 Are you looking for a sectional that calls out for you to sink in and get cozy? Do you want flexible seating options, ideal for entertaining guests or family TV viewing? You may not need to look any further than the Paxton sectional!
The Paxton Sectional has been a popular ask for many La-Z-Boy customers. Since it's debut in early 2020, the Paxton has gained notoriety as one of our best selling sectionals, as well as appearing in not one, not two but the last three CHEO Dream Homes.
Michelle MacLellan, the interior designer at La-Z-Boy Hunt Club, has worked closely with the Paxton many times. "The Paxton is actually one of my favourite sectionals on the showroom floor," She enthusiastically shares.
Although this is great to hear, how did it gain so much popularity? In this review, you will learn everything you need to know about the Paxton Sectional, including its unique features, customer reviews, and if this sectional is right for you!
Options & Upgrades
At La-Z-Boy, everything is customizable, including the Paxton Sectional. Take some time to investigate your options so that your new sectional doesn't just suit your home; it suits your way of living. You can make the sectional uniquely yours by customizing the fabric, seat cushions, wood finish, contrasting trims, and accent pillows.
Fabric Options
La-Z-Boy has over 800 fabrics and leathers to choose from, making the experience of personalizing your furniture seemingly endless. It is important to note that the Paxton only comes in fabric and not leather.
Michelle reveals that the Paxton comes in 8 different select fabric options. Select fabrics are chosen to compliment Paxton's specific furniture frame. In turn, these fabric options do not increase the base price of your Paxton.
Should you choose to purchase any fabric that is not included as a select cover, you will be subjected to an additional fee.
Please note that this article's leather or fabric options may be discontinued or unavailable without prior notice. We recommend contacting your local Ottawa or Kingston La-Z-Boy store by phone or in-person to confirm availability. We apologize for any inconvenience caused by any changes to our upholstery selection.
In addition to the cover options mentioned above, the Paxton is offered in specialty fabrics that offer unique features and benefits …
Stain Resistant
Innovative iClean technology surrounds each fabric fibre, creating a barrier that repels spills before they turn into stains.
Tested to simulate the scratches and wear that pets can cause, fabrics identified as pet-friendly are durable and easily washable.
Antimicrobial properties surround each fibre to protect against mould, mildew, and odour-causing bacteria.
Performance
Superior stain and fade resistance properties make these fabrics easy to clean and incredibly durable.
Eco-Friendly
Conserve Sustainable Fabrics are soft, durable, and made from recycled water bottles. We use as many as 110 recycled water bottles to create a sectional with this eco-friendly material.
Restore by Nanobionic® features a mineral-based fabric coating that transforms natural body heat into energy using infrared technology.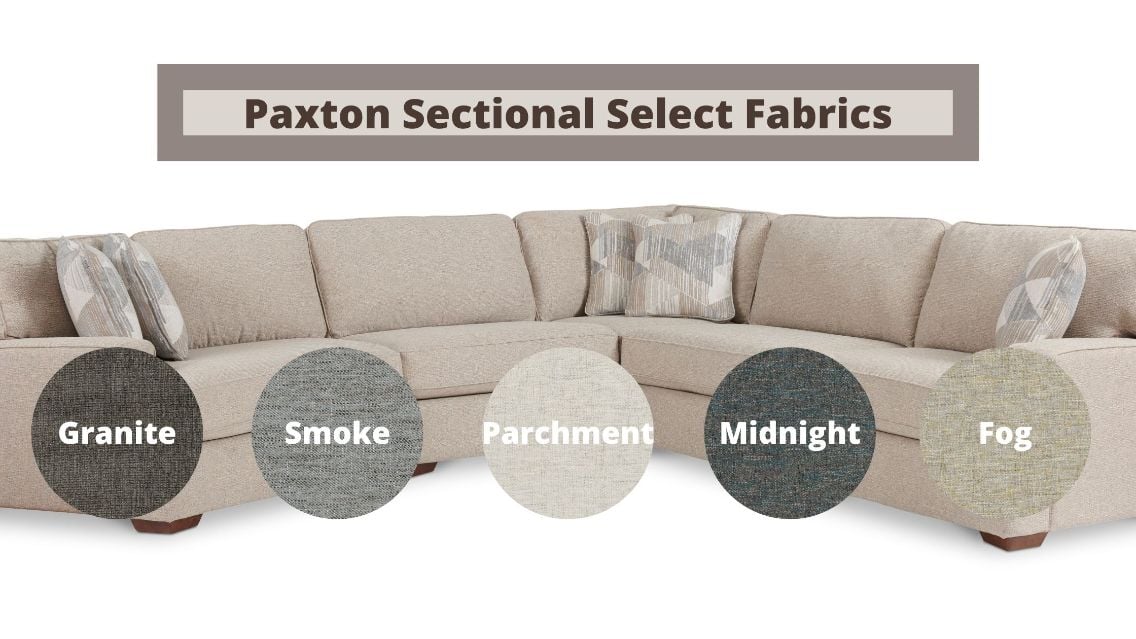 Cushion Upgrade
At an additional cost, firmer seat options are available. With this, you can choose to upgrade both the seat and back cushions. This could be a great option for people with mobility issues, allowing you to get in and out of your furniture more comfortably.

For more information please see our stationary furniture collection catalogue.
Sectional Furniture Options & Configurations
An array of Paxton modules lets you customize the perfect sectional configuration for rooms of any size.
Paxton's sectional consists of 8 furniture pieces that can be used to design a unique configuration that suits your comfort preferences and space. With these available module pieces, your Paxton sectional can be made as big or as small as you wish.
The end piece includes a left or right-ended chair, chaise, or cuddlers. You can also place either a 90-degree corner section to create the famous L-shape that sectionals are known for. Armless stationary chairs are also available to add to your sectional.
There are 5 different basic sectional configurations below to show what your sectional can look like. You can also choose to go with your own unique design if you don't prefer any of these choices.
To learn more about How to Arrange for an Open Concept Space, take a look at this article.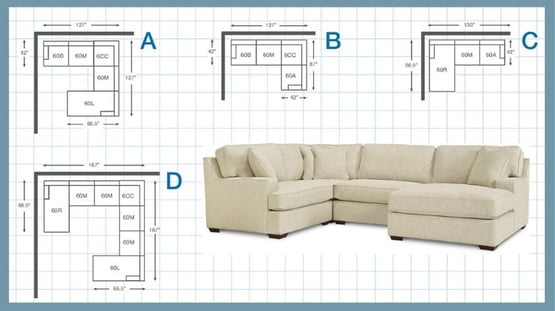 Pillow Options
Paxton comes with pillows, which means you can customize those as well. You can accessorize your pillows by adding an accent colour to them, as well as contrasting welt, cording or fringe.
If you want to get specific, you can also request feather padding for your pillows instead of the usual foam padding.
Contrasting Welt Trim
Welt trim provides a tailored look to cushions and pillows but takes on an entirely new dimension in a contrasting colour. An unexpected touch, this decorative detail adds instant personality and highlights the sculptural lines of any silhouette. The Paxton has over 50 different colour and pattern choices for trim.
Finish Options
Finally, Paxton's wood leg finish can be customized as well. Any Paxton furniture item comes in one of four finish options:
Mahogany (Base Price)
Coffee (Additional Cost)
Graphite (Additional Cost)
Driftwood (Additional Cost)
Cost
Buying furniture is a significant investment. You will want to make sure you make the right choice for your specific lifestyle and needs.
The cost of the Paxton sectional is in the mid-high range of the sectionals now available on the market.
The quality of materials used in construction and customization options is the main reason for the higher price bracket. To learn more about the costs of sectional sofas in our Ottawa Kingston market, read our article on how much a sectional costs.
The starting cost of the Paxton Sectional, in its smallest configuration with select fabrics, is $3,739. Subsequently, the cost increases depending on the number of seats/modules, different covers chosen, and other selected options.
*All La-Z-Boy prices listed in this article are subject to change. We aim to update all cost-related articles twice per year. This article was last updated on June 20th, 2023. Contact your local Ottawa or Kingston location by phone or in person for up-to-date pricing.
Warranty
The Paxton is covered by La-Z-Boy's Limited Lifetime Warranty. This warranty covers the repair or replacement of the frame, spring systems, and mechanism, given that they are quality-crafted and built for long-lasting comfort.
For full details of the Limited Lifetime Warranty, check out this full La-Z-Boy warranty breakdown.
While still quality-crafted, other aspects of the product, such as fabrics, leather, and cushion, are not meant to last a lifetime. However, these parts are still covered by the La-Z-Boy Manufacturer's Warranty for a given period of time.
To further protect your purchase, La-Z-Boy Ottawa & Kingston offers an
extended warranty plan
at an additional cost. To learn more about the
Extended Warranty Plan
and if it's right for you, take a look at this article.
Customer Reviews
The Paxton sectional pieces' ratings range from 4.8 to 5 stars out of 5 stars in North America.
This rating is based on a combination of comfort, quality, and design.
Find out what customers are saying about the Paxton Sectional in the following five-star reviews.
Right arm sitting 4.9/5
Rated 5 out of 5
Dec 14, 2020
Rachel K.
VERIFIED PURCHASER
Lovely sectional!
I am absolutely in love with my new sectional I do plan on adding more to it now configuring my new space. The seats are deep the fall into cozy kind and I got the double wide and the double wide chaise. The material is phenomenal I have 2 kids and things are easily wiped off. The chaise is velcroed down which is fantastic I had a major issue with my old sectional not from this company but the chaise would always slide out it drove me insane so this was a very pleasant surprise. I also got the upgraded cushions and I think they are most definitely worth the upcharge. Overall this exceeded my expectations minus the time it took to get it but with covid that was to be expected.
---
Rated 5 out of 5
Dec 27, 2020
Jonathan A.
VERIFIED PURCHASER
Feels great to relax in.
This design is great. The arm rest not extending out to the end of the seat cushion makes me feel free. I don't feel trapped into my seat on the sofa. The wide, deep cushion is super comfortable and firm. No issues.
---
Rated 5 out of 5
Apr 7, 2021
Jennifer And Michael F.
Sooo comfortable!
LOVE this sofa!!! Sooo comfortable and it holds up to the "rough and tumble" of kids and a dog! Looks perfect in my family room!
---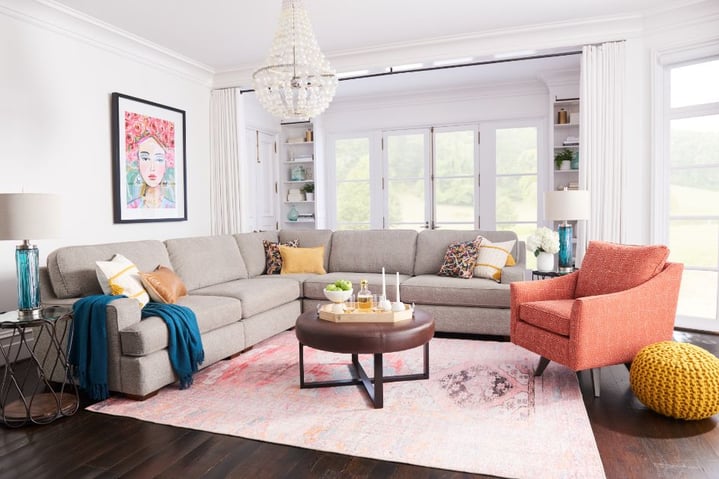 Is the Paxton Sectional Right For You?
It is no question that the Paxton Sectional is a beautiful piece of furniture. But is it right for you?
As part of the Comfortably Casual style collection, the Paxton's laid-back look is an open invitation to relax. If this style speaks to you, you likely approach space with a wonderful mix of passion and purpose. The Paxton sectional will be right at home if you are looking to create a beautiful space meant to feel lived in.
A feature loved by Paxton owners is the lower armrest that does not extend the length of the sofa. It can make the room look more open and works well in small spaces, or if you're worried that taller arms will block the view of a window or other feature. The shape of the Paxton's arm would not be ideal for someone looking for maximum arm support and cushioning or prefer a more formal style provided by a tall arm.
If you are a tall person, the extra width in the Paxton seat means as you sit into the depth of your sofa, your knees should curve over the edge of the cushion at a 90-degree angle, with your feet comfortably reaching the floor. Shorter individuals sitting upright in the Paxton may find the seat too deep for good back support and their feet dangling above the ground.
However, if you love to curl up to read a book or stretch out and snuggle with someone to watch TV, then the Paxton Sectional meets your needs regardless of your stature.
Although the cushions of the Paxton Sectional offer firm support, the sheer size of the deep, wide bucket seat can cause a sinking feeling. As Rachel describes in her review above, Paxton's deep seats are "the fall into cozy kind" which might not be the right experience for everyone.
Some clients have expressed that the seat cushion is too soft, especially for the oversized chaise, and that cushion piping does not remain straight. In this case, the more structured single-cushion deep seat of the Meyer Sofa with a similar silhouette might be more comfortable.
Moreover, before you commit to a stationary sectional, you may want to explore one with reclining capabilities. Although the deep bucket seats of the Paxton are ideal for curling up on, some clients may wish to kick their feet up in a footrest and lay back instead.
What's Next?
It's incredible how the right furniture can bring everything and everyone together. But buying furniture is a significant investment. If your goal is to make your next purchase a staple in your home, you'll want to make sure you make the right choice.
A timeless structured look, extra deep seats, and a choice of cozy configurations make the Paxton a must for relaxing. Stretch out your legs solo or cuddle with a loved one and share the roomy, double-sized chaise. Our Paxton sectional brings exceptional comfort to rooms of any size.
If you're ready to surrender to the Paxton's call to curl up and get cozy, visit one of our La-Z-Boy Ottawa and Kingston locations. You can also schedule a visit online with one of our design consultants to start tailoring a sectional that is just right for you!
If you're interested in our other top-selling sectionals, take a look at these review articles as well:
Product Info Request
Please provide us with your name and email and we'll get back to you as soon as possible regarding this item.