La-Z-Boy Paxton Sectional: An In-Depth Review
June 2, 2021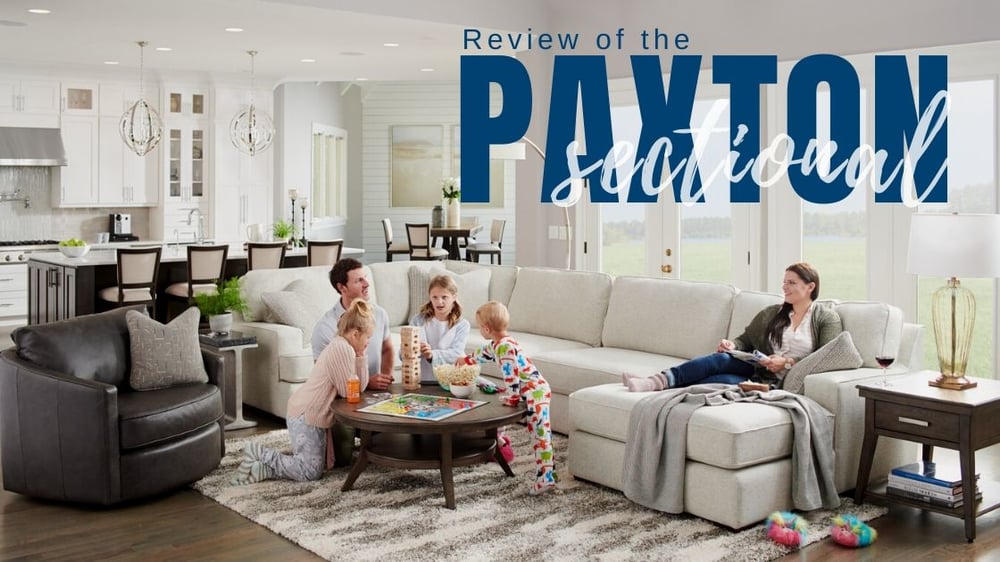 Are you looking for a sectional that calls out for you to sink in and get cozy? Do you want flexible seating options, ideal for entertaining guests or family TV viewing? You may not need to look any further than the Paxton sectional!
In this review, find out why in its first year on the market, the Paxton sectional gained enough notoriety to clinch a spot as one of our top five selling sectionals in Ottawa and Kingston. Determine whether the features and benefits of this comfortably casual sectional are the right fit for you.
The Paxton sectional hit floors in early 2020. However, the other furniture in this style (sofa, loveseat, chair and a half, plus ottoman) has been on the market for about two years. The Paxton family currently ranks 3rd in North America and Canada.
Michelle MacLellan is a design consultant at the La-Z-Boy Home Furnishing and Décor store in Kanata. She's been in the furniture business for over 30 years and worked for other prominent furniture stores such as Vanleeuwen and Luxe Home interiors. She enthusiastically shared the Paxton sectional is her favourite piece on the showroom floor.
"As the sectional with the deepest seat, there is ample room to raise your legs and curl up to watch TV," says Michelle. She further explains the Paxton sectional is best suited for a casual family room. Also, it has a clean look and classic design that won't go out of style.
This review of the Paxton sectional will cover:
Standard Stationary Sectional Features
The Paxton sectional is part of La-Z-Boy's premier stationary furniture line with frames built with the active family in mind. With configurations ranging from two pieces to ten, our stationary sectional sofas let you maximize seating and your comfort. Choose a sectional with a chaise, and you'll have plenty of room to stretch out while giving your room a look that's anything but relaxed.
Stationary sectionals have many standard features, such as:
• A variety of available modules configure to any room size or shape
• La-Z-Boy® Premier construction:
➊ Quality-crafted frame consisting of kiln-dried hardwood and furniture-grade laminates
➋ Fully padded outside back, outside arms and front post
➌ La-Z-Boy non-skid logo decking-sag sinuous wire seat and back springs to keep seat cushions in place
➍ Patented ComfortCore® seat cushions – zoned seating offers added support for the spine, hips and behind the knees.
➎ Self-healing zippers fixed effortlessly by zipping and unzipping past the point where it has popped open with usage
➏ Accent pillows lined with accordion fabric for added loft
➐ Limited Lifetime Warranty on parts, mechanism and frame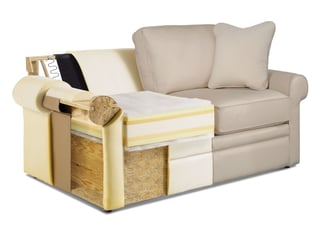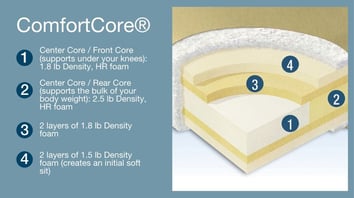 • Double-picked blown fibre fill for improved cushion loft and shape retention
• Customizable with your choice premium grade fabrics tested to resist wear and fading
• Alligator clips or drop-in lock for the modular locking mechanism
Check out this article about Premier Construction at La-Z-Boy to learn more the Paxton's construction.
Features Unique to the Paxton Sectional
The Paxton sectional delivers simple style elements like wide track arms, t-cushion, decorative wood legs, and crisp welt trim. A comfortably casual sectional with extra deep seats and one of our only double chaise perfect for an afternoon nap.
It has a low profile with fully padded outside back, arms and front post. "The Paxton sectional looks just as good from the back as it does the front," describes Michelle. For this reason, you could easily float the sectional in a room and place it off the wall.
A great benefit is that the back cushions are not attached so they can be flipped, fluffed or removed entirely for a generous sleeping area. Its versatility does not stop there – it can prove to keep kids entertained as the cushions make great fort walls.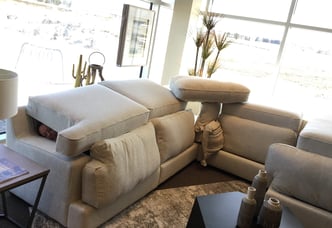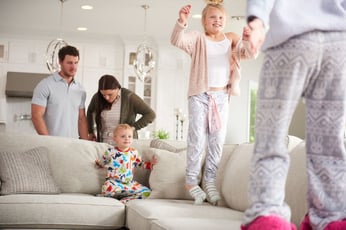 Standard with all La-Z-Boy stationary sectionals, Paxton modules have a drop-in joining bracket mounted on the side of each piece which offers a secure method of connection. The Paxton locks together and remains in place, even with kids playing on it. Peace of mind if jumping is allowed!
Paxton Sectional Dimensions & Configurations
Paxton Sectional Dimensions
Based on its dimensions, the Paxton Sectional is a good fit for most average to taller-height individuals. It possesses an extra deep seat at 42 inches, second only to the Alani Sectional at 49 inches deep. Thus, short legs will dangle. Anyone with difficulty standing up from a seated position or mobility issues could find the very deep seat challenging.
Have you ever had to tolerate sitting in the uncomfortable space between two sofa cushions during larger gatherings or because you want to cuddle close to someone? With Paxton's 45" wide seat cushion on the chaise and arm sitting chair module, no one will have to suffer this fate as there is ample room for two to share.
With the Paxton having a very deep seat, even if the sectional dimensions are perfect for your room, it might not be the right furniture. If it can't fit through your door or gets stuck in the stairwell, it would be a very costly mistake! You need to measure all points of entry and the delivery path. Find out how to accurately measure your room to buy the right furniture.
Configurations for the Paxton Sectional
An array of Paxton modules lets you customize the perfect sectional configuration for rooms of any size.
The dimensions for the Paxton sectional depend on the configuration you choose. Here are the measurements for each piece: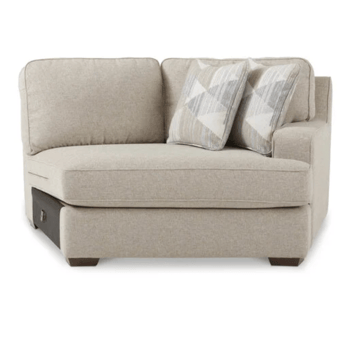 Left/Right Arm Sitting Cuddler:
69" W x 42" D x 38" H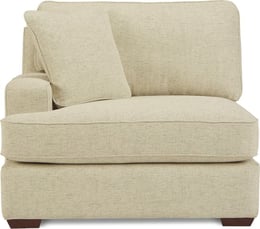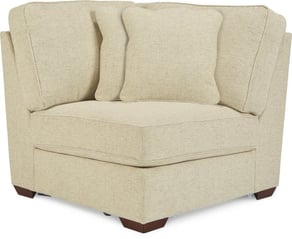 Left/Right-Arm Sitting Chair: Corner seat:
38″ H x 45″ W x 42″ D 38″ H x 68″ W x 42″ D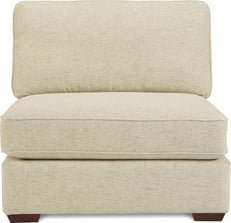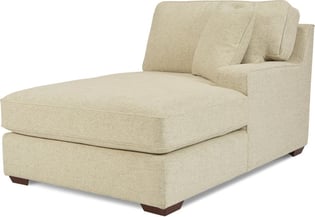 Armless chair: Left/Right-Arm sitting chaise:
38″ D x 40″ W x 42″ D 38″ H x 45″ W x 66.5″ D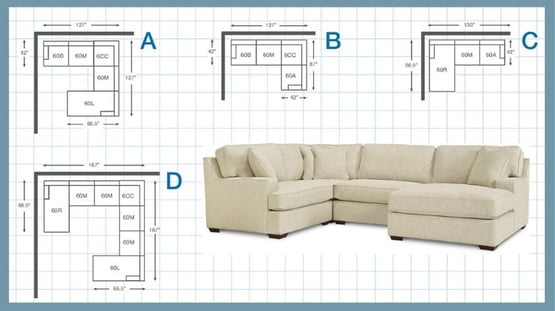 As you can see above, the Paxton sectional has the potential for multiple configurations. In all, there are seven pieces. The figures shown above are just a few of the options.
1. Some of the smaller options are shown above in figures B and C.
‣ You could use the chaise and arm seat to customize the smallest configuration with a body width of 90 inches and a body depth of 66.5 inches.
2. The larger sized options come in a U-shape, and an almost O-shape, are shown in figures A and D
‣ The five-piece U-shape sectional in figure A measures 127 inches by 66.5 inches.
‣ The seven-piece 0-shaped sectional in figure D measures 167 inches by 66.5 inches.
For more details regarding these arrangements, download our Paxton product manual.
Check out our article on top sectional sofa arrangements for further considerations and inspiration.
Paxton Furniture Family
To help you create a cohesive design, La-Z-Boy offers style sets. The Paxton style is what we call a supergroup as it has a sofa, loveseat and sectional option.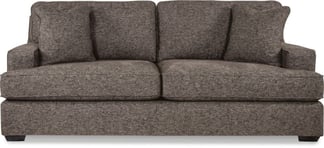 (a) Sofa (b) Loveseat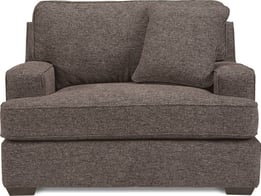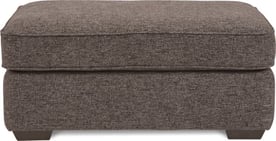 (c) Chair and a Half (d) Ottoman
We also provide a complimentary in-home design service if you need help designing a room worthy of your new sectional or incorporating multiple pieces from the Paxton furniture family. Together with our design experts, you'll make a floorplan, select furniture and accessories and combine colour and fabric to bring your vision to life.
Options and Upgrades For the Paxton
At La-Z-Boy, everything is customizable, including the Paxton Sectional. Take some time to investigate your options so that your new sectional doesn't just suit your home; it suits your way of living. You can make the sectional uniquely yours by customizing the fabric, seat cushions, wood finish, contrasting trims, and accent pillows.
Upholstery / Cover Options
Your choice of upholstery is a pivotal decision when selecting a sofa for your home.
The Paxton has no leather cover options. Due to the large seat size and backs, the leather would need to be cut into sewn strips making it challenging to meet La-Z-Boy's upholstery standards.
Alternatively, the Paxton has hundreds of fabric options so you can custom-create a look that's uniquely yours.
Among the fabrics available in various textures, patterns, and colours, the Paxton Sectional is also available in premium-grade specialty fabrics.
STAIN-RESISTANT
Innovative iClean technology surrounds each fabric fibre, creating a barrier that repels spills before they turn into stains.
PET FRIENDLY
Tested to simulate the scratches and wear that pets can cause, fabrics identified as pet-friendly are durable and easily washable.
ANTIMICROBIAL (new)
Antimicrobial properties surround each fibre to protect against mould, mildew, and odour-causing bacteria.
PERFORMANCE
Superior stain and fade resistance properties make these fabrics easy to clean and incredibly durable.
ECO FRIENDLY
Conserve Sustainable Fabrics are soft, durable, and made from recycled water bottles. We use as many as 110 recycled water bottles to create a sectional with this eco-friendly material.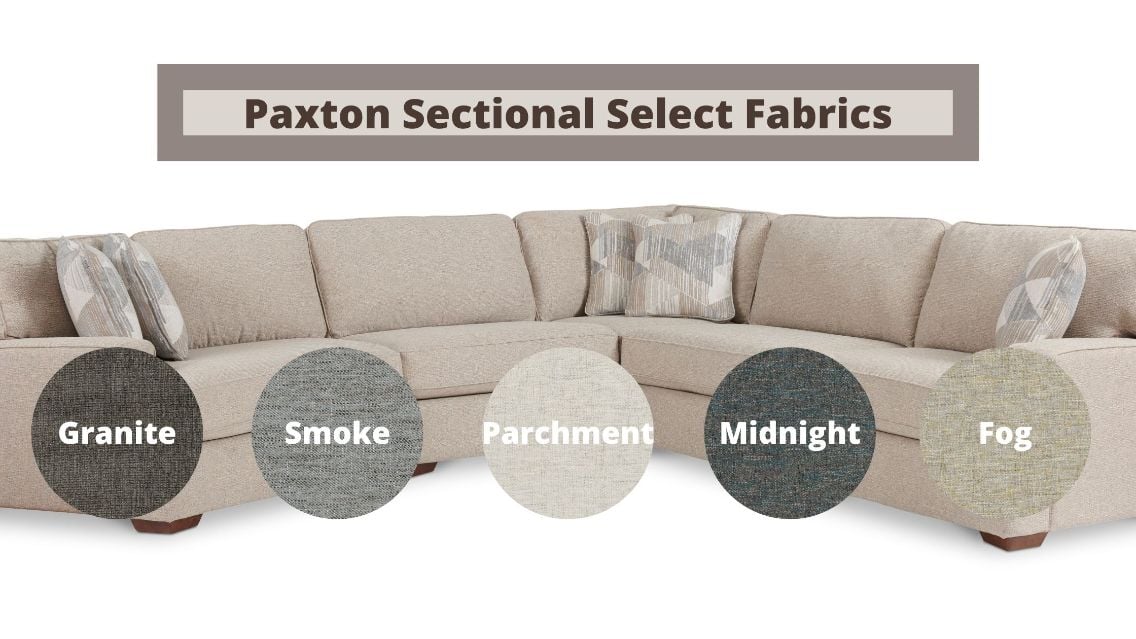 As with conventional furniture fabrics, all premium-grade covers are wear-tested for safety, quality and durability. So, they stay comfortable and beautiful for years after delivery.
To see what some of our covers would look like in your home, order your free sample fabric swatches!
Seat Cushions
At an additional cost, firmer seat options are available, plus you can choose to upgrade both the seat and back cushions. For more information please see our stationary furniture collection catalogue and our in-depth Review of La-Z-Boy's Chair and Sofa Seat Cushions.
Please note that furniture purchased prior to January 2021 had the option to upgrade to ComfortCore

GEL seat cushions. This cushion has seven layers of comfort technology that includes gel-infused memory foam that provides exceptional support as it conforms to your body.
Wood Finish
Give your furniture a completely custom look with a variety of wood finishes. Match your current decor or add striking contrast. The Paxton sectional comes standard in brown mahogany but can upgrade to other colours.
Contrasting Welt Trim
Welt trim provides a tailored look to cushions and pillows but takes on an entirely new dimension in a contrasting colour. An unexpected touch, this decorative detail adds instant personality and highlights the sculptural lines of any silhouette. The Paxton has over 50 different colour and pattern choices for trim.
Pillows

Are you looking for that perfect accent piece? This sectional comes with two matching accent pillows with a fused bag. This design prevents the blown fibre from escaping and allows it to fill the corners to provide a full look and feel.

But if you are going for a bolder look, you can opt to get them in a contrasting cover that will set your furniture apart. Also, you can choose to add either a cord or fringe pillow edge treatment.

Add down fill feathers and upgrade your pillows to FeatherLite Comfort.
How Much Does the Paxton Sectional Cost?
Buying furniture is a significant investment. You will want to make sure you make the right choice for your specific lifestyle and needs.
The cost of the Paxton sectional is in the mid-high range of the sectionals now available on the market.
The quality of materials used in construction and customization options is the main reason for the higher price bracket. To learn more about the costs of sectional sofas in our Ottawa Kingston market, read our article on how much does a sectional cost.
When comparing sectional costs offered at La-Z-Boy, the Paxton falls within the mid-price range.
The starting cost of the Paxton Sectional, in its smallest configuration with select fabrics, is $3,739. Subsequently, the cost increases depending on the number of seats/modules, different covers chosen, and other selected options.
*All La-Z-Boy prices listed in this article are subject to change. We aim to update all cost-related articles twice per year. This article was last updated on March 9, 2022. Please visit lzb.com and select an Ottawa or Kingston La-Z-Boy store location to view the most up-to-date pricing.
Best Value - Select Fabric Upholstery
Furniture styles available and displayed in our showrooms usually have select covers representing the base or best pricing. The selection in these upholstery options generally varies between four to fourteen covers in fabric, leather or both.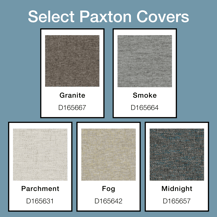 These covers are handpicked for the shape of the frame, and additional yardage is purchased to provide more significant savings and reduced prices. These covers are handpicked fo
r the shape of the frame, and additional yardage is purchased to provide more significant savings and reduced prices.
The select fabrics for the Paxton family of products include five neutral fabrics. Neutral colours for upholstery on a large statement piece can blend in well with any décor and will not dictate the rest of the room. Consider smaller pieces to add both pattern and texture.
Customer Reviews
The Paxton sectional pieces' ratings range from 4.8 to 5 stars out of 5 stars in North America.
This rating is based on a combination of comfort, quality, and design.
Find out what customers are saying about the Paxton Sectional in the following five-star reviews.
Right arm sitting 4.9/5
Rated 5 out of 5
Dec 14, 2020
Rachel K.
VERIFIED PURCHASER
Lovely sectional!
I am absolutely in love with my new sectional I do plan on adding more to it now configuring my new space. The seats are deep the fall into cozy kind and I got the double wide and the double wide chaise. The material is phenomenal I have 2 kids and things are easily wiped off. The chaise is velcroed down which is fantastic I had a major issue with my old sectional not from this company but the chaise would always slide out it drove me insane so this was a very pleasant surprise. I also got the upgraded cushions and I think they are most definitely worth the upcharge. Overall this exceeded my expectations minus the time it took to get it but with covid that was to be expected.
---
Rated 5 out of 5
Dec 27, 2020
Jonathan A.
VERIFIED PURCHASER
Feels great to relax in.
This design is great. The arm rest not extending out to the end of the seat cushion makes me feel free. I don't feel trapped into my seat on the sofa. The wide, deep cushion is super comfortable and firm. No issues.
---
Rated 5 out of 5
Apr 7, 2021
Jennifer And Michael F.
Sooo comfortable!
LOVE this sofa!!! Sooo comfortable and it holds up to the "rough and tumble" of kids and a dog! Looks perfect in my family room!
---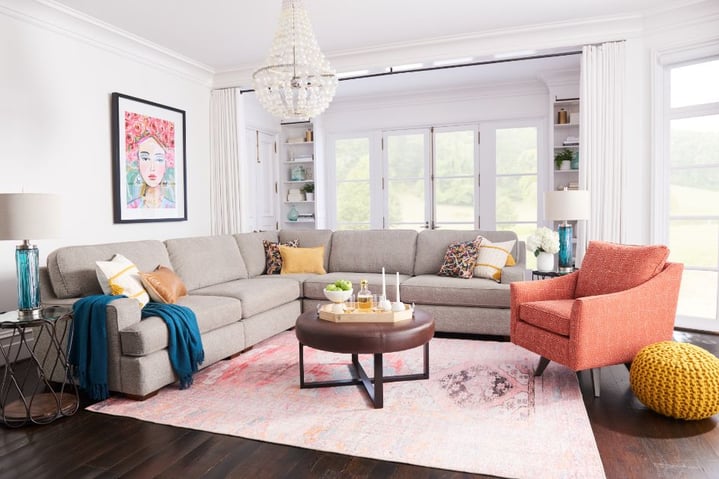 Is the Paxton Sectional Right for You?
It is no question that the Paxton Sectional is a beautiful piece of furniture. But is it right for you?
As part of the Comfortably Casual style collection, the Paxton's laid-back look is an open invitation to relax. If this style speaks to you, you likely approach space with a wonderful mix of passion and purpose. The Paxton sectional will be right at home if you are looking to create a beautiful space meant to feel lived in.
A feature loved by Paxton owners is the lower armrest that does not extend the length of the sofa. It can make the room look more open and works well in small spaces, or if you're worried that taller arms will block the view of a window or other feature. The shape of the Paxton's arm would not be ideal for someone looking for maximum arm support and cushioning or prefer a more formal style provided by a tall arm.
Michelle says it is essential to identify the room's function in which the sectional will become the centrepiece and what position you best like to lounge or relax.
If its primary purpose is to entertain guests and facilitate conversation, then seat fit is essential. You most likely will be seated in an upright position.
If you are a tall person, the extra width in the Paxton seat means as you sit into the depth of your sofa, your knees should curve over the edge of the cushion at a 90-degree angle, with your feet comfortably reaching the floor. Shorter individuals sitting upright in the Paxton may find the seat too deep for good back support and their feet dangling above the ground.
However, if you love to curl up to read a book or stretch out and snuggle with someone to watch TV, then the Paxton Sectional meets your needs regardless of your stature.
Although the cushions of the Paxton Sectional offer firm support, the sheer size of the deep, wide bucket seat can cause a sinking feeling. As Rachel describes in her review above, Paxton's deep seats are "the fall into cozy kind" which might not be the right experience for everyone. Some clients have expressed that the seat cushion is too soft, especially for the oversized chaise, and that cushion piping does not remain straight. In this case, the more structured single-cushion deep seat of the Meyer Sofa with a similar silhouette might be more comfortable.
Moreover, before you commit to a stationary sectional, you may want to explore one with reclining capabilities. Although the deep bucket seats of the Paxton are ideal for curling up on, some clients may wish to kick their feet up in a footrest and lay back instead. Three of our five top-selling sectionals can recline and include the Trouper Sectional, the Devon Sectional and the Reese Sectional.
Next Steps
It's incredible how the right furniture can bring everything and everyone together. But buying furniture is a significant investment.
If your goal is to make your next purchase a staple in your home, you'll want to make sure you make the right choice. Michelle says, "it's important to put your money into good quality furniture that will stand the test of time and, most importantly, be comfortable for many years."
A timeless structured look, extra deep seats, and a choice of cozy configurations make the Paxton a must for relaxing. Stretch out your legs solo or cuddle with a loved one and share the roomy, double-sized chaise. Our Paxton sectional brings exceptional comfort to rooms of any size.
The quality, style and variety that La-Z-Boy offers will ensure you find the perfect match for your needs. If you're ready to surrender to the Paxton's call to curl up and get cozy, we are happy to help you navigate all the options at any one of our La-Z-Boy Ottawa and Kingston locations. Or plan ahead by scheduling your visit online with one of our design consultants to start tailoring a sectional that is just right for you!
As you continue in your search for the perfect sectional, take a look at our Your Comprehensive Sectional Sofa Buyers Guide: 7 Expert Tips for Buying a New Sectional.
Last Edited On June 22nd, 2022
Product Info Request
Please provide us with your name and email and we'll get back to you as soon as possible regarding this item.