Everything You Need to Know About the 2022 CHEO Dream Home - Le Rêve
September 21, 2022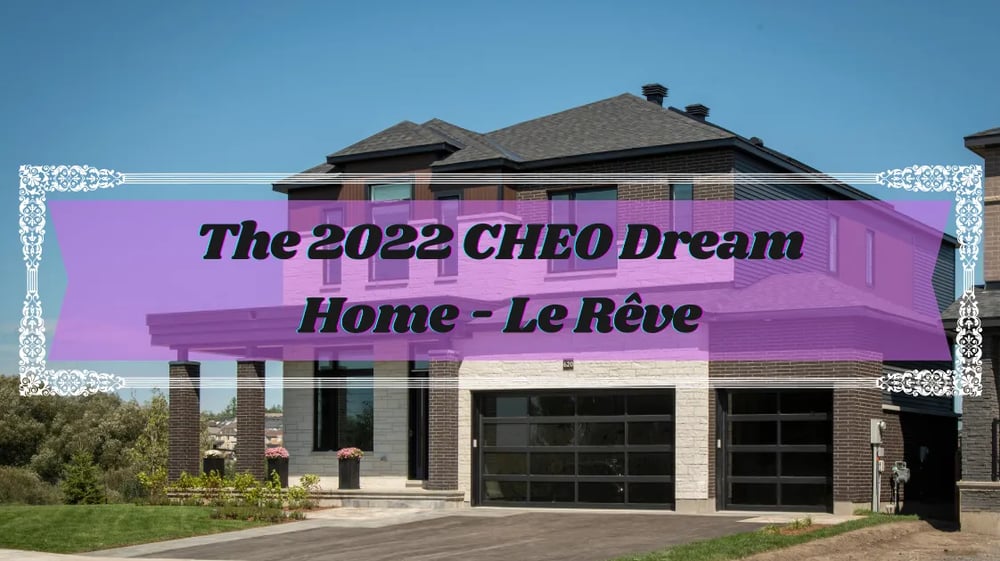 Est. Reading Time: 8 Mins
For the last two decades, the Childen's Hospital of Eastern Ontario (CHEO) has partnered up with Minto Communities and other local businesses to build a magnificent dream home, the grand prize of the Dream of a Lifetime Lottery.
Comprised of over $3.4 million dollars worth of prizes, this year's Dream of a Lifetime Lottery winner will not only win the CHEO Dream Home for their family but also $100,000 in cash; a 2022 Ford F-150 XLT 4x4 Supercrew; a $5,000 gas gift card to Stinson & Son; bi-weekly cleaning for a year - courtesy of ATC Cleaning; moving services from Adam's Moving; and legal services - thanks to Mann Lawyers.
The proceeds raised by the community will go towards high-priority needs in the hospital. In previous years, millions of dollars were equally distributed among all departments covering a wide range of hospital expenses.
At La-Z-Boy Ottawa & Kingston, we are honoured to be involved with this great local cause! We thought Ottawa area residents might be interested in learning more about the inspiration behind the home's design, La-Z-Boy's involvement, and how to enter the draw!
In This Article…
This Year's Dream Home - Le Rêve
This Year's Dream Home, simply titled Le Rêve, is a french inspired home built from a traveller's European fantasy.
Taking shape in the new Minto community of Arcadia, Kanata, this year's home shifts gears from Manotick and sets itself close to Tanger Outlets and the Canadian Tire Centre. It is also minutes away from the nearest grocery store and all other amenities you can possibly need.
Built on a 4,658 square-foot floor plan, Le Rêve is slightly larger than last year's dream home, which was 4,603 square feet. Not only does it consist of a wrap-around porch, but it also includes five bedrooms and bathrooms.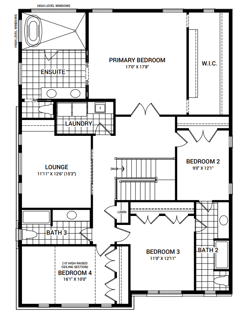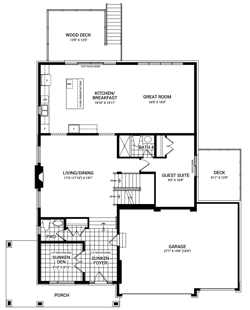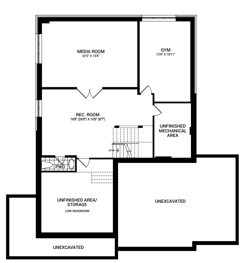 "Le Rêve offers a space for everyone in the family, including quiet areas to enjoy the outdoor views, and playful hubs for family fun such as a fully loaded basement with a media room, gym, powder room, and banquette area that can be used as a flex space," says Minto.
Le Rêve is also Eastern Ontario's first Breathe Well Home. With the help of Panasonic's technology built inside the house, Le Rêve is designed to help you live, feel, and breathe better.
Here are some of the advanced features that Le Rêve has in store:
Stores and uses solar energy at will
Consumes and collects energy responsibly
Built with Eco-Friendly building materials
Reduces emissions and saves energy with superior insulation windows
Wastes less water with the Greyter Water System
Uses gas and solar power
Circulates fresh air while cycling out damp, stuffy air
Purifies the air you breathe
Includes Smart Swidget devices to help future-proof your home
Design of Le Rêve
In contrast to last year's woodland industrial home of The Caraway, this year's CHEO dream home takes inspiration from Parisian-style homes and apartments.
This year's home was once again designed by the talented Tanya Collins, an acclaimed interior designer who has been designing each dream home for the last 5 years.
From looking at the house on the outside, guests will notice its grandeur as the largest house on the street. You can stay connected with the outside greenery by relaxing on the backyard patio, which includes a dining patio set, a hot tub and an impressive view of Arcadia, Kanata.
Tanya tells us that this year's house design felt natural to her. "Inspiration behind the Parisian style came from not only watching the Emily in Paris Series with my teenage daughter – which renewed my love for all things Parisian – but this style is also closest to my own, so it felt natural."
Interior Design Highlights...
The home's interior exudes a blend of classic and modern Haussmann-style elements.
Le Rêve not only takes a classical approach with its herringbone flooring and street-inspired light fixtures scattered throughout the house, but it also has modern elements, such as the integrated kitchen appliances and the home decor.
Tanya highlights many different design aspects that she enjoys throughout Le Rêve. The dining room, for example, which is the first main room guests see, includes blush-velvet upholstered dining room chairs and a classic Loft Collection oak-toned dining table from Canadel.
Tanya also highlights the neo-classic fireplace in the dining room, which "reinforces the Parisian-style aesthetic, along with the herringbone wood floors."
The dining room chairs are also complemented by the blush-toned draperies in the kitchen.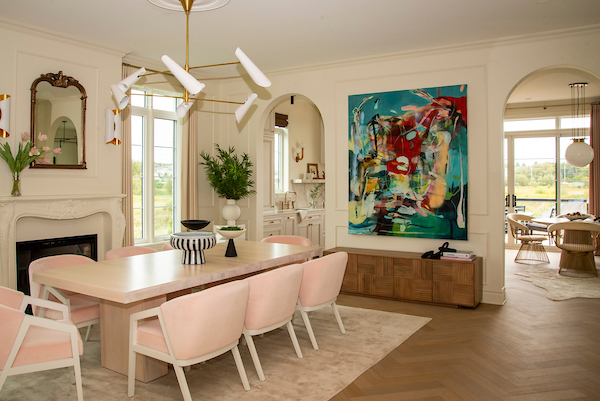 A leopard runner covers the stairway along with the iron railings as you go from either the second floor or the basement.
The left end of the second floor consists of Tanya's Emily In Paris, inspired bedroom. This bedroom consists of a blue and white checkered headboard from Kincaid, which matches the bed sheets and a red upholstery-covered Nolita Chair* from La-Z-Boy.
*It is important to note that the Nolita Chair is currently discontinued from La-Z-Boy's furniture selection.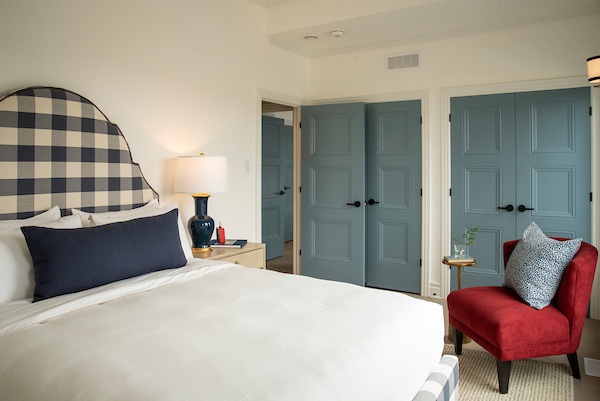 Last but not least, Tanya highlights the office as one of her favourite rooms "It really feels like a Parisian, European office space." Situated right next to the front entrance, the floor tiles bleed into this room, accentuating the Parisian flavour.
Showcased in this room is a green upholstered Canadel Office Chair, as well as an impressive large-scaled cabinet unit that can store a fair share of books.
More About Interior Designer Tanya Collins
As mentioned before, Minto Communities and Tanya Collins Design have collaborated for the last 5 years to create the CHEO Dream Home.
With now two decades of experience under her belt, Tanya certainly knows a thing or two about creating a beautiful and extravagant home.
The CHEO Dream Home is a project that Tanya looks forward to every single year due to the amount of freedom she's allowed throughout these projects. Everything you see was brought to life, thanks to her creative mind.
"Every year I try to do something dramatically different from the year before. I try to challenge myself to create a design that nobody could predict," she says.
Since last year's design was inspired by mid-century modern homes, she thought she'd take a more traditional approach from across the pond in this Parisian-style Haussmann home.
Tanya says that the process behind picking furniture from La-Z-Boy is "somewhat streamlined – I source many items online and then use the showroom to select and touch fabrics and confirm furniture wood samples where available."
Since La-Z-Boy was her furniture playground, she had many furniture selections available at her disposal. However, nothing comes without a few hurdles along the way.
With the ongoing pandemic creating a few challenges throughout the process, Tanya learned from her previous years to think quickly on her feet. "Even with advance planning [in January], you can never guarantee that a furniture piece selected will not suddenly become unavailable or put on the backorder list," she explains.
Although the pandemic was a challenge for her third consecutive year, Tanya still remembers the main reason for doing it. "This project is for a great cause, which is the main driver behind my work."
Why the CHEO Dream Home Matters in the Ottawa Community
Minto describes this year's home as the home with a heart. "A symbol of hope for CHEO families and a dream come true for the grand prize winner. It'll satisfy anyone with a desire for elegance and sophistication."
Every year, millions of Ottawa residents gather at the CHEO Dream home not only to see what the new home looks like but also to help a charitable cause that touches the hearts of many within the community.
"It's a partnership that represents hope – hope for the community and hope for families in need."
In recent years, the pandemic has become the forefront of CHEO's concern. "There has been a 400 per cent increase in traffic to our emergency departments because of COVID with children and our youth."
Minto and all of CHEO's partners see the Dream Home as not just a house with four walls and a roof. They see it as a beacon of hope. Hope that half a million families throughout Ottawa will be able to spend more time with their young loved ones.
By purchasing a ticket, you are directly supporting CHEO and helping young individuals get the treatment they may desperately need.

La-Z-Boy Ottawa & Kingston's Involvement in the CHEO Dream Home
La-Z-Boy Furniture Galleries of Ottawa & Kingston have been proudly supporting the CHEO Dream of a Lifetime since the very beginning.
As a family-run business, the Maxwell family knows how important this cause is to Ottawa residents and the community as a whole.
Cecile Panet-Raymond, La-Z-Boy Ottawa & Kingston's Merchandizing Director, has worked on and represented this project for over 10 years. Each year, Cecile assists and works closely with the interior designer and creates the Dream Home they envision.
This year became more digital for both Cecile and Tanya, with Tanya's mood boards for the project being digitized in a 3D planner. "Mood boards were organized by room with detailed information. It made the process so much more efficient," she says.
Cecile also ensures that all products are available and that everything remains on budget. Lists of products and planning start as early as two months after the reveal of the last home.
Since the Caraway was introduced to the public in September of last year, Cecile and Tanya started planning for this year's Dream Home as early as last November.
"This year, most of the orders were placed in January, a new record!" Cecile exclaims.
Even though things were planned out early on, obstacles were still faced. Along with the aforementioned COVID pandemic, there were also supply chain issues, which included severe staffing shortages. This also meant Tanya's vision was slightly compromised at times, figuring out new products to replace now unavailable items.
Construction for furniture products also took much longer to make, with some products arriving as late as the end of August. However, according to Cecile, not too much of the project was changed.
"Thanks to the strong ties we've built over the years with our partners, our pleas for expediting shipping were answered, and items landed in the nick of time!"
When it comes to Cecile's favourite La-Z-Boy products throughout the house, she tells us that the Alexandria Sofas in the living room are the true stars of the show. "It's such an elegant frame. Tanya used two in the family room, one in cream and the other in Dijon for a daring punch of colour that creates a great focal point as you walk into the space."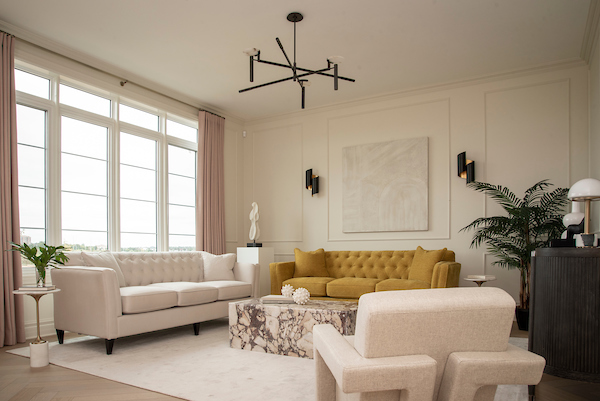 How to Get Involved and Enter the Draw
Now that you're aware of what the CHEO Dream Home means to many in our community of Eastern Ontario, you can still make a difference in many ways!
Along with the Dream of a Lifetime Lottery grand prize, there are much Early Entry Draws you can enter that support CHEO.
Early Entry Draws include winning a car, an RV or $110,000 in cash (order before midnight Sep. 23rd, 2022); a $50,000 prize for five lucky winners (order before midnight Oct. 28th, 2022); and the Early Bird Prize (order before midnight Nov. 18th, 2022).
For the Dream of a Lifetime Lottery, which includes winning the CHEO Dream Home, getting a ticket is as easy as ordering one online or by calling 1-877-562-5437. Grand prize tickets cost $100 each.
Doors to tour the Dream Home will remain open until December 16th, 2022, which is when ticket ordering will also close. You can find this year's home at 620 Winterest Rd. If you cannot go in person, take a look at Le Rêve virtually through the Virtual House Tour.
The lucky winner of the grand prize will be announced in the first week of January.
Lastly, If you like the furniture and decor of this year's Dream Home, don't forget to visit our showrooms! Visit us at one of our local Ottawa or Kingston La-Z-Boy locations or schedule a visit online.
Our design consultants and interior designers at La-Z-Boy would be happy to help you find the furniture of your dreams to help you build your own dream home.
If you're interested in learning more about past CHEO Dream Homes, take a look at these articles:
Related Articles:
A Catalogue of the Furniture in the 2021 CHEO Dream Home
A Catalogue of the Furniture in the 2020 CHEO Dream Home
Product Info Request
Please provide us with your name and email and we'll get back to you as soon as possible regarding this item.