Everything You Need to Know About the 2021 CHEO Dream Home
September 29, 2021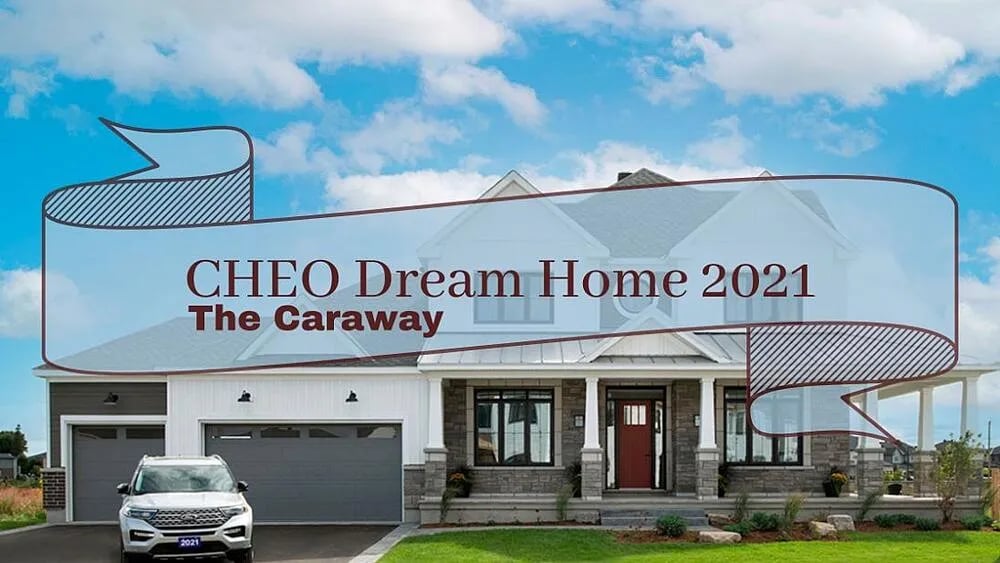 Every year the Children's Hospital of Eastern Ontario (CHEO) offers the chance to win the Dream of a Lifetime. That being the CHEO Dream Home!
The CHEO Foundation has partnered with Minto and La-Z-Boy to create a gorgeous Dream Home, which is the grand prize of the CHEO Lottery.
By purchasing a ticket in the lottery draw, you are not only giving back to your community by supporting a local cause, but you are also creating an opportunity to transform your life.
The winner of the grand prize will be handed the keys to a brand new $2.9 million-dollar home that is fully furnished and decorated. It doesn't stop there. In addition, the winner will be rewarded $100,000 cash, a 2021 4-door Hybrid Explorer, bi-weekly cleaning for one year, a $5,000 Farm Boy gift card, moving services, and legal services.
While only one lucky winner can take home the grand prize, there are several other prizes to be won such as luxurious cars, dream vacations, home theatres, room makeovers, and a range of gift cards!
The proceeds raised by the community will go towards high-priority needs in the hospital. In previous years, millions of dollars were equally distributed among all departments covering a wide range of hospital expenses. Everything from equipment to research costs gets supplemented by the money raised from the lottery.
At La-Z-Boy, we are thrilled to be involved with this great cause! We thought Ottawa area residents might be interested in learning more about who is responsible for designing the home, the process of bringing it to life, and the final result.
The images of the home interior featured in this article were taken by Kevin Belanger (IG @kevinbela).
In this Article ...
1. This Year's Dream Home: The Caraway
3. About Interior Designer Tanya Collins
4. Why the CHEO Dream Home Matters in the Community
5. La-Z-Boy Ottawa & Kingston's Involvement with CHEO
This Year's Dream Home: The Caraway
Located in Mahogany, Manotick, the Caraway is a dream home.
Inspired by the nature and picturesque views of Manotick, the 4,603 square foot home is situated on an oversized corner lot. Based on a bungalow design, the home has outside-in features as well as an impressive wrap-around porch.
The exterior design is "trendy yet timeless" combining brick and stone with board and batten siding and silver metal roofing. A mix of white-tones greys and darker earth shades, the Caraway has understated elegance.
While impressive on the outside, the interior of the home does not disappoint. This two-story home consists of 3 bedrooms and 3.5 bathrooms. Not to mention a home theater, gaming room, and gym found in the basement.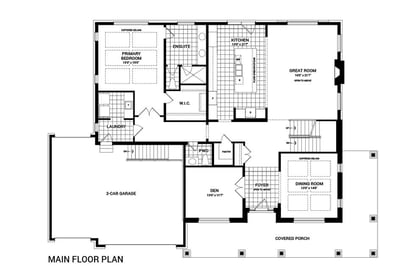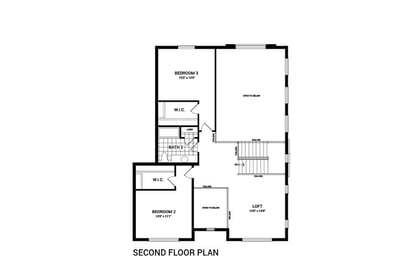 Simple, rich, and elegant, this year's home "offers a peaceful escape to the outdoors with soaring ceilings, allowing natural light to fill the home and brighten the spaces", according to Minto.
It is important to highlight the fact that the Caraway is a Net Zero Energy Home. This means that the home produces as much energy as it consumes.
The Caraway was built with the following electric and energy-efficient features:
Electric mechanical systems: eliminating the need for fossil fuels and nuclear power.
Electrical vehicle charging station
Superior insulation throughout the home
An energy recovery ventilator (EVR)
High-performance heat-pump heating and cooling system
LED lighting
A drain water recovery unit
Home wellness system: innovative technology monitors and regulates air quality, purifies home drinking water, and provides a sleep & wake system.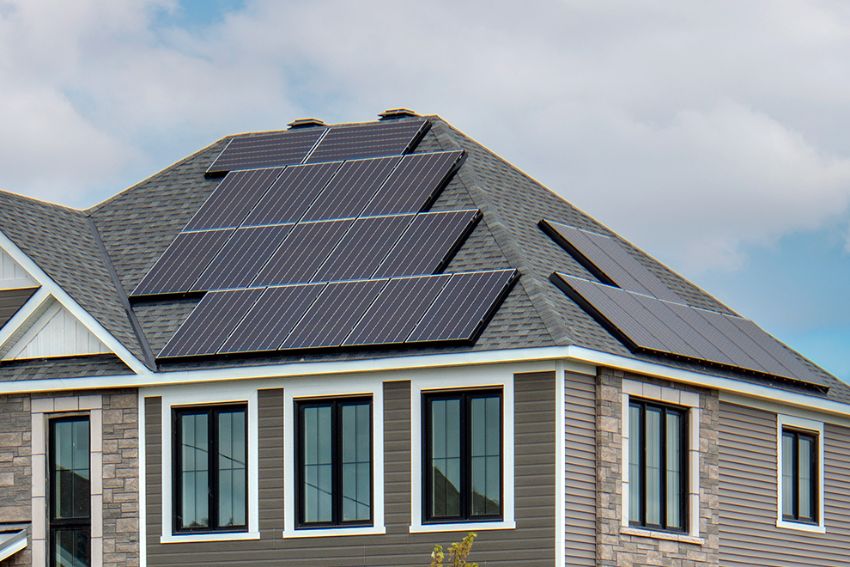 Design of the Caraway
Karen van der Velden, Minto Communities' Product Development Manager, and Tanya Collins, accomplished interior designer, have teamed up again in creating this year's Dream Home.
In their fourth year working together, both designers continue to find purpose and inspiration in creating the CHEO Dream Home.
Karen was responsible for developing the floorplan design and selecting the exterior elements. This year, Karen was inspired by the outdoor space and scenic views in the Manotick community. With this, Karen is "proud of how in tune the home is with the current lifestyles of Ottawa residents".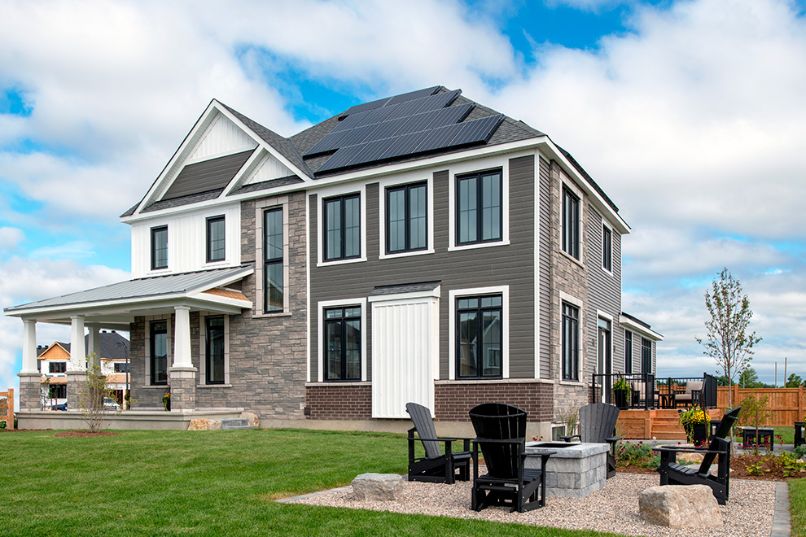 Karen's creative home design was then the canvas for interior design, by Tanya Collins.
"This year I wanted to present a more contemporary interior having been inspired by the beautiful architecture of the double story height ceilings in the living room while weaving in a warmer colour palette that most are craving these days", says Tanya.
Tanya notes that her design is not unlike last year's Ottawa CHEO Dream Home, the Bohemian, but is more simplified and minimal.
"The overall interior consists of a compilation of mid-century modern and art deco influences with a nod to Scandinavian design", Tanya explains. In turn, Tanya incorporated many circular, half-moon, and arched motifs into the decor. These shapes work in harmony with a modern desert of southwestern colour palette, ranging from burgundy, clay, burnt sienna, and earthy dessert pinks.
Tanya says, "With so much time spent at home during the pandemic, we are not only looking for all the comforts of home but also for a renewed way of making everyday living more special, elevated, and simple, yet luxurious". Such is ultimately the inspiration behind Tanya's interior design of the Caraway Dream Home.
Interior Design Highlights ...
The Caraway Dream Home features many unique design details, highlighted by Tanya.
The floor tile in the entranceway introduces the style with the circular patterning while set against a tambour wood cabinet. Similarly, the office features warm wood contemporary slab cabinetry.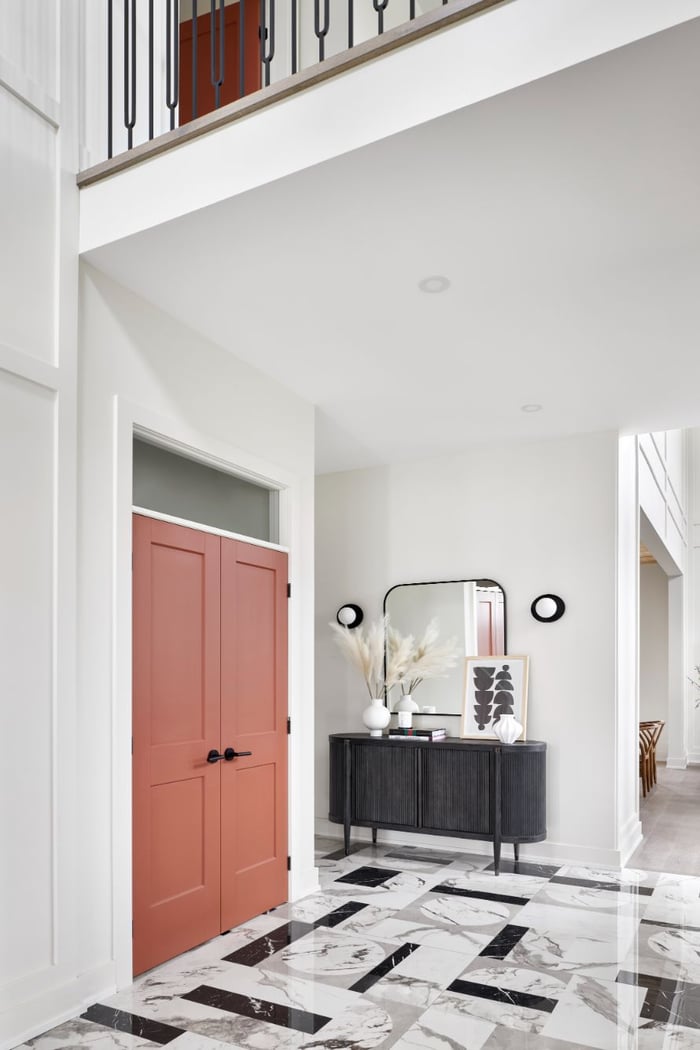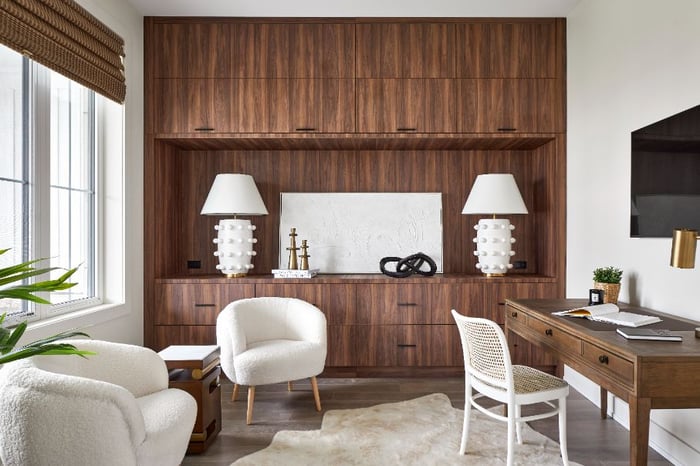 The great room stands out with soaring double-story windows letting in an abundance of natural light. Simple wood paneling, burgundy mid-century style sofas, and shapely Scandinavian chairs are illuminated by modern fly trap lighting and a simple, yet luxurious, dark waterfall style fireplace mantel.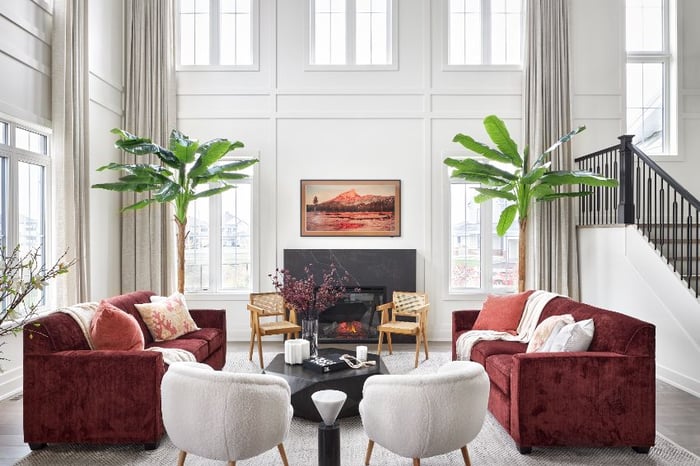 The kitchen features a dramatic restaurant-style bar design with a library ladder and mirrored backsplash, in coordination with modern thin rail shaker cabinetry. A breakfast table and seating are incorporated into an island design with Cosentino marble wrapped around all four faces of the island. The kitchen cabinetry warms the space with wood plank and gold hardware.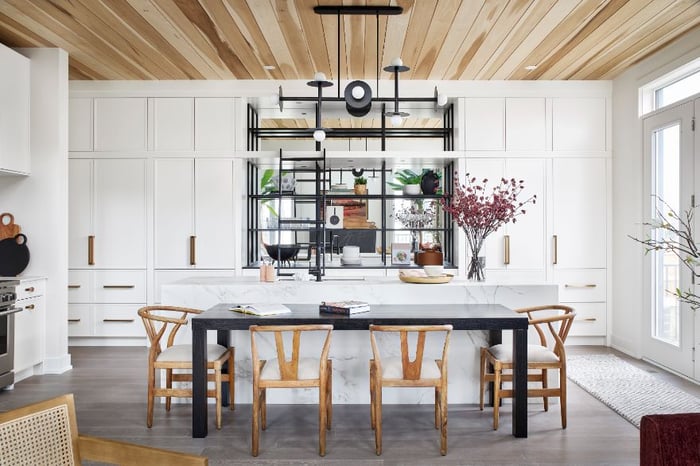 The dining room furnishings are described by Tanya as "approachable and modern with a classic wishbone style combined with an eclectic mix of materials". This includes a reclaimed teakwood sideboard and an antique gold oversized mirror.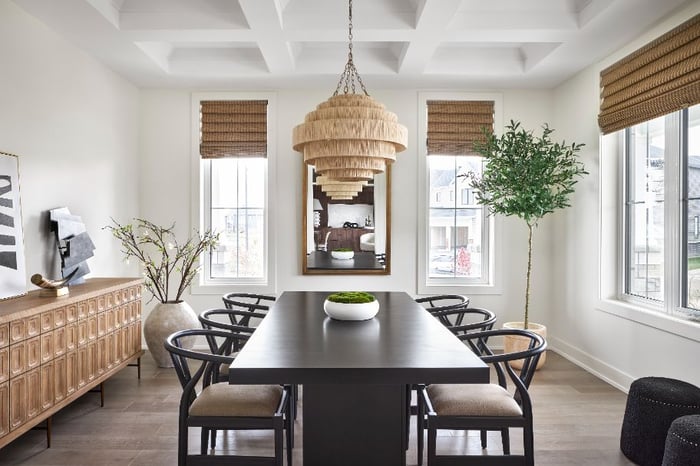 The powder room is enhanced with a custom hand-carved stone vessel sink by the local Perth valley craftsman, John Schweighart.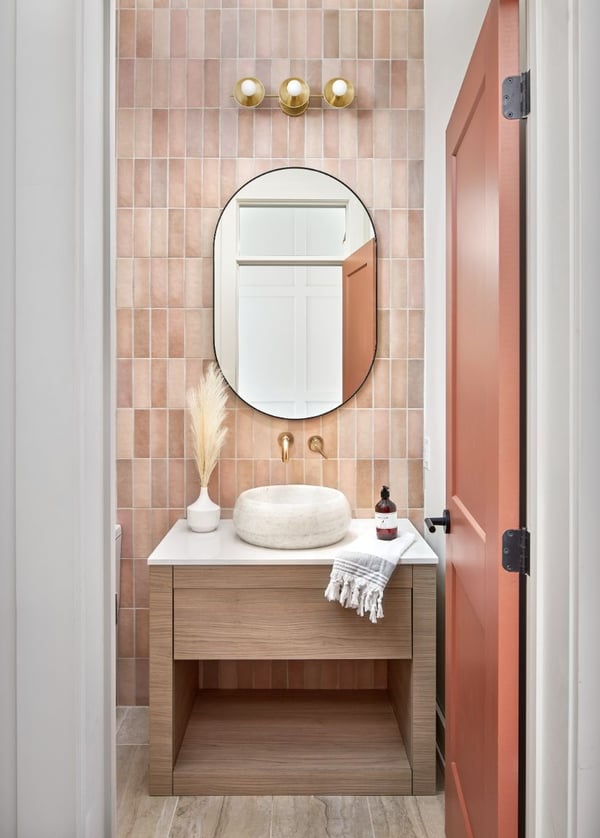 Located on the main floor, the master bedroom appeals to a demographic who do not want to navigate stairs. The master features a soft, warm cream grasscloth wallpaper with ivory-toned rope lighting. These elements are layered with clay-toned linen bedding which nicely highlights the tile colour palette in the ensuite.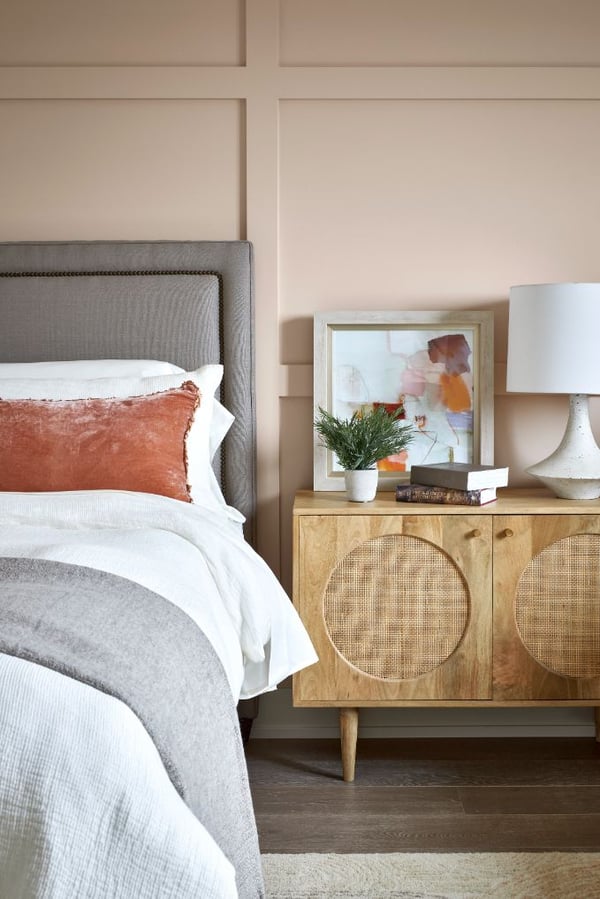 The ensuite includes a water closet, a curbless shower, and an oversized floating wood vanity. The thick dark quartz counter makes a powerful design statement in this room.
More About Interior Designer Tanya Collins
Tanya Collins is the accomplished designer of this year's Dream Home.
With experience decorating homes for over 19 years, Tanya is an established interior designer in Ottawa with her own business called Tanya Collins Design.
Tanya has worked with CHEO and La-Z-Boy on designing the Dream Home for the last 4 years. Her previous models were titled 'Bohemian', 'Creek Side' and 'Hamptons'.
The Dream Home is a project that Tanya looks forward to each year as it allows her to have a creative free-range. CHEO and Minto grant her the opportunity to create a vision that is entirely hers and bring it to life with La-Z-Boy furniture.
"Every year I try to do something dramatically different from the year before. I try to challenge myself to create a design that nobody could predict." - Tanya Collins
Tanya's favourite aspects of the Caraway design are the double-story height ceilings in the great room, the wood ceiling in the kitchen, the entrance floor tile, and the lighting in the ensuite bathroom. Further, Tanya loves the modern desert colour palette. "I am partial to pink with the art deco stylistic references", says Tanya.
Ultimately, Tanya enjoys that the interior is contemporary but warm, liveable yet sophisticated.
Reflecting on the successes of this year's design, Tanya admits that it did not come without difficulty or complications. Due to the COVID-19 pandemic, Tanya found this project extremely challenging compared to past years. The supply chain issues experienced across the industry meant that Tanya had to "adapt, pivot, and problem solve on the spot many times over".
Despite such difficulty, the main inspiration behind Tanya's hard work is rooted in the opportunity to give back to the community. "This project is for a great cause, and that is the main driver behind my work."
Why the CHEO Dream Home Matters in the Community
The CHEO Dream Home is much more than 4 walls and a roof … the home represents a meaningful cause in the Ottawa community.
By purchasing a ticket in the CHEO lottery, you are helping to improve the lives of children and youth at CHEO. Whether it be to ensure a child receives chemotherapy treatment or has a cast put on a broken bone, the money raised from this lottery helps so many children every year.
While the lottery prizes and the Dream Home are great rewards, the children at CHEO are the true incentive behind the community support in the project.
Dan Champagne says the most rewarding part of this charity is hearing the remarkable personal stories from the Ottawa community. "Over 35 thousand people went through the home in previous years, and almost everyone had their own CHEO story". CHEO has touched the lives of many Ottawa citizens, and that is why this cause is so important.
When the final draw takes place and the keys are handed over to a lucky winner, Dan says the winners are so surprised every year. "They rarely buy the ticket to win. They buy the ticket in support of this cause at CHEO."
La-Z-Boy Ottawa & Kingston's Involvement with CHEO
As a local, family-run business, La-Z-Boy Ottawa & Kingston is heavily involved in the community. What better way to give back than by providing a lucky family with the opportunity to live life comfortably in the Dream Home of a lifetime?
With this, La-Z-Boy has been proudly furnishing the CHEO Dream Home for over 20 years.
Cecile Panet-Raymond, the Ottawa and Kingston La-Z-Boy Merchandising Director, has been the representative of this project for over 10 years.
Each year, Cecile facilitates and assists the home's interior designer in translating their creative vision into reality by using all La-Z-Boy products for the furnishings and accessories.
From start to finish, Cecile works alongside the interior designer, Tanya, on the preliminary plans, visions, furniture selections, and budget. She describes this partnership as a "give and take to make a beautiful collaboration and a beautiful home."
As an expert in product selection and as a designer herself, Cecile ensures that the interior designer finds exactly what they need from La-Z-Boy.
With an in-depth understanding of the vision, Cecile attempts to save the designer time by highlighting items that align with the chosen style of the annual home.
"It can be tricky. I really try to get inside the head of the designer to understand their vision. This way I can help translate that vision by using our La-Z-Boy products."
In addition to helping the designer find the right selection of products, Cecile also ensures that the project remains on budget and that all items are in stock in order to meet the deadline of the home's grand reveal.
Cecile admits that this isn't always an easy task. There are several factors at play in this project, and sometimes there can be road bumps along the way.
As previously mentioned, the planning and execution of this year's Dream Home have been exceptionally difficult due to supply chain issues caused by the COVID-19 pandemic. Cecile and Tanya have had to furnish the home despite product delays due to material and labour shortages, as well as manufacturer and supplier stock shortages.
Typically furniture planning does not begin until late March, but in order to combat the extreme delays in the supply chain, Cecile and Tanya began planning in early January. Even so, this year's project is still delayed by about a month.
When it is all said and done, Cecile says the most rewarding part of working on the CHEO Dream Home is seeing the gorgeous final product come to life with La-Z-Boy furniture and accessories.
"It makes me proud that it is our La-Z-Boy furniture and it is so nice to be able to contribute to a cause."
A Message from Dave Maxwell, Owner of La-Z-Boy Home Furnishings and Decor
"Our team at La-Z-Boy Home Furnishings and Décor is proud to partner with CHEO in the Dream of a Lifetime Lottery. We are grateful to have the opportunity to showcase the design and comfort of our furniture while highlighting just how much we have to offer for in-home design. More importantly, however, and especially in this current year, it gives us a chance to participate in something bigger; realizing what a special place CHEO is within the community and helping to improve the lives of children in eastern Ontario."
Why La-Z-Boy?
When it comes to furnishing the Dream Home, Dan Champagne, Vice-President of CHEO Development and Corporate Relations, says that there is no better choice.
As a company, La-Z-Boy's values are rooted in quality, comfort, and family. With this, Dan Champagne feels that La-Z-Boy is an excellent brand for the CHEO charity to be partnered with on this project.
Over the years, Dan says that CHEO and La-Z-Boy Ottawa & Kingston have developed a fantastic partnership creating the annual Dream Home. Like a well-oiled machine, La-Z-Boy has been able to provide CHEO with everything they need to get the job done.
"With such variety in quality furniture, La-Z-Boy is our one-stop-shop for an entire home, and a dream home at that. It has been a gift to us". - Dan Champagne
How to Get Involved & Enter the Draw
The draw of this year's lottery is quickly approaching!
Not to worry, there is still lots of time to buy your tickets and get involved. The Early Bird deadline will be November 19th at midnight.
This year's final deadline will be December 17th at midnight. The lucky winner of the CHEO Dream Home will be announced on January 5th.
Although there will only be one new homeowner, everyone deserves to live life comfortably.
If you like the furniture and decor of this year's Dream Home, visit us at one of our local Ottawa or Kingston La-Z-Boy locations or schedule a visit online.
Our consultants and interior designers at La-Z-Boy would be happy to help you find furniture you love and create your very own Dream Home.
Related Links:
A Catalog of Furniture in the CHEO Dream Home 2020
Product Info Request
Please provide us with your name and email and we'll get back to you as soon as possible regarding this item.