A Catalogue of the Furniture in the 2022 CHEO Dream Home
September 28, 2022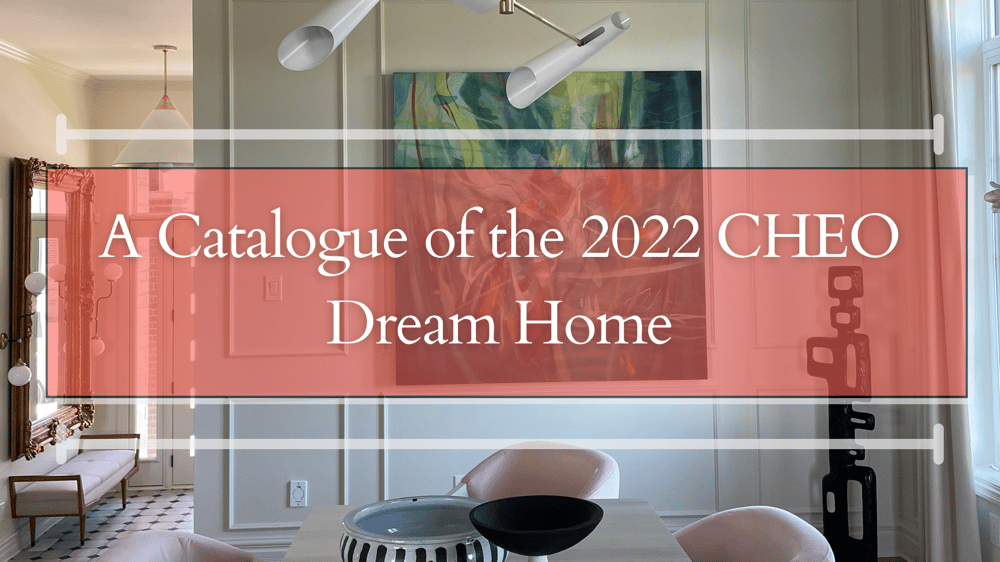 Est. Reading Time: 8 Mins
Every year, the Children's Hospital of Eastern Ontario (CHEO) partners up with Minto Communities to create the CHEO Dream Home.
Designed by the acclaimed interior designer Tanya Collins and furnished by La-Z-Boy, this large and spacious home is the house of anyone's dreams.
With the purchase of a Dream of a Lifetime lottery ticket, the lucky winner of this annual lottery will have the opportunity to win $3.4 million in prizes, including the Dream Home itself. Proceeds raised by the community go towards high-priority needs in the children's hospital.
Although there is only one Dream Home winner, there are many products shown in the house that can be purchased to add to your own home.
Almost all of the furniture and decor items you will see can be found at our La-Z-Boy Ottawa & Kingston Locations. This article will highlight every room in this year's CHEO Dream Home, as well as a list of products provided by La-Z-Boy shown in each room.
In This Article…
This Year's Dream Home: Le R
êve
Before we delve into the house in detail, let's learn a little bit about the house itself and the inspiration that led to its magnificent presentation.
Firstly, This Year's Dream Home is called Le Rêve.
Breaking apart from past years, this house is located in Kanata. With a 4,658 square-foot floor plan, Le Rêve is situated on an oversized corner lot.
Based on the Parisian-style homes and apartments, the home features a wrap-around porch, as well as 5 bedrooms and 5 bathrooms.
Le Rêve is also Eastern Ontario's first Breathe Well Home. With the help of Panasonic's technology built inside the house, this home is designed to help you live, feel, and breathe better.
About Interior Designer Tanya Collins
Tanya Collins is, once again, the designer of this year's Dream Home. Tanya is an established interior designer who has experience in decorating homes for 20 years. You can learn more about her by checking out her business website, Tanya Collins Design.
Regarding the interior design of the Dream Home, Tanya Collins, who is now in her 5th year of working with CHEO's lottery, notes that the home's interior exudes a blend of classic and modern Haussmann-style elements, with Parisian and European elements.
"Inspiration behind the Parisian style came from not only watching the Emily in Paris Series with my teenage daughter – which renewed my love for all things Parisian – but this style is also closest to my own, so it felt natural," she says.
Furnished by La-Z-Boy
Tanya's design was brought to life through the use of La-Z-Boy furniture and accents. Since the very beginning of making CHEO Dream Homes, La-Z-Boy is honoured to furnish the Dream Home each year.
Being a family-owned branch, La-Z-Boy Ottawa & Kingston prides itself on giving back to the Eastern Ontario community through this event.
Cecile Panet-Raymond, La-Z-Boy's merchandising director, has been helping to furnish the CHEO Dream Home for over 10 years now.
For the 5th year in a row, Cecile and Tanya partnered up to choose the products you can see within the house. Each product perfectly aligns with Tanya's vision of a Parisian-styled home.
To combat design challenges, Cecile and Tanya put La-Z-Boy's large range of customization options to good use. Further, the accents and decor play a significant role in transforming the overall look of the furniture and portraying this year's Haussmann-Parisian theme.
To learn more about The 2022 CHEO Dream Home in detail, take a look at this article.
Brands & Partners of La-Z-Boy Featured in the Home
In addition to traditional La-Z-Boy Residential products, you can also find products from our subdivisions of La-Z-Boy Incorporated. This includes brands such as Hammary, Kincaid, and American Drew.
While La-Z-Boy Residential emphasizes upholstery furniture, these other branches of the La-Z-Boy brand focus on filling the need for case goods, bedroom furniture, and decor.
Further, La-Z-Boy carries products from external suppliers, which will also be found throughout the home. This includes Surya, Canadel, Uttermost, Mercana, Renwil, Cyan and more.
Throughout the catalogue, you will find a wide range of products from several different suppliers, but everything listed below can be shopped for through the local Ottawa and Kingston locations.

Learn More About the Furniture: Explore the Pieces Room by Room...
Below is a catalogue of the furniture featured in the 2022 CHEO Dream Home. Keep in mind that discontinued products found in this year's home will not be mentioned within this catalogue.
Further, please note that the prices shown in this catalogue reflect the market costs at the time of publication. All prices listed are also subject to change based on customizations to size, fabric, and any additional upgrade options.
Foyer (Front Entrance)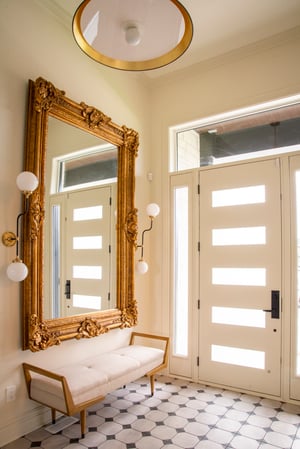 Tanya notes that all items in the foyer were picked out with attention to detail to help represent what to expect from the rest of the house. The flooring is also tiled with a European flavour.
Both furniture pieces below are accented by sconce lighting, which altogether "creates a breath-taking front foyer," according to Tanya.
Francesca Mirror
As you walk inside Le Rêve, you are immediately welcomed by the elegant Francesca mirror from Renwil. This mirror sets the tone for the Haussmann-style Parisian interior, covering almost the entire bottom half of the wall.
Supplier: Renwil
Model: Francesca MT2458
Cost: $2,399.99
Waylon Bench
Underneath the overscaled mirror lies the Waylon ivory bench that hints at a mid-century modern aesthetic, but still holds to the Parisian style very well.
Supplier: Uttermost
Model: Waylon Ivory 23592
Cost: $1,529.99
Large Pod Chandelier
Also located in the foyer is the statement gilded frame chandelier with large translucent bulbs. You can spot this piece better while heading up to the second floor.
Supplier: Cyan
Model: Large Pod 11272
Cost: $2,289.99
Warren Powder Room Mirror
Located in the front entrance bathroom is the arch-shaped Warren mirror, which includes powder-coated matte black framing.
Supplier: Renwil
Model: Waren MT2451
Cost: $499.99
Home Office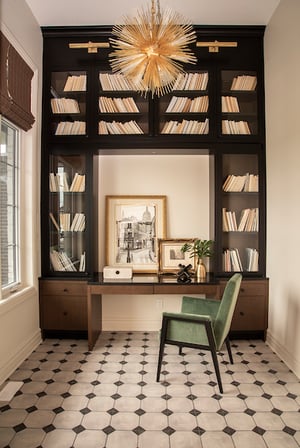 Nearing the front entrance way is the home office. "It really feels like a Parisian, European office space," Tanya says. Situated right next to the front entrance, the floor tiles bleed into this room, accentuating the Parisian flavour.
Within the Cataogue, this room includes a comfortable green velvet Chair, a coupe of tabletop decorations to add a little personality, and an impressive media unit to store all your casual and important books.
Canadel Office Chair
Showcased in this room is a sleek, contemporary-designed Canadel Office Chair, which includes dark brown wood arms and an emerald velvet cover.
Supplier: Canadel
Model: CNN05177
Cost: $799.99
Abel Tabletop Ornament
This decor item from Mercana is crafted in iron with a matte black and gold finish.
Supplier: Mercana
Model: Abel Object 68808
Cost: $69.99
Lalique Tabletop Box
This small deco inspired box features antique brass and black enamel closure.
Supplier: Uttermost
Model: Lalique Box 17995
Cost: $419.99
Dining Room & Kitchen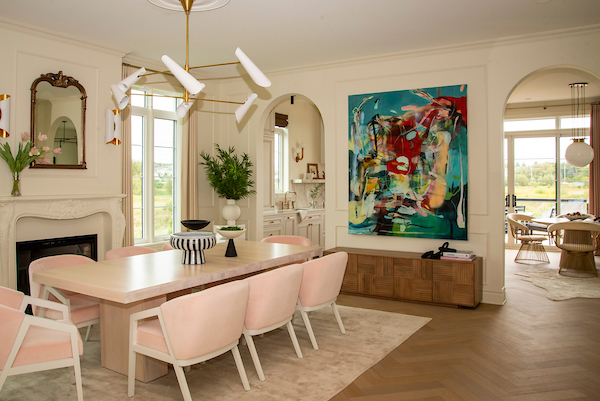 As you walk inside the CHEO home, the first room you enter is the grand dining room, which features a dining room set from Canadel and decorated with prestigious artwork. Tanya highlights the neo-classic fireplace, which "reinforces the Parisian-style aesthetic, along with the herringbone wood floors."
Tanya also mentions how the original dining room would be much smaller, blending into the living room. "I chose to make it a grand dining room to help see the juxtaposition of the classic elements in the living room."
The Canadel dining set featured blush-velvet upholstered dining room chairs and a classic Loft Collection oak-toned dining table.
Canadel Dining Chairs
These eight curved-back dining chairs from the Canadel Modern Collection feature blush-velvet upholstery paired with white wooden arms and legs.
Supplier: Canadel
Model: CNN05178
Cost: $869.99 each
Dining Table
This oak-toned dining table from Canadel's Loft Collection has a more classic look to it with its handcrafted wooden top and base. If you want to learn more about the Quality of Wood & Craftsmanship at Canadel, take a look at this article.
Supplier: Canadel
Model: Table Top TRE04296
Model: Table Base BAS02000
Cost: $4,954.98
Antithesis Tabletop Bowls
This set of Antithesis decor bowls has modern pedestals and rice stone.
Supplier: Uttermost
Model: Antithesis 18012
Cost: $549.99
Lexington Tabletop Bowl
Next to the Antithesis bowls lies the white ceramic Lexington bowl.
Supplier: Mercana
Model: Lexington Bowl 68099
Cost: $239.99
Jacqueline Mirror
Above the fireplace is the champagne-gilded Jacqueline antique mirror.
Supplier: Uttermost
Model: Jacqueline 14018
Cost: $759.99
Sophia Tabletop Ornament
The Sophia tabletop decor item includes marble colouring.
Supplier: Mercana
Model: Sophia LG 69220
Cost: $119.99
Libra Vase
Side by side from each other are two white Libra vases, one in large and the other in small.
Supplier: Cyan
Model: Libra LG 10917
Model: Libra SM 10916
Cost: $529.99 (LG); $239.99 (SM)
Vivola Pedestals
Both Libra vases and the Sophia ornament are on top of a set of Vivola pedestals. These rectangular pedestals are matched in white to create a clean look.
Supplier: Renwil
Model: Vivola PTL 004
Cost: $1,249.99
Sable Sideboard
Hugging the wall that connects the dining room to the living area is the art deco-inspired Sable Sideboard, which includes a mango wood finish.
Supplier: Mercana
Model: Sable Sideboard 69892
Cost: $2,899.99
Alix Tabletop Ornament
This tabletop ornament on top of the sideboard is a black metal link chain. The first of two Alix chains in the house.
Supplier: Mercana
Model: Alix Black 69570
Cost: $109.99
Viola Area Rug
This is the first of three viola area rugs from Surya. All area rugs are blush-toned to help reinforce the blush accents throughout the house.
Supplier: Surya
Model: Viola VI02001-913
Cost: $3,499.99
Sargon Mars Sculpture
This unique bronze sculpture from Cyan includes geometric shapes and engraved details.
Supplier: Cyan
Model: Sargon Mars 11176
Cost: $899.99
Kitchen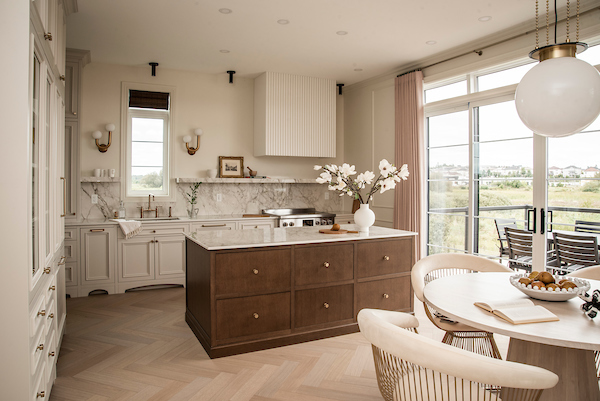 Walking through the grand arches from the dining room into the kitchen, you'll notice the exuberant counter space ready to be used for all your cooking needs. This kitchen features applied moulding cabinets and a large island to help store those large cooking appliances.
But you might be wondering, where's the fridge?! No kitchen is complete without somewhere to store those perishable items, which is why it is intuitively hidden within the cabinetry, next to the glass door pantry.
"All of the appliances are integrated within the design of the kitchen," says Tanya.
There are also blush-toned draperies that match the dining chairs in the dining room.
*The Kitchen does not include any products from La-Z-Boy.
Living Room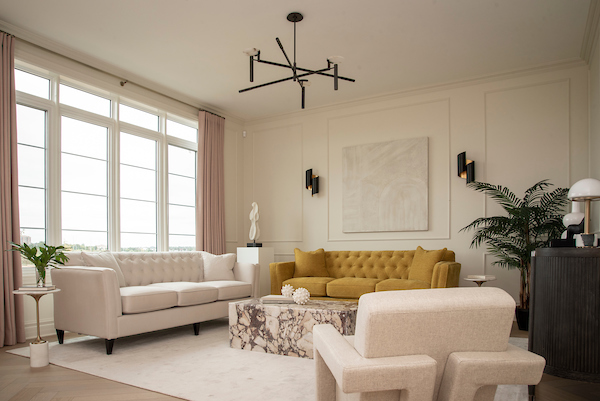 Wainscoting covers the living room walls, as with any Parisian-style home, emphasizing the inspiration behind this year's house. "You know La-Z-Boy; it's comfy!" says Tanya. The living room is where La-Z-Boy furniture shines the most!
Alexandria Sofa
As discussed in our Parisian Style Apartments article, there isn't a better choice for a Parisian living room than the luxurious tufted Alexandria Sofa. Tanya accents this Alexandria in a Dijon mustard yellow.
Supplier: La-Z-Boy
Model: Alexandria 610-682
Cost: $3,429.99
Alexandria Sofa
Not only is there one Alexandria in this year's living room, but there are two! While the first Alexandria has a mustard yellow, while the other one is covered in an oyster white.
Supplier: La-Z-Boy
Model: Alexandria 610-682
Cost: $3,179.99
Tambour Cabinet
As shown in the last Dream Home, this Tambour Cabinet in black-cerise sits below the TV, making this the perfect media unit to accent the lighter tones in the room.
Supplier: Uttermost
Model: Tambour R25088
Cost: $5,139.99
Panda Marble Accent Lamp
This mushroom-shaped panda marble accent lamp can be found on top of the Tabour Cabinet.
Supplier: Uttermost
Model: Panda Marble R30074-1
Cost: $599.99
Sphinx Sculpture
Also on top of the Tambour Cabinet sits the small sphinx sculpture from Mercana. The sphinx is coloured in black and is small enough to lay on top of any surface.
Supplier: Mercana
Model: Sphinx 68408
Cost: $59.99
Malo Tabletop Spheres
Sitting on top of the marble coffee table – handpicked by Tanya Collins Design – are two Malo spheres by Mercana, coloured in cream resin.
Supplier: Mercana
Model: Malo Large 69540
Model: Malo Small 69539
Cost: $79.99 (LG); $59.99 (SM)
Viola Area Rug
The second Viola Area rug is located in the living room. This area rug is also blush-toned.
Supplier: Surya
Model: Viola VI02000-913
Cost: $3,499.99
Sovereign Chair
This accent chair from Mercana is unlike any accent chair you would typically see at La-Z-Boy. This modern armchair dressed in cream has only three legs – two in the front and one in the back.
Supplier: Mercana
Model: Sovereign 69825
Cost: $2,299.99
Zebra Stone Tabletop Ornament
This jacks-inspired double cross sculpture in Zebra Stone sits on top of the casual dining table.
Supplier: Uttermost
Model: Zebra Stone R17924
Cost: $419.99
Basin Bowl
Next to the Zebra Stone is the pearl coloured Basin Bowl by Mercana.
Supplier: Mercana
Model: Basin Bowl 67677
Cost: $179.99
Trumpet Accent Tables
On the right side of both Alexandrias are two trumpet accent tables by Uttermost. These tables are small but create an accent with their gold base.
Supplier: Uttermost
Model: Trumpet R25127
Cost: $739.99 each
Saguro Sculpture
Adding to the Parisian aesthetic is the ivory rice stone Saguro sculpture, which sits right in between both Alexandria sofas.
Supplier: Uttermost
Model: Saguro R17927
Cost: $599.99
Guest Bedroom
Hidden across from the dining room lies the first bedroom of the house, which is the guest bedroom. This is the perfect tucked-away space for anyone visiting.
Not only does the guest bedroom have its own full bathroom with its own shower, but also a personal balcony to enjoy some fresh air.
Lacey Queen Bed
The Lacey Queen Bed is the cherry on top of this guest bedroom. This queen bed frame includes a low profile footboard, and a white coloured headboard to match the house's walls.
Supplier: Kincaid
Model: Lacey 10-350H (Headboard)
Model: 10-050F (Footboard)
Cost: $3,449.98
Infinity Black Stool
Used as the seat for the desk is the Infinity black iron base stool with a plush linen seat.
Supplier: Uttermost
Model: Infinity Black 23697
Cost: $1,129.99
Wren Mirror
The Wren Mirror includes rattan wood with a pine frame.
Supplier: Renwil
Model: Wren MT2464
Cost: $679.99
Meda Pendant
Hanging above the desk s the Meda Pendant lamp, coloured in all black.
Supplier: Renwil
Model: Meda LPC4428
Cost: $259.99
Fallon Area Rug
The Fallon Area rug is described as Modern minimalist, meaning it does not have as much detail as other pieces found at Renwil.
Supplier: Renwil
Model: Fallon RFAL-10212-58
Cost: $369.99
Nadette Night Tables
The Nadette nesting night tables come as a set of two coloured in espresso.
Supplier: Uttermost
Model: Nadette Espresso 2546
Cost: $1,789.99
Big Pill Tray
Keeping on trend with other ornaments in the house, the Big Pill Tray has a marble finish and is perfect to place keys or other small belongings.
Supplier: Uttermost
Model: Big Pill R18015
Cost: $399.99
Edwin Bathroom Mirror
Hiding in the guest bathroom is the Edwin Mirror, which has rounded edges and a rectangular bronze-plated metal frame.
Supplier: Renwil
Model: Edwin MT2416
Cost: $539.99
Lounge Room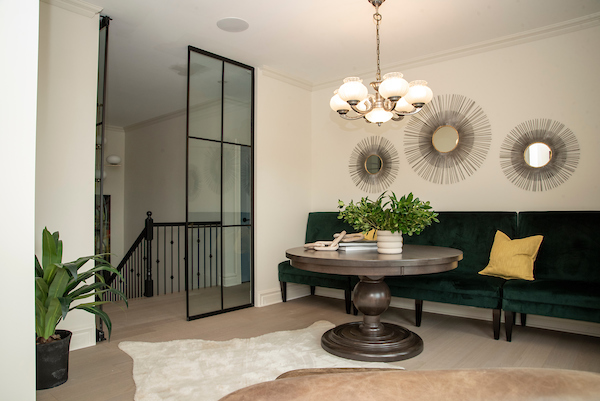 The leopard runner covers the stairway along with the iron railings as you go from either the basement or the second floor. People are immediately welcomed by the upstairs lounging area.
Tanya mentions they consciously decided to remove the traditional door and style the room with black mullioned patterned glass doors.
This decision was made to "help open up the space and give the room more air to breathe. Not to mention that these glass doors also give off a european flare to the room and the upstairs level."
The lounge room is what Tanya calls, "a flex space," meaning there are many different uses for this room. "You can probably see family playing a game here, the kids playing in here with friends, or it can be used as a quiet study space."
Evergreen Benches
Kincaid from La-Z-Boy steals the attention in this room, with its tall-back head banquette benches that are perfect for any activity. These benches are wrapped in a luxurious evergreen velvet upholstery that will turn anyone's head.
Supplier: Kincaid
Model: UPH 690-06 (58"); UPH 690-06 (40")
Cost: $4,389.98
Pierre Whiskey Chair
The Pierre Whiskey-coloured lounge chair is covered in luxurious genuine leather, and is the perfect chaise to lounge in.
Supplier: Mercana
Model: Pierre Whiskey 68767
Cst: $5,839.99
Accent Pillow
The Pierre Whiskey Chair seats a green patterned accent pillow.
Supplier: Kincaid
Model: FD1420
Cost: $419.99
Lucian Accent Table
The Lucian Accent Table has a column-inspired design and a glossy white ceramic finish.
Supplier: Renwil
Model: Lucian TAX398
Cost: $429.99
Pixley Mirrors
All three Pixley Mirrors include a mid-century sunburst aesthetic and feature antiqued silver-leaf finishes.
Supplier: Cyan
Model: Pixley LG 05539
Model: Pixley MD 05538
Cost: $1,379.99 (LG); $1,139.99 each (MD)
Alix Tabletop Ornament
The other Alix chain is handmade in wooden craftsmanship.
Supplier: Mercana
Model: Alix Beige 69571
Cost: $109.99
Gourmet Dining Table
This round Lounge table by Canadel is from the Gourmet Collection.
Supplier: Canadel
Model: TRN05454
Model: BAS01002NA29MHQ
Cost: $3,004.98
Laundry Room
Situated between the lounge and the master bedroom, this decked-out laundry room may not be the largest space, but it does have everything you need.
Decorated in the same gorgeous millwork cabinetry from the kitchen, it also includes a bridge faucet sink for some of those dirtier pieces of clothing that need more than just a wash and a dry.
*The Laundry room is another room that does not feature any products from La-Z-Boy.
Master Bedroom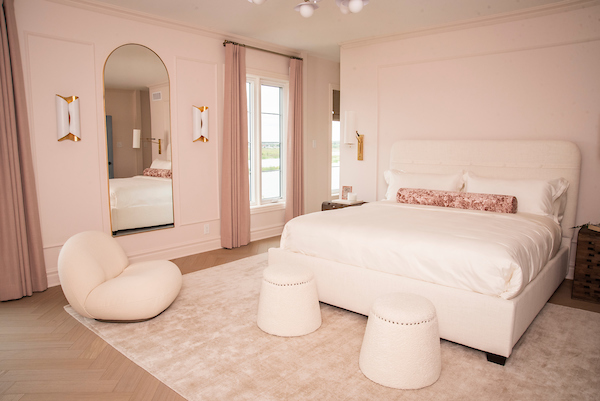 The primary suite, also known as the master bedroom, holds a soothing, romantic and relaxed space that is perfect for any couple.
Tanya notes that the wall colouring "helps reinforce the blush-toned colours that were shown on the dining room chairs and in the kitchen." There are also blush-toned draperies in this bedroom as well!
Tanya says that the different textures of fabrics around the room "Make for a curated look."
Behind the king-sized bed is the walk-in closet, which covers the entire back end of the master bedroom and has plenty of space to store all of your clothes.
The bathroom inside the primary suite is so large that the bathtub could also squeeze into the walk-in shower, remaining enclosed by a steam-glass wall. "It could actually be close to a steam room," Tanya says, "since both areas are closed off by the glass."
The primary bathroom also includes a water closet, which is a private toilet that is separated by a door from the bathroom.
Margo King Bed
The king-sized bed from Kincaid is, of course, the biggest bed in the house. It features a curvy and tufted king headboard and footboard.
Supplier: Kincaid
Model: Margo 10-866H
Model: 10-066F
Cost: $4,529.98
Big Sur Accent Table
The Big Sur accent table features a driftwood base and a marble top.
Supplier: Uttermost
Model: Big Sur R25140
Cost: $6,229.99
Thatcher Mirrors
This full-length Thatcher Mirror includes an iron frame and gold leaf finish. You can find another one on the right end of the closet, as well.
Supplier: Renwil
Model: Thatcher MT2393
Cost: $1,279.99 each
Gumdrop Ottoman
Both Gumdrop Ottomans are made with plush faux shearling and nailhead details.
Supplier: Uttermost
Model: Gumdrop White 23574
Cost: $569.99 each
Craig End Nightstands
These modern rustic Craig End Tables feature salvaged pinewood and iron trimming.
Supplier: Uttermost
Model: Craig End TBL R24744
Cost: $1,159.99 each
Viola Area Rug
The last Viola Area Rug can be found in the Masterbedroom with blush-toned colouring.
Supplier: Surya
Model: Viola VI02001-913
Cost: $3,499.99
Jacqueline Mirrors
Moving into the primary bathroom, this bathroom not only features one gilded finish Jacqueline Vanity Mirror, but two! The distressed details help accentuate the Haussmann aesthetic that Tanya enjoys throughout the house.
Supplier: Uttermost
Model: Jacqueline 14018
Cost: $759.99 each
Adriana Accent Table
The wet room Adriana Table sits next to the bathtub for convenient purposes. This textured accent table is coloured in antique gold.
Supplier: Uttermost
Model: Adriana 25114
Cost: $799.99
Child Bedrooms
From the other side of the master bedroom situates the other bedrooms of the house. Starting off with the smallest room, which is currently decorated as a nursery. This "cute colourful room," in Tanya's words, includes orange and blue accent colours to represent playfulness and child curiosity.
Connected to bedroom number three by the Jack and Jill bathroom, both room dwellers can conveniently share this bathroom space. This bathroom includes playful floral-inspired light fixtures that help create a soothing and restful bathroom.
Bedroom number three is decorated as another kids' room, with some playful colours like the nursery. This room is slightly toned down with only blue accents, which is a running theme for the second floor.
Tanya describes the door colours as " a French, chalky-blue, which creates a fun atmosphere that contrasts the white walls of the house."
And last but not least, the separate fourth bedroom is one of Tanya's favourite rooms in the house. Nicknaming it her Emily in Paris bedroom, it features blue and red accents, which is unique from all the other rooms in the house.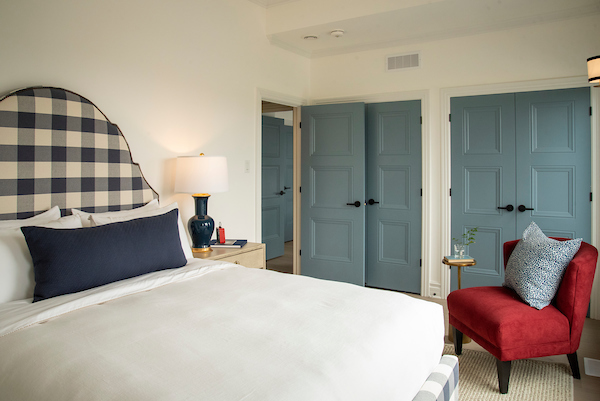 Troilus Lamp
In the nursery, you will find the Troilus floor lamp. This piece includes a marble base, polished brass and coloured white.
Supplier: Renwil
Model: Troilus LPF3037
Cost: $499.99
Garden Queen Bed
Bedroom number three includes the Garden Queen bed, which has a powder-coat finish on the bedframe and metal bed rails.
Supplier: Kincaid
Model: Garden Bed 59-132
Model: Garden Bed Rails 59-134
Cost: $2,079.98
Barton Mirror
Located in the Jack and Jill bathroom is the Barton Mirror. This vanity mirror is rectangular and has a gold finish.
Supplier: Renwil
Model: Barton MT2145
Cost: $1,099.99
Arabella Queen Bed
Located in the Emily in Paris bedroom is the Arabella Queen Bed, which stands out with its blue and cream checkered headboard – a feature that is considered one of Tanya's favourites throughout the house.
Supplier: Kincaid
Model: Arabella 10-750H
Model: 10-050
Cost: $6,119,98
Somma Nightstands
The Lenox Somma Nightstands are shown on both sides of the Arabella Bed, and feature an oak-toned colour.
Supplier: American Drew
Model: Somma 923-420
Cost: $1,369.99 each
Nolita Chair (Disc.)
Next to the Arabella is the Nolita Chair, which is covered in a red accent colour. It is important to note that the Nolita is no longer available for purchase as it has been discontinued by La-Z-Boy.
Supplier: La-Z-Boy
Model: Nolita 235-473
Cost: $1,199.99
Sanaga Accent Table
This Minimalist Sanaga table is described by Tanya as a drink table with a textured antique gold finish.
Supplier: Uttermost
Model: Sanaga 25061
Cost: $459.99
The Basement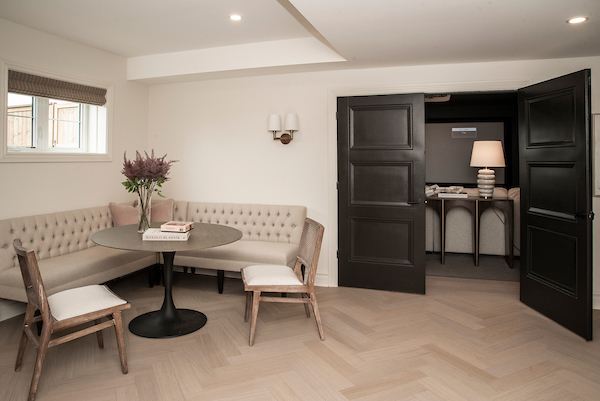 Travelling down the staircase, you can follow the leopard runner to the downstairs area. The basement comprises many different rooms, including a home theatre room, a second lounging area, and a fitness room.
Before entering the main theatre room, you'll notice a lounging area. According to Tanya, this area is perfect for playing card games or board games for some family-friendly fun.
Garrett Bench
The lounging area includes the button-tufted Garrett benches in an L-shape.
Supplier: Kincaid
Model: 689-06 (58")
Model: 689-35 (Corner)
Cost: $6,799.97
Brando Table
Modern meets industrial with the Brando pedestal dining table, which is situated with the Garrett Benches.
Supplier: Uttermost
Model: Brando R24931
Cost: $3,499.99
Wynn Accent Chairs
Across from the Garett Benches are the Wynn Accent Chairs, which have a light brown and cream upholstery.
Supplier: Mercana
Model: Wynn 69829
Cost: $1,139.99 each
Apothecary Cabinet
Possibly the first thing you'll see is the Apothecary Cabinet, which is coloured in a dark cherry wood finish.
Supplier: Hammary
Model: Apothecary 090-762
Cost: $4,739.99
Paxton Sectional
La-Z-Boy shows itself again with the Paxton Sectional in the home theatre room, which is upholstered in a cream fabric cover. The Paxton Sectional is also considered one of our Best-Selling Sectionals.
Supplier: La-Z-Boy
Model: 60R-663
Model: 60M-663
Model: 60L-663
Cost: $7,259.96
Langdon Poufs
Complimenting the Paxton Sectional are the vintage-look rustic pouf ottomans made in India.
Supplier: Surya
Model: Langdon LGPF-001
Cost: $1,299.99 each
Coliseum Sofa Table
Behind the Paxton Sectional is the Roman aqueduct-inspired Coliseum Sofa Table. Features eucalyptus veneer and brass insets.
Supplier: Uttermost
Model: Coliseum R25117
Cost: $7,339.99
Connection Tabletop Ornament
Similar to the Alix Chains is the Connection ornament, which includes a four-link connected sculpture with white marble and brass-finish bands.
Supplier: Uttermost
Model: Connection R18020
Cost: $829.99
Dickens Mirror
Located in the Basement bathroom is the rectangular Dickens Mirror, which includes a walnut frame.
Supplier: Renwil
Model: Dickens MT1835
Cost: $359.99
Other Room Accents
Throughout the Dream Home, you'll notice some recurring items that are scattered throughout the house. Some have already been mentioned, like the Viola Area Rugs, but here are some more pieces that might pique your interest.
Sivan Baskets
This set of three Sivan woven baskets can be placed anywhere in your house. Two are located in the laundry room, while the other is in the nursery.
Supplier: Mercana
Model: Sivan 69582
Cost: $379.99
Fabric Pillows
Similar to the one found in the upstairs lounge, these five Cleomenes Azure accent Pillows can be stored away for extra pillowing, or placed anywhere in your home.
Supplier: Kincaid
Model: FA01-00
Cost: $289.99 each
Balance Prints
Scattered throughout the second floor, these six Balance prints are framed either in bathrooms, bedrooms or in the lounge.
Supplier: Mercana
Model: Balance l 14200
Model: Balance ll 14201
Model: Balance lll 14202
Model: Balance lV 14203
Model: Balance V 14204
Model: Balance Vl 14205
Cost: $309.99 each
What's Next?
The 2022 CHEO Dream Home is undoubtedly the home of anyone's dreams, but as mentioned before, the products in this catalogue can help make this dream home your reality.
If you enjoyed Tanya Collins's design and choice of furniture, be sure to check out these products online or in person.
Most of the products listed above from an external supplier can also be shopped for at a local Ottawa and Kingston La-Z-Boy location.
If you are interested in finding some of these products for your own home, visit us at one of our local Ottawa or Kingston La-Z-Boy locations or schedule a visit online.
Our design consultants and interior designers at La-Z-Boy would be happy to help you find the furniture of your dreams to create your very own dream home.
If you're interested in learning more about past CHEO Dream Home catalogues, take a look at these articles:
Related Articles:
Everything You Need to Know About the 2021 CHEO Dream Home - The Caraway
Everything You Need to Know About the 2020 CHEO Dream Home - The Bohemian
Product Info Request
Please provide us with your name and email and we'll get back to you as soon as possible regarding this item.