Review of the La-Z-Boy Alani Stationary Sectional
June 14, 2021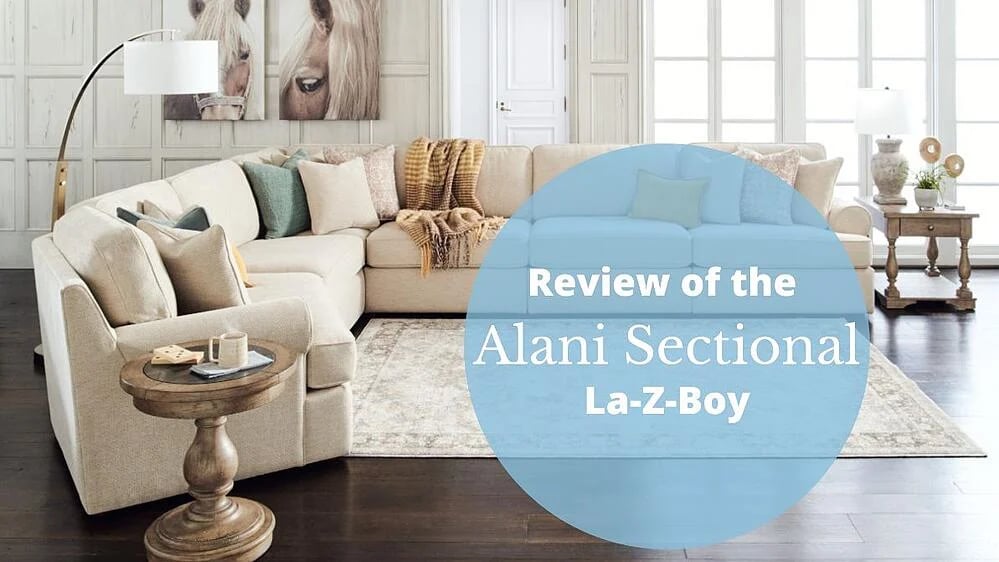 With a wide array of stationary sectionals to choose from at La-Z-Boy, it can be quite the process to determine which sectional will fit seamlessly into your home. With much to consider, it is most important that the sectional you choose aligns with your style, space, and lifestyle.
If you are considering the Alani sectional, then you are in the right place!
When you sink into the comfort of the Alani Sectional's deep, wide seats and loose pillow back, you may never want to get up. This versatile stationary sectional has clean lines and a casual design.
The Alani looks at home in any home.
As a new introduction to La-Z-Boy as of fall 2020, the Alani is currently only available as a sectional.
If you are looking to enhance your home seating arrangement with shared comfort and a customizable design, the Alani Sectional may be exactly what you are looking for.
Read on for a comprehensive review of the Alani Sectional to determine if it is for you!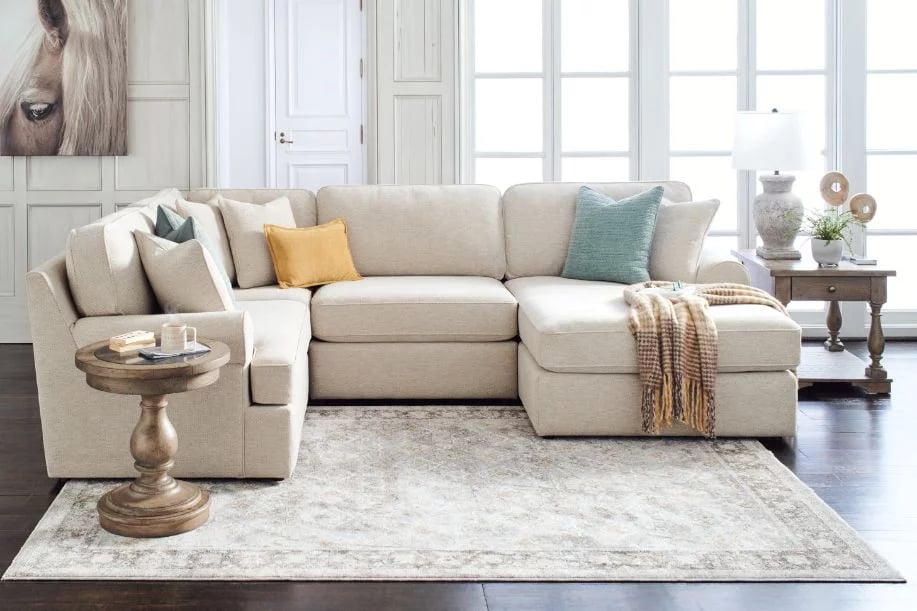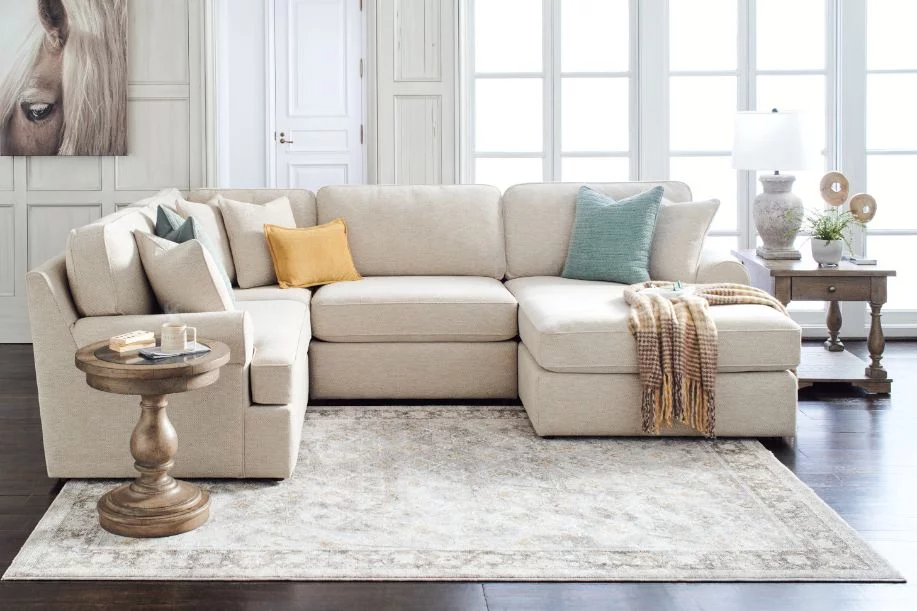 Unique Features
Racha Pharaon, a design consultant from La-Z-Boy Kanata, says that the style of the Alani sectional is the perfect combination of modern and classic design. Its clean lines and simple silhouette portray modern characteristics while the traditional rounded arms and the plush back cushion keep it slightly classic.
The shape, style, and design of the Alani Sectional is very comparable to the La-Z-Boy's Paxton Sectional, according to Racha.
Alani's popular rolled arms, welt trim, and decorative wood legs give the sectional a stylish appeal. Further, 20-inch accent pillows with welt trim only enhance the overall comfort and style of the Alani.
Hosting high-grade foam seat cushions, the Alani offers plenty of support. Racha says the cushions have a firmness to them, while still providing a comforting softness. Personal comfort aside, the appearance of the Alani cushions are maintained with double-picked blown fiber fill for long-lasting shape retention.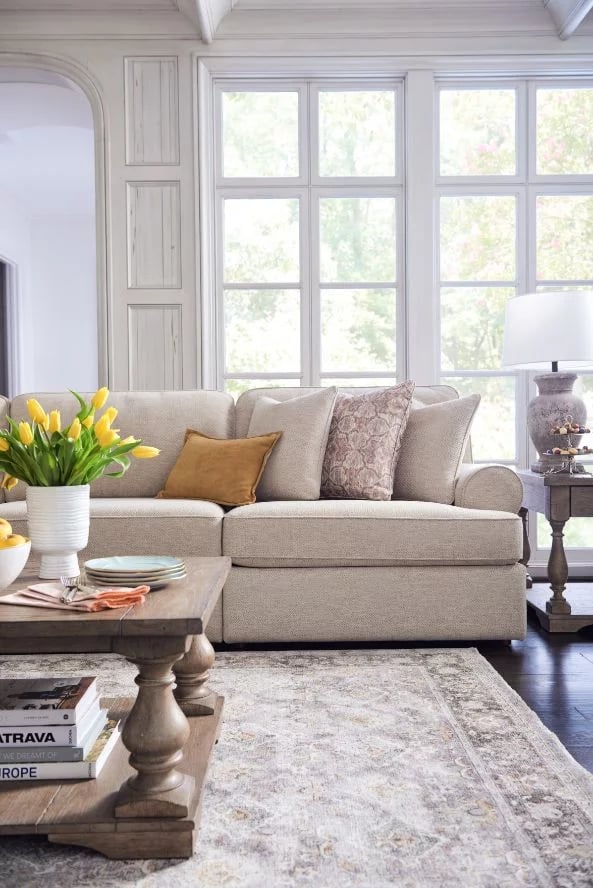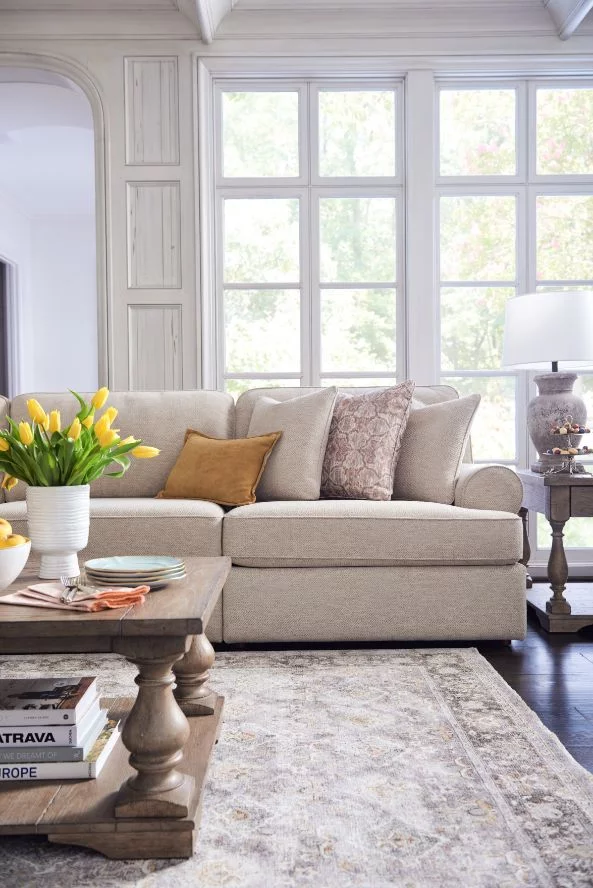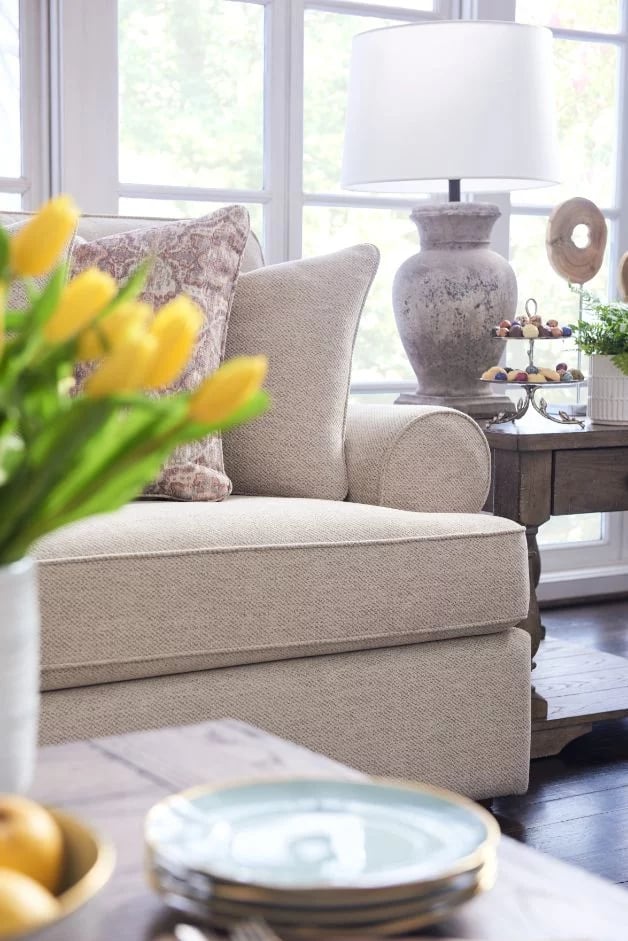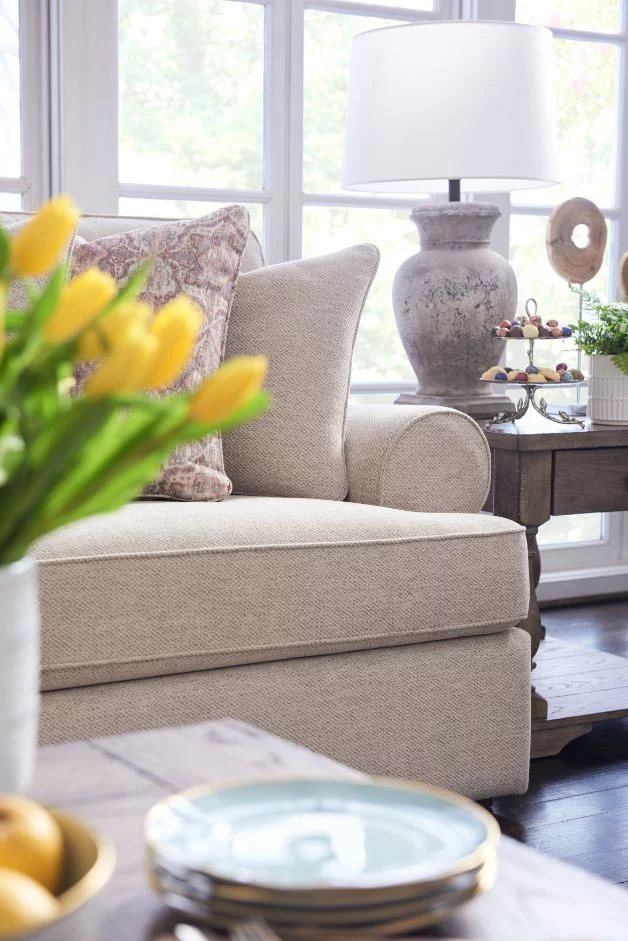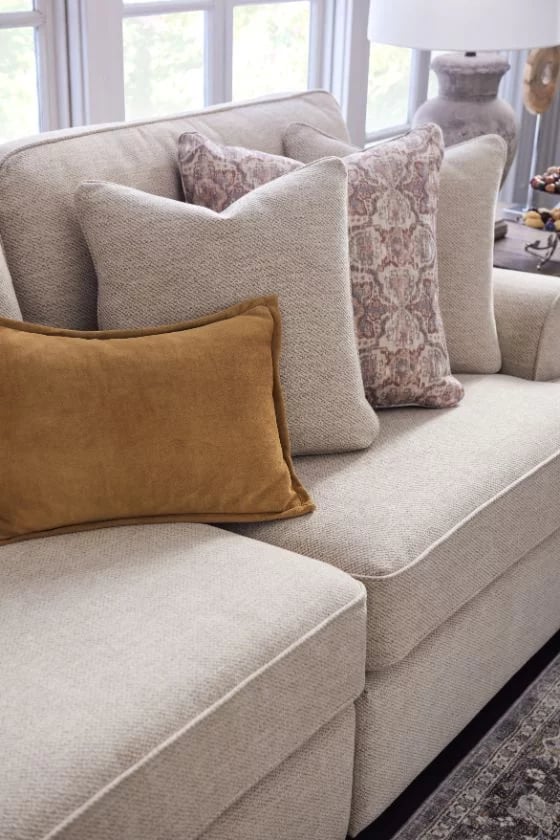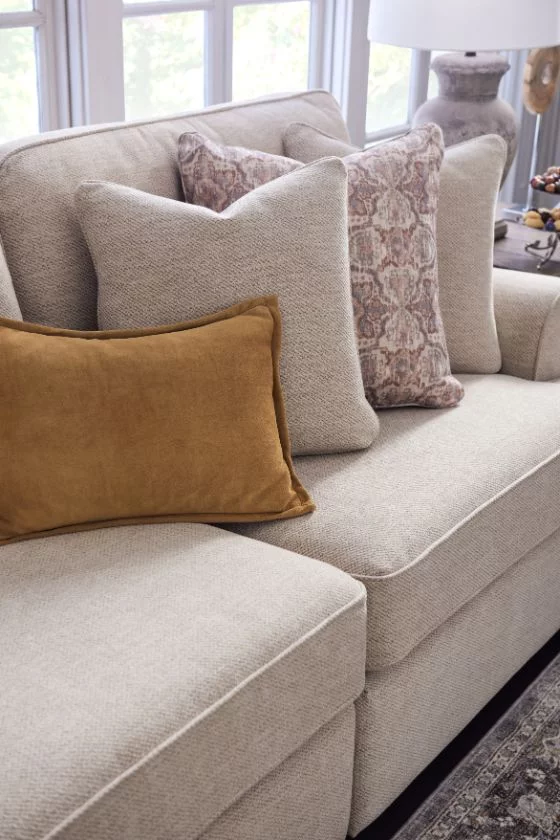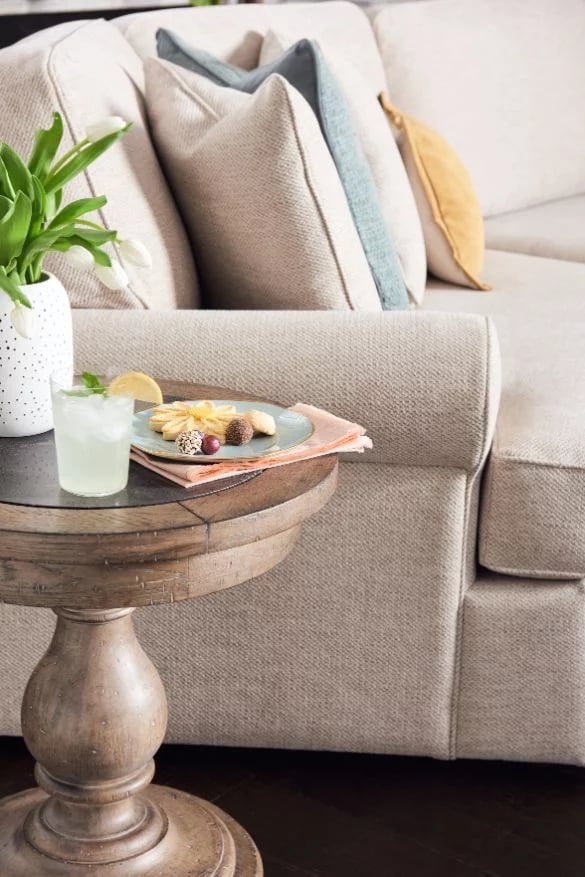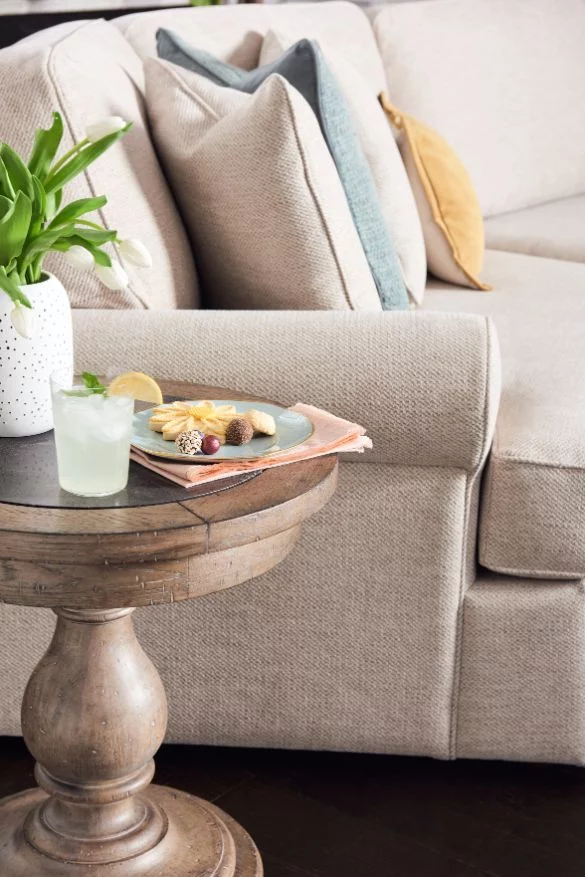 Size & Dimensions
According to Racha, the size of the Alani sectional is very adjustable depending on the sectional configuration you choose.
With strategic use of a starter configuration and sectional pieces, the Alani sectional can comfortably fit into both small or large spaces.
Configuration options will be discussed in more depth within the Options & Upgrades section of this article.
When it comes to the size of the Alani seat, the Alani features deep seats and a low back. More specifically, the Alani seat is 49 inches deep and 21.5 inches high.
Considering these dimensions, the Alani sectional is best suited for a taller person in the seated position. With this being said, the deep seats of the Alani are perfect for individuals of all heights to lay down and snuggle upon.
How it's Made – Premier Construction
La-Z-Boy's quality construction offers countless hours of durability and comfort. More specifically, for the duo® collection and most non-reclining frames, La-Z-Boy has developed a Premier method of construction.
These sofas, chairs, and sectionals are built with premier features targeting the frame, spring system, cushion, and padding.
As a part of the stationary collection, the Alani Sectional is made and manufactured with Premier Construction. Features of Premier Construction:
OSB, hardwood solids, and laminated hardwood frame construction

Fully padded outside back, outside arms, and front post

No-sag sinuous wire seat and back springs

La-Z-Boy non-skid logo decking

Toss pillows

Self-healing zippers
For more detailed information, take a look at the article Premier Construction at La-Z-Boy.
Options & Upgrades
At La-Z-Boy, everything is customizable, including the Alani Sectional. You can make the sectional uniquely yours by customizing the fabric, seat cushions, contrasting trims, and accent pillows. Additionally, you can choose the configuration of your Alani Sectional.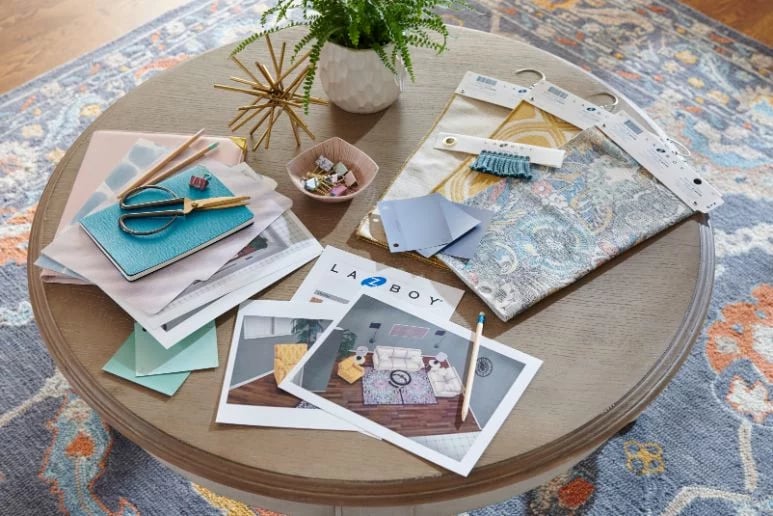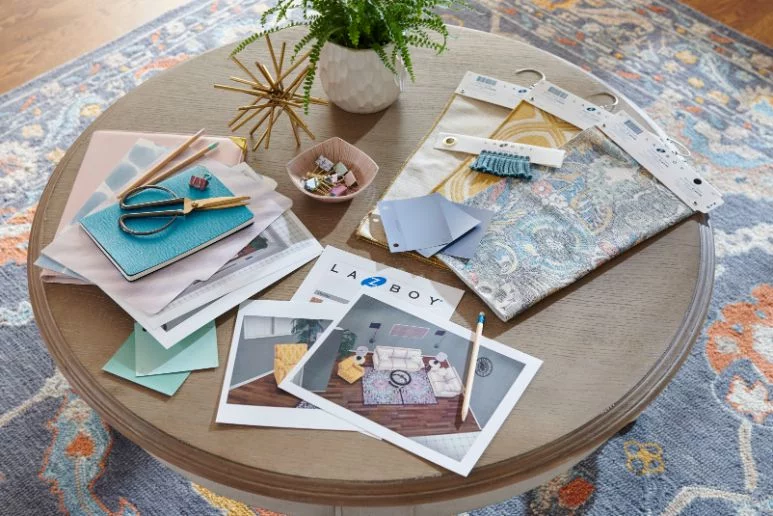 Sectional Configuration Options
The configuration of your Alani Sectional is very important as it will determine the overall shape and size of your sectional. This will also impact how the sectional fits in your room and how it coordinates with your furniture arrangement.
The Alani has three starter configurations to choose from: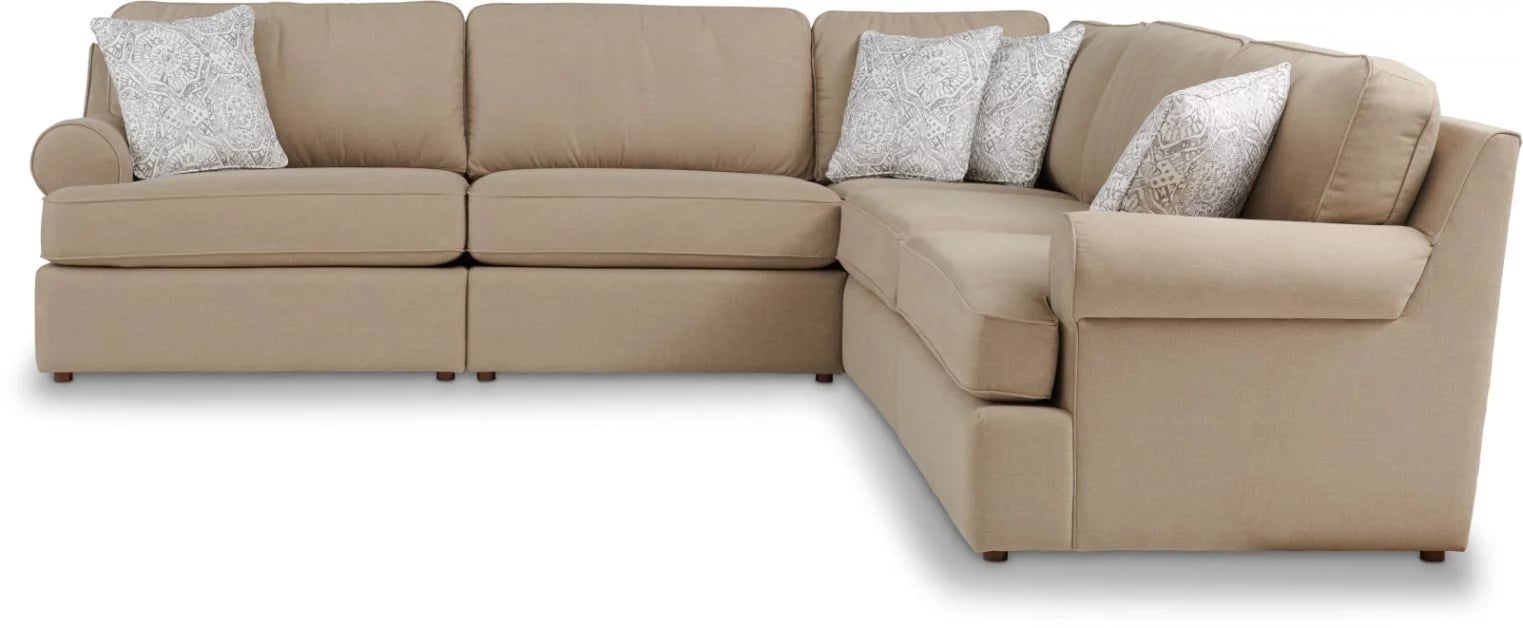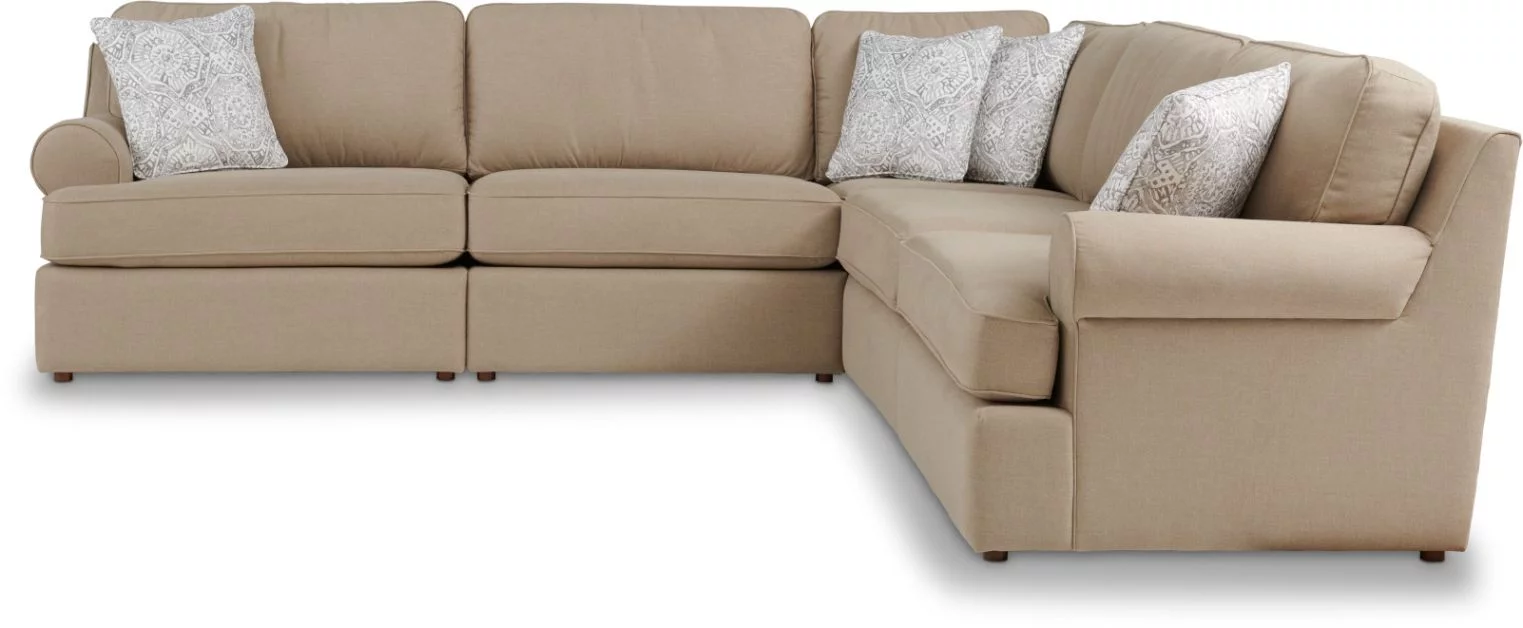 You can further customize these configurations by playing around with the Alani …
The Alani cuddler piece sets this sectional apart as not every sectional offered at La-Z-Boy features a cuddler option. The cuddle corner acts as a great solution for intimate conversation and cuddling.
For more information on the Alani sectional and potential configurations, take a look at the Alani Sectional Product Manual.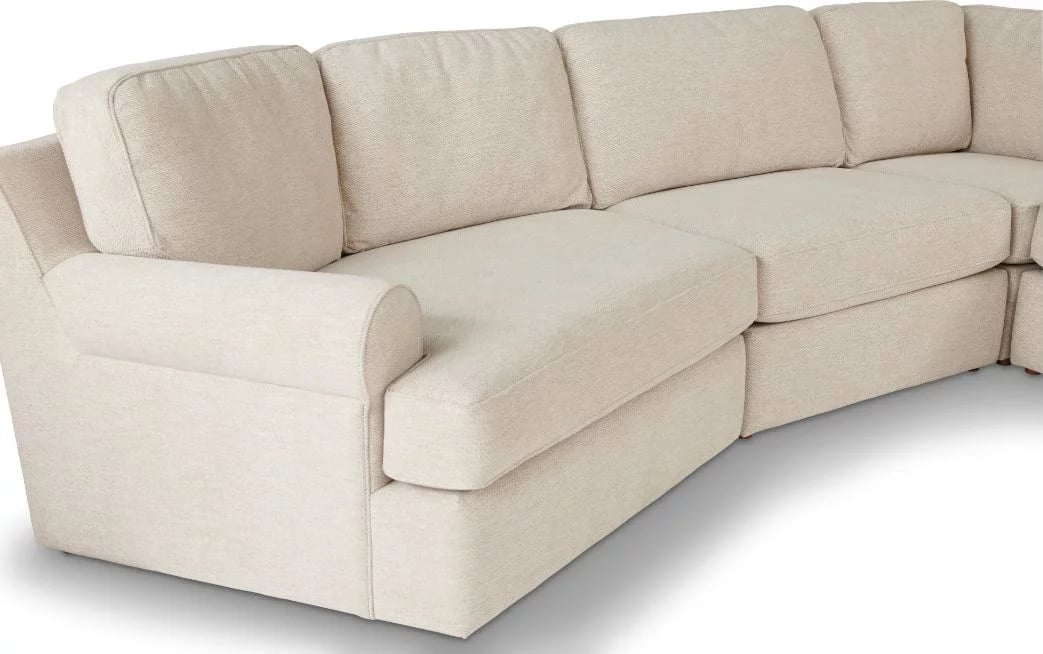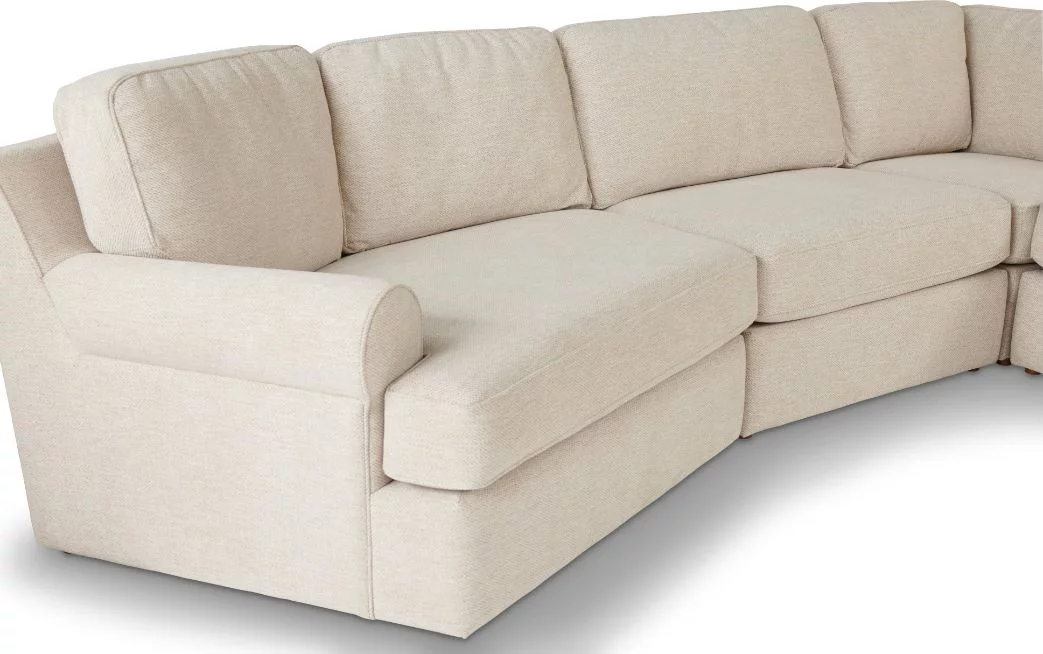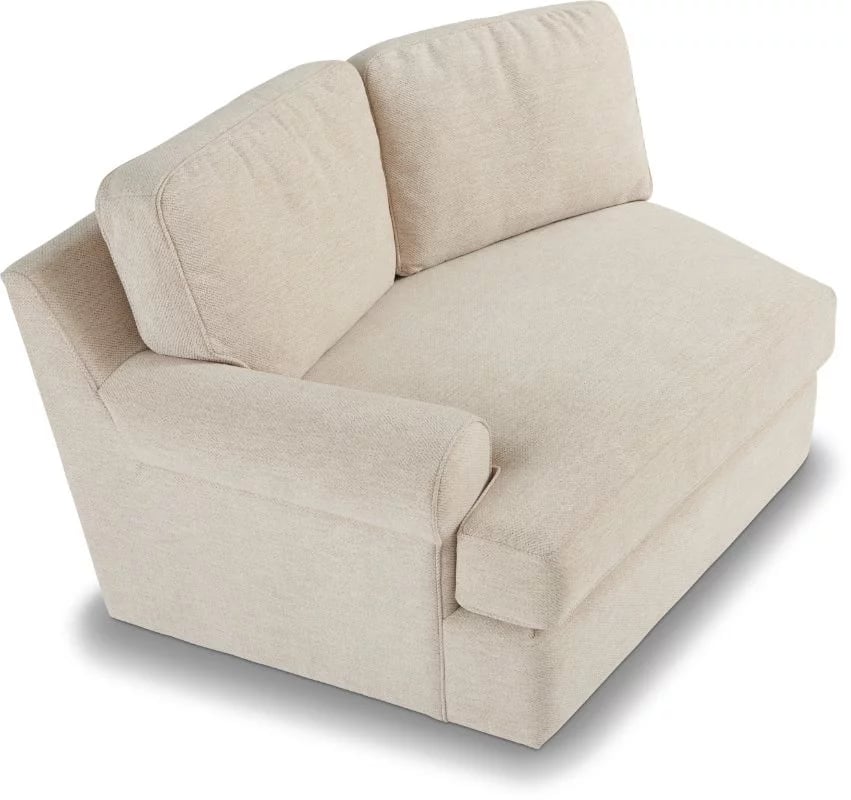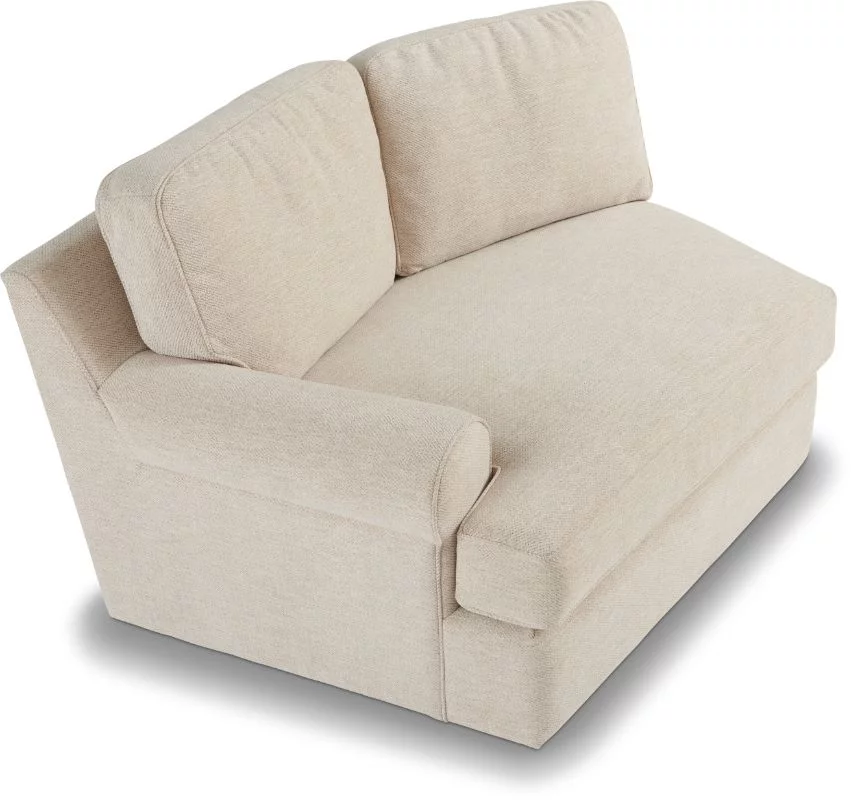 Upholstery/Cover Options
The cover that you choose is crucial in determining the overall look and feel of the Alani Sectional.
The Alani has no leather options. Due to the large seat size and backs, the leather would need to be cut into sewn strips, making it challenging to meet La-Z-Boy's upholstery standards.
Instead, the Alani is available in over 300 fabrics. Of this wide variety, there are six select high-grade fabrics best suited for the Alani.
The select colours are of a neutral colour palette, customizable in Oyster, Dove, Granite, Graphite, Sand, and Walnut. With this, each selection slightly differs in texture offering a unique look and feel.


Wether you choose from the select six fabrics or beyond, you can achieve many different styles with your choice of cover for the Alani Sectional.
Among the fabrics available in various textures, patterns, and colours, the Alani Sectional is also available in premium-grade specialty fabrics.
Stain Resistant
Innovative iClean technology surrounds each fabric fiber, creating a barrier that repels spills before they turn into stains.
Tested to simulate the scratches and wear that pets can cause to ensure a durable and easily washable fabric.
Antimicrobacterial *New
Antimicrobacterial properties surround each fiber to protect against mold, mildew, and odor-causing bacteria.
Performance
Superior stain and fade resistance properties make these fabrics easy to clean and incredibly durable.
Eco Friendly
Conserve Sustainable Fabrics are soft, durable, and made from recycled water bottles.
Seat Cushions
At an additional cost, firmer seat options are available, plus you can choose to upgrade both the seat and back cushions. For more information please see our stationary furniture collection catalogue and our in-depth Review of La-Z-Boy's Chair and Sofa Seat Cushions.
Please note that furniture purchased prior to January 2021 had the option to upgrade to ComfortCore

GEL seat cushions. This cushion has seven layers of comfort technology that includes gel-infused memory foam that provides exceptional support as it conforms to your body.
Contrasting Welt Trim
Welt trim provides a tailored look to sofa seat cushions. You can opt for contrasting welt trim on your Alani Sectional to add some personality and decorative detail.
Pillows
The Alani Sectional comes with matching throw pillows for a designer look and feel. If you are going for a bolder look, consider selecting contrasting accent pillows to make your Alani Sectional pop.
Additionally, you can choose to add cord or fringe to the pillow edge for a more decorative appeal.
For upgraded comfort opt for a FeatherLite fill feathers.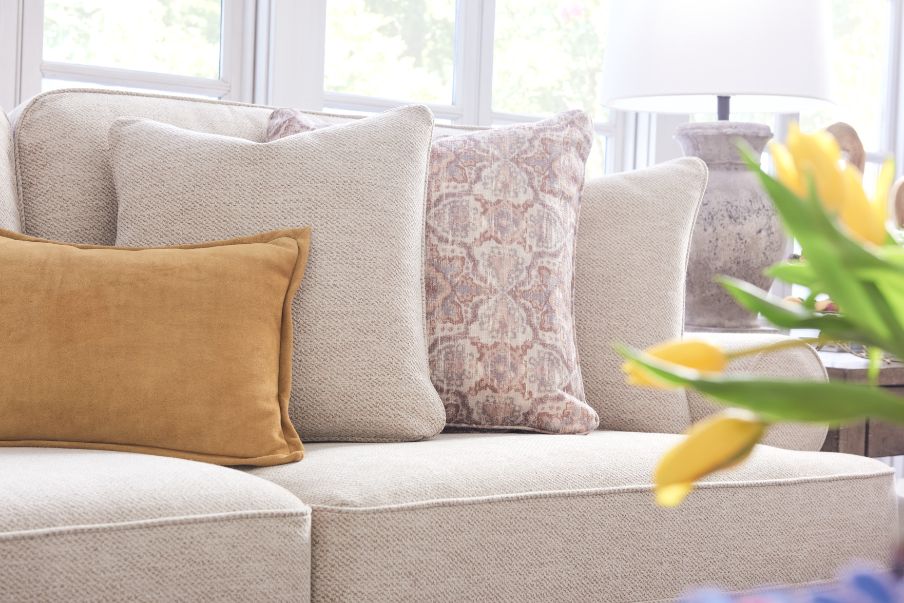 Cost
The Alani Sectional falls within the high-end price bracket on the furniture market. With this being said, the Alani falls within the mid-price range offered at La-Z-Boy.
Starting at $3,889 (in its smallest configuration with select fabrics, the cost of the Alani Sectional is subject to increase based on your customization, configuration, and upgrade selections.
The cost of the Alani Sectional is determined by a variety of factors including the quality of materials and methods of construction. As a part of the Premier Construction collection, this sofa is high-quality, comfortable, and durable.
*All La-Z-Boy prices listed in this article are subject to change. We aim to update all cost-related articles twice per year. This article was last updated on October 12th, 2022. Please visit lzb.com and select an Ottawa or Kingston La-Z-Boy store location to view the most up-to-date pricing.
Limited Lifetime Warranty
A stationary sectional frame among the La-Z-Boy Premier Constructed furniture, the Alani is backed by a Limited Lifetime Warranty assuring the protection of your investment and overall satisfaction.
The Limited Lifetime Warranty covers the repair or replacement of the frame, spring system, and the mechanism, given that they are quality-crafted and built for long-lasting comfort.
While still built to last, other aspects of the product, such as fabrics, leather, and cushion, are prone to more destruction over time than parts of the frame. Although not covered for life, the La-Z-Boy Manufacturer's Warranty still covers these parts for a given period of time, usually a few years.
Customer Reviews
The Alani is one of the newest editions to the La-Z-Boy furniture family!
With this, very few La-Z-Boy clients have had the chance to get their hands on an Alani and break it in.
As more homeowners get the chance to experience all that the Alani has to offer, this section of the article will update and populate with helpful reviews of the product.
In the meantime, you may find value in referencing customer reviews of the La-Z-Boy Paxton Sectional. As previously mentioned, the Paxton is very similar to the Alani in design and functionality. Customer reviews of Paxton may be indicative of the Alani as well!
Is the Alani Sectional Right for You?
It is no question that the Alani Sectional is a beautiful piece of furniture. But is it right for you?
Generally speaking, the Alani is a great sectional choice for someone seeking a comfortable shared seating arrangement in a modern, transitional style.
According to Racha, the Alani can accommodate the needs and preferences of many different clients given its versatility in style, size, and functionality.
Depending on the customizations you choose in fabric and accessories, as well as the shape and configuration you put together, the Alani sectional is a great choice for a wide array of homeowners.
Whether you enjoy snuggling up with your pets and family members or hosting gatherings with friends, the Alani Sectional provides shared comfort.
Given its options in size and configuration, Racha says the Alani Sectional can be placed in multiple rooms in the home. Depending on how you style it, it can be dressed up for a living room or placed casually in the basement.
Given that the Alani is a stationary sectional, this choice may not be right for someone who prefers the ability to recline. Although the deep bucket seats of the Alani are ideal for curling up on, some clients may wish to kick their feet up in a footrest and lay back instead.
Moreover, although the cushions of the Alani offer firm support, the sheer size of the deep bucket seat can cause a sinking feeling. While some prefer to be perched up while they sit in their sectional, the Alani embraces you like a comforting hug. While a hug is nice from time to time, this is not for everybody.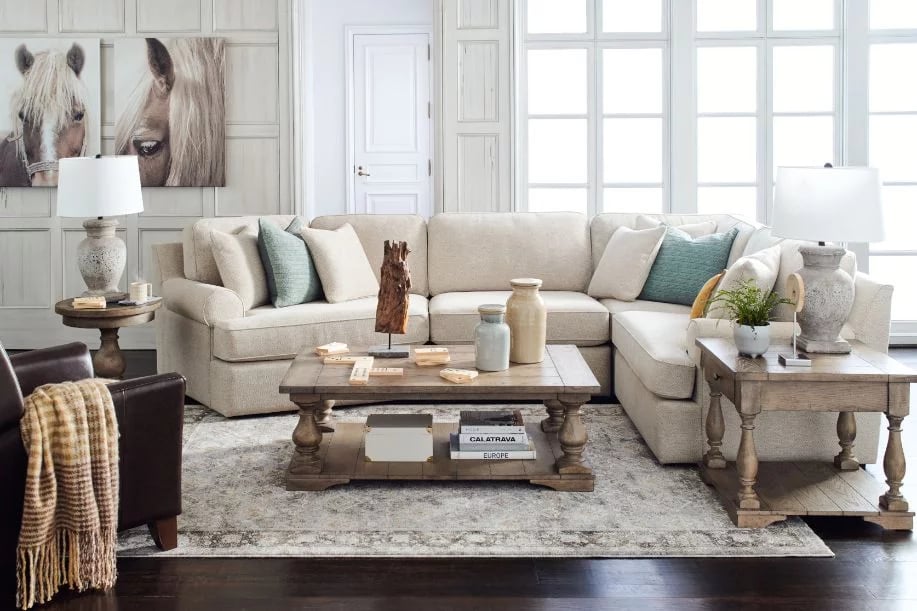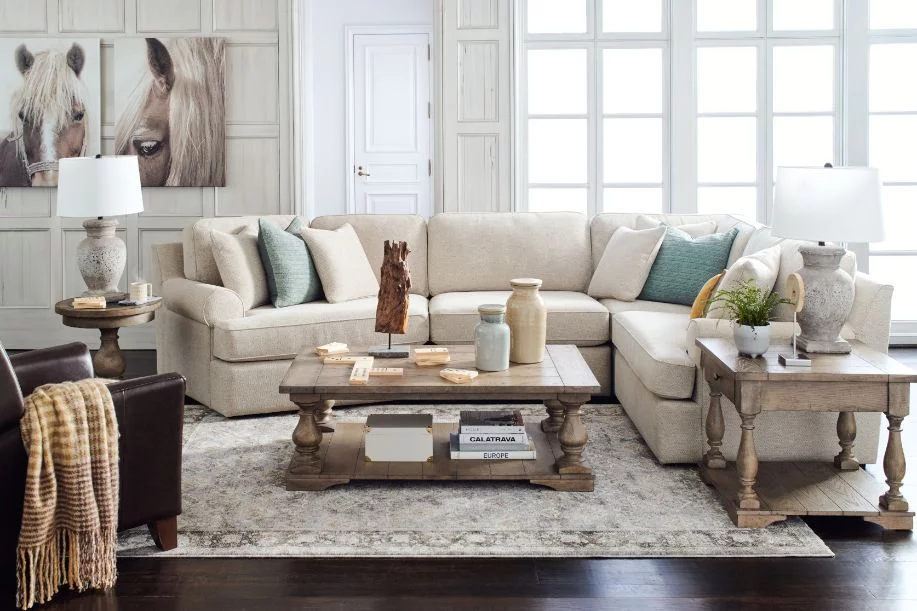 Product Info Request
Please provide us with your name and email and we'll get back to you as soon as possible regarding this item.