Stationary vs. Reclining Furniture at La-Z-Boy: Which One is Right You?
September 26, 2022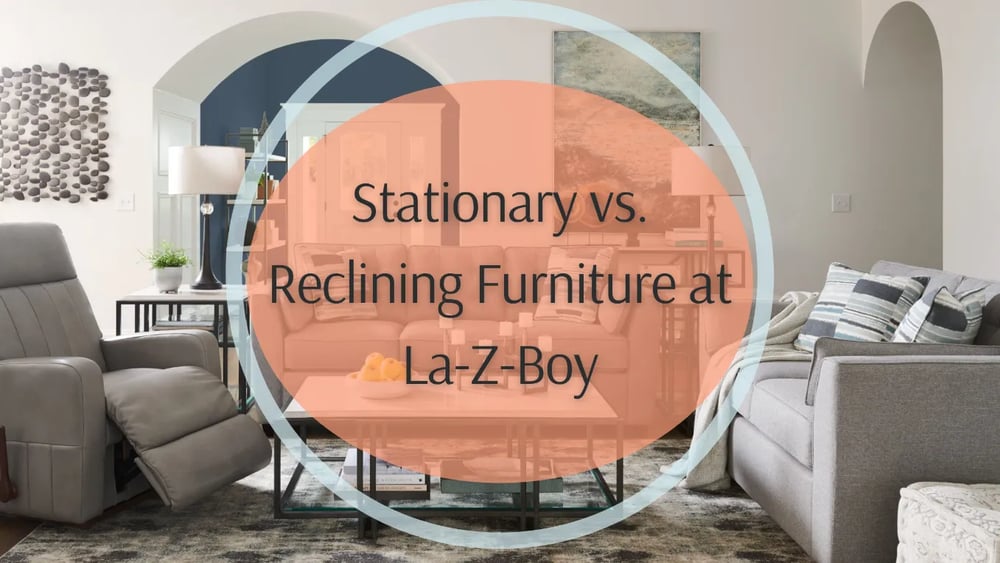 Est. Reading Time: 9 Mins
What's the first word you think of when you think of La-Z-Boy? If you thought of "Recliner," you aren't alone.
The name La-Z-Boy is actually sometimes synonymous with the word recliner, kind of like how the brand Kleenex is synonymous with tissues.
However, after over 90 years of existence, the La-Z-Boy brand has evolved far behind our recliner selection. La-Z-Boy also sells other furniture like stationary items for those who don't need all the bells and whistles of reclining furniture.
Mary Lee Smyth, an interior designer at La-Z-Boy Kingston, says, "Although our stationary furniture isn't the forefront of people's mind when they think of La-Z-Boy, we still have exceptional furniture pieces for everyone and anyone."
But if recliners are better known at La-Z-Boy, why would someone want to get stationary furniture from here? What are the general pros and cons of stationary furniture vs. reclining furniture? And most importantly, which option is best for you?
All of these questions and more will be answered in this article!
In This Article…
What is Stationary vs. Reclining Furniture?
Before we get into the main comparison, let's get familiar with each side.
According to Miriam Webster, the term stationary is synonymous with the word immobile, meaning it is fixed in a certain station, course, or mode. Because of this, stationary furniture cannot move whatsoever.
So, if your furniture moves in any way with a certain mechanism or seating position, it is considered a motion furniture piece.
Regarding motion furniture, the term motion is defined as an act, process, or instance of changing place. Simply, it is the movement of a person or an object. In the case of furniture, this is shown by the mechanisms of reclining furniture or by swivel/gliding chairs.
It is important to note, however, that swivel/gliding chairs are considered motion furniture but are not considered reclining furniture.
The term recliner is defined as a chair with an adjustable footrest and backrest. Since swivel chairs do not have the ability to do so, they cannot be classified as reclining furniture.
If you want to learn more about Swivel Accent Chairs at la-Z-Boy, check out this article.
Important Considerations for Stationary vs. Reclining Furniture
Whether you decide to purchase stationary or reclining furniture, there are a couple of important factors to consider.
Mary Lee states, "No matter which furniture you get, you should always check to see if the furniture compliments your space and home design."
What she means by this is that every furniture item has different sizes and dimensions to it due to its overall style and interior build. So, no matter the furniture side you choose, you should see how big or small it will look in your room and when you sit on it.
Because of this, it is always important to measure your space to see if your new furniture will fit in your room.
There is also a matter of deciding what this furniture piece will be used for. Will your stationary/reclining furniture be used to entertain? Relax in? Sleep on? All of the above? These are all common questions that you should ask yourself before buying any kind of furniture item.
Mary Lee also mentions that both furniture types offer either a family-friendly seating experience or an individualized relaxing experience. "It all depends on it you buy a sofa or a chair," she says.
Key Differences Between Stationary vs. Reclining Furniture
Let's take a look at what all the differences are between stationary and reclining furniture.
There are many differences between stationary and reclining furniture, but we have broken down this list into different sections so you can easily find out what you need to know!
1. Size & Shape
Firstly, the size and the shape of stationary pieces versus reclining pieces of furniture vary greatly.
Specifically, it is the function of the reclining furniture that determines its size and shape. Mary Lee says, "Because reclining furniture needs more room to fully recline, it is gonna take up more space."
This does mean that certain rooms might be too small to fit reclining furniture since they take up more space horizontally. There are some solutions for optimizing space with reclining chairs, such as purchasing a wall recliner instead of a rocking recliner. However, these recliners still take up more space than stationary furniture.
Recliners also take up more space because of their interior mechanisms. Not only do they recline, but they have more padding in their cushions so that people are unable to feel the metal interiors that are inside recliners.
If you're looking for Recliners for Small Spaces, check out this article.
Finally, when it comes to reclining furniture, you might also need to worry about outlets if you plan to put a power recliner in your living room, given that this type of furniture needs an outlet to work. There is, however, always the option to go cordless with our Lithium Ion Rechargeable Battery Packs.
For stationary pieces, it isn't as complicated. Since these furniture items do not move, it is much more simple to place them in your room without having to worry about space for the reclining position.
The only thing you do need to worry about is figuring out if your stationary furniture is too big or too small for your room.
If you want to find La-Z-Boy Sofas for Small Spaces, stationary and reclining alike, take a look at this article.
2. Style
When discussing style for both furniture sides, it seems that stationary has more style than reclining furniture. Specifically, stationary furniture pieces have a more traditional look to them than recliners.
Mary Lee says, "reclining furniture will always have a more contemporary style, whereas stationary furniture can have almost any kind of style." The reason why reclining furniture will always have a contemporary style is because of the sole fact that it reclines.
Recliners also have a puffier look to them within their cushions, which makes it harder to form any other kind of style other than contemporary or modern.
With stationary furniture, the possibilities of styling your furniture are almost endless, depending on where you're shopping. With La-Z-Boy, for example, you can customize your upholstery with over 800 different covers.
This means you can style your stationary furniture with any kind of cover you wish. You can have a cover that has a more Chesterfield design to it, or you can make it look monochromatic as modern furniture tends to look, or you can give it the splash of colour that your living room may need.
The upholstery cover selection at La-Z-Boy is endless for stationary furniture. However, some fabrics and leather cannot be placed on reclining furniture items because reclining furniture moves.
Mary Lee says that "reclining fabric and leather is specifically made, which means some of our upholstery covers cannot support the functionality of a recliner."
La-Z-Boy also has specialty fabrics, such as iClean, Pet Friendly, and Eco-Friendly fabrics, that you can choose from. Learn about each of them through their review articles.
3. Functionality & Versatility
There are a lot of differences when discussing the functionality and the versatility of stationary vs. reclining furniture.
As mentioned in the previous section, stationary furniture has more versatility in style. "Not only can you place it in any fabric or leather available," says Mary Lee, "but I find that people recently have loved putting a unique pattern like plaid or argyle on their stationary sofas to add a splash of colour in the room."
This might sound bizarre, but the trend of adding vibrant and energizing colours to a living room is not unheard of in this day and age. In fact, it is an emerging design trend for 2022, which you can learn more about with this article.
However, what recliners lack in style, they make up for in their options and upgrades. At La-Z-Boy, recliners have many different options and upgrades – much more than stationary furniture.
This allows customers to still have the ability to personalize their furniture but in a different way. Keep in mind, however, that the options and upgrades listed below do come at an additional cost, increasing the overall price of your furniture.
Options & Upgrades at La-Z-Boy

Stationary Furniture

Reclining Furniture

Different Furniture Frames
Choice of Fabrics & Leathers
Cushion Upgrades

Lift Upgrade

Console Add-On
USB-Ports for Electronics
Wood Leg Finish Colour
*Some options & upgrades may not be available depending on the selected furniture family & frame.
Stationary furniture cannot have the same options and upgrades as reclining furniture because the furniture is not built for those kinds of add-ons.
Mary Lee says, "Stationary furniture is meant for those who aren't looking for all the bells and whistles for their furniture. Not everyone needs to recline with furniture that acts as a personal masseuse."
Sometimes less is more, so stationary furniture might be right for you if you don't feel the need for too much.
4. Cost
Finally, when referring to the cost of the two furniture pieces, there is certainly a more favourable price between the two options.
Reclining furniture is almost always more expensive than stationary furniture. Even with the added specialty fabrics available for stationary furniture, recliners can still be more expensive, even without any add-ons.
Recliners are more expensive than stationary furniture due to the reclining mechanisms. However, recliners can vary in price depending on the options and upgrade variations. For example, a manual recliner is less expensive than a power recliner. However, a power recliner is less expensive than a power recliner with a headrest & lumbar support.
It all depends on what is included in the furniture you select. If you want to learn more about Manual vs. Power Recliners, check out this article.
Cost is also dependent on the furniture frame itself. Each furniture frame, whether it be a chair, a loveseat, or a sofa, the cost of a recliner will always be more expensive in its respectful furniture frame category.
The table below shows exactly how different the cost of a reclining furniture piece is compared to a stationary furniture piece.
If you want to learn more about the Cost of a Recliner, take a look at this article.
| | | |
| --- | --- | --- |
| | Stationary Furniture | Reclining Furniture |
| Chairs | $1,320 - $3,060 | $1,380 - $3,170 |
| Loveseats | $3,150 - $4,680 | $3,350 - $7,450 |
| Sofas | $3,250 - $4,480 | $3,450 - $7,450 |
Please note that La-Z-Boy prices listed in this article are subject to change without notice. Information is current as of June 9, 2023. Contact your local Ottawa or Kingston location by phone or in person for up-to-date pricing.
Stationary vs. Reclining Furniture: Pros and Cons Breakdown
Stationary Furniture

Reclining Furniture

Pros:






Cons:






Only One Seating Position

Pros:





Versatile In Options & Upgrades




More Than One Seating Position

Cons:





Best of Both Furniture Worlds: La-Z-Boy's Duo Collection
If you're looking for a mix of both stationary and reclining furniture, La-Z-Boy does have a line of reclining furniture specifically made to look stationary, but isn't.
We call this line the Duo Collection! These furniture pieces have the regular appearance of a stationary furniture piece, but if you push the reclining button on the side-mounted control panel, a recliner comes out, giving you the ability to have the best of both worlds.
Mary Lee says, "they don't have the puffy headrest like you would see a recliner have, but it still gives you the experience of laying back in your seat."
She also adds that these furniture pieces are perfect if you're looking for formal pieces of furniture but still crave the more casual side of relaxing in your living room. "After all, we do only have one living room in our homes," she says.
La-Z-Boy also has an extensive line of high-leg recliners, which are also known as secret recliners, since they also have the secret ability to recline.
Although they do not replace pure stationary or pure reclining furniture, they are the perfect in-between for someone who wants a little bit of both.
What's Next?
You now have a clearer idea of the differences between stationary and reclining furniture. We hope that this article will guide you in making the right choice for you!
As you begin shopping, take a look at some of our best sellers:
You can start shopping by visiting one of our local showrooms located in Ottawa or Kingston. You can also schedule a visit online before coming in.
Our design consultants are always eager to lend a helping hand. Take advantage of our interior design services to see how our furniture could fit in your home design.
Related Articles:
Are La-Z-Boy Recliners Guaranteed For Life?
Rocking Recliner vs. Gliding Recliner
Product Info Request
Please provide us with your name and email and we'll get back to you as soon as possible regarding this item.