5 Best Selling Reclining Sectionals at La-Z-Boy Ottawa & Kingston
October 25, 2021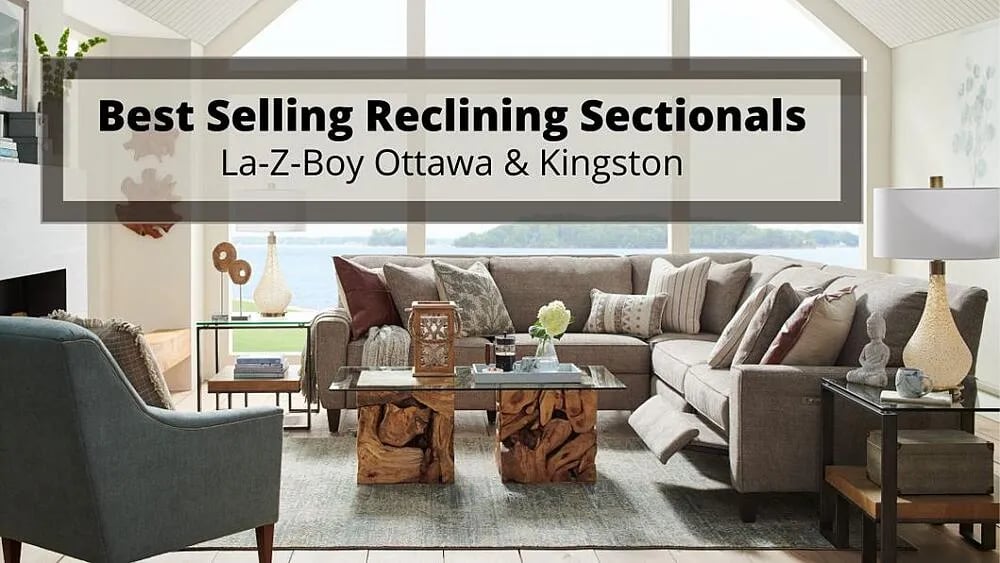 Are you looking for comfortable seating that brings the family together? A spacious place to kick your feet up, lay back, and enjoy a movie with friends?
A reclining sectional is a great addition to any family room, living room, or basement furniture arrangement, perfect for getting comfy with company!
At La-Z-Boy, we are known for the invention of the first reclining chair. We now sell a wide variety of comfortable and quality reclining furniture, including spacious reclining sectionals. We offer reclining sectionals in many design styles, sizes, and configurations. Further, reclining sectionals at La-Z-Boy come in both manual and power. Keep in mind that everything at La-Z-Boy is customizable!
With so many options to choose from, our clients at La-Z-Boy Ottawa & Kingston often ask about our best-selling reclining sectionals.
This article will outline the top five best-selling reclining sectionals at La-Z-Boy Ottawa & Kingston. While each sectional has something unique to offer, we hope that one of these best-sellers appeals to your individual requirements and preferences.
Best Selling Reclining Sectionals in Ottawa & Kingston ...
1. Trouper Reclining Sectional
Turn casual evenings into cozy family nights with our Trouper sectional. Sink into one of the sculpted bucket seats and let the split back cushions provide soft support for your head, neck and lumbar region. Adjust the back and chaise legrest for personalized reclining comfort, or lean back without raising your feet. Perfect for movie nights and more, this sectional has plenty of comfort to go around. Inset arm pads and elegant top-stitching make Trouper easy on the eyes, too.
The Trouper is also available as a recliner, a loveseat and a sofa. You can learn more about the Trouper Sectional by checking out this article.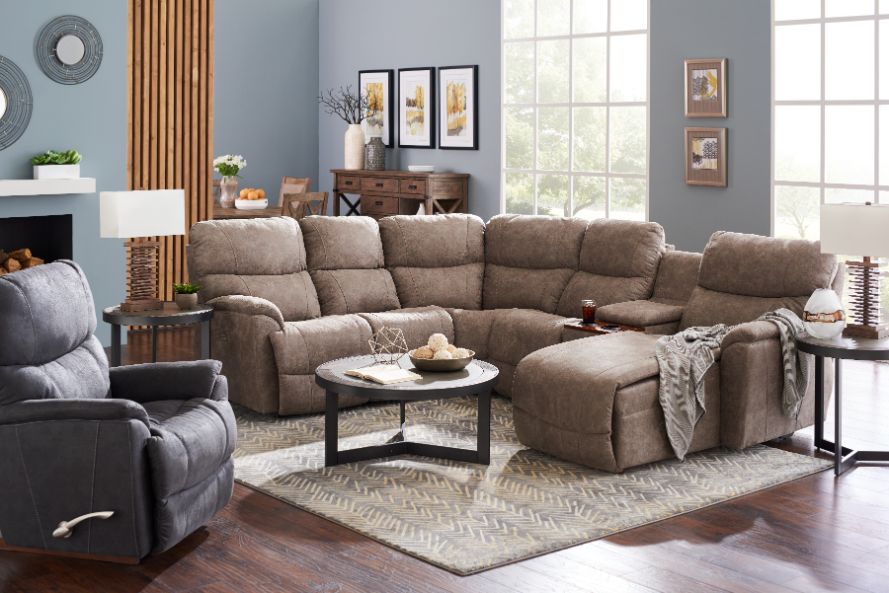 2. Reese Reclining Sectional
Adorned with single-needle topstitching on the arms, legrest, seat and back, the Reese sectional has a casual design that brings family-sized comfort to any room. Reese features ultra-comfortable pillow top arms and a tall, pub-style back that provides ample support for your head or neck while you relax or watch TV. A variety of pieces make it easy to configure your perfect sofa.
The Reese is also available as a recliner, a loveseat and a sofa. You can learn more about the Reese Sectional by checking out this article.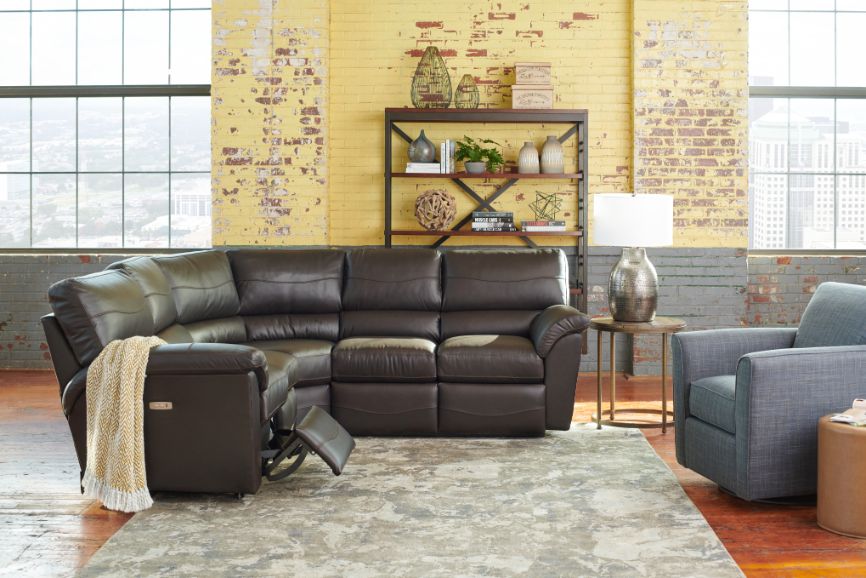 3. Devon Reclining Sectional
As stylish as it is comfortable, the Devon sectional is one of the most versatile sectionals La-Z-Boy has to offer. A wide variety of pieces let you configure Devon to rooms of virtually all sizes and shapes. Generously scaled, it features casual pillow-top seats, ultra-plush pillow backs, and padded curved arms that make it perfect for family use. Modules with arms include one 20" accent pillow (corner module includes two 20" pillows).
For extra versatility, order the Full Sleeper piece to give your guests a cozy place to spend the night.
You can learn more about the Devon Sectional by checking out this review article.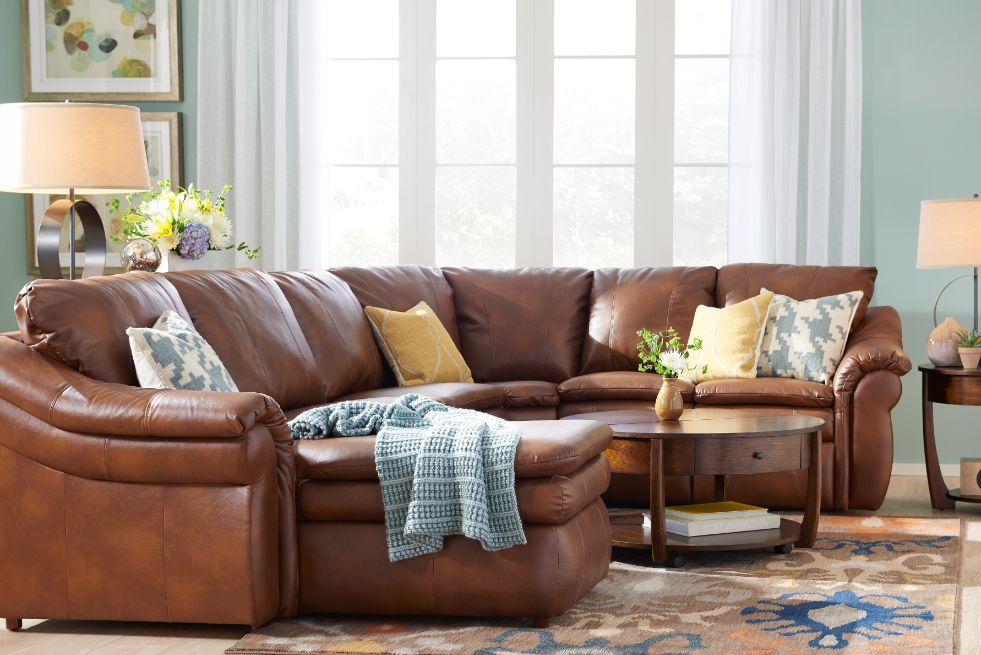 4. James Reclining Sectional
Comfortable, cool and laid back, the James sectional makes relaxing look as great as it feels. Inviting bucket seats, chaise legrests, pillow top arms and tall, stitched pillow backs envelop you in comfort and support. A variety of innovative pieces let you easily configure the perfect sofa, with power or manual reclining.
The James is also available as a recliner, a loveseat and a sofa.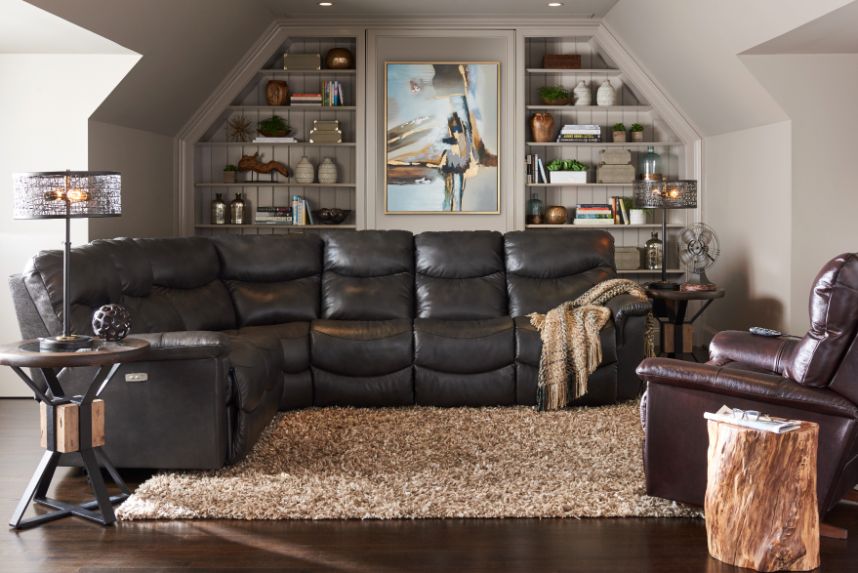 5. Colby Reclining Sectional
Last on our list of best-selling sectional is the Colby Reclining Sectional. Part of the award-winning Duo Collection, the Colby creates a versatile sectional with many different seating options. With its unexpected power to recline, Colby features gracefully rolled arms, decorative wood legs, padded outer arms and a padded outer back. Recline and raise the legrest at the touch of a button, and use the built-in USB port to charge your devices.
The Colby is also available as a chair, a loveseat and a sofa.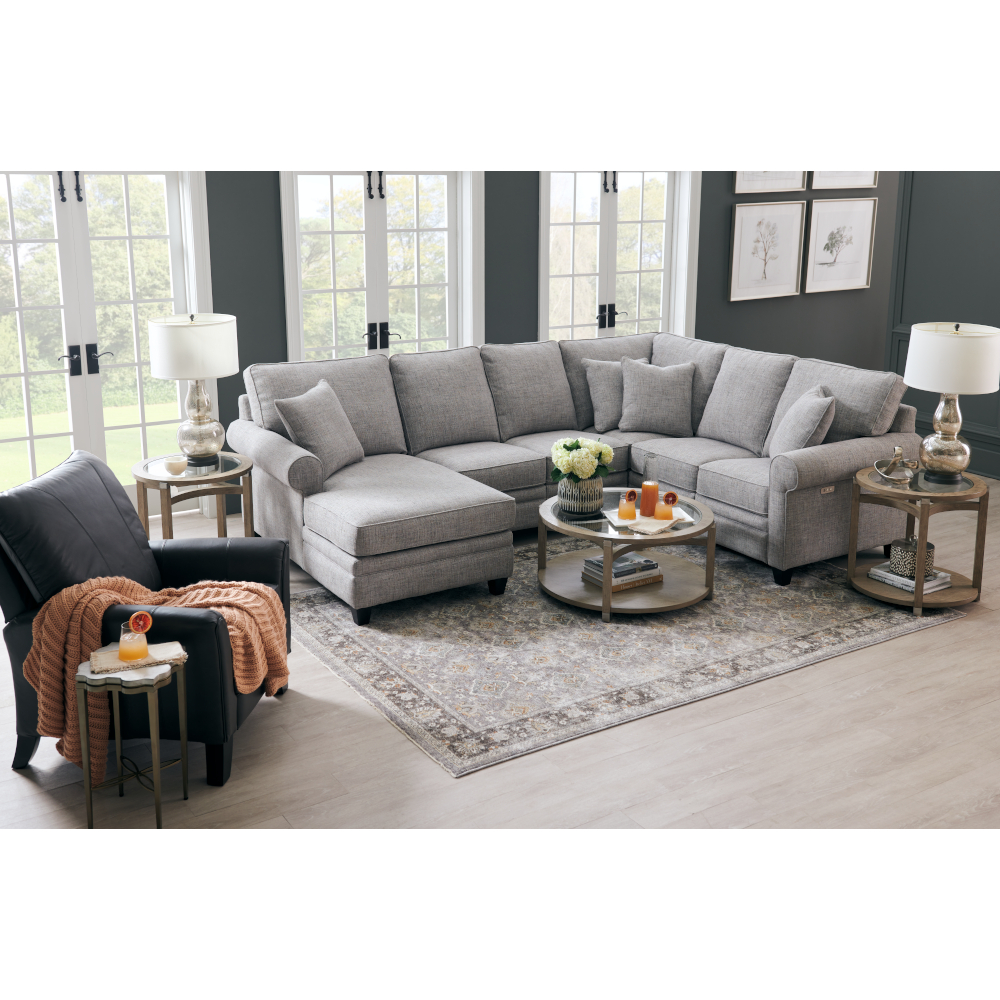 What's Next?
So there you have it! These 5 best-selling reclining sectionals are enjoyed by many La-Z-Boy clients.
If your ideal sectional is not on this list, don't worry. We have additional styles plus a large selection of stationary sectionals to choose from. A design consultant at La-Z-Boy would be happy to help you find a reclining sectional that suits your individual requirements and preferences.
Further, consider taking advantage of our complimentary interior design services. A talented interior designer can ensure that the reclining sectional you choose fits seamlessly in your space and compliments your current home decor.
Visit us at a local Ottawa or Kingston location to find what you are looking for today. If you prefer to plan in advance, schedule an appointment online.
Last Edited on May 2nd, 2022
Related Links:
5 Best Selling La-Z-Boy Sectionals in Ottawa & Kingston
How Much Does a La-Z-Boy Sectional Cost?
Product Info Request
Please provide us with your name and email and we'll get back to you as soon as possible regarding this item.