Review of the La-Z-Boy Trouper Reclining Sectional
June 28, 2021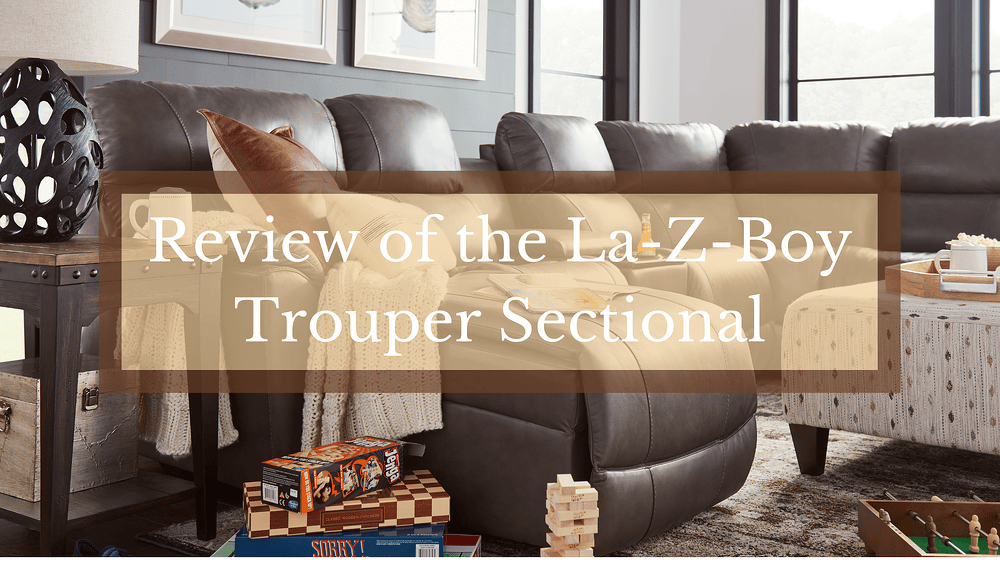 With the Trouper Sectional, every seat is the best seat in the house offering maximum comfort for friends and family!
In fact, the Trouper Sectional is a best seller at La-Z-Boy Ottawa and Kingston.
Whether you place the Trouper sectional in a living room or basement, the deep bucket seats, rounded edges, and high-performance fabrics are accommodating to children and pets.
In this article, discover the La-Z-Boy Trouper Reclining Sectional, what makes it a quality piece of furniture for your home, and why it might be a great choice for you!
Unique Features



Turn casual evenings into cozy family nights with our Trouper Sectional.
Sink into one of the sculpted bucket seats and let the split back cushions provide soft support for your head, neck, and lumbar region. Adjust the independent back and chaise leg rest for personalized reclining comfort, or lean back without raising your feet. The Trouper allows you to find that 'just right' position for kicking back to relax.
Perfect for movie nights and more, this sectional has plenty of comforts to go around. Not to mention, inset arm pads and elegant top-stitching make the Trouper easy on the eyes, too. It's flared arms, wide, squared backs, and intruding seams give it a modern, clean look, seamlessly coordinating with many styles of home decor.
Just like its counterparts, the Trouper Recliner and Trouper Sofa, the sectional shares features true to the Trouper name: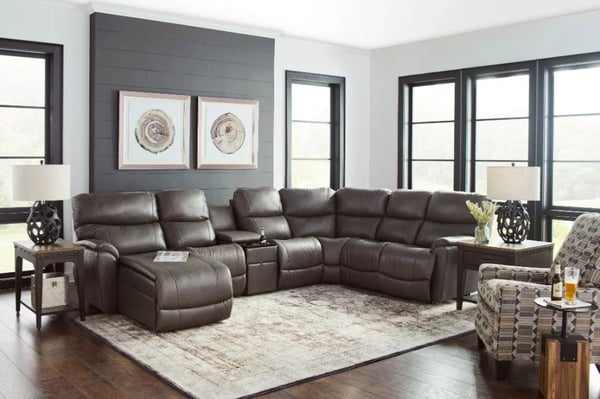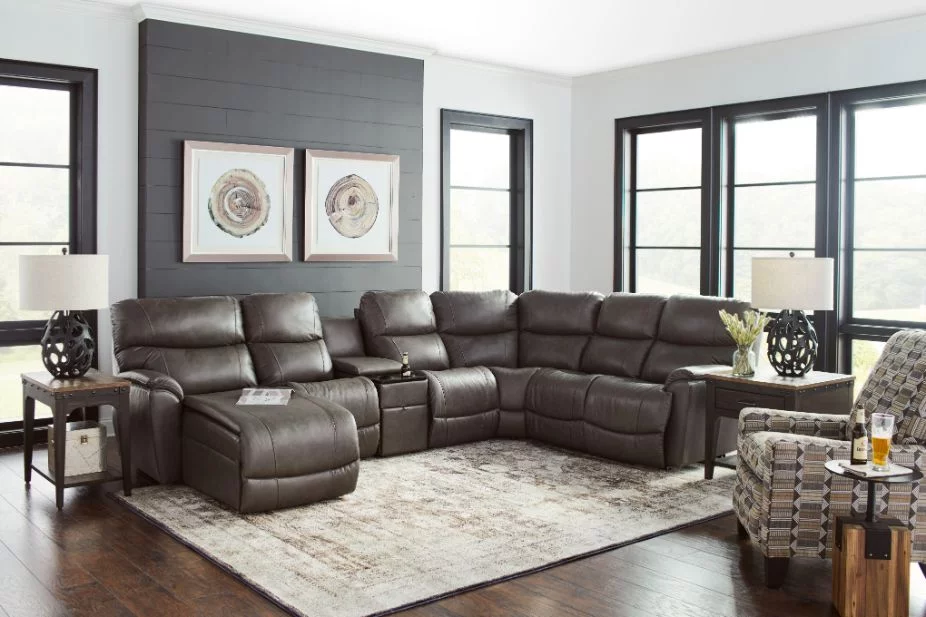 Size & Dimensions
The overall size of the Trouper Sectional can vary depending on the individual pieces and configuration that you choose.
It is recommended that you take advantage of our design services at La-Z-Boy if you plan to purchase the Trouper Sectional. Before choosing the Trouper, our interior designers will help you determine if you have enough space for this sectional and then will help you choose the right configuration.
When it comes to dimensions, the Trouper features a bucket seat with a depth of 20.5 inches and a taller back with a height of 41.5 inches.
This slightly taller back provides great back and head support, but it is important to note that you may prefer to place this back against a wall, rather than in the middle of the room.
As for who might sit comfortably in this sectional, those who are average to taller in height might enjoy this recliner, specifically those between the heights of 5'4" to 6'2".
While your height can be a considerable factor, it is important to note that height guidelines are
NOT
set in stone. The way you sit in a furniture item can drastically affect how someone might find a seat comfortable.

This is why we highly recommend coming in-store and taking a sit test to determine if the [Product Name] is right for your unique body type. To learn more, take a look at our article How to Find the Right Sofa Size For You.
Trouper Sectional Dimensions (Inches)
Trouper Armless Chair/Recliner (Weight: 48/74 lbs.)

Body Depth: 40"




Body Height: 42"




Body Width: 24"

Seat Depth: 20.5"




Seat Height: 20.5"




Seat Width: 24"

Trouper Left/Right Arm Sitting Recliner (Weight: 80 lbs.)

Body Depth: 40"




Body Height: 42"




Body Width: 30"

Seat Depth: 21"




Seat Height: 20.5"




Seat Width: 22"

Trouper Left/Right Arm Sitting Reclining Chaise (Weight: 105 lbs.)

Body Depth: 68"




Body Height: 42"




Body Width: 35"

Seat Depth: 49"




Seat Height: 20"




Seat Width: 26"

Trouper Left/Right Arm Sitting Reclining Loveseat (Weight: 140 lbs.)

Body Depth: 40"




Body Height: 42"




Body Width: 56"

Seat Depth: 20.5"




Seat Height: 20.5"




Seat Width: 45"

Trouper Rounded Corner (Weight: 72 lbs.)

Body Depth: 38"




Body Height: 42"




Body Width: 62"


Seat Depth: 22"




Seat Height: 19.5"




Seat Width: N/A
Options & Upgrades
At La-Z-Boy, everything is customizable, including the Trouper Sectional. You can make the sectional uniquely yours with a variety of available customizations and upgrades. Additionally, you can choose the configuration of your Trouper Sectional.
Fabric & Leather Options
With over 800 fabrics and leathers to choose from, customers have a wide variety of colours, textures, and patterns to suit every taste and style.
When choosing fabrics, the Trouper comes in 5 select fabric covers. Customers can choose between slit, tar, marble fawn and canyon. Additionally, there are 3 select leather options available, as well as 8 select faux leather options available.
Select fabrics are specifically chosen to match a particular furniture frame and do not affect the starting price. It's important to remember that choosing any type of leather will result in additional costs for the furniture. You can learn more about La-Z-Boy's Leather Selection by checking out this article.
Leather options, even select leather, will always increase the overall cost. Ultimately, choosing
fabric or leather
is up to you if you're willing to spend more on leather products.
Please note that this article's leather or fabric options may be discontinued or unavailable without prior notice. We recommend contacting your local Ottawa or Kingston La-Z-Boy store by phone or in-person to confirm availability. We apologize for any inconvenience caused by any changes to our upholstery selection.
In addition to the cover options mentioned above, the Trouper is offered in specialty fabrics that offer unique features and benefits…
Innovative iClean Technology surrounds each fabric and leather fibre, creating a barrier that repels spills before turning into stains.
Tested and formulated to withstand the scratches and wear that a pet can cause to ensure a durable and easily washable fabric.
Antimicrobial properties surround each cover to protect against mould, mildew, and odour-causing bacteria.
Performance
Superior stain and fade resistance properties make fabrics easy to clean and incredibly durable.
Conserve Sustainable Fabrics are soft, durable and made from recycled water bottles.
Restore by Nanobionic®
features a mineral-based fabric coating that transforms natural body heat into energy using infrared technology.
Cushion Options
At an additional cost, the Trouper Sectional cushions can also be upgraded to include firmer cushioning, meaning over time, your furniture will remember your unique figure and enhance the comfort of your furniture. This could be a great option for people with mobility issues, allowing you to get in and out of your furniture more comfortably.
​
For more information on whether this upgrade is right for you, view our
Motion Furniture Collection catalogue.
Sectional Configuration Options
The configuration of your Trouper Sectional is very important as it will determine the overall shape and size of your sectional. This will also impact how the sectional fits in your room and how it coordinates with your furniture arrangement.
As you consider the best configuration for your space, take a look at the article Top Considerations for Arranging your Sectional Sofa.
The Trouper has three starter configurations to choose from.


With over 20 individual Trouper pieces, build upon one of these configurations to create the comfort zone of your dreams.
For more information on the Trouper and possible configurations, take a look at the Trouper Sectional Product Manual.
As this is a unit that comes in pieces, it will be very important to plan out your space. Taking measurements and coming up with a general layout, including how you want your new piece to fit in, is an excellent next step in the decision-making process. Regardless of what kind of furniture you choose, it is always a great idea to sketch it out!
Hint: Sketching does NOT have to be complicated. A simple pen and paper used to identify where your entryway, foot traffic, and focal point(s) are will already set you up for success. This way, you can map out the remaining features around these key points. Clearly identify your wants and needs in order to best choose an item and feel assured in your choice.
As previously mentioned, to ensure that you choose the ideal Trouper Sectional configuration for your space, consider taking advantage of our complimentary design services.
Power Upgrade with Adjustable Headrest
You can upgrade the Trouper Sectional to power.
Unlike manual furniture that uses a handle or latch, power recliners come with a control panel or a wireless remote for easy reclining at the touch of a button. You can also adjust the headrest support with this convenient feature.
The adjustable headrest allows you to move the head of the recliner from 0-55 degrees, giving you more range of motion with your reclining positions.
What's more, the recliners have USB ports next to the control panels to charge your electronic devices and two memory settings that allow you to save any of your favourite relaxing positions. This way, you can easily recline back to the position you favour quickly and accurately.
All power upgrades can be cordless, thanks to our rechargeable battery pack. With this, you can place your power recliners anywhere without worrying about plugging them into an electrical outlet.
To help you decide of the headrest & lumbar upgrade is right for you, check out the
Review of La-Z-Boy Power Recliners with the Headrest & Lumbar Feature
.
Cost
The Trouper Sectional falls within the high-cost range of sectionals in the market. With this being said, the Trouper Sectional is one of our more affordable options offered at La-Z-Boy within the low-mid price bracket.
At the time this article was published, the cost of the Trouper starts at about $3,969 in its smallest configuration with select fabric. With this, the cost of the Trouper is subject to increase depending on your selections in customization and configuration.
The cost of the Trouper Sectional is determined by a variety of factors including the quality of materials and methods of construction. La-Z-Boy furniture is built with quality and care ensuring priceless comfort and longevity.
*All La-Z-Boy prices listed in this article are subject to change. We aim to update all cost-related articles twice per year. This article was last updated on May 11th, 2023. Please visit lzb.com and select an Ottawa or Kingston La-Z-Boy store location to view the most up-to-date pricing.
Warranty
The Trouper is covered by La-Z-Boy's Limited Lifetime Warranty. This warranty covers the repair or replacement of the frame, spring systems, and mechanism, given that they are quality-crafted and built for long-lasting comfort.
For full details of the Limited Lifetime Warranty, check out this full La-Z-Boy warranty breakdown.
While still quality-crafted, other aspects of the product, such as fabrics, leather, and cushion, are not meant to last a lifetime. However, these parts are still covered by the La-Z-Boy Manufacturer's Warranty for a given period of time.
To further protect your purchase, La-Z-Boy Ottawa & Kingston offers an
extended warranty plan
at an additional cost. To learn more about the
Extended Warranty Plan
and if it's right for you, take a look at this article.
Customer Reviews
The Trouper sectional is highly reviewed by families with young children and pets. The seating arrangement is great for shared relaxation and effortless conversation. Moreover, the durable fabric allows peace of mind as all members of the family enjoy the Trouper's comfort.
Take a look at what clients are saying about their Trouper products …
Trouper Sofa Power Recliner
The best sofa, love seat I've ever owned! Very comfortable. We had the two sofas and loveseats power with power head rest, comfortable, stain resistance.
Paul & Liz. P
I have the Trouper Recliner and Trouper Section. What a fantastic addition to my home. The most comfortable furniture set I've ever owned. Thank you La-Z-Boy!
Michael Q.
Extremely Comfortable.
The couch is extremely comfortable whether lounging in a recliner or napping across the couch. The fabric is rich in colour and construction. Great purchase.
Tom & Evelyn M.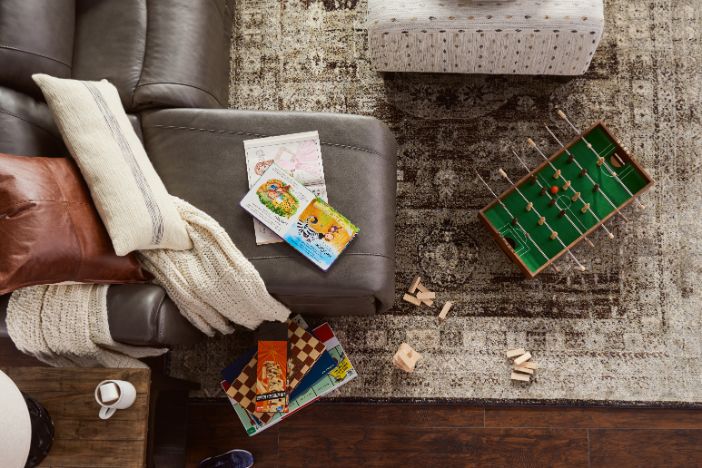 Is the Trouper Sectional Right for You?
This piece would be an ideal fit for taller individuals, as sectionals are generally larger pieces of furniture, but nevertheless, because of the Trouper's pillow-top experience, it is also completely accommodating for a variety of heights and sizes to be able to get cozy and comfortable. To be more specific, anyone 5'5" to 6'2" is recommended.
Without a doubt, this is a perfect piece to complete a home theatre set-up, a tv lounge, or any room where comfort and time well-spent are priorities! What's more? Adding a console option to the layout for your drinks and snacks gives you the ultimate viewing experience.
If the style of the Trouper sectional isn't your cup of tea, we have a selection of alternatives. Clients who prefer a more modern and taute sectional may opt for the Reese Sectional instead.
Take a look at our 5 Best Selling La-Z-Boy Sectionals in Ottawa & Kingston.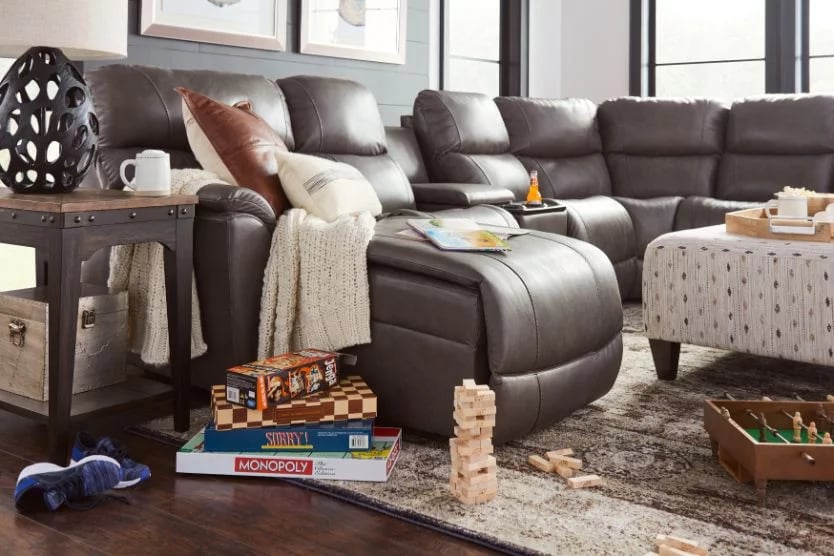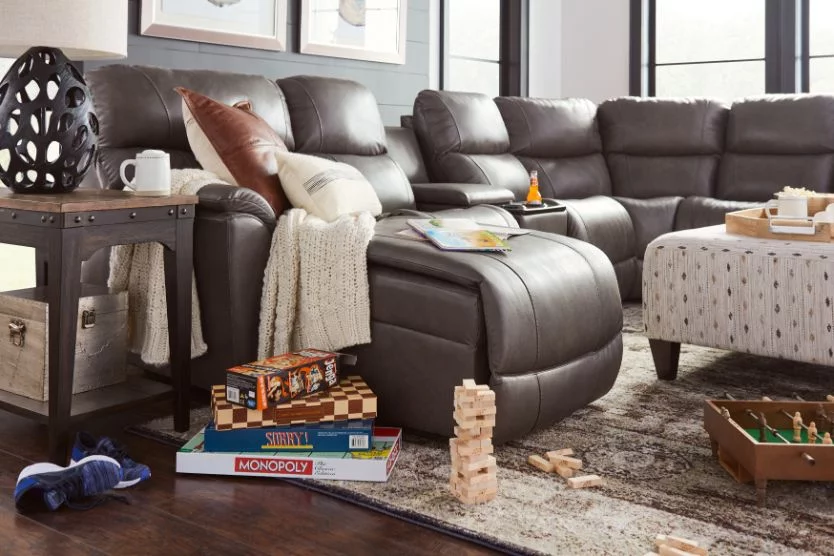 Product Info Request
Please provide us with your name and email and we'll get back to you as soon as possible regarding this item.