Trouper: Detailed Recliner Chair Review
January 6, 2020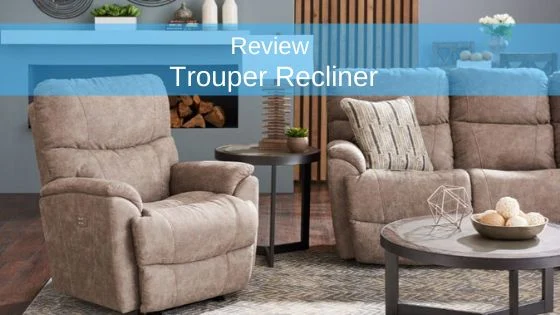 The Trouper Recliner Chair – Review
In this review, we'll discuss the Trouper, one of our top 5 best-selling recliners in Ottawa and Kingston!
Trevor Taylor is a design consultant at La-Z-Boy Home Furnishings & Decor in Kanata. During his seven years working for La-Z-Boy, he has helped fit hundreds of customers into their perfect recliner chair.
Trevor says the Trouper can accommodate people in a broad range of sizes.
It works exceptionally well for an average height of between 5'7" to 6' He says it has good seating depth and excellent lumbar and head support. "Where the back meets your shoulder blades, it nestles you in quite nicely." It's very roomy, people like the bucket seats as it's like theatre-style seating.
The Trouper is a comfortable chair that also comes as a glider, rocker and swivel. You can also buy a 'wall away' with or without power.
Features
An updated silhouette, complete with slightly flared arms and a sleek tall back, gives the Trouper a contemporary look. The sculpted bucket seat cradles you in softness while the padded split back provides superb head and lumbar support.
Simply use the convenient handle on the outside arm to raise the leg rest for reading, relaxing or watching TV. When you're not reclining, it's a relaxing rocker with a smooth, graceful motion.
Features of the Trouper Recliner include:
Casual, family-friendly style

Bucket chaise seat and leg rest create a continuous zone of comfort

Inset padded arms

Decorative top-stitching details

Rocks and reclines for total comfort

Chair back can recline independently, without activating the leg rest

Adjust the leg rest with the convenient side-mounted handle

3-position locking leg rest for added safety and support

Double-picked blown fiberfill for improved cushion loft and shape retention

High-grade foam seat cushions that maintain their comfort and appearance

Premium grade fabrics and leathers tested to resist wear and fading

Handcrafted in North America with domestic and imported parts

Customizable with your choice of fabrics

iClean™

select fabric colours included in the variety of fabrics available at the starting price.

La-Z-Boy® Limited Lifetime Warranty covers the mechanism and all wood frame parts and springs.
Dimensions
The Trouper recliner chair is a large-scale recliner, and best accommodates people of medium to tall stature. Thirty-six inches across from outside arm to outside arm with a tall back of 42 inches means the chair is quite a bit wider than other recliners. This means you'll need significantly more width space in your home for the Trouper than you would for the Harbour Town or even the Rowan.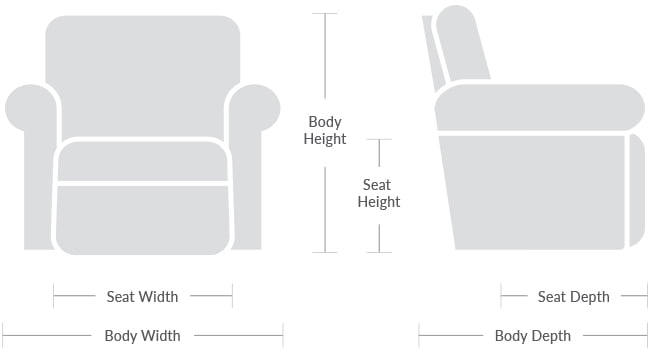 Seat Width: 19.5
Body Width: 36.0
Body Height: 42.0
Seat Height: 20.0
Seat Depth: 20.0
Body Depth: 38.0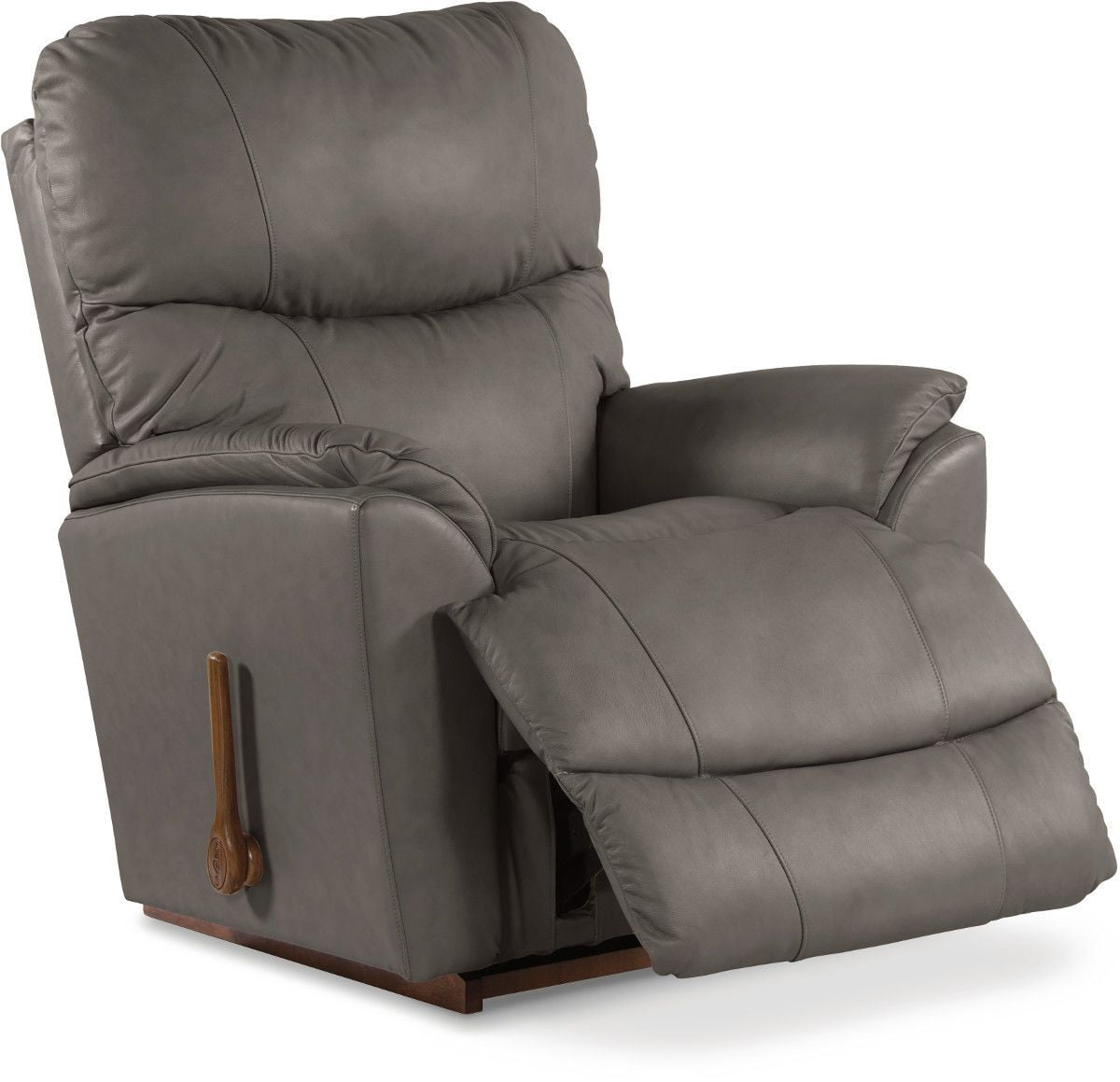 Different chair styles in the Trouper:
Rocking Recliner
The Trouper Rocking Recliner is your basic non-power option. Use the convenient handle on the outside arm to raise the leg rest for reading, relaxing or watching TV. When you're not reclining, it's a rocker with a smooth, graceful motion.
Wall Recliner (wall huggers)
The Trouper Wall Recliner is the same as the rocker recliner, but you can place it inches from the wall to save space. The wall away is available in manual or power.
Power Rocker Recliner
Use the side-mounted 4-button control panel to recline and raise your feet independently for a wide range of relaxing positions.
When you're not reclining, it's a relaxing rocker with a smooth, graceful motion.
*NEW La-Z-Boy has introduced the 1HR Trouper power recliner with lumbar and headrest. It has a movable headrest, lumbar, and controls for foot and headrest. Now available, a new control panel with easy-to-use toggles.
Its features include a home button, two memory settings, and a USB charging port. You can also upgrade to a wireless remote. Also, if you lose it, don't worry, you can press a button on the side of the chair, and the remote will beep.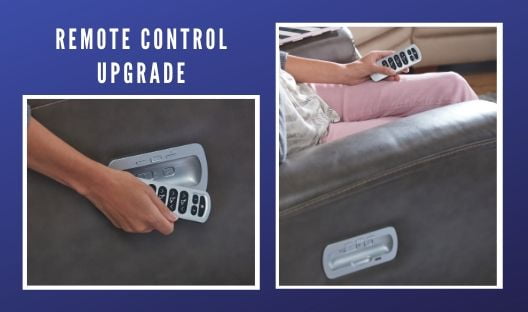 Product Options & Upgrades
Choose a style, then customize it with your choice of fabric or leather, finishes, and other options. A couple of select fabric choices will make this purchase more economical.
Upholstery / Cover Options
Your choice of fabric or leather upholstery is a pivotal decision when selecting a recliner for your home. The Trouper recliner chair has over 900 hundred cover options so you can custom-create a look that's uniquely yours. Choose from the latest colours, patterns and textures. There are options to suit every style and budget.
Select iClean fabric colours included in the variety of fabrics available. These fabrics offer a barrier of protection that repels spills before they turn into stains.
If you have pets, you might consider taking advantage of our Pet-Friendly fabric that has a high level of cleanability and durability, including the iClean technology.
Another specialty fabric option at La-Z-Boy is the antimicrobial fabric. This fabric protects against mould, mildew, and odour-causing bacteria
A subset of covers is available in "conserve" fabric. Soft, durable, and sustainable "conserve" fabric is made out of recycled water bottles. We use as many as 110 recycled water bottles to create a sofa with this eco-friendly material.
As with conventional furniture fabrics, conserve covers are wear-tested for safety, quality and durability. So, they stay comfortable and beautiful for years after delivery. They come in a wide range of colours and patterns to complement your room.

Seat Cushions:
The Trouper rocker recliner comes with a standard seat cushion.
or upgrades to an Airform™Seat Cushion.
Firmer seat options are available at an additional cost.
For more information view our Motion Furniture Collection catalogue and our in-depth Review of La-Z-Boy's Chair and Sofa Seat Cushions.
Please note that reclining furniture purchased prior to January 2021 had the option to upgrade to airform™ cushions. This cushion includes a two-inch layer of premium quality memory foam added on top of the standard foam base within the seat, chaise and leg rest of the unit.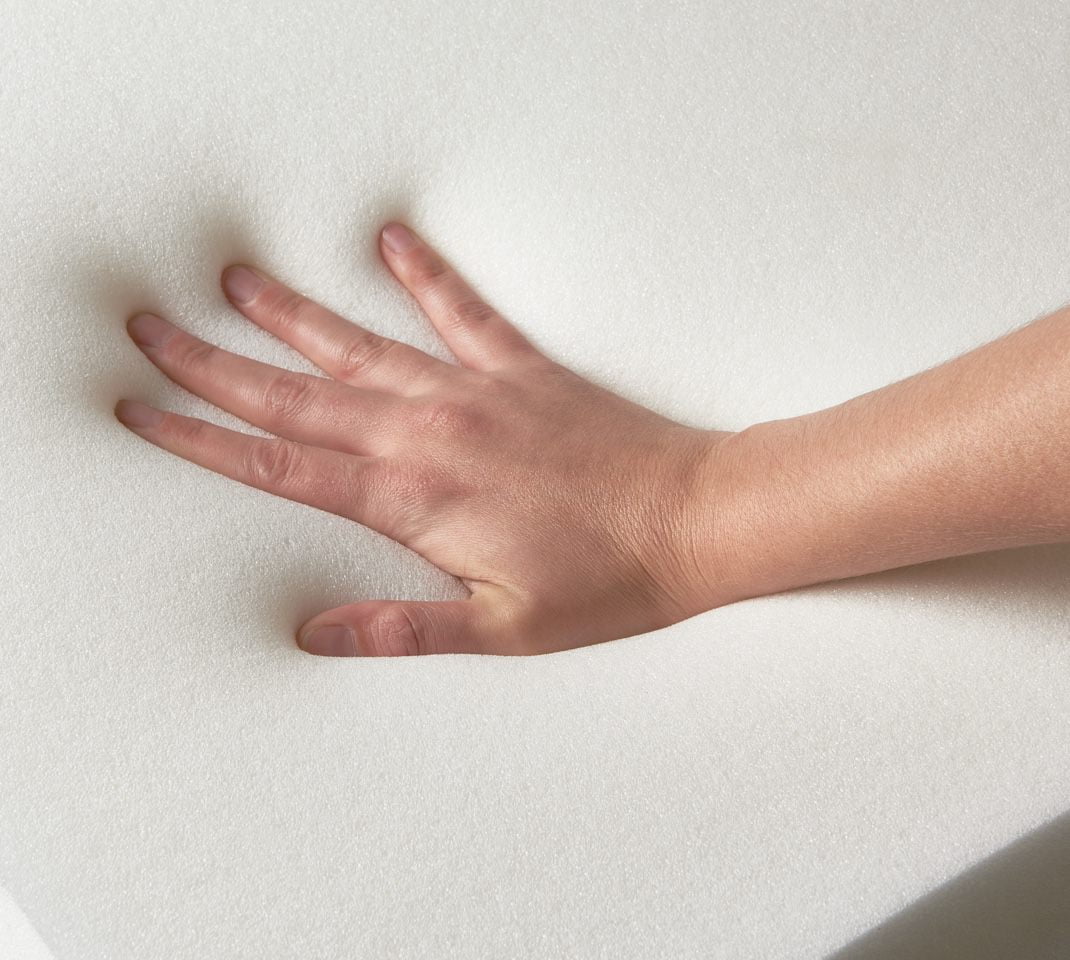 Extra Options:
Handle options: standard wood, left side handle, elongated handle, arc handle (silver), arc left side handle(silver), left elongated handle. Finish options: Standard finish, brown mahogany plus other options. Base options: swivel or tall base. Power options: basic, wall away, power/ with lumbar & headrest 1HR
Trouper Recliner Cost
The cost of a manual recliner chair starts in the mid-level range of recliners. See how much a recliner costs.
Power recliners will cost several hundred dollars more than traditional manual recliners. The reason for this is due to the motor and mechanisms included in the construction.
The price of each Power Trouper recliner style depends on the options chosen. They start at $1,669 for a rocker recliner and $1,739 for a wall away up to $2,149 and upwards for power and other options, such as:
Seat cushion

Power styles: basic, wall away, power, 1HR

The fabric chosen (see below)
Your choice of fabric or leather upholstery is a crucial decision and can significantly affect the price of your recliner. With over 900 hundred cover options, you can custom-create a look that's uniquely yours.
*All La-Z-Boy prices listed in this article are subject to change. We aim to update all cost-related articles twice per year. This article was last updated on October 12th, 2022. Please visit lzb.com and select an Ottawa or Kingston La-Z-Boy store location to view the most up-to-date pricing.
Is The Trouper Recliner Right For Me?
The Trouper has a more contemporary look, but some don't like the bulky look. You can go with a slightly smaller recliner such as the Rowan or Pinnacle if you would like it to fit a smaller space. The Trouper really does cater to the medium to tall sized person.
Try before you buy: It's essential to try the Trouper recliner before you buy to make sure it's a good fit for you.

"After years of having several different recliners, this is by far the most comfortable of all. Love the material, color, quality craftsmanship, ease of use and comfort. It's wonderful & I look so forward to relaxing in this recliner after I get home from work each night. [sic]" John E

"We ordered this recliner in anticipation of my shoulder surgery. The designer at our local store spent a great deal of time educating us about the available features and the styles of chairs that would fit me properly. I am now 4 days post surgery. Sleeping in my recliner is very comfortable because it fits my body well. The remote control feature and rocking mechanism make it easy for me to get up at night without help. I am very happy with my choice. [sic]" Marilyn A

"We really enjoyed our purchase of these recliners beginning from the sales staff to the delivery staff. Sadly enough the arms of one of the chairs was strapped too tight in route to our home which caused indentations in both arms but pleased with the response by company representation to rectify the situation. For the price and quality received not to mention that Lazy Boy will match the pricing of other competitors as well as back their products, I would highly recommend this recliner.[sic]" Amy F
More reviews >>
Next Steps:
Although the Trouper recliner has only been available for 2-3 years its popularity has risen quite quickly. It is not only a favourite in Ottawa Kingston, but it's the number 8 bestseller in North America! Its comfort really can't be beaten as its sculpted bucket seats cradle you in softness. It is worth a trip to one of our showrooms to give it a try.
La-Z-Boy has over 90 years of experience in furniture. The quality of the Trouper recliner chair or any other La-Z-Boy recliner will ensure you find the perfect match for your needs. If you're still not sure which one to choose, you can check out our recliners page or contact us today. We're happy to answer your sofa pricing questions at any one of our La-Z-Boy locations in the Ottawa and Kingston area or schedule an appointment today.
We encourage you to come into the store and try the Trouper for yourself. Our design consultants are experts at finding the perfect chair for you.
Related Links:
Recliners: The definitive Buying Guide
Product Info Request
Please provide us with your name and email and we'll get back to you as soon as possible regarding this item.