Cuddler vs. Chaise: A Comparison of Sectional Pieces
June 10, 2022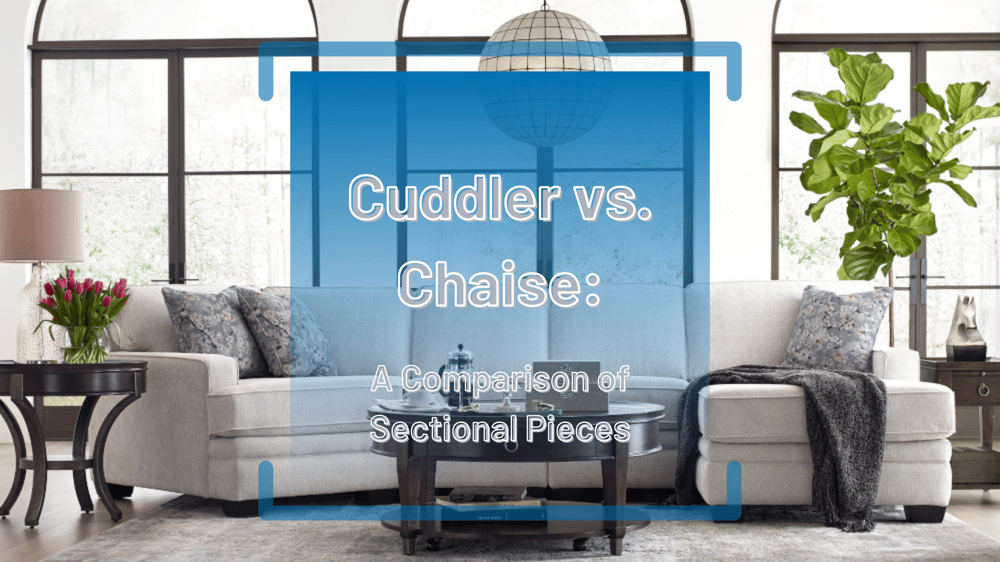 Est. Reading Time: 10 Mins
When it comes to sectionals, they are the quintessential piece of furniture for anyone who loves to have large gatherings.
When you think sectional, you likely envision an L-shaped sofa that stretches from one side of the room to the other. However, sectionals are designed with many different pieces to create so many different configurations.
More specifically, a cuddler and chaise are two examples of sectional pieces used to make unique configurations. Mary Lee Smyth, an interior designer at La-Z-Boy Kingston, says "They are both perfect for anyone looking for something really comfortable."
But you might be wondering, what are the benefits of having a cuddler vs. a chaise? And which sectional piece is right for me? Stick around to find out why these furniture pieces might be the perfect seat to add to your sectional!
This article will cover La-Z-Boy's cuddler and chaise selection, as well as the benefits and disadvantages of each piece.
In This Article…
Brief Description of a Cuddler vs. a Chaise
Before we compare these unique and comfortable seats, let's familiarize ourselves with the definition of a cuddler vs a chaise.
What is a Cuddler?
Simply speaking, a cuddler is a sectional piece that goes at the end of a sectional with an arm on one side. With this, a cuddler can be either "Right-Arm Sitting" or "Left-Arm Sitting" depending on which side of the sectional it will reside.
A cuddler is similar to a loveseat, but the way that you sit on it is a little more unconventional.
This modern take on an intimate seating arrangement allows two users to sit on one seat cushion, while still feeling comfortable when laying back on two separate back cushions.
Sometimes these seats are big enough to seat two adults and two small children, making it possible for a young family of four to sit on one furniture piece at once. "It encourages cuddling, just like the name suggests, and sitting closer to someone you know," Mary Lee says.
A cuddler is a contemporary piece of furniture, meaning it is a more recent addition to pre-existing furniture.
What is a Chaise?
Similar to a cuddler, a chaise is also an end sectional piece with an arm on one side, either "Right-Arm Sitting" or "Left-Arm Sitting".
A chaise, though created long before the cuddler, is a furniture piece that has one back cushion and an elongated seat that is traditionally used for laying down on. It can also be used as another seating spot with the lack of a back seat if someone were to sit on the edge.
It is also considered a more contemporary piece that is not used as often as other seats. However, because they have been around for a longer time, it does mean that people are more familiar with them.
With this, there are more options for a chaise seat, not only for your sectional but also for your sofa.
How to Incorporate Cuddlers and Chaise in Interior Design
When incorporating anything in your living room, it is always important to consider how it will play a factor in your overall layout. Here is how a cuddler and a chaise seat can fit within your personal interior design.
When incorporating any new furniture into your living room, it is always important to Measure Your Space.
Incorporating Cuddler Seating
When it comes to placing a cuddler seat in your living area, it might be harder to distinguish how to properly place it.
For starters, cuddlers do not have the typical shape of a traditional seat. While some may be shaped like a rectangle, others may have a more pentagram shape.
Because of this, this seat is ideal for any open-concept space that is looking to cover more ground, according to Mary Lee. This, however, does mean that cuddlers are not the best seat option for a smaller space.
When you put two cuddlers together, Mary Lee says that they create a "semi-circular shape with your sofa." This means that if your living room has an odd shape and you're looking for something that can fit a semi-circular mould, sectionals with two cuddlers on each end can make things look full.
Cuddlers are also known to create better focal points in a room. For example, this configuration below shows three main focal points in a house–the left one being the TV, the center being a window and the right one being a fireplace.
Cuddlers can help individuals focus on one specific point in the room, without having the need to turn their heads. This, of course, is dependent on where you're sitting.
Incorporating Chaise Seating
In comparison, chaise pieces do have an easier time fitting in big or smaller spaces, but it can sometimes be difficult to place them properly.
Chaise seats usually have a better time being placed close to a wall or in the corner of a room, if it is a small space.
If a chaise is placed toward a wall, individuals who sit on the edge of the seat cushion would have a flat surface to lay on, should they feel tired or uncomfortable. This may not be the most comfortable seating, but a simple pillow to the back might make things a little more comfortable for you.
Mary Lee also points out that chaise seating doesn't always have to be in a sectional but can also be used as a single-seat placed in any leisure area.
For example, she notes that bedrooms might be great for chaise seats because they can be used as a reading area if people don't want to lay in their beds. "The single-seat chaise is making a bit of a comeback in the bedroom," she says.
Combining a Cuddler and Chaise in One Sectional
Finally, if you love the idea of both a cuddler and a chaise, it is definitely a possibility to have both seating styles on one sectional.
If your room is big enough to accommodate these bigger furniture pieces, you can have one end of the sectional have a chaise, while the other end of the sectional has a cuddler. This way you can have the best of both worlds all on one long furniture piece.
Cuddler vs. Chaise: Factors to Consider
Now that you are more familiar with both cuddler and chaise seating options, what are the important factors to consider when determining which sectional piece is right for you?
Among these 3 factors to consider, you will notice the pros and cons of both a cuddler and chaise piece at La-Z-Boy that might help you make your decision.
1. Relaxing and Seating Positions
Firstly, when looking at a cuddler, the back is typically designed with a natural recline. This means that they are not built-in with a 90-degree angle.
Because of this unique feature, people sitting on a cuddler are able to recline naturally without having to worry about getting in someone's personal space. Plus, because the singular cushion is made to seat two people, it means that two individuals can recline comfortably and effortlessly.
Cuddlers are also stationary, meaning they do not recline with a latch or the push of a button. This is because they are already made to naturally recline.
In contrast, with a chaise, you can seat two people comfortably, but one person would have to sacrifice the back cushion. The second seater wouldn't have anything to lay their back on, which isn't the worst situation, but it can lead to feeling less comfortable faster.
Further, depending on the type of chaise, a chaise may or may not have the ability to recline depending on if the sectional is stationary or motion.
At La-Z-Boy, reclining sectionals offer some chaise pieces that have the ability to move from a seated position to a reclining position by pushing back on the back of the seat.
2. Versatility Comes with Limitations
Cuddlers and chaise furniture pieces do have a lot of versatility. However, this can also be a downfall for them because their versatility is specific to one living room, and may not work in other living rooms.
Sectionals are usually made for rooms with lots of space or rooms that feature an awkward (uncommon) shape.
Say you were moving from one home to another and decided to bring your sectional with you to your new place. You might have a harder time placing your sectional in your new living area because the room is either a different shape, has different dimensions, or isn't big enough.
This is especially true if you have a unique end piece to your sectional like a cuddler or a chaise. Cuddlers are not the typical shape for a furniture seat, meaning it might be harder to place them in a new environment if you bring them somewhere else.
Chaise seats, though rectangular, might also be hard to place since they are also end pieces.
Mary Lee explains, "If you have a sectional with a chaise that is on the right side–because something would be obstructing it on the left side like a door or a window–you might not be able to place it in a room that has an obstruction on the right side. The chaise might be blocking a door or a window which is not great."
At La-Z-Boy, chaise furniture pieces actually have a slight edge when it comes to fixing this problem. Some sofas with chaise seating can be interchangeable on either side or even in the center, allowing you to have an easier time placing your chaise seating if you're moving to a new place.
3. More Storage in Your Living Room
One other advantage that chaise seating sometimes has is the ability to offer storage. The Colby, one of La-Z-Boy's sectional selections, has a chaise seat that offers storage space beneath the seat.
This can be beneficial if you need more storage space in your home for blankets, extra pillows, or other things. Simply lift up the seat cushion to store anything you wish.
Cuddlers, unfortunately, do not have storage space at La-Z-Boy.
Examples of Sectionals with Cuddlers & Chaise Pieces at La-Z-Boy
At La-Z-Boy, there are many different options to choose from when it comes to sectionals with cuddlers and chaise seating options. Here are 4 options that Mary Lee recommends for anyone looking for a comfortable sectional with a cuddler or a chaise option.
1. The Devon Sectional - Chaise Piece
The first sectional with a chaise option is the Devon sectional. The Devon has the ability to have a reclining chaise that allows users to recline by pushing back on the back cushion.
As stylish as it is comfortable, Devon is one of the most versatile sectionals that La-Z-Boy has to offer. A wide variety of pieces let you configure Devon to rooms of virtually all sizes and shapes.
Generously scaled, it features casual pillow-top seats, ultra-plush pillow backs, and padded curved arms that make it perfect for family use.
You can learn more about The Devon Sectional by checking out this review article.
2. The Paxton Sectional - Chaise & Cuddler Pieces
Up next with a chaise and cuddler option is the Paxton sectional. The Paxton's cuddler has slightly less of a curve to its back, making it easier to place in your living room.
With its wide arms and deep seats, the Paxton Sectional calls out for you to sink in and get cozy. Ideal for entertaining guests or relaxing on your own, Paxton is the comfortably casual sectional with clean lines and crisp welt trim for a look that's neat and structured.
The Paxton is also available as a chair & a half, a loveseat, a sofa, and a matching ottoman. To learn more about The Paxton Sectional, check out this review article.
3. The Alani Sectional - Chaise & Cuddler Pieces
Another sectional with a cuddler option is the Alani Sectional, which also has a chaise seat.
This clean-lined, casual design looks at home in any space with our popular rolled arms, welt trim, and decorative wood legs for just enough detail. Premier cushions offer plenty of support, an array of modules that can be customized for your perfect configuration, and a 20" accent pillow for added style.
To learn more about The Alani Sectional, take a look at this review article. For more information about both the Alani and the Paxton, take a look at this comparison article.
4. The Colby Sectional - Chaise Piece w/ Storage


The last sectional on this list is the Colby, another unique sectional because of the added storage space underneath the chaise seating.
Not only is it perfect for anyone looking to lounge by reading a book or watching TV, but the Colby sectional also might be perfect for someone looking for a small sectional configuration in an apartment looking to optimize storage space.
The Colby is also available as a recliner, a loveseat, and a sofa. The Colby furniture family is also part of The Duo Collection at La-Z-Boy, which you can learn more about by reading this article.
Cuddler vs. Chaise: Which Sectional Piece is Right For You?
To summarize, cuddlers and chaise seats for sectionals are unique pieces that each come with their pros and cons.
With that being said, which sectional piece is right for you? To decide, let's consider the functionality, style, and cost of each option.
First, a cuddler and chaise are both great options for someone with lots of space looking to share seating with multiple people. A cuddler might be a better option for someone looking to cuddle up close with someone, while a chaise is ideal for an individual to kick up their legs.
Given that a cuddler and chaise typically connect to longer sectionals with an unconventional seating arrangement, these pieces may not be suitable for families or individuals that are thinking of their living situation as temporary.
This can include military families that travel a lot or business workers that travel from place to place for work.
Further, a sectional with either piece will not be ideal for someone living in a very small and confined space, since these furniture pieces are known to take up more space than traditional seats.
With that being said, chaise pieces do have an easier time fitting in smaller spaces, but it can sometimes be difficult to place them properly. In this case, it might be more practical to get a sofa with a chaise piece, like the Piper. Learn more about the Piper by checking our in-depth review of The Piper Furniture Family.
You can also learn more about placing furniture in a Small Space by checking out this article.
In terms of cost, sectionals are expensive depending on how big you want them to be, so you would ideally want to get your money's worth out of your furniture. La-Z-Boy furniture also falls within the mid to high price range on the market due to the quality of materials used to make our furniture.
So, if you're looking for long-lasting furniture that is comfortable, La-Z-Boy furniture might be worth the investment. In contrast, if you are looking for more temporary furniture on a budget, investing in a sectional with large pieces, like the cuddler or chaise, may not be the right choice for you.
What's Next?
After reading this article, you have now gained more knowledge about La-Z-Boy's unique sectional pieces.
So, now that you have read about the cuddler and chaise pieces, why not try them out yourself? In addition to the cuddler and chaise, La-Z-Boy has many more sectional pieces to choose from so you can create the ideal sectional configuration for your home.
Make sure to discover your next furniture piece by doing a sit test at any of our Ottawa & Kingston Locations. You can also schedule an appointment online.
Our interior design consultants, like Mary Lee, are always eager to lend a helping hand. Take advantage of our interior design services to see how our loveseats could fit in your home.
Related Articles:
How to Arrange a Sectional Sofa: Top Considerations
Review of the Collins Sectional
Product Info Request
Please provide us with your name and email and we'll get back to you as soon as possible regarding this item.