How to Arrange Sectional Sofa: Top Considerations
February 14, 2020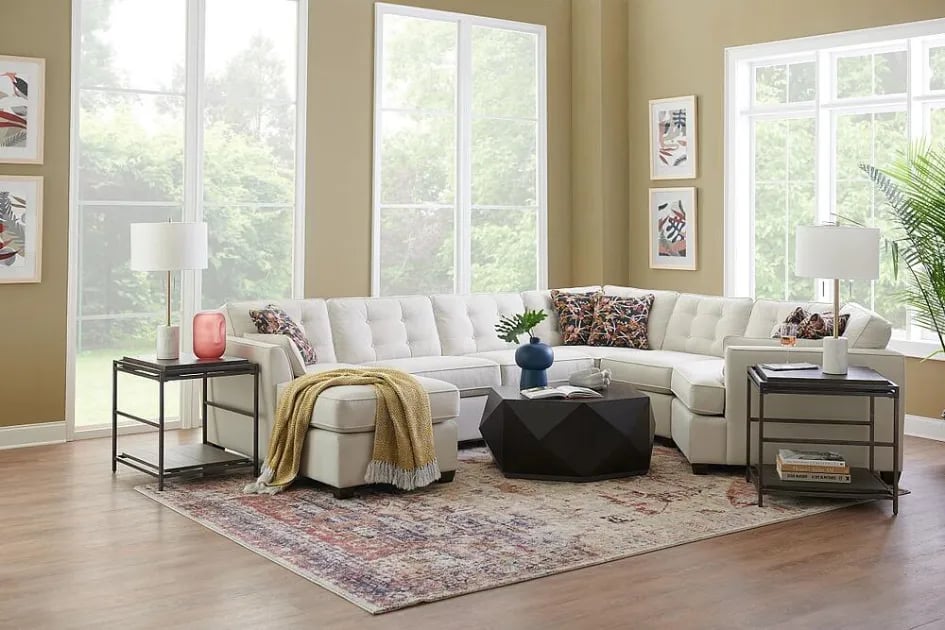 By Zeina Badawi La-Z-Boy In-home designer
Sectional sofas are the most versatile seating options for your home. Whether your objective is relaxing, watching movies or hosting guests, a sectional is multi-functional! Many people wonder, though, "how to arrange a sectional sofa in my room?"
Buying furniture is a significant investment. If your goal is to make your sectional a staple in your home, you'll want to make sure it serves its purpose well and fits your space perfectly.
At La-Z-Boy Ottawa and Kingston, we've helped hundreds of clients find the perfect furniture for their specific needs. There are many ways to arrange a sectional couch and several options available, but which ones are right for your living room?
Read on to find out the different ways you can configure your sectional and other considerations that will enhance its arrangement.
Why Choose a Sectional?
They are the most inviting.
No other seating arrangement seats more people than a sectional. It can help to maximize seating options in smaller homes, especially when placed in a corner.
All you need is a room with two walls. In many small areas, an L-shaped couch will often fit better than a sofa and loveseat as the length, and the width will take up less space.
Sectionals help to zone an open concept plan.
Nothing looks better than an open and airy plan, but it is tricky to arrange furniture and divide between living/ dining and kitchen areas. In these instances, a sectional couch works as a visual barrier between functional spaces.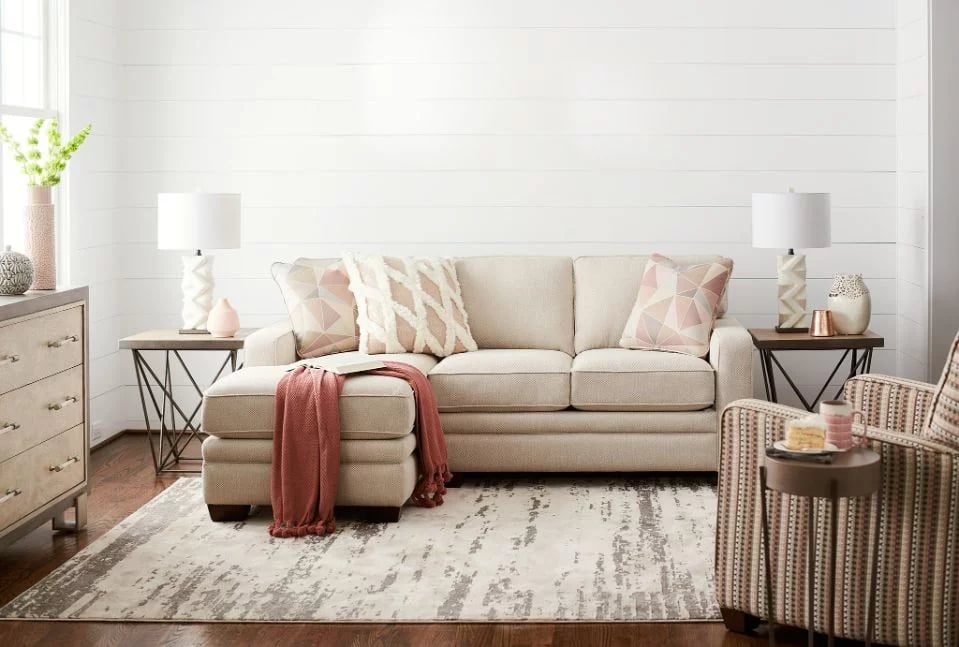 Choose Left or Right Side Sitting Sectional
Choosing left or right sitting is the most crucial decision to make when purchasing an L-shaped couch. Do you require a right sitting or left sitting sectional? This choice will set the tone for the optimal placement of your furniture.
Right-Side Sitting
If you are standing facing a sectional and the chaise is on the right, it is a right-side sitting chaise. The arm of the chaise is on the right because the sofa continues to the left.
Left-Side Sitting
If you are standing facing a sectional and the chaise is on the left, it is a left-side sitting chaise. The arm of the chaise is on the left because the sofa continues to the right.


When planning the placement of your sectional, think of daily use vs occasional use. Your room needs to feel welcoming and offer a comfortable/cozy feeling to your family. When you enter the room, you want to be facing the seating area; you don't want to come into the room and see the back of it.
Arranging it in the corner of the room facing the focal point is one of the easiest ways to place your L-shaped couch.
It's essential to account for everything when measuring your space. Focal points, windows, doors and other furniture are important factors to consider in the area. For this reason, the left or right sitting sectional decision can sometimes be a difficult one. An interior designer can help with this task.
See the picture below; same room, but the sectional is in the opposite position. Which one is more inviting?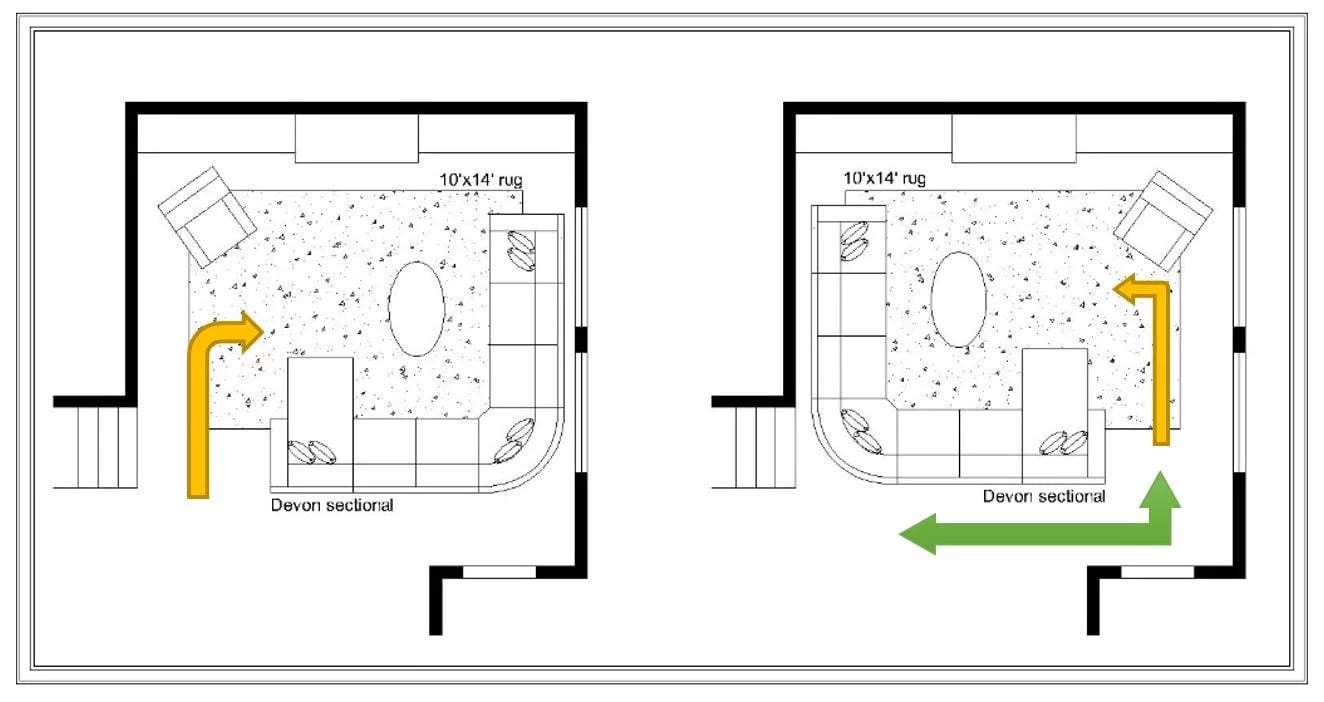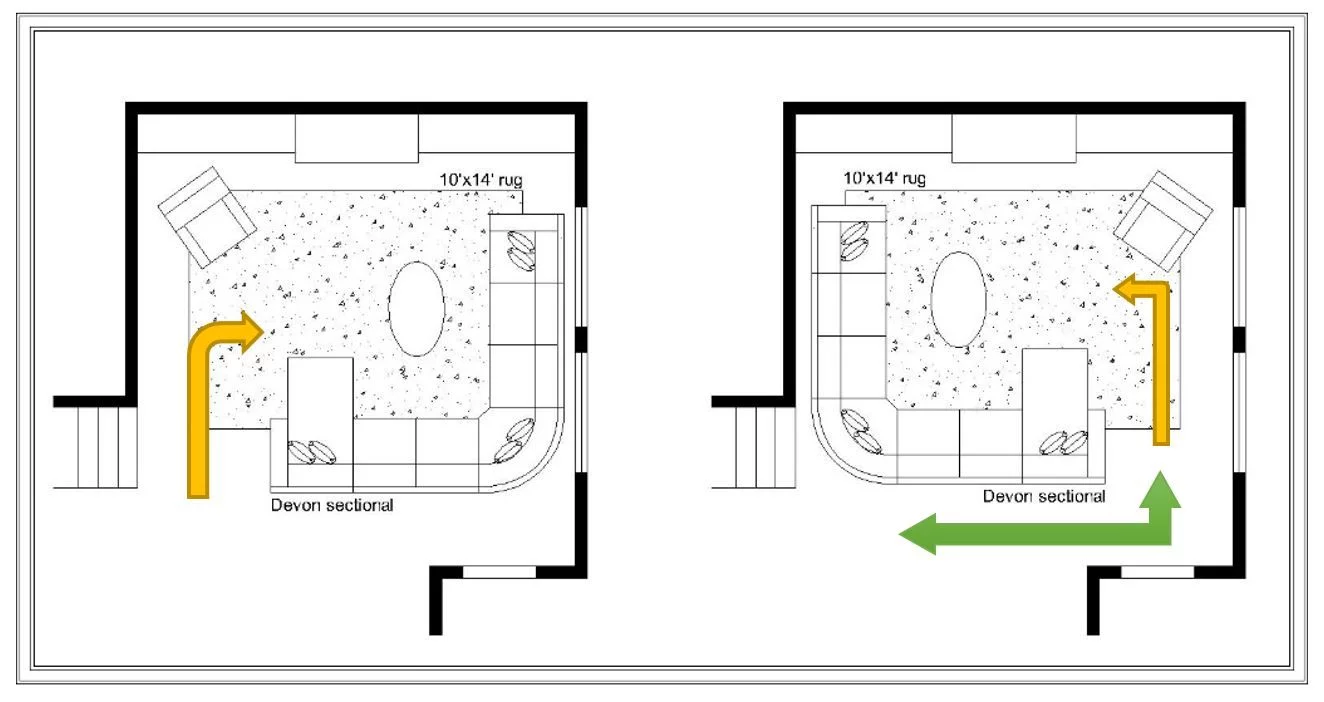 What are the Best Sectional Configurations?
There are countless numbers of options to arrange a sectional sofa. With so many choices, you will find the perfect fit for your space that suits your needs.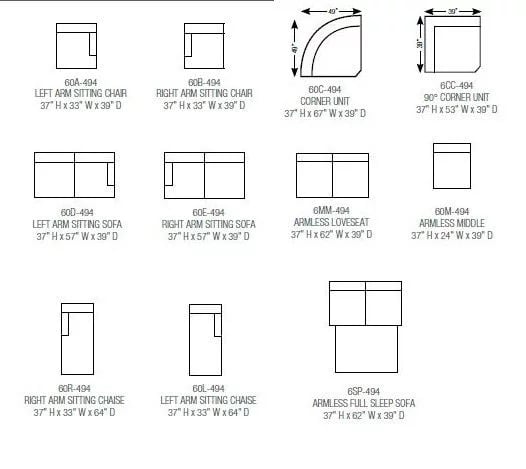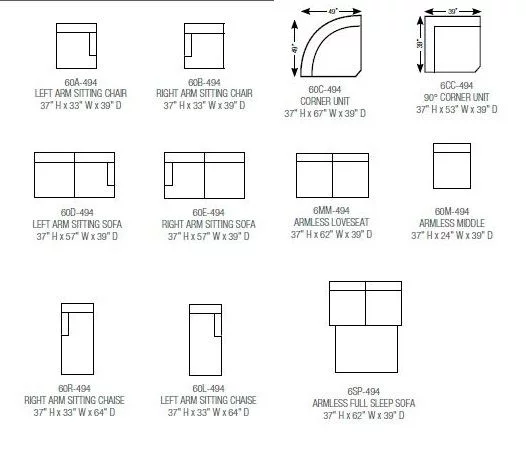 Modular sectionals come in different depth and width seats and will allow you to design the shape that fits your room best.
Here are the 4 most common shape options that you can create with sectional couches!
1. L-shape
When one side of the sectional is longer than the other, or they have an equal length on both sides, it is called an L-shape sectional. This arrangement works best in larger rooms with lots of wall space.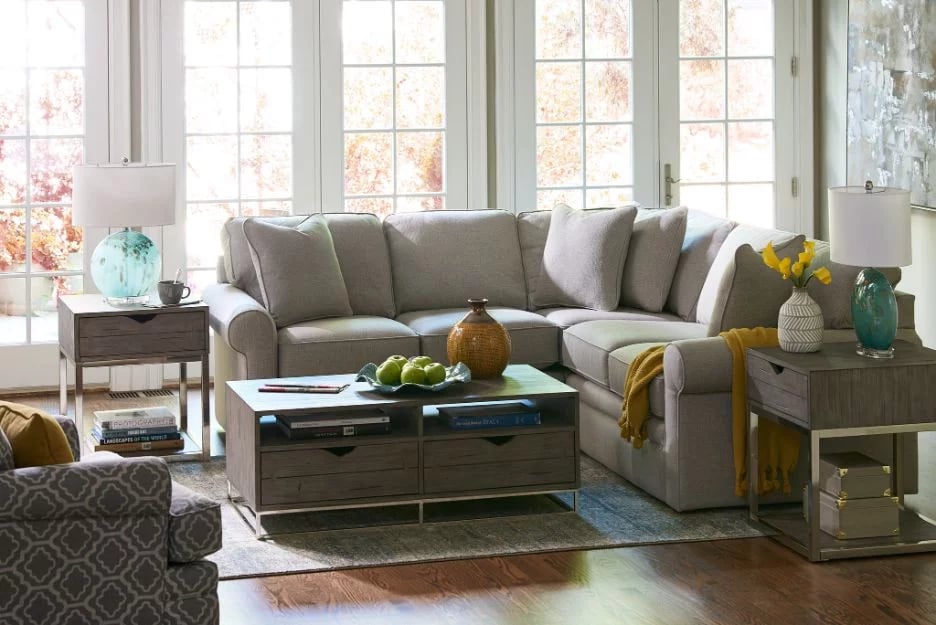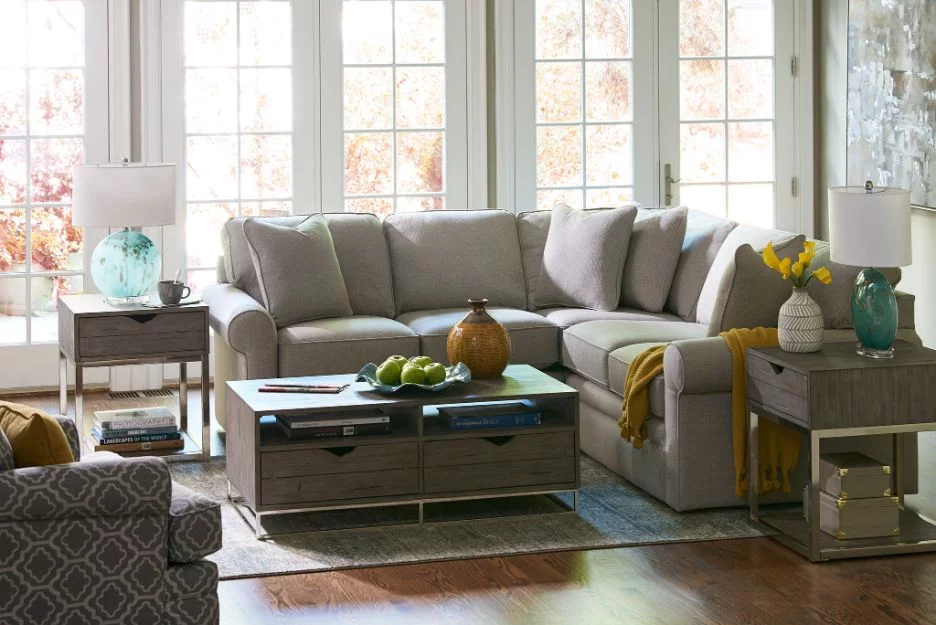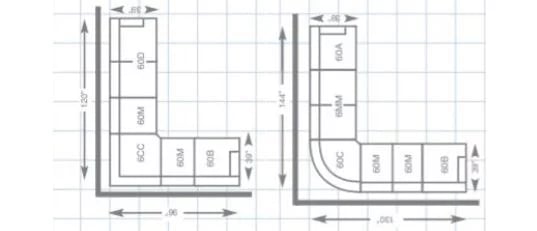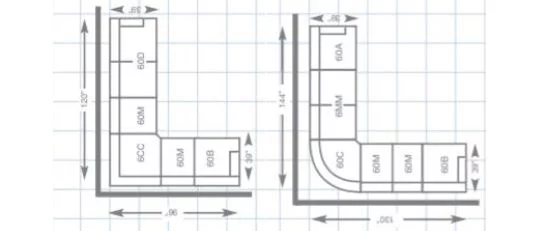 2. U-shape
The U-shape looks like exactly that, a U except that sometimes one side can be shorter than the other. It can work well in spaces that are square or awkwardly shaped. The U-shape is ideal if you have a big space to fill, a family room or a finished basement/rec room.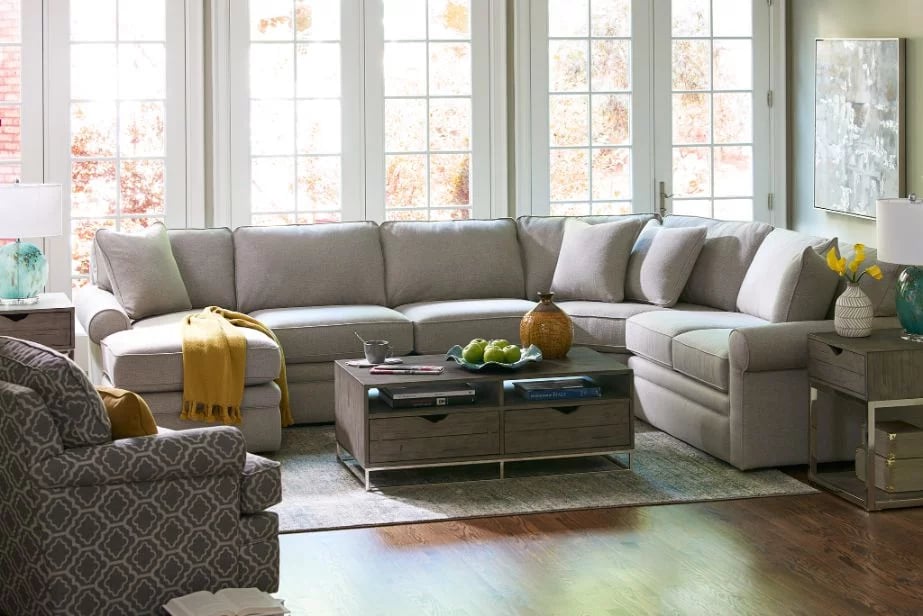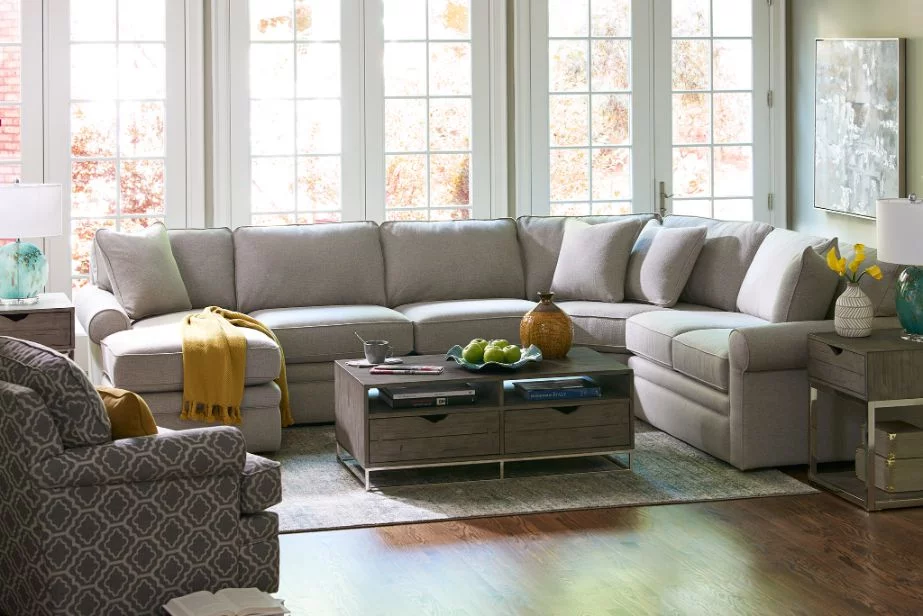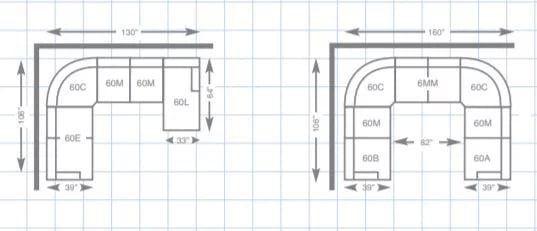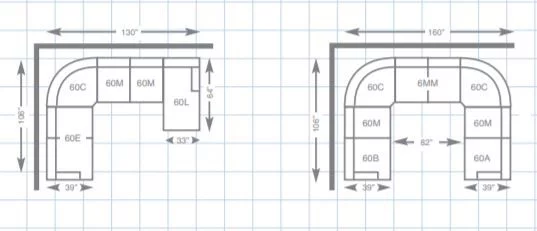 The U-shaped Devon sectional offers reclining seats, a cuddle corner, and the option of a sleeper plus console or chaise.
3. Sectional with chaise
A chaise sectional is basically a sofa with added chaise lounge. It feels right at home in an open-plan space, especially when paired with a side table and backed by a sofa table*. The chaise sectional works well in a small area when it can't accommodate an L or U-shaped sectional.
*Sofa table: a narrow table you can position at the back of a sofa to accessorize and create separation as well as hide the back of the sectional.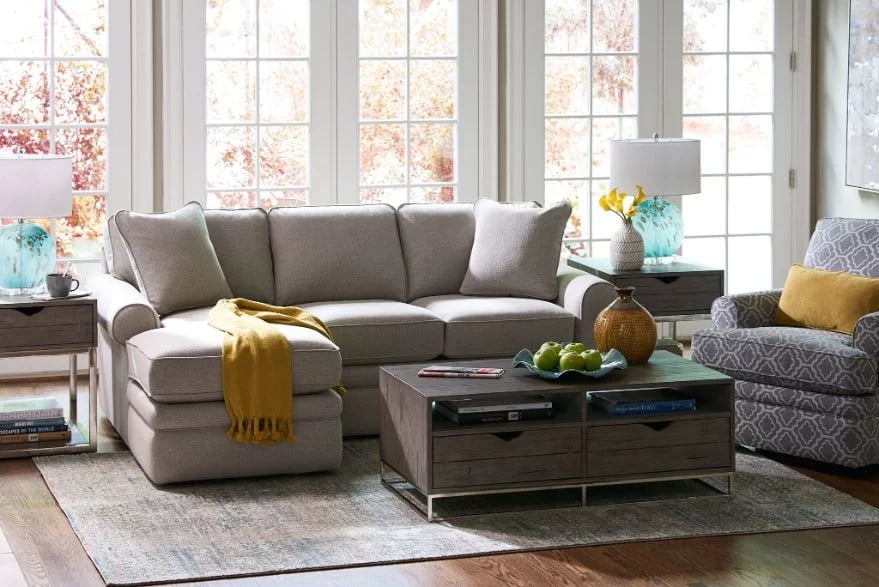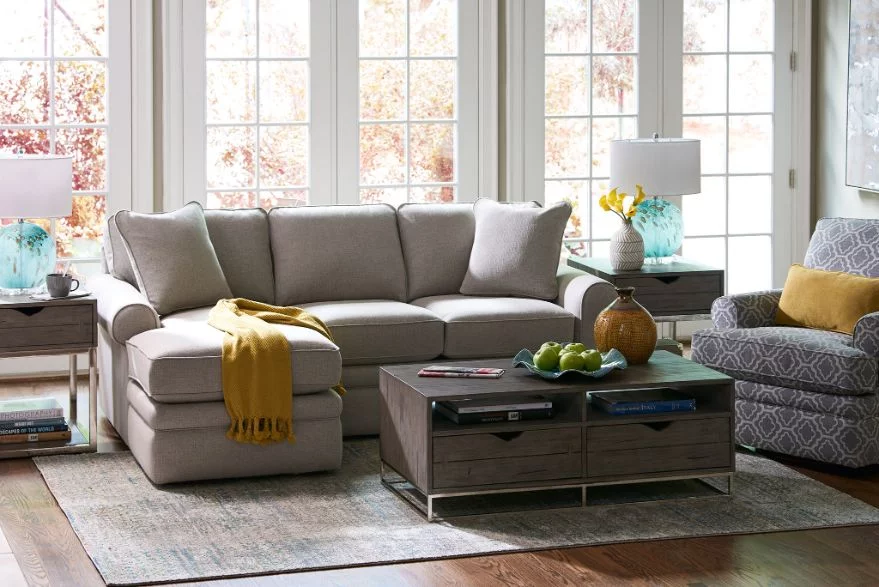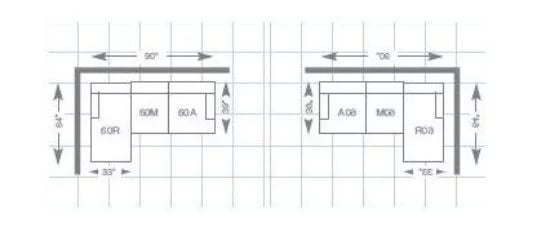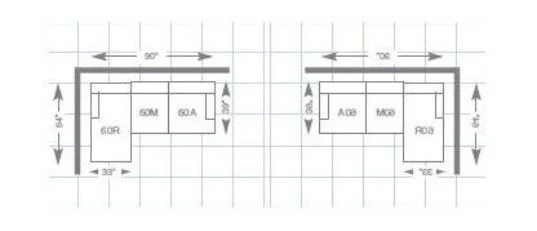 4. Curved: cuddle corner
Most sectionals come with a round corner or a 90-degree option. It's an excellent solution for intimate conversation and cuddling.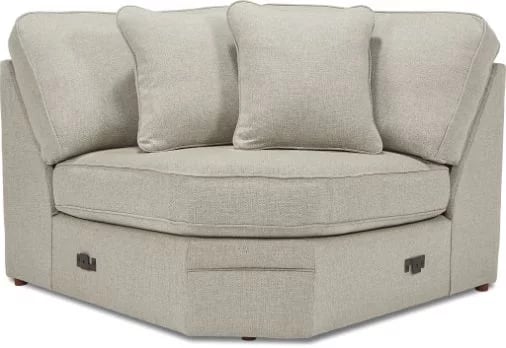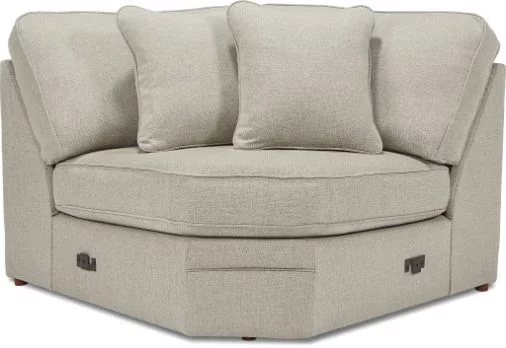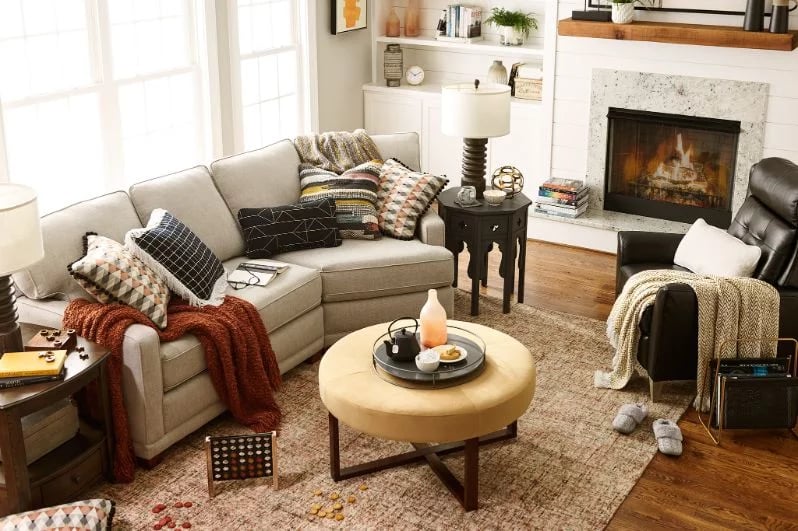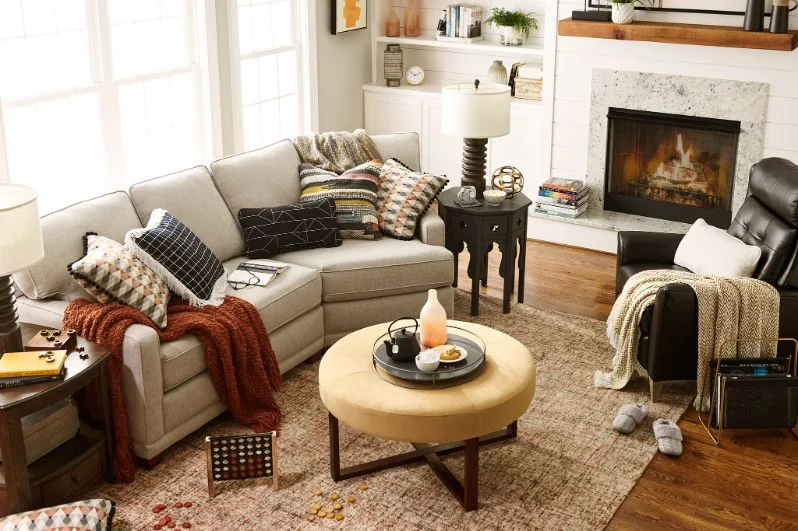 Reclining or Stationary Sectional?
Again, you must know the room's primary purposes when making this choice. Will you be watching tv, relaxing, or hosting guests on your sectional?
If your preference is for maximizing seating and hosting guests, then a stationary sectional such as the Meyer and the Collins sectional may be the best option. Some people prefer non-reclining sectionals as they have a more contemporary style. If you tend to stretch out when sitting, then adding a chaise to the sectional would work well here.
Reclining Sectionals
When sitting and relaxing for long periods, a reclining sectional such as the Devon or the Reese sectional (pictured below) is the best option. A reclining sectional provides soft support for your head, neck and lumbar region.
You can adjust the back and chaise leg rest for personalized reclining comfort, or lean back without raising your feet. Perfect for movie nights or just relaxing after a long day.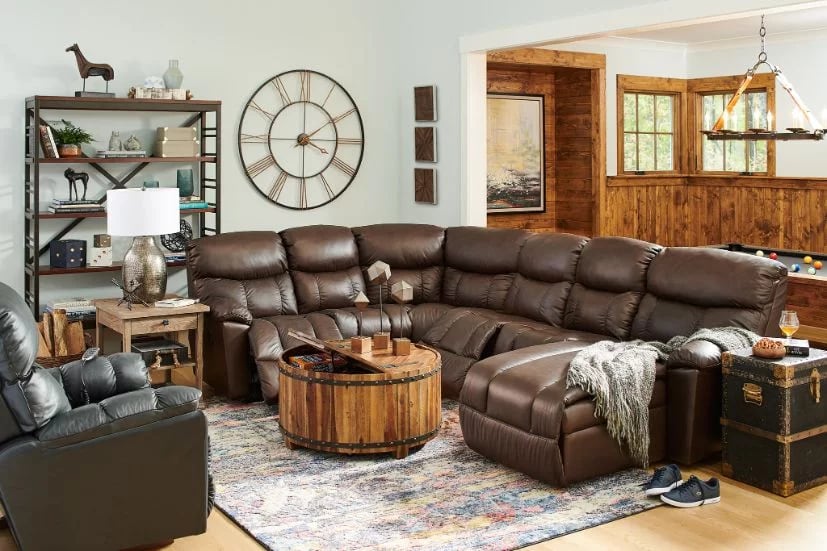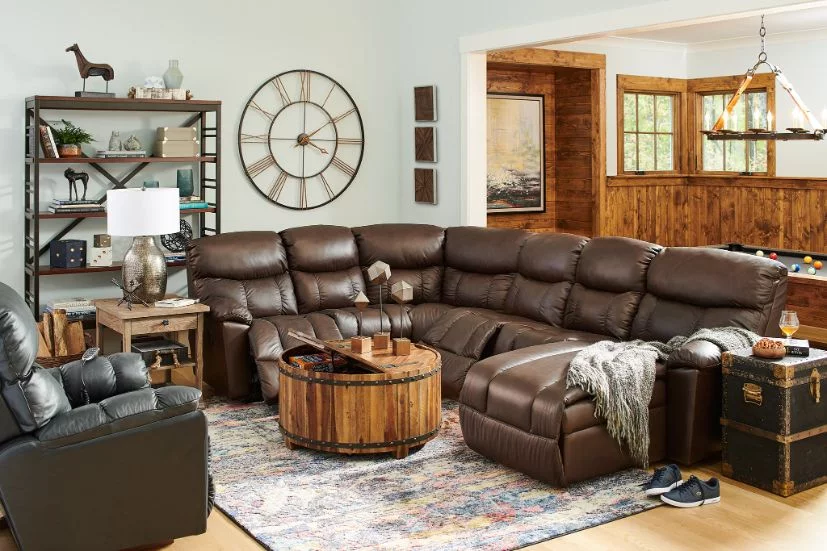 Contemporary Sectionals
After stationary and reclining there is a third option available at La-Z-Boy the Edie sectional (pictured below) from the Duo collection.
The Edie has a contemporary style that includes a stationary back and an adjustable leg rest. It can save space in the room by placing it inches from the wall.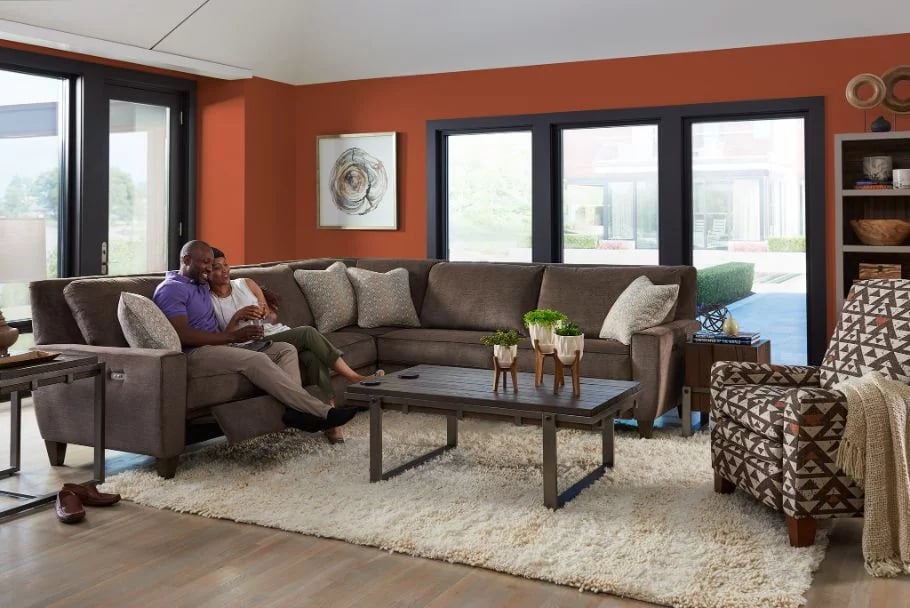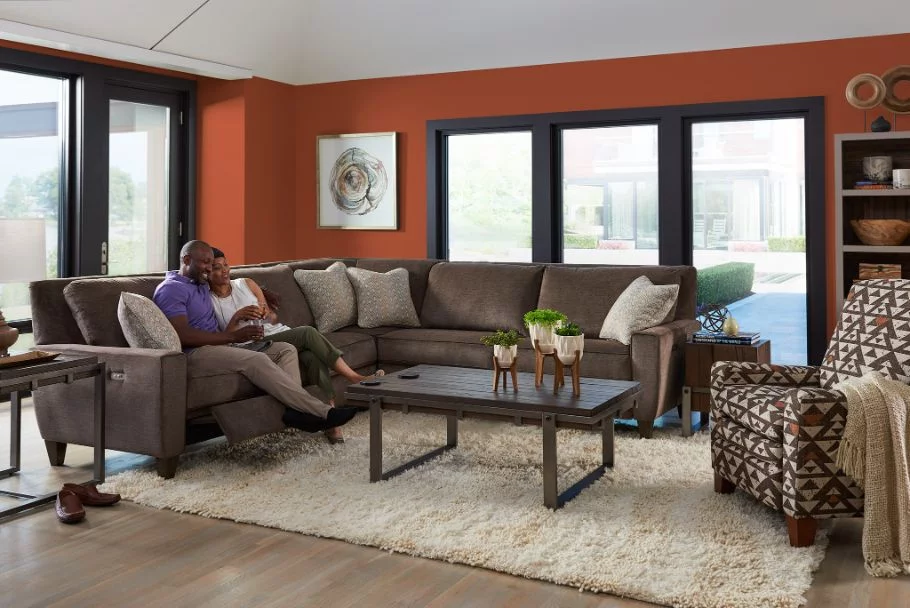 Sleeper Option
Maximize your seating space and have plenty of room for overnight guests with a sectional sofa bed. No need for an extra bedroom, now your family room can double as a guest room.
It's essential to look for sofa beds with comfortable mattresses. Other great features are an elevated headrest for reading or watching tv and a sofa bed that doesn't let you feel the bar on your back.
All La-Z-Boy sofa beds have these features. Read about the top 5 La-Z-Boy Sofa Beds
The Kennedy Sofa bed is pictured below.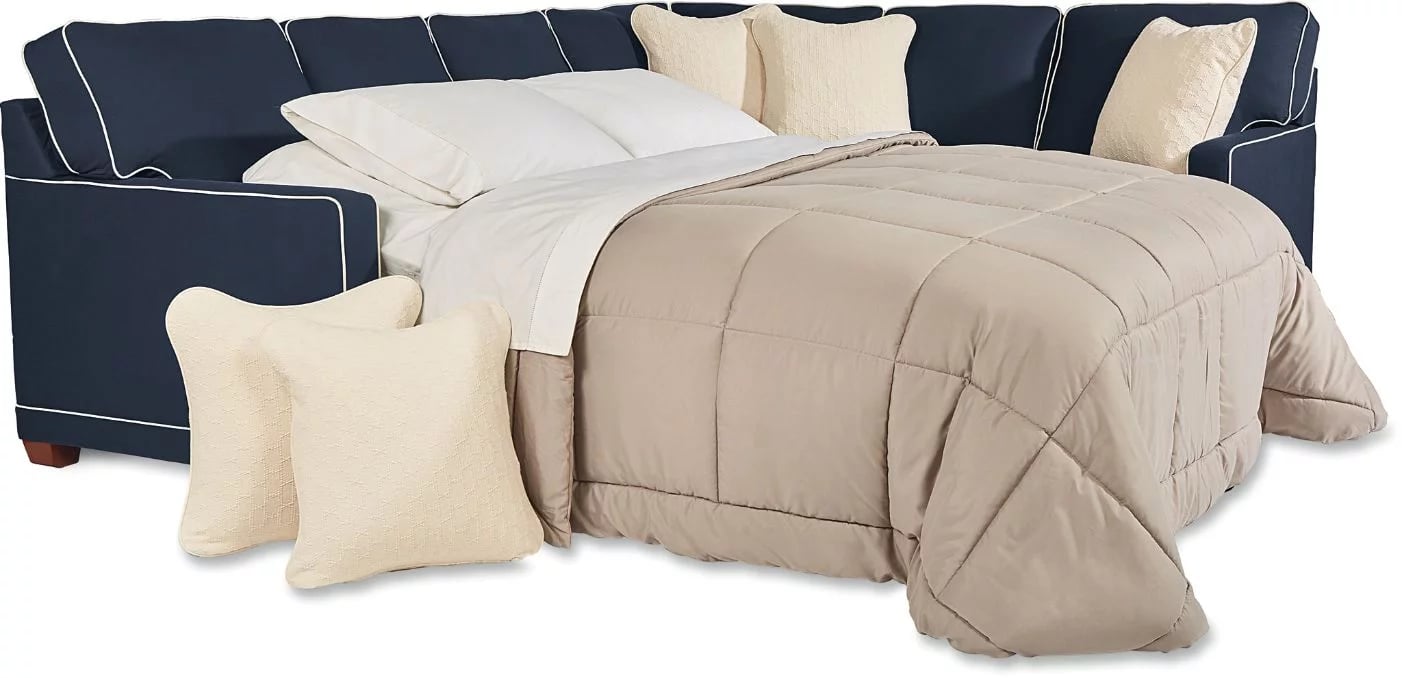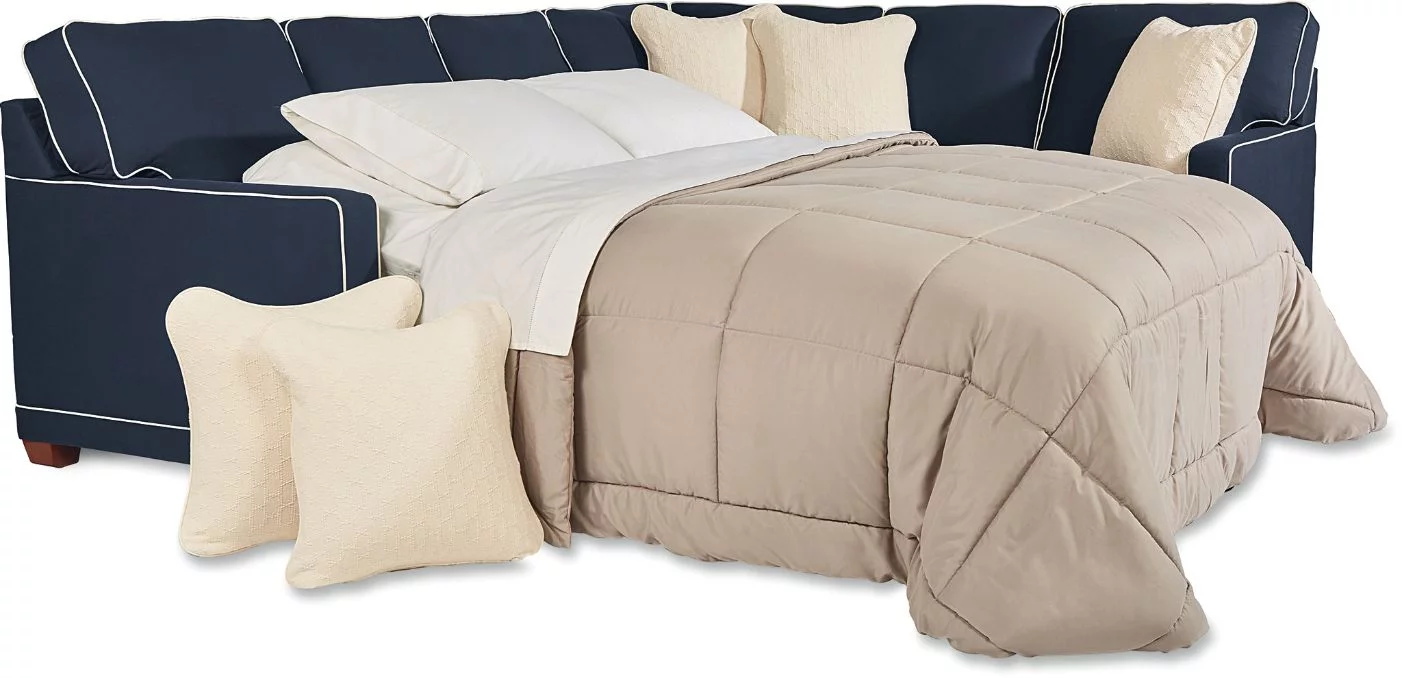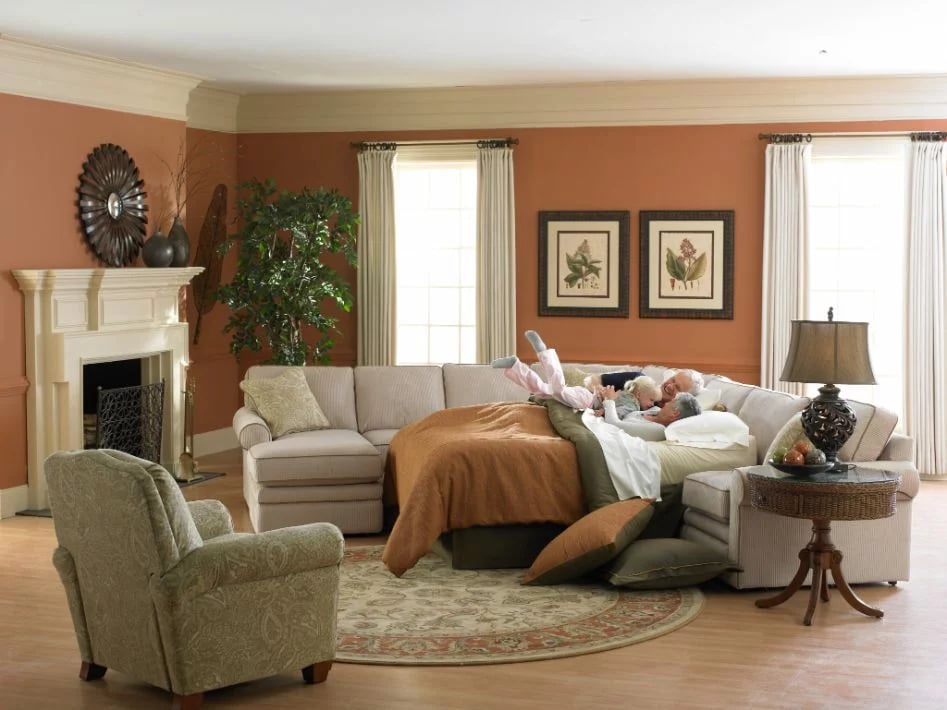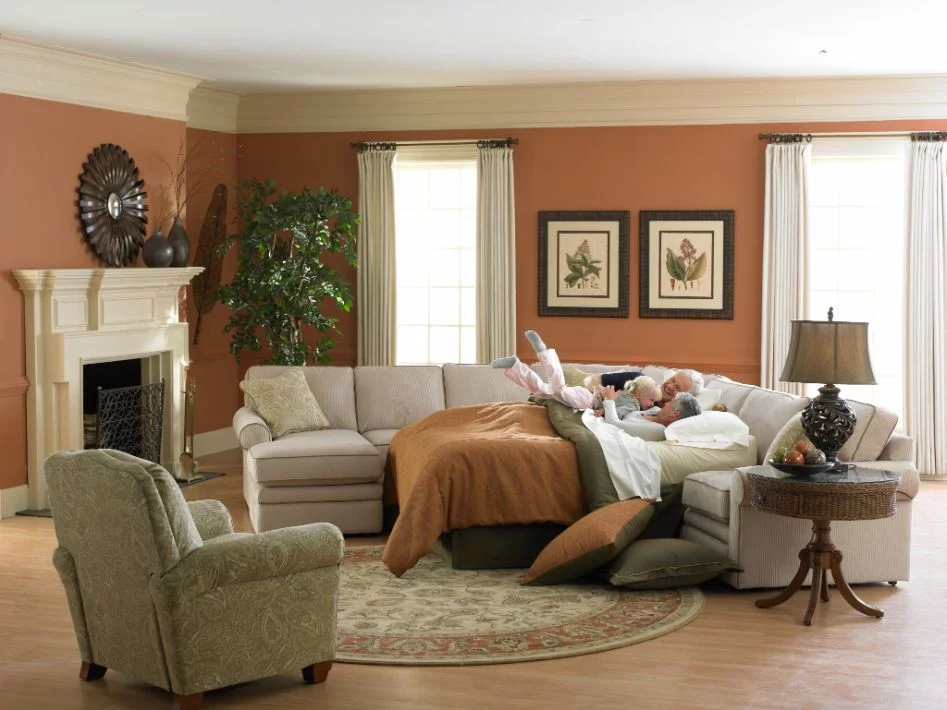 What Size Area Rug Works Best with Sectionals?
"Appropriate rug size should be determined based on furniture configuration and not on room size alone." The right size rug always makes the room feel bigger and airier.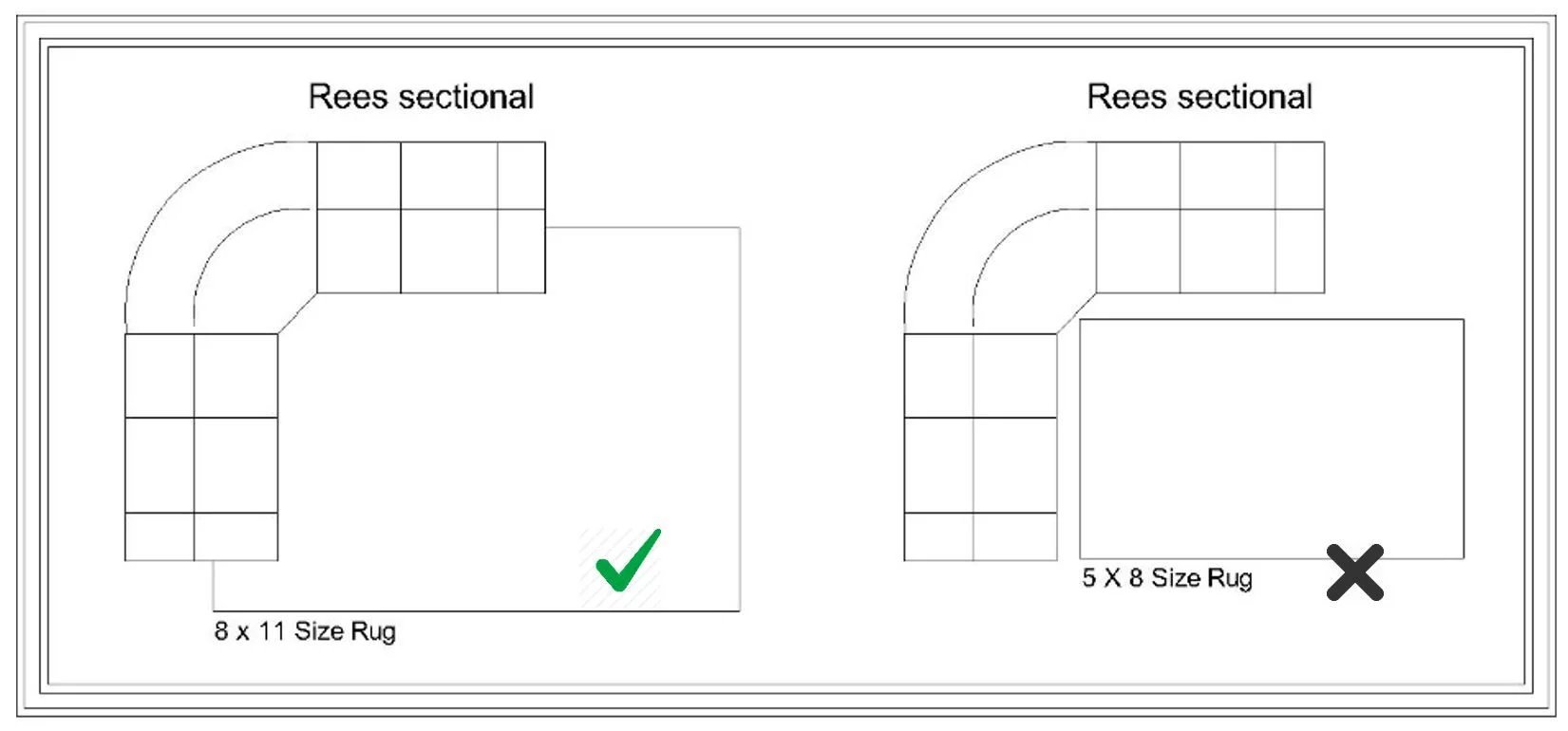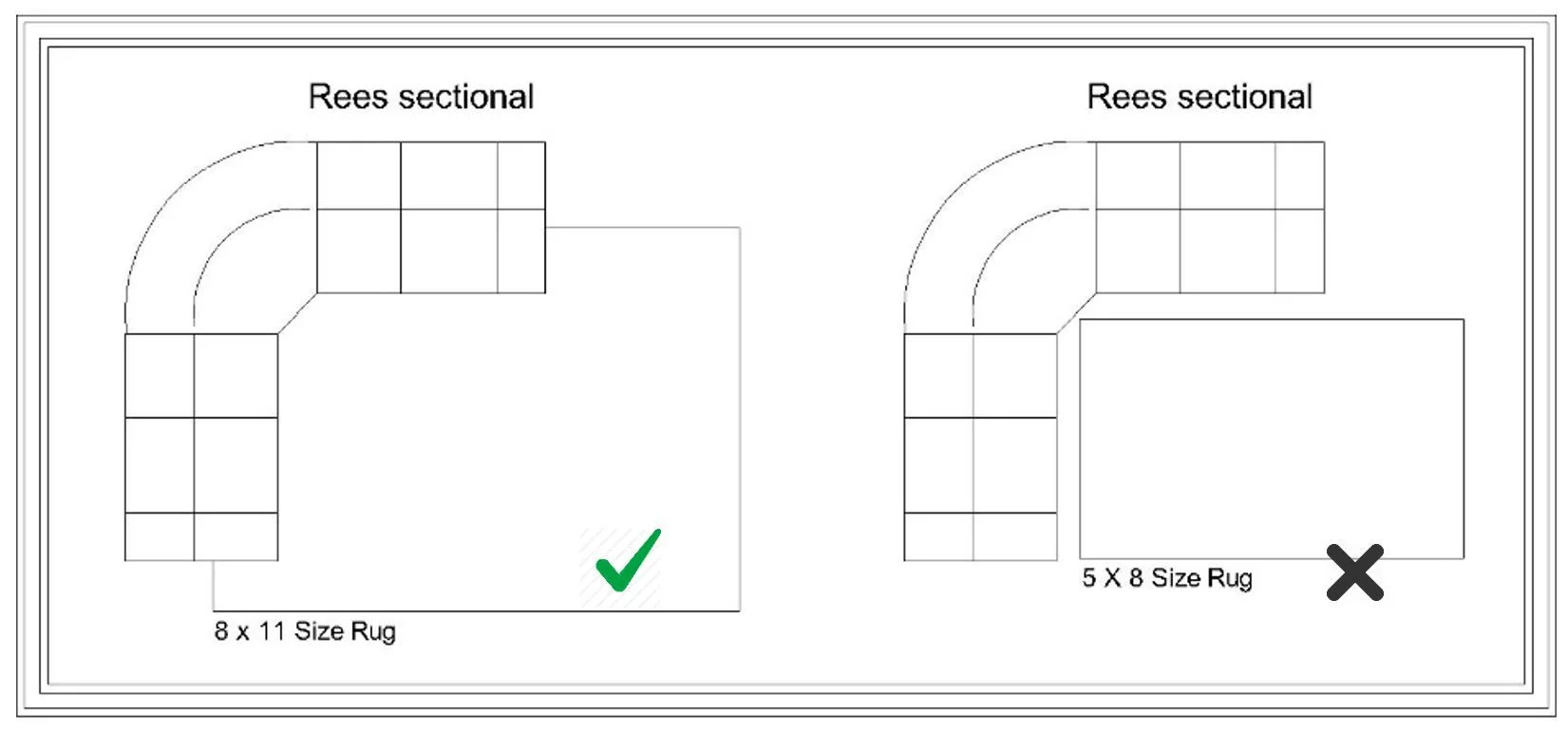 For more on choosing the right size rug, read this article on how to select the perfect area rug.
Is it Okay to Put a Sofa in Infront of a Window?
Many people have heard that you shouldn't place your sofa/sectional in front of the window as it may block the view. However, considering the way many homes are built in Canada, sometimes it is the best solution for your living room layout.
As long as the sectional doesn't have a very high back and you can still see outdoors, it will work well.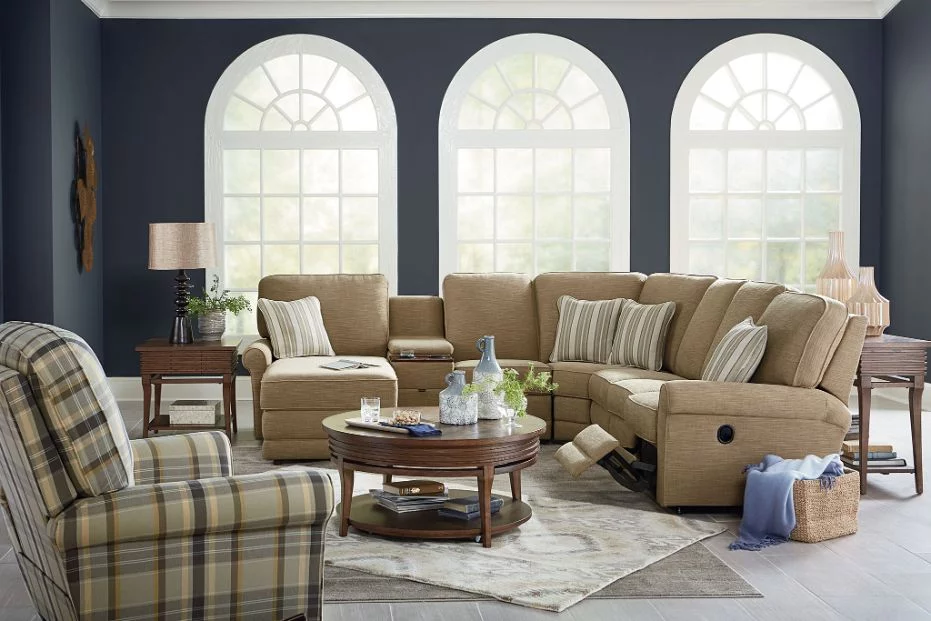 Next Steps
Sectionals are family-friendly sofas that provide enough seating for the whole family. They fit very well into a corner but can also help bring definition into open concepts by floating in the middle of the space. Sectionals also offer reclining options or the ability to lounge and put your feet up!
The style, size and configuration of the sectional can all create a different vibe in your room.
La-Z-Boy has over 90 years of experience in furniture. The quality and variety of La-Z-Boy sofas will ensure you find the perfect match for your needs and help you to arrange your seating area.
If you're still not sure which one to choose, you can check out our sectionals page or contact us today. We're happy to answer your sectional pricing questions at any one of our La-Z-Boy locations in the Ottawa and Kingston area.
We know that functionality is essential in building a comfortable life, not just a stylish one. That is why we offer complimentary in-home design services should you need help designing the room of your dreams!
Product Info Request
Please provide us with your name and email and we'll get back to you as soon as possible regarding this item.