Review of the La-Z-Boy Collins Stationary Sofa & Loveseat
March 29, 2021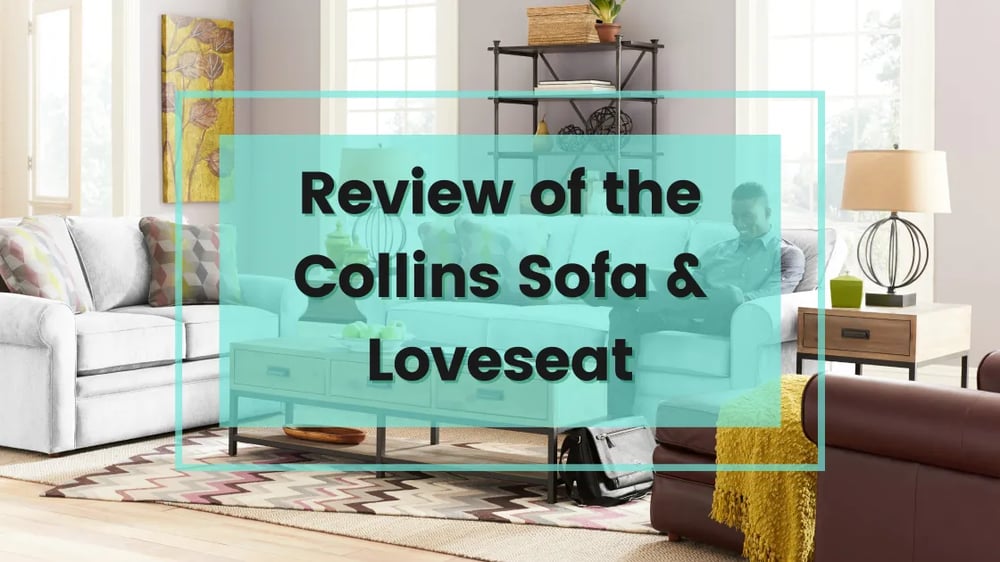 The Collins Stationary Sofa and Loveseat both offer a look that feels perfectly at home in any space.
Magaly del Castillo, the interior designer at the La-Z-Boy Cyrville store, says that the Collins Sofa is the most transitional piece on the floor. "These pieces are where contemporary and traditional styles collide," she says.

Magaly says the flat-front rounded arm on the Collins provides a clean and updated version of the traditional round arm. Not to mention it is comfortable! The cushion on the arm of this furniture item is a fantastic place to rest your head.
From a designer's perspective, Magaly loves the versatility of the Collins. Depending on the fabric cover and customizations, the Collins can coordinate with any style from boho, to coastal, to modern, to classic.
Not only does Magaly love the Collins Sofa & Loveseat, but so do many of our clients at La-Z-Boy. In fact, the Collins is one of our Top Five Best-Selling Sofas at La-Z-Boy Ottawa & Kingston.
Are you looking for a versatile stationary piece to complement your living room décor? The Collins Sofa or Loveseat might be exactly what you are looking for.
Unique Features
The Collins Sofa & Loveseat are a classic!
With simple lines and put-together tailoring, it is a style that looks good and feels better. It features semi-attached pillow backs, over-scaled roll arms, and box seat cushions with welted trim.
The Collins is available in an array of high-quality fabrics of multiple colours and patterns as well as premium-grade leather options.
In addition to style options, this furniture piece offers exceptional comfort with patented ComfortCore® seat cushioning.
Size & Dimensions
According to Magaly, the Collins is considered a standard or average-sized sofa.
The dimensions of the Collins are best suited for taller individuals who are between the heights of 5'10" to 6'2".
While your height can be a considerable factor, it is important to note that height guidelines are NOT set in stone. The way you sit in a furniture item can drastically affect how someone might find a seat comfortable.

This is why we highly recommend coming in-store and taking a sit test to determine if the Collins is right for your unique body type. To learn more, take a look at our article How to Find the Right Sofa for Your Size?
Collins Loveseat Weight: 98 lbs

Body Depth: 38 in.




Body Height: 37 in.




Body Width: 63 in.

Seat Depth: 23.5 in.




Seat Height: 21 in.




Seat Width: 48 in.
Collins Sofa Weight: 132 lbs

Body Depth: 38 in.




Body Height: 37 in.




Body Width: 87 in.

Seat Depth: 23.5 in.




Seat Height: 21 in.




Seat Width: 72 in.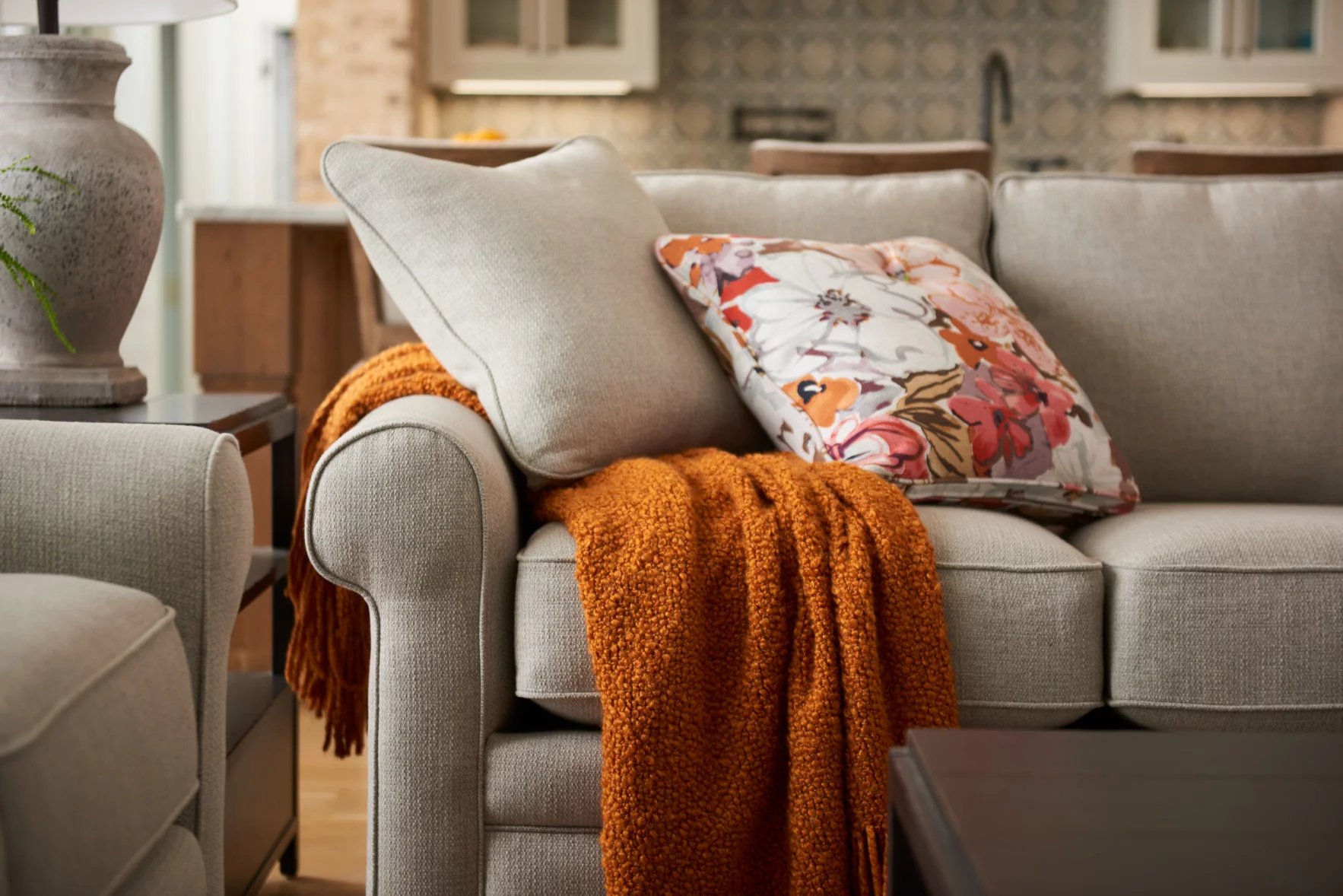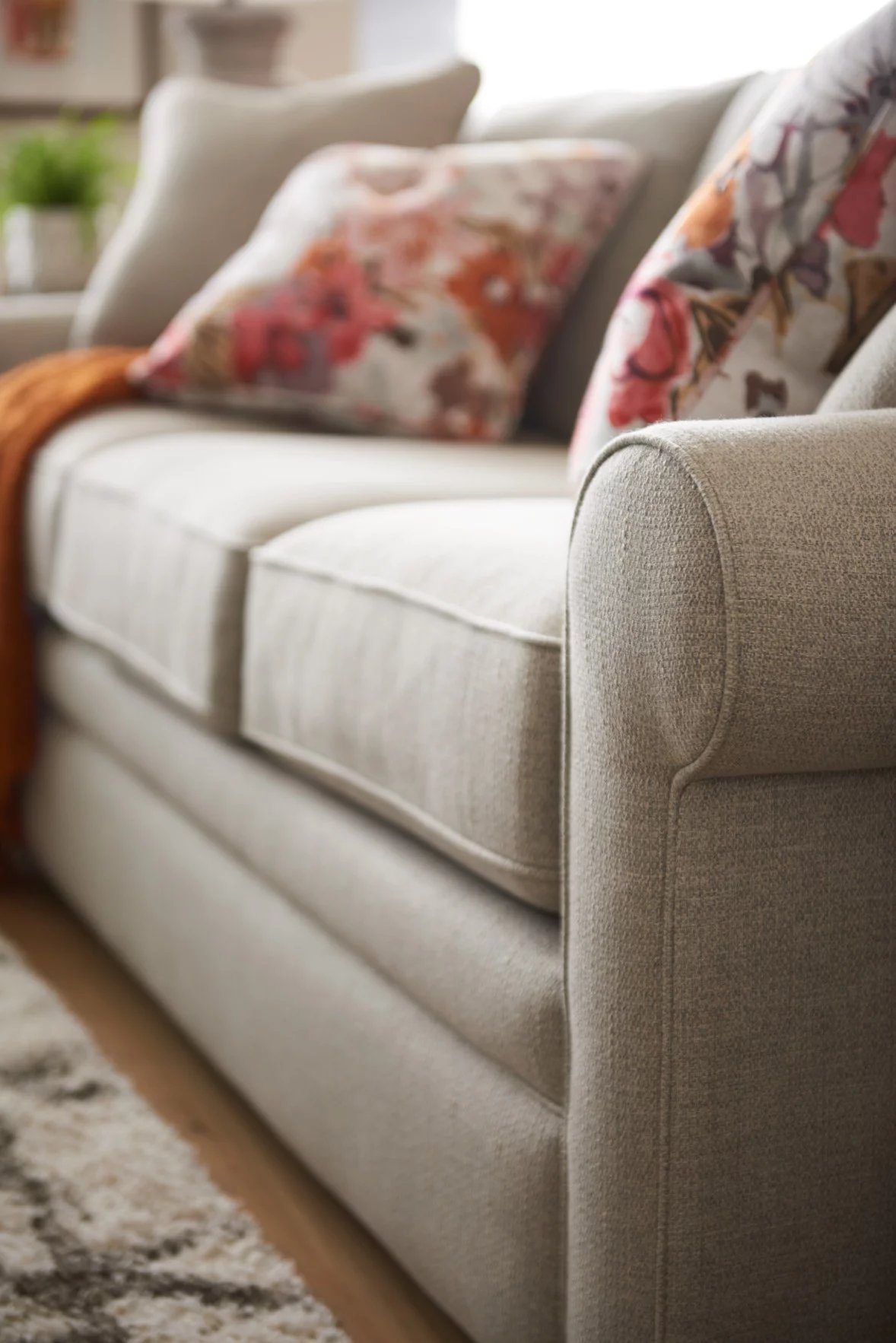 How it's Made – Premium Construction
La-Z-Boy's quality construction offers countless hours of durability and comfort. More specifically, for most non-reclining frames, La-Z-Boy has developed a Premier method of construction.
These stationary styles of sofas and chairs are built with premier features targeting the frame, spring system, cushion, and padding.
With this, the Stationary Collins is made and manufactured with Premier Construction. For more detailed information, take a look at the article Premier Construction at La-Z-Boy.
Options & Upgrades
At La-Z-Boy, everything is customizable, including the Collins. You can make the sofa or loveseat uniquely yours by customizing the fabric, seat cushions, contrasting trims, and accent pillows.
Given the versatility of the Collins, you can play around with customization options to achieve a specific interior-design style or coordinate with other furniture pieces.
Fabric Options
The cover that you choose is crucial in determining the overall look and feel of the Collins.
At La-Z-Boy, there are over 800 fabrics and leathers to choose from. With this, there is something unique for every budget and style.
The Collins comes in 11 select fabric choices. Select fabrics are specifically chosen to match a particular furniture frame and do not affect the starting price.
The Collins is not offered in leather.
*Please note that this article's leather or fabric options may be discontinued or unavailable without prior notice. We recommend contacting your local Ottawa or Kingston La-Z-Boy store by phone or in-person to confirm availability. We apologize for any inconvenience caused by any changes to our upholstery selection.
In addition to the cover options mentioned above, the Collins comes in specialty fabrics that offer unique features and benefits…

Stain Resistant
Innovative iClean Technology surrounds each fabric fibre, creating a barrier that repels spills before turning into stains.
Tested and formulated to withstand the scratches and wear that a pet can cause to ensure a durable and easily washable fabric.
Antimicrobial properties surround each fibre to protect against mould, mildew and odour-causing bacteria.

Performance
Superior stain and fade resistance properties make fabrics easy to clean and incredibly durable.

Eco-Friendly
Conserve Sustainable Fabrics are soft, durable and made from recycled water bottles.

Energy Restoration
Restore by Nanobionic® features a mineral-based fabric coating that transforms natural body heat into energy using infrared technology.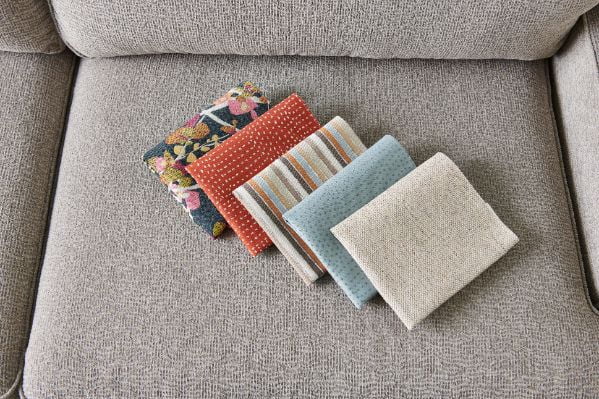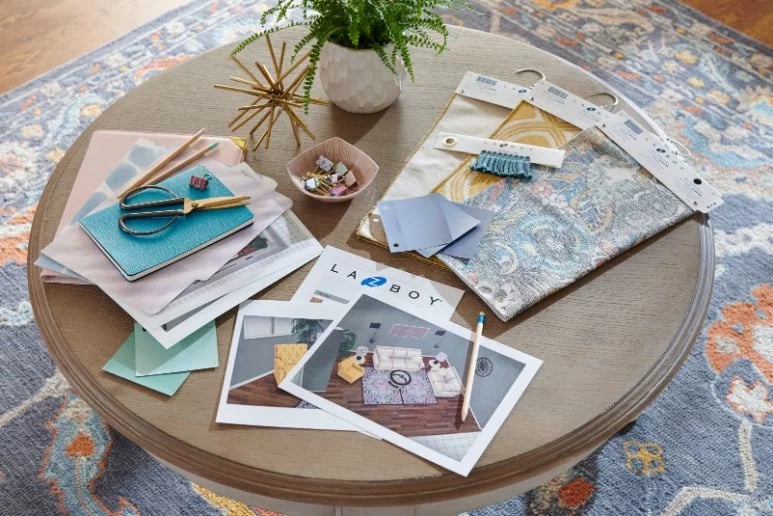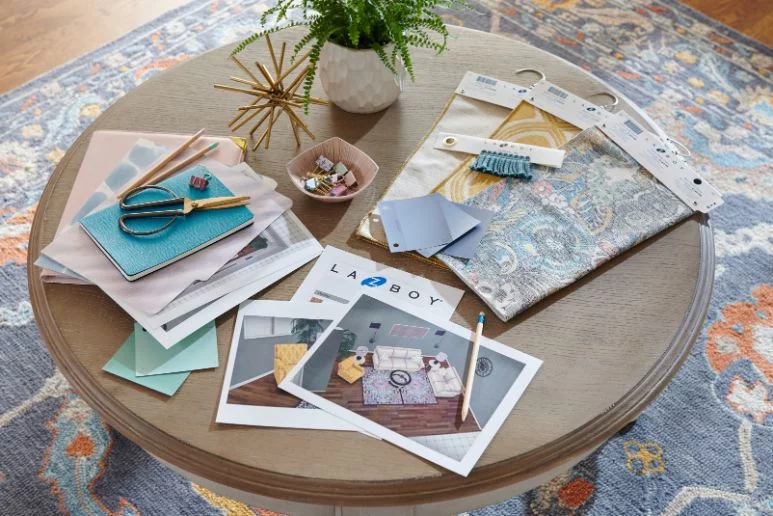 Cushion Upgrade
At an additional cost, firmer seat options are available, plus you can choose to upgrade both the seat and back cushions. For more information please see our stationary furniture collection catalogue and our in-depth Review of La-Z-Boy's Chair and Sofa Seat Cushions.
Please note that furniture purchased prior to January 2021 had the option to upgrade to ComfortCore

GEL seat cushions. This cushion has seven layers of comfort technology that includes gel-infused memory foam that provides exceptional support as it conforms to your body.
Contrasting Welt Trim
Welt trim provides a tailored look to sofa seat cushions. You can opt for contrasting welt trim on your Collins to add some personality and decorative detail.
Pillows
The Collins comes with matching throw pillows. If you are going for a bolder look, consider selecting contrasting accent pillows to make your Collins pop.
Additionally, you can choose to add cord or fringe to the pillow edge for a more decorative appeal.
For upgraded comfort opt for a FeatherLite fill feathers.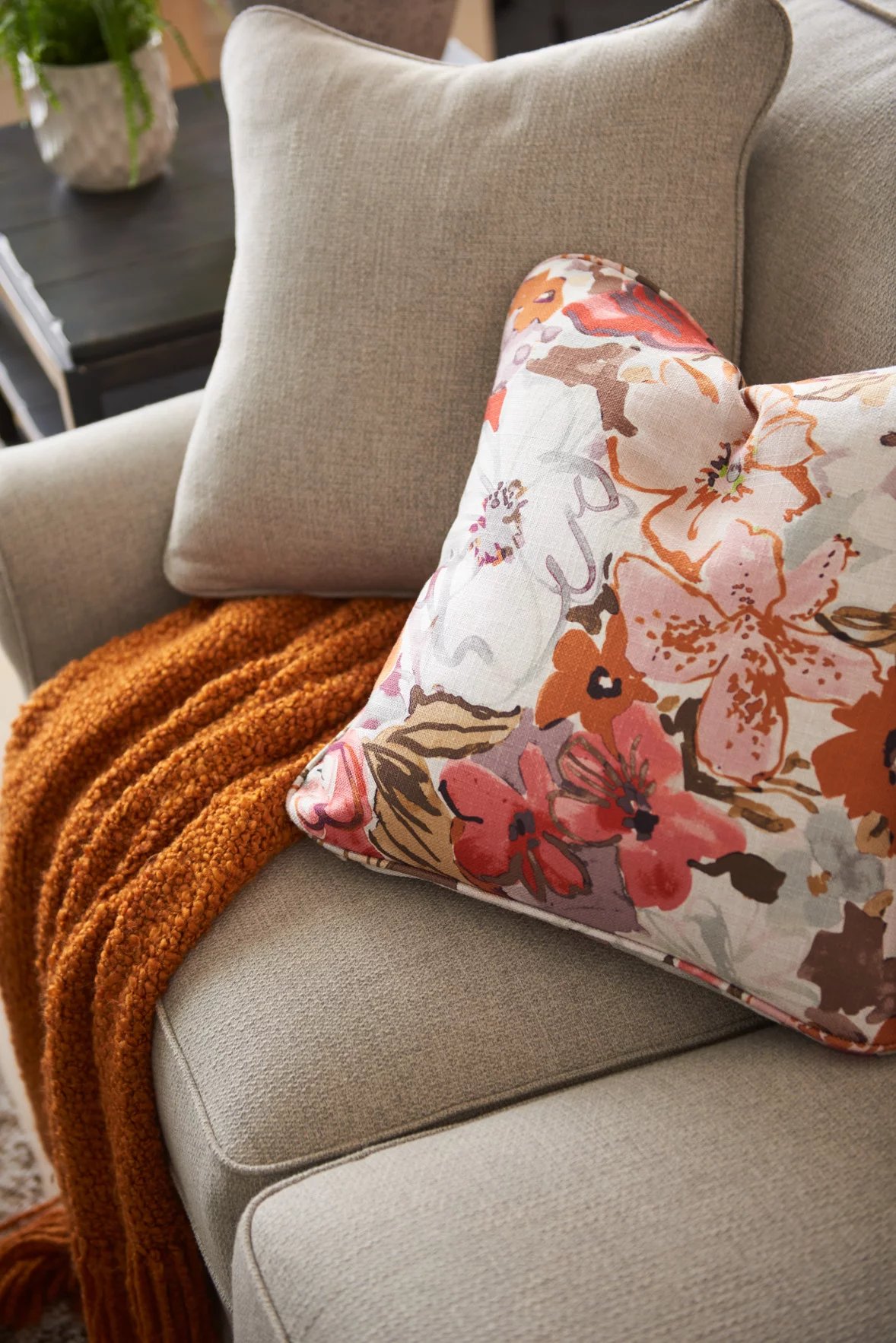 Cost
The Collins falls within the mid-range of sofas in the market. With this being said, the Collins is one of our more affordable options offered at La-Z-Boy within the least expensive price bracket.
Starting at $2,849 the Collins Sofa is subject to increased costs based on your customization and upgrade selections. The Collins Loveseat has a starting price of $2,829.

The cost of the Collins Sofa & Loveseat is determined by a variety of factors including the quality of materials and methods of construction. As a part of the Premier Construction collection, this furniture family is high-quality, comfortable, and durable.
Please note that La-Z-Boy prices listed in this article are subject to change without notice. Information is current as of May 1, 2023. Contact your local Ottawa or Kingston location by phone or in person for up-to-date pricing.
Warranty
A sofa frame among the La-Z-Boy Premier Constructed furniture, the Collins is backed by a Limited Lifetime Warranty assuring the protection of your investment and overall satisfaction.
The Limited Lifetime Warranty covers the repair or replacement of the frame, spring system, and the mechanism, given that they are quality-crafted and built for long-lasting comfort.
While still built to last, other aspects of the product, such as fabrics, leather, and cushion, are prone to more destruction over time than parts of the frame. Although not covered for life, the La-Z-Boy Manufacturer's Warranty still covers these parts for a given period of time, usually a few years.
As one of the top five best-selling sofas at La-Z-Boy, the Collins is enjoyed by many La-Z-Boy clients.
The Collins Sofa and Loveseat are rated 4.7/5 stars and 4.8/5 stars respectively in North America. This rating is based on a combination of comfort, quality, and design.
Find out what customers are saying about the Collins in the following four and five-star reviews …
Extreme comfort and support.
We received this couch about 2 months ago and have been enjoying it every time we're on it. We love this couch and are so happy with our choice. This couch is incredibly comfortable and good-looking. We've even had guests over that have complimented our couch, both in comfort and appearance. One guest has slept on it through the night and felt comfortable the whole night through. I do want to note that we upgraded ours with the foam inserts, just like they had for display in the store. The fabric is soft but durable and the large foam pillows are the perfect support for leaning and sitting against. We use other throw pillows for our heads though since the ones that come with the couch are rather large – but I like that. Gives us a variety in size. We went with the light gray colour. It brightens the room and doesn't make it look small, and goes with all our other modern decor. Highly recommend!
Tess M.
Beautiful.
The sofa and love seat are beautiful and amazingly comfortable. We opted for the gel seats and could not be more pleased.
Richard S
Our Best Purchase!!!
Before we bought our new couch set, we had a 30yr old La-Z-Boy couch set from my fiance's parents, even the older one was still in great shape. So after knowing that La-Z-Boy furniture could last that long we knew La-Z-Boy was the way to go when we got our new couch set. And we love it! We have the Collins Sofa with the matching love seat. The fabric La-Z-Boy uses is the kind that even with use and wear, it still looks great!
Lara B
Is the Collins Sofa & Loveseat Right For You?
It is no question that the Collins is a beautiful piece of transitional furniture. But is it right for you?
Magaly says that the Collins is ideal for someone who is fairly tall, between the height to 5'10" and 6'2". Someone at this height is likely looking for a deeper seat which they will find in the Collins.
With this being said, Magaly says shorter clients may also enjoy the Collins if they intend to kick off their shoes and curl up into the depth of the seat.
When it comes to style, the versatility of the Collins is great for a client who is looking for a furniture piece to work into a specific interior-design style. By taking advantage of customization options, Magaly says the Collins can fit seamlessly into a client's home décor vision.
Although there are many positive customer reviews, the Collins may not be for everyone.
As previously mentioned, the Collins offers an updated version of a traditional sofa with the clean and sleek look of the flat-front rounded arm. With this being said, you may prefer something more modern. If this is the case, you may like the clean track arms of the Meyer Sofa. For a comparison of the Collins vs the Meyer, take a look at this article.

Product Info Request
Please provide us with your name and email and we'll get back to you as soon as possible regarding this item.