Review of La-Z-Boy's Bexley Furniture Family: Loveseat, Sofa & Sleep Sofa
November 21, 2022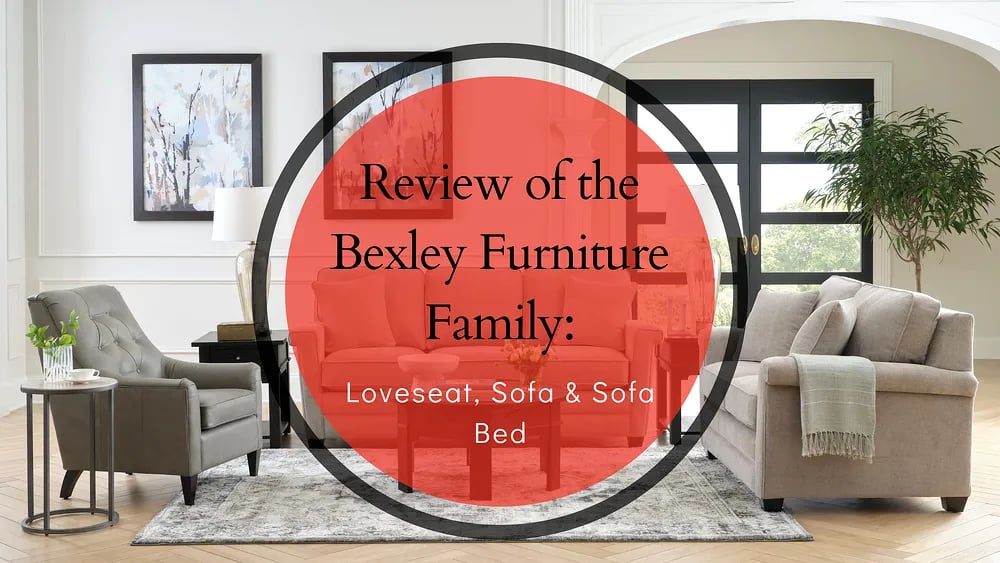 Est. Reading Time: 7 Mins
When going to any furniture store, there will always be some best sellers. Best-Selling Sofas and Stationary Loveseats at La-Z-Boy can tell you a lot about what kind of furniture we sell.
The Bexley, for example, tells us that La-Z-Boy likes to break out of the traditional look of furniture every now and again.
"With a transitional design to keep anyone on their toes," according to Elaina Sollychin from La-Z-Boy Hunt Club, the Bexley furniture family may not include a recliner, but it is still a high contender in our customer's eyes.
So, how does this furniture family stand out from the rest of its peers? In this article, we will be breaking down the Bexley's unique features, cost, and much more to determine if this furniture family is the right fit for you.
In This Article…
Bexley Furniture Family (Available Frame Options)
Before we get into our deep dive into the Bexley's unique features, let's familiarize ourselves with the different furniture frames you can find among the Bexley furniture family. Presently, the Bexley comes in a loveseat and a sofa.
Bexley Stationary Loveseat
In its smallest form, the Bexley Stationary Loveseat seats two individuals looking to socialize, snuggle or watch TV.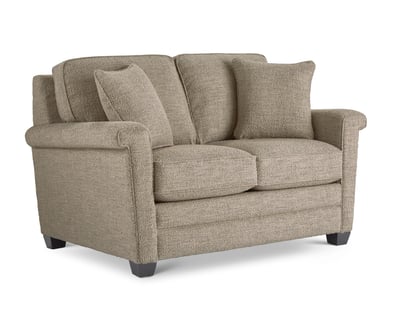 Bexley Stationary Sofa
The Bexley Stationary Sofa has three cushions instead of two, allowing people to share their furniture with the rest of their family or friends. The Bexley Sofa can also turn into a Queen Sleeper, which we will learn more about later.
To learn more about the Bexley Sofa, take a look at this article.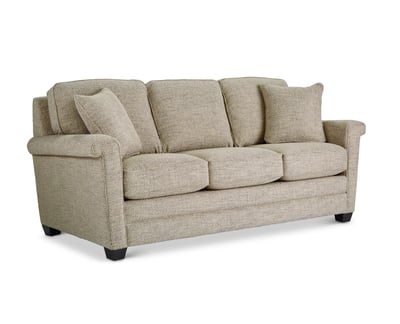 Unique Features
T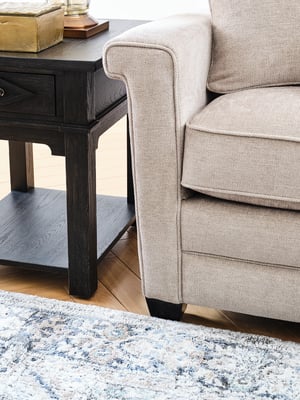 he Bexley has many unique features to discuss. Designed to match any decor, this simple furniture family boasts clean lines, casual style, and a few unexpected details. Its two box-border seats are framed by slightly flared arms with a unique key-shaped design.
The Bexley furniture also features a welt trim that outlines its modern silhouette, while rich wood legs decorate the bottom of it.
Elaina says, "because of its boxy shape, this furniture is more contemporary than our other furniture products, meaning it might entice younger customers."
She also explains that the back cushions are very supportive since the seats have "a medium firmness."
Sizes & Dimensions
It is important to consider the size of the Bexley furniture in your home. The best way to do this is by comparing the Measurements in your room along with the dimensions of the Bexley to ensure that both the room and furniture will complement each other.
Elaina tells us that the seat depth is shallow when comparing other furniture families. Although the seat depth is considered shallow, the overall scale of the Bexley is taller than others due to its taller back. Because of this, users between the heights of 5'10" - 6'2" will enjoy sitting on this furniture.
While your height can be a considerable factor, it is important to note that height guidelines are NOT set in stone. The way you sit in a furniture item can drastically affect how someone might find a seat comfortable.
Ultimately, we recommend that you visit a La-Z-Boy showroom and take the Bexley for a sit test with the help of a La-Z-Boy design consultant.
In the meantime, you may find helpful pointers in the article How to Find the Right Sofa Size For You?
Bexley Loveseat Dimensions (Inches)
Loveseat Weight: 117 lbs.

Body Depth: 38.5"




Body Height: 39"




Body Width: 59.5"

Seat Depth: 20"




Seat Height: 21.5"




Seat Width: 45"
Bexley Sofa Dimensions (Inches)
Sofa Weight: 137 lbs.

Body Depth: 38.5"




Body Height: 38"




Body Width: 82"

Seat Depth: 20"




Seat Height: 21.5"




Seat Width: 67.5"
Options & Upgrades
When looking at Bexley's options and upgrades, there are plenty to choose from. It is important to remember that all options and upgrades come at an additional cost, meaning the price of your Bexley furniture is subject to increase.
Fabric Options
La-Z-Boy has over 800 fabrics to choose from, making the experience of personalizing your furniture seemingly endless.
Elaina reveals that the Bexley comes in 8 different select fabric options. These fabric options do not increase the base price of your Bexley.
Should you choose to purchase any fabrics that are not included as select covers, you will be subjected to an additional fee.
As for leather, there are no leather covers to choose from within the Bexley furniture family other than recycled leather or other faux leather options. If you're wondering about the Leather Selection at La-Z-Boy, check out this article.
Please note that this article's leather or fabric options may be discontinued or unavailable without prior notice. We recommend contacting your local Ottawa or Kingston La-Z-Boy store by phone or in-person to confirm availability. We apologize for any inconvenience caused by any changes to our upholstery selection.
In addition to the cover options mentioned above, the Bexley is offered in specialty fabrics with unique features and benefits …
Statin Resistant Fabric
Innovative iClean Technology surrounds each fabric fibre, creating a barrier that repels spills before turning into stains.
Tested and formulated to withstand the scratches and wear that a pet can cause to ensure a durable and easily washable fabric.
Antimicrobial properties surround each fibre to protect against mould, mildew, and odour-causing bacteria.
Performance
Superior stain and fade resistance properties make fabrics easy to clean and incredibly durable.
Eco-Friendly
Conserve Sustainable Fabrics are soft, durable and made from recycled water bottles.
Restore by Nanobionic® features a mineral-based fabric coating that transforms natural body heat into energy using infrared technology.
Cushion Upgrade
At an additional cost, firmer seat options are available. With this, you can choose to upgrade both the seat and back cushions. This could be a great option for people with mobility issues, allowing you to get in and out of your furniture more comfortably.

For more information, please see our stationary furniture collection catalogue.
Queen Sleep Sofa Upgrade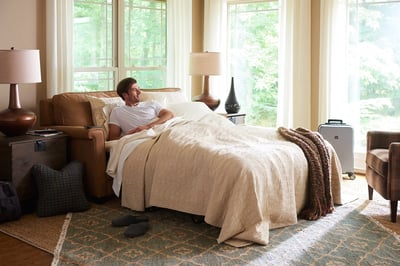 The Bexley Stationary Sofa comes in another variation, including a queen sleeper sofa. With this option, you can easily turn your living room into a sleepable guest room.
Along with the unique features of the original sofa, the Bexley queen sleeper offers overnight guests a queen-size supreme comfort quilted innerspring mattress that measures 5.5" thick.
The sleeper mattresses can be upgraded to include either a Slumber Air mattress, which is an inflatable air mattress for extra adjustability, or a firmer mattress that provides a more solid sleeping surface, similar to the firm cushion upgrade.
Pillow Options
The Bexley comes with pillows, which means you can customize those as well. You can accessorize your pillows by adding an accent colour to them, as well as contrasting welt, cording or fringe.
If you want to get specific, you can also request feather padding for your pillows instead of the usual foam padding.
Contrasting Welt Trim
Customers have the option to choose a contrasting welt trim to accentuate the design of the furniture. Furthermore, patterned welt trim options are available, which can enhance the aesthetics of the furniture frame.
Optional Nailhead Trim
If you want to add extra accents to your furniture frame, nailhead trims are an excellent option. However, they come at an additional cost. Customers can choose from a variety of colours, including Black Hammered Nickel, Brass and Platinum.
Leg Finish Options
Finally, Bexley's wood leg finish can also be customized. Any Bexley furniture item comes in one of four finish options:
Mahogany

(Base Price)

Coffee

(Additional Cost)

Graphite

(Additional Cost)

Driftwood

(Additional Cost)
Cost
In terms of cost, Elaina notes that the Bexley furniture products fall within the mid-price range at La-Z-Boy.
While the cost of the Bexley furniture is considered quite standard at La-Z-Boy, it is important to note that La-Z-Boy furniture is considered more expensive in the market. This cost is reflected in the quality of materials and craftsmanship of our products.
With this, the investment tends to be worthwhile if you are looking for long-lasting furniture.
Bexley Loveseat

Bexley Sofa

Bexley Sleep Sofa

Starting at




$2,579

Starting at




$2,599

Starting at




$3,299
*All La-Z-Boy prices listed in this article are subject to change. We aim to update all cost-related articles twice per year. This article was last updated on June 15th, 2023. Contact your local Ottawa or Kingston location by phone or in person for up-to-date pricing.
Warranty
The Bexley is covered by La-Z-Boy's Limited Lifetime Warranty. This warranty covers the repair or replacement of the frame, spring systems, and mechanism, given that they are quality-crafted and built for long-lasting comfort.
For full details of the Limited Lifetime Warranty, check out this full La-Z-Boy warranty breakdown.
While still quality-crafted, other aspects of the product, such as fabrics, leather, and cushion, are not meant to last a lifetime. However, these parts are still covered by the La-Z-Boy Manufacturer's Warranty for a given period of time.
To further protect your purchase, La-Z-Boy Ottawa & Kingston offers an extended warranty plan at an additional cost. To learn more about the Extended Warranty Plan and if it's right for you, take a look at this article.
Customer Reviews
The Bexley furniture family is enjoyed by many La-Z-Boy customers. This table shows how our customers have rated each piece of furniture out of five.
| | |
| --- | --- |
| Bexley Loveseat | 4.7 |
| Bexley Sofa | 4.8 |
| Bexley Sleep Sofa | 4.9 |
Star reviews can only tell you so much. Here are what customers are honestly saying about the Bexley furniture family products…
Is the Bexley Furniture Family Right For You?
Now that you know everything you need to know about the Bexley, is this the right furniture family for you? You might already know the answer to this question, but if not, let's take a look at the cost, functionality, and style one last time.
Firstly, regarding your budget, the Bexley furniture is considered mid-price at La-Z-Boy and mid-to-high priced on the market.
If you're looking for furniture that will last a long time, investing in your furniture is never a bad option. Not only will this allow you to save money down the road, but you may be able to pass your furniture down once you are ready for an upgrade.
If you're looking for more affordable options, make sure to check out our article Most Affordable Sofas at La-Z-Boy.
When looking at the functionality of the Bexley, Elaina says that this furniture family "works well in apartments, especially the loveseat, since it only has two cushions instead of three."
However, if you're shorter than 5'10", you might have some difficulty feeling comfortable in this seat. If you're taller and have a smaller room, this furniture item might be right for you.
To learn about Sofas for Small Spaces, take a look at this article.
Lastly, when discussing the style of the Bexley, Elaina says that this furniture family diversifies itself with almost any style. "The Bexley is very transitional in style, so it's hard to determine what kind of style it fits more in."
Given its more contemporary tones, however, she does say that a younger audience might enjoy the Bexley.
To learn more about the difference between Contemporary vs. Traditional Furniture Styles, take a look at this article.
What's Next?
Now that you have a more knowledgeable understanding of the Bexley furniture family, why not highlight the Bexley in your home?
You can start shopping by visiting one of our local showrooms located in Ottawa or Kingston. You can also schedule a visit online before coming in.
Our design consultants are always eager to lend a helping hand. Take advantage of our interior design services to see how the Bexley furniture could fit in your home.
If the Bexley wasn't what you were looking for, take a look at some of our other furniture family reviews:
Related Articles:
Top Selling Sofa Beds at La-Z-Boy
Product Info Request
Please provide us with your name and email and we'll get back to you as soon as possible regarding this item.