Sofa vs. Couch: What is the Difference?
October 9, 2021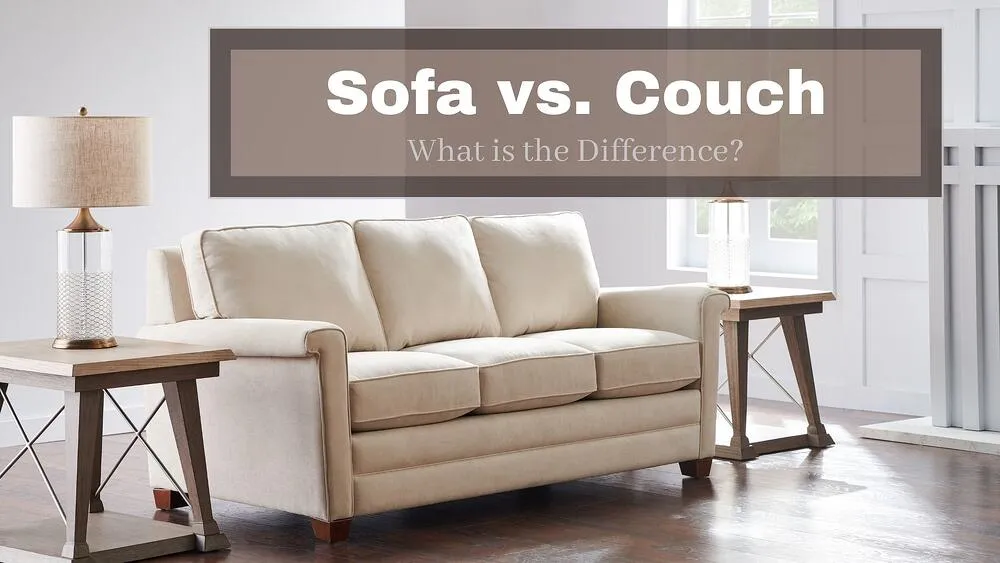 To-may-to or To-mah-to?
Po-tay-to or Po-tah-to?
Cutlery or Utensils?
Dinner or Supper?
The English language is a funny one, or one may say confusing! There are countless ways of saying the same thing.
In the furniture industry, we use the terms "sofa" and "couch" interchangeably without thinking twice. Although we treat these words like synonyms, do they really mean the same thing?
The answer is no! Technically speaking, a sofa and a couch are two different things, and this difference comes down to the origin of the name and their intended use.
Read on to learn about the true difference between a sofa and a couch. Further, learn about La-Z-Boy's take on the sofa vs. couch debate.
What is a Sofa?
According to the Oxford Dictionary, a sofa is defined as "a long upholstered seat usually with arms and a back for two or more people". Sounds about right?
It turns out that the term sofa has a deeper meaning than this. In fact, the word "sofa" derives Turkish transliteration of the Arabic noun "suffah", meaning bench or a raised platform meant for sitting. Traditionally, a suffah would be draped with carpets, blankets, and pillows.
True to its origin, the modern-day sofa could be described as a bench-like piece of furniture with well-defined arms and a back. Further, sofas are typically upholstered, similar to the draping of carpets and blankets, as described on the suffah.
With a solid structure and pronounced frame, sofas appear proper and elegant. In turn, they are often placed in a living room and associated with hosting formal occasions. Although you can find reclining sofas, they are typically meant for sitting upright.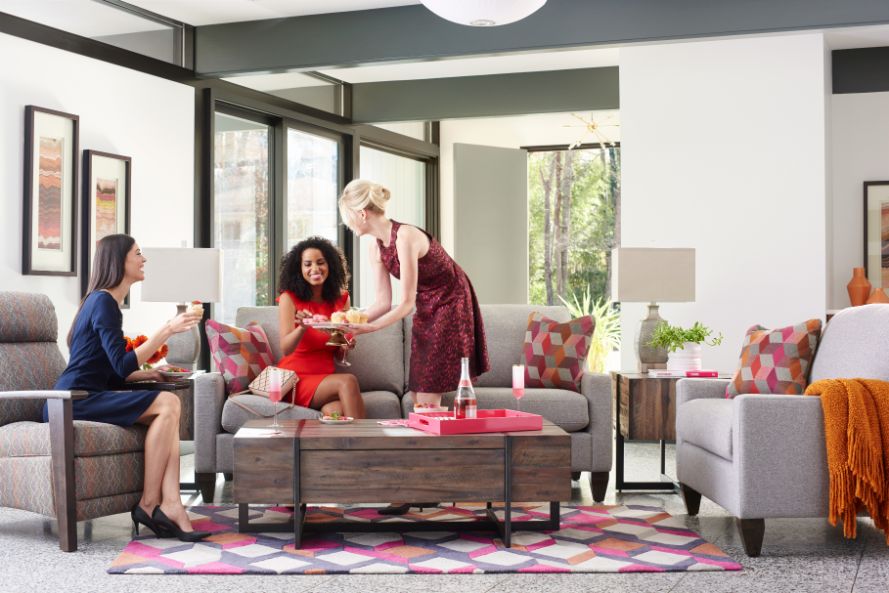 What is a Couch?
According to the Oxford Dictionary, a couch is "a long, comfortable seat for two or more to sit on". Sounds similar to the definition of a sofa, right?
According to the origin of the word, a couch isn't as similar to a sofa as you would think.
The term "couch" is derivative of the old French verb "couchier", meaning "to lay down" or lounge. Like a sofa, a couch typically has a back and two armrests, but it doesn't have to. In fact, some couches may only have one arm or none at all.
In turn, a couch is a more casual piece of furniture, often found in a den or man cave. The couch is meant to curl up on. The kids can eat chips on it and the dogs can jump up on it. When a guest stays the night, they crash on the couch.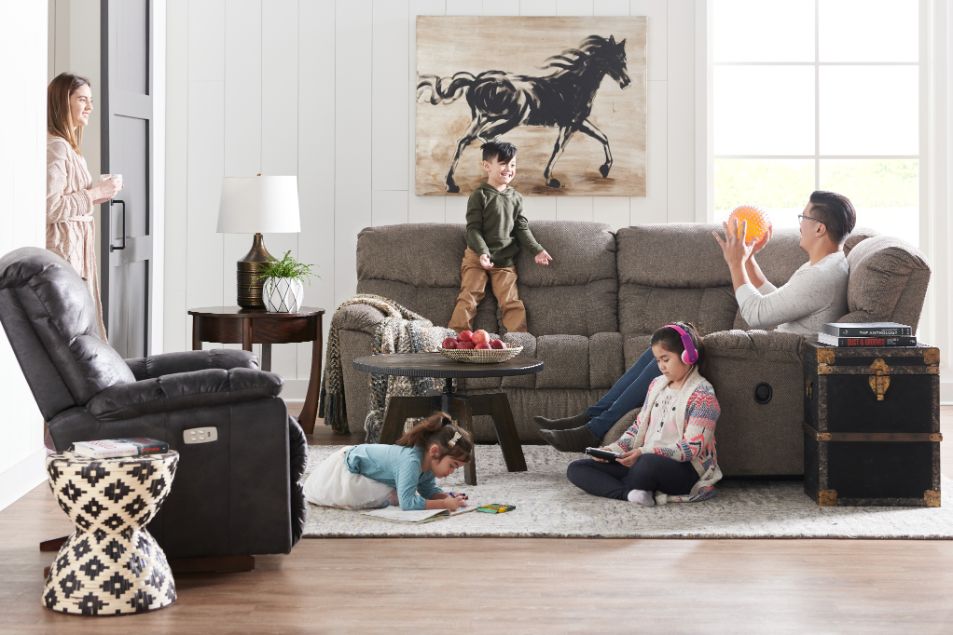 La-Z-Boy's Take on the Sofa vs. Couch Debate
Between the terms sofa or couch, sofa tends to be the furniture industry standard. In turn, La-Z-Boy uses the term sofa in regard to our own furniture selection.
With this being said, the features of our sofas are not restricted to the original definition of the term. In fact, some of our most popular sofas at La-Z-Boy embody the elegance of a traditional "sofa" and the comfort of a traditional "couch". Best of both worlds!
Our sofas come in all different shapes, sizes, and styles. They can be used formally or informally in your home. Traditional, transitional, contemporary, and modern. You name it!
Further, our sofa selection offers a variety of features and functionality, beyond being just a place to sit. Despite the original definition of a sofa, many of our sofas at La-Z-Boy have the ability to recline. To take it up a notch, our power sofas have the ability to recline at just the touch of a button.
Make any sofa your own with over 800 cover options to choose from. The fabric or leather used can greatly impact the look and feel of the furniture, lending it to either a more formal or casual style.
La-Z-Boy also offers specialty fabric, such as stain-resistant and pet-friendly, to provide worry-free enjoyment of a more casual couch by the entire family.
With so many options to choose from, many of our clients take advantage of The Definitive Sofa Buyers Guide in finding the ideal sofa for their needs and preferences!
Best Selling Sofas at La-Z-Boy
With such a wide selection of sofas, in a variety of styles and with several functionalities, it can be difficult to narrow down your sofa search.
To that end, we have identified the top 5 best-selling sofas at La-Z-Boy Ottawa & Kingston. Of these best-selling sofas, you will find the best characteristics of both a traditional sofa and couch.
Take a look for inspiration!
1. Trouper Reclining Sofa
The Trouper Reclining Sofa has three sculpted bucket seats and a split back cushion. It provides soft support to your head, neck, and lumbar. Adjust the back and chaise leg rest for personalized reclining comfort, or lean back without raising your feet.
The Trouper sofa is great for lounging and laying, making it more of a couch by definition.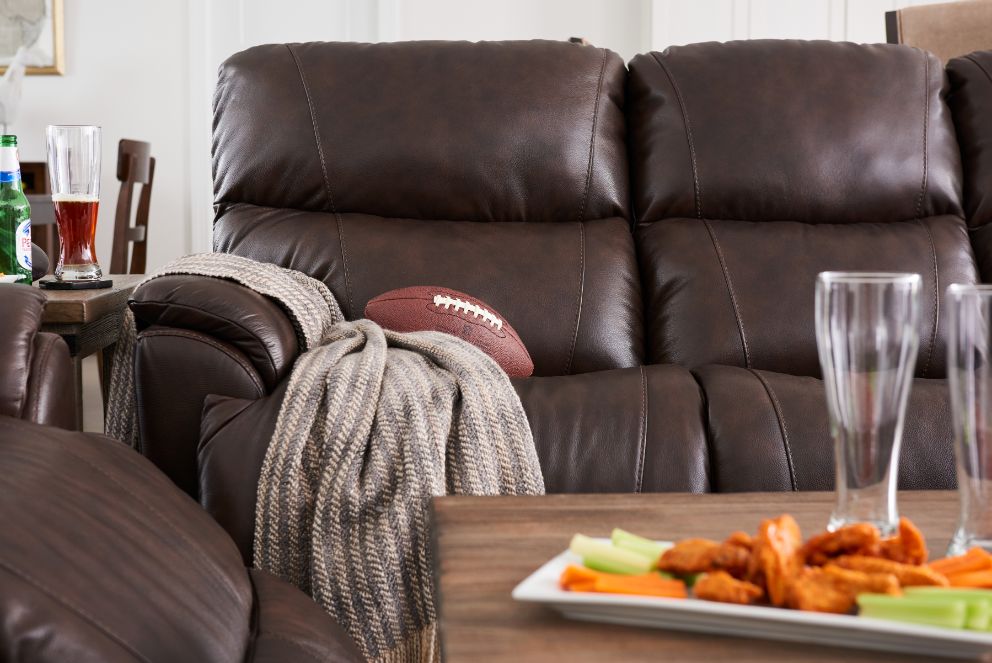 2. Talbot Stationary Sofa
The Talbot Sofa is clean and informal with optional pillow accents. Contrasting welt and nailhead trim are also available to help create the look that's right for you.
The Talbot has a sturdy back and solid armrests, giving it a structured-looking silhouette. Not to mention, the Talbot features decorative pillows, aligning with the original definition of a sofa.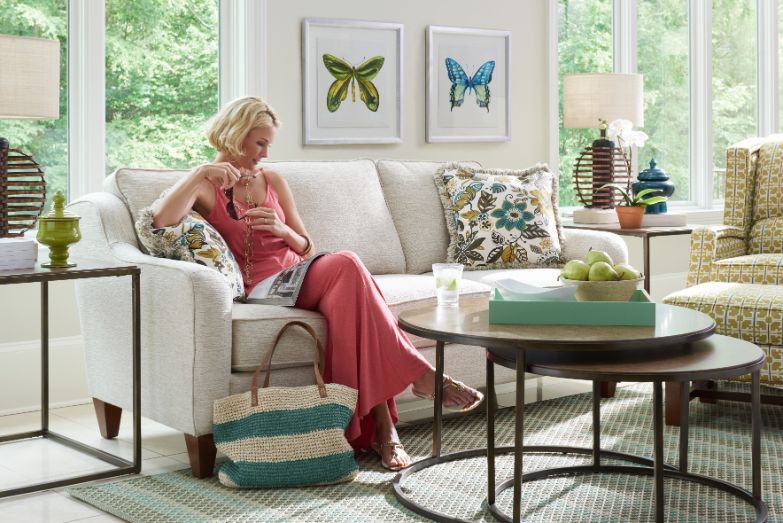 3. Bexley Stationary Sofa
Part of the Urban Attitudes® collection, the Bexley Sofa is designed for easy mixing and matching. The Bexley has clean, tailored lines and welt trim detailing. Flared, key-shaped arms frame its three roomy seats for a unique silhouette.
With a sturdy structure, decorative silhouette, and accent pillows, the Bexley is great for a formal living room. Between a sofa and a couch, the Bexley aligns better with the definition of a sofa.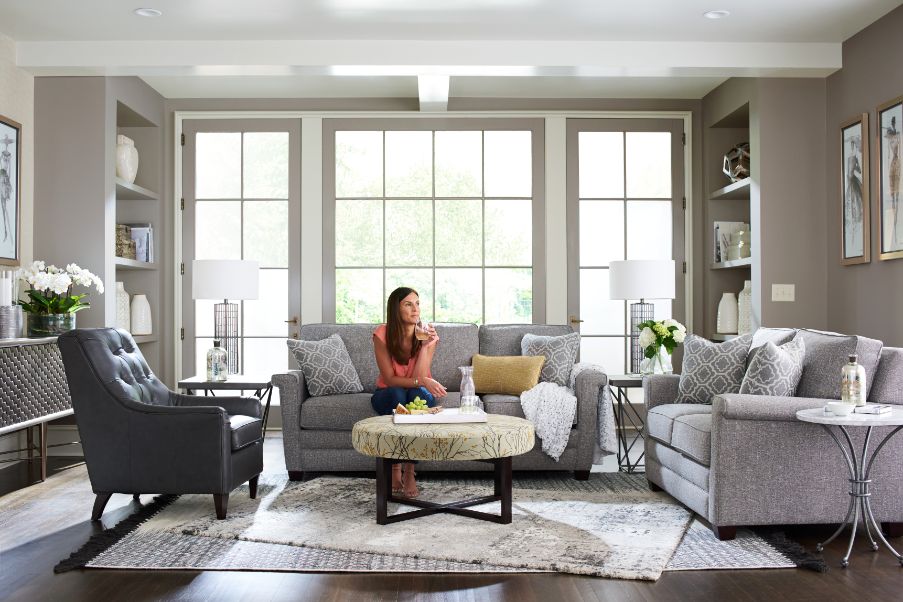 4. Collins Stationary Sofa
A look that feels perfectly at home in any home, the Collins Sofa is a classic. Featuring deep, wide seats, it's big on comfort with simple lines, overscaled rolled arms and welt trim for a style that looks good and feels even better.
With a sleek look and superb comfort, the Collins combines the best attributes of a sofa and a couch.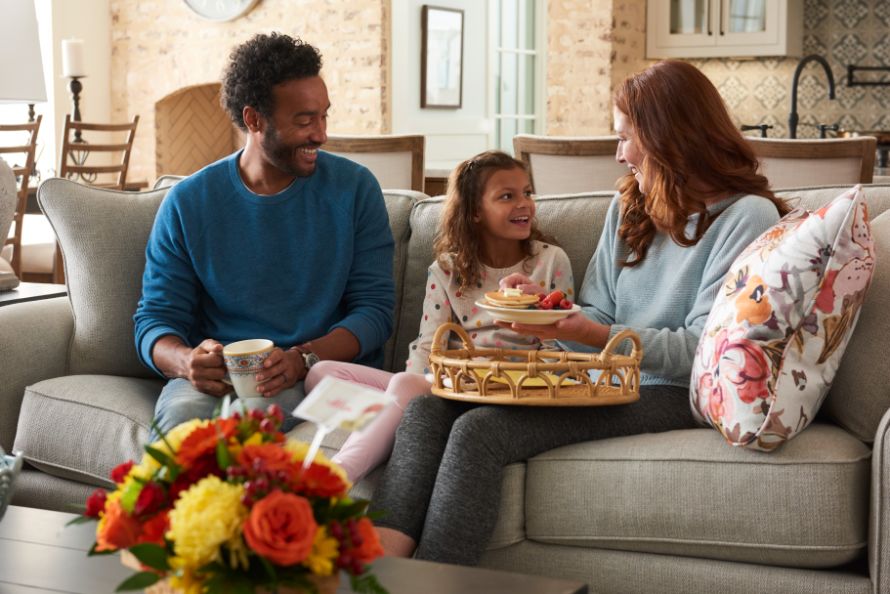 5. Amy Stationary Sofa
Casual with a touch of contemporary detail, the Amy Sofa has the rare ability to fit any style. Decorative wood legs and slightly flared arms with welt trim add character to Amy's clean silhouette, while a roomy three-seat and plush pillow back bring comfort.
Like the Collins, the Amy offers decorative details and plush comfort. It also satisfies the characteristics of a sofa and a couch.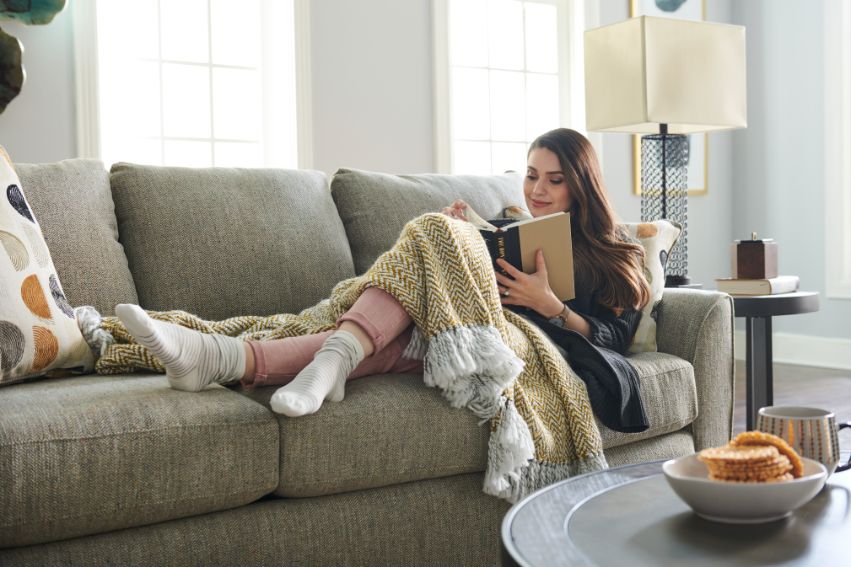 What's Next?
Are you interested in purchasing a sofa at La-Z-Boy?
Our design consultants are experts at helping you find the perfect sofa that suits your unique needs and preferences. They will help you choose a sofa that not only fits your space but also fits your comfort preferences and body.
Moreover, consider taking advantage of our complimentary design services. An interior designer would be pleased to ensure the sofa you choose is seamlessly coordinated with your home decor. Keep in mind that all La-Z-Boy sofas are customizable in a variety of fabrics, leathers, and available upgrades.
Visit us at a local Ottawa or Kingston La-Z-Boy location. If you prefer to plan ahead, schedule a visit.
We look forward to meeting you and helping you find a sofa, or a couch if that is the term you prefer!
Related Links:
Loveseat vs. Sofa: Size, Cost, Function, & How to Choose
Product Info Request
Please provide us with your name and email and we'll get back to you as soon as possible regarding this item.