How Much Does a Sofa Cost?
September 15, 2021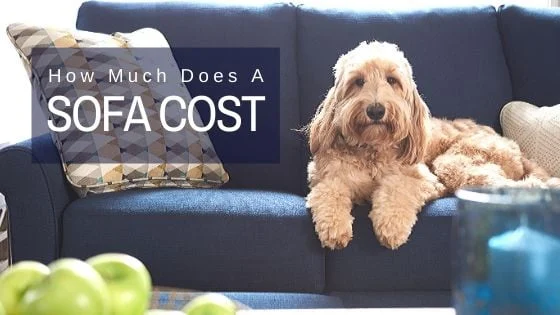 Sofa Costs in Ottawa & Kingston
A sofa is the centrepiece of your living room. If you are looking to add this new decorative piece to your home, how much a sofa cost plays a critical factor in your buying decision. So, how much should you intend to pay for this crucial piece of furniture? That depends on how you will be using your sofa and your top priorities.
Your sofa is an extension of your family and is not only used for a place to sit. It often has many different functions such as trampoline, folding station, pillow fort, power meeting.

Furthermore, couches endure lots of abuse, including absorbing spills, collecting pet hair, and doubling as a bed for stray friends.
As the most reviewed brand in ConsumerAffairs top 10 furniture stores, La-Z-Boy has outfitted many homes with a sofa centrepiece capable of multitasking. Our design consultants in Ottawa & Kingston know it is important to not only understand your needs but work within your budget when helping you choose the right sofa.
We are here to help you understand sofa costs and guide you through the options available. In this article, you will find four principal price ranges, which compare sofa design, construction and comfort. Read on to learn:
Whether your style is modern, sophisticated or all about home entertainment, the sofa you choose defines your space. As a result, you will find a variety of sofa shapes, styles and sizes.
Sofa Features
Most furniture retailers will carry many different sofa styles. You'll also discover sofas with reclining features. Reclining motion sofas raise the bar on comfort by letting you elevate your feet. On top of these, sofa beds and chaise seating may also be an option. All of these features have an impact on price.
Sofa Size
There are also varying sofa sizes to fit your room properly and to serve different functions. Common sizes include:
1. Chair and a Half (41 – 52 inches wide) – technically this can fall in the chair family
2. Loveseat (48 – 72 inches wide) – usually only have room for two adults to sit
3. Apartment Sofa (73 – 81 inches wide) – compact size for when space is at a minimum
4. Standard 3 seater sofa (82 – 86 inches wide)
5. Oversized couch (over 90 inches wide)
6. Sectional (varying widths depending on the number of seats or chaise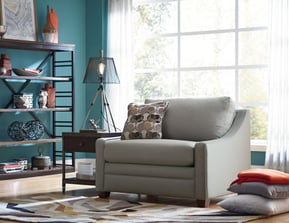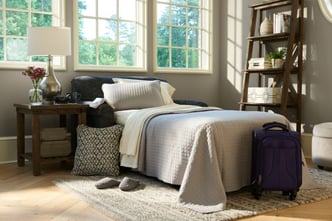 Think about the sofa you need in your space before you begin shopping for the one you love!
The right scale in any home is what makes you feel cozy and relaxed. Match the proportion of your sofa to the size of the room to create the right balance. Check out these three tips for
arranging new furniture in your space
.
It is crucial to accurately measure your room in order to ensure your new sofa will fit comfortably in your space. Be sure to also measure all points of entry and the delivery path because even if the sofa dimensions are perfect for your room, if it gets stuck in the hallway you did not buy the right sofa!
Sofa Fit
Lastly, it is important to consider how a new sofa will fit your unique body type. The best way to be sure that a sofa offers the comfort and support that you are looking for is to visit the retailer and try it out for yourself. To learn more read How to Find the Right Sofa for Your Size?
How Much Does a Sofa Cost?
To keep things simple, we'll focus on a stationary three-seater sofa size as we break down sofa prices.
You can expect to pay between $500 and upwards of $5,000 for a stationary 3-seater sofa. We've identified four principal sofa price brackets. You can expect the quality of design, construction, and comfort to improve with each price jump.
Least Expensive Sofa ($500 – $1000)
A sofa in this price range is mass-produced and considered an in-stock item with limited customization options.
The frame construction is often particleboard or cardboard. Comfort may be lacking due to cushions made of low-density or chopped foam and poor quality seating suspension with thin coils or webbing. Your fabric choices will be restricted or non-existent and may have sub-par tailoring. No changes are allowed concerning design details. Hence, what you see is what you get.
These sofas would appeal to the budget-conscious buyer not concerned about longevity or needing it as a primary, high-traffic furniture piece.
Low to Mid Range Sofa Cost ($1000 – $1500)
Sofas priced around the thousand dollar mark will have some quality features. You will primarily be sacrificing style, upholstery choices and customization.
You may find solid wood used in frame construction, but otherwise, particleboard and plywood are the primary materials. Cushion seating is made of higher-density foam and supported by sinuous spring suspension. Sinuous springs are S-shaped and run from the front of the seat to the back. The suspension system is important as it provides cushion support and prevents you from sinking down to the floor.
Bundled throw pillows are well-tailored and usually have zippers for effortless cleaning. You may not have a wide selection of upholstery cover choices, and typically it is limited to either fabric or leather in a few colours.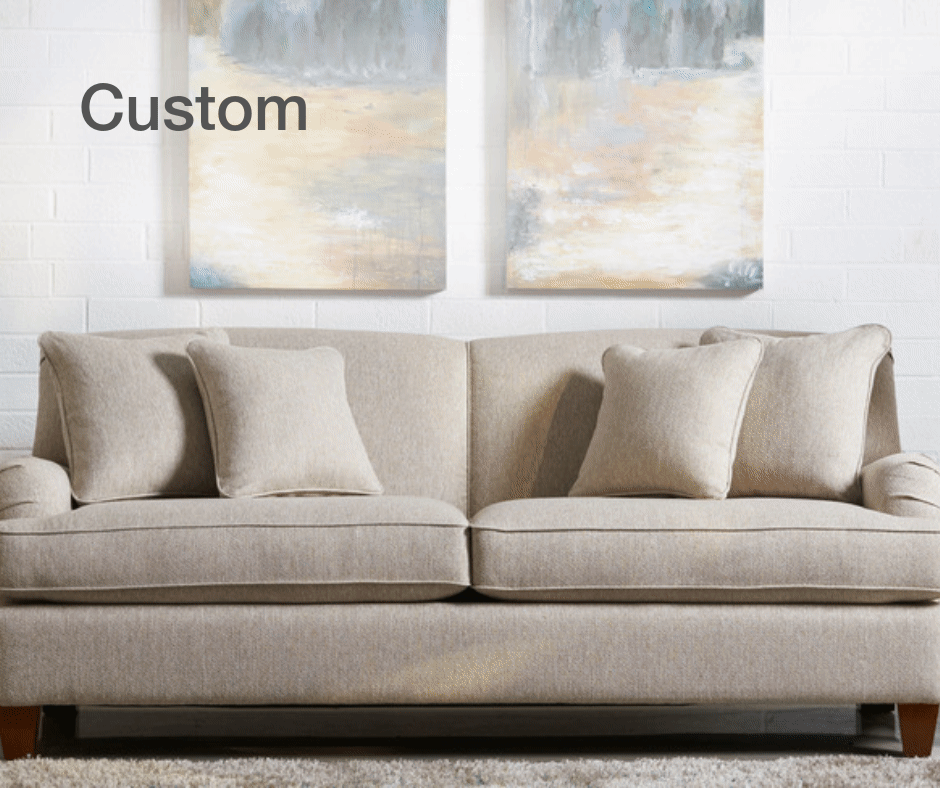 Mid Range Sofa Cost ($1500 – $3000)
In this price bracket, there is an emphasis on durability, comfort, and design. Hardwood frames are common but ask questions and be sure that lower-cost materials are not part of the construction. Joints in the frame receive special attention. For instance, they are glued, dowelled, and screwed or possibly attached by metal brackets. Corners are often further strengthened by the addition of reinforced blocs.
Usually, sinuous wire springs support the seat cushions. Cushion fill will have a higher foam density (2.2 – 2.5) as lesser-quality foam can start to break down quickly and cause sagging. A combination of different layers, foam densities and materials can be used to provide superior comfort and support levels.
The real appeal lies with all the available options and your ability to design a custom sofa that is uniquely yours. In addition to hundreds of wear-tested fabric and leather choices, you may be able to change your leg finish, add nail-heads, or upgrade the seat cushion to your comfort preference.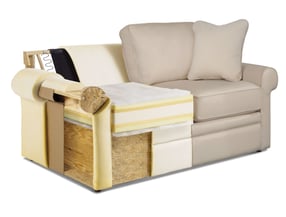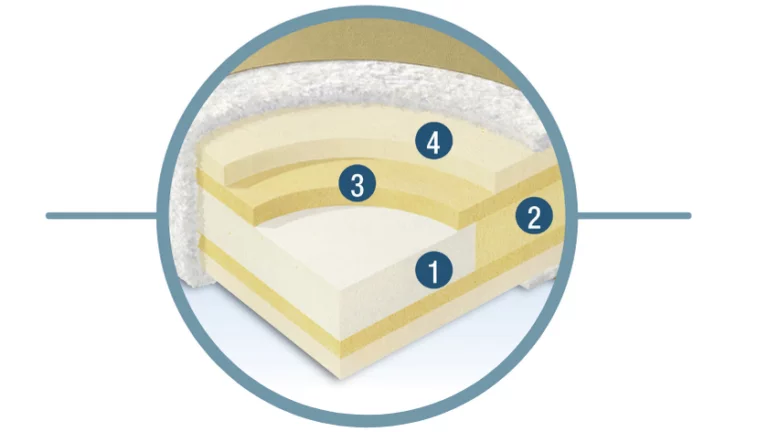 High-End Sofa Cost ($3000 and higher)
These sofas are heirloom quality and are entirely customizable. A portion of or the entire frame is hand-built, and there may be an option to create custom sizes to your exact specifications. Guaranteed – your couch will take center stage in your living room for many years to come.
Sofa construction includes top-of-the-line, kiln-dried hardwood. It is the best because the process of kiln drying removes all moisture from the wood enabling it to retain its shape and stability.
Comfort is paramount, so you'll find an eight-way hand-tied spring system. It is the most labour-intensive and costly option with springs supported by webbing on the bottom of the sofa. The top of the springs are secured by twine tied by hand at eight different spots. Premium choice down-filled cushions are used for a soft seat.
High-end sofas have an even broader selection of upholstery covers (in the thousands), and customizable options available.

Options and Upgrades Available For a Sofa and How It Affects Price
Take some time to investigate your choices so that your new sofa doesn't just suit your home; it suits your way of living. Sofas in the mid and high range price bracket will have various upgrades and customization options available. They allow you to personalize your individual comfort and style.
Reclining Mechanisms To Suit Your Preference
If your ideal lounging position has you leaning back with your feet up, then a reclining sofa would be a great addition to your living room. Starting prices for these couches are comparable to stationary, but their ceiling price can be more depending on your choice of upgrades.
You can find a range of features for sofas that recline, including some that require the footrest to be out before being able to recline. Others have the benefit of independent reclining, so your seat and back can be adjusted to your exact needs while footrest remains down.
Upgrading to a wall reclining sofa will cost you around $100. A different mechanism is used in the construction so you can place your furniture centrepiece mere inches from a wall.
Additional reclining sofa options which can cost between $50-$200:
Extended leg rest
Upgraded reclining handles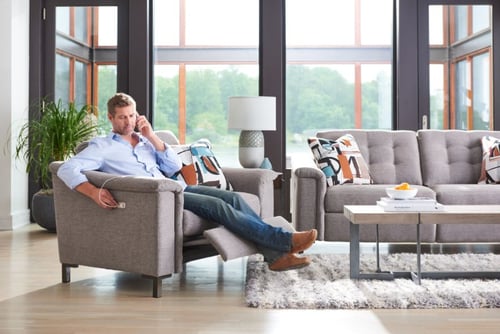 (An additional bonus in some power chairs are the built-in USB port)
Upgrading to a power sofa will add $200 to $1,000 or more to your bill. You can recline at the touch of a button and go from sitting to fully reclined smoothly and effortlessly.
Pricing generally depends on the number of motors that are used. Simple power sofas have a single motor in place to motorize the leg rest and back of the recliner simultaneously. While more motors (and cost) are associated with the ability to recline independently of the leg rest.
The ultimate power experience will include additional motors. These motors are for enjoying customized support of your head and neck with lumbar customization.
Additional power options which can cost between $100 and $200 include:
• Remote control
• Battery power packs
Learn more about what you can expect from power furniture read Manual vs Power Recliners: A Detailed Comparison.
Upholstery / Fabric Cover
Choice of upholstery cover is a pivotal decision when selecting a sofa for your home. It is best to decide whether you want fabric or leather before you begin shopping. This is necessary because some sofa frames in the lower price point, are only available in one or the other.
Custom fabric and leather covers will cost anywhere from $0-$1900 extra. It depends on which covers you choose and top grain leather is usually upwards of 25% more than its counterpart. The biggest driver of cost for fabric is the volume produced. With the production of minimal quantities, costs can approach those of leather.
Your life is bound to get a little messy and inevitably, spills happen. But sofa stains don't have to with performance fabrics and those engineered to repel spills. It will cost you extra; however, your sofa will have added protection from four-legged family members and messy, sticky hands.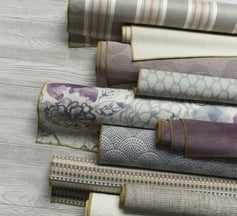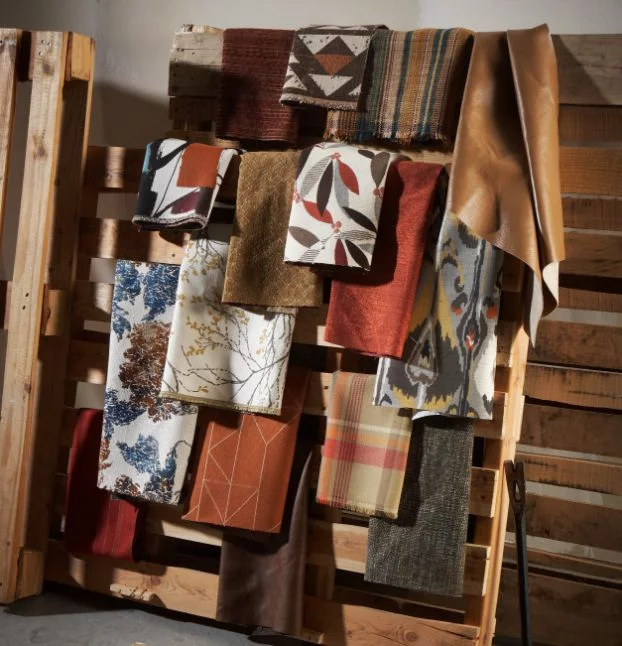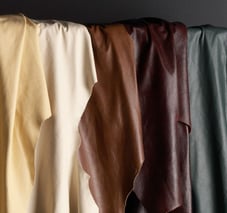 If you are not sure which fabric is best to meet your needs and lifestyle, check out the article What Is the Best Fabric for Your Sofa? (Leather vs. Fabric) that compares how the two cover choices measure up. You don't want to be second-guessing your investment once the furniture arrives.
Pillows
Some sofas come with complementary accent pillows typically in the same matching fabric. To create a perfect accent piece, you may also have the option to choose a different pillow fabric which may cost extra. Additional fees to upgrade pillow fabric or purchase an extra set will range from $50 to $400.
Additionally, some retailers may offer upgraded pillow construction which may include down fill feathers or higher-end materials.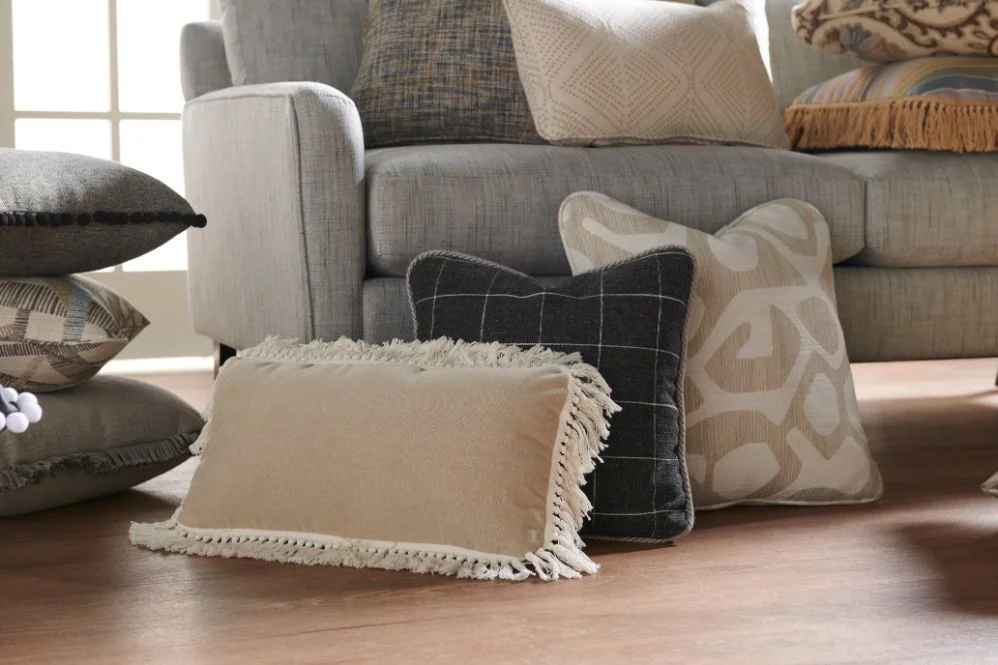 Wood Finish
Give your furniture a completely custom look with a variety of wood finishes. Match your current décor or add striking contrast. Options can include alternate leg designs for a one-of-a-kind look. These costs range from approximately $75 to $300.
Cushion Upgrade Options
If you want to take your comfort up a notch, upgrade options can include additional or different high-density foam, including memory foam. It can also be supplementary layers or a different configuration that reduces pressure and conforms to your body.
These custom cushion options can cost between $150 and $400 depending on the size of your sofa.
Learn more about the cushion options offered at La-Z-Boy by reading our In-Depth Sofa and Chair Cushion Review.
Nail Head Trim
Commonly used in more traditional pieces, nail head trim is making a comeback. It can cost a few hundred dollars, depending on the size of the sofa. Available in a variety of sizes and finishes, it accentuates the design lines of sofas, adding a handcrafted look that is both rustic and contemporary.

Contrasting Welt Trim
Welt trim provides a tailored look to cushions and pillows but takes on an entirely new dimension in a contrasting colour. An unexpected touch, this decorative detail adds instant personality and highlights the sculptural lines of any silhouette at a cost of approximately $100.
Other Purchasing Factors that Affect Sofa Cost
W
arranty
Furniture is an investment and when making a sofa purchase you want to be confident that your investment is protected and will stand the test of time. Be sure to learn what standard manufacturer's warranty is offered for the sofa you are considering as they do differ, even parts within a specific sofa.
Many furniture retailers offer an additional protection plan at an additional cost to cover your sofa after the manufacturer warranty has ended. For information on La-Z-Boy's warranty and protection plan take a look at the article Is La-Z-Boy Warranty Worth it.
Furniture Financing
Regardless of which retailer you are shopping with, furniture of any kind is often a significant investment. The option for furniture financing can take some strain off of your pocketbook and allow you to enjoy a new sofa while paying off the investment over time.
To learn more about furniture financing, take a look at the article Furniture Financing: Everything you Need to Know.

Delivery Costs
Furniture requires some heavy lifting. It is often best to leave this part of the process up to the furniture retailer to ensure your sofa makes its way safely into your home.
Although some retailers offer free doorstep delivery, due to the size and weight of your new sofa, it is worth investigating what other delivery services are available. On average, most furniture retailers offer standard delivery for a fee of $60 – $70 and those offering white glove delivery service on average charge between $99 to $150.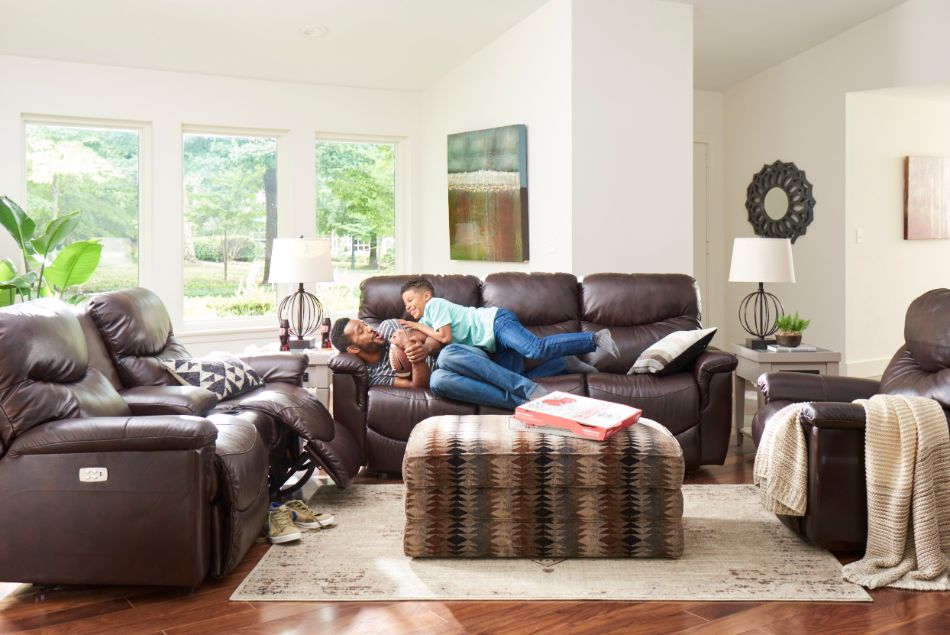 Ready To Find Your Perfect Sofa?
How long you intend to keep your sofa and how you'll use it will help you determine what kind of investment you are willing to make. If you've decided you'd like to purchase a well-made custom sofa that will last you for many years, we can help!
La-Z-Boy has over 90 years of experience crafting and manufacturing furniture. As the creator of major motion upholstery, our sofa frames and cushions are designed for lasting durability and exceptional comfort. So go ahead, sit, jump, lay, pile—we've got you covered.
With our stationary sofas starting at $1,899, we sell primarily in the mid to high-end price ranges. We offer a large selection of sofa styles and sizes, so you may want to start by reviewing our top five selling sofas.
At La-Z-Boy, everything is customizable with over 800 fabric and top-grade leather options offering something for every style and budget. You can further make a sofa uniquely yours by customizing the wood finish, contrasting trims, handles and accent pillows. Plus, choose to include comfort upgrades such as seat cushion, heat & massage, lumbar and neck support.
We are happy to help you navigate all the options and tailor a couch that is just right for you at any one of our La-Z-Boy locations in Ottawa and Kingston.
Imagine how exceptional a newly designed space for your sofa could be if you collaborate with an expert in design! We offer a complimentary design service to help you achieve your vision. Our in-home designers have the expertise to guide you through the process and help you create that space you've always wanted.
Check out our Sofa Buying Guide that outlines everything you need to know before you purchase your new couch.
Product Info Request
Please provide us with your name and email and we'll get back to you as soon as possible regarding this item.