Furniture Financing: Everything You Need to Know
July 20, 2020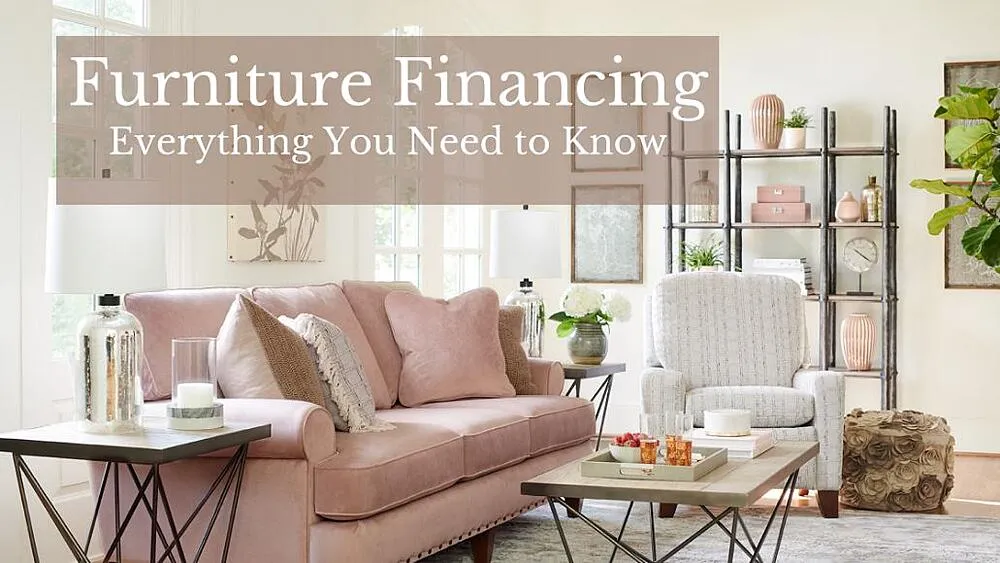 Buying furniture is a complex process that involves several significant considerations before making a final decision. You have to consider the size, the colour, the style, and most importantly, the cost!
Purchasing the big-ticket furniture items for a house, such as a couch, bed, or dining room table, can prove to be quite the investment. Although these items are essential in the process of making a house into a home, it can sometimes be tricky to come up with the cash to cover these expenses right away.
That is why most furniture stores offer the option of furniture financing! Financing gives you the opportunity to furnish your home sooner and pay off the investment over time. In fact, many furniture retailers offer furniture financing with a 0% interest rate within a promotional period.
Sounds like a no brainer, right?!
Yes, furniture financing can be a very helpful tool when it comes to affording your investment. But, financing is not as simple as it may seem. Before making the decision to finance your purchase, it is important that you have a full understanding of the financial agreement that you are committing to.
This article will outline everything that you need to know about financing furniture.
How Furniture Financing Works
Given that furniture can be an expensive investment, most furniture stores offer the option of furniture financing allowing you to defer payment for a period of time, or make a number of smaller payments towards the purchase over a period of time.
In most cases, financing is provided to retailers by a third-party financial institution. The financing company provides the loan and the store will pay a fee. As a result, some financing options require an administration fee as a way to compensate the retailer. In the case that a furniture retailer is advertising "no administration fee", then the store is providing a significant discount to the client, essentially paying out of their own pocket.
Paying for your purchase with a credit card is also a form of financing. If the credit card is paid in full on your billing cycle, there are no fees to the consumer (sometimes you can even earn 'points' on your purchase depending on the card). While if you opt to pay the minimum payment, interest charges will accrue and these are typically much higher than you will find with promotional financing programs from furniture retailers. That said, the retailer does incur fees when taking payments on credit cards, and these can amount to several hundreds of thousands of dollars a year for furniture stores.

Although financing options can come at a cost for the retailer, furniture financing ultimately benefits retailers as it gives customers more incentive to buy furniture without hesitation.
So now that you have a better general understanding of how furniture financing works, let's dive into some terminology that you may come across when assessing financing offers.
Furniture Financing Terminology
"No Interest" or "0% Interest for XX months"
When looking into furniture financing, you will likely come across many deals offering "no interest" or "0% interest" for a period of time". This essentially means that the company is offering to finance for free. You are not required to pay interest on the loan.
"No Money Down"
When looking into furniture financing, you will likely come across many deals offering "No Money Down", where you are able to make your purchase without any down payment.
"Equal Payments"
Another popular option with financing programs is to spread the payments of the purchase over a period of time. i.e. 'No Interest with 24 Equal Payments" implies there would be no interest charges during the time period and the purchase, say $2400 would be spread evenly over the 24 month time period or $100 per month.
When you accept a furniture financing offer that offers "no interest" and "no money down", it is important to pay attention to the promotional due date as there can be penalties or retroactive interest charges that apply on some plans.
Promotional Due Date
Furniture financing at a 0% interest rate is a great deal, as long as you are aware of the promotion due date.
The promotional due date refers to the date in which the balance of the loan must be paid off. As long as you are able to pay off the loan within this time-frame, you will not incur interest charges. BUT, if you are unable to pay off the loan within this amount of time, you will owe interest. In fact, you will likely owe interest from not only the date of purchase, but also until the purchase is paid off in full. Definitely something you want to be aware of upfront.
Preferred Rate
The preferred rate is the percentage of interest that will be charged on your loan.
If you are financing furniture that requires interest payments, you will be charged this preferred rate beginning from the date of delivery. Alternatively, if you have agreed to an "interest-free" deal, the preferred rate is the percentage of interest that will be charged if you fail to pay off the loan within the promotional period.
Non-Secure Lending
Consumer furniture financing is considered non-secured lending. This means that while the person who is receiving the loan makes a promise to pay it back, they do not have to provide any assets to guarantee this promise. In the world of financing, many lenders look for security should the loan not get paid (i.e. a house mortgage is secured by the house itself). As a result, consumer financing tends to be a more expensive form of borrowing as the lender is taking on more risk in this type of loan.
Given such, it is common for the preferred rate of interest on a furniture loan to be higher than a loan granted by the bank.
Administration Fee
As previously mentioned, an administration fee is a fixed amount charged by a retailer. This is essentially a "sign up fee" for furniture financing. Some retailers charge an administration fee as a way to offset some of the costs for providing the loan.
Minimum Purchase
Some retailers require customers to make a minimum purchase of a fixed amount in order to qualify for furniture financing. Setting a minimum purchase requirement ensures that the financing option is only being used on big-ticket items. By doing so, offering financing to customers is also worthwhile for the retailer.
Why Finance? Pros & Cons of Financing Furniture
Imagine this scenario: You just bought your first home and are about to start on a new chapter of your life. Up until now, you have been so occupied with financing the investment of your home that you completely forgot about the furniture you will need to fill it! Of course, it will take some time to fill and decorate your new space in the way you've imagined, but you will need some essential pieces of furniture to get started. Considering that you just invested in a home, you likely don't have a lot of spare cash to invest in big-ticket furniture items right now. That is why financing might be the perfect option for you!
This is only one of many scenarios in which financing the purchase of your furniture can help take some strain off of the pocketbook.
Let's consider the pros and cons of financing furniture …
Pros
Get furniture right away
With the option of financing, you have the opportunity to take home a piece of furniture, or the room you've designed and been eyeing right away! You can enjoy your new furniture in your home while you pay it off instead of living without while you save up for it.
Enjoy an investment free loan – within the promotional period
Many furniture retailers offer financing at a 0% interest rate within a promotional period! As long as you are able to pay off the loan within the given period of time, why not take advantage of a loan that is interest-free!?
Make better use of your money
With the option of paying something off over time, you are granted the ability to be more flexible with how you use your money. Instead of cashing out a financial asset that may be performing well, you can slowly pay off purchase while also having the freedom to keep your money invested elsewhere in the meantime.
Improve your credit score
Often, furniture retailers work with financial institutions when offering financing options to customers. Especially in the case of store credit cards, the reports of your payments are likely shared with credit bureaus. As long as you are making proper payments on your purchase, you have the chance to develop and improve your credit score.
*Remember: While financing furniture may give you the opportunity to improve your credit score, it can also have the opposite effect if you are unable to make your payments on time.
Cons
May end up paying more
Not all furniture financing options are interest-free. In the case that interest is accrued on your purchase, you will end up paying more for the piece of furniture than if you had bought it in full upfront.
Further, some financing options require a financing fee, which also adds to the original price of the product.
You may have to make larger interest payments
0% interest financing deals are ideal unless you are unable to pay back the loan within the promotional period. In the case that you are unable to pay off your investment within the given period of time, not only will you owe the interest dating back to the date of purchase, but you will continue to get charged interest until the investment is paid off in full.
It is also important to consider that the interest charged following the end of the promotional period is generally quite high. If you end up paying interest past the promotional period, it may be more than you would have been charged if you had used a regular credit card from the bank.
How to Get Approved for Furniture Financing
In most cases, getting approved for furniture financing requires a simple credit application. This is meant to ensure the retailer and financial institution providing the loan that you are likely to pay off the balance within the given period.
The application is done through the financial institution that is providing the loan as they have their own specific credit requirements.
*Frequently asked the question: Does applying for furniture financing affect your credit score?
Upon applying for furniture financing, a "credit lookup" can occur. Yes, your credit score can be affected every time a third-party does (such as a finance company) a credit lookup. In Canada, there is no impact to your credit score if you personally request your score from a credit bureau.

On the flip side, it is difficult to develop a good credit score if you have never borrowed money. So after applying for furniture financing, passing the credit lookup, and paying off your loan in time, you can actually improve your credit score.
Flexiti
Fairstone
Paybright
Offered by:

La-Z-Boy

The Brick

Leon's

Wayfair

Upper Room

Dufresne

Bennett's Furniture

Valley Squire
Financing Furniture at La-Z-Boy
At La-Z-Boy, we have a partnership with Flexiti Financing in order to provide furniture financing options for our clients.
Flexiti is a Canadian company dedicated to offering flexible financing options with low-interest rates. Flexiti offers the benefits of instant approval (takes under 3 minutes) and easy monthly payments. Further, once you have applied and been approved once, you can shop and finance with Flexiti anytime.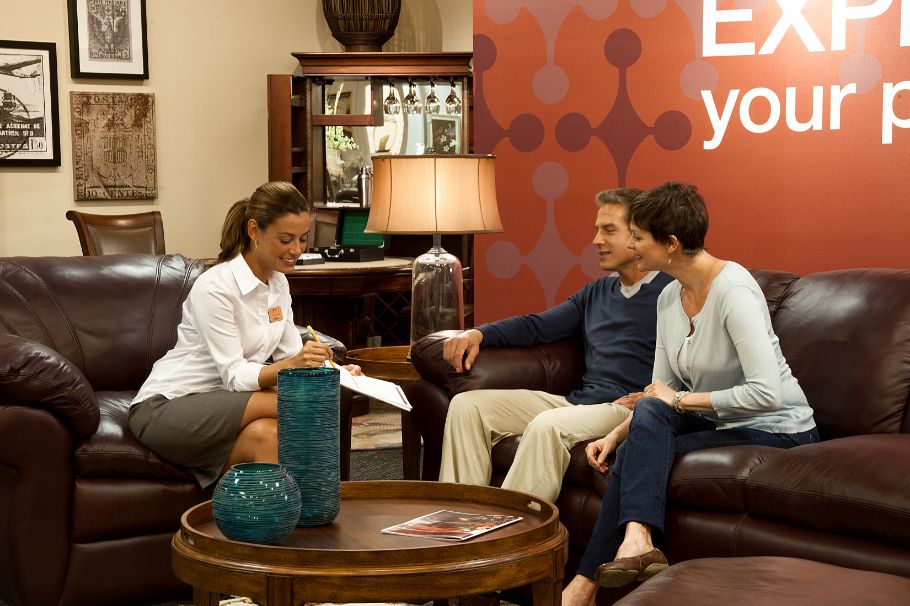 What's Next?
After reading this article, you should have all the information necessary to confidently make the decision to finance furniture.
Now with the option of furniture financing, you can shop with ease!
Let's start by furnishing the living room; the centerpiece of the home. At La-Z-Boy, we offer a wide variety of stylish and comfortable sofas, sectionals, and recliners. You can take advantage of furniture financing at La-Z-Boy and experience instant relaxation today.
Come visit us at one of our local Ottawa & Kinston locations or book an appointment online to meet with a personal consultant.
If you would prefer to meet with a consultant virtually, watch this video for what to expect …
Product Info Request
Please provide us with your name and email and we'll get back to you as soon as possible regarding this item.