Aging in Place: Tips for Staying in Your Home Long Term
May 13, 2019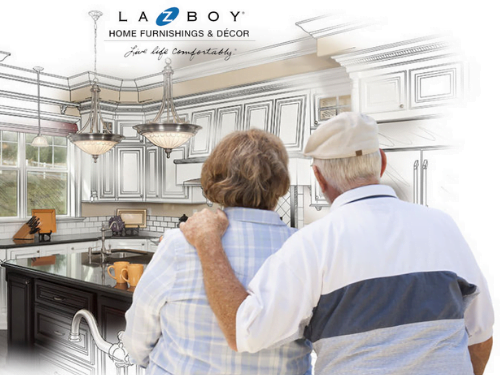 Is your home the place you'd like to live long term? Overwhelmed with thinking about moving and where to go? Would you rather design a home that will adapt to you as your needs change?
If the answer is 'yes' to any of these questions, you're in the right place. In this blog article, we are talking about "aging in place". It is not only about staying in your own home as long as you can but creating a space that is safe, secure, comfortable and user friendly from now onward.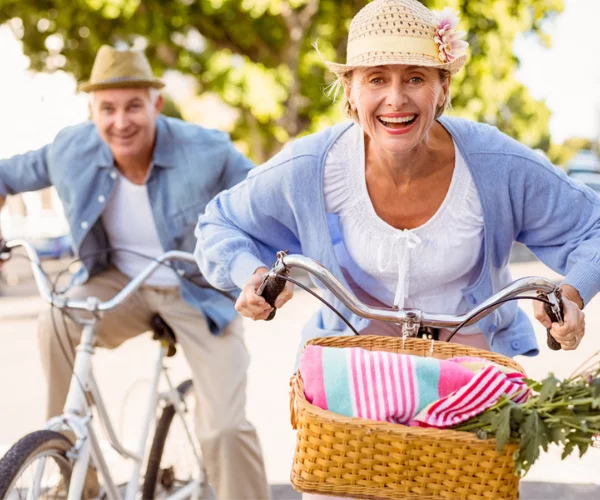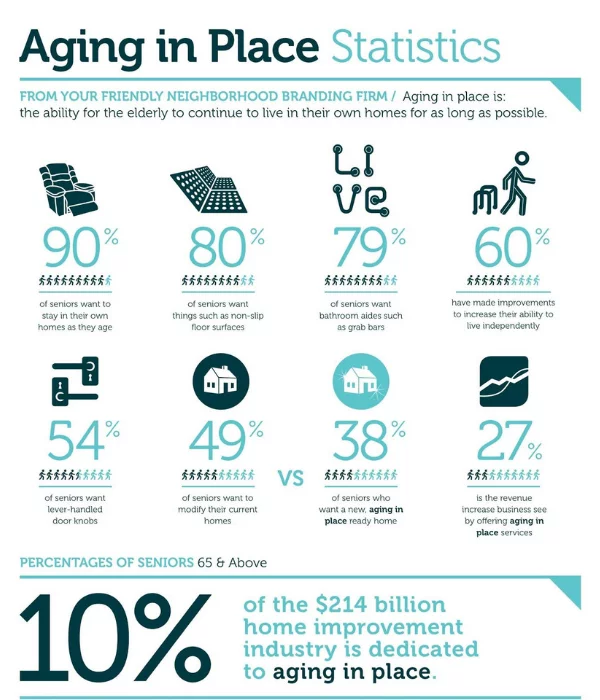 Who should be considering aging in place
Demographic:
Baby boomers 55+ who are renovating or buying a new house. Born: 1946 – 1964.
First half of generation X could also consider this if they are building or renovating a house that they want to live in for many years down the road.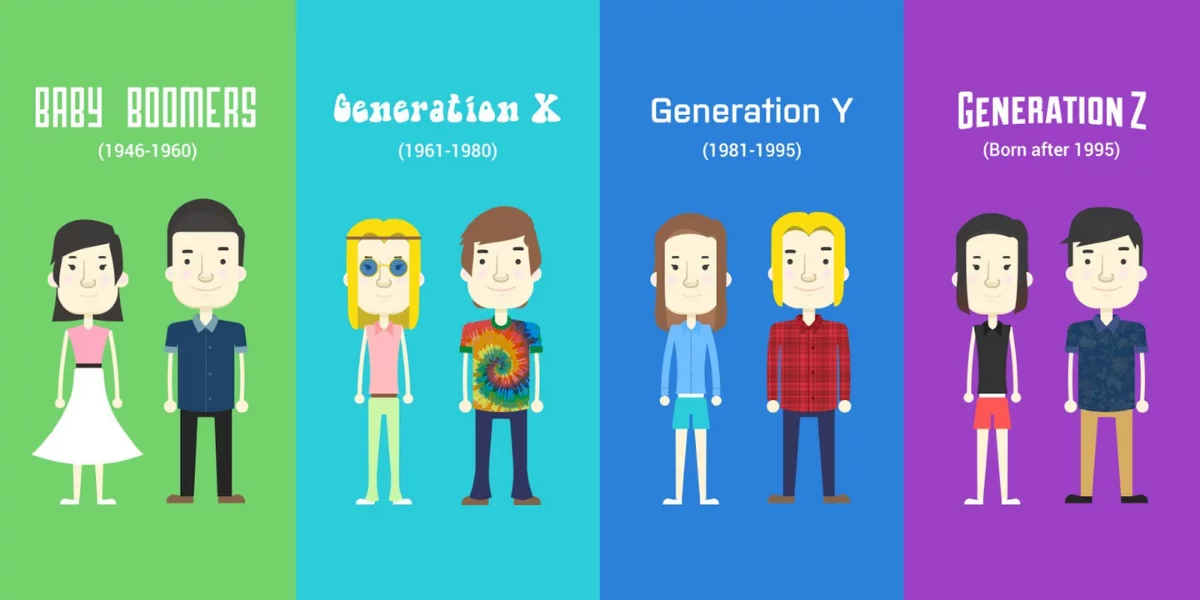 Some important things to think about when designing or renovating your home
(functionality, convenience and safety)
Architecture:
When planning the design/layout of your home, we need to think about the potential changes that can happen to our bodies when they get older. Our home should adapt to us not vise versa.
You and your family should start having the discussion now as to whether or not to upgrade, renovate or build a brand new house. Conversations should be based around budget, home layout and most importantly your needs now vs. your needs in the future.
Open concept:
Ideally, you would choose to be on one floor in a bungalow style home. However, this isn't always possible and the house you are updating may have multiple floors. Whatever the case, you can make a plan for the future
Open floor plans have multiple benefits including:
A cozy home feel

More natural light

Better views of the outdoors from your living space
Here is an example of an open concept modern interior design makeover completed by one of our designers.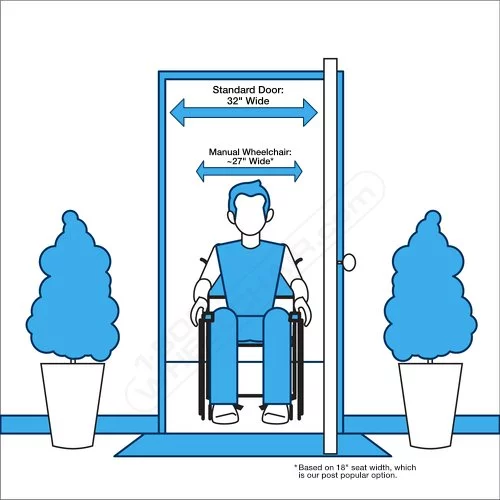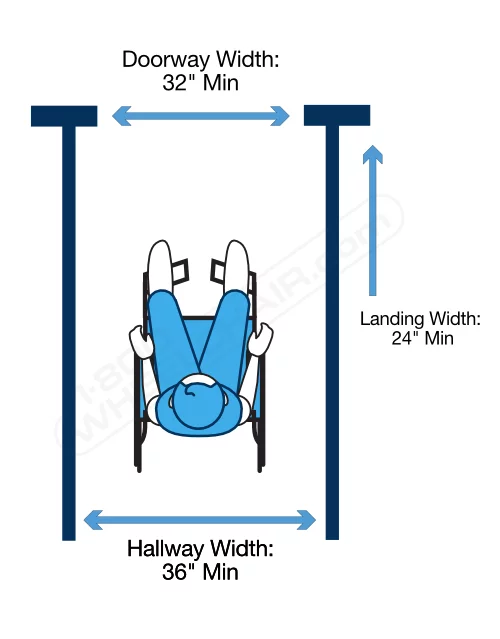 Mudroom / Laundry room
Consider having your laundry room on the first floor. Or include the hook ups in a mudroom if a laundry room needs to be added in the future. There are a lot of mudroom/Laundry combo Ideas that would look great and add function to the house. If you can't have laundry on the first floor, try to have it as close as possible to your master bedroom.
Install task LIGHTING to illuminate washer and dryer areas for folding clothes

Raise the washing machine and dryer 12-15 inches off the floor to minimize bending over.

Choose front loading laundry machines as they are safer and easier to use.

Pull-down shelving allows for more working space when not in use.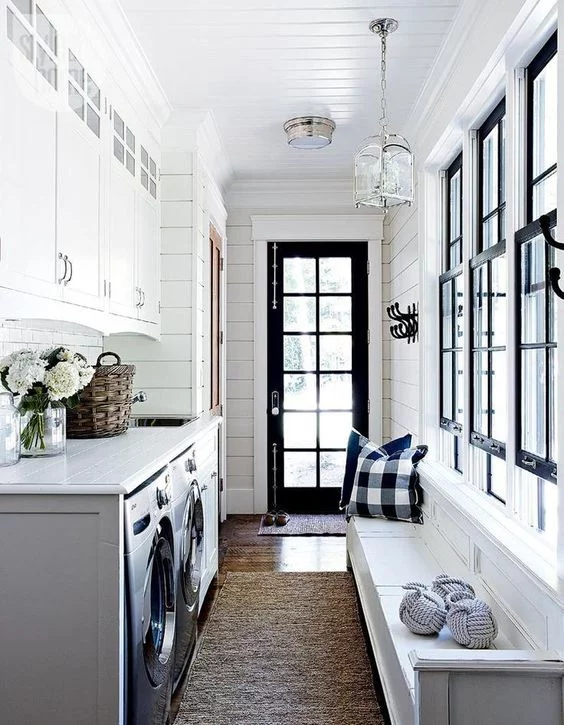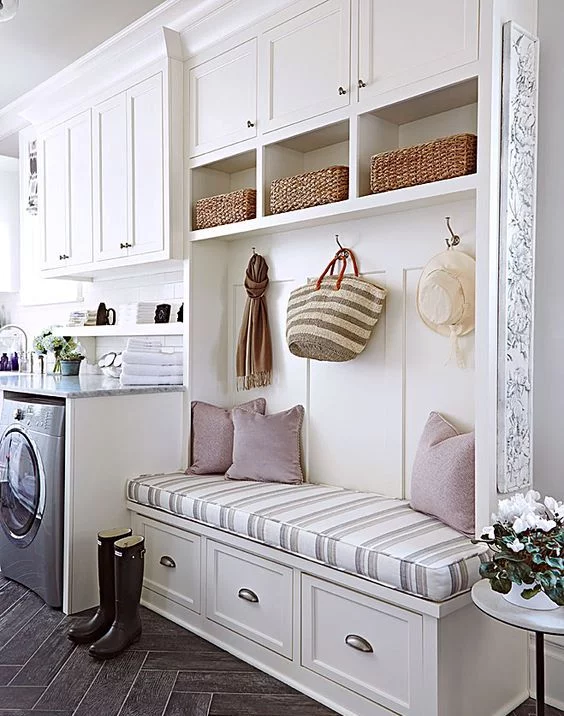 Stairs
Install sturdy handrails on both sides of your staircase

If possible, consider wider steps and carpet to avoid slippery surfaces

Install lights under steps or on the side of your stairway, motion sensors or

"dusk-to-dawn"

photocell

lights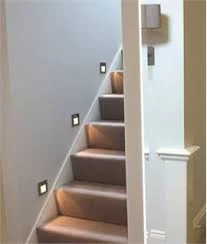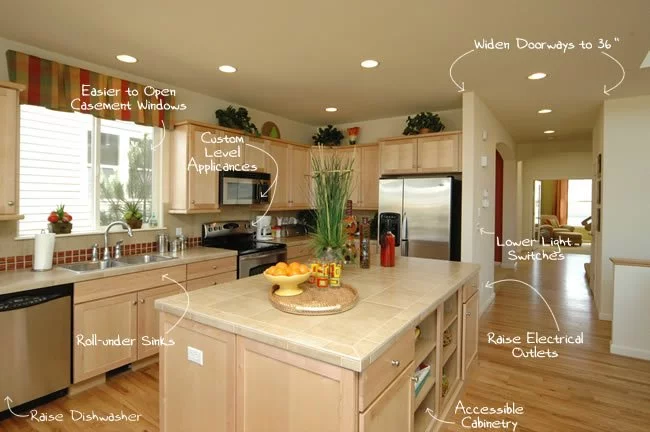 Bathrooms
Provide slip-resistant flooring and an anti-slip bathtub or shower mat

A first floor accessible bathroom

A Step-In Tub or a curbless Shower

Install grab bars on bathtubs, showers and toilets

Install an anti-fog mirror or use anti-fog spray

Provide easy to reach, lever-type hardware for sink, shower, bath and toilet (lever handles are easier to use than round knobs or handles).

Install a walk-in or no-threshold shower with appropriate drainage

Allow shower to be used while standing or sitting

Use handheld and adjustable shower heads

Use removable and adjustable shower heads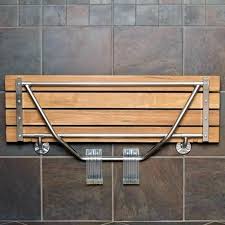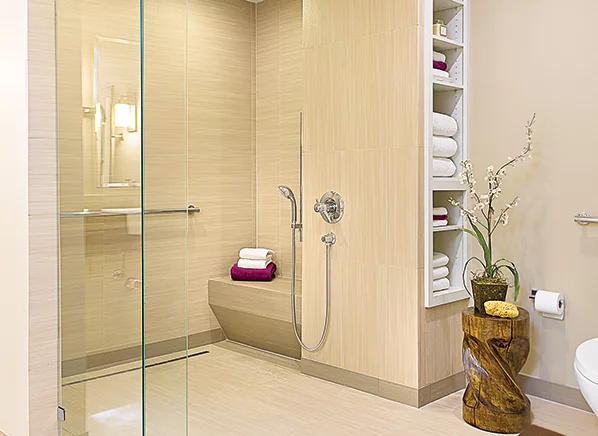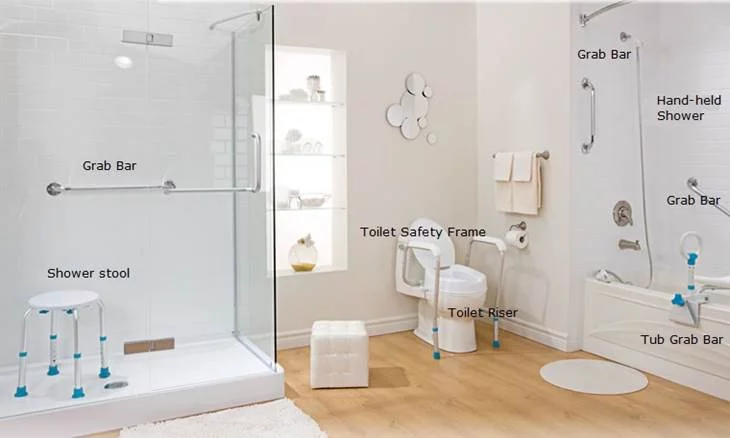 Kitchen
The kitchen is where we tend to spend the most time and is also one of the more hazardous rooms in the house.
Make most of the lower cabinets pull out drawers.
The advantage of large drawers is that they display all your flatware and utensils at once, which allows for easier grasping. You don't have to get on your knees and peer into the back of the cabinet to see what's available.
Cabinets should not be difficult to reach. In general, upper cabinets should be placed around 3 inches lower than their usual height.
Make all the corners in the kitchen accessible

Choose appliances with easy to read controls

Install non slippery flooring
Flooring materials that don't get slippery reduce the chances of a fall when there's a spill.
Keep the sink close to the stove
As we age, it's harder on our arms and backs to carry big pots full of water to and from the stovetop. If spills happen, they become a slipping hazard.
Use under-cabinet lighting

Build in a microwave at counter height

Install a shallow sink

Create extra space in kitchen to allow sitting down in a chair while working in the kitchen

.

Avoid armless and swivel stools
Tip:
As our eyes age, it becomes more difficult to see things like counter edges. Installing countertops in a contrasting colour from cabinets will highlight them for you and help you see more clearly where the counter ends.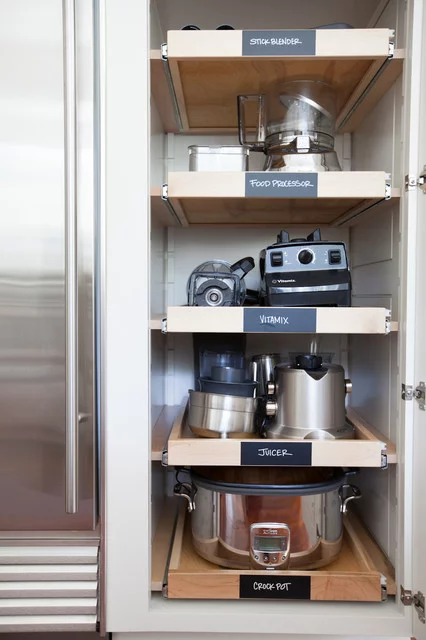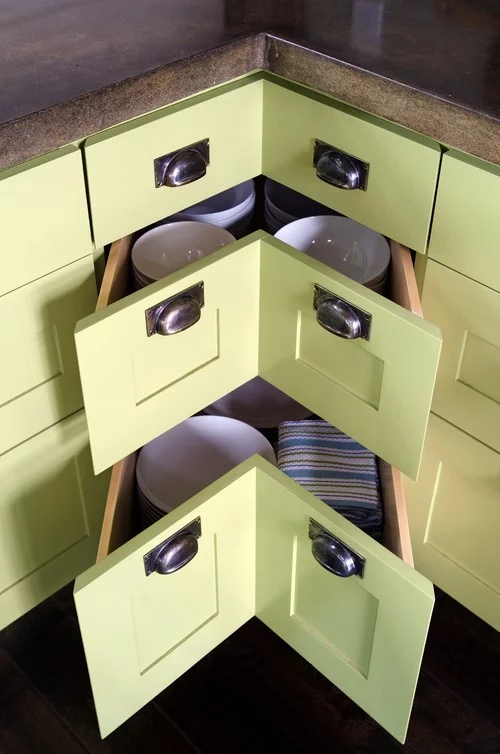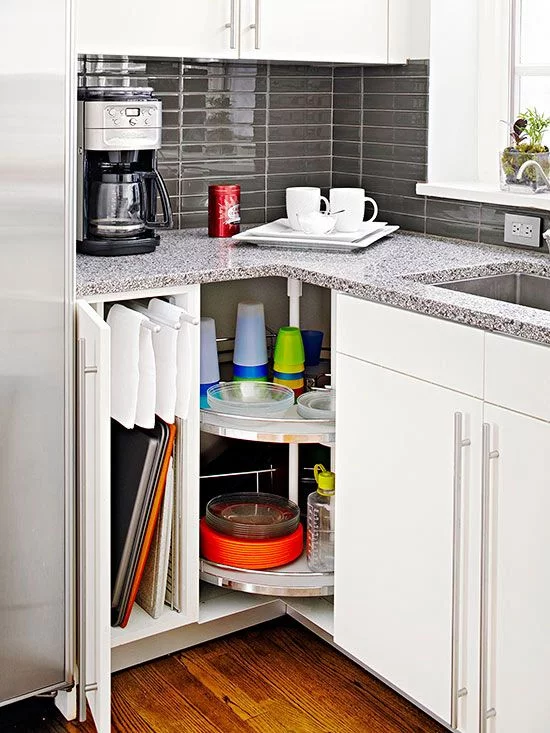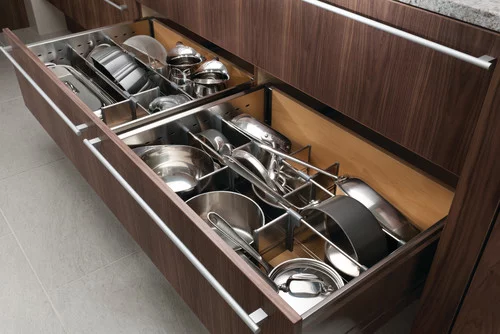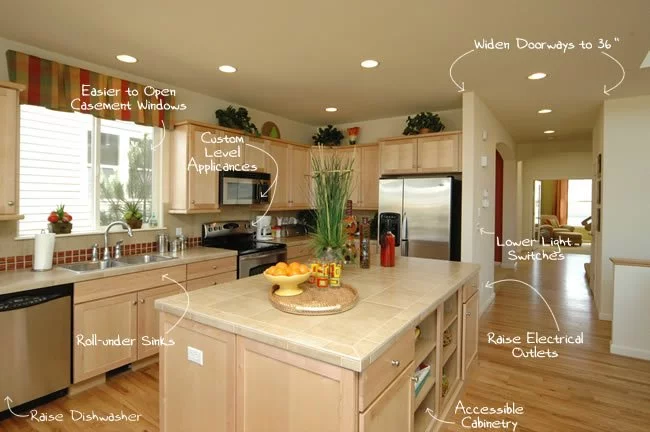 Smart living
One way to build out a smart home is to buy lots of components such as sensors, smart bulbs, security cameras, speakers etc. (This adds convenience while in your home and away from home and is a strong trend in homes these days.) Connect these components to your smartphone or tablet for easy management of all the devices in your home.
Smart devices for your home:
Smart lighting

Thermostat

Speakers

Blinds

Trash can (opens and closes on command)

Robotic vacuum or Roomba
Some appliances can run by voice command via your smartphone as well.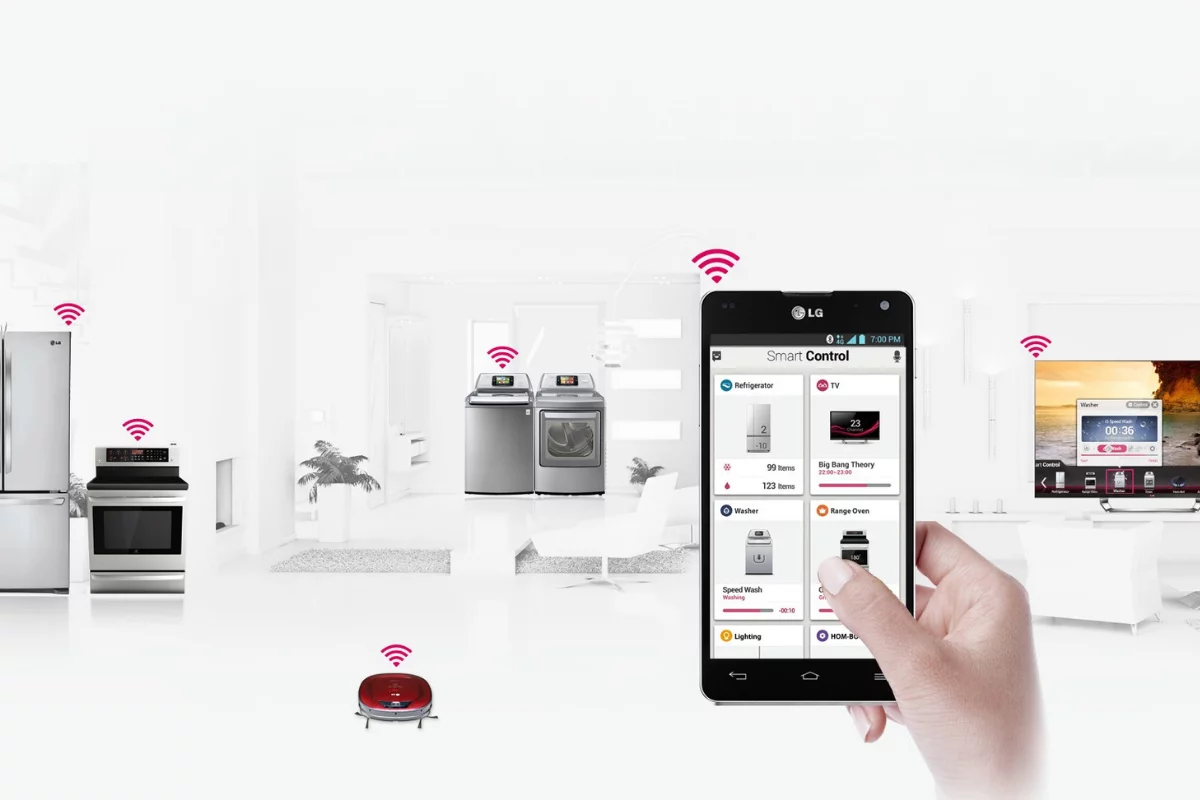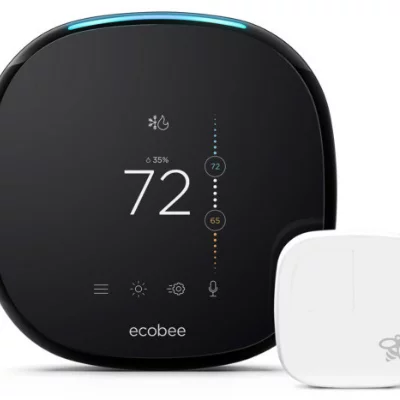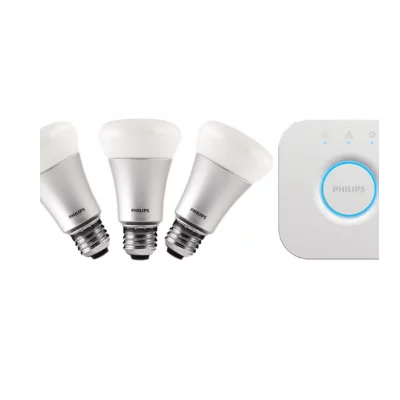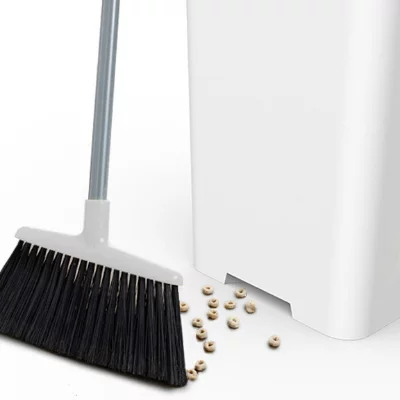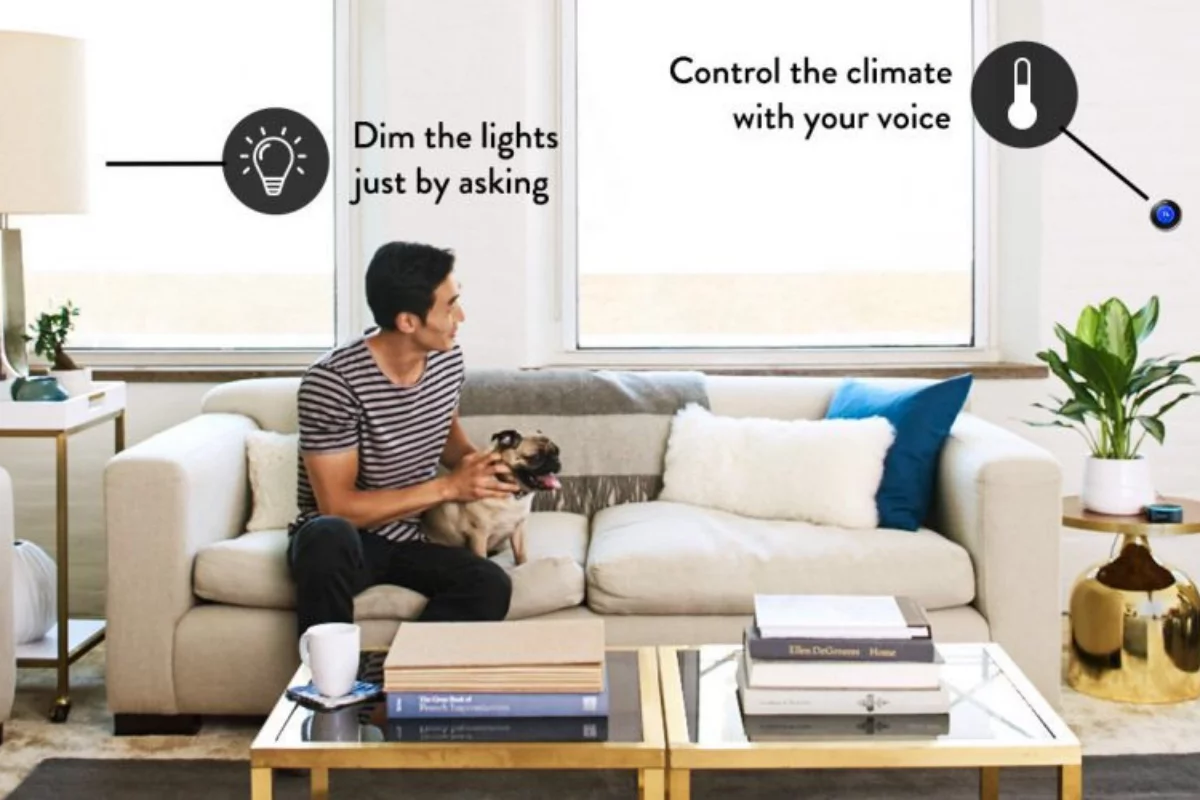 Things to consider for walkers & wheelchair accessibility
Increase floor space to accommodate wheelchairs or walkers. The adult wheelchair requires 60 inches of space to make a 360-degree turn. A minimum of 36 inches is required for clear hallway passage, and at least 32 inches for doorways. The doorway threshold should be less than 1/4″ off the floor.
Instal more ELECTRICAL OUTLETS than required by code, at 18" to 24" from ground level

Place motion-sensor NIGHT LIGHTS in all rooms and hallways.

Consider installing a ramp

Do not add steps between rooms/areas on the same level. If steps are already there,

add contrasting

colours

to the materials on the stairs so steps are visible

.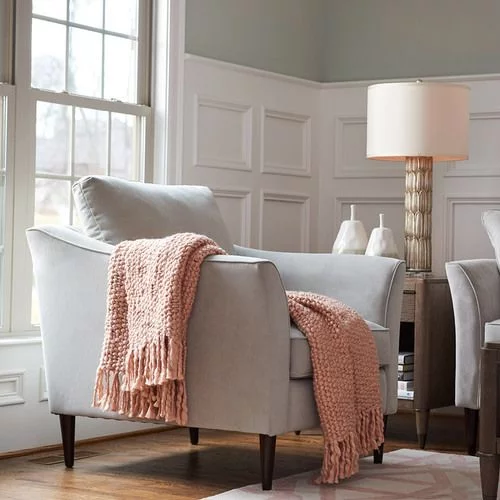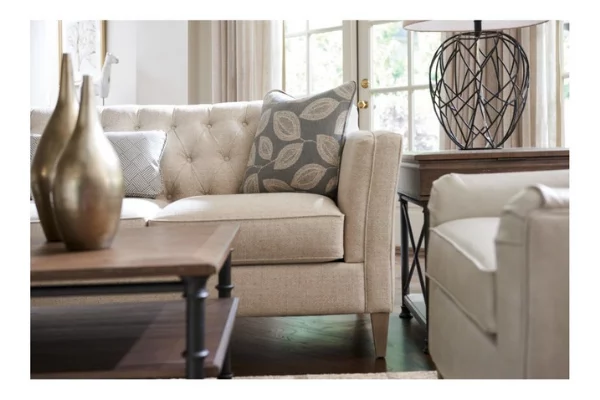 Now, Think Furniture!
Consider higher arms on sofas and chairs, easy to clean upholstery & memory foam

Gliders vs rockers or a wall away (

a chair that doesn't rock or glide but reclines inches away from a wall to save space).
Gliders provide more of a straight motion which makes it easier to get up and out of the chair. This motion makes it a better choice than rocker recliners if your movement is limited.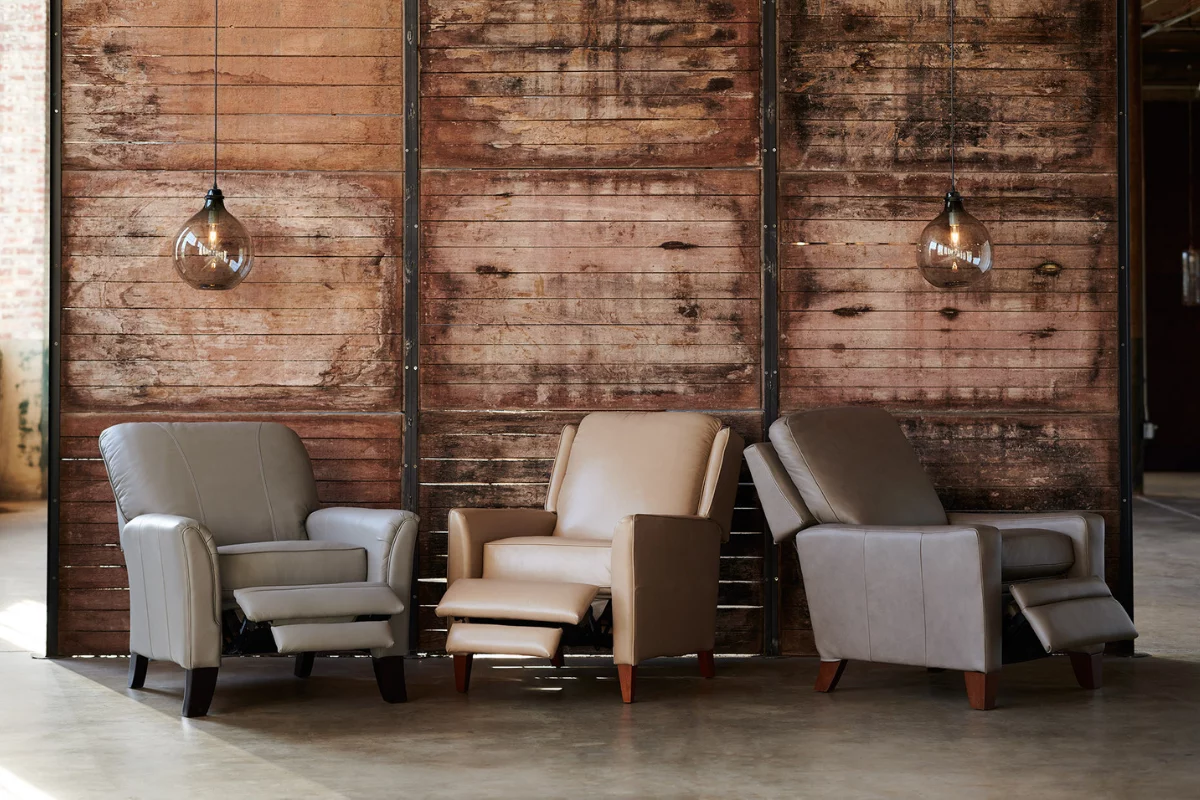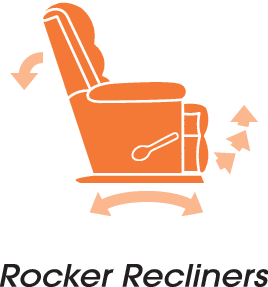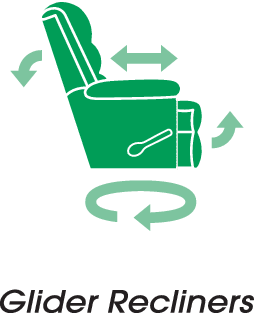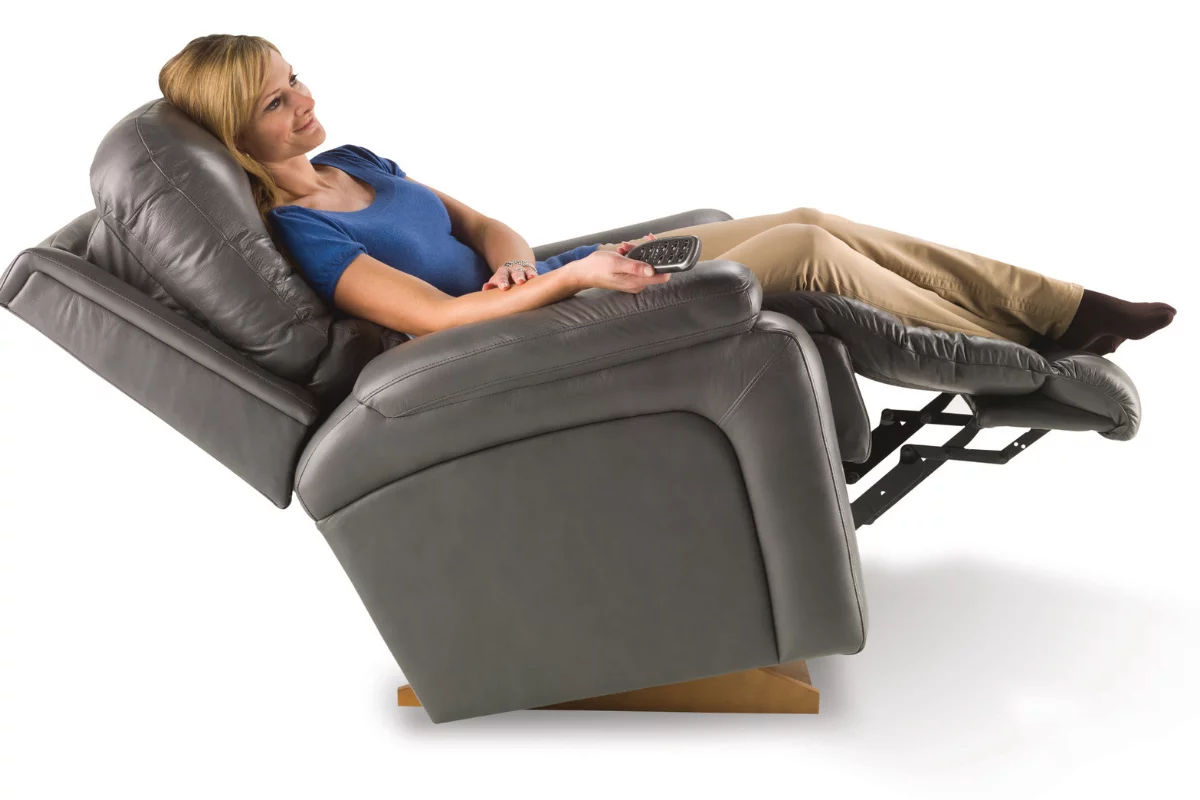 At La-Z-Boy, Luxury-Lift Power recliners offer unmatched comfort in every position. They are exclusively engineered to provide the smoothest, most secure motion. The Luxury-Lift Power Recliner gives someone with limited mobility the power to sit, stand and recline at the touch of a button. There is a growing market for lift recliners. La-Z-Boy offers four types of Luxury-Lift Power Recliners: Bronze, Silver, Gold and Platinum.
Power, headrest and lumbar support

Battery pack for power recliners

Leather and

iClean™ fabrics
When you consider aging in place, it is very important to think of ''easy to clean materials''. Leather and iClean™ fabrics are great material choices. These fabrics will make your life much easier!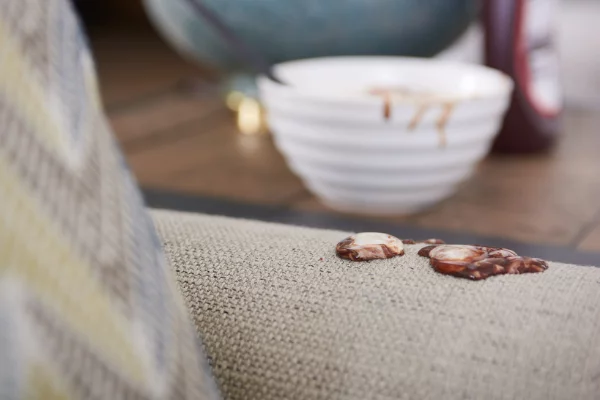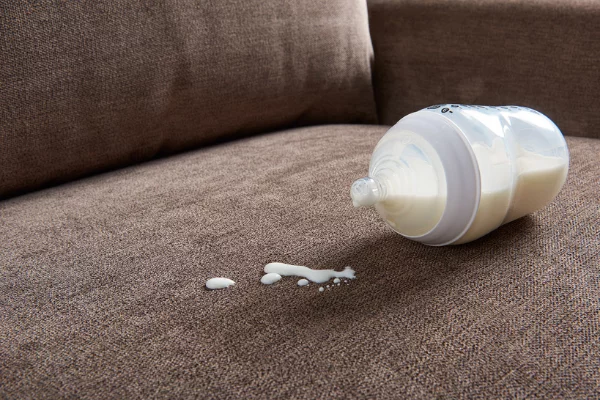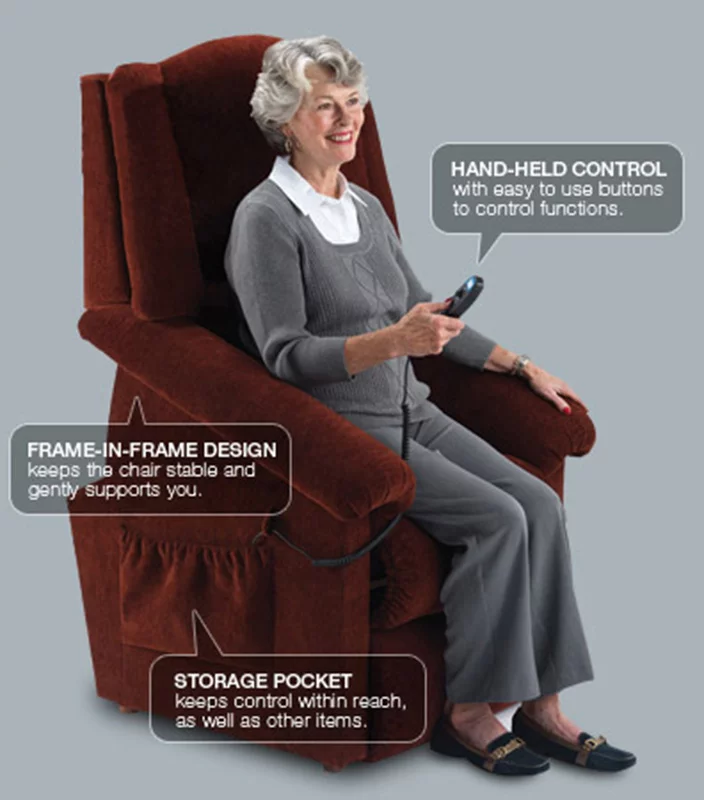 Secure area rugs or runners
Always use flat and low pile area rugs and runners. An under pad should be used to prevent the carpet from sliding and prevent a tripping hazard.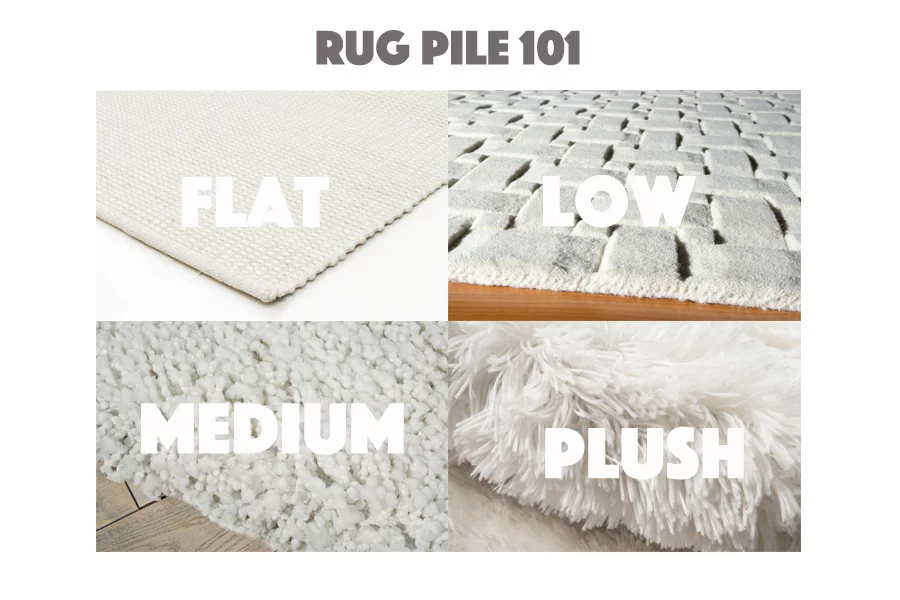 Multi-functional pieces of furniture are great to have in places that may change their use with time. Ottomans are very efficient as they can be used for extra seating when needed and it's a creative way to add patterns to any room. You can add layers by using a tray, a few accessories and cozy throw!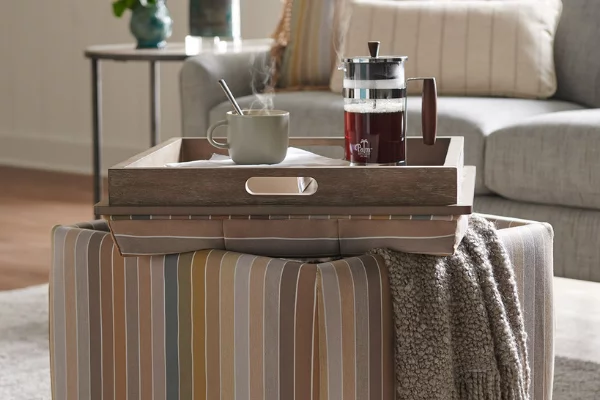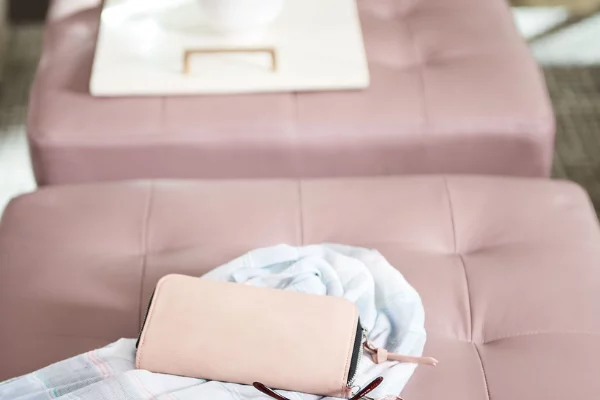 Lift coffee tables are another great multi-functional piece of furniture; they can be used as a working surface or small eating table. Easy to grab a snack if you are watching a movie and can't bend down.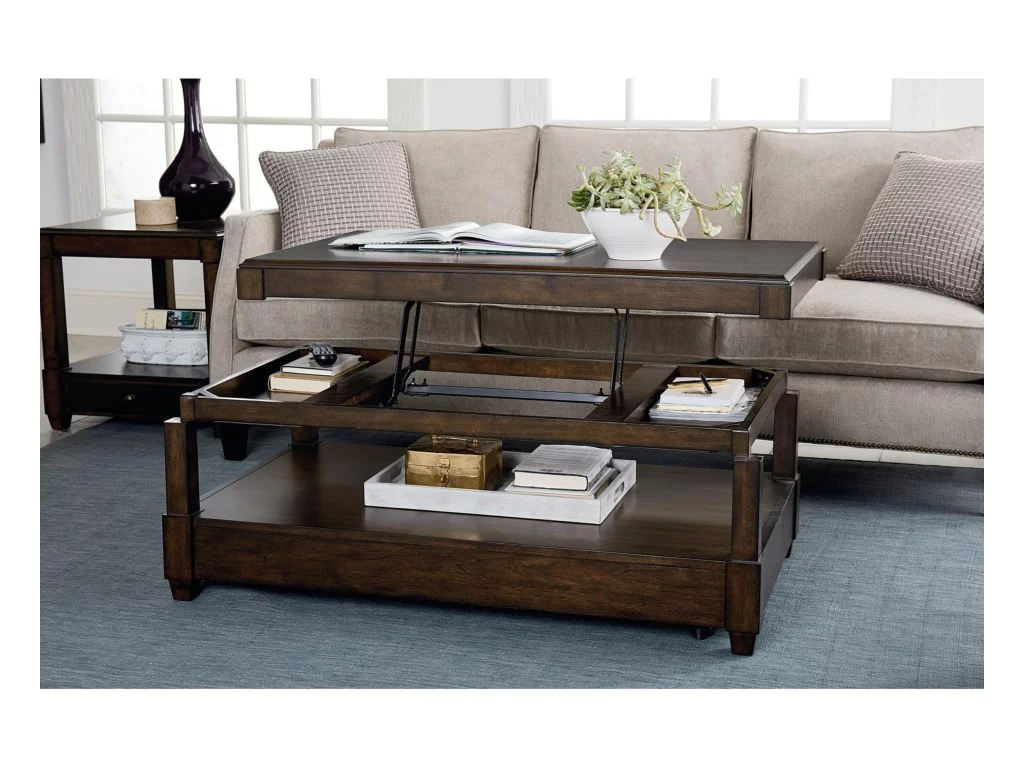 One thing is certain, your personal situation will change with time. Your home might not remain the same and the services available to you may change or disappear. You and the people closest to you should review these factors regularly and decide whether ageing in place will be the best solution for you. Whether you decide to move or stay, hire an expert to help. Someone to guide you through the process and make sure it's all done to your requirements and budget.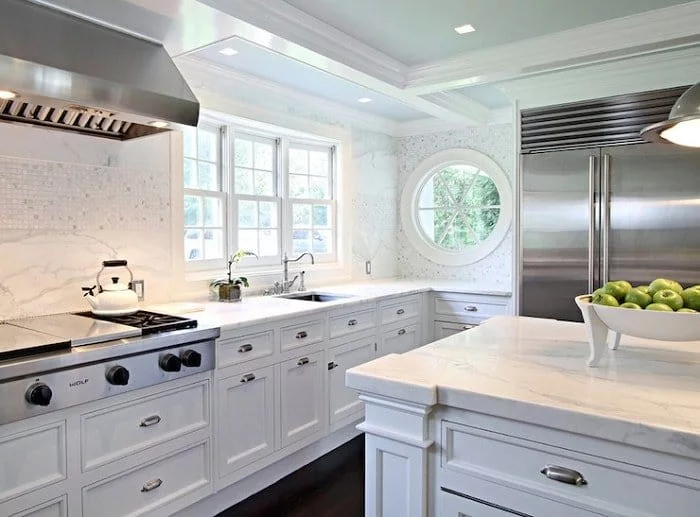 Related Blog articles:
Download the Recliner Buyer's Guide