Aging in Place: Tips for Staying in Your Home Long Term
May 13, 2019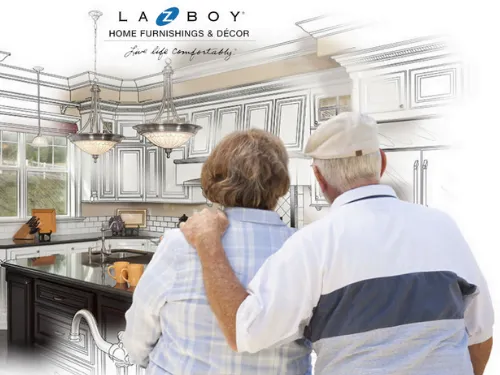 When you think of the home you're currently living in, what are the thoughts that come to mind? Is it a temporary situation? Is it too big or too small for your liking? Is there a weird smell coming from a certain room (if there is, you should get that checked)?
But most importantly, is this the home you'll be staying in long-term? You might already know your answer if you're asking yourself this question.
When living in a place for a long time, changes are bound to happen with or without of your control. And, as you age, the changes you want to or have to make in your house might become more difficult.
Fear not if you're feeling overwhelmed by aging in a home that doesn't age with you. Zeina Badawi, an interior designer at La-Z-Boy Kanata, says there are ways to design a home that "will adapt to you as your needs change."
This article will be will talk about 9 different tips on what you can do to create a house that's more safe, secure, comfortable, and user-friendly as you are "aging in place."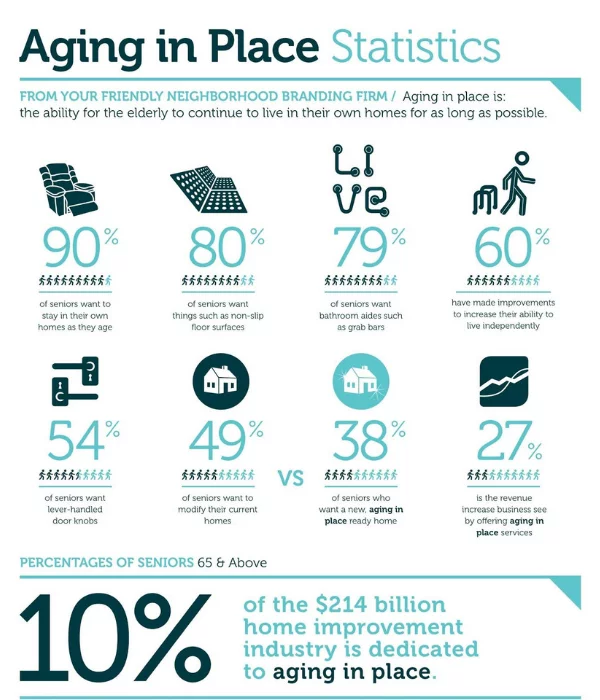 Who Should be Considering Aging in Place?
Before we get into any tips, it is important to discuss who should be considering the possibility of aging in place.
Younger individuals 50 or less obviously don't have to worry about this just yet, but baby boomers (55+) who are renovating or buying a new house might want to consider sticking to their existing home or settling into that forever home.
"The first half of generation X could also consider this if they are building or renovating a house that they want to live in for many years down the road," says Zeina.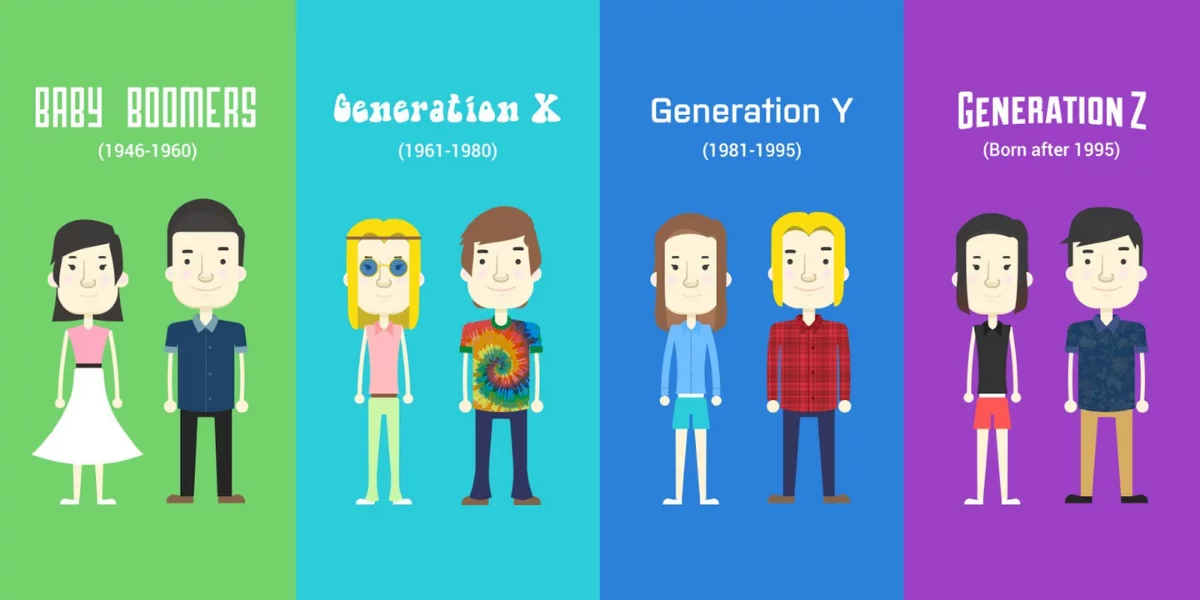 9 Tips for Staying in Your Home Long-Term
Now that we know who should be considering aging in place let's get into our tips. Zeina says that most of these tips consider functionality, convenience, and safety.
1. Think About Architecture
When planning the design/layout of your home, we need to think about the potential changes that can happen to our bodies when they get older. "Our home should adapt to us not vise versa," says Zeina. This thought process should happen in the early stages of figuring out where to stay long-term.
With that being said, you and your family should start discussing whether or not you want to upgrade, renovate or build a brand new house. Conversations should be based on your budget, home layout, and most importantly, your needs now and possible needs in the future.
2. Consider a One-Level Home
If you are planning to find a new home to stay in long-term, some houses already accommodate elderly individuals more than others.
Zeina says that bungalow-style houses are a perfect match for those who are older, due to the fact that they are one level, and do not have the requirement of going up a flight of stairs.
Zeina also says that one-level homes like bungalows have more of an open concept layout, which "creates a cozy home feel and brings in more natural light inside."
Here is an example of an open concept modern interior design makeover completed by one of our designer.
3. Revamp Your Stairs
If you are thinking of staying in the same home, but have the possible disadvantage of having multiple floors in your home, fret not. There are still accommodations you can make to ensure older residents stay safe.
Zeina says that installing new handrails and carpet flooring is great for ensuring there aren't any slips or falls. She also says that adding motion-sensor lights on the side of the walls might also be advantageous so that you can see where you're stepping.
Lastly, if your legs are giving out and are no longer as strong as they used to be, stairlift chairs are perfect for getting individuals with mobility issues up and down effortlessly.
If you want to learn more about how La-Z-Boy accommodates those with Mobility Issues and Elderly People, check out this article.
4. Adjust You Laundry Room Accordingly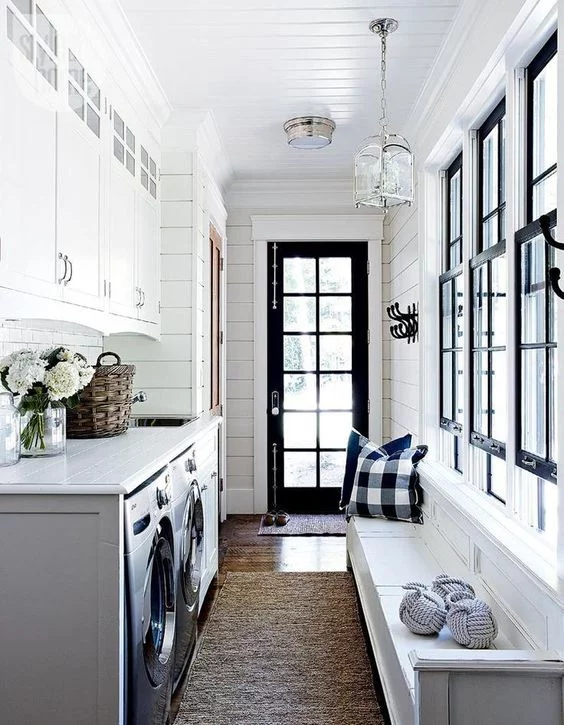 Zeina says to consider having your laundry room on the first floor since this is a frequent spot for people to use. There are a lot of mudroom/laundry combo Ideas that would look great for adding function to the house.
If you can't have laundry on the first floor, try to place it as close as possible to your bedroom. Zeina also suggests raising your washing machine and dryer 12-15 inches off the floor to minimize bending over.
5. Ensure All Bathrooms Are Slip-Proof
There are many ways that you can prevent slipping in a bathroom, according to Zeina. "Slip-resistant flooring, anti-slip bathtubs or shower mats work like a charm," she says.
She also says that step-in tubs are perfect for reducing slips or falls in a bathroom. Some step-in bathtubs also have accessible seating for older people in wheelchairs, as well as adjustable/removable showerheads.
There is also the slight chance that fogged mirrors might create some sort of hindrance for you as you age. If this might get in the way, make sure to purchase anti-fog mirrors so you don't have to worry about wiping the mirror every time you shower.
Lastly, if it is hard for you to get up after using the toilet, ensure that there is a grab bar to help raise yourself off the seat.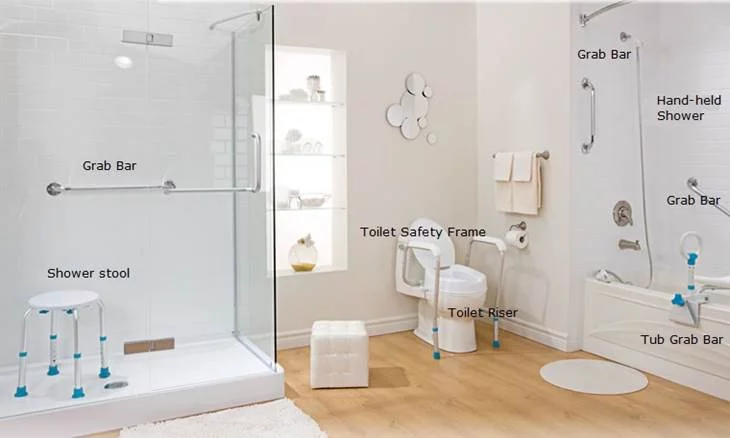 6. Ensure Your Kitchen is Safe and Has Easy Access
The kitchen is where we tend to spend the most time and is also one of the more hazardous rooms in the house.
The advantage of large drawers is that they display all your flatware and utensils at once, which allows for easier grasping. "You don't have to get on your knees and peer into the back of the cabinet to see what's available," Zeina says.
Cabinets should not be difficult to reach. In general, upper cabinets should be placed around 3 inches lower than their usual height. That way you can easily reach all of your kitchen appliances without overreaching.
As we age, it's harder on our arms and backs to carry big pots full of water to and from the stovetop. If spills happen, they become a slipping hazard. This is why Zeina mentions that the stove should be close to the sink.
Lastly, as our eyes age, it becomes more difficult to see things like counter edges. This is why Zeina recommends installing countertops in a contrasting colour from cabinets. This will highlight them for you and help you see more clearly where the counter ends.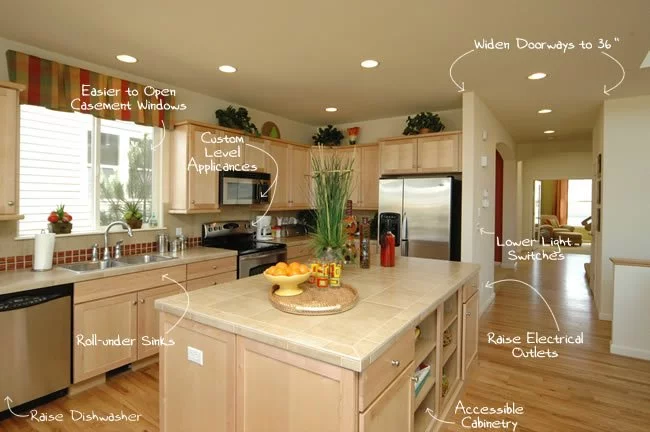 7. Consider Smart Living
As our daily living progresses, technology will become more and more intuitive. Since it becomes easier for us to do everyday tasks around the house, thanks to smart devices, consider making your house a smart home.
This can easily be done by purchasing a couple of bluetooth connected lights so you can turn on your lights with a smart home speaker, like Alexa or Google Home.
You can also purchase a Roomba so you dont have to worry about vacuuming or cleaning your floors as often. Connect these components to your smartphone or tablet for easy management of all the devices in your home.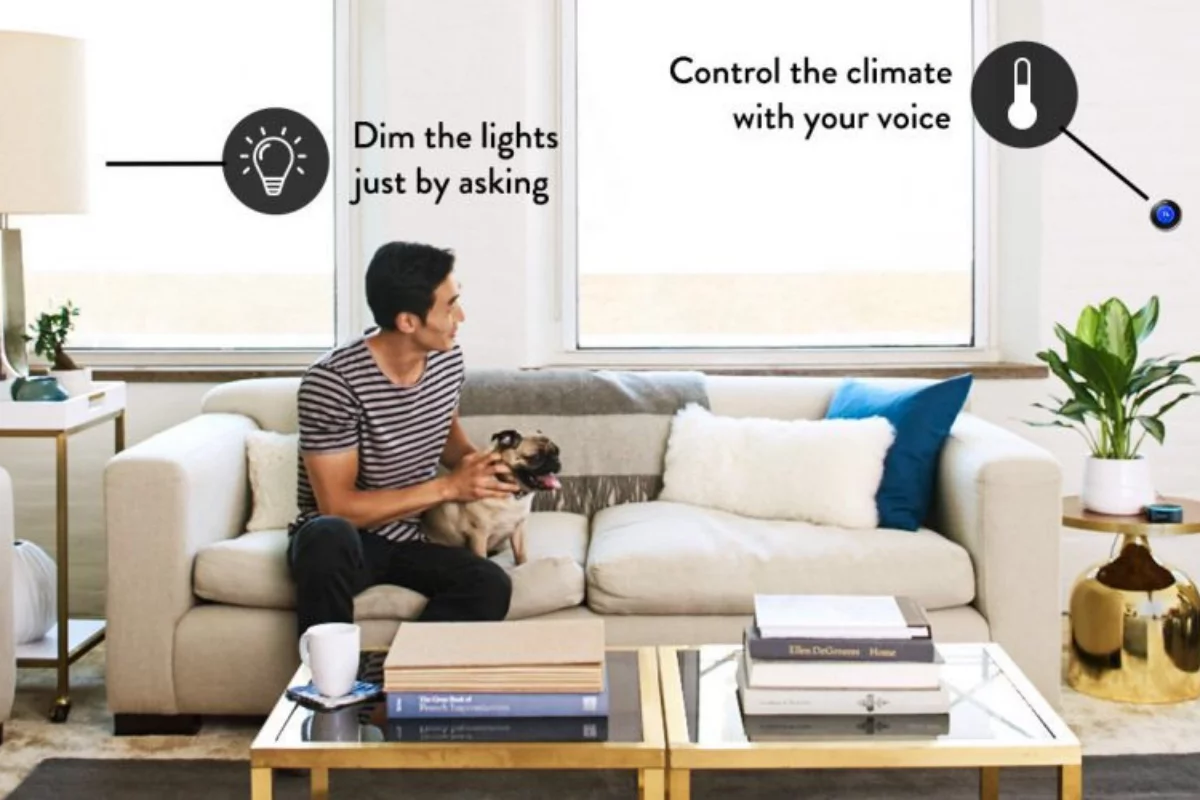 8. Ensure There is Enough Space for Wheelchair Accessibility
We have talked a lot about wheelchair accommodation already in this article, but one important thing that you must remember is keeping enough space for yourself to roam freely while in your wheelchair. Afterall, you wouldn't want to worry about bumping into something in your own home.
Increase floor space to accommodate wheelchairs or walkers for daily living. An adult wheelchair requires 60 inches of space to make a 360-degree turn. A minimum of 36 inches is required for clear hallways and at least 32 inches for doorways. The doorway threshold should be less than 1/4″ off the floor.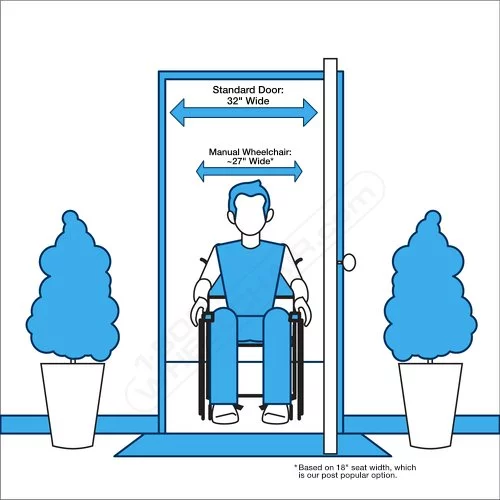 Lastly, remember to accommodate yourself with the proper furniture. As mentioned before, La-Z-Boy knows a thing or two about what kind of furniture to buy for someone who is elderly or has mobility issues.
Zeina notes that higher arms on sofas and chairs are great for those trying to get out from a seat. She also mentions that glider and lift recliners are perfect for those looking for older people who need accessible seating option in their living room.
"Gliders provide more of a straight motion which makes it easier to get up and out of the chair. This motion makes it a better choice than rocker recliners if your movement is limited," She says.
If you want to learn more about the difference between Rockers vs Gliders, check out this article.
At La-Z-Boy, Luxury-Lift Power recliners offer unmatched comfort in every position. They are exclusively engineered to provide the smoothest, most secure motion.
The Luxury-Lift Power Recliner gives someone with limited mobility the power to sit, stand and recline at the touch of a button. Power lift recliners also come with headrest & lumbar upgrades.
These recliners only come in fabric, meaning you wouldn't have to worry about slipping off with a leather option. However, this does not mean that leather is an awful material to buy for someone who is aging.
Zeina says leather is a very easy to clean material and requires less time to clean up. Along with leather, she also says that iClean Fabrics are very easy to clean as well.
Lastly, multi-functional pieces of furniture are great to have in places that may change their use with time. For example, Ottomans are very efficient as they can be used for extra seating when needed. "It is also a creative way to add patterns to any room," says Zeina.
Zeina also says that lift coffee tables are another great multi-functional piece of furniture. "They can be used as a working surface or small eating table, and it's easy to grab a snack if you are watching a movie and can't bend down," she says.
If you want to learn more about Coffee Tables with Storage, check out this article.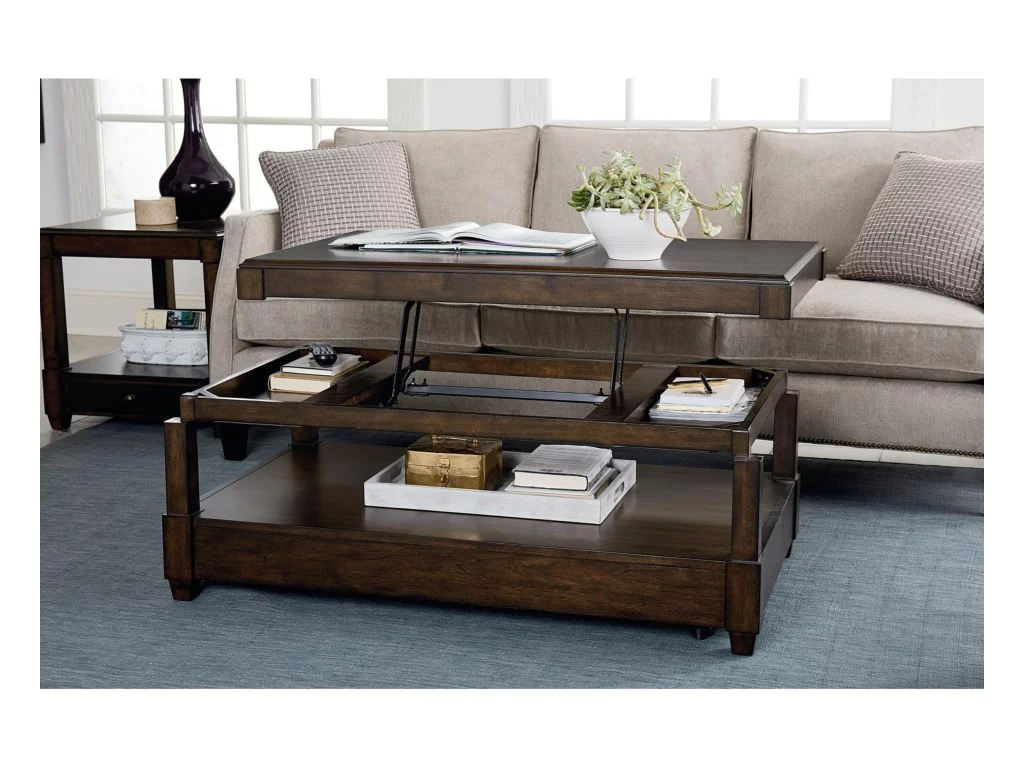 What's Next?
One thing is certain, your personal situation will change with time. Your home might not remain the same and the services available to you may change or disappear.
You and the people closest to you should review these factors regularly and decide whether aging in place will be the best solution for you to live safely and independently.
Whether you decide to move or stay, hire an expert to help. At La-Z-Boy, our design consultants are always eager to lend a helping hand. Take advantage of our interior design services to see how our furniture could fit in your home design.
You can also shop by visiting one of our local showrooms located in ottawa & Kingston, or you can schedule a visit online before coming in.
While you're looking for furniture online, make sure to browse some of our best-sellers list to familiarize your self with our products!
Related Blog articles:
Download the Recliner Buyer's Guide
Product Info Request
Please provide us with your name and email and we'll get back to you as soon as possible regarding this item.