Review of the La-Z-Boy Finley Furniture Family: Recliner, Loveseat, & Sofa
April 23, 2021
Looking for reclining comfort with contemporary style? The Finley furniture family fits the bill with modern lines, sleek track arms, and a tall foam back that gives it a neat and structured look. The ultra-plush chaise seat and leg rest cradle the body in a continuous zone of comfort.
Magaly del Castillo, the Interior Designer at La-Z-Boy Cyrville, "loves the Finley!" It is one of her favourites.
As one of the newest editions to the La-Z-Boy lineup, Magaly describes the Finley as "a little bit more modern than the typical La-Z-Boy recliner". She says that the Finley would fit seamlessly into any contemporary, modern, or transitionally styled room.
With a tall back, narrow arm, and taut upholstery, the Finley gives off a clean and modern appeal while still providing exceptional comfort and lumbar support. Not to mention, Finley products allow you to recline back with ease, in both power and manual options.
Offered in a range of quality fabrics and leathers, Magaly says that the upholstery chosen for the Finley is extremely influential in its overall appearance.
Furniture from the Finley family is a great choice, but is it the right choice for you?
Read on for an in-depth review of the Finley furniture family, including the Finley Recliner, Loveseat, and Sofa.
Finley Family (Available Styles)
The Finley family offers contemporary comfort in a variety of shapes and sizes, both for individual and shared enjoyment. At La-Z-Boy, we offer a Finley Recliner, Finley Reclining Loveseat, and Finley Reclining Sofa.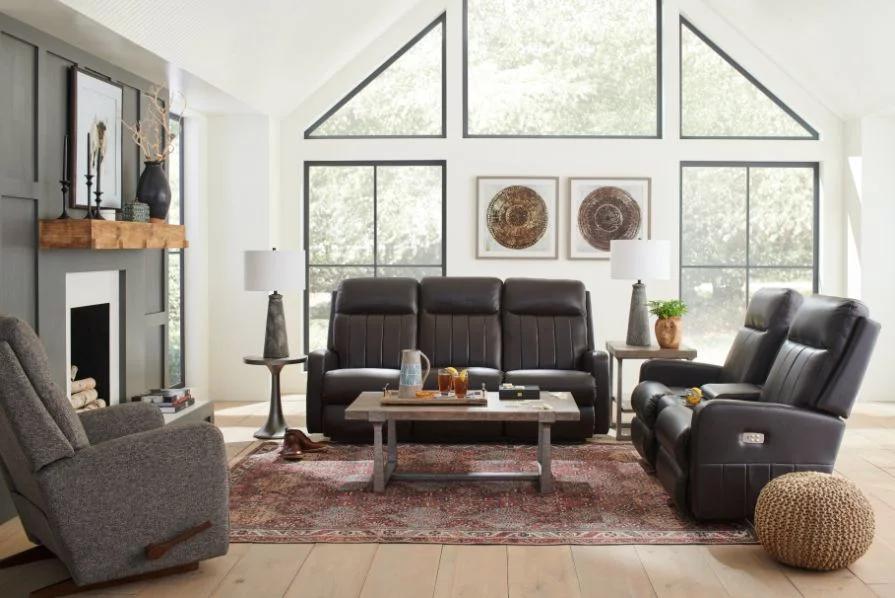 Finley Recliner
The Finley Recliner allows you to lay back and kick up your feet in style. Depending on your personal preferences, the Finley is offered as a Rocking Recliner, a Wall Recliner, or a Gliding ReclinerBoth the rocking and wall Finley recliners are available in both manual and power. Additionally, these super-charged recliners can come with the option of a power-adjustable headrest and lumbar.
With independent back and leg rest functionality, the Finley Rocking Recliner lets you rock in smooth and graceful motions while you're not reclining.
The Finley Wall Recliner can be placed mere inches from the wall.
The Finley Gliding Recliner allows you to glide back and forth with a gentle feel.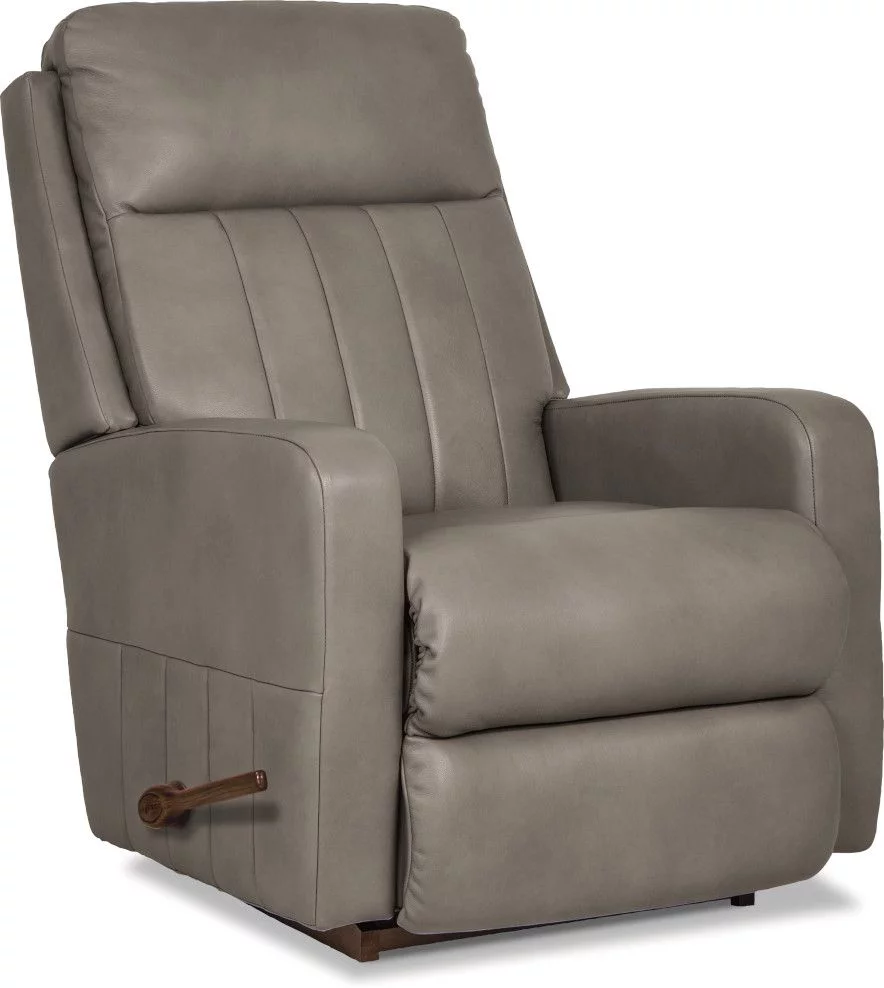 Finley Loveseat
The Finley Wall Reclining Loveseat is a great place for lovebirds to snuggle up. In fact, any friends or loved ones can get enjoyment out of the shared comfort of the Finley Loveseat.
The Finley loveseat is offered in both manual and power options.
Further, the Finley Loveseat is offered with console, headrest, and lumbar options, to be further described within the Options & Upgrades section of this article.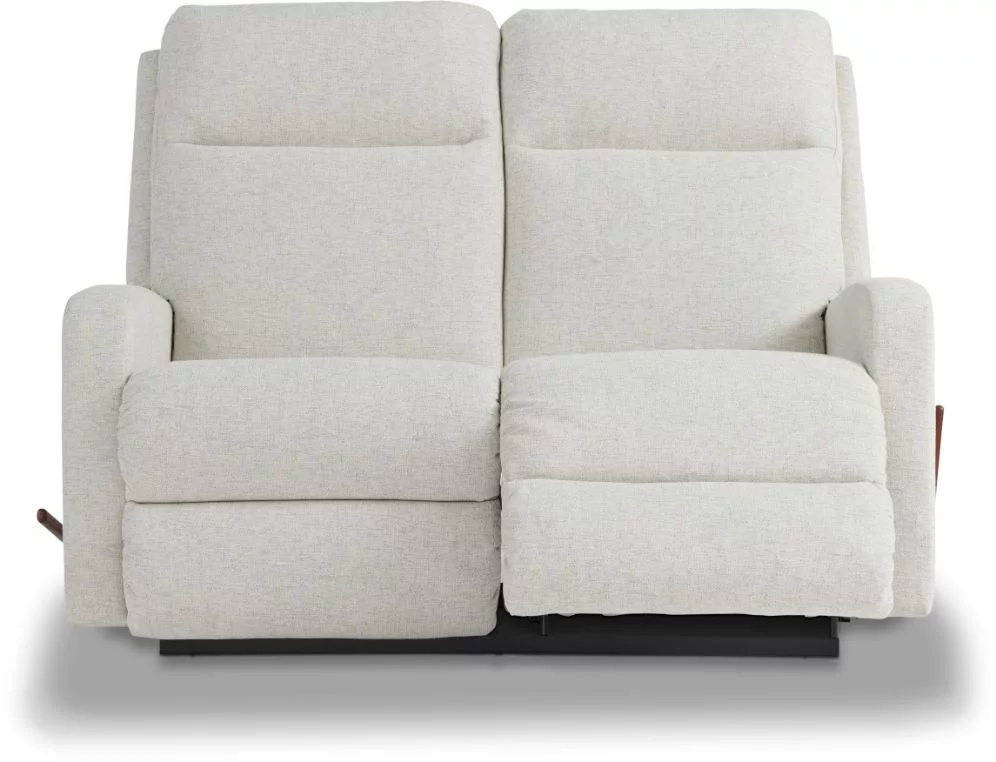 Finley Sofa
The Finley Wall Reclining Sofa provides reclining comfort for all! With three seat cushions, the Finley Sofa can be enjoyed by many in both manual and power options.
Like the Loveseat, the Power Finley Sofa can recline back in a smooth motion with the use of the 4-button controls.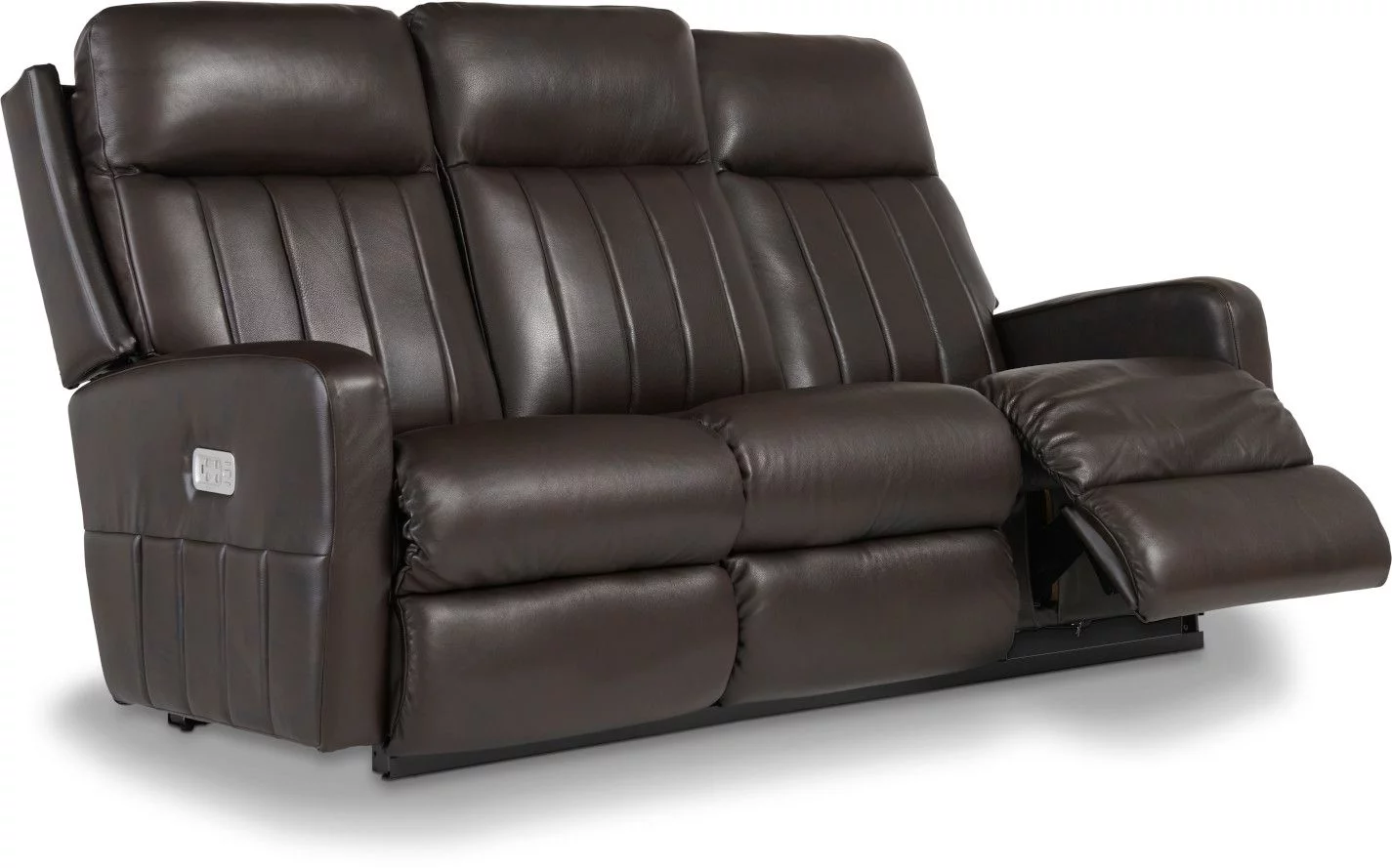 Unique Features
The Finley furniture family offers reclining comfort while simultaneously contributing to the contemporary style of any room. With clean, modern lines and sleek track arms, the Finley products are far from bulky.
The tall foam back on the Finley contributes to its structured look. Further, according to Magaly, the Finley also has a deep, yet high, seat. While you can comfortably sit back into the depth of the Finley seat, the height of the seat may not allow you to sink into it the way you would with some other recliner or sofa styles.
With this being said, the Finley is made with La-Z-Boy's patented ComfortCore® Cushions. This 7-layer zoned cushion technology offers added support for the spine, hips and behind the knees.
For more detailed information on cushions, take a look at the Review of La-Z-Boy's Chair and Sofa Seat Cushions.
In addition to high-grade cushions, the Finley is filled with double-picked blown fiberfill that ensures improved shape retention of the product over time.
Magaly also mentions that the built-in lumbar support in the Finley is exceptional.
All Finley products also have the ability to recline and raise your feet with a leg rest that provides a continuous zone of comfort. Reclining options are available in both manual and power.
Finally, the Finley can take on any look as it is offered in an array of premium-grade fabrics and leathers that are tested to resist wear and fading.
It is important to note that, in leather upholstery, the Finley is unique in that it has four baseball stitched seams in the middle back. This is unlike most other leather pieces.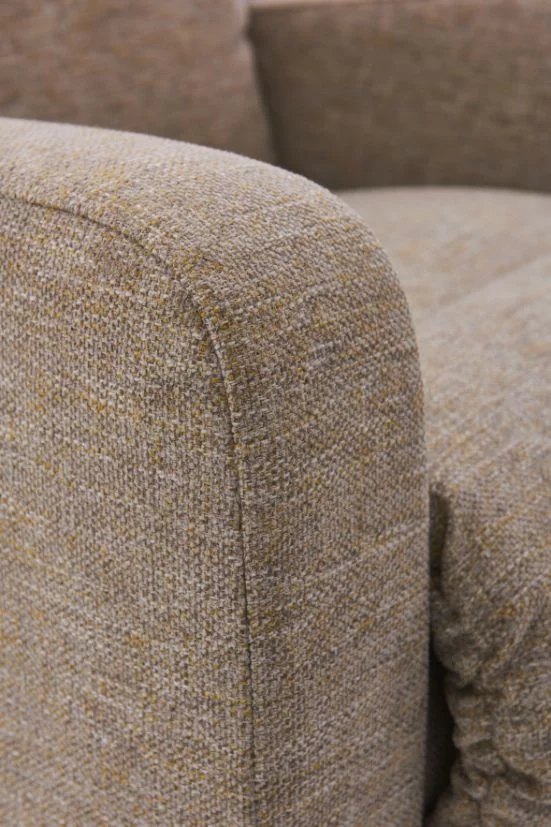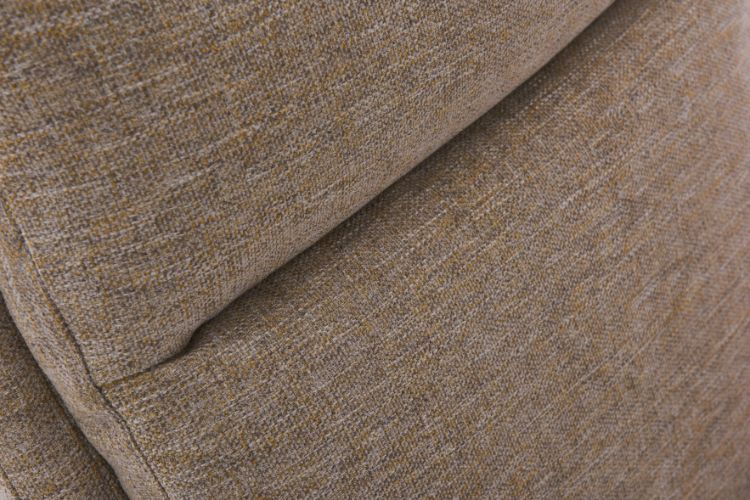 Sizes & Dimensions
When it comes to size, Magaly says that the Finley products are far from bulky. She says that the Finley is compact, crisp, and clean in its size and appearance.
With this, the Finley does not require much additional space to fit seamlessly into a room or furniture arrangement.
Moreover, it is important to not only consider how the Finley products will fit into your space but also how they will fit you! The tall back and high seat featured in the Finley furniture is best suited for an average height to tall individual. More specifically, between the heights of 5'4" to 6'2".
For reference, below are the specific dimensions of the Finley products …
Finley Recliner Dimensions (inches)
Body Depth: 39.0

Body Height: 43.0

Body Width: 34.0

Seat Depth: 20.50

Seat Height: 19.50

Seat Width: 21.5
Finley Loveseat Dimensions (inches)
Body Depth: 33.0

Body Height: 43.0

Body Width: 61.0

Seat Depth: 21.5

Seat Height: 19.5

Seat Width: 46.5
Finley Sofa Dimension (inches)
Body Depth: 38

Body Height: 85

Body Width: 38

Seat Depth: 21.5

Seat Height: 19.5

Seat Width: 70.5
Options & Upgrades
Everything at La-Z-Boy is customizable, including the Finley furniture.
Whether you are purchasing the Finley Recliner, loveseat, or sofa you have the ability to make it uniquely yours with a variety of options and upgrades.
Upholstery/Cover Options
First and foremost, the upholstery cover that you choose for your Finley product has the ability to determine its overall look and feel.
At La-Z-Boy, we have over 800 fabric and top-grade leather options offering something for every style and budget.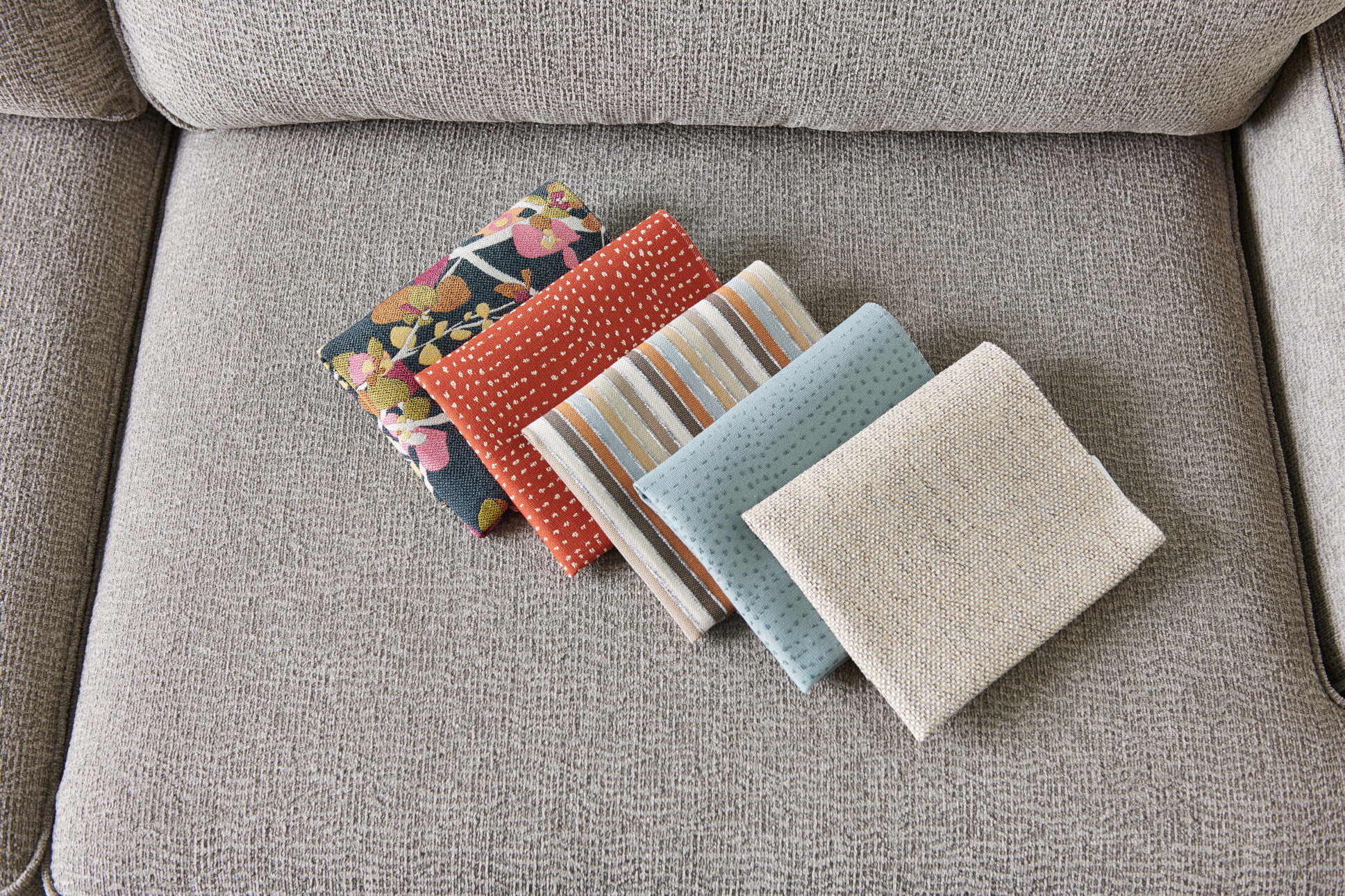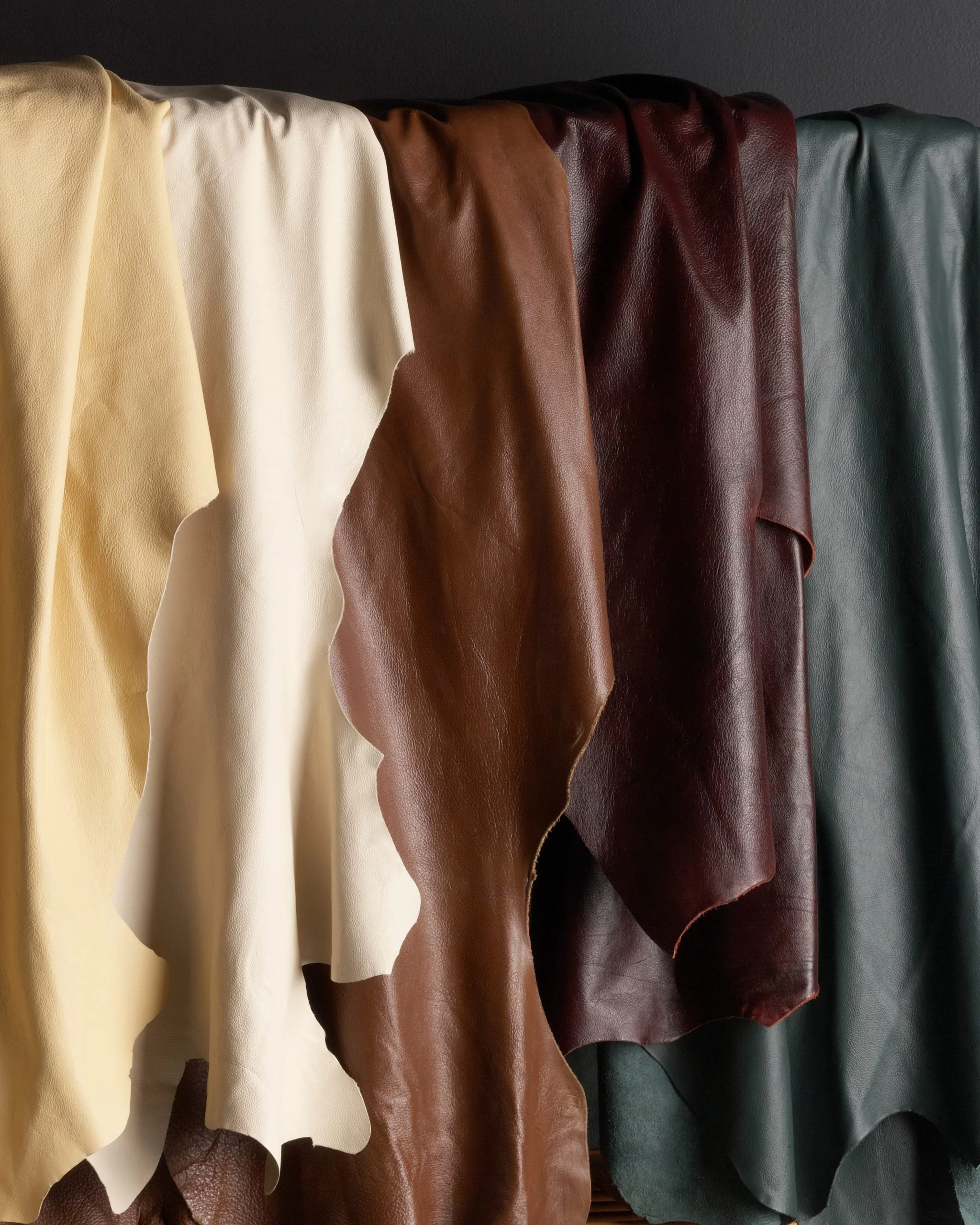 Within this wide selection of upholstery options, the Finley collection is also offered in premium-grade specialty fabrics.
Stain Resistant
Innovative iClean technology surrounds each fabric fiber, creating a barrier that repels spills before they turn into stains.
Tested and formulated to withstand the scratches and wear that a pet can cause, to ensure a durable and easily washable fabric.
Antimicrobacterial
Antimicrobial properties surround each fiber to protect against mold, mildew, and odor-causing bacteria.
Performance
Superior stain and fade-resistant properties make these fabrics easy to clean and incredibly durable.
Eco Friendly
Conserve Sustainable Fabrics are soft, durable, and made from recycled water bottles.
Seat Cushions
Raise the bar on comfort even higher by upgrading the seat cushions of your Finley product.
Firmer seat options are available at an additional cost. For more information view our Motion Furniture Collection catalogue and our in-depth Review of La-Z-Boy's Chair and Sofa Seat Cushions.
Please note that reclining furniture purchased prior to January 2021 had the option to upgrade to airform

cushions. This cushion includes a two-inch layer of premium quality memory foam added on top of the standard foam base within the seat, chaise and leg rest of the unit.
Handle Options (on Manual)
The manual Finley recliner can recline back with the pull of a handle. This handle can be customized exactly the way you like it.
Standard Handle

Elongated Handle

Arc Handle

Left Side Handle
Further, you have the choice to opt out of the standard mahogany finish and go for an optional finish instead on the handle.
Power Upgrade
The Finley Recliner, Loveseat, and Sofa are offered in both manual and power.
With the power upgrade, you can recline back with ease at just the touch of a button. Simply use the side-mounted 4-button control panel to recline and raise your feet independently for a wide range of relaxing positions. In Power, the Finley has two memory options for saving your favorite reclining positions.
There's even a built-in USB port to power your phone or tablet. Further, upgrade your Power Finley by adding a wireless remote.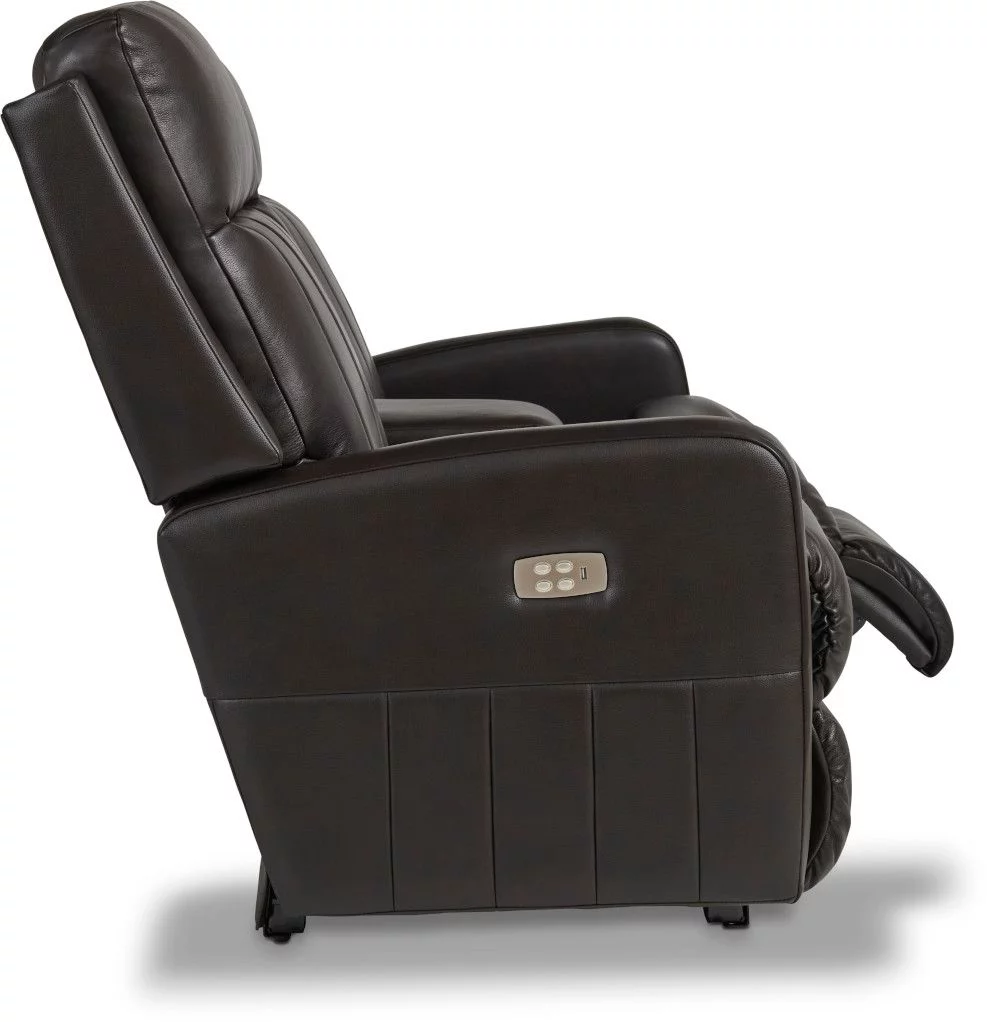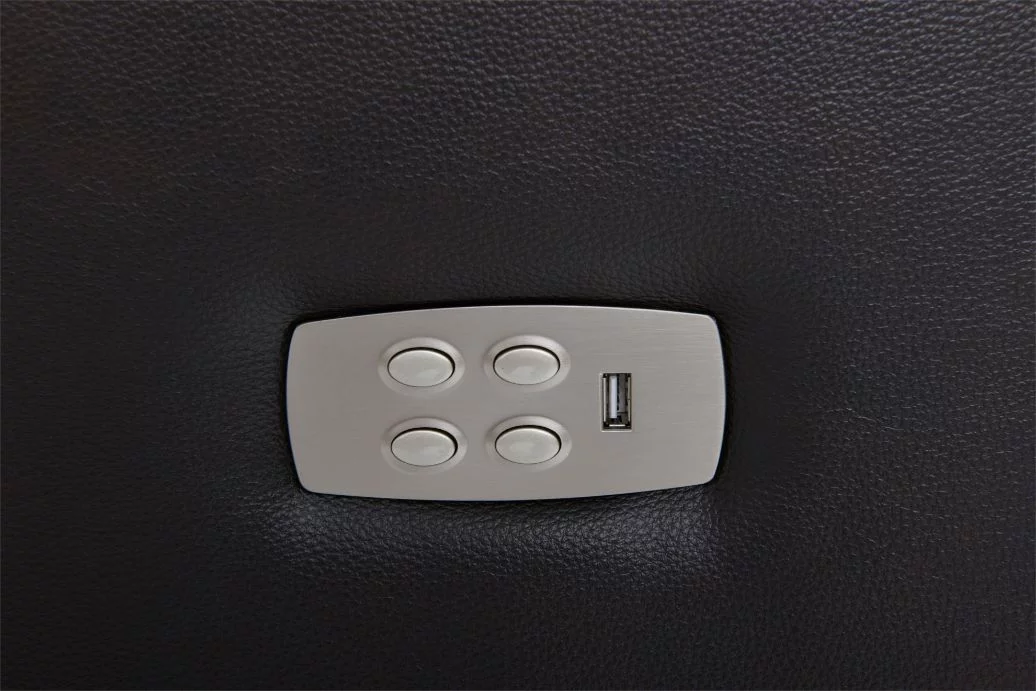 Adjustable Headrest & Lumbar Upgrade
In power, you have the options to further enhance the comfort of your Finley Recliner, Loveseat, or Sofa by upgrading the adjustable headrest and lumbar support.
The headrest and lumbar can be adjusted to exactly your liking with remote control.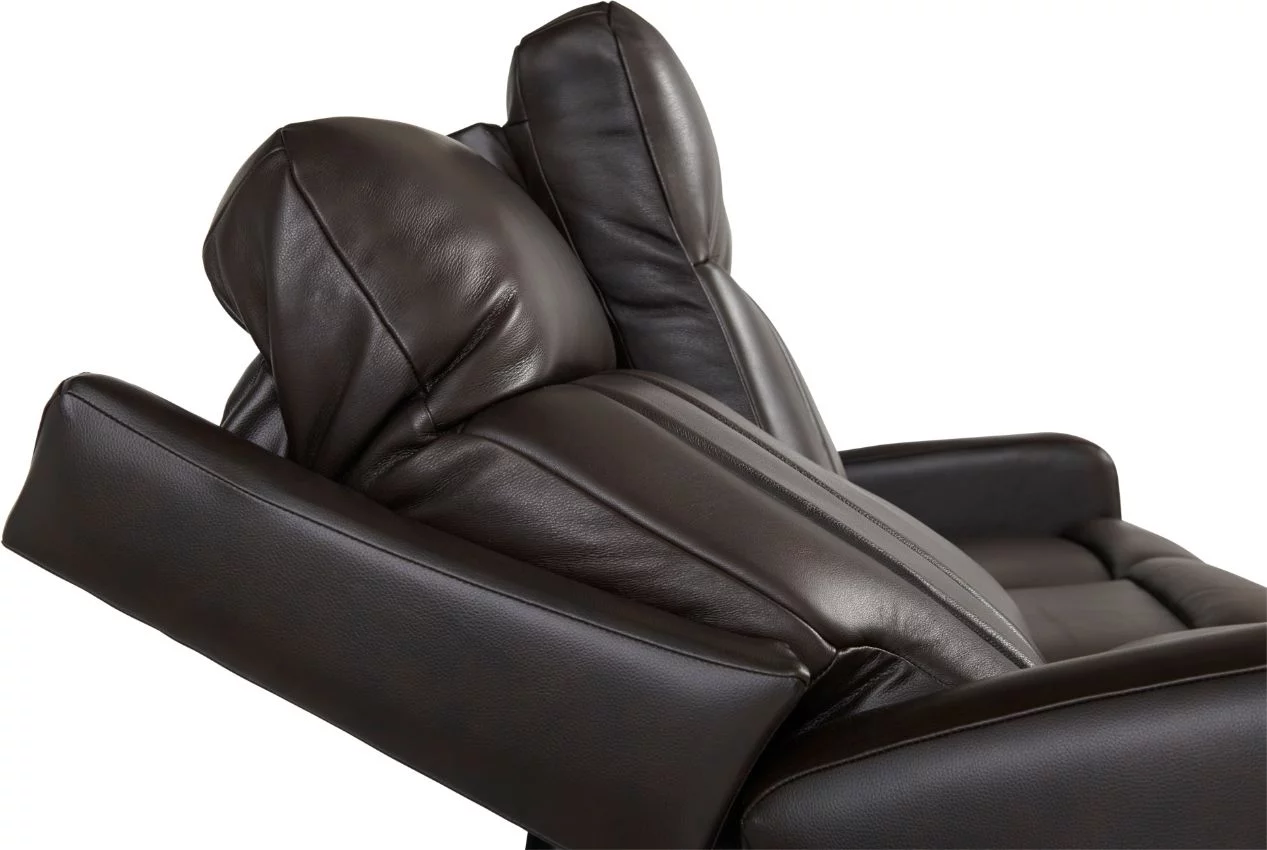 Storage Console (Rocker Recliner & Loveseat)
Upgrade your Finley Loveseat by placing the Finley Storage Console in between the seats.
The Finley console features a flip-top storage unit, a show wood top, two black cup holders, and one storage drawer.
Further, you can pair the Finley Console with two Finley Rocking Recliners. By placing the console in between two rocking recliners, this set appears as a loveseat while the recliners have the ability to rock independently.
Finley Storage Console Dimensions:
Body Depth: 34.5″

Body Height: 45″

Body Width: 15.5″
The Finley Storage Console can be customized in an upholstery cover at your choice.
Starting at $1,219, the cost of the Finley Storage Console is subject to change depending on customizations and additional upgrades.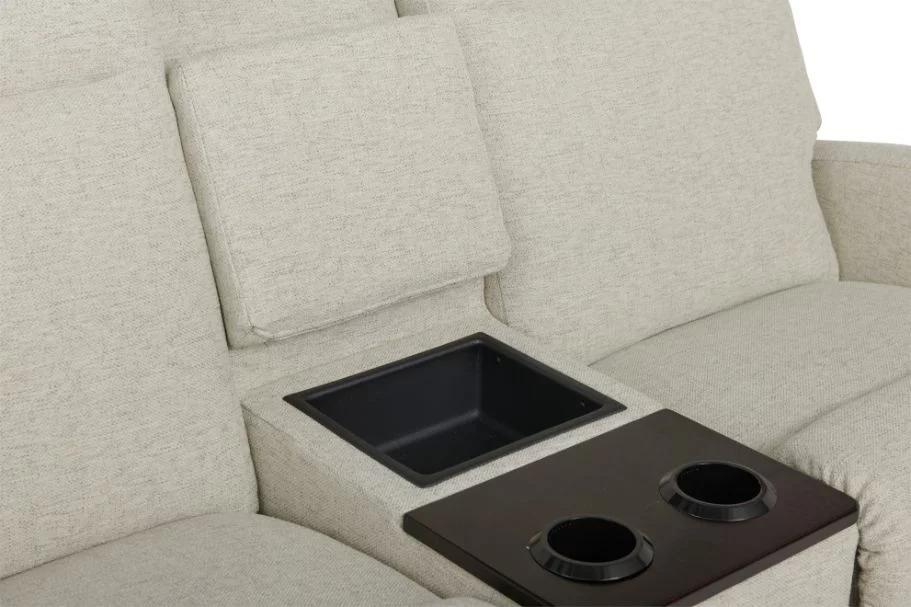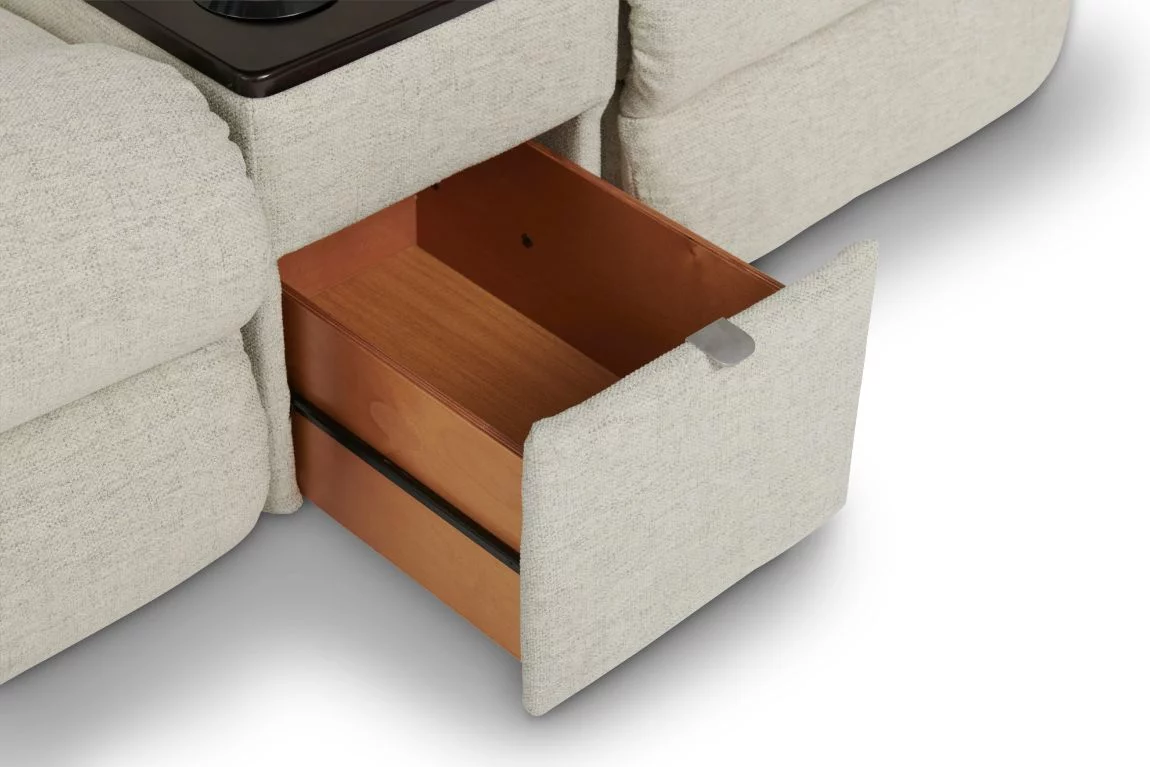 Cost
The products in the Finley furniture family fall within the mid-high end price bracket on the market, while falling within the mid-range price bracket offered at La-Z-Boy.
The Finley Rocking Recliner starts at $1,619 in manual and $2,099 in power. The Finley Wall recliner starts at $1,669 in manual and $2,149 in power. The Finley Reclining Loveseat starts at $2,989 in manual and $3,989 in power. The Finley Reclining Sofa starts at $2,999 in manual and $3,999 in power.
These prices are subject to increase with customizations and upgrades.
The cost of the Finley products is determined by a variety of factors including the quality of materials and methods of construction.
*All La-Z-Boy prices listed in this article are subject to change. We aim to update all cost-related articles twice per year. This article was last updated on October 4th, 2022. Please visit lzb.com and select an Ottawa or Kingston La-Z-Boy store location to view the most up-to-date pricing.
Warranty
The products in the Finley collection are covered by a limited lifetime warranty at La-Z-Boy in order to ensure the protection and satisfaction of your investment.
The Limited Lifetime Warranty covers the repair or replacement of the frame, spring systems, and the mechanism, given that they are quality-crafted and built for long-lasting comfort.
While still quality-crafted, other aspects of the product, such as fabrics, leather, and cushion, are not meant to last a lifetime. These parts are still covered by the La-Z-Boy Manufacturer's Warranty for a given period of time.
To learn more about the warranty at La-Z-Boy, take a look at the article Are La-Z-Boy Recliners Guaranteed for Life?
To further protect your purchase, La-Z-Boy offers an extended warranty plan at an additional cost.
Customer Reviews
The Finley products are enjoyed by many La-Z-Boy clients and highly acclaimed.
The Finley products are relatively new to the La-Z-Boy selection. Based on the growing popularity of the Recliner, La-Z-Boy has recently introduced the new Finley Loveseat and Sofa to the floor. With this, not all Finley products have been reviewed.
Take a look at the Finley products that have been reviewed so far and how clients have rated them out of 5 …
| | |
| --- | --- |
| Finley Rocking Recliner (Manual) | 4.8 Stars |
| Finley Rocking Recliner (Power) | 4.8 Stars |
| Finley Wall Recliner (Manual) | 4.8 Stars |
| Finley Wall Recliner (Power) | 4.7 Stars |
| Finley Gliding Recliner | 5.0 Stars |
Star ratings can only tell you so much, find out what customers are saying about the Finley products …
Perfect size for location.
I love it so much I want to order another.
Iris L.
Finley rocks it!
I am so relaxed when sitting in this chair. I can rock in it, or recline. Just the legs, or just the back with the power button. It also has a USB port. Very comfortable and durable.
Tammy B.
We love our new chairs. They are comfy and not "too recliner" looking, which was what we were looking for. They fit my husband and myself too. The only problem I have is that if I rock too much, the cord comes unplugged.
Mary Beth & Douglas S.
Are the Finley Products Right for You?
The Finley Recliner, Loveseat, and Sofa are all great products, but are they right for you?
According to Magaly, the Finley products are best suited for the "modern or stylish" family. In fact, the Finley products might be the perfect choice for clients who are looking for a recliner, that doesn't necessarily look like a recliner.
With the Finley, style nor comfort has to be sacrificed. It is the perfect compromise for clients who want to achieve a modern and streamlined look while still being able to kick up their feet and relax.
She says that if you are re-doing your family room, getting rid of old clunky furniture, and going for a more updated and contemporary look, the Finley will fit seamlessly into your vision.
If this description doesn't quite fit what you are looking for, not to worry because we have a wide variety of alternative options at La-Z-Boy.
Start by taking a look at the article How to Find a Recliner that is the Right Fit for You.
You may be interested in some of our top selling products: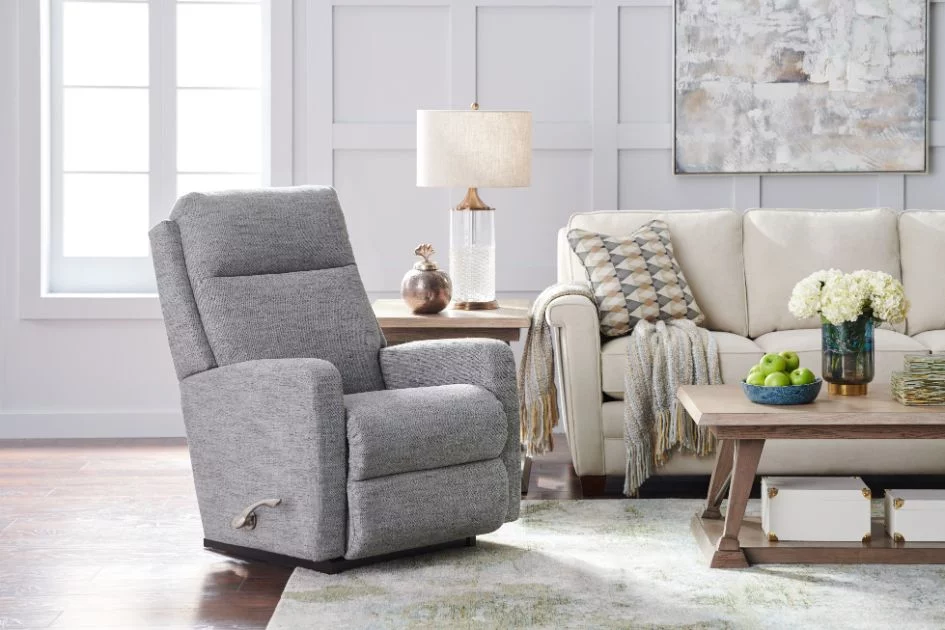 What's Next?
If the Finley Recliner, Loveseat, or Sofa is what you are looking for, why not start shopping today?
If the Finley isn't what you are looking for, even more reason to keep browsing and learn more about what we have to offer at La-Z-Boy.
Visit us at a local Ottawa or Kingston showroom to see our furniture selection in person. If you prefer to plan ahead, feel free to schedule a visit online.
We are confident that our design consultants at La-Z-Boy can help you find the right product to match your needs and preferences.
We look forward to meeting you and helping you find exactly what you are looking for.
Related Links:
Loveseat vs. Sofa: Size, Cost, Function, & How to Choose
Product Info Request
Please provide us with your name and email and we'll get back to you as soon as possible regarding this item.