Review of the La-Z-Boy Talladega Furniture Family: Recliner, Loveseat & Sofa
July 18, 2022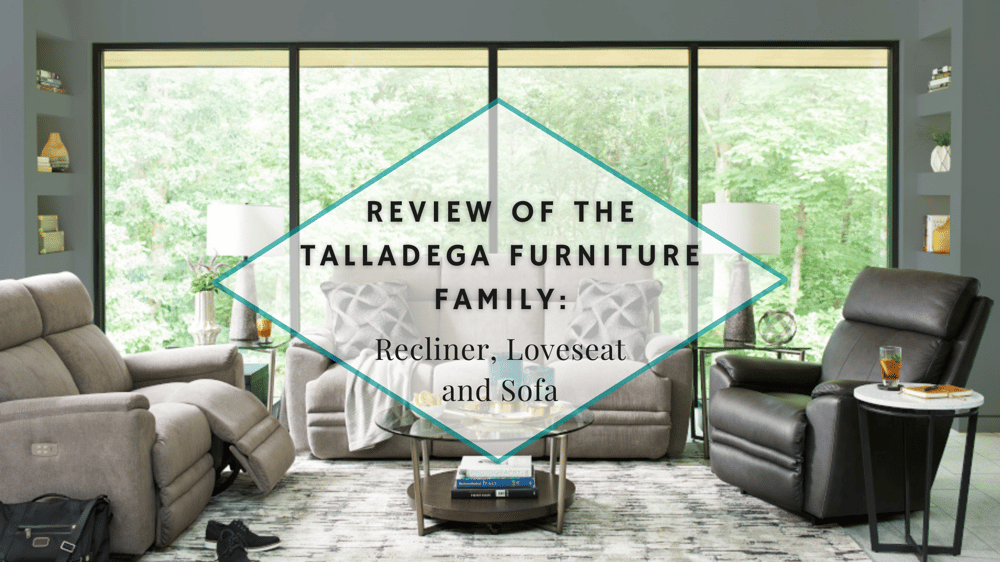 Est. Reading Time: 10 Mins
When choosing the right furniture piece, you need to know if it will go well with your other furniture items. You want something that matches the style of your home but also something that speaks to you personally.
At La-Z-Boy, we have many different furniture styles that resonate with many different people. In fact, most of our furniture families either come in a traditional, modern or contemporary style.
The Talladega furniture family does not differ from this. The Talladega has been around for quite some time now, and it is known as a great recliner for employees and customers alike.
There is one thing you might be wondering, though, what makes this furniture family stand out from the rest of our furniture families at La-Z-Boy? And is the Talladega right for you?
Well, luckily, we have you covered! This article will discuss the Talladega in detail, from its unique features, options & upgrades, customer reviews, and if the Talladega is right for you.
In This Article…
Talladega Furniture Family (Available Frame Options)
The Talladega furniture family comes in many different frame options. Customers can choose between a recliner, a loveseat or a sofa.
Talladega Recliner
The Talladega recliner is offered in two different options. You can either choose between the Rocking Recliner or go for the Wall Recliner. Both recliners can recline by simply using the handle on the outside arm of the chair.
With the Talladega Rocking Recliner, you can rock in a smooth and graceful motion when not in a reclining position. With the Wall Recliner, you can place this recliner mere inches from any wall while still being able to effortlessly recline.
Talladega Reclining Loveseat
The Talladega also comes as a loveseat. With this furniture frame, relaxing next to a friend, a family member, or that special someone has never been easier. Similar to the recliner, two latches are available on each side for individualized reclining comfort.
Talladega Reclining Sofa
Lastly, the Talladega also comes as a sofa. Instead of two cushions to sit on, like the loveseat, the sofa offers three cushions for a more family-friendly relaxation experience. There are also two convenient latches on each side of the sofa that allows you to recline.
Unique Features
Regarding unique features, the Talladega furniture family has much to talk about.
Designed for maximum style and exceptional comfort, the Talladega offers ultra-plush chaise seats and legrests that create a continuous zone of comfort, especially in the reclining position. The sleek padded arms and tall foam back provide unparalleled support for your head and neck.
Speaking of the padded arms, these arms are curved, offering a welcoming arm to whoever feels like sitting down. The exposed wings of its arms also give the Talladega a look that remains fresh and inviting.
Along with the streamlined style that Talladega has, it also has what La-Z-Boy calls racing stripe detailing with its top-stitching designs. Top-stitching is only available in leather covers, which we will discuss in this article's options & upgrades section.
Sizes & Dimensions
When comparing the size and dimensions of the Talladega to other furniture families at La-Z-Boy, the Talladega is quite big.
To ensure that the large frame of the Talladega can fit in your space, be sure to Measure Your Room.
Further, given that the Talladega has a supportive tall foam back, this furniture family can fit anyone comfortably with a height of 6'3" and up.
Shorter individuals might have a harder time sitting comfortably in Talladega's furniture frame. Read more about La-Z-Boy Recliners for Short People by checking out this article.
Ultimately, we recommend always coming in for a sit test to see if you think the Talladega is comfortable for your body type. To learn more, take a look at How to Find a Recliner That is The Best Fit For You.
Below is a breakdown of each Talladega furniture frame and its size & dimensions.
Talladega Recliner Dimensions (Inches)
Rocking/Wall Recliner Weight: 83 lbs.

Body Depth: 39.5"




Body Height: 44.5"




Body Width: 38"

Seat Depth: 21"




Seat Height: 20"




Seat Width: 21"
Talladega Loveseat Dimensions (Inches)
Loveseat Weight: 143 lbs.

Body Depth: 39"




Body Height: 42"




Body Width: 62.5" (77.5" w/ Console)

Seat Depth: 22"




Seat Height: 21"




Seat Width: 45.5" (60.5" w/ Console)
Talladega Sofa Dimensions (Inches)
Sofa Weight: 181 lbs.

Body Depth: 39"




Body Height: 42"




Body Width: 85.5"

Seat Depth: 22"




Seat Height: 21"




Seat Width: 67.5"

Options & Upgrades
Talladega has plenty to choose from compared to other La-Z-Boy furniture families. Always remember that all options and upgrades will increase the price of your furniture.
Fabric & Leather Options
La-Z-Boy has over 800 fabrics and leathers to choose from, making the experience of personalizing your furniture seemingly endless.
When choosing select fabrics, the Talladega comes in 7 select fabric covers. These all range from neutral-toned beiges and greys to admiral dark blue and persimmon red for a more bold fabric colour. These fabric covers do not increase the price of your Talladega.
When it comes to leather options, there are 3 select cover options. These leather options include the colours shitake, chestnut, and grey.
Along with the leather selection, the aforementioned racing stripe topstitching is also available. This topstitching, which is located on the lower back of the Talladega furniture frames, gives an extra flair to the rest of the leather furniture items.
If you love the regular topstitching and want a modern edge to your furniture piece, you can upgrade to Harmony Leather, which features a decorative heavy-gauge double-needle top stitching on the lower back, and arm posts, and wings.
It is important to note that all leather options, including the select leather selection, will always increase the overall cost.
Ultimately, choosing fabric or leather is up to you if you're willing to spend extra cash on leather products.
In addition to the cover options mentioned above, the Talladega is offered in specialty fabrics that offer unique features and benefits …
Stain Resistant Fabric
Innovative iClean Technology surrounds each fabric fibre, creating a barrier that repels spills before turning into stains.
Pet-Friendly Fabric
Tested and formulated to withstand the scratches and wear that a pet can cause to ensure a durable and easily washable fabric.
Antimicrobial Fabric
Antimicrobial properties surround each fibre to protect against mould, mildew, and odour-causing bacteria.
Performance
Superior stain and fade resistance properties make fabrics easy to clean and incredibly durable.
Eco-Friendly
Conserve Sustainable Fabrics are soft, durable and made from recycled water bottles.
Cushion Upgrade
At an additional cost, Talladega's cushions can also be upgraded to include firmer cushioning, meaning over time your furniture will remember your unique figure and enhance the comfort of your furniture.
​For more information view our Motion Furniture Collection catalogue and our in-depth Review of La-Z-Boy's Chair and Sofa Seat Cushions.
Please note that reclining furniture purchased prior to January 2021 had the option to upgrade to airform™ cushions. This cushion includes a two-inch layer of premium quality memory foam added on top of the standard foam base within the seat, chaise, and leg rest of the unit.
Power Upgrade
The Talladega recliners, loveseat, and sofa all have the ability to be upgraded to power.
Instead of using a handle or a latch, like on the manual furniture, the power furniture has control panels on the side of each furniture piece, allowing you to recline at the touch of a button.
The rocking and wall recliners have a side-mounted 4-button control panel used to recline in a wide range of multiple positions, while the loveseat and sofa only have two buttons to control the legrests and backs.
Each power upgrade also has USB ports next to the control panels in order to charge your electronic devices.
If you are unsure of how to use the Talladega control panels, check out La-Z-Boy Power Furniture: How to Use the Control Panel & Remote.
Additionally, all power upgrades also have the option to be cordless, thanks to our rechargeable battery pack. This allows you to use your power recliners anywhere without having to worry about plugging them into an electrical outlet.
If you would like to learn more about battery packs, read this review of the rechargeable battery pack offered at La-Z-Boy.
Adjustable Headrest Support
With a power upgrade, the Talladega Power Loveseat and Power Sofa can be further upgraded to include adjustable headrest support.
With this, you can adjust the headrest with a power tilt to cradle your head and neck for a perfect reclining experience.
Adjustable lumbar support is also available at La-Z-Boy. However, it is unfortunately not featured within the Talladega furniture family.
To learn more about the headrest & lumbar upgrade, check out the Review of La-Z-Boy Power Recliners with the Headrest & Lumbar Feature.
Heat & Massage Upgrade
Additionally, the Talladega Power Rocking Recliner has an extra option to upgrade your power recliner with Heat & Massage. This is something that the wall recliner or other Talladega products do not provide.
Customers can enjoy this incredibly comfortable chair that includes two heat settings and three massage speeds. PowerReclineXR® is also included in this upgrade, which lets the user experience full reclining comfort in any position, thanks to an independently operating back and legrest.
To learn more, check out a Review of the Heat & Massage Upgrade at La-Z-Boy.
Optional Console (Loveseat)
Specifically to the Talladega Loveseat is the option to include a console in the middle of the seat. This handy centre console adds extra storage to put anything you wish inside of the loveseat.
Plus, cup holders are included, meaning you can sit back and relax without having to get up to grab a drink. Further, the console offers an interior electronic charging input instead of the ports being on the outside of the loveseat.
If the console is something that interests you, you can also add the Power and Headrest upgrade to enhance your Talladega loveseat into a truly comfortable experience.
Cost
In terms of cost, the Talladega furniture products are within the mid-high price range at La-Z-Boy.
While the cost of the Talladega furniture is considered quite standard at La-Z-Boy, it is important to note that La-Z-Boy furniture is considered more expensive in the market. This cost is reflected in the quality of materials and craftsmanship of our products. With this, the investment tends to be worthwhile if you are looking for long-lasting furniture.
Talladega Rocking Recliner

Talladega Wall Recliner

Talladega Loveseat

Talladega Sofa

Manual

Starting at




$1,389

Starting at




$1,459

Starting at




$2,989

Starting at




$2,999

Power

Starting at




$1,899

Starting at




$1,959

Starting at




$3,489

Starting at




$3,499
*All La-Z-Boy prices listed in this article are subject to change. We aim to update all cost-related articles twice per year. This article was last updated on July 19th, 2022. Please visit lzb.com and select an Ottawa or Kingston La-Z-Boy store location to view the most up-to-date pricing.
Warranty
The Talladega furniture family is covered by La-Z-Boy's Limited Lifetime Warranty, which covers the repair or replacement of the frame, spring systems, and the mechanism, given that they are quality-crafted and built for long-lasting comfort.
While still quality-crafted, other aspects of the product, such as fabrics, leather, and cushion, are not meant to last a lifetime. However, these parts are still covered by the La-Z-Boy Manufacturer's Warranty for a given time.
To learn more about the warranty at La-Z-Boy, take a look at the article Are La-Z-Boy Recliners Guaranteed for Life?
To further protect your purchase, La-Z-Boy offers an extended warranty plan at an additional cost.
Customer Reviews
The Talladega Furniture Family is enjoyed by many La-Z-Boy customers. This table shows how our customers have rated each piece of furniture out of five.
Talladega Rocking Recliner

Manual: 4.8




Power: 4.7

Talladega Wall Recliner

Manual: 4.6




Power: 4.7

Talladega Reclining Loveseat

Manual: 5.0




Power: 4.5

Talladega Reclining Sofa

Manual: 4.7




Power: 4.6
Star ratings can only tell you so much. Here are some reviews from satisfied customers …
Is the Talladega Furniture Family Right For You?
Now that you know everything you need to know about the Talladega furniture family, the question may still remain if it is the right furniture family for you. To better help make your decision, this section will focus on budgeting, functionality, and style preferences.
To begin, the aforementioned price range is mid-price. This, however, is compared to other La-Z-Boy products, which are typically more expensive than other furniture products on the market.
La-Z-Boy products are an investment, meaning should you want to purchase any of our products, they will be very long-lasting. If you are willing to spend more than expected to have long-lasting furniture, the Talladega, as well as other La-Z-Boy products, may be right for you.
Alternatively, if you are seeking temporary furniture at a low cost, the Talladega furniture might not be the right investment.
In terms of functionality, the reclining feature of the Talladega furniture is ideal for those looking to kick back and relax. If you are looking for stationary furniture, the Talladega furniture will not be right for you.
Moreover, the Talladega furniture has a large scale and seats a taller clientele, meaning shorter individuals might have a harder time sitting on this furniture family. If you're looking for something that seats you and others with average-sized heights, this furniture family is not right for you.
Finally, when it comes to style, the Talladega has more detailing when it comes to its leather selection. If you're looking for a more unique design for your furniture, the topstitching with the Harmony Leather provides a more modern look, with the advantage of turning heads when guests are invited.
However, if you're looking for more low-key furniture, the recommended cover would be the neutral fabric options.
What's Next?
Now that you have a more knowledgeable understanding of the Talladega furniture family, why not discover this furniture family in person?
You can start shopping by visiting one of our local showrooms located in Ottawa or Kingston. You can also schedule a visit online before coming in.
Our design consultants are always eager to lend a helping hand. Take advantage of our interior design services to see how the Talladega furniture could fit in your home.
If the Talladega wasn't what you were looking for, take a look at some of our other furniture family reviews:
Related Articles:
How to Furnish a Theatre Room with La-Z-Boy Furniture
Rocker Recliner vs. Gliding Recliner: Similarities and Differences
Product Info Request
Please provide us with your name and email and we'll get back to you as soon as possible regarding this item.