How to Furnish a Theatre Room with La-Z-Boy Furniture
June 3, 2022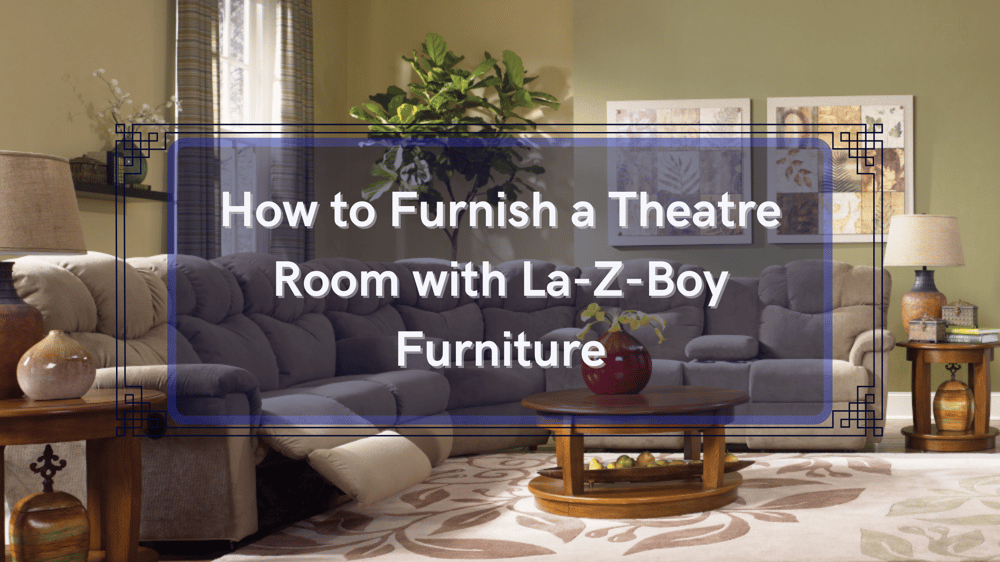 Est. Reading Time: 7 Mins
Going to the movie theatre is always a fun experience. You get your popcorn from the concession, sit in your big movie theatre seat and relax while you watch a movie.
However, it seems as though over time, the movie theatre experience has slowly started to shift to at-home viewing.
Even before the pandemic, the trend of creating your own home theatre room picked up steam, with people arguing that staying at home is much cheaper than actually going to the movie theatre.
With this, homeowners have begun investing in surround sound systems, bigger screens, and comfier furniture to create the full experience of a movie theatre from the comforts of home.
But how does one create the perfect movie theatre room for their house? Where does one even start? Luckily for you, we've got you covered!
At La-Z-Boy, we sell a wide variety of quality, comfortable, and stylish upholstery furniture. Known as the inventor of the recliner chair, we know a thing or two about kicking up your feet and relaxing. In turn, we have a wide variety of furniture that would fit seamlessly into a home theatre.
In fact, Mary Lee Smyth, an interior designer at La-Z-Boy Kingston, has plenty of experience furnishing home theatres for customers. In this article, Mary Lee will provide useful tips on how to properly design and furnish your home theatre with specific La-Z-Boy product recommendations.
In This Article…
6 Factors to Consider
Furniture Design Tips
List of La-Z-Boy Furniture Products for Home Theatres
6 Factors to Consider When Purchasing Furniture for a Home Theatre
When thinking about which living room furniture pieces to put in your home theatre room, there are some key factors to consider.
1. How Many Seats Should There Be?
The first thing to consider is the number of people that will use the home theatre.
Who will be using these furniture pieces and how many people will be in the area at any given time to watch a movie? Will it be just you? Maybe you'll invite your significant other? A couple of friends? Maybe your whole family wants to watch, too?
Once you have a clear number of seats that you want, you'll have a better idea of what furniture you need. When going to a real movie theatre, everyone has their own seat. If you want your home theatre to look and feel like a genuine theatre experience, you must have plenty of seats to go around.
2. Determine the TYPE of Seating You Want
Choosing how many seats is different than choosing what type of seating you want in your home theatre. There are many different types of seating out there, such as recliners, chairs, loveseats, sofas, and sectionals.
Maybe you're looking for something more individualized and want a recliner or a loveseat with a console; that way no one is touching each other. Or maybe you'd rather have a less divided appearance and want everyone on one big sectional.
Mary Lee recounts a time when she had a family buy multiple loveseats with consoles. "it was laid out in a pattern--seat, console, seat, seat, console--that way everyone had their own seat and their own cup holder just like in a movie theatre."
You also have to determine if you want any reclining options as well. After all, there's nothing like watching a movie while having the most optimized seating experience for your home.
Once you have your number of seats and the type of seating, make sure that there is comfortable traffic flow between the layout of your furniture pieces. If you have any reclined furniture, make sure that it has enough room to recline as well.
3. Average-Sized Seating is Key
When choosing theatre seating, it is important to ensure the furniture you choose suits your height and body type and those of your guests.
To experience the most comfort, you want to ensure that the supportive areas of the furniture line up with your head, back, lumbar, and knees.
Say you are a taller individual and pick a petite piece of furniture piece that compliments people around 5'9" - 6'2". You will likely not experience proper support from the chair, leading to discomfort. This also applies to a shorter individual between 5" - 5'4" sitting in a large scale chair.
Given that you will likely host individuals of all shapes and sizes in your home theatre, it is a good idea to pick out average-sized furniture items. More specifically, Mary Lee recommends picking out furniture items that can seat people between the heights of 5'4" - 5'9".
This way, everyone can find comfort in your home theatre seating!
For more information on selecting the right furniture for your size, check out the following articles:
4. Consider the Distance Between the Screen and Seating
When placing your furniture, you need to consider how far back it needs to be to fully see the screen. It might sound like common sense but there is actually a science to it.
When watching any type of screen or monitor, the distance between the seating and the screen depends on the size of the screen.
Mary Lee says to receive optimal viewing, homeowners should use the following formula:
[ Length of Screen (in Inches) ] x 1.5 = Proper Distance Between Screen & Seating
For example, if your screen was 100 inches, you'd have to place your theatre seating at least 150 inches away from the screen.
This can reduce the harm of eye irritation and allow you to keep your head in one place instead of moving it from one side of the screen to the other.
You also need to make sure that your screen isn't too big for your room. If this is the case, you might not be able to watch anything comfortably if the seats are forced to be too close.
Measurements are key to establishing perfect harmony in any room. To learn more on How to Measure a Room, take a look at this article.
5. Look for Furniture with Head & Lumbar Support
Head and lumbar support are also important to consider when choosing your furniture pieces for your home theatre.
Mary Lee mentions that when sitting for long periods of time, like when watching a movie or binging a TV series, you might experience discomfort in your seat if there is minimal support.
When picking a seat, consider head and lumbar support, so you can sit for long periods of time without feeling uncomfortable or irritable.
You can learn more about La-Z-Boy's Headrest & Lumbar Furniture by checking out this review article.
Home Theatre Design Tips to Consider
Now that you know some main factors to consider when purchasing home theatre furniture, Mary Lee points out that there are certain styles and design choices that people should also take into consideration.
Here are some design tips that Mary Lee points out.
What Kind of Colours & Fabrics Should be in a Theatre Room?
When you go to a movie theatre, the colour of the seats is typically dark.
Dark colours and non-reflective fabrics are the two main things to look at when selecting your furniture for a home theatre room.
This is because when you're watching something, you want visual distractions out of the way so you can fully concentrate on what's going on on-screen.
Most people tend to dim or turn the lights off when watching a movie. When this happens, the main focal point is the screen. If furniture items are reflective or have bright colours, it might create reflections and distractions for you.
For this reason, be wary of selecting leather furniture for your home theatre. Most leather has a reflective surface, so if you want to limit reflective surfaces, leather might not be the most ideal furniture fabric to have in your theatre room.
With that being said, there are leather options with non-reflective finishes that could work in a home theatre.
Mary Lee says choosing the fabric or leather finish is important.
She recommends getting something that is rugged. Not only is a rugged fabric or leather non-reflective, but a rugged texture is also durable.
If you are the type of family that has hot buttered popcorn and drinks while watching something. "If people are going to be carousing around, you wouldn't want your furniture to stain if something were to spill," she says.
La-Z-Boy also has specialty fabrics that can easily help with these types of worries. Make sure to check out our iClean Fabric Review to see if this is something that may interest you.
Shop for Your Home Theatre at La-Z-Boy
Now that you know how to properly furnish your home theatre room, here are some examples of La-Z-Boy products that are well suited for movie time.
1. The Greyson Furniture Family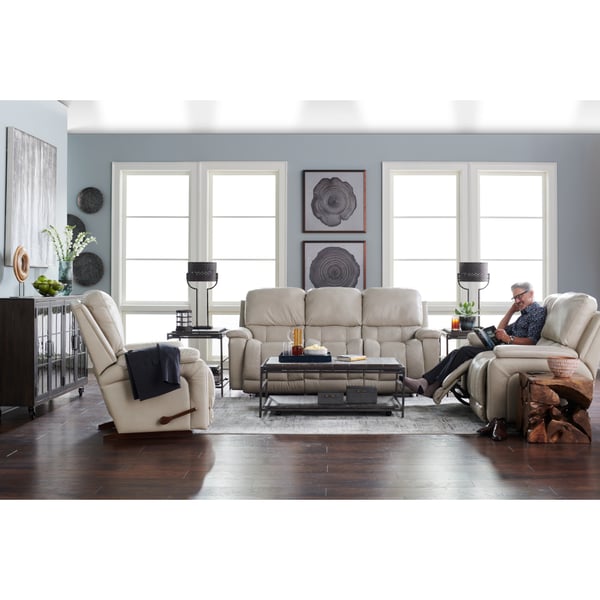 The first furniture family that is ideal for any theatre room is the Greyson furniture family. The Greyson furniture is perfect for relaxing for long periods of time.
The Greyson furniture is recommended for a home theatre room because of its design. From the midpoint to the back continuing down under the knees and down to the feet, it has channels of stuffing.
This means that the two outer channels actually push your body into the centre channel and hold your body in place, surrounding your body in comfort. Greyson also features bucket seats, meaning you will sink right into this comfortable furniture l effortlessly.
The Greyson comes as a recliner, a loveseat, or a sofa, all with different options and upgrades. You can learn more about the Greyson Furniture Family by checking out our in-depth review article.
2. The Finley Furniture Family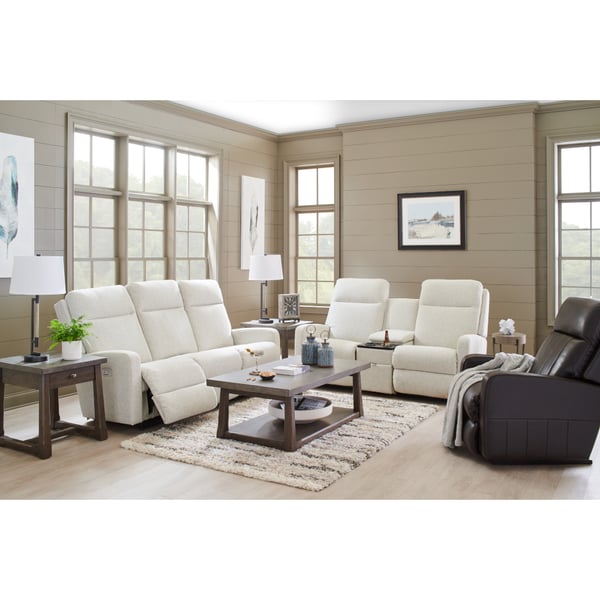 The second furniture family recommended is Finley, which is much more versatile than the Greyson.
With a sleeker design, its size complements a wide variety of people, meaning this family is perfect for anyone looking for average-sized seating for their home theatre room.
With multiple customization options and upgrades to choose from, the Finley furniture can coordinate with many home design styles.
The Finley comes as a recliner, a loveseat, and a sofa. You can learn more about the Finley Furniture Family by checking out this article.
3. The Trouper Furniture Family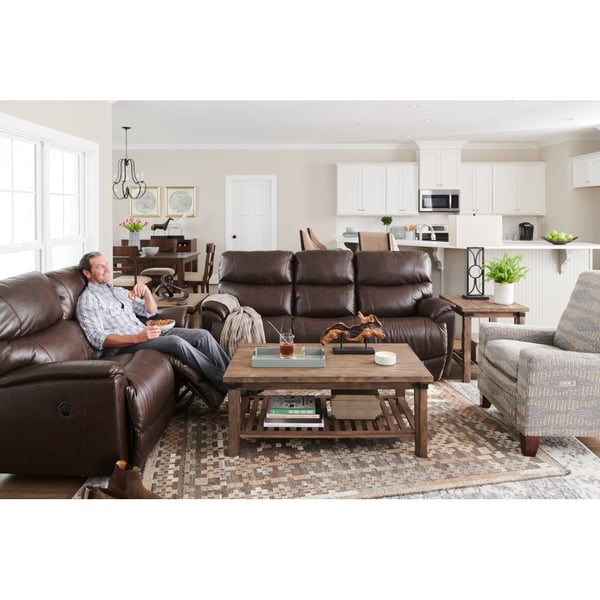 Lastly, the Trouper furniture family is described by Mary Lee as "our tried and true furniture for long comfortability."
She also says that this is usually the first furniture family customers ask for if they are looking for furniture to lounge in for long periods of time.
This is likely due to the number of pillows it has, which is a lot. This furniture family is considered big and puffy making the bucket seats very comfortable to sit in.
It also comes as a Sofa, a Recliner, a Loveseat, and a Sectional. You can learn about each of these furniture frames by checking out each of their review articles.
Some of the furniture families listed above have loveseats with consoles. This furniture frame might be ideal for your theatre room because of the built-in cup holders. You can enjoy your movie with your drink at just an arm's reach.

What's Next?
You now know how to build a stylish and comfortable home theatre room for all your family and friends to enjoy. Now that you know how to properly furnish this room, why not start shopping for your home theatre room today!
These aforementioned products and more are all available at any of your La-Z-Boy Ottawa & Kingston showrooms. You can either come in person or schedule a visit online before coming in.
Our interior design consultants, like Mary Lee, are always eager to lend a helping hand. You may also consider taking advantage of our interior design services to explore customization options and see how our furniture could fit in your home.
Related Articles:
5 Best-Selling Sectionals at La-Z-Boy
Product Info Request
Please provide us with your name and email and we'll get back to you as soon as possible regarding this item.