Top 10 Contemporary Sofa Styles at La-Z-Boy
February 18, 2022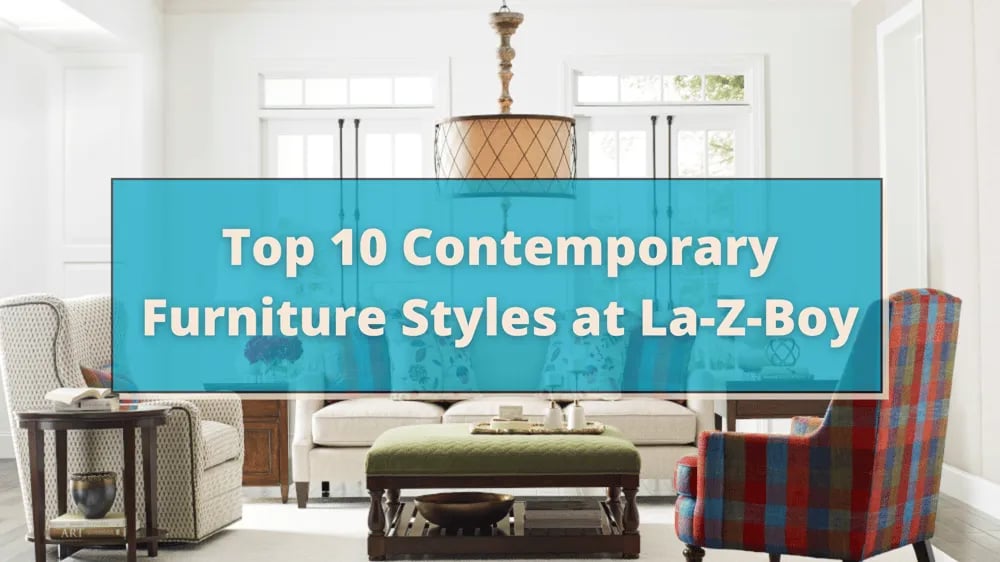 Est. Reading Time: 7.5 mins
It turns out that traditionally styled sofas are no longer the norm. Taking their place are contemporary styled sofas.
Recently, interior designers have seen an upward trend in homeowners favouring contemporary styles when purchasing sofas. From a design point of view, contemporary furniture is considered casual, with clean lines and soft edges. These characteristics are the basis of what people are looking for nowadays.
At La-Z-Boy, we sell a wide variety of sofas in a range of styles and functionalities. With so many design styles to choose from, how do you know which one is favourable to you?
Luckily, Mary Lee Smyth, the interior designer at La-Z-Boy Kingston, has compiled a list of some of the best contemporary sofa styles at La-Z-Boy Ottawa & Kingston, so your search for the perfect piece of furniture becomes easier.
In this article…
Roscoe duo Sofa
Characteristics of Contemporary Sofa
Before we jump into our top 10 list, we must identify the characteristics of a contemporary sofa.
So, what makes a contemporary sofa…contemporary? As mentioned before, a contemporary sofa is a non-traditional style of what a sofa should look like.
According to Mary Lee, traditional sofas are usually embellished with design details, including tufting, embossing, and fringe. Another key indicator of traditional sofa design is a round arm. Over time, however, homeowners began to prefer a more crisp and slimmed-down sofa design.
Mary Lee, tells us that the contemporary style is "simple but not too fancy; it is considered casual furniture." "When it comes to the colour of contemporary furniture, she says it is either "very bright or monochromatic, there is no in-between."
She also included that most contemporary sofas styles "wouldn't have a skirt like other traditional sofas". Further, contemporary sofas are usually designed with legs that prop the frame up from the floor, whereas traditional sofas tend to sit firmly on the floor.
Contemporary Sofa vs. Mid-Century Modern Sofas
As much as contemporary sofas are one of the most popular new styles of furniture, there is also an upward trend in mid-century modern furniture.
It is easy to confuse the two because they share some similar characteristics. However, there is a clear and distinct difference between the two.
We already know the characteristics of a contemporary sofa, but when we refer to mid-century modern sofas, we are describing traditional-looking furniture with a modern twist. Mid-century modern blends the current styles we see today with the traditional styles that were popular in the past.
Top 10 Contemporary Sofas at La-Z-Boy Ottawa & Kingston
Now that we know exactly what a contemporary sofa is, let's look at some of our popular contemporary sofas at La-Z-Boy.
Our contemporary sofa selection can be classified into three categories: stationary, motion and duo.
Stationary sofas do not recline and have no add-on features; motion sofas do recline and have a range of add-on features; duo®sofas is a hybrid of both. They achieve the duo furniture appearance by looking stationary, but when you sit in it, you can recline like a motion sofa.
All three of these contemporary styles are featured in this list. That way, you can decide what type of contemporary sofa is best for you.
It is important to note that the stationary sofas and duo sofas mentioned in this list are all made with La-Z-Boy's Premier Construction. To put it simply, Premier construction includes quality-crafted frames padded to enhance the style's design lines. If you'd like to familiarize yourself more, take a look at our article on La-Z-Boy's Premier Construction.
And without further ado, here is our top 10 list…
Stationary Contemporary Sofas
1. The Paxton Stationary Sofa
One of the newer additions to our sofa collection, the Paxton is a neat and structured sofa showcasing clean lines and crisp welt trim. The Paxton also comes with T-shaped cushions–not the most traditional design, but this makes it an excellent example of contemporary furniture. In addition, the low-profile wooden legs and the chamber-filled back cushions give this sofa a long lifespan.
The Paxton is also offered as a sectional, loveseat, chair & a half, and a matching ottoman.
For more detailed information on the Paxton style, check out the Review of the Paxton Sectional.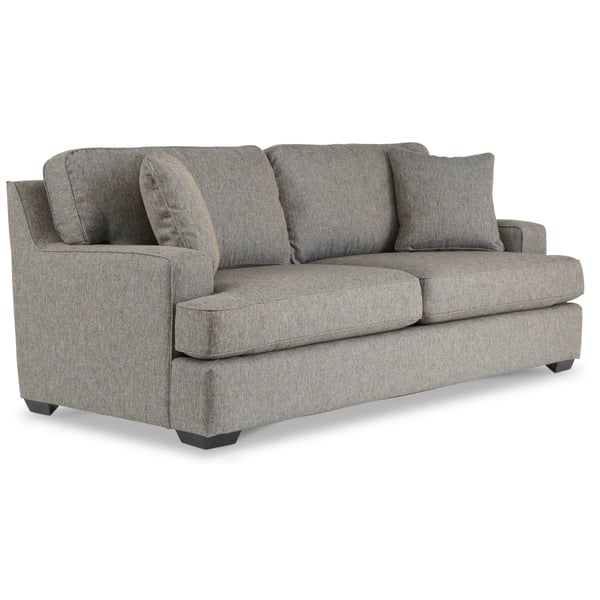 2. The Piper Stationary Sofa
Next on our list is the Piper, which is a newer addition to the La-Z-Boy family. Piper's sleek, streamlined style fits in with just about any decor from ultra-modern to comfortably casual. Simple, smooth Premier standard seats offer long-lasting comfort and support while the elegant, modern arms and decorative wood legs bring just a touch of an upscale vibe.
The Piper also comes as a Queen Sleeper Sofa with a matching Ottoman, and a Loveseat.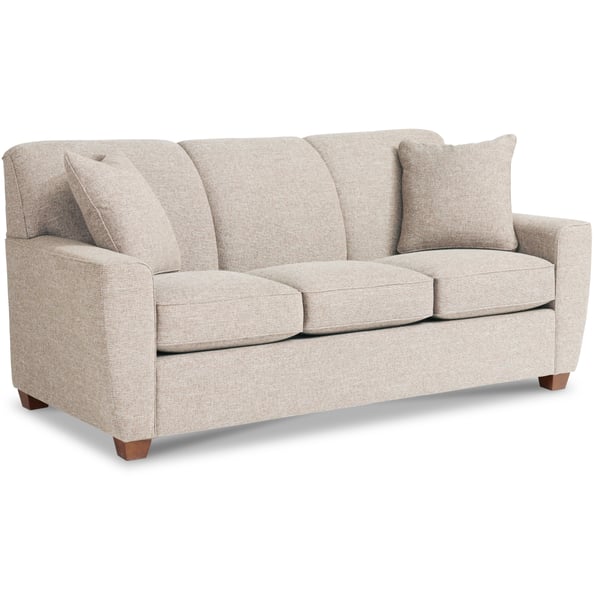 3. The Kennedy Stationary Sofa
Another excellent example of showing clean lines in its design, the Kennedy is a sleek and casual sofa that can fit any space. With an understated design, the Kennedy features narrow track arms, welt trim, and decorative wood legs.
The Kennedy is also offered as an apartment sized sofa, a chair, and a matching ottoman. Similar to the Piper, the Kennedy can host overnight guests as a Sleep Sofa!
To learn more about the Kennedy, take a look at the Review of the Kennedy Queen Sleep Sofa Bed.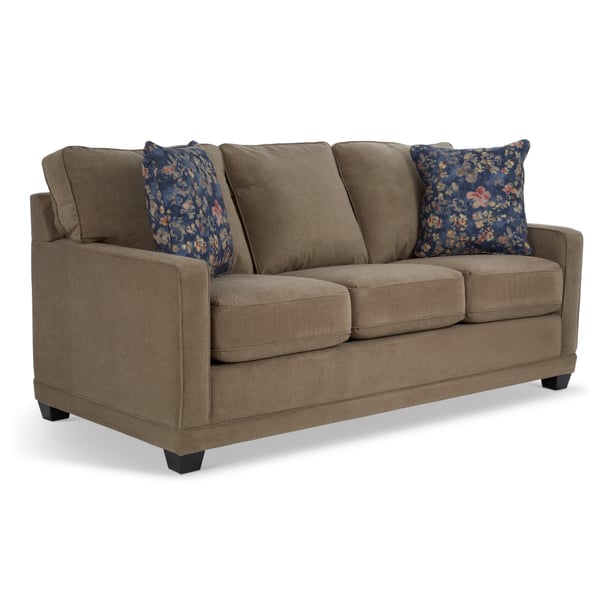 4. The Bexley Stationary Sofa
The Bexley has a remarkable ability to easily mix and match with any furniture. Mary Lee also mentions that it is a perfect style for any young homeowner who is looking for a more urban aesthetic.
The slightly flared key-shaped arms make it a great addition to our contemporary list, complimenting the uncomplicated frame it presents.
The Bexley also comes as a loveseat, sectional, and a sleep sofa.
For more detailed information, check out the Review of the Bexley Stationary Sofa.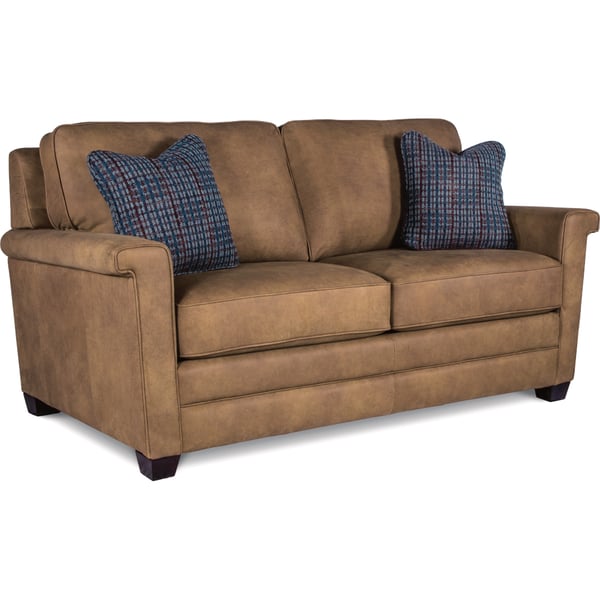 5. The Petra Stationary Sofa
The Petra offers a mix of versatility and comfort. This elegant sofa is decorated with customizable wood legs, deep seats, sleek narrow arms, kidney shaped accent pillows, and patented ComfortCore® cushions to keep you relaxed and comfortable for long periods of time.
Mary Lee also says that the Petra's loose pillow cushions are perfect for pillow forts!
The Petra is also available as a chair and a half, an apartment sofa, and a matching ottoman. You can learn more about the Petra Furniture Family with this article.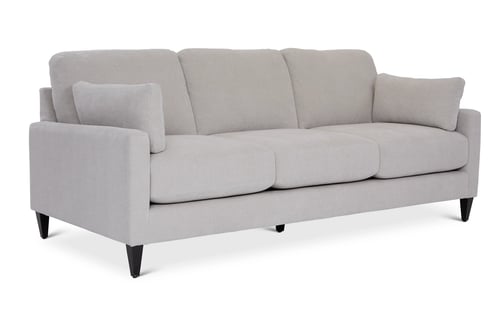 6. The Meyer Stationary Sofa
Another great contemporary addition to any house is the Meyer, which has three deep seat cushions and an extra-wide stance. The Meyer sofa is comfortable and stylish; its welt detailing enhances the crisp but casual look of Meyer's box border seats and backs, as well as its updated track arms.
The Meyer also has decorative wood legs to add to its appeal. This furniture frame also comes with a matching Ottoman for reclining comfort, a Chair, a Loveseat and a Sectional.
If you want to learn more about the Meyer Sofa, check out our review article about this piece of furniture.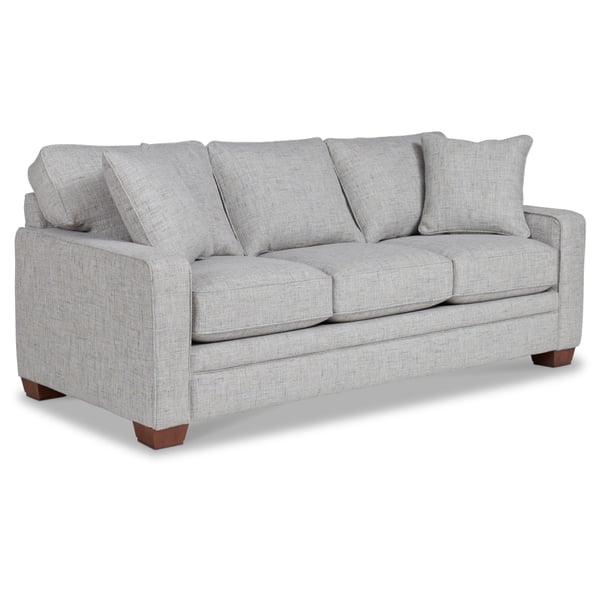 Reclining Contemporary Sofas
7. The Reclining Finley Sofa
The Finley is a simple yet elegant contemporary style. This design has a neat and structured look with its sleek arms and a tall foam back. The perfect recliner for reading, watching TV or simply enjoying the legrest it provides.
The Finley also comes in a recliner and a loveseat. We have a detailed review of each piece of the Finley Furniture Family if you want to learn more.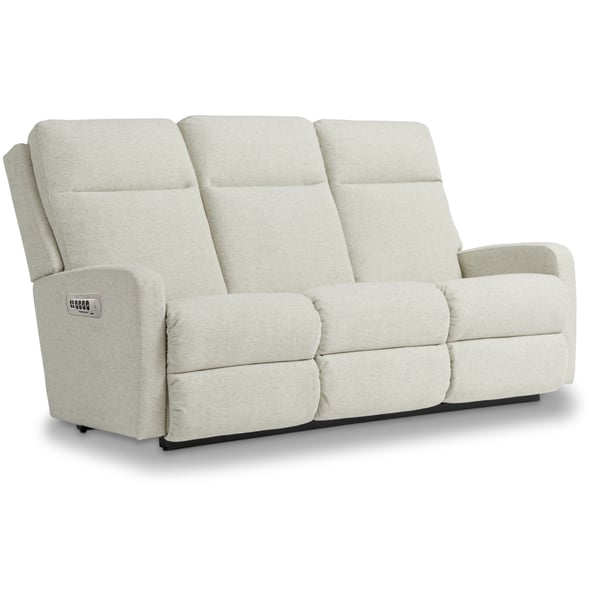 8. The Reclining Talladega Sofa
The bulky Talladega comes with three ultra-plush and sculpted seats, which offers room for a crowd. This dual-sided reclining sofa provides individualized comfort, which you can do by simply releasing the latch on any side of the couch.
The Talladega is yet another excellent example of a contemporary look with its clean racing stripe topstitched design on the lower back of the sofa. You can also upgrade your Talladega to our Harmony leather, which features a decorative double-needle topstitch to the lower back, as well as the arm posts and wings for added distinction.
The Talladega also comes in a loveseat and a recliner chair.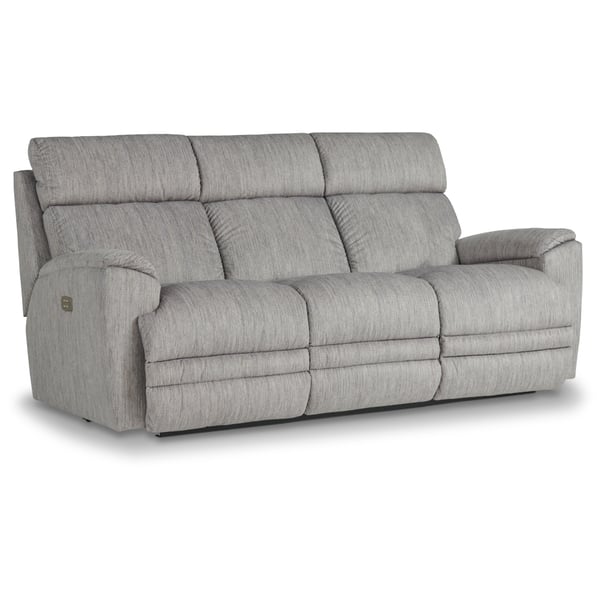 9. The Roscoe Duo Sofa
Starting off with our duo selection is the Roscoe Duo Sofa, which Mary Lee suggests it is "casual comfort at its finest!" The latest edition to the Duo Collection, the Roscoe Power Reclining Sofa is a refined and casual style with luxe cushioning.
This contenporary sofa includes smooth looks and gently flared arms that begs for guests and upscale evenings. Plush power reclining seats and backs are perfect for chilling out while watching a movie with family or friends.
The Roscoe also comes as a Chair, a Loveseat.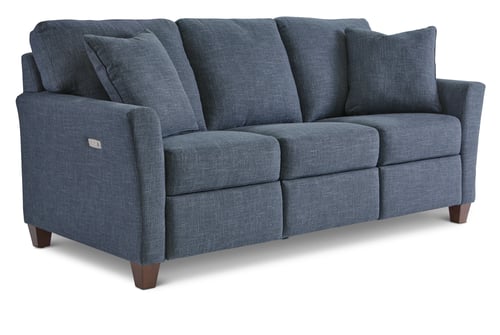 10. The Edie Duo Sectional
Last but not least as part of our duo® section is the simple yet sophisticated Edie Sectional, a different entry from our list, but Mary Lee suggests it since it used to come as a regular sofa.
The Edie is comprised of a clean and casual design that features padded outer arms, tapered wooden legs and welt trim. Blending in with stationary furniture seamlessly, its reclining abilities almost unexpectedly match motion sofas. There are also built-in USB ports to charge your smart products with, which makes it a perfect choice for a multitude of capabilities.
To learn more about the Edie, take a look at the Review of the Edie Sectional.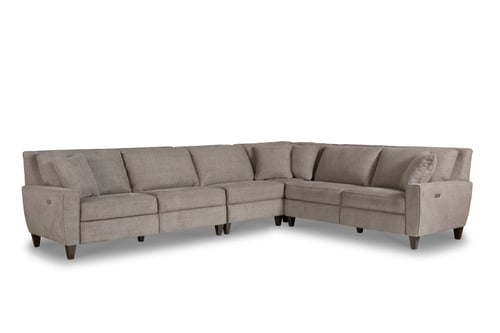 Finally, Consider the Size of Your Contemporary Sofa
Now that you have a clear picture of which contemporary design is perfect for your home, you might want to consider the sizes of each sofa. According to Mary Lee, one thing everyone must do before purchasing a piece of furniture is to take measurements of your room and compare it with the couch you may have your eye on.
Some questions you'd want to ask yourself are:
How big is the couch?

Would it overcrowd the room?

Is my room too small for this couch?

Will it make my room full?
If you have a smaller space, Mary Lee recommends the Bexley since it has a smaller frame. Alternatively, the Talladega would look too big in an apartment space because its size is very bulky. Instead, the Talladega would be suitable for a bigger area.
Generally speaking, most contemporary sofas look better in an open-concept space, aligned with the contemporary home design style.
While taking the size of your space into account, it is also important to consider how the size of your chosen sofa will fit you! Everybody's body is uniquely shaped and you want to ensure that the dimensions of the sofa provide the right support to your neck and lumbar region.
The best way to ensure that a sofa fits you correctly is to visit a La-Z-Boy showroom and do a 'sit test' with the help of our design consultants. For more information, check out How to Find the Right Sofa for your Size.
All of these things matter when it comes to finding the best sofa for your home.
What's Next?
So wait no longer; visit our website today or visit any of our Ottawa and Kingston locations to find your perfect sofa! If you prefer to plan ahead, you can also schedule an appointment online.
We look forward to helping you find your ideal contemporary La-Z-Boy sofa!
Last Edited On April 27th, 2022
Related Articles:
What is Traditional vs. Contemporary Furniture Style?
Product Info Request
Please provide us with your name and email and we'll get back to you as soon as possible regarding this item.