Modern Recliners at La-Z-Boy
July 2, 2021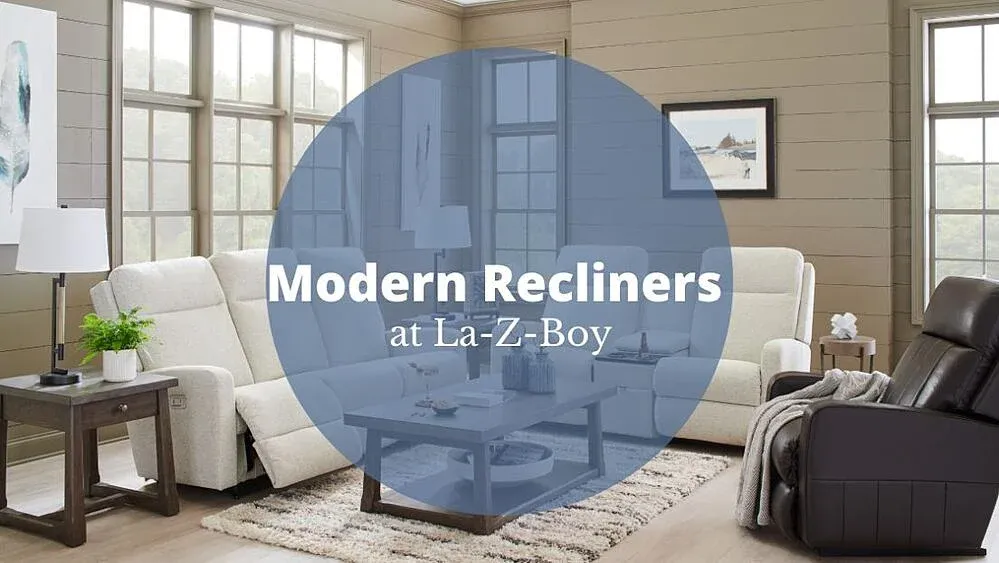 Nobody can dispute the comfort of a big and plush recliner chair.
That said, recliner chairs don't have the best reputation for their stylish appearance. In fact, many home decor fanatics refer to recliners as an "eyesore" amongst their otherwise aesthetically pleasing seating arrangement.
For those seeking style, fear not! Select recliners at La-Z-Boy have evolved to cater to current trends by embodying a more modern style without sacrificing comfort.
This article will outline our modern recliner selection at La-Z-Boy including the top 3 modern recliners, and modern high leg recliners.
In this Article …
Before checking out our current best-seller, you might also be interested in checking out this video, detailing our top picks for modern recliners in 2021...
Characteristics of a Modern Recliner
Before we dive into learning about the modern recliners offered at La-Z-Boy, it is important to note the general characteristics that make a recliner considered modern.
A modern recliner is an updated take on the traditional big, plush, and clunky recliner chair.
Instead of being an eyesore in a room, modern recliners prioritize style by seamlessly fitting into your home design. In fact, many modern recliners can even compliment the look of a seating arrangement.
Some modern recliners are so sneaky that they appear as a regular accent chair but have the unexpected ability to recline.
Modern recliners are typically narrow featuring slim arms, a tall back, clean lines, and sleek features. In contrast to puffy-looking recliners, modern recliners have a taute upholstery making them appear polished and firm.
While they may not look as comfortable to the naked eye, modern recliners at La-Z-Boy do not compromise on comfort.
Top 5 Modern La-Z-Boy Recliners
1. The Finley
Looking for reclining comfort with contemporary style? The Finley Recliner fits the bill with modern lines, sleek track arms, and a tall foam back that gives it a neat and structured look. The ultra-plush chaise seat and leg rest cradle the body in a continuous zone of comfort.
Make the Finley uniquely yours with a range of fabrics and leathers to choose from.
The Finley Recliner is offered in both manual and power as a Wall Recliner, Rocking Recliner, or Gliding Recliner.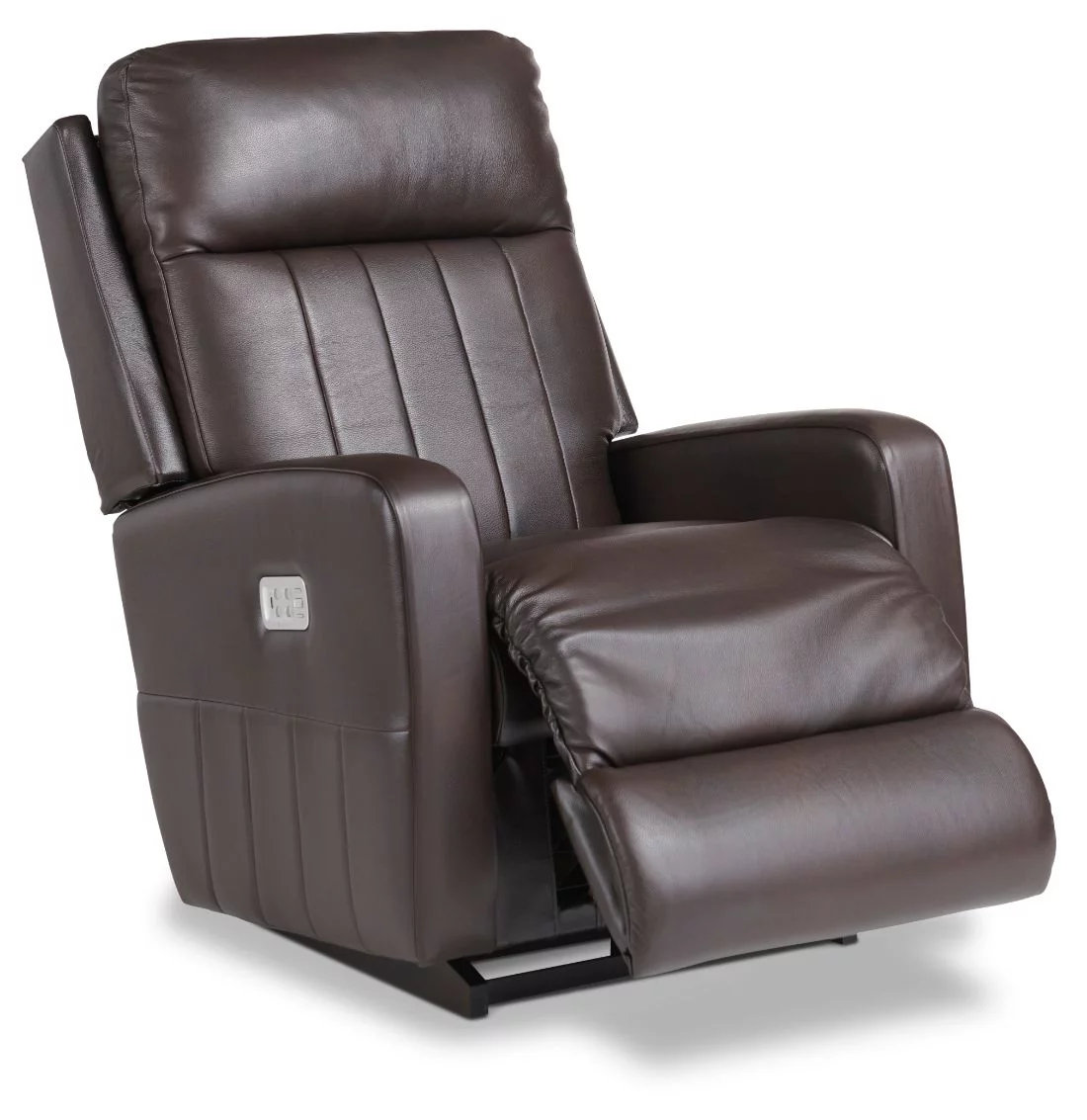 2. The Forum
Create your own modern retreat with the Forum Wall Recliner. It features a tall foam back for extra head support, plus a chaise seat and footrest for continuous comfort. The slim, contemporary silhouette is on-trend and ideal for smaller spaces.
Offered in both manual and power, the Finley Recliner comes as a Wall Recliner or Rocking Recliner.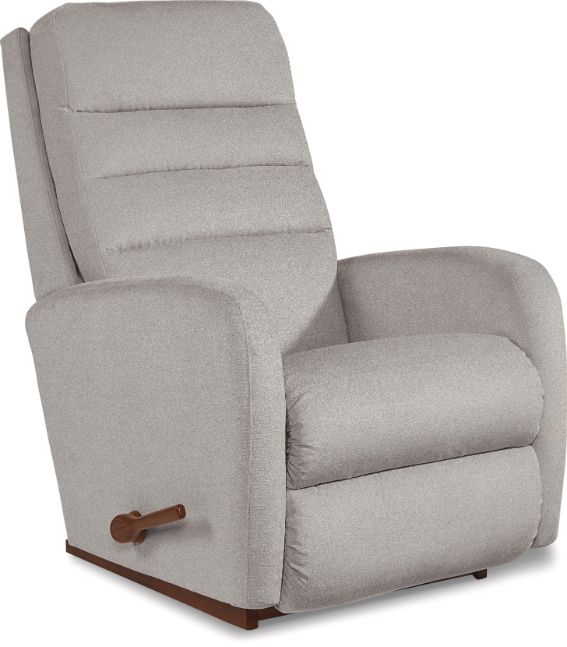 3. The Rowan
The Rowan Recliner is an exquisite combination of style and comfort. It is a stylish recliner with a modern twist featuring sleek flared arms and welt trim. You get a contemporary look, all the while still having good back and head support.
The Rowan Recliner is offered in both manual and power as a Wall Recliner, Rocking Recliner, or Gliding Recliner.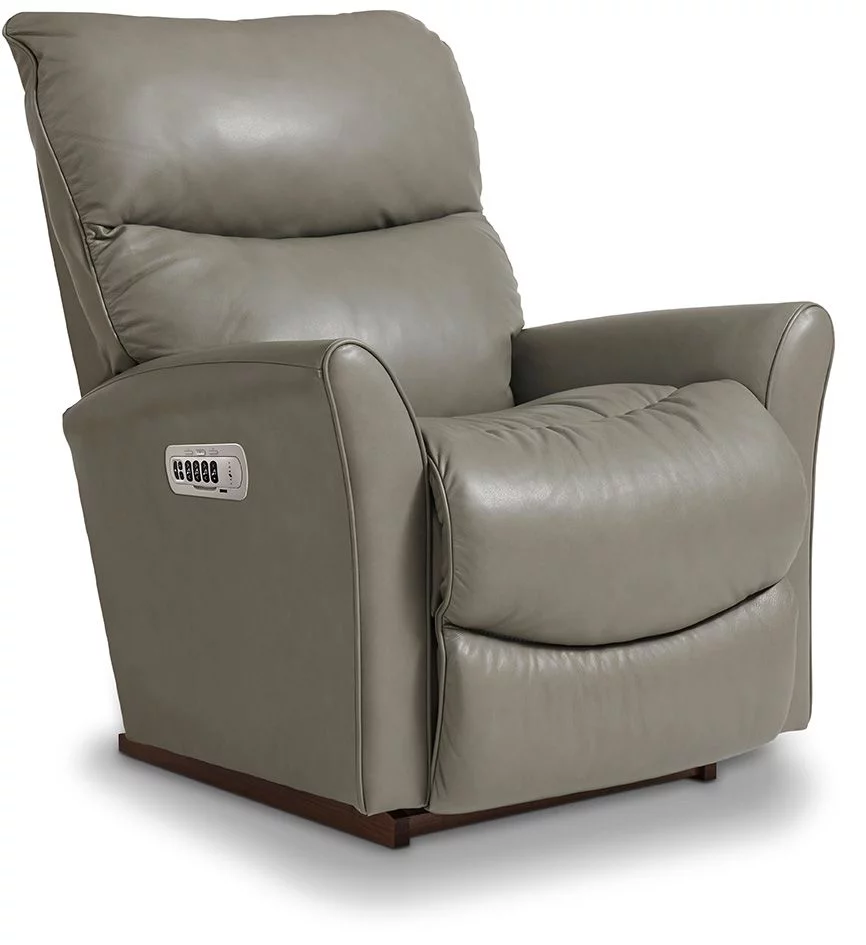 4. The Nouveau
Known as a low leg recliner, the Nouveau brings an interesting twist to mid-century modern recliners. Its thin wood legs and flat arms are not only sleek, they feature a beautiful wood grain that pops next to its amazing upholstery. While its tight back and seat not only offer incredible comfort, they're also extremely stylish.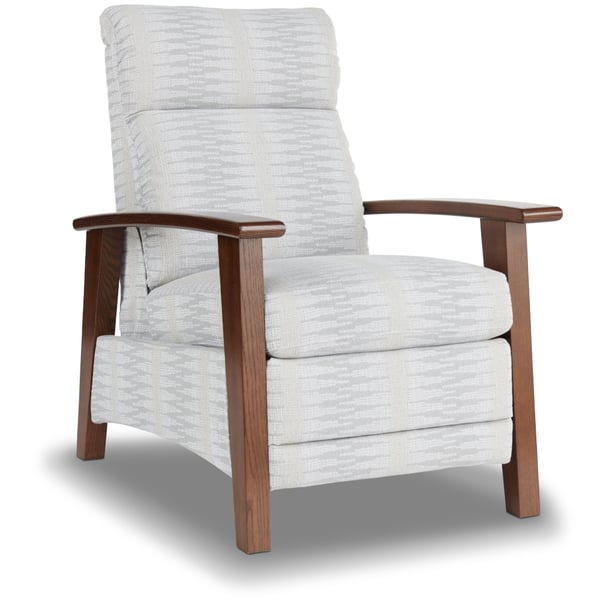 5. The Edie
Last but not least is the Edie duo Chair & a Half. Part of the award winning Duo Collection, Its clean and casual design features padded outer arms, a padded back, tapered wood legs and welt trim.
Simply use the side-mounted 2-button control panel to recline and raise the legrest. A built-in USB port charges your phone or tablet. The Edie is not just good for one person to sit in, but for smaller individuals, like children, if they want to sit with you.
The Edie also comes as a sectional and a reclining sofa.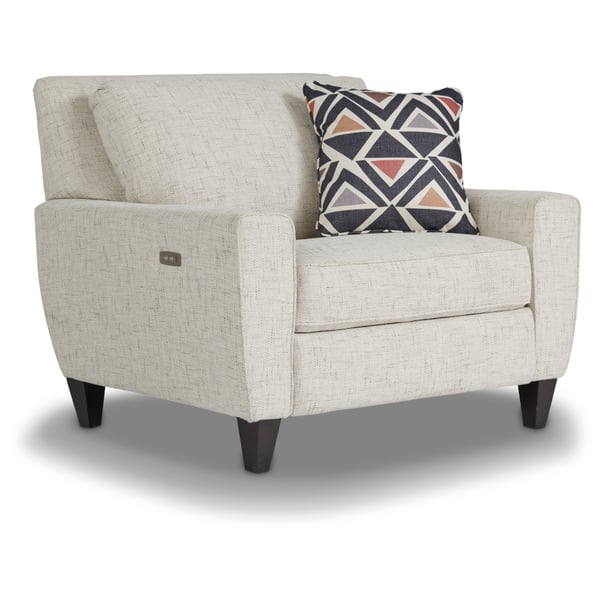 Modern High-Leg Recliner Chairs
High -Leg recliners typically appear as a stylish accent chair with the unexpected ability to push back and recline. Without an obvious handle or lever, simply sit and push back into the chair to lean back and extend the leg rest.
High-Leg recliners are a great modern choice because they fit seamlessly into urban home designs. High-Leg chairs enhance the overall look of a room instead of taking away from it.
The Haven
Traditional transformed, the Haven Recliner is a cool combination of classic design and laid-back reclining comfort. Updated styling includes uniquely sculpted rolled arms, a tight back, tapered wood legs, and decorative welt trim on the back seat and arms.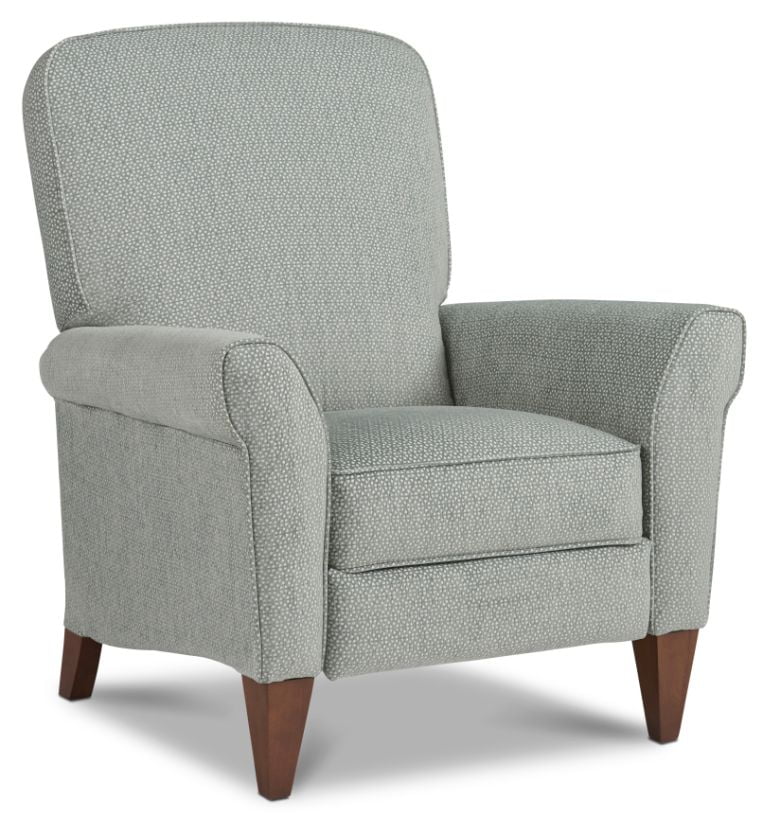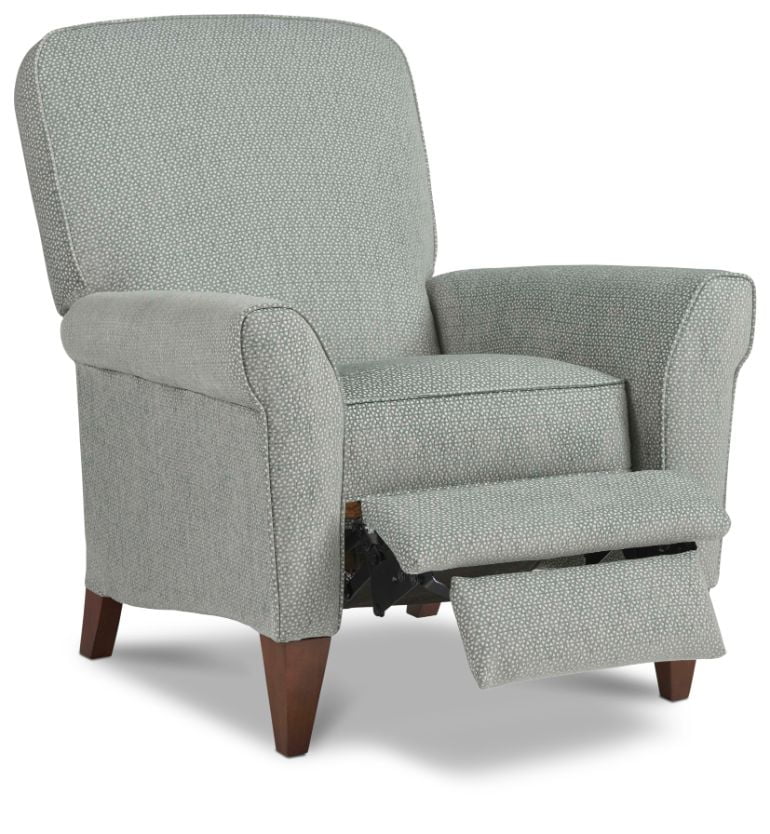 The Riley
An artful, sculptured shape with a sophisticated flair, Riley Recliner is perfectly at home paired with your contemporary sofa or left to showcase a corner entirely on its own. Comfortable too, you'll appreciate the inviting curves and luxurious cushioning. Upgrade to power for an even more effortless reclining experience.
The Riley is adored by many La-Z-Boy clients as one of the Top 5 Best Selling Recliners at La-Z-Boy Ottawa & Kingston.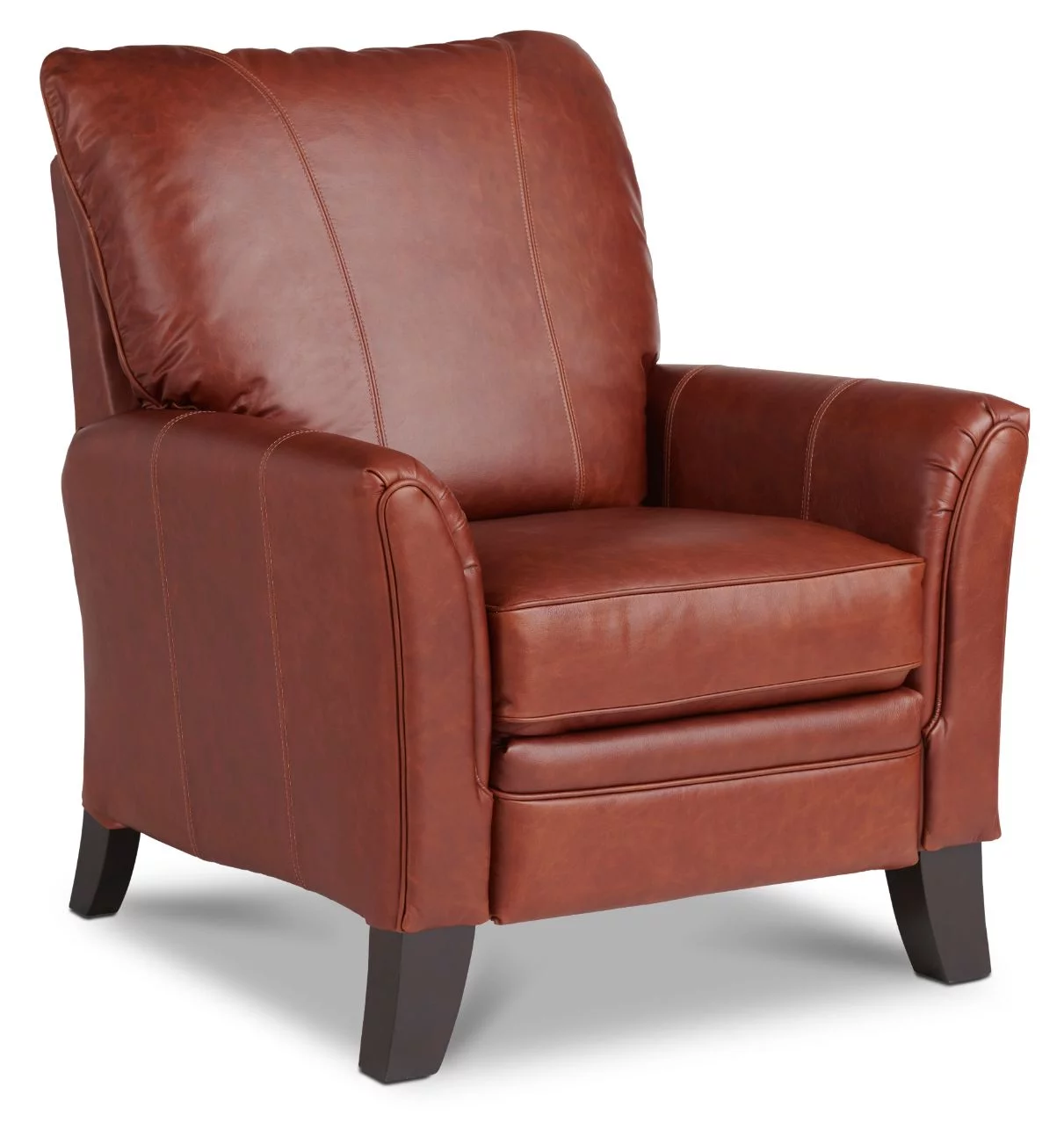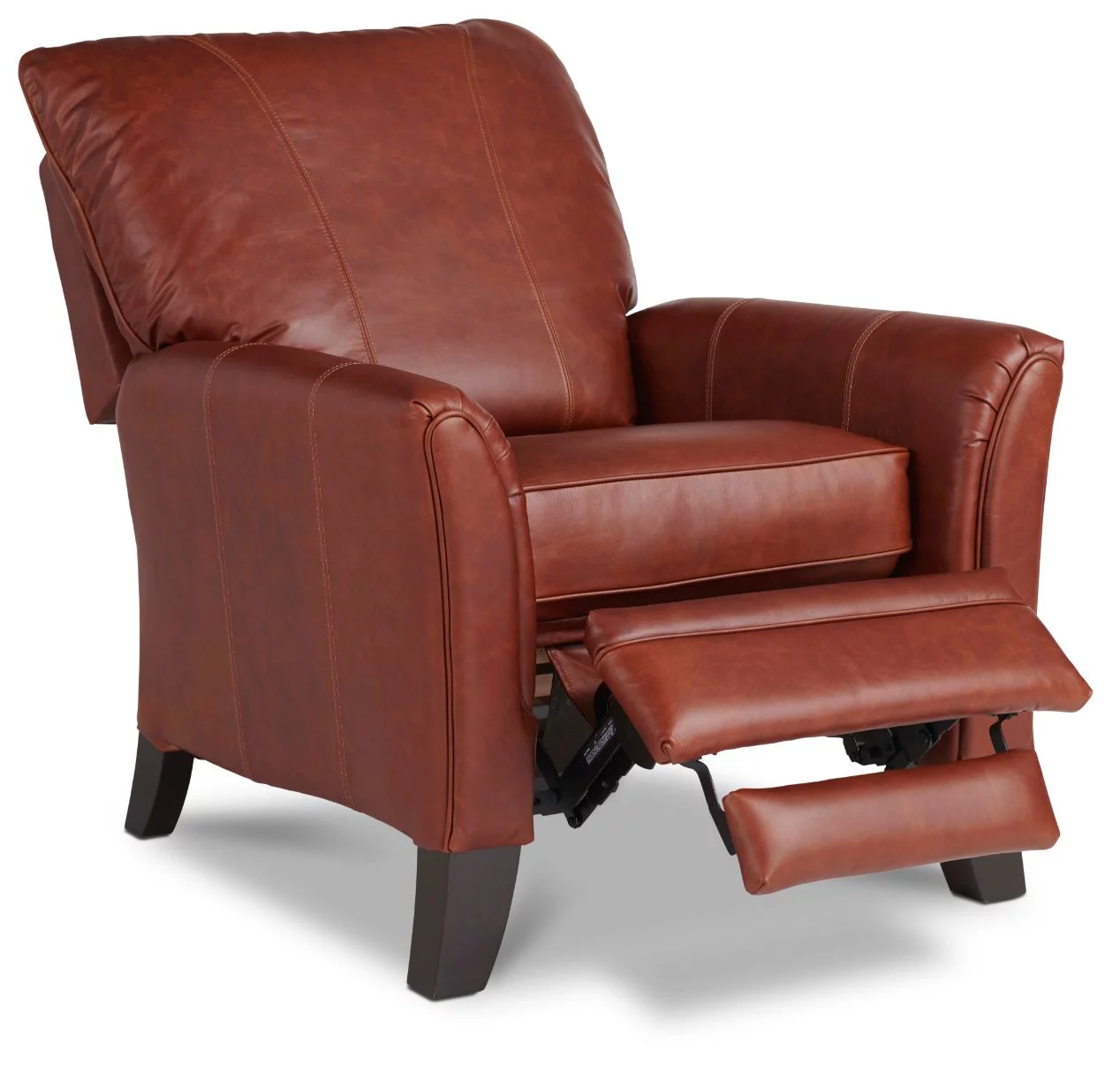 The Scarlet
The Scarlet High leg Reclining Chair is one of the newest members of the La-Z-Boy family. With its fresh, clean silhouette, the Scarlett gives you unlimited possibilities to create the perfect room.
It features casually tapered arms and tall wooden legs. As always, you can choose your favourite colour or pattern to make a personalized style statement. Simply push back to enjoy the two positions of instant reclining comfort.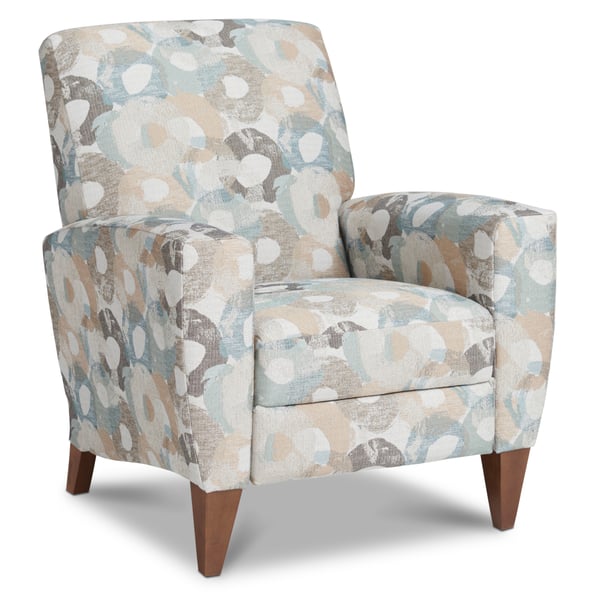 The Sonoma
The Sonoma High Leg Reclining Chair is the comfortably casual wingback that's unlike all the rest. It features the classic wingback silhouette, but on a slightly smaller scale, with thin arms, thin tapered legs, and sophisticated welt trim. The look is structured and clean, for an updated look in any room. And, no one would suspect it's a recliner. The Sonoma is also offered in both manual and power to enjoy two comfortable reclining positions.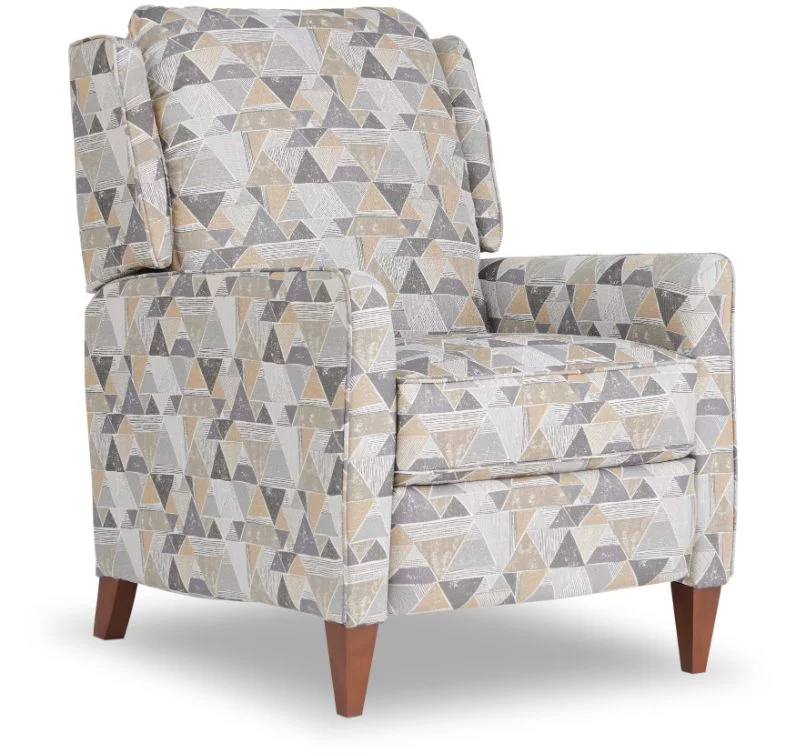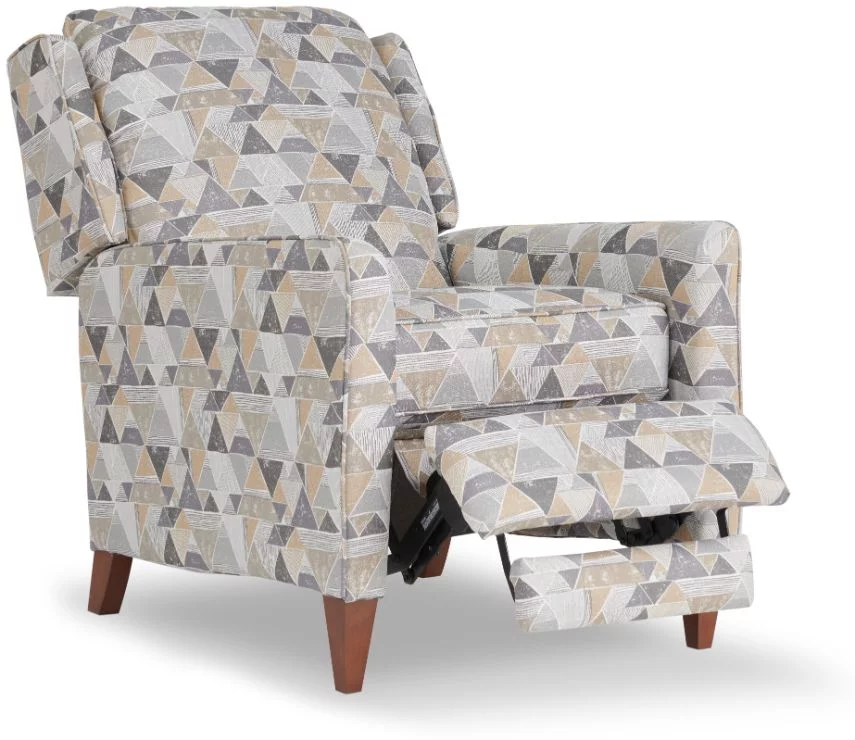 What's Next?
Do any of these modern La-Z-Boy recliners spark your interest? We have lots more where that came from!
Our skilled team of consultants at La-Z-Boy Ottawa & Kingston would be thrilled to help you find the perfect modern recliner that suits your needs and preferences. Not only will they ensure that the recliner you choose suits your style but they will also guide you through a sit test to ensure it fits your unique body type.
While it is important that your recliner fits you, it must also fit seamlessly into your space. Our talented team of designers are experts at helping you select and customize your recliner to ensure that it fits your space and seamlessly enhances the overall look of your room.
With this, consider taking advantage of our complimentary design services as you shop for your new modern recliner.
Visit us at a local Ottawa or Kingston La-Z-Boy showroom or plan ahead by scheduling your visit online.
We look forward to helping you find your ideal modern La-Z-Boy recliner!
Related Links:
Review of the La-Z-Boy duo® Furniture Collection
Product Info Request
Please provide us with your name and email and we'll get back to you as soon as possible regarding this item.