Review of La-Z-Boy's High-Leg Eldorado Recliner
April 29, 2022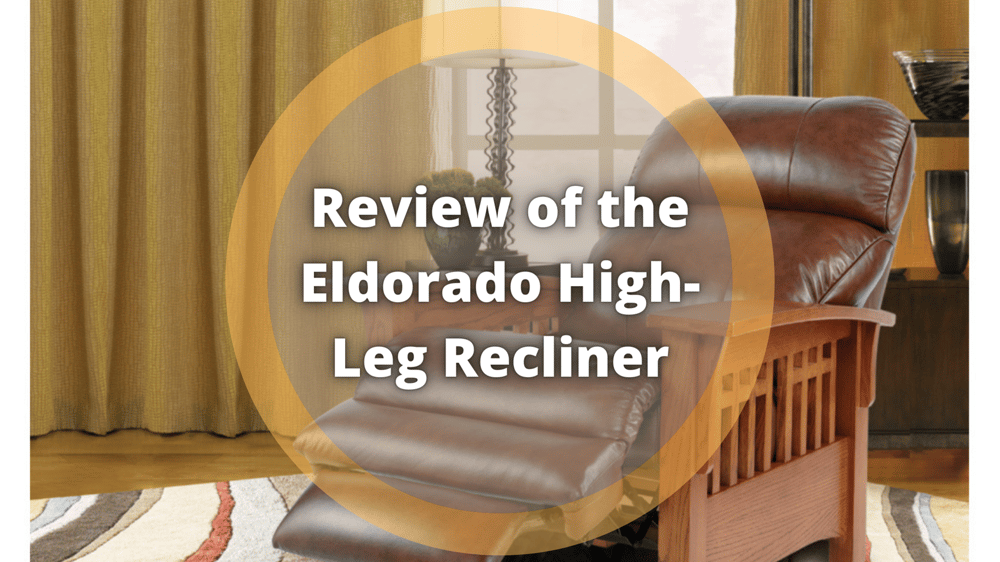 Est. Reading Time: 8 mins
"It's like sitting on a cloud."
These are the words that Magaly hears when people sit on the Eldorado for the first time.
The Eldorado High-Leg Reclining Chair is the perfect example of bringing the traditional look of a cottage chair into the modern world of relaxation and reclining comfort.
Magaly Del Castillo, an interior designer at La-Z-Boy Cyrville, says the Eldorado is one of three La-Z-Boy chairs that she recommends when someone asks for a rustic recliner chair. "The Eldorado is always the one that gets chosen. It is truly a very comfortable option," she says.
But what makes this chair so special? Why does this recliner get chosen out of all the other rustic-modern recliners offered? And most importantly, is the Eldorado Recliner Chair right for you?
Keep on reading to find out more about the Eldorado, including its key features, size & dimensions, available options & upgrades, the cost, and much more.
In This Article...
Unique Features
The Eldorado High-Leg Recliner is a unique chair with many different features included in its design.
First, it is considered a mission-inspired chair. This means the key features on the Eldorado are heavily implied by the simple wooden horizontal and vertical lines, as both sides are solid oak with a handcrafted style.
As you can tell, the Eldorado does not look like the traditional plush and bulky recliner chair. Instead of padded arms, like most of the chairs you would see at La-Z-Boy, they are replaced by wooden arms, creating a traditional mission-rustic feel to the design, but with a modern twist.
It is also considered a Secret Recliner because of its hidden reclining abilities. Like other high-leg recliners at La-Z-Boy, they do not feature a handle, latch, or control panel on the outside of the chair.
Instead, users push back, with the help of the chair arms, to enjoy two positions of instant reclining comfort.
The Eldorado recliner has been around for quite some time now. Magaly mentions an older craftsman/mission version of Eldorado having dowels that were featured on the back of the chair, accentuating the cottage and rustic look. Because of the modernized alterations, this is now no longer a feature of the rustic chair.
Along with the removal of the dowels, on the original mission-style, Eldorado with a newer version has a two-position updated chaise seat and footrest to give users optimum support.
Size & Dimensions
The Eldorado seems to stand out quite a bit from other La-Z-Boy recliners, not just in its look, but also in its size.
The height of this recliner is taller compared to other reclining chairs; but, the width is much slimmer.
Most La-Z-Boy reclining chairs are a lot wider than the Eldorado, ranging from over 36" and wider. This being a more slim chair gives it more of an opportunity to go into tighter spaces.
Moreover, someone who is ideally around 5'8" - 6'2" will feel most comfortable sitting in this chair.
Eldorado Weight: 83lbs

Body Depth: 41 in




Body Height: 42 in




Body Width: 32.5 in

Seat Depth: 20.5 in




Seat Height: 20.5 in




Seat Width: 20.5 in
Options & Upgrades
It is important to note that all options and upgrades come with an additional cost, meaning the initial price of the Eldorado is subject to increase.
Power (Not Available)
Power options are a popular choice when customers look to upgrade their furniture. The Eldorado unfortunately is one of La-Z-Boy's few recliners that does not come in a power option.
Magaly states that users wouldn't want a power upgrade in this recliner, due to the wooden arms featured on the chair. "The arms wouldn't do a good job at hiding the mechanisms needed in a power recliner. Even if they could do it with just a hand-held remote wired into the body, it still would look inappropriate; it wouldn't look true to the style of the chair."
The closest furniture piece that Magaly would recommend is the Nouveau Low-Leg Reclining Chair. The Nouveau has almost the same look and design as the Eldorado, except it does not have a mission inspiration to it, meaning it is a more modern/clean-looking recliner.
This is why the power option works well with Nouveau.
You can learn more about comparing Manual vs. Power Recliners with our review article.
Fabric & Leather Options
La-Z-Boy has over 800 fabrics and leathers to choose from, making it possible for you to choose a unique and personalized fabric that lets your inner you shine!
Magaly says that the leather options look great on the Eldorado, giving it a more distinctive and visually appealing look, if that's what the customers' room style dictates.
If you are trying to decide between fabric and leather for your recliner, take a look at Fabric vs. Leather Furniture for an in-depth comparison.
Further, If you want to learn more about La-Z-Boy's leather, take a look at our 2021 Leather Care Tips article.
Aside from fabric and leather options, La-Z-Boy also offers a range of specialty fabrics with unique features and benefits. The following specialty fabrics are also available for the Eldorado Recliner at an additional cost.
Stain Resistant
Innovative iClean Technology surrounds each fabric fibre, creating a barrier that repels spills before turning into stains.
Tested and formulated to withstand the scratches and wear that a pet can cause to ensure a durable and stain-resistant fabric.
Antimicrobial properties surround each fibre to protect against mould, mildew, and odour-causing bacteria.
Performance
Superior stain and fade resistance properties make fabrics easy to clean and incredibly durable.
Eco-Friendly
Conserve Sustainable Fabrics are soft, durable, and made from recycled water bottles.
Cushion Upgrade
La-Z-Boy cushions are all made with high-grade foam, meaning your cushions will maintain their comfort and appearance for a very long time.
You can upgrade your cushions to a firmer option that will ensure comfort in your Eldorado even after hours of sitting in it. This cushion upgrade will come at an additional cost.
For more information view our Motion Furniture Collection catalogue and our in-depth Review of La-Z-Boy's Chair and Sofa Seat Cushions.
Please note that reclining furniture purchased prior to January 2021 had the option to upgrade to airform™ cushions. This cushion includes a two-inch layer of premium quality memory foam added on top of the standard foam base within the seat, chaise and leg rest of the unit.
Finish Options
Eldorado's wood finishes can also be customized in two different finish options.
There is the initial wood finish option named Messa, which does not change the price of the chair. Beyond this finish, there is a Coffee finish, for a more updated-looking room, which comes at an additional cost.
Cost
When referring to cost, the Eldorado High-Leg Recliner falls into the mid-range for recliners.
Currently, the base price for the Eldorado Recliner is $1,999. This does not include any additional options and upgrades.
*All La-Z-Boy prices listed in this article are subject to change. We aim to update all cost-related articles twice per year. This article was last updated on April 29th, 2022. Please visit lzb.com and select an Ottawa or Kingston La-Z-Boy store location to view the most up-to-date pricing.
Warranty
The Eldorado High-Leg Reclining Chair is covered by La-Z-Boy's Limited Lifetime Warranty, which covers the repair or replacement of the frame, spring systems, and the mechanism, given that they are quality-crafted and built for long-lasting comfort.
While still quality-crafted, other aspects of the product, such as fabrics, leather, and cushion, are not meant to last a lifetime. However, these parts are still covered by the La-Z-Boy Manufacturer's Warranty for a given time.
To learn more about the warranty at La-Z-Boy, take a look at the article Are La-Z-Boy Recliners Guaranteed for Life?
To further protect your purchase, La-Z-Boy offers an extended warranty plan at an additional cost.
Customer Reviews
When purchasing any product, it is always informative to take a look at customer reviews.
The following reviews are from La-Z-Boy clients who have purchased this product and are honestly reviewing the furniture that you may or may not purchase as well.
Currently, the Eldorado stands at a 4.8 in the review section of its webpage.
Star ratings can only tell you so much about a furniture piece. Here is what some customers had to say about the Eldorado…
Is the Eldorado High-Leg Recliner Right For You?
Now that you know what makes the Eldorado recliner a unique chair, the question still remains. Is the Eldorado the right recliner for you? To determine if the Eldorado is the right choice, we must look at functionality, overall price, and style.
When referring to style, Magaly says that any rustic, modern farmhouse or woodland aesthetic would match the Eldorado really well.
Not only does it fit well in a cottage, but Magaly also says it looks good in a sunroom or a log house. She also says that, because of its updated modern version, it would also look good in a living room with a distinct fireplace.
"Less is more with this chair," she says, and that's exactly what the wooden arms do best. Some people prefer less padding in arms and with wooden arms being a key feature to its design, no one would have to worry about too much padding.
However, there are pros and cons to wooden arms. Though Magaly points out that the wooden arms do a great job at holding drinks, it may not be the most ergonomic place to work, as some reviewers mentioned in the review section.
With this, some people do prefer padding, and if this is the case, this recliner might not be the right choice for you.
Speaking of it being the wrong choice for some people, the Eldorado complements those between 5'8" to 6'2". Some people are able to hit around this height range, but some have a harder time fitting this chair.
With that being said, shorter people may have a tendency to "look a little lost in this recliner," says Magaly. Not only is the seating deeper with this rustic recliner, but shorter individuals won't be able to get their feet to the ground, which is not ideal when sitting in any chair.
To learn more about what recliner might be the best fit for you, take a look at the article How to Find a Recliner that is the Best Fit for You.
Because it is taller, however, it brings more impact in the room, which can be either good or bad, depending on the space it is in. For example, If you want the attention on another piece of furniture, like a sofa or a loveseat, the Eldorado might overshine it.
Lastly, in terms of price, Eldorado is mid-range, as mentioned before. However, high-quality furniture will always carry a higher price tag.
Even though this is the case, high-quality furniture can still be worth the investment if you're looking for something to last a long time. It all depends on if you're willing to spend more on your recliner to get more time out of it.
What's Next?
Now that you know everything you need to know about the Eldorado High-Leg Recliner, why not get yourself one of these chairs today?
Visit one of our La-Z Boy Ottawa & Kingston stores today and experience the Eldorado, and all of our furniture pieces firsthand! You can also schedule a visit online before coming in.
Our design consultants are always eager to lend a helping hand. Take advantage of our complimentary interior design services to see how the Eldorado could fit in your home.
If the Eldorado isn't what you were looking for, take a look at our other Recliners by browsing these articles below.
Related Articles:
Rocker Recliner vs. Glider Recliner: Similarities & Differences
Product Info Request
Please provide us with your name and email and we'll get back to you as soon as possible regarding this item.