4 Common Problems with Sofa Beds at La-Z-Boy (& Solutions)
June 17, 2022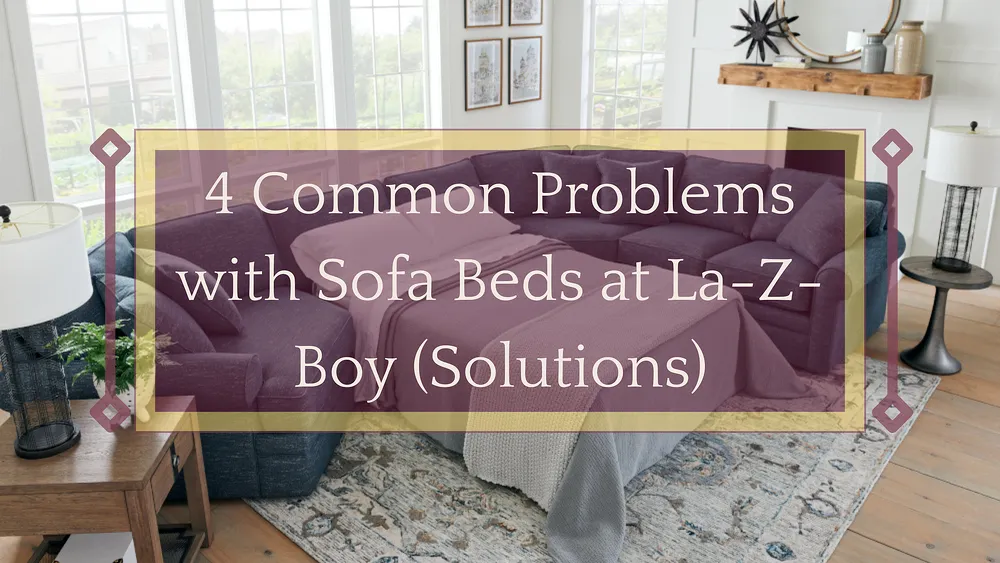 Est. Reading Time: 7 Mins
Whether it's your bed frame having a creaky sound every time you move, a desk drawer not opening all the way, or even a sofa cushion always loose and out of place, there will always be a problem you face with any furniture item.
Sofa beds are not an exception. As convenient as they are for overnight guests to crash on, sofa beds come with all sorts of problems, and this includes La-Z-Boy sofa beds.
Storm Shields, a service department supervisor at La-Z-Boy, says that "Even La-Z-Boy products come with their own set of problems."
As much as we pride ourselves on the fact that our furniture is high-quality and long-lasting, we acknowledge that we are not perfect. In turn, we believe it is important to educate our clientele on potential problems that could occur in a sofa bed, as well as solutions to such problems before they make an investment.
With that being said, this article will tackle the 4 main problems that La-Z-Boy customers have faced with our sofa beds, as well as problems that occur industry-wide. Along with these problems are also solutions to help fix the concerns customers have had with their sofa beds.
In This Article…
Benefits of Sofa Beds
Before we dive into the problems with sofa beds at La-Z-Boy, let's take a look at the benefits of purchasing a new sofa bed.
Firstly, the main and obvious pro of a sofa bed is that it comes with versatility. Not only can it be a stylish sofa for your living area or basement, but it can also be a comfortable bed to sleep on.
With La-Z-Boy sofa beds specifically, all you need to do when converting the sofa into its bed form is to remove the seat cushions and pull the handle at the top middle section of the sofa.
Once you pull, you'll see the mechanisms and mattress appear from underneath the sofa. And there you have it! You have now turned your living room into a temporary guest bedroom.
Not only are they good for overnight guests, but sofa beds also do a great job at space-saving.
This might sound silly since sofa beds take much more space than a regular sofa when converted as a bed, but what we mean is that if you lack a guest room, and your living room is big enough for a sofa bed, your living room can double as a guest room with the simple pull of a handle.
4 Problems with Sofa Beds at La-Z-Boy
Storm tells us that when it comes to complaints or problems relating to sofa beds, she does not encounter them often. However, there are certain things that do come up which might create a hindrance to the use of your sleeper sofa.
Some might be small and easily fixable, but others can be harder to fix. Nonetheless, the following section will detail common problems customers may have encountered at La-Z-Boy and industry-wide with their sofa beds, as well as solutions to these problems.
1. Wear & Tear of the Air Mattress Upgrade
Storm notes that some La-Z-Boy customers have complained about the blow-up air mattress upgrade. When customers initially receive a La-Z-Boy sleeper sofa with the blow-up air mattress option, they also receive a device that is used to pump up the mattress.
The air pump device comes with a cap that you use to twist onto the mattress opening, and once that cap is on, there is a button that needs to be pushed in order to start inflating the mattress.
Storm explains that the air pump might cause a problem with the mattress itself. "It is not necessarily difficult to use," she says, "but, the only issue I see is that the 'air blatter'--the part of the pump used to store air–might default, meaning holes might appear over time due to wear and tear."
Holes might also appear over time on the air mattress, which could cause an issue when putting air inside of the mattress.
Solution
Luckily, there is a solution to this issue. Storm mentioned a patch kit that was once provided by La-Z-Boy to fix this issue. This service, however, has been discontinued.
Instead, Storm recommends using a bicycle patch kit, rather than purchasing a brand new pump. Bicycle patch kits work the same way as the mattress patch kit La-Z-Boy once provided.
Bicycle patch kits can be bought anywhere that sells them. Canadian Tire, for example, has patch kits that cost $6.29.
2. The Size of a Sofa Bed
Another big problem that some customers face after purchasing a sofa bed is the sizing of the actual sofa when converted to a bed.
Some people may just measure out the dimensions of a regular sofa and forget to measure the size of a sleeper sofa in its converted form.
Storm mentions that all sofa beds at La-Z-Boy all have the same "mechanism" used to convert the sofa into a bed. "La-Z-Boy always has the same fold-out version of a sofa bed, rather than other forms like futons."
Solution
Since La-Z-Boy has the same pull-out mattresses on all of our sleeper sofas, the task of figuring out measurements shouldn't be hard since they all transform the same way. Further, you can find the exact dimensions of the sofa bed in its bed form by looking at the product description on La-Z-Boy.com.
However, it is always important to measure your room before purchasing furniture, especially with sleeper sofas. Since they have two different shapes associated with them, always make sure to measure the sleeping position as well.
You can learn more about How to Properly Measure a Room by checking out this article.
3. The Sofa Bed Mechanism Fails
Another problem that Storm sees when it comes to sofa beds is that some people have a harder time using the mechanism that converts the sofa into its sleeper form.
"Sometimes with age, or due to a manufacturing issue, the metal pull-out mechanism can break or become ceased," Storm explains. The mechanism can either get stuck when inside or outside of the sofa furniture frame.
Given that the mechanism used to transform the shape of the sofa is a metal component, occasionally, when it's in its "compressed phase," as Storm calls it, the mechanism can become stuck and harder to use.
This can happen for a multitude of reasons, possibly due to rusting or even by sitting on the cushions of the sofa in a certain way.
Solution
With all of that being said, there is a solution to this problem that La-Z-Boy provides.
First, Storm suggests calling the La-Z-Boy service department to let them know that the mechanism of your sleeper sofa is failing.
After this is done, La-Z-Boy will either repair the mechanism (if it can be fixed) or order a new mechanism altogether. If this is the case, the new mechanism will be for your existing sofa bed.
This type of fix is actually covered under La-Z-Boy's Limited Lifetime Warranty, which covers the repair or replacement of the furniture frame, spring systems, and the mechanism.
To further protect your purchase, La-Z-Boy offers an extended warranty plan at an additional cost. To learn more about the warranty at La-Z-Boy, take a look at the article Are La-Z-Boy Recliners Guaranteed for Life?
4. Sofa Bed Isn't as Comfortable as a Regular Bed
La-Z-Boy prides itself on selling stylish and comfortable furniture. However, when referring to an industry-wide complaint, many individuals have said that sofa beds are not as comfortable as regular mattresses you would find on a normal bed. This problem also includes La-Z-Boy sleeper sofas.
In addition to general discomfort, some people might feel harder parts poking through the mattress when sleeping. This can include things like the bar that supports the bed or coils that are in the sofa mattress. Some owners of sofa beds have even said that coils have ripped through the mattress and caused tearing.
Storm says that the thinner the mattress, the easier it will be for materials like coils to rip through the mattress. The thickness of the mattress also determines how comfortable it will be–if it is too thin, you will feel harder parts like the mechanism and the innerspring coils.
Solution
When it comes to sofa bed mattresses at La-Z-Boy, the solution to this problem is to upgrade your mattress to the aforementioned firmer mattress option so that your sofa bed doesn't feel as uncomfortable.
Storm mentions that the standard ComfortCore mattress is a great choice for comfort as well, but some individuals might find it "not as supreme as our other mattress selections."
If you find your sofa bed mattress uncomfortable, you do have the option of calling La-Z-Boy and upgrading your mattress at an additional cost. La-Z-Boy's warranty does not cover the cost of a new mattress if it has to do with comfort preferences, meaning you would have to pay the difference of the mattress upgrade.
With that being said, if you experience damage to your mattress caused by the innerspring coil ripping through, the repair or replacement of the existing mattress will be covered by the La-Z-Boy manufacturer's warranty.
Sofa Bed Selections at La-Z-Boy
If we haven't scared you away yet from our sofa bed selection, La-Z-Boy carries multiple different stylish and comfortable sofa beds to choose from.
La-Z-Boy has a great variety of sofa beds to choose from, each with its own customization options.
Generally speaking, there are three different sofa bed sizes that people can choose from, which are a full sleeper sofa bed, and a queen sleeper sofa bed. The only difference between the two sizes is that the size of the queen sofa and mattress is larger than the full sleeper sofa.
Additionally, there is a third sleeper option at La-Z-Boy, which is the twin sleeper chair, but technically these are not considered sleeper sofas because of how small they are.
Each type of sofa bed comes with a standard Supreme ComfortTM quilted innerspring mattress.
In terms of customization options, sofa beds have all the same customization options as regular sofas at La-Z-Boy. With that being said, the customization options slightly vary depending on the chosen frame.
Options include over 800 upholstery cover options, contrasting welt trim, decorative wood leg finishes or contrasting nailhead trim.
Further, with you have the choice to upgrade the type of mattress on your sofa bed. Storm tells us that there are three different types of mattresses to choose from at La-Z-Boy. As previously mentioned, the standard mattress for all sofa beds is the ComfortCore mattress, which is a quilted innerspring mattress that measures 5.5" thick.
The upgraded mattresses you can choose from are the air blow-up mattress or a firmer mattress, which is our newest mattress option at La-Z-Boy.
Price ranges for each of these upgrades vary. If you want to learn more about the Cost of a Sofa Bed at La-Z-Boy, check out this article.
What's Next?
With any furniture product, you can't always avoid potential problems, although we try our best. But fear not, there are always solutions to these problems if they do occur.
If you ever have a problem with a La-Z-Boy sofa bed or any furniture item we sell, do not hesitate to reach out to any of our Ottawa & Kingston Locations. We are always there to lend a helping hand whenever you need it.
As always, the best way to ensure that a sofa bed and mattress are right for you is by coming in-store and taking a sit test. This will definitely confirm if you like a certain furniture piece.
If you're not sure if a sofa bed is right for you, our design consultants are eager to lend a helping hand. Further, consider taking advantage of our interior design services by coming in-store or by scheduling an appointment online.
If you want to further familiarize yourself with sleeper sofas at La-Z-Boy, take a look at our article Best Selling Sofa Beds at La-Z-Boy.
Related Articles:
Review of the Kennedy Queen Sleeper Sofa
Product Info Request
Please provide us with your name and email and we'll get back to you as soon as possible regarding this item.