Virtual Interior Design Services at La-Z-Boy: What to Expect
January 4, 2021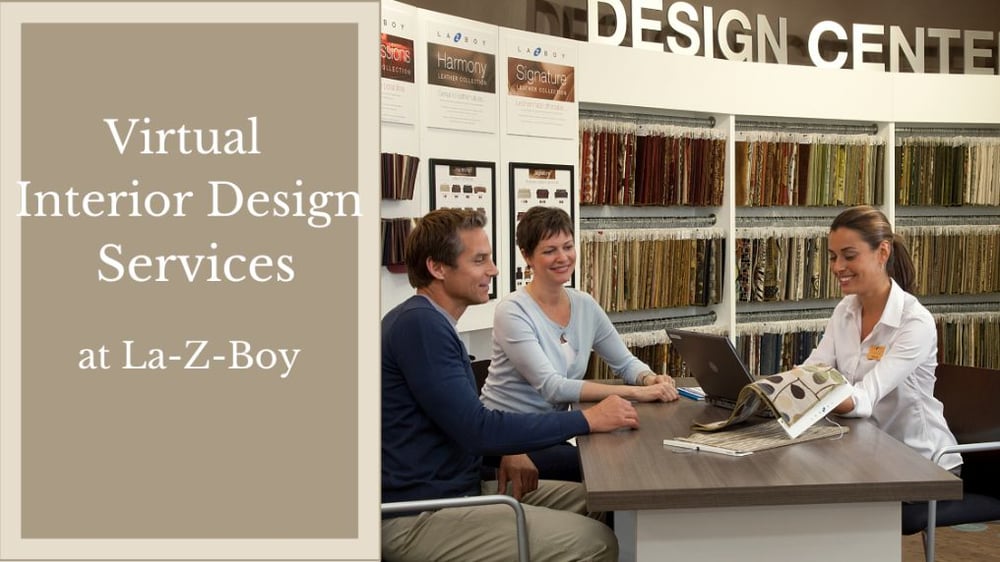 Now, more than ever, we are trying to find ways to stay safe and shop from the comforts of home.
Many retail companies are updating their virtual platforms so that we can do just that! Even furniture shopping can now be done online.
With this being said, shopping for furniture online can come with some difficulty. Without seeing the furniture in person or trying it out yourself, it can be difficult to make final decisions on styles, colours, and dimensions. You may need a little help ensuring that all of your product selections complement each other and will fit nicely in your space.
In fact, you may need the help of an interior designer.
Not to worry because at La-Z-Boy we offer complimentary virtual interior design services.
As we are all adapting to this new virtual world, we understand that the idea of virtual interior design may seem foreign.
You may be wondering, how can an interior designer choose furniture and design a room without meeting you in-person or seeing your space?
This article will walk you through the virtual interior design service at La-Z-Boy step by step. After reading, you will know exactly what to expect when you book an appointment.
Step One: Make a list of the important details we should know about
Before getting started with us, it is helpful to do a little bit of preparation on your own.
Find some Interior Design Inspiration
Take a look at your space and ask yourself, what are you looking to get out of the interior design services at La-Z-Boy?
What are you looking for? What room are you designing? What kind of furniture do you need? What style are you looking for?
Consider looking online to curate some ideas. Pinterest can be a great place for finding creative interior design inspiration. Further, get acquainted with the work of our talented interior designers at La-Z-Boy by taking a look at our Before & After projects.
Save the photos of the designs that you like. These will come in handy in your virtual design appointment.
Measure your room
When you start working with one of our interior designers virtually, they will need to know the dimensions of your room.
In preparation for your appointment, it is helpful to take specific measurements of your room. This way the interior designer will know more about the logistics of the space they are working with.
Measuring a room can be tricky. Take a look at the article How to Measure a Room to Buy the Right Furniture for some helpful tips.
Take pictures of your room
Finally, take pictures of the room we will be designing. With a camera or phone, take pictures of your room from multiple angles. The more pictures the better!
It is also a good idea to make note of any pieces that you intend to keep in the room. This will be helpful for the designer.
Step Two: Schedule an appointment
Once you have done all your homework, it is time to get the ball rolling and schedule an appointment. You can book a design consultation through our online website.
After submitting your request for a virtual appointment, you will be connected with one of our design consultants.
In a preliminary appointment, a design consultant will get to know you and ask you basic questions about your style inspiration and what you are looking for.
Step Three: Send us information about your room
After your first appointment, the design consultant will ask you to follow up by sending them more specific information about your space.
This will include design inspiration, the photos that you took of your room, as well as your room measurements.
Step Four: Online consultation with Design Consultant
Next, you will have a longer virtual session with the design consultant. This appointment tends to take about an hour.
Through a video call, the design consultant will go over all of the details that you provided them.
In order to get a more specific idea of what you will need, the consultant will also ask you more questions about your lifestyle.
How many people live in your home?

How many people will be using this room?

Do you have pets?

Do you have kids?
Based on this information, the design consultant will assist you in the furniture selection process. They will take into account your preferences and style in order to choose the right items for your room and lifestyle.
Further, when it comes to helping you choose a recliner or a sofa, the design consultant will ask you questions about your size, height, and comfort preferences to ensure that your furniture selection is the right fit for you.
You will also discuss potential furniture customizations, colours, and fabric choices to ensure that each piece of furniture ties together seamlessly and stylishly.
By the end of the appointment, you and your design consultant will have selected multiple pieces of furniture and created a design board.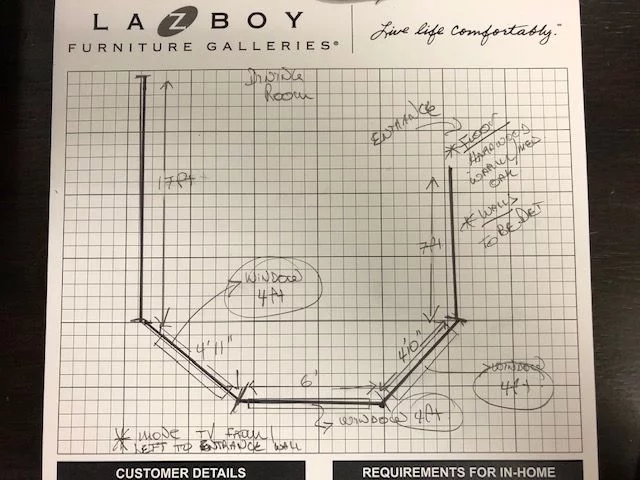 Step Five: Interior Designer creates a detailed floor plan & 3D model
The design consultant will gather all the information from your virtual appointment and share it to one of our talented interior designers.
Based on your furniture selection and the design board created with the design consultant, the interior designer will create a detailed to scale floor plan and a 3D model based on the room measurements you shared.
The floor plans created by the interior designer will be aligned with your preferences and style.
The 3D model will allow you to visualize the space and how the design will look. Further, you will be able to see exactly how the furniture is paired together, how much space it will take up, and how the traffic will flow through the room.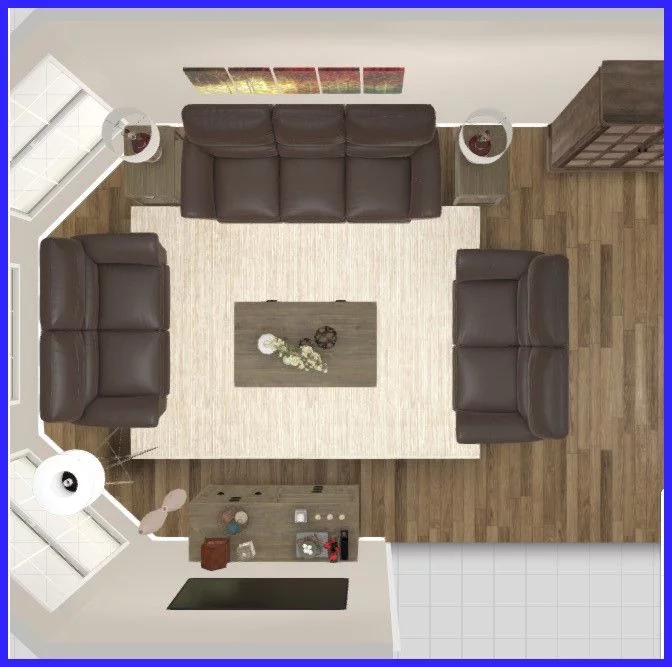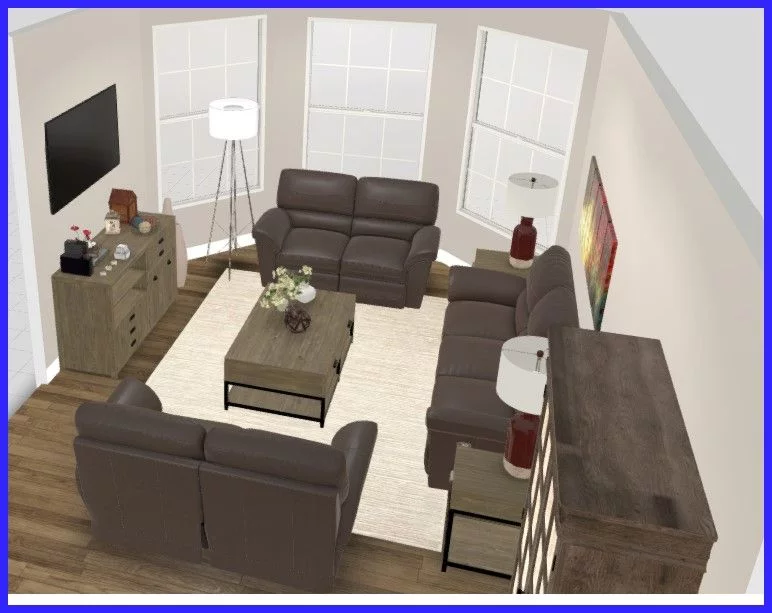 Step Six: Interior designer suggests materials and patterns for your room
To finalize the furniture selection, the interior designer will reference the design board to make some final design suggestions.
At this stage of the process, you and the interior designer will make final customizations to the selected furniture.
Based on the customizations, the interior designer will present you with a display of how the colours, textures, and patterns will work together visually allowing you to get an idea of the overall look of the room.
Step Seven: Have a final look at your choices in-store (Optional)
Before going through with the final sale, it is recommended, but not required, that you make one visit to the showroom to view your selections in person.
It is very important to try out your furniture by sitting in it to ensure that it matches your comfort preferences.
Further, it is helpful to see the fabric in person because colours and textures tend to look slightly different on screen.
If you choose to view your furniture selection and design in-store, the interior designer will have everything prepared and set up for a viewing as soon as you arrive.
Step Eight: The Design Consultant will place your order for furniture and furniture will be delivered
Once you and the Interior Designer are satisfied with all of the final selections, the Design Consultant will place the order.
Within 24 weeks, the furniture will be delivered to your home.
At La-Z-Boy, we have a white-glove delivery service in which our delivery team will unpack and assemble your furniture. They will place the furniture in the room based on the floor plan.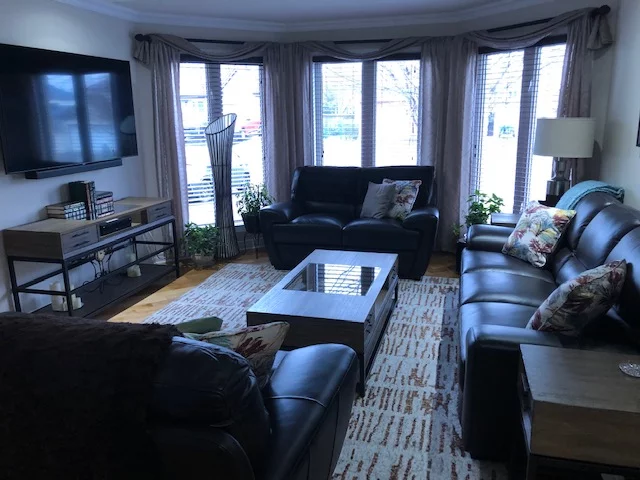 What's Next?
After reading this article, you now have a better idea of how our virtual interior design services work at La-Z-Boy.
We understand that designing a room virtually can be nerve-racking. Although it is convenient to do so from the comforts of home, we understand that you may be hesitant to place such responsibility in the hands of our interior designers.
Magaly del Castillo, the interior designer at our local Cyrville location, is an expert at virtual interior design. She wants her clients to "have peace of mind and be able to trust her" when they work with her virtually.
"I want to assure you that the interior design team is here for you throughout this process. We are your eyes in the showroom. Given that you cannot be there to see the products yourself, we make sure that we are selecting the absolute right products for your preferences and design vision."
Magaly del Castillo
Interior Designer, La-Z-Boy, Cyrville
So what is holding you back?
We look forward to meeting with you virtually and bringing your interior design vision to life safely!