Bennett's vs. La-Z-Boy Kingston: Similarities & Differences
July 13, 2020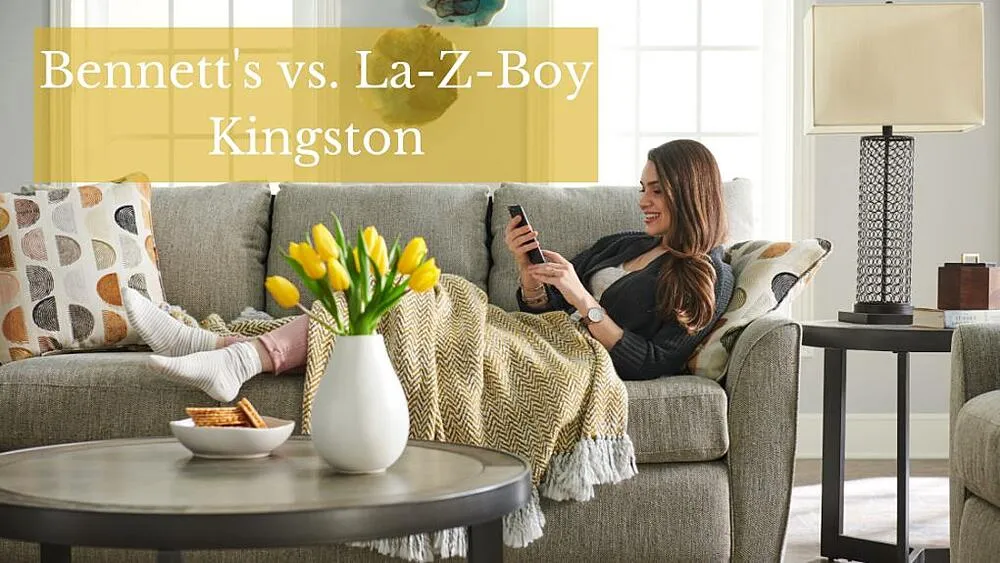 Buying furniture for your home is a significant investment; it is an investment in the comfort of your home. When it comes to buying furniture, there are many important choices to make, such as the amount you are willing to spend, the style you wish to portray, and how long you need the furniture to last. First and foremost, you will have to decide where you will buy your furniture.
Luckily, there is no shortage of great furniture stores to choose from. In Kingston, Bennett's and La-Z-Boy are two well-known retailers that are consistent in providing quality and comfortable furniture.
With a recent opening in Kingston, Bennet's Home Furnishings is proud of what it can offer in the furniture industry. Operating for over 90 years, the company has a history of employing fantastic staff and aligning with community values. Bennett's has a large showroom with a wide selection of high-quality and comfortable home furniture for all tastes.
Similarly, at La-Z-Boy, we offer a wide range of furniture styles and are known for our iconic recliner chair. While the La-Z-Boy brand has existed for over 90 years, the La-Z-Boy store in Kingston is locally owned by the Maxwell family since 2011. La-Z-Boy is committed to "enriching people's lives by transforming houses into homes."
With an emphasis on quality, comfort, and craftsmanship, we attempt to make the home furnishing process an enjoyable experience.
This article will provide a detailed comparison of Bennett's vs. La-Z-Boy based on the brands they carry, where it is made, the price, interior design services, custom furniture services, warranty plans, delivery services, and where they are located.
While both brands have a lot to offer, the information in this article will guide you in deciding which furnishing company will best meet your individual needs.
This article will include a detailed comparison of …
Product Categories & Brands
In order to cater to a variety of tastes and preferences, Bennett's and La-Z-Boy both carry a selection of products from multiple brands.
At Bennett's, you can find furniture for multiple rooms in the home such as the living room, dining room, and entertainment rooms. The company also sells bedroom furniture with an emphasis on providing comfortable mattresses. These products are sourced from a very large variety of brands such as …

Brands Bennett's Carries:
Durham

Encore

Exclusive

Krahn




Artisan

Beautyrest Canada

Benin Leather

Burgos Design

C.R. Plastic Products

Candle

Marzilli International

Monarch Specialties

Rockwood

Serta Canada

Southside Designs

Stressless

Taelor Designs

Urban Trends

Whirlpool
Similarly, La-Z-Boy also offers a large selection of furniture for many rooms of the home including the living room, bedroom, dining room, and kitchen. At La-Z-Boy, there is an emphasis on the living room furniture given our expertise in creating high-quality and comfortable sofas, sectionals, and of course, the recliner chair.
In addition to its La-Z-Boy branded products from La-Z-Boy Residential, the brand also owns and carries other high-quality brands such as Hammary, Kincaid Furniture, and American Drew. Our local La-Z-Boy businesses also work very closely with Canadel in providing options for custom dining furniture. Canadel is a Canadian made and manufacturer out of Louiseville, Québec.
With a focus on living room and lounge furniture, this chart outlines the brands that each store carries in recliners, motion, and stationary furniture:
Retailer
Manufacturer's Brand
Recliners
Motion Sofas & Sectionals
Stationary Sofas & Sectionals

La-Z-Boy

La-Z-Boy

✔

✔

✔

Bennett's

Stressless

✔

✔

Taelor Designs

✔

✔

Benini Leather

✔

✔

✔

Rockwood

✔

✔

✔

Southside Designs

✔

Urban Trends

✔
As you can see from this chart, Bennett's carries a variety of brands in the living room and lounge furniture, including the La-Z-Boy brand. Alternatively, at La-Z-Boy, we only carry our own brand in this category. There are pros and cons to both scenarios.
When shopping at Bennett's, you may find a larger variety of furniture styles given that they carry multiple brands. The benefit of this is that you have more options to choose from in your selection of furniture. The downfall may be that the salespeople are less familiar with the details of each varying brand.
Alternatively, at La-Z-Boy, you will only find La-Z-Boy branded and manufactured pieces in this category, excluding bedroom and dining furniture. Although La-Z-Boy furniture comes in a wide range of shapes, sizes, and styles (over 60x frames and 800+ fabrics), you are more limited in your choice of brands when shopping at La-Z-Boy compared to Bennett's.
With this being said, given that we only carry La-Z-Boy products, we are not ashamed to say that our salespeople are absolute experts when it comes to knowing and understanding the features of our recliners, sofas, and sectionals. Our salespeople are expected to know La-Z-Boy furniture like the back of their hand and will be able to answer all of your questions as well as offer up additional information relevant to the products you consider purchasing.
Bennett's carries furniture from retailers that manufacture their products all over the world including North America and Asia. Based out of Quebec, Bennett's carries Canadel products that are outsourced from across the world.
The store also carries a Carriage House Collection which is sourced from Asia. Bennett's also carries some Canadian Made products such as the Handstone collection which is 100% sourced and made in Canada. 14 Mennonite families craft and produce this line of furniture.
Similarly, La-Z-Boy is a global manufacturer with operations in North America, Asia, and Europe. La-Z-Boy's products are primarily made in North America for North American markets. The global headquarters of La-Z-Boy is in Monroe, Michigan but the majority of our recliners, chairs, sofas, and sectionals that are sold in Ottawa and Kingston are manufactured in Dayton, Tennessee.
For more information, check out the article Where La-Z-Boy Furniture is Made.
Price
When it comes to price, Bennett's and La-Z-Boy are about on par. Both companies offer furniture that falls in the low-mid to high-upper range category.
To compare prices, let's look at the average cost of a sofa!
Bennett's Sofa
La-Z-Boy Sofa

Sofa Cost Range: $999 – $5,099

Stationary Sofa: $999 – $5,019

Motion Sofa: $1,299 – $5,099

Sectional Sofa: $999 – $10,699 +

Sofa Cost Range: $2,299 – $7,449

Stationary Sofa: $2,459 – $5,129

Motion Sofa: $3,449 – $7,449

Sectional Sofa: $8,626 – $11,106 +
*Bennett's prices have likely changed since publishing this article.
Both brands offer customizing options that can impact the price of any product depending on the customer's preferences. For both companies, customizations and upgrades in fabric, leather, and design can cause the price of products to increase.
*All La-Z-Boy prices listed in this article are subject to change. We aim to update all cost-related articles twice per year. This article was last updated in October 2022. Please visit lzb.com and select an Ottawa or Kingston La-Z-Boy store location to view the most up-to-date pricing.
Interior Design
Both Bennett's and La-Z-Boy offer complimentary interior design services in addition to the sale of their products.
At Bennett's, in-home design services are free of charge.
You have the opportunity to book a personal consultation with a qualified Bennett's decorator in-store and then have an in-home consultation to review the space with both a decorator and interior designer.
Finally, the interior designer will help you review your choices with a 3D design presentation before making a purchase. Based on your design and furniture order, the products you purchase will then be delivered and installed in your home.
At La-Z-Boy, professional design assistance is also complimentary with any purchase. With an appointment, an interior designer will meet with you either in person or virtually for consultation and interior design collaboration. Your consultant will make recommendations in furniture styles, colors, and textures based on your personal space and preferences.
Similarly to Bennett's, your La-Z-Boy interior designer will guide you through the design process using a 3D state of the art rendering of your room. This will give you the unique advantage of every item shown in your space.
If you are unable to meet with a consultant, La-Z-Boy offers many free resources online for design inspiration. Take a look at our Before and After design blog posts and hear from our designers themselves. Finally, La-Z-Boy provides a free Augmented Reality app for your phone that will enable you to 'see' your frame and cover in your own room before you buy.
Custom Furniture
As previously mentioned, both Bennett's and La-Z-Boy offer customizable furniture.
At Bennett's, select items offered in-store or online are customizable. Depending on what frame or style you choose to customize, there are a variety of fabrics and textiles to choose from to create a unique look in your home. The final cost of your custom piece will be dependent on the styles and quality of fabric that you choose for your design.
Additionally, Bennett's offers an in-home service in which a designer will work with you to create custom furniture based on the specific styles, colours, and space in your home. This is offered for a fee of $250, which will be rolled into the cost of the final furniture order.
La-Z-Boy also offers custom furniture. Anything offered in-store or online is customizable to meet your individual taste. La-Z-Boy offers hundreds of options in colours, fabrics, styles. Anything can be customized including textiles, accent pillows, welt trim, nailhead trim, wood finish, leg design options, and recliner optional add-ons.
Many of the La-Z-Boy custom fabric options have also been fully tested for motion so they are applicable across both stationary and motion furniture allowing you to mix motion furniture with your stationary pieces while maintaining the design and look you are seeking. Something to keep in mind if you wish to mix your seating options in your room.
Finally, neither Palliser, nor La-Z-Boy support custom fabric orders today where a client sends in their own fabric for the item being manufactured. That said, it is possible with certain manufacturers that do support this capability, such as Canadel, to order additional fabric from La-Z-Boy when selecting your upholstery pieces and have the extra fabric used when making the dining table chairs so they can complement your living room.
To learn more about La-Z-Boy's custom furniture options take a look at the article Custom Furniture at La-Z-Boy, What to Expect.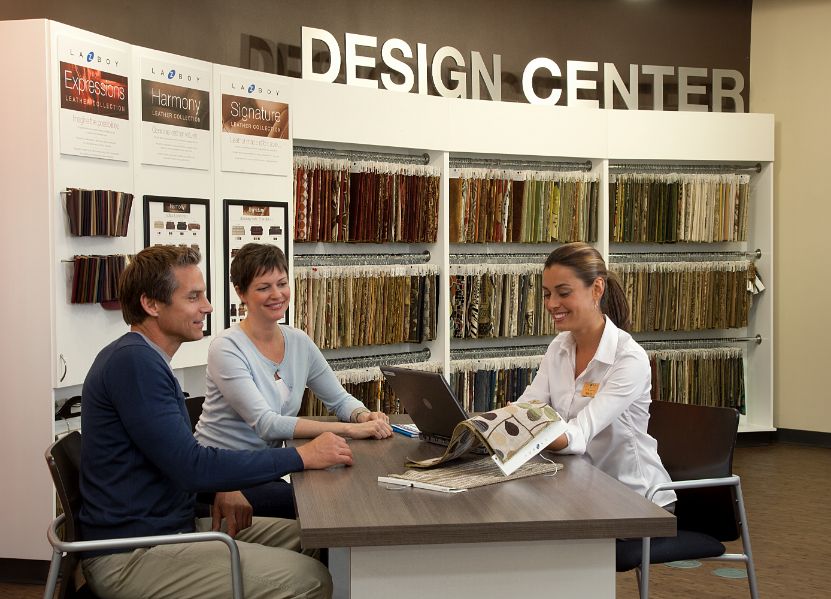 Warranties & Protection Plans
Considering that furniture is a significant investment, having a warranty plan can be important in protecting the life of your purchase. Bennett's and La-Z-Boy both offer warranty plans with the purchase of their products.
Most products at Bennett's come with a warranty, but the terms of these warranties vary depending on the item and the manufacturer. The specific warranty of a piece of furniture is provided within the description found online, or you can speak to a consultant for this information in-store.
In addition to the warranty provided, there is an option to purchase the Bennett's Protection Plan. This protection plan is covered in-house rather than with a third party insurance company. The cost of this varies as it is dependent on the value and size of the piece of furniture that is being covered.
For example, protection on a standard fabric sofa would cost $99.95. Coverage on a leather sofa would cost more but coverage on a smaller loveseat would cost less.
The store agrees to repair a product or remove a stain for a period of 10 years from the date of delivery. This includes damage to upholstery and leather products. If the damage cannot be repaired, Bennett's will replace the affected portion with the same or similar fabric.
More specifically, the Bennett's protection plan covers:
Accidental punctures, tears, and rips

Stains from ballpoint pen ink, lipstick, and crayon

Breakage or warping of the frame

Color transfers

Springs

La-Z-Boy mechanism parts and labor (but does not include non-La-Z-Boy mechanisms)
Alternatively, as both the retailer and manufacturer with a brand for upholstery, La-Z-Boy products are sold with a manufacturing warranty that covers 1-3 years of damage caused by manufacturing error or workmanship. This warranty is applicable across all upholstery categories on a consistent basis.
For an extra cost, La-Z-Boy also offers a more comprehensive service protection plan that covers up to 5 years of accidental damage. The cost of this protection plan extension is relative to the price of the product.
For more information on La-Z-Boy's warranty and protection plan take a look at the article Is La-Z-Boy Warranty Worth it. You may also find some useful tips on how to maintain the look of your furniture in the article 2020 Furniture Care Tips.
Delivery
Both Bennett's and La-Z-Boy offer delivery services to ensure that the furniture you purchase makes its way into your home safely and is installed with ease.
Bennett offers what they refer to as "Deluxe Delivery". Delivery to a residence in Kingston is charged at a flat fee of $99.99. The Kingston location will also deliver to the greater surrounding area including Brockville, Gananoque, Prince Edward County, Belleville, Sharbot Lake, Napanee, and Ottawa Area. Delivery outside of Kingston comes at an additional fee depending on the distance.
Leading up to the date of delivery, Bennett's will track the status of your delivery appointment and the delivery team will call you an hour in advance. Upon delivery, the professional delivery team will remove the existing furniture or mattress being replaced, inspect the new piece of furniture, and fully assemble it in your home.
At La-Z-Boy, we also offer a traditional white glove home delivery service. Local Ottawa & Kingston delivery is charged at a flat fee of $129.99 and out-of-town delivery costs $169.99.
Additionally, we offer the option to dispose of any old furniture in a local landfill at an extra charge of $50 / per furniture seat.
With La-Z-Boy delivery services, an existing piece of furniture can also be moved somewhere else in your home at no additional cost on a one-to-one basis. Further, if you have taken advantage of the design services, the delivery men will set up your furniture based on your predetermined floor plan.
At Bennett's, delivery time is estimated between 1-2 weeks and up to 8 weeks for custom furniture orders. Similarly, La-Z-Boy estimates delivery to take 1-2 weeks if the furniture is in stock and up to 60 days for the delivery of custom furniture.
For more information on our delivery service at our La-Z-Boy locations in Ottawa & Kingston, take a look at this page listing everything you need to know about our Delivery and Pickups.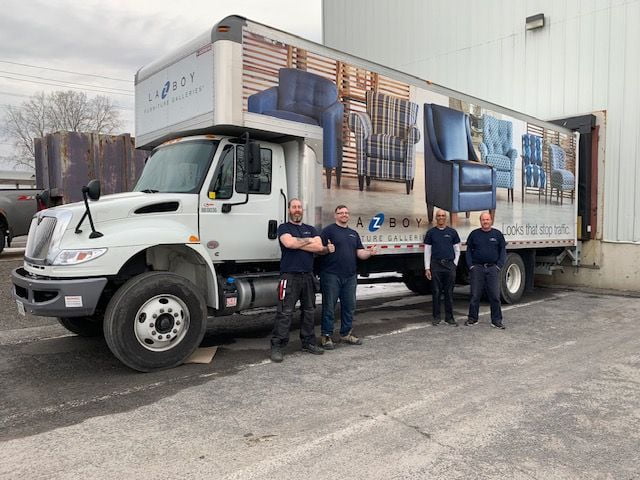 Kingston Locations
Bennett's


What's Next?
Bennett's Home Furnishings and La-Z-Boy are both great choices. With a detailed comparison of each retailer's products and services, the choice is now yours!
You now have the information necessary to choose a retailer that best meets your specific needs and preferences when it comes to cost, time, style, protection, and personalization.
La-Z-Boy produces high-quality furniture that is consistent in comfort and longevity. Our complimentary design services take our product services to the next level by ensuring that the furniture you purchase fits seamlessly into the style and layout of your home.
If you are interested in furnishing your home with La-Z-Boy, visit us at our local Kingston location to meet with a consultant today. If you prefer, you can also book a consultation online to get started.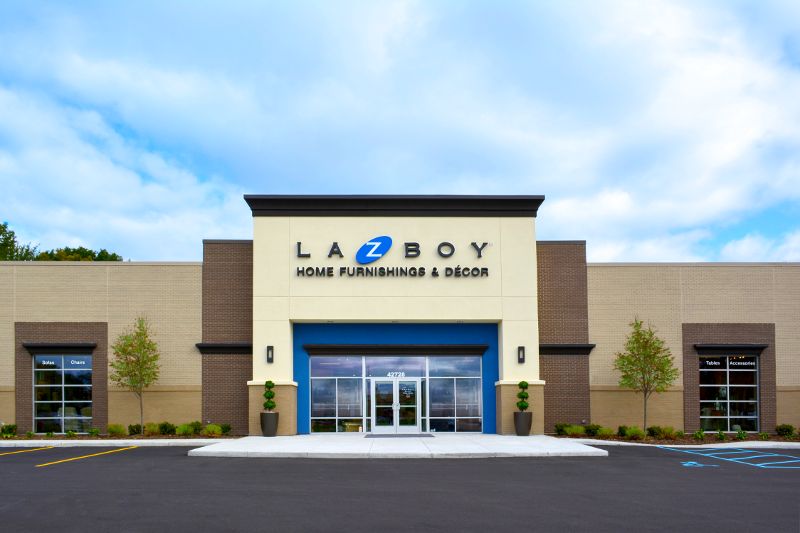 Product Info Request
Please provide us with your name and email and we'll get back to you as soon as possible regarding this item.