How Much Does a Coffee Table Cost?
November 20, 2020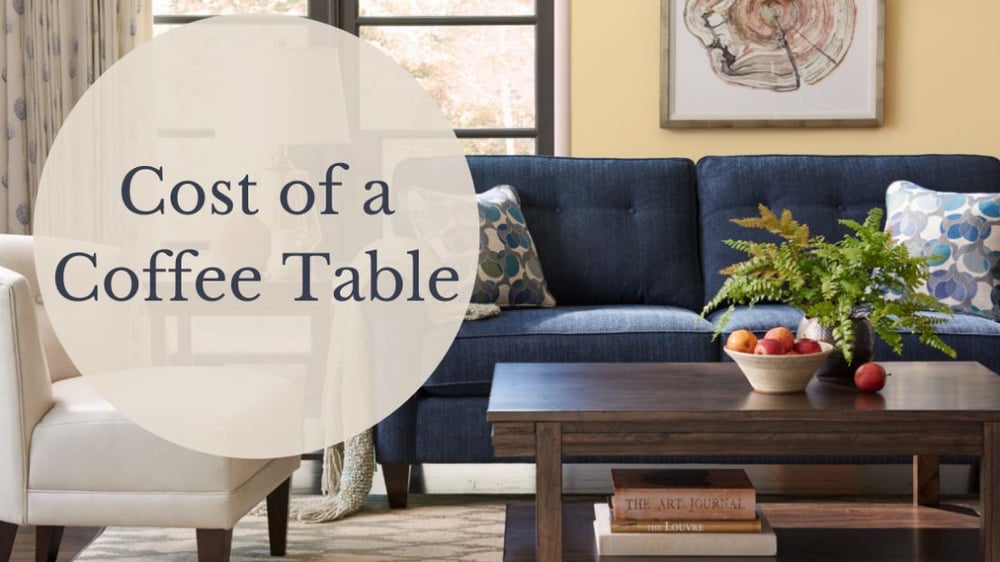 When furnishing a living room, a coffee table may seem like more of an afterthought compared to what are considered the big-ticket items, such as a sofa or area rug.
Although a sofa may be the most obvious aspect of a living room arrangement, the coffee table is a crucial element as well!
Acting as a focal point in the living room, the coffee table is the centrepiece in which all the sofa and seating is arranged around. The coffee table is the piece that ties the arrangement of shapes and colours together.
Not only is the coffee table a crucial design element, it is also a functional piece of furniture in the living room. This table is where you may set down your coffee, cocktail, or even rest your feet while watching a TV.
Essentially, whether it be for design purposes or practicality, everyone needs a coffee table to complete their living room.
Although at La-Z-Boy, we are most commonly known for our iconic and comfortable recliner chair, we also offer a variety of other furniture including case goods such as coffee tables. In fact, La-Z-Boy's collections known as Kincaid, Hammary, and American Drew produce a variety of stylish coffee tables for varying budgets.
With this, we are often asked by our clients at La-Z-Boy how much they should expect to spend on this essential piece of furniture?
This article will outline the industry-wide average costs of coffee tables, what factors contribute to cost, how your intended use or purpose for a coffee can impact how much you decide to spend.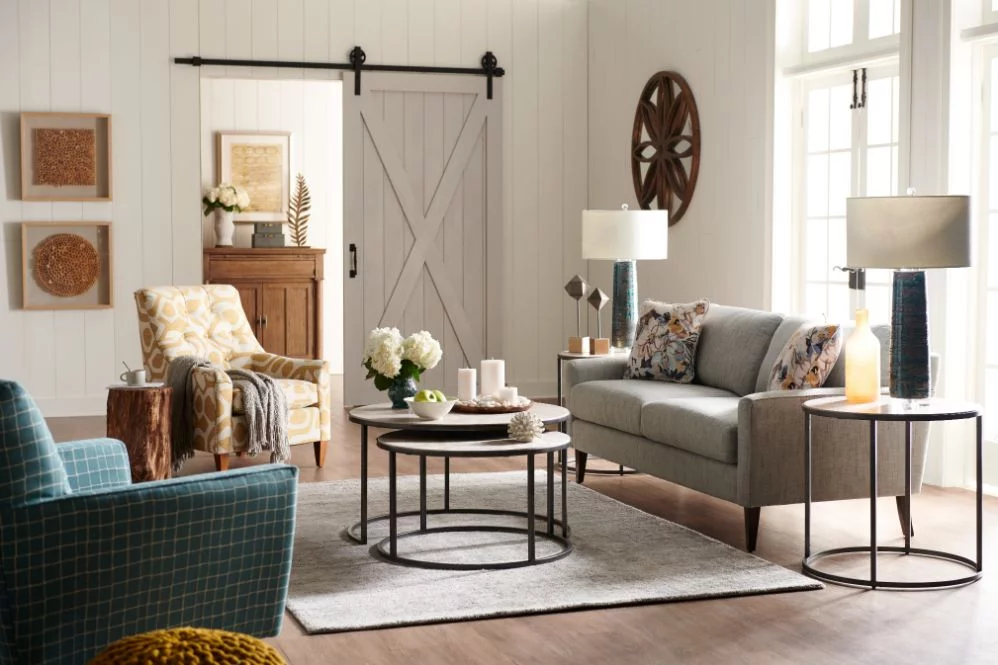 Average Cost of Coffee Tables
The average cost of a coffee table is between $200 to $1,000.
Of course, this cost can drastically vary depending on a variety of factors. The amount that you spend on a coffee table is entirely up to you.
For example, you can find a furniture retailer that sells basic and affordable coffee tables, such as IKEA, for as low as $14.99 up to $299.
On the other end of the spectrum, Dala Decor sells luxury coffee tables that can cost as much as $4,029.
What are you Paying for?
So what determines the cost of a coffee table? What sets apart a coffee table sold for $12.99 vs. a coffee table sold for $4,499?
When buying a coffee table, no matter how much you decide to spend, it is important to know what you are paying for and where that price comes from.
The cost of a coffee table is determined by four main factors:
Quality of the table

Type of wood or materials used

Size and shape of the piece

Overall style & design.
Quality
The overall quality of a coffee table is an obvious indicator of cost.
The quality of a coffee table is based on where and how it was made.
For example, a coffee table manufactured and mass-produced in a factory overseas is typically low cost because it requires less time and labour to be made.
In contrast, a one-of-a-kind coffee table handmade locally demands much more time, labour, and care for detail. As a result, the heightened quality of this type of coffee table is reflected in a higher cost.
Type of Wood or Materials
Additionally, the cost of a coffee table is determined by the quality and cost of the materials made to make it.
The cost of a part of building material is often based on where it comes from and how difficult it is to attain.
Many coffee tables are traditionally made out of wood. Prices of wooden coffee tables vary depending on the species of wood used.
Popular woods include Cherry, Maple, Ash, Walnut, and Oak. Walnut wood is considered the most premium, and therefore one of the most expensive because it is limited in growth. Alternatively, Maple and Cherry tend to be less expensive because they are more abundant resources.
Some expensive high-end coffee tables are made with heartwood. This is the central core of a tree which is very high in density, in turn, these coffee tables prove to be very durable.
Another factor determining the cost of wood is whether it is distressed or not. A coffee table with a distressed wood finish typically requires a long process of staining and rubbing. The time-consuming aspect of this process ultimately adds to the final price.
Aside from wood, some coffee tables are made with metal, stone, or glass. These tables generally cost more due to the cost of the elements.
Further, the process of cutting and forging metal, stone, or glass can be complex which is reflected in the final price tag.
Size & Shape
Size and Shape is other indicator of the cost of a coffee table.
Generally, the larger the coffee table, the higher the price. Larger tables require more wood and materials, therefore cost more.
The shape of a coffee table can also affect cost given that a complex shape can be difficult to construct, requiring more labour and attention to detail.
Style & Design
Finally, the overall style of a coffee table can play a large role in determining the final cost.
If a coffee table has shelves, drawers, or additional design elements that exceed the standard structure of a table, the cost will generally be much higher.
These bonus style and design elements often require extra materials and labour, and as a result, end up costing more.
Deciding How Much to Spend …
You now have an understanding of how much coffee tables cost.
With this, there seems to be a wide range of coffee table costs and several factors that go into determining the final price tag.
Knowing this, it is time to decide how much you are willing to spend and why.
When making this decision, it is important to consider your style, but also the intended functionality of your new table.
Ask yourself …
What room is the coffee table for?
How much you decide to spend on a coffee table may be determined by the room you choose to put it in.
For example, do you intend on putting the coffee table in your living room or family room?
A living room is typically more formal, stylish, and meant for occasionally entertaining guests. Given that this room undergoes less traffic and is a more ceremonial room, you may consider spending a little bit more on a fragile, stylish, or unique coffee table.
Alternatively, the family room is the center of hustle and bustle in the home. A coffee table in the living room will be subject to repetitive use and abuse acting as the placeholder for drinks, snacks, and even feet. You may consider spending slightly less on this coffee table as it may require replacement in a couple of years anyway.
What are you coordinating with?
When choosing a coffee table and how much you are willing to spend, also consider what other elements in the room you are coordinating with. This will play a role in determining the materials, shape, size, and ultimately, the cost.
When furnishing a smaller space, you may consider purchasing an acrylic, glass, or metal coffee table. This type of coffee table helps a small space appear more open.
Darker wood, such as mahogany or walnut, or materials like marble or metal, look great in a traditional room.
Moreover, it is valuable to take a look at the configuration of the seating in order to determine the shape and size of the coffee table.
Rectangular and oval coffee tables work well in small rooms, whereas squares and round coffee tables are great for large seating arrangements.
All of these coordination considerations will impact the coffee table you choose and impact the final cost.
Do you need added functionality or durability?
It is also crucial to consider if your coffee table will need added functionality or durability.
If you live in an apartment with minimal storage, you may consider purchasing a coffee table with built-in shelving or drawers. An ottoman as a coffee table is also a fantastic option, in this case, as it can provide dual purposes such as footrest and extra storage space.
You may work from home. In this case, a coffee table with a pull-out or raised workstation would be perfect for you.
Do you have young children or pets at home? In this case, it may be worthwhile for you to find a coffee table made from durable materials that can withstand some roughhousing.
As mentioned above, these factors will affect what coffee table you choose and how much it costs.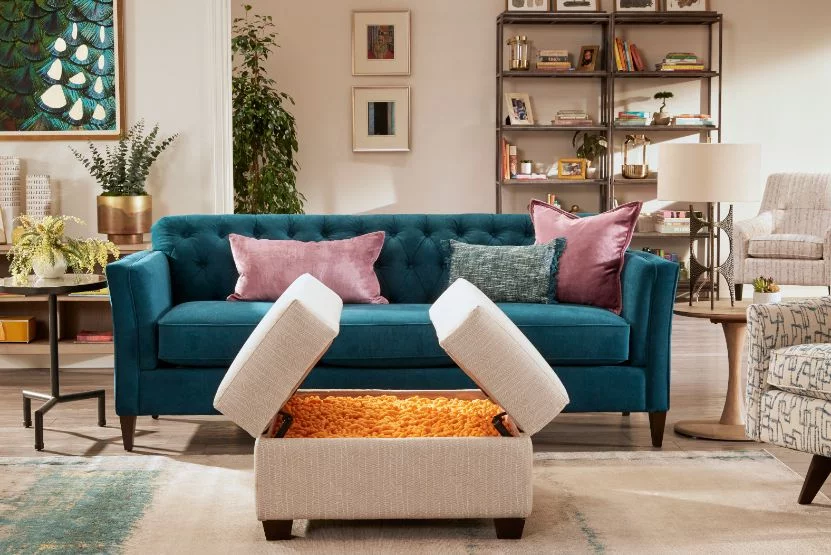 Coffee Tables at La-Z-Boy
Coffee tables sold at La-Z-Boy range from $670 to $3,740.
*All La-Z-Boy prices listed in this article are subject to change. We aim to update all cost-related articles twice per year. This article was last updated in October 2022. Please visit lzb.com and select an Ottawa or Kingston La-Z-Boy store location to view the most up-to-date pricing.
La-Z-Boy offers an assortment of quality coffee tables that add a touch of style to any living room.
These coffee tables are sourced from three trusted brands: American Drew, Hammary, and Kincaid. Not only are these coffee tables well-made, but they are also fashion-forward.
Made from the highest quality materials, our selection of coffee tables at La-Z-Boy cater to traditional, transitional, and modern interior design styles.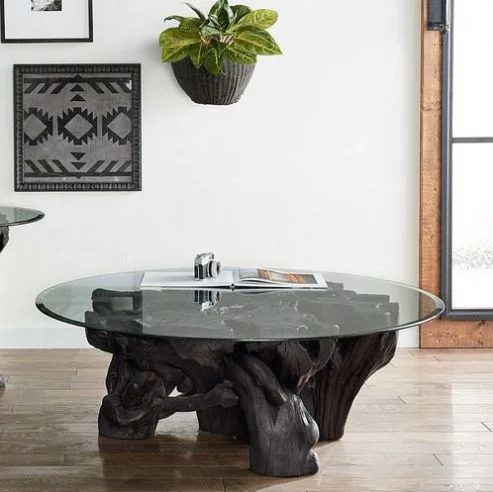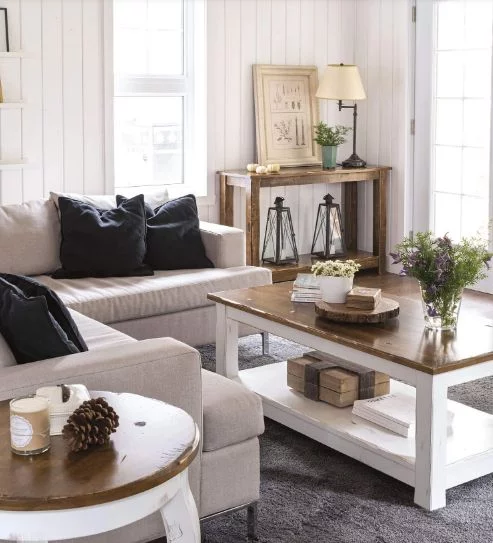 Product Info Request
Please provide us with your name and email and we'll get back to you as soon as possible regarding this item.