How Much Does La-Z-Boy Leather Furniture Cost?
October 11, 2019
How Much Does La-Z-Boy Leather Furniture Cost?
Buying furniture is a big investment. If your goal is to make your next purchase a staple in your living room for decades, then leather should be a consideration.
Once you have chosen your perfect seat or frame, the first step is selecting your fabric or cover.
Your choice of upholstery is the biggest factor when determining the price of furniture. With over 900 fabrics and leathers to choose from, we get asked daily, "how much does La-Z-Boy leather furniture cost?".
For over 90 years, La-Z-Boy has been committed to crafting products that meet or exceed industry standards for quality and safety. Through comprehensive research, we have developed a world-class global supply chain leveraged for manufacturing our upholstered furniture.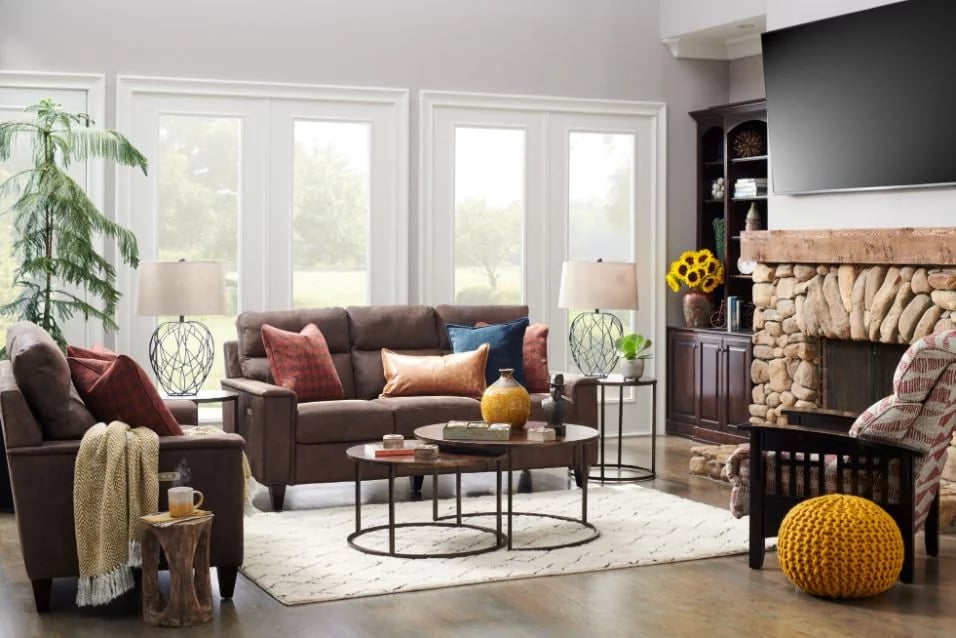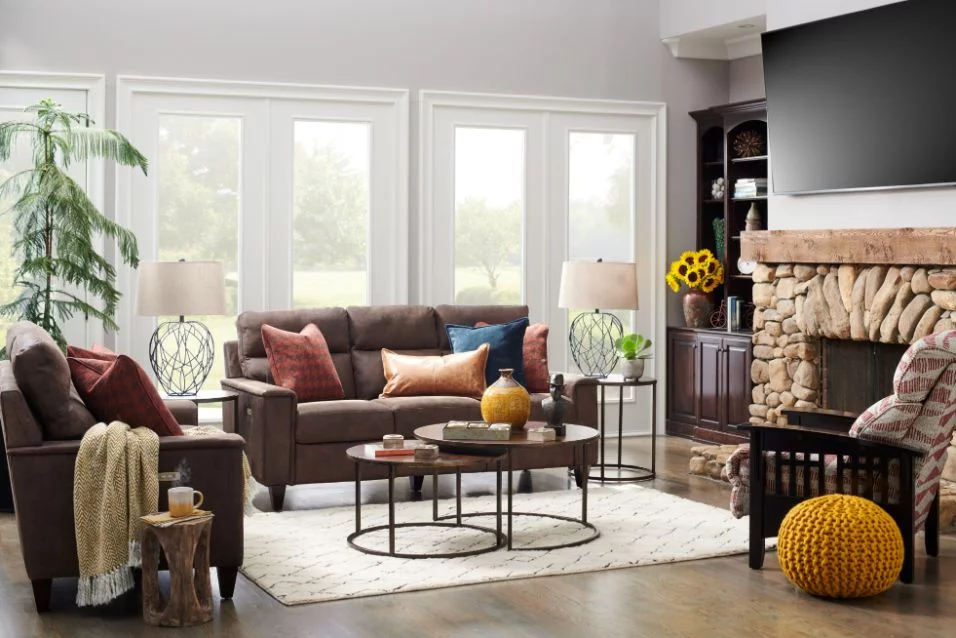 Many factors affect the price of leather furniture, so the answer is not cut and dry. You will find a wide range of prices when shopping for leather furniture whether at La-Z-Boy or other retailers which only adds to the confusion.
Leather gets most of its value from being a natural raw material and the qualities it lends to furniture it enwraps. Pricing depends on where it's sourced, the type of leather used and how it's processed.
In order for you to better understand La-Z-Boy leather furniture pricing, we will review:
• La-Z-Boy leather types
• La-Z-Boy leather collections
• Other factors affecting price
The basic equation for calculating La-Z-Boy leather furniture costs = frame + leather collection + type of leather cover + upgrades and options chosen.

Types of Leather
With its distinctive grain and texture, it's hard to top the classic elegance of leather. BUT not all leather is created equal.
Many types of leather are processed for furniture. They differ in the tanning process, manufacturing, dyeing method and price range. In leather production the more processes it undergoes the less valuable it becomes.
In this article, I'll assume you're already familiar with the value leather upholstery brings to your future statement piece.
I will also assume, you have an understanding of leather types and definitions. Terms such as top grain leather, genuine/split leather, full aniline leather and pigmented leather.
La-Z-Boy Leather
From rich and refined to sleek and modern, our leathers include a variety of colours and finishes, each with a unique grain and texture.
La-Z-Boy has three leather types:
1. Authentic
2. Nubuck
3. Performance
Each type is premium top grain leather. After tanning, cowhides used in furniture upholstery are split into layers. Top grain is the uppermost — top— layer of the cowhide and considered most valuable.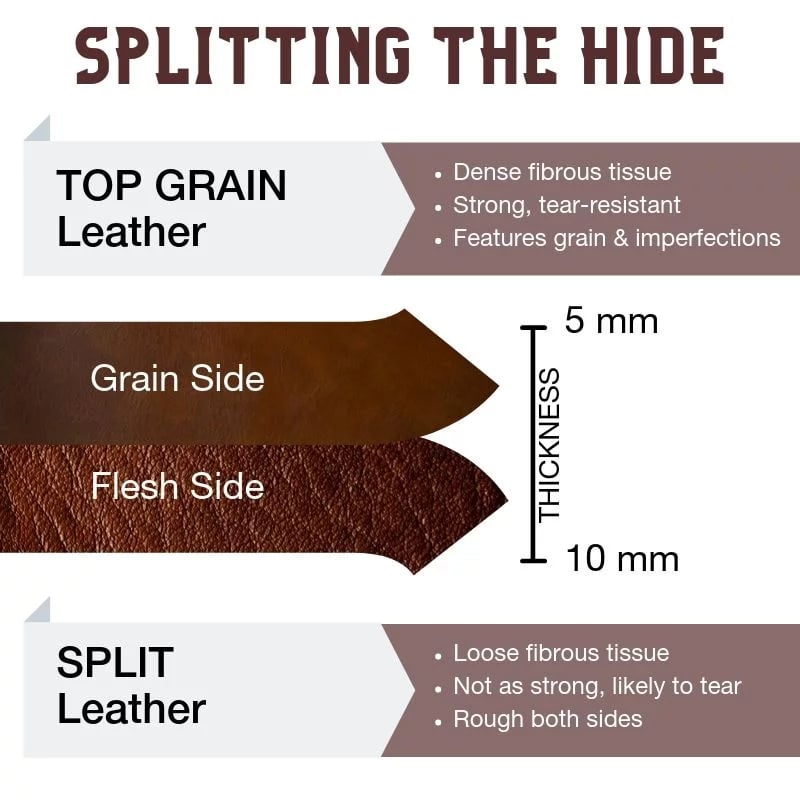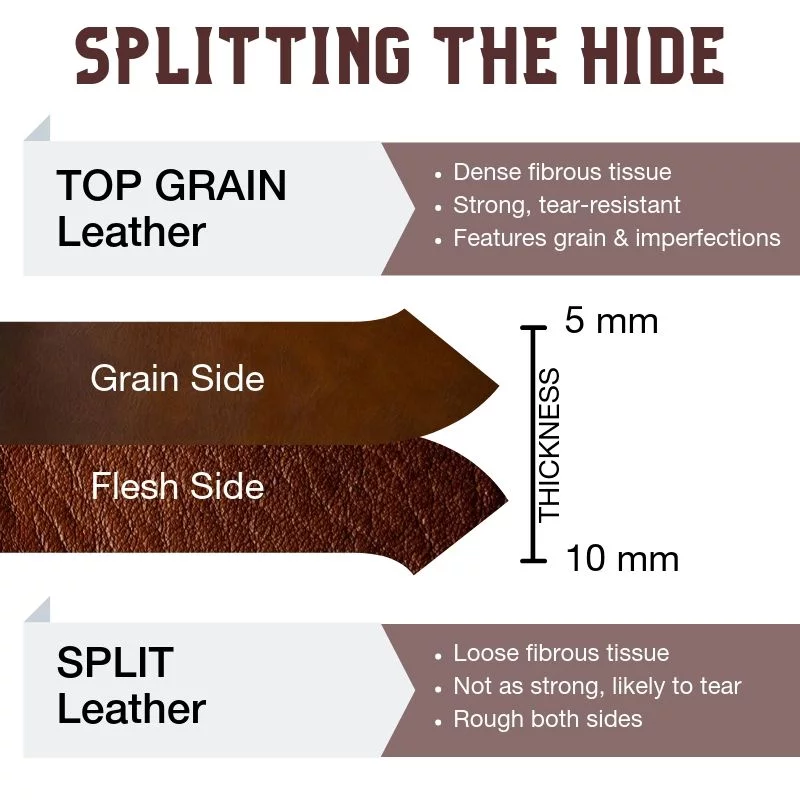 The main difference between La-Z-Boy's leather types is how they have been processed for its use in your home.
Authentic Leather
Made in North America with U.S. and imported raw materials, these premium leathers are one-of-a-kind creations! They are for people who can appreciate rare, natural beauty and enjoy unique character in their décor.
Authentic leather is not altered. Variations in colour, grain and visible markings (including wrinkles and scars) give each hide its distinct look.
Luxuriously soft and warm to the touch it has excellent temperature adaptation. This makes it comfortable during the heat of the summer and colder winter months.
Aniline leather, classed as the highest grade, is primarily used for La-Z-Boy's authentic leather. Dyed once, the lack of pigmentation means the leather is porous and feels natural. Since hides sorted for this class have to be almost flawless, reports state that less than 5% of delivered hides can be processed as aniline leather.
All Authentic leather has a protective topcoat that maintains the natural characteristics of the hide. This leather has the least amount of protection and is highly susceptible to watermarks, grease stains and fading caused by sunlight.


Characteristics: The dramatic colour variations are a stamp of authenticity and quality. This gives each piece a distinctive look all its own.
Benefits: Authentic leather is inherently durable. With proper care, including regular dusting, these leathers become softer and more lustrous over time. It will darken from contact with external factors (such as skin oils, dirt, UV exposure, etc) and gain a precious patina.
Cost: This top grade leather will more than double (2.5 times) the price of your chosen sofa or chair covered with lower grade fabric.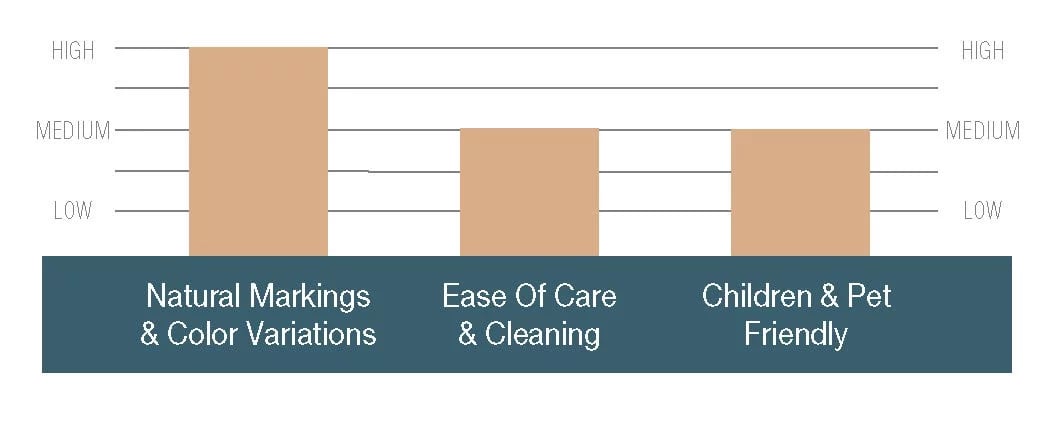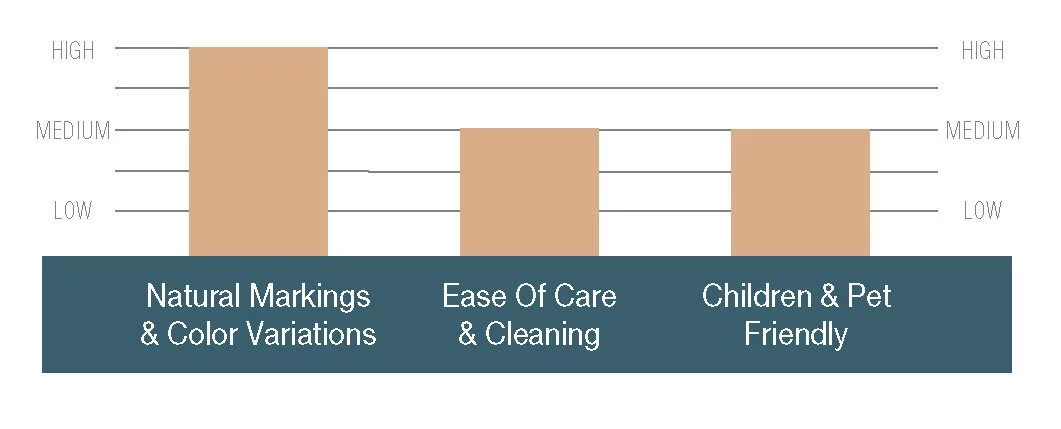 Nubuck Leather
With a velvety softness to the touch, this top grain leather is lightly buffed or sanded to resemble suede with a soft nap. Nubuck is stronger and higher quality than suede which is made from split leather (flesh side of hide).
Characteristics: Infused with pure, transparent dyes, nubuck leather has subtle colour variations. These do not mask the natural character of the hide such as wrinkles, scars, and brands. The result is a unique beauty! It is however less thick than authentic/aniline leather and is susceptible to fading and soiling.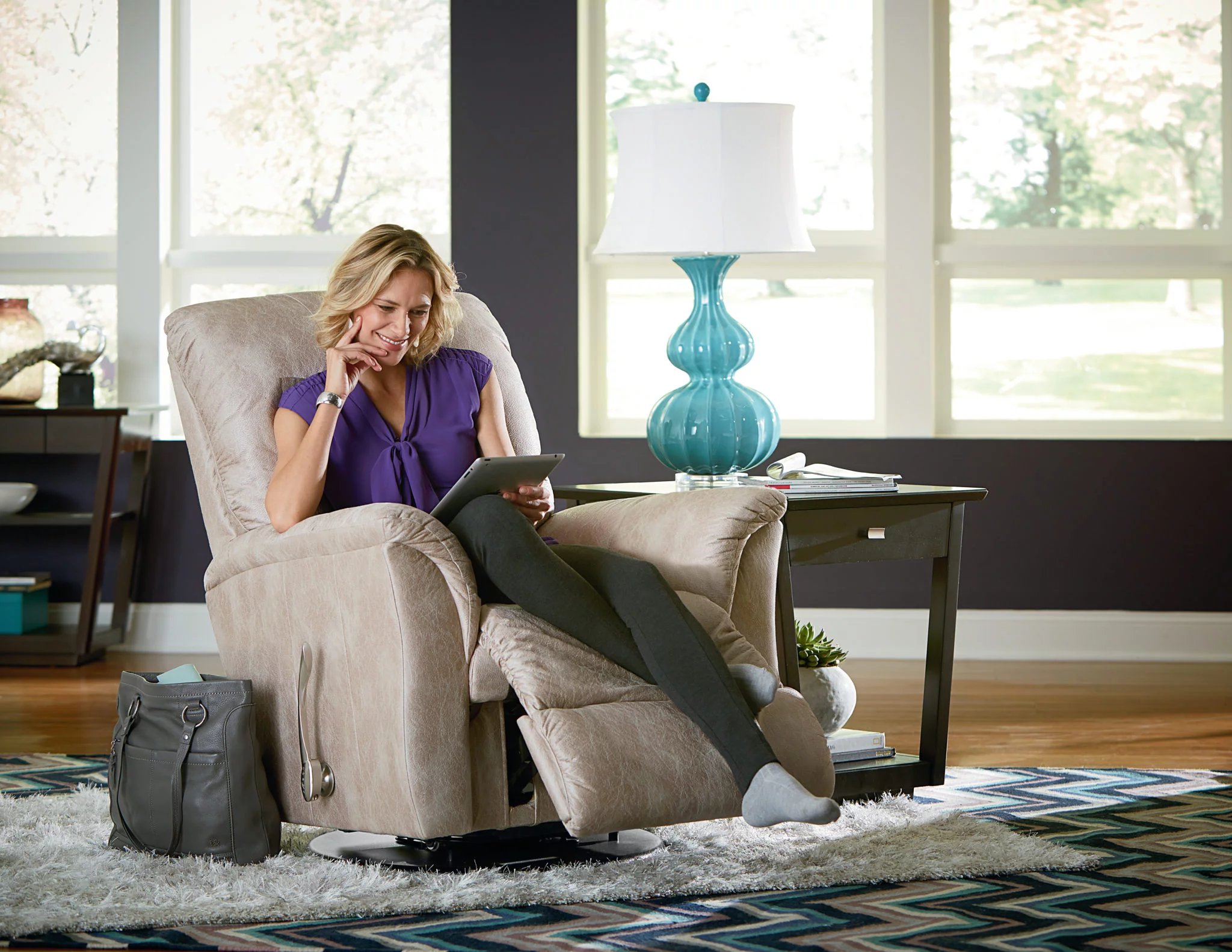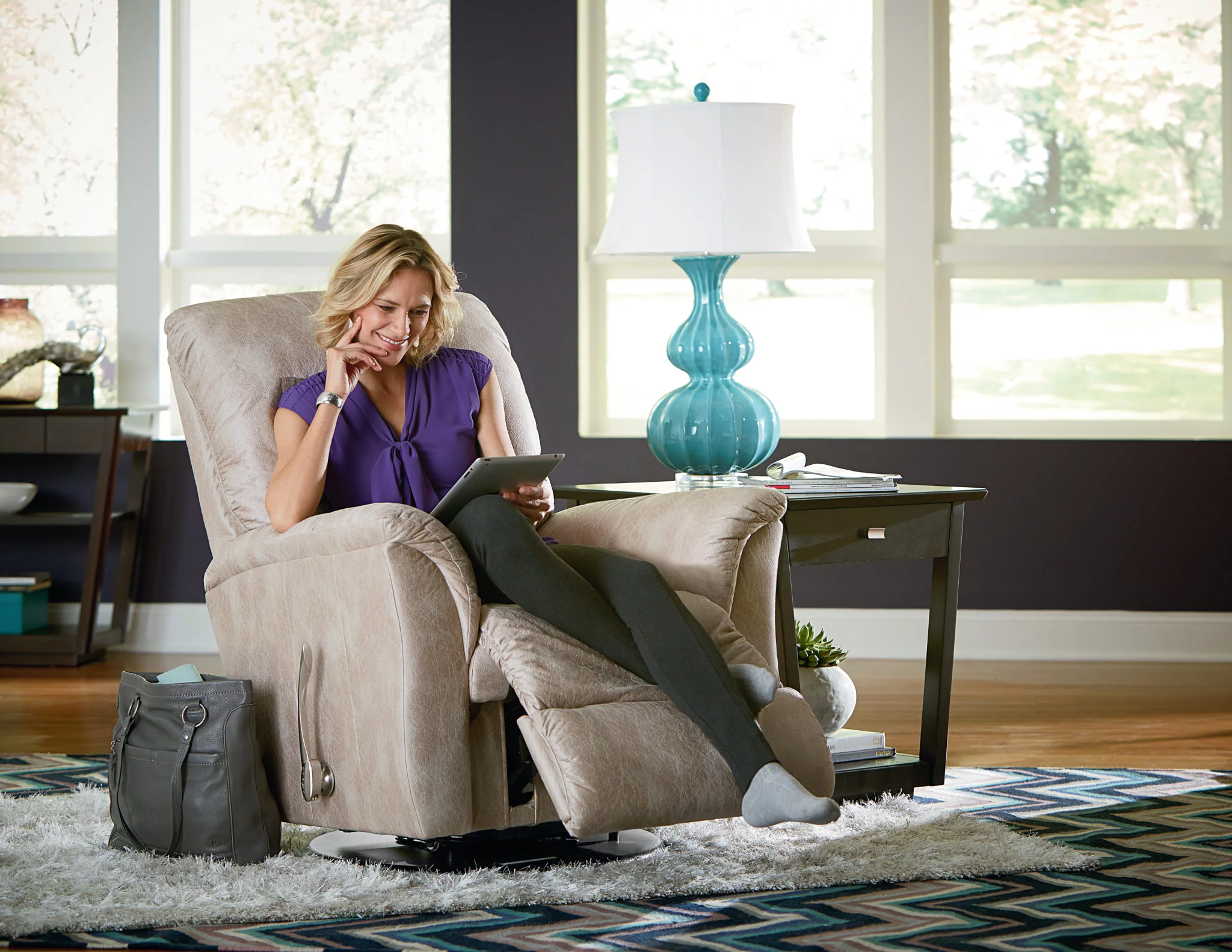 Benefits: It is the perfect blend of softness and durability. Nubuck is a great choice if you want a unique, fashionable and very comfortable leather. You must also be willing to give it the extra care and maintenance it requires.
Cost: Nubuck is less expensive than authentic leather. It will increase the price of your chosen furniture frame by about 1.75 times that of a lower grade fabric cover.
Performance Leather
Performance leathers are top grain hides that have been buffed or sanded and may have a corrective process applied such as embossing. This results in a consistent grain and colouration, which some customers desire.
Additionally, the surface is generally sprayed or rubbed with a protective topcoat with colour in it. This pigementing process allows the leather to withstand more everyday wear.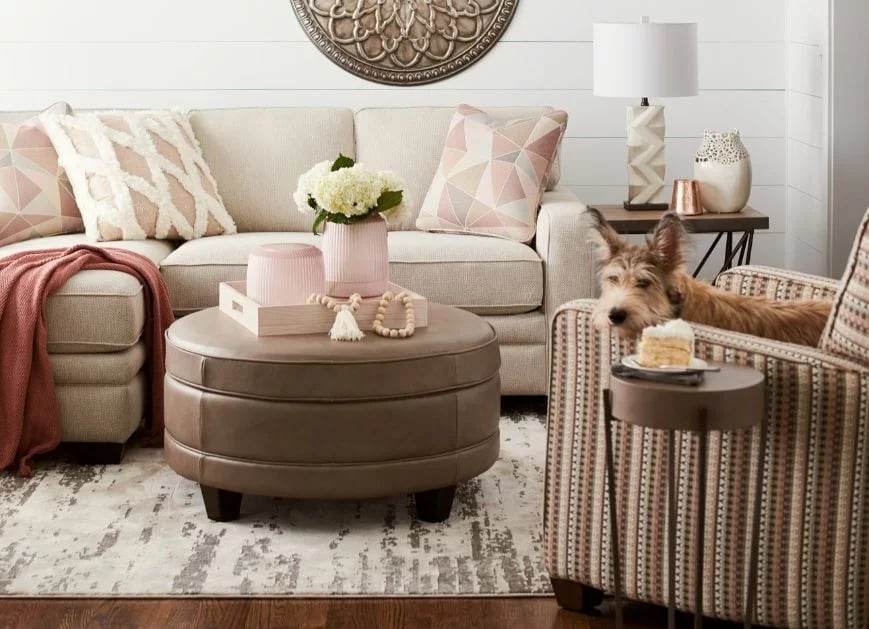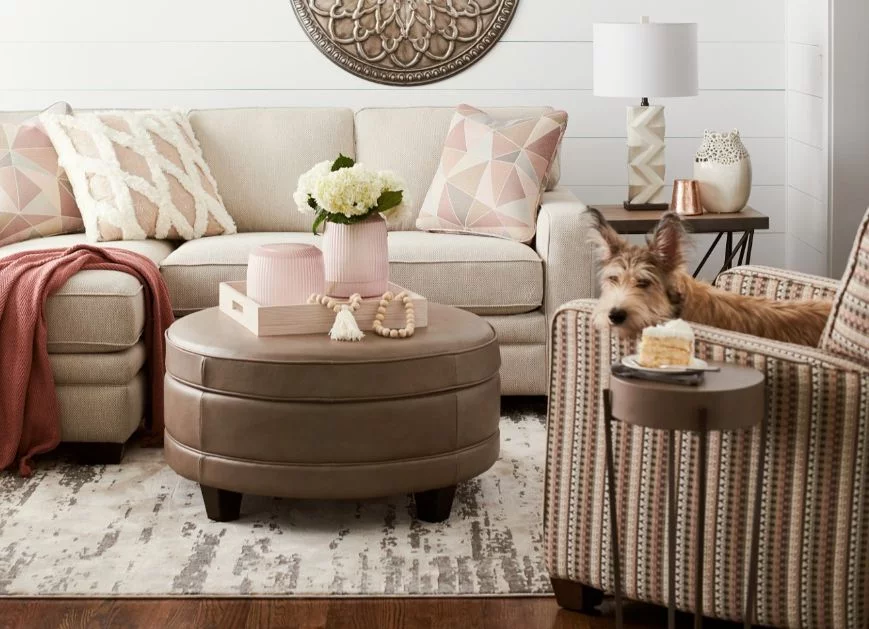 Characteristics: The consistent overall colour and subtle markings of performance or pigmented leathers are created by a variety of techniques. These improve resistance to soiling and enhance their natural beauty.
Benefits: Performance leather is luxurious, long-lasting and easy to maintain. It has a soft and supple feel, yet rugged enough to withstand the challenges of homes with small children and pets. An occasional wiping with a clean damp cloth will have it looking its best for many years to come.
Cost: Performance leather will double the price of your chosen sofa or chair covered with lower grade fabric.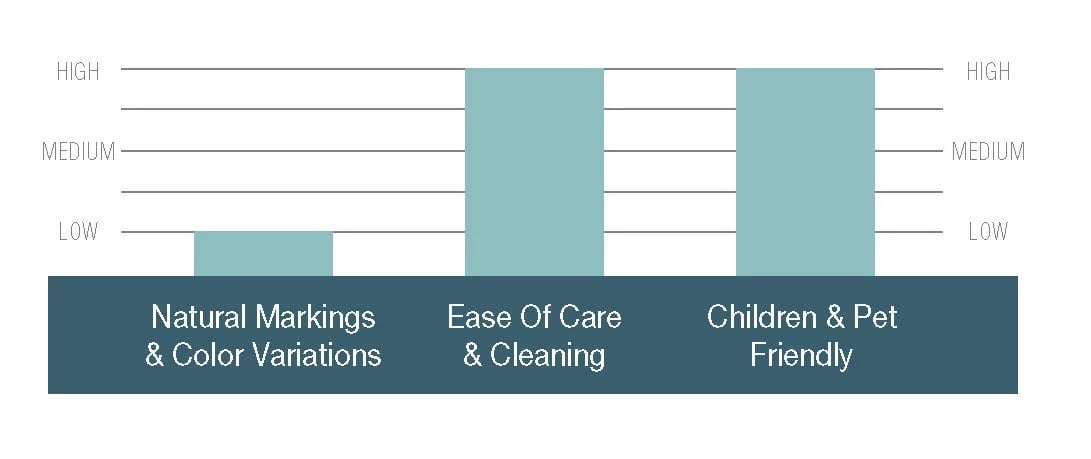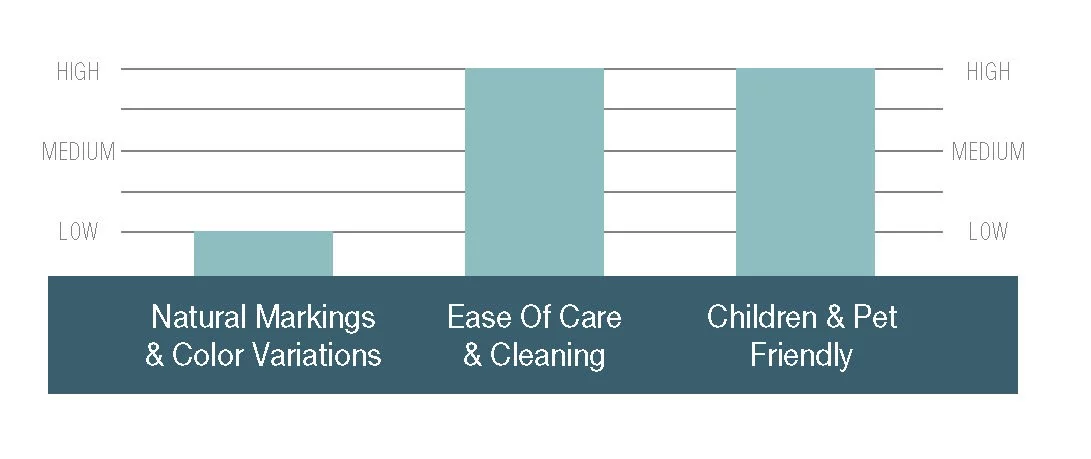 The NOT Leather, Renew™ Leather
It is worth mentioning that La-Z-boy Renew Leather is not leather but a performance fabric. Made from recycled leather, Renew offers the look of leather and is designed to resist scratches and fading.
Also known in the industry as bonded leather or faux leather, it is composed of:
• Face – urethane foam that is heat bonded to a polyurethane film
• Center – a poly-cotton substrate
• Backing – 17% to 52% recycled leather
All layers are bonded together, washed and embossed with leather-like texture to mimic the look and feel of real leather.
The pricing reflects that this cover is man-made and not top grain leather. There is very little increase in cost (approximately 5%) when choosing Renew fabric over other fabric covers.
La-Z-Boy Leather Programs
"Select Leather" Program
We now have a "Select Leather" category which includes Stationary and Motion frames. This category has "married leather covers" (1 leather cover/frame in two or three different colours).
Stationary:
Chairs starting at $1899$
Sofas starting at $2799$

Motion:
Chairs starting at $1799$
Sofas starting at $3599$
*All La-Z-Boy prices listed in this article are subject to change. We aim to update all cost-related articles twice per year. This article was last updated on May 30th, 2023. Contact your local Ottawa or Kingston location by phone or in person for up-to-date pricing.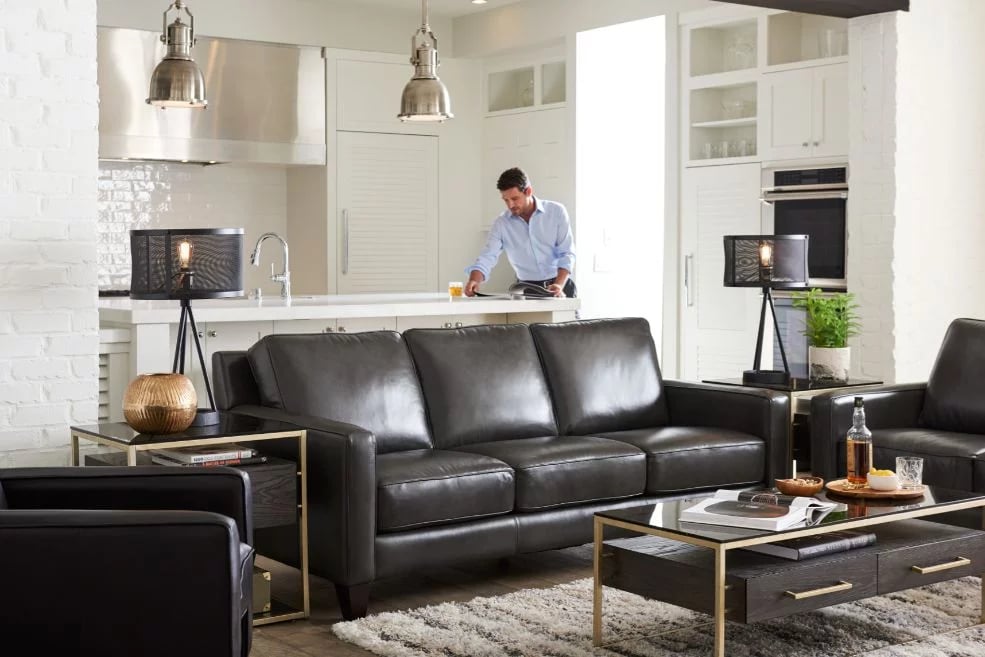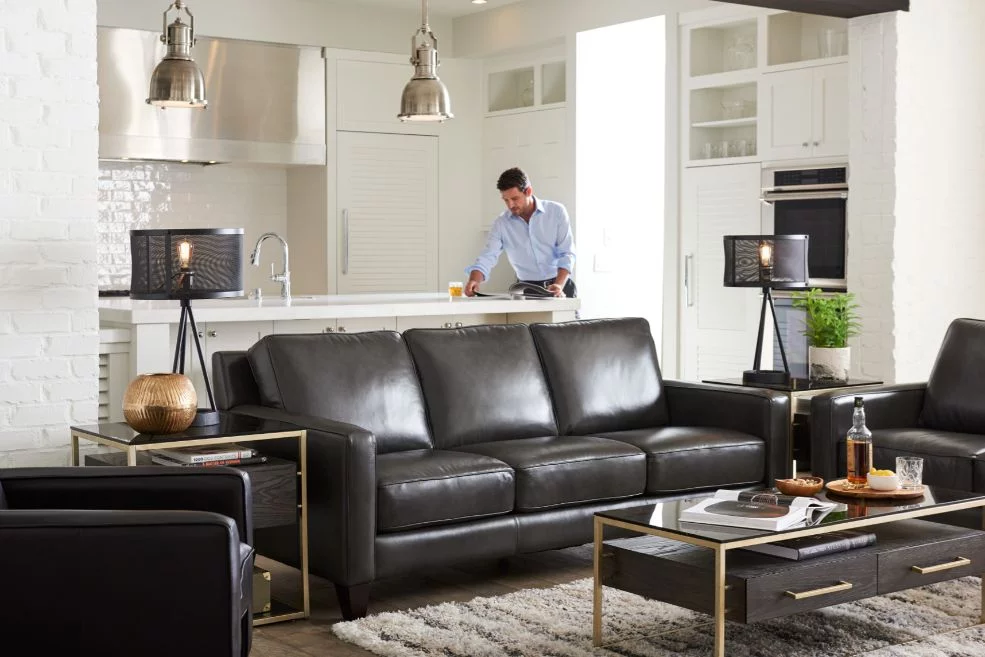 "Custom Leather " Program
You can choose from a wide variety of stylish frames including sofas, chairs and more. This furniture is cut and sewn globally and upholstered in North America. It brings a new level of comfort, quality and value to your home.
Stationary:
Chairs starting at $2199
Sofas starting at $2999

Motion:
Chairs starting at $1899
Sofas starting at $4399
"Leather +" Program
Allows you full customization. It consists of top grain leather everywhere on the frame. There is no marrying with split leather or leather matching vinyl.
This allows you to choose from a wide selection of vibrant colours, textures and finishes from high gloss sheen to a soft and velvety feel.
Hand-cut for your specific frame and sewn in North America, they can be custom ordered on any La-Z-Boy frame available with a leather option.
Stationary:
Chairs starting at $2099
Sofas starting at $3969

Motions:
Chairs starting at $2069
Sofas starting at $4899


Upgrades & Options
We're all about giving you choices so that your new leather furniture suits your home and your way of living.
We offer several upgrades and options.
They include nailhead trim, wood finish, cushion options, reclining handle options and heat and massage.
Next Steps
When evaluating your leather furniture options, be sure you know what type or grade of leather is being used. They have different features: price, durability, flexibility, breathability and comfort. Some types are also more resilient, easier to care for and clean.
The variety of La-Z-Boy leather furniture will ensure you find the perfect match for your needs. We'd be happy to answer any of your leather product or pricing questions at any one of our La-Z-Boy locations in the Ottawa and Kingston area.
We also provide a complimentary in-home design service if you need help designing a room worthy of a new luxurious leather sofa or chair.
Related Links:
Product Info Request
Please provide us with your name and email and we'll get back to you as soon as possible regarding this item.