Top 8 Best Dining Table and Chair Stores in Ottawa
May 28, 2021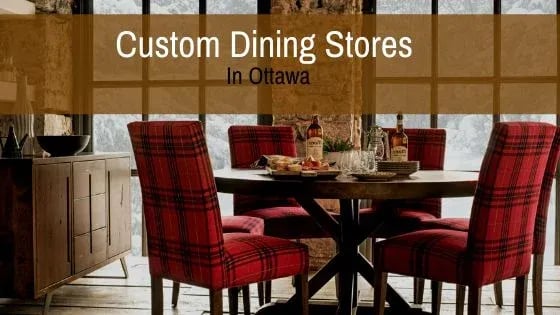 Each year, we at La-Z-Boy home furnishings and decor meet with hundreds of clients who are keen to design and furnish their homes. As a manufacturer and retailer of home furnishings for over 90 years, we often get asked our opinion about other furniture retailers. Ottawa area residents want to know "where can I buy a dining table and chairs?"
If you think about it, the dining room is indeed the heart of a home for many of us. These are the spaces where we share good times with family and friends, and indulge in everything entertaining, from cooking delicious meals to enjoying lively conversation. A beautiful dining set – one that reflects your taste and style – makes the experience even sweeter.
Full disclosure, we sell Canadel custom dining tables, dining chairs and barstools. While La-Z-Boy has a wide selection of dining options to choose from, we understand that we may not be for everyone, and we are committed to finding the best options for our customers.
As you evaluate the various dining stores, please remember that buying high-quality, comfortable home furnishings is only half the equation. The local dining furniture company you will do business with is responsible for the successful delivery and installation of your new dining room furniture. Furthermore, they may provide supplementary services such as design and post-purchase support that will impact your overall experience.
Here is a list of eight companies (in no particular order) that have a reputable dining furniture business in the Ottawa area.
8 Of The Best Dining Stores in Ottawa
1. The New Oak Tree:
Offering custom dining furniture, they make solid furniture and does not make use of particleboard or veneer. They provide delivery and setup of their furniture through their own teams.
The New Oak Tree has 4 store locations in the Ottawa area:
Carleton Place,

Brockville,

Navan

Pembroke
2. Dufresne Furniture and Appliance
This company was founded in the 1940s by Doug Dufresne. They provide *custom tables, chairs, or furniture sets. and focus on designing a table that will fit your life and compliment your style.
Dufresne has 2 locations in the Ottawa area:
290 W Hunt Club Road
1901 Cyrville road
3. Valley Squire Furniture:
Established in 1973, a family-owned and operated furniture store. They carry custom furniture for your entire home including brands such as Canadel, Handstone, and Millcraft.
Valley Squire has one location in the Ottawa area:
4. Hauser Company Stores:
Originating in Kitchener, Ontario, by John Hauser in 1949. Now selling indoor furniture throughout Ontario, they have also added dining tables and chairs to their lineup.
There is one Hauser store In the Ottawa area:
5. The Emporium:
Established in 1978, the Emporium is an independent, Ottawa-based, country furniture business. They operate a woodshop and retail store, where they sell solid wood furniture.
The Emporium has one location in Ottawa:
6. Bonds Decor
A family-owned business founded in 1927, by the late W.A. Bond. They sell custom tables, chairs, buffets, and curios.
Bond's decor has three locations in Ottawa:
1242 Banks street, Ottawa
150 Iber Rd #2, Stittsville, Ontario
2212 Gladwin Crescent
7. Mobilia
Founded in 1966, Mobilia sells modern furniture for the home. Dining tables, chairs, buffets, etc. in several styles.
Mobilia has one location in the Ottawa area:
8. Upper Room
Serving Ottawa Home Furniture buyers since 2004; Owned and operated by the Nolan family. They sell tables, chairs, bars, cabinets, benches, stools, and more.
Upper Room has three locations in Ottawa:
545 W Hunt Club Rd

255 Kanata Ave, Kanata

1344 Youville Dr, Orléans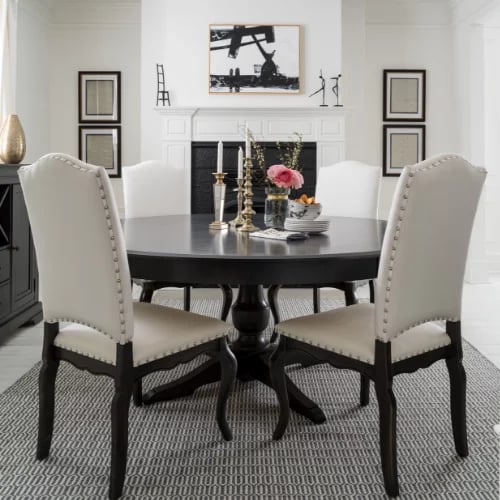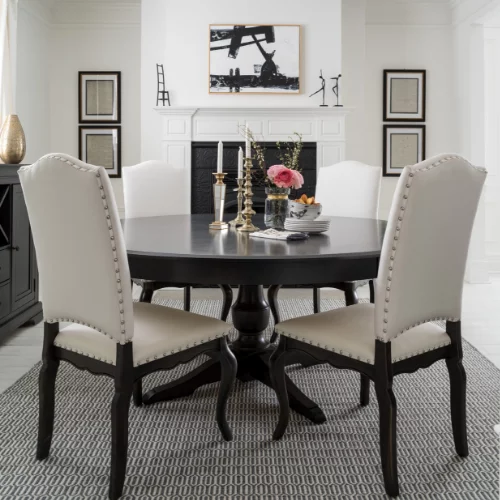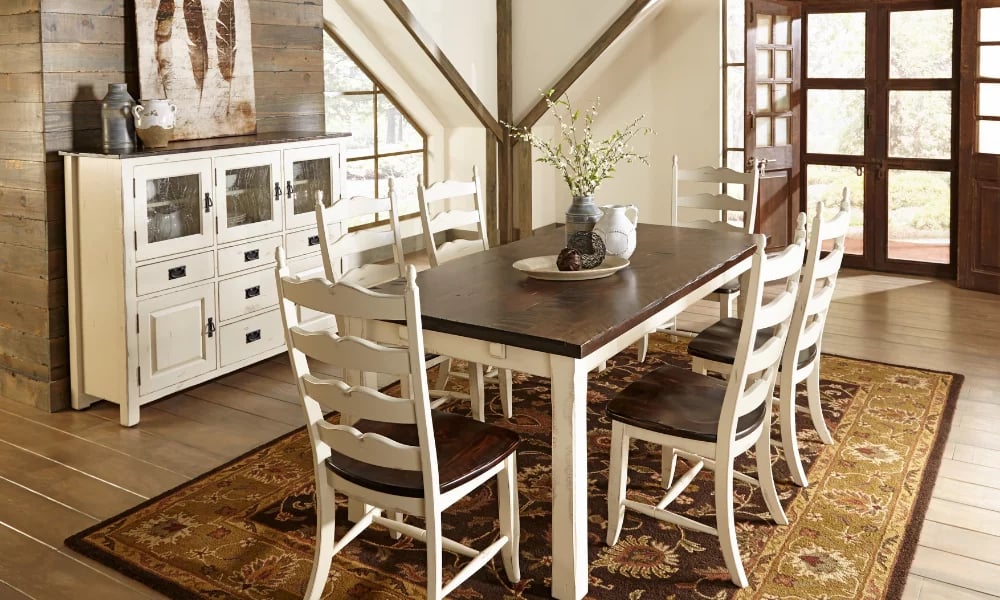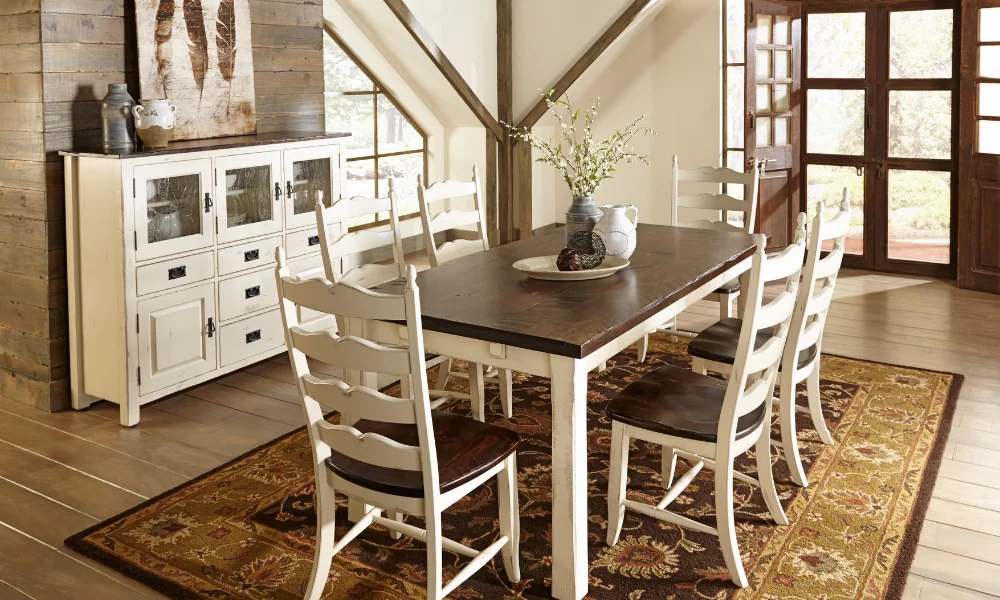 For those on a Budget
The stores above all sell dining tables and chairs, most offering custom options to various degrees. There are also big-box type stores that offer more 'stock' dining tables, where what you see on the floor is what you get. These stores typically offer little in the way of customization but may be more appropriate for the budget-conscious buyer and to those who need something right away.
– The Brick
– Leon's
– Surplus Furniture
– IKEA
– Costco
– Home Depot
Financing
Regardless of which retailer you are shopping with, furniture of any kind is often a significant investment. The option for furniture financing can take some strain off of your wallet and allow you to enjoy a new dining set while paying off the investment over time.
Retailers offer options for furniture financing such as Fairstone and Flexiti. You have the opportunity to finance your furniture at a 0% interest rate as long as the purchase is paid off within a given period of time. Based on the plan you choose, there are different options available to pay off your investment over either 3 months, 6 months, 12 months, 24 months, or 36 months. Further, depending on the plan chosen, you may be required to pay a financing fee at the time of purchase.
When shopping for dining furniture for your home, ask your sales associate about their financing options before deciding if it's the right choice for you.
Next Steps
We hope you've found this list helpful. We wish you well on your journey to find the perfect dining set for you and your family.
If you are interested in shopping at La-Z-Boy for your dining furniture Canadel has staked its reputation on high-quality dining tables, chairs, barstools, benches, and more for over 30 years. Feel good about buying Canadian-made dining furniture made of the highest quality materials, custom-made for you and your family.
At Canadel, your table options are endless! You can customize every aspect of your table: materials (solid wood, glass), size, shape, leg design, and wood finish. We also have drop leaf and extendable dining tables for those special occasions when you need extra seating.
If you are interested in what Canadel has to offer, let's get started on your furniture shopping experience.
La-Z-Boy Ottawa & Kingston and Canadel are locally owned and operated by the Maxwell family. Our highly-skilled team of design consultants and interior designers look forward to helping you find the perfect dining set for you and your home.
Visit us at one of our local Ottawa or Kingston locations or schedule an appointment to meet your personal consultant.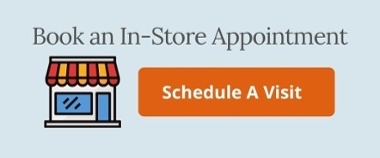 Product Info Request
Please provide us with your name and email and we'll get back to you as soon as possible regarding this item.