Dining Table Style Ideas For Your Home
March 6, 2020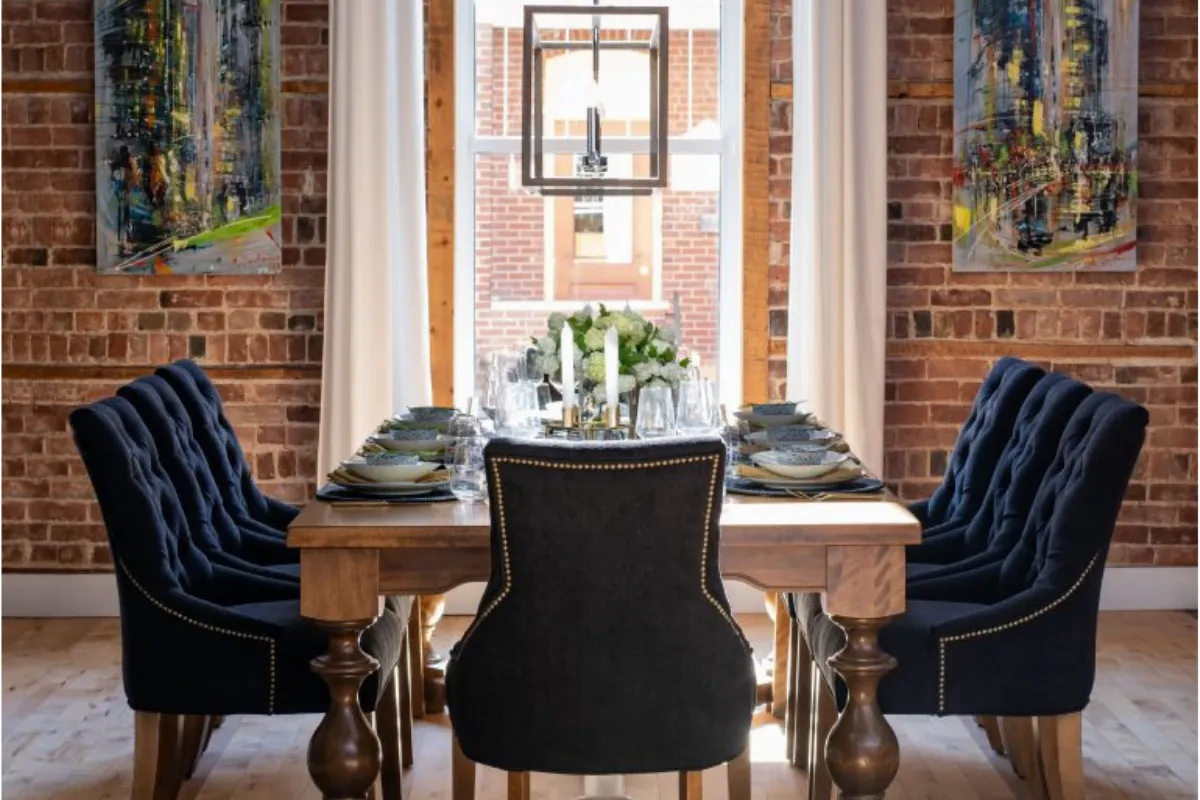 How to Create a dining room that Reflects your Lifestyle
Do you like to sit around the dining table with friends and family while enjoying a delicious meal? Do you love good food and good conversation? According to Canadel's Inspired Magazine 43% of us rarely or never go to restaurants for dinner and 70% of us eat most of our meals at home.
Some of the most meaningful experiences happen around the dinner table. Even with a busy schedule, after a long day, we enjoy sharing a meal with our loved ones and hearing about their day.
Sometimes dining areas can be a challenge, especially in a room that's sparse, cluttered or uncomfortable. Usually our eating areas are allocated to a small room, an open concept area or right next to the kitchen. Achieving the ambience with a dining table style you desire can sometimes be difficult, but your design choices can help.
Keep in mind the layout of your home
When it comes to home décor, you always need to keep the big picture in mind when making design decisions. Things like the size of your home, room layout, wall and floor colours, lighting and function need to be considered. In open-concept spaces, keeping the same colour scheme throughout is a smart decision. Be careful though, we don't need to match everything, and the flow is important.
If your dining room is next to your kitchen, the functionality for everyday use is essential. In this type of layout, the dinette is an extension of your kitchen. In an open floor plan, the look should remain consistent with the use of similar textures.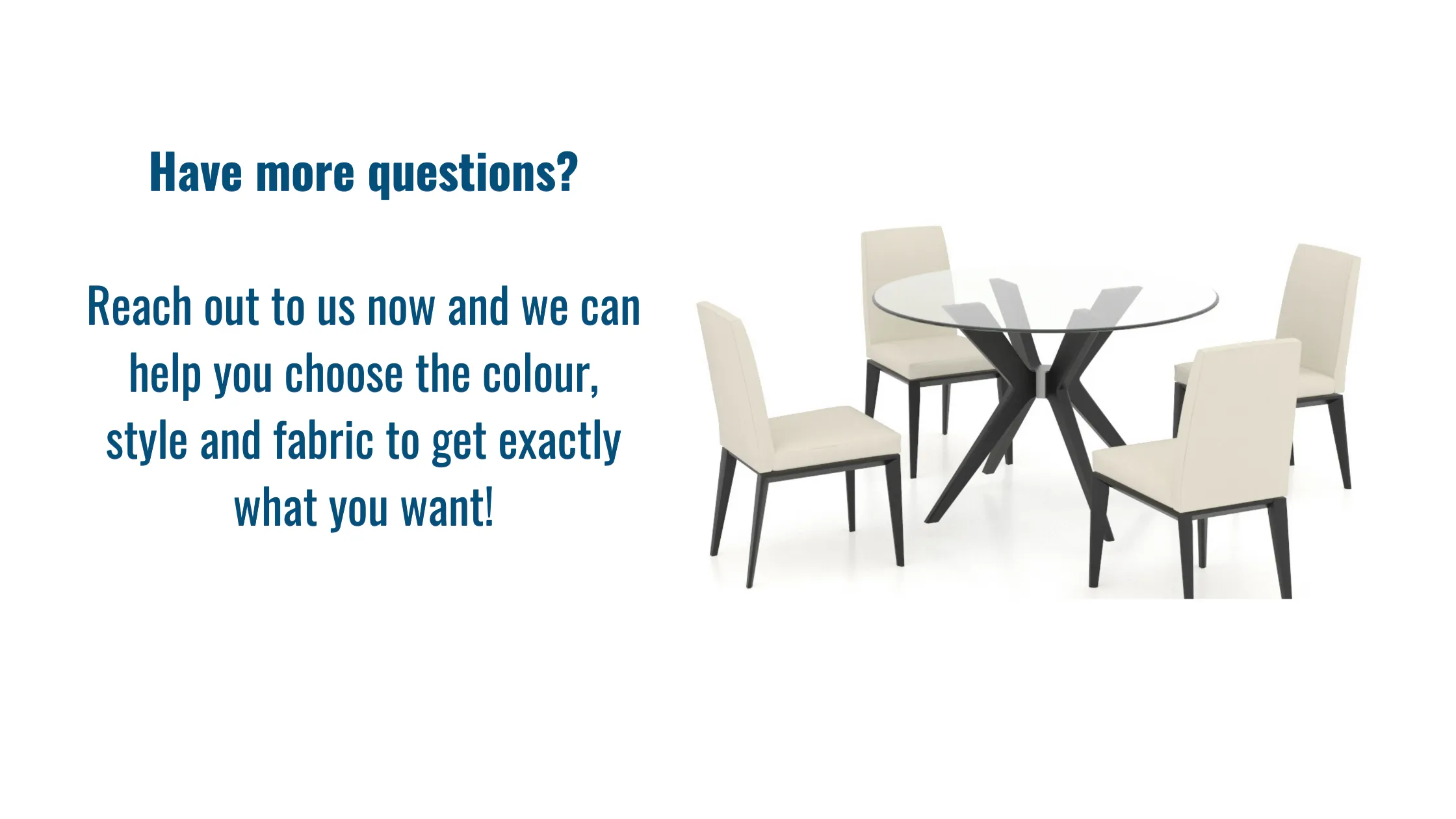 The table can work as a focal point. Select textures that add character, for example, a distressed wood table and leather chairs.
In addition, a statement chandelier can create a subtle separation, and define the eating area. In order to keep a cohesive look, choose accessories and table arrangements with your accent colour that complements your décor.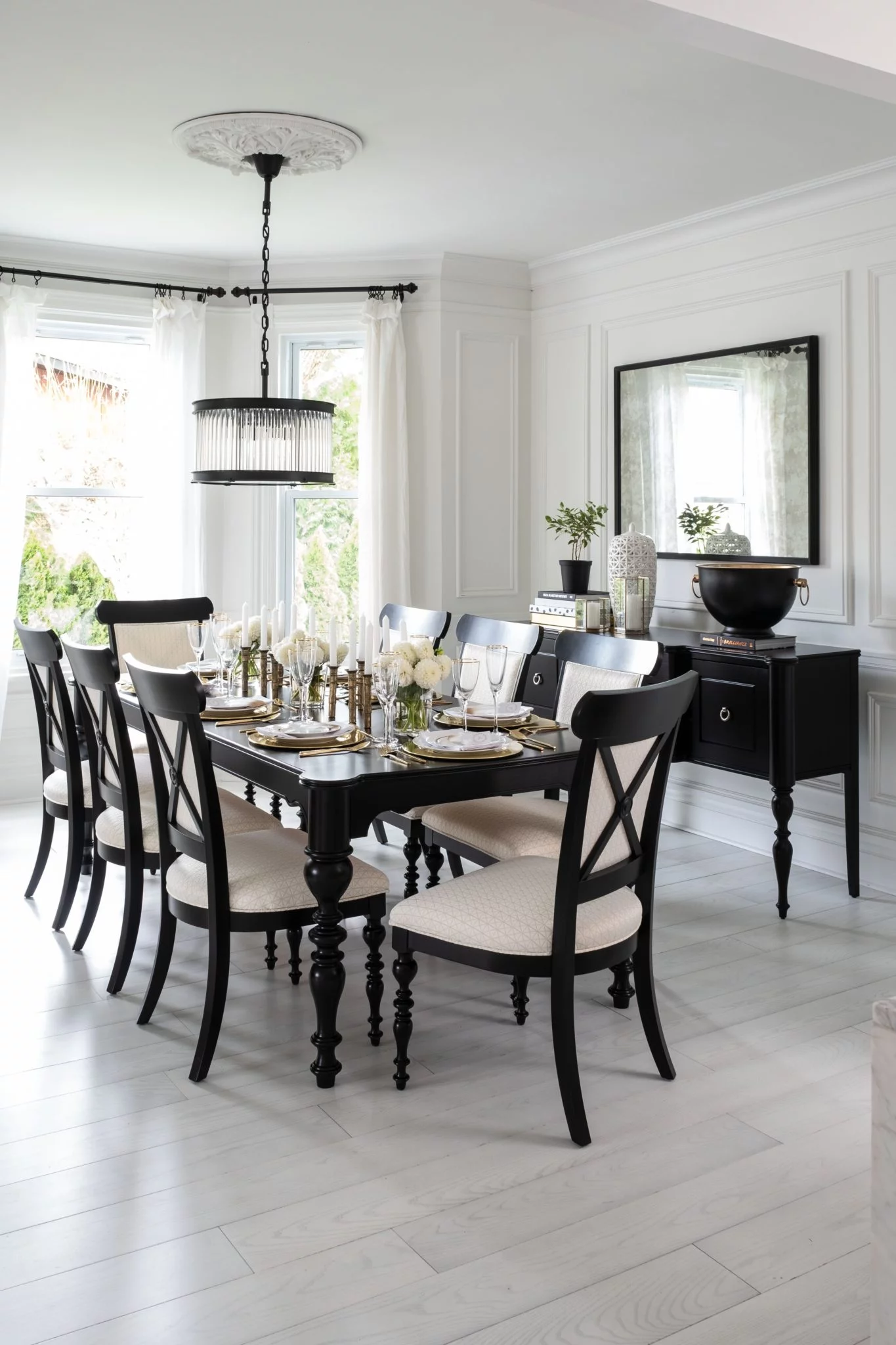 A dining room separated from the rest of the house is the perfect candidate for its own distinct décor. In this case, you can go with bolder elements that make a big statement. You can invest in wallpaper, a hutch, rugs, mirrors, lighting and artwork which help the room stand out. Read our blog: 5 tips for creating a beautifully decorated dining room.
How to find your dining table style
I've been working as an interior designer for about 11 years now, and many of my clients tell me they don't know what their own personal style is. They haven't really given it much thought and don't even know where to start. Your home is such an intimate space, and should reflect your personality with style. In order to be successful in achieving this, you must put the time and effort in to determining your preferred design style.
Here are some steps that you can follow in order to find your style:
Pinterest is a great tool! Select some looks that put a smile on your face:) check out

La-Z-Boy's Pinterest page

.

Start with an anchor piece, like your favorite piece of art or an area rug.

Create a mood board of items that you love and would like to see in your room. (see examples of mood boards below)

Consider restaurants you frequent or really want to dine at (perhaps it has something to do with the décor)
Visualizing your preferred style helps to build a concept in your mind of the mood you're looking for. The table and chairs you choose will have a huge impact on your dining room. Here's a list of 6 styles and accessories that complement them and will bring your dining room to life!
Six Common Dining Table Styles
1-FARMHOUSE
The farmhouse style (also known as farmhouse chic) is very popular these days. With farmhouse style furniture and the right accessories and fabric, you can create a coastal look. People who like this style tend to also like antiques. They love vintage pieces that have a history or have been passed down through generations.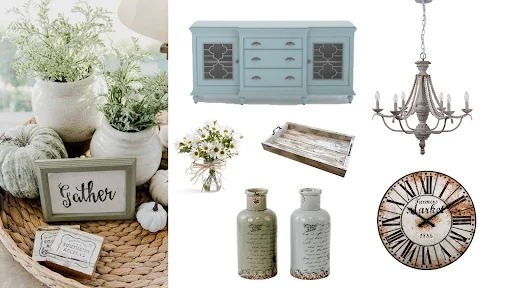 Vintage vases, trays, organics, shabby chic accessories and Lamb's-ear plant are good choices for the farmhouse table. Consider a buffet as it creates a great presence in the room. Fabrics can be soft, like florals or striped patterns. A subtle contrasting wood colour gives some depth and warmth. You can use throws and pillows on the benches to make them cozy and inviting.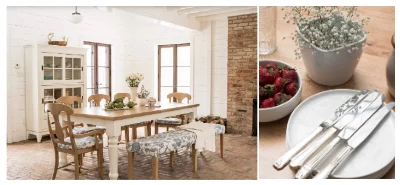 2. MODERN
It's easy to mistake modern for contemporary. I like to call it mid-century or mid-century modern. More of a minimalist style, the modern dining room has clean lines, is functional and clutter-free.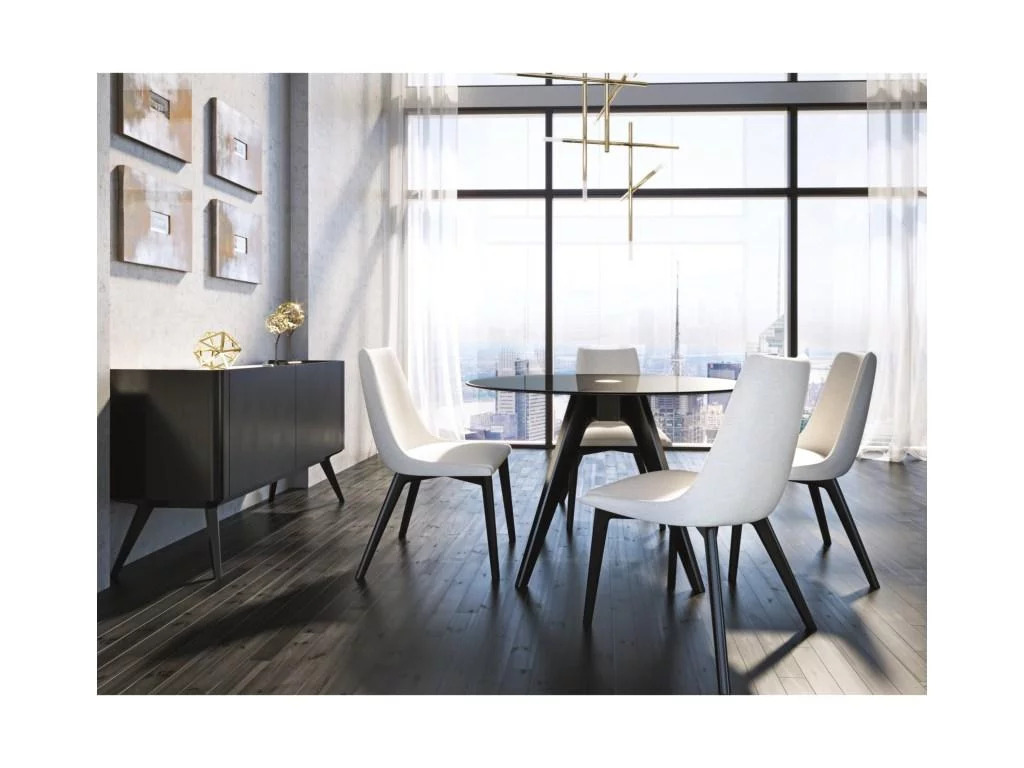 One or two accent colours adds an extra flavour and highlights the shape of the pieces. An abstract patterned piece of artwork or a rug can warm things up. Candle holders made of interesting materials with a simple and angular design adds a fine touch. Textiles are clean and texturized, less is more.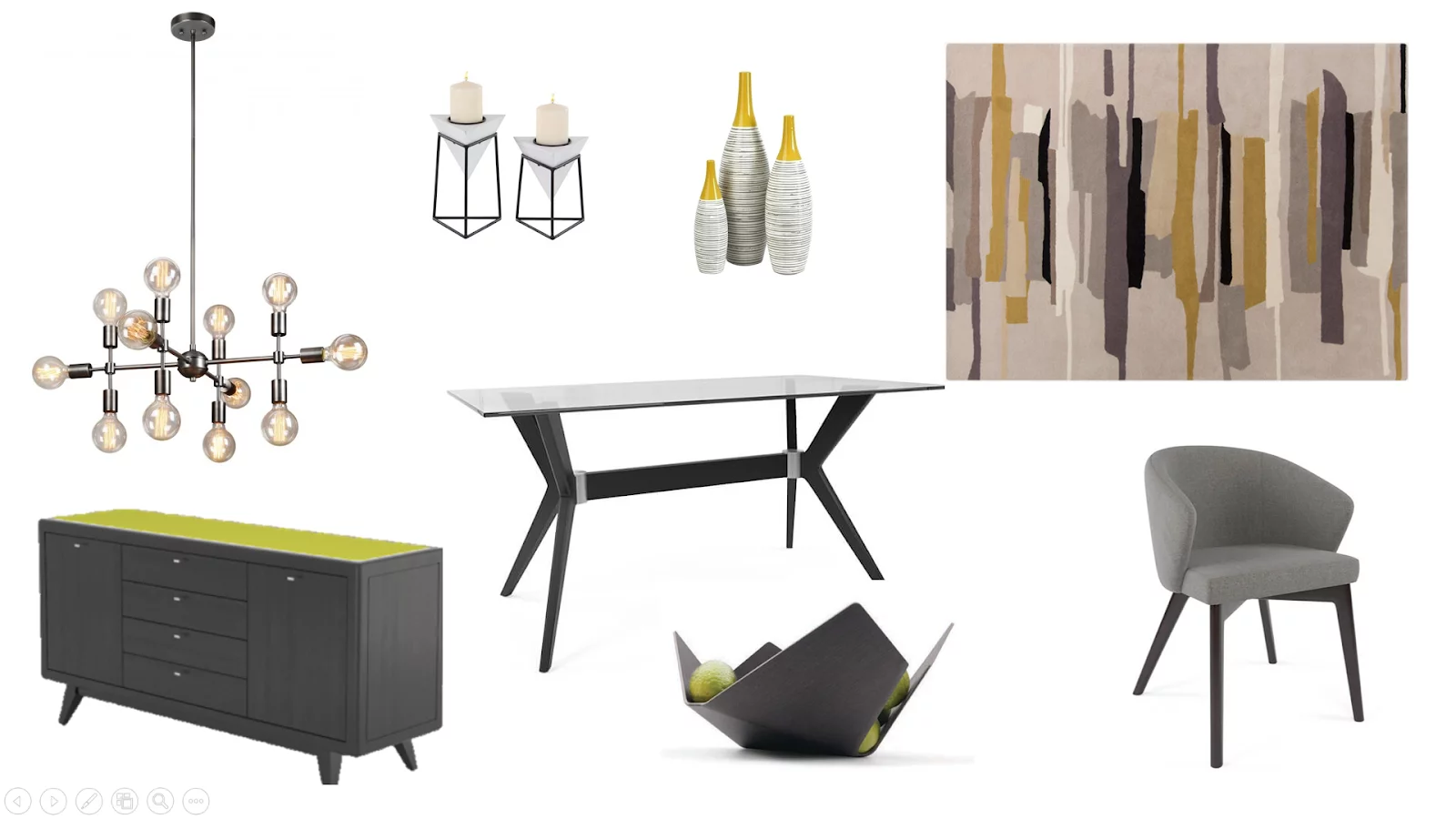 3. RUSTIC
Rustic follows the same principles as the farmhouse style but has more rural and crafted finishes. The distressed finish is displayed in materials such as raw wood, stone, aged copper and iron. The textiles have earthy tones and the furniture is typically chunkier. This style isn't always defined as a cabin look, rustic can also be elegant.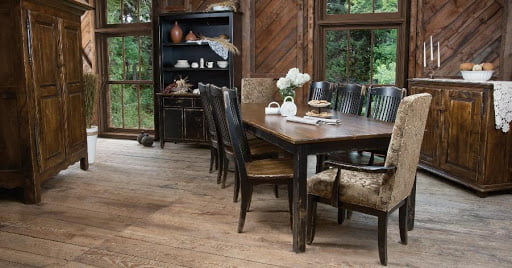 Go for organic elements and a hint of traditional décor. Paisley and plaids on fabrics, window treatments and vases are allowed. Keep it monochromatic and use more authentic hardwoods.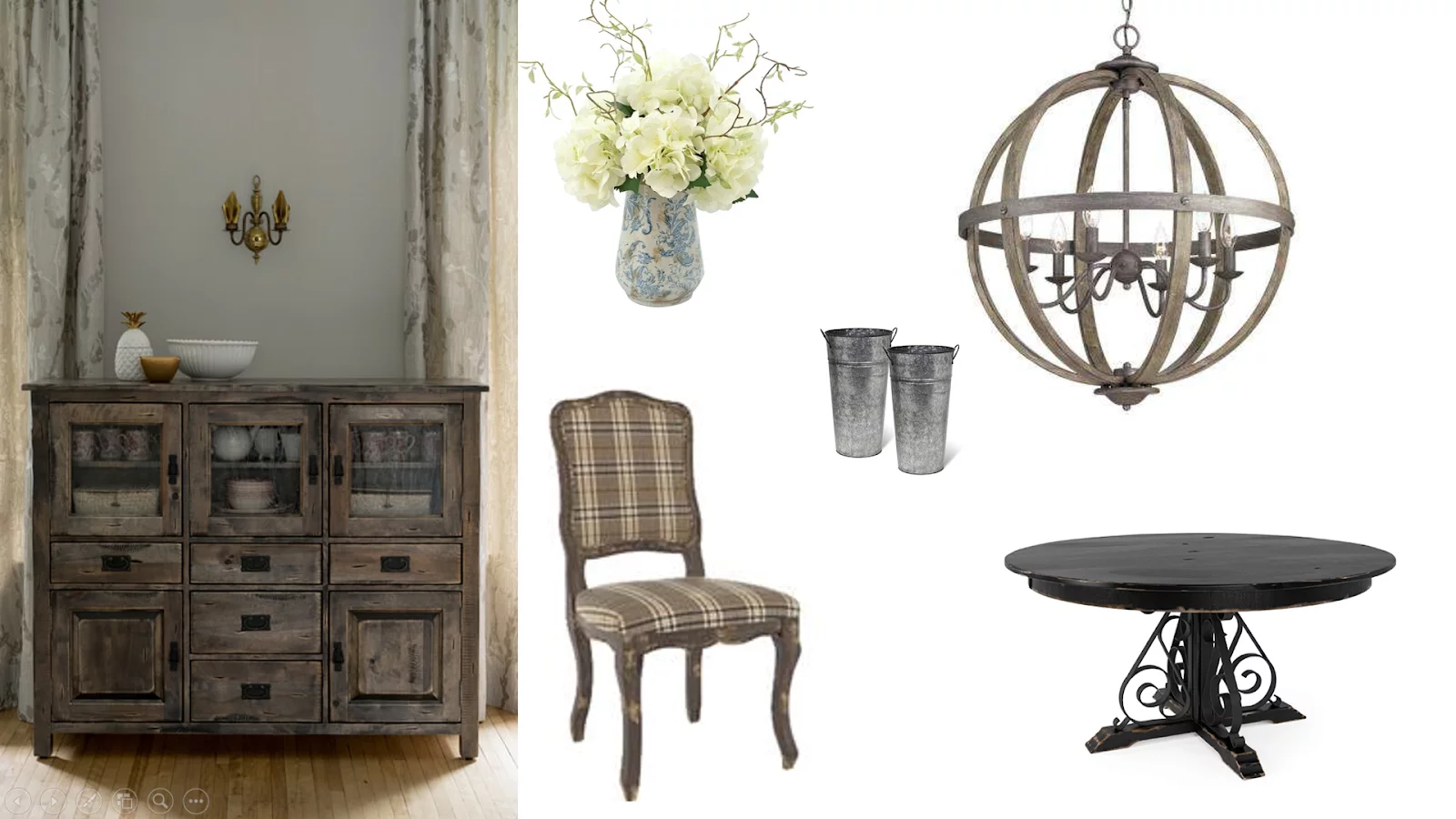 4. INDUSTRIAL
The Industrial style has a rustic core and urban feel, like old factories and warehouses. The perfect blend of wood and metal with a loft/industrial aesthetic. Elements combine organic wood and sleek metal with a rustic finish. Ductwork, beams and bricks are usually incorporated into an industrial-style room. Picture New York industrial areas in your home.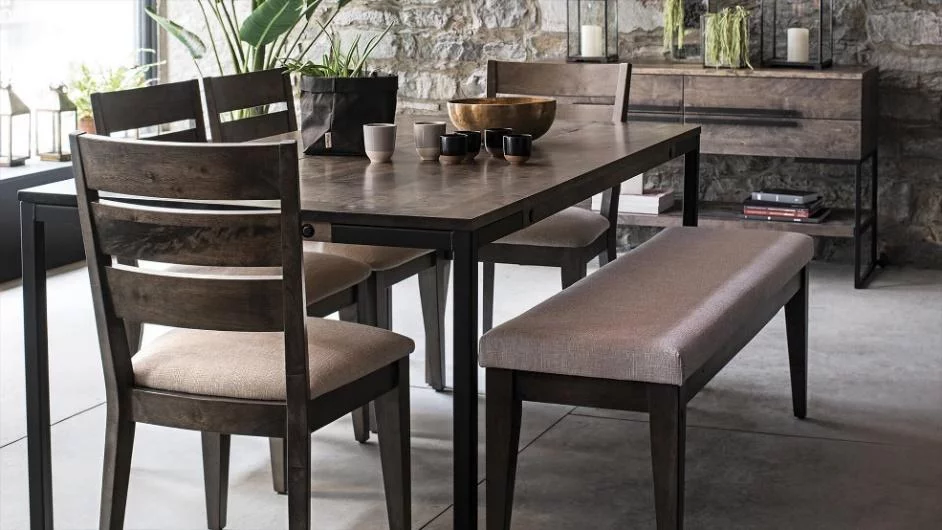 The industrial style is practical and multifunctional. A bookshelf can be used as a buffet to display dinnerware. Show off your ceramic dishes on open shelves that light up. Soften up the look with design features and materials that contrast. Elements such as leather, pewter, plants, pillows, patterns and neutral arrangements work well.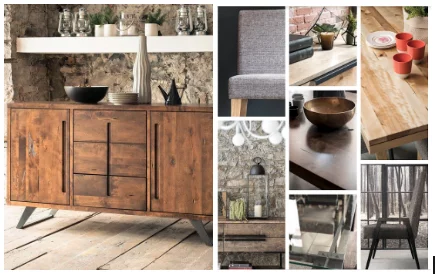 5. TRADITIONAL
The traditional style uses classic and colonial elements. For some people, this look is updated and predictable; for others, it's timeless and inviting. The traditionalist likes the history behind the pieces. They enjoy the style because it's safe and sophisticated and the colours provide a feeling of calm. Heavy trim work and built-in cabinetry with ornamental embellishments can usually be found in a traditional home.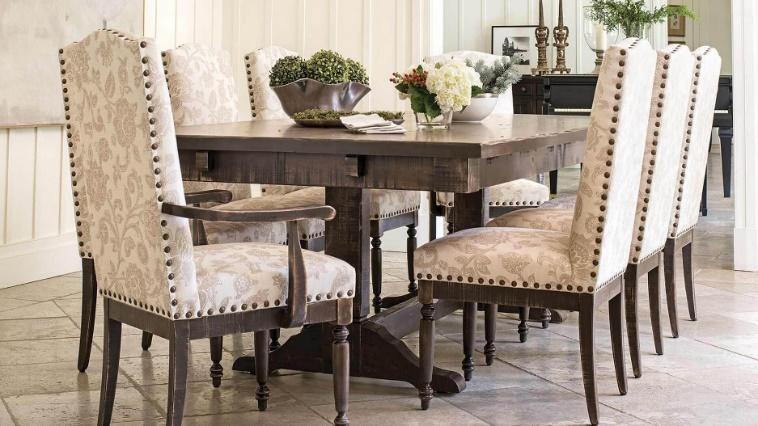 The traditional style can be very versatile and can incorporate a bit of every dining style. Picture a room with a Louis XV accent chair, an oriental rug and a contemporary sofa and voila, we have revisited the traditional look! If you'd rather keep it classic, invest in centrepieces, candlesticks, buffet and hutch with ornaments. Nailheads can add the final touch to your dining chairs or you can go for adorned wooden legs. The base of the traditional table is very curvy and ornamental. Choose non-textured and matte fabrics. Flower and paisley patterns work well.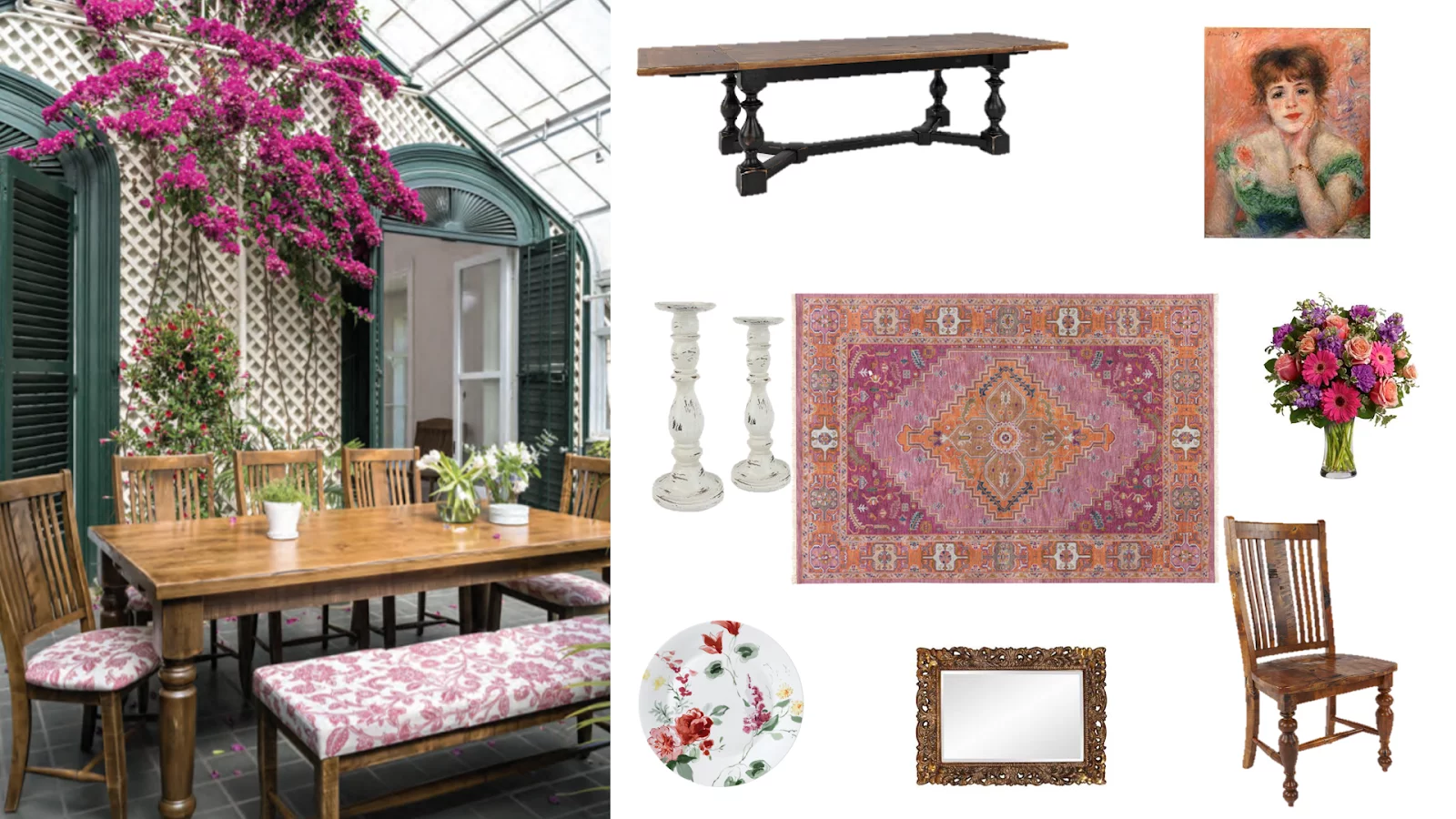 A dining room separated from the rest of the house is the perfect candidate for its own distinct décor. In this case, you can go with bolder elements that make a big statement. You can invest in wallpaper, a hutch, rugs, mirrors, lighting and artwork which help the room stand out. Read our blog: 5 tips for creating a beautifully decorated dining room.
6. CONTEMPORARY
With sleek form and functional design, the contemporary style moto is minimalism. Contemporary style is all about the now and the future. Colours are neutral with a tone on tone pallet, why not add a bold accent colour? The dining set usually has clean lines, a glass top and metal details.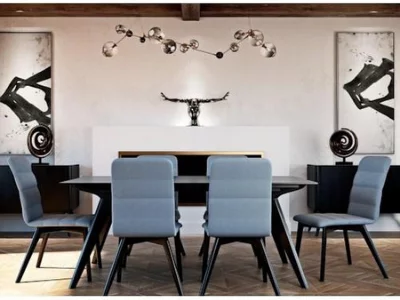 The lighting is big on style and always surprises with different exotic finishes and shapes. More linen and geometric patterned fabrics work well in this space. The artwork also complements this style and has a sculptural role on the entire look. Clutter is off-limits, that way you can focus on the statement pieces.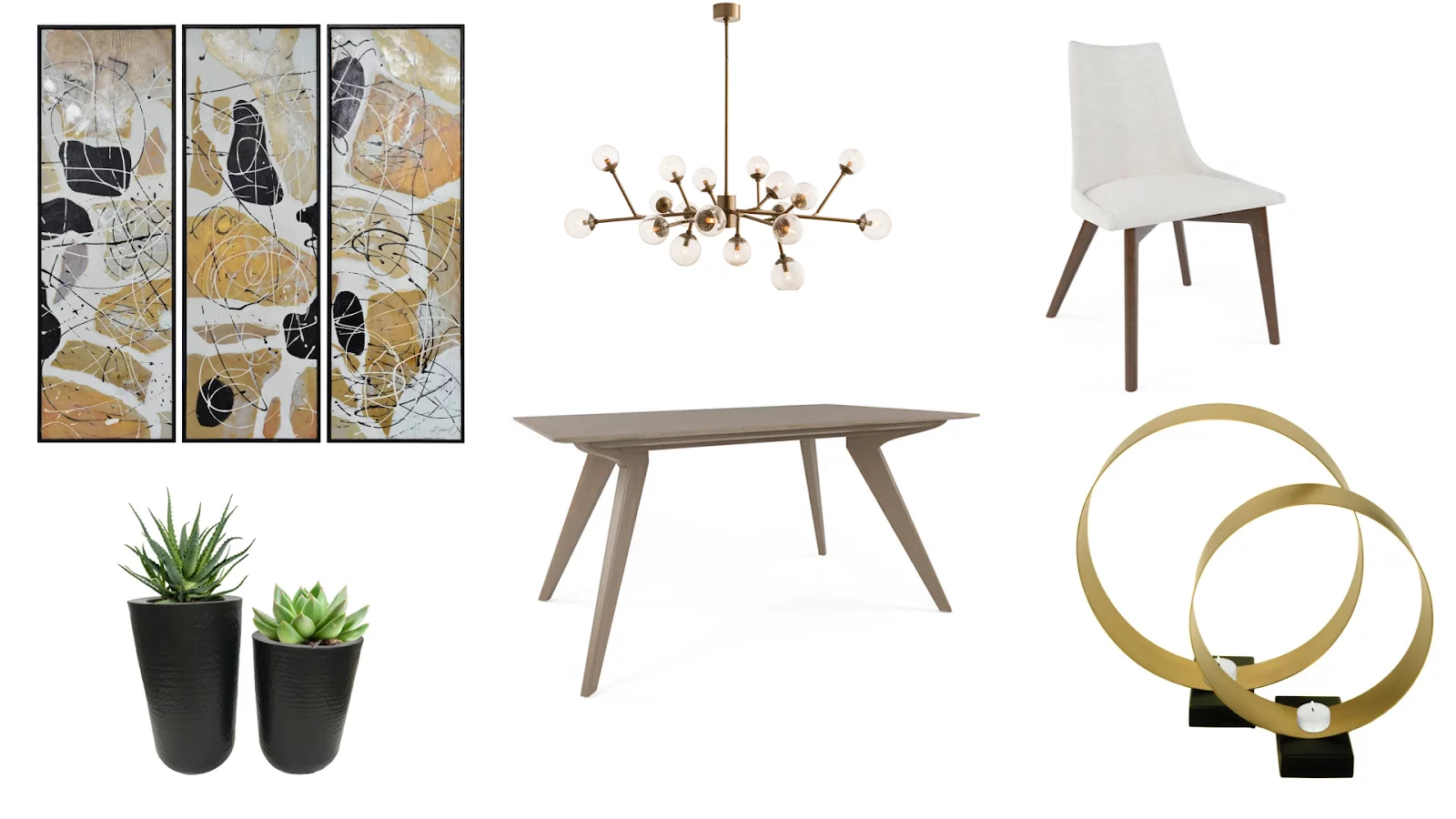 Next Steps
Don't be afraid to mix and match styles, home décor is about being creative and innovative. Remember, your home should tell your story and reflect your personality. The important thing is to respect décor rules in order to put together the right pieces. It's ok to select a modern chair and mix it with a contemporary dining table style. Why not add a vintage piece here and there? Discovering your own style first is the key to helping you build a lovely dining room in which you can create memorable experiences for years to come.
Would you like to learn more about Canadel custom dining furniture at La-Z-Boy? You can visit our Dining page or contact us at one of our La-Z-Boy locations in Ottawa or Kingston today.
Your table style options are endless! At Canadel, you can customize every aspect of your table: materials (solid wood, glass), size, shape, leg design and wood finish. We also have drop leaf and extendable dining tables for those special occasions when you need extra seating. (See butterfly leaf demo video below)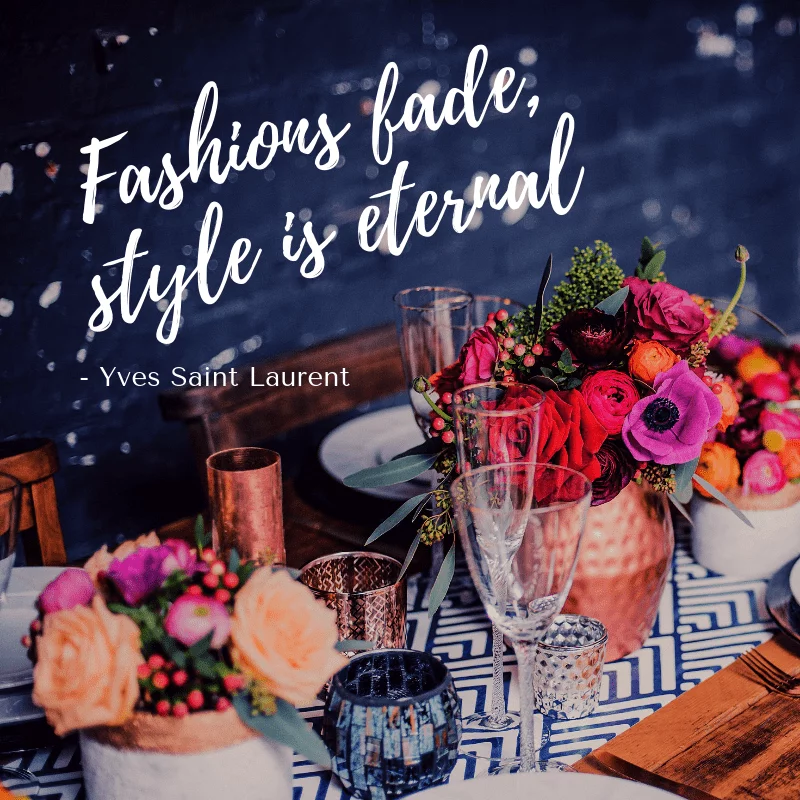 References:
Homebody: A Guide To Creating Spaces You Never Want to Leave, Joanna Gaines.Hardcover, 352 pages Published November 6th 2018 by Harper Design (first published November 2018.)
Issue 03 Inspired Magazine
Issue 05 Inspired Magazine
Product Info Request
Please provide us with your name and email and we'll get back to you as soon as possible regarding this item.