The La-Z-Boy In-Home Design Appointment: What to Expect?
April 21, 2021
We have all been guilty of binge-watching those Hollywood and overproduced interior design shows. Within the span of 30 minutes, someone's home transforms from mediocre to mind-blowing, embodying all the latest trends in home design.
If only it were really that easy!
The truth is, great design inspiration doesn't happen overnight, or without help!
Luckily, at La-Z-Boy Ottawa & Kingston, we offer complimentary in-home design services. With this, you have the opportunity to collaborate one-on-one with our professional interior designers.
This article will walk you through the step-by-step process of how we do in-home design here at La-Z-Boy. After reading, you will know exactly what to expect before embarking on your interior design project.
Step One – Visit a Store
The process begins much like any other furniture shopping experience. It begins by visiting the La-Z-Boy showroom and browsing our wide furniture selection.
A design consultant will be there to get an idea of what you are looking for. They will answer all of your questions and will make helpful recommendations throughout the process.
Once you have narrowed down your search with some preliminary furniture selections, the design consultant will pass along your choices to one of our in-house interior designers.
The interior designer will then review your selections and reach out to make an appointment for an in-home visit.
Step Two – Collaborate with an Interior Designer
Now let the collaboration begin!
Before the in-home appointment, it is encouraged you do a bit of preparation. This will allow for a smoother and more successful collaboration between you and your interior designer.
How to prepare for the appointment:
Design Inspiration: gathered from magazine clippings, Pinterest

Ideas of fabric patterns you would like to incorporate

Know your BUDGET
Upon scheduling an in-home visit, the interior designer will visit your home. Throughout the in-home visit, the interior designer will get a better idea of your space and the interior design vision you are trying to achieve.
Your interior designer will ask you:
How will you use the room?

What colours do you like?

What fabrics speak to you?

What styles inspire you?
Your interior designer will get to know you and your style so that they can fulfill your vision, and adhere to your budget. The more your interior designer gets to know you, the better the collaboration will be.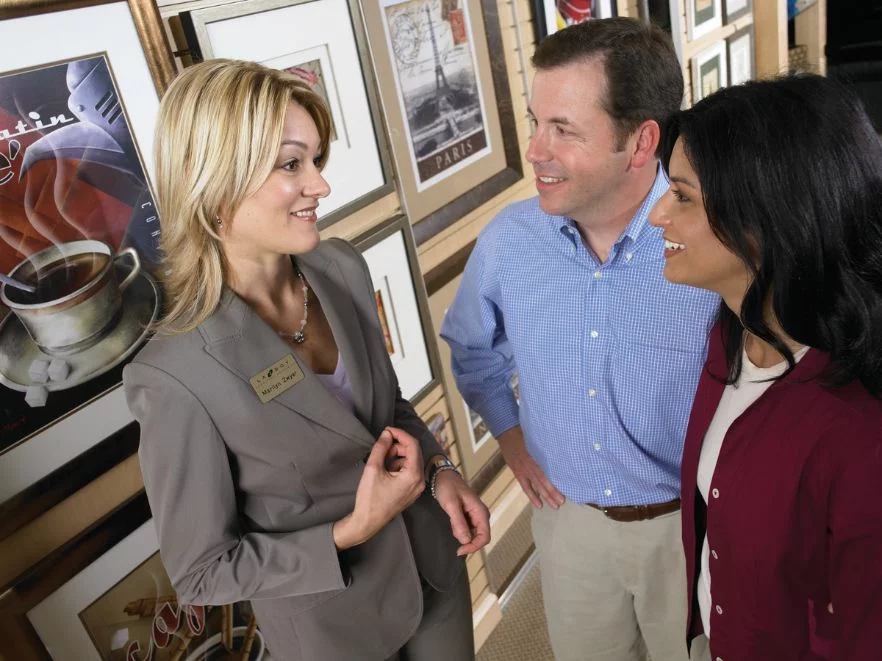 Step Three – Start Planning your Room
After your appointment, you and your interior designer will have lots of new information and inspiration to work with.
Together, you will start making decisions regarding furniture selection, fabric options, and accessories.
You may consider visiting the store a couple of times to check out your furniture options in person and do a sit test. When purchasing a recliner or sofa, it's crucial it fits your body type comfortably.
Further, everything at La-Z-Boy is customizable to be uniquely yours. With over 800 fabric and leather options available, your interior designer will help you visualize your options with fabric swatches.
Your interior designer will guide the process of making these decisions and ensure that everything meets your requirements while coordinating together seamlessly.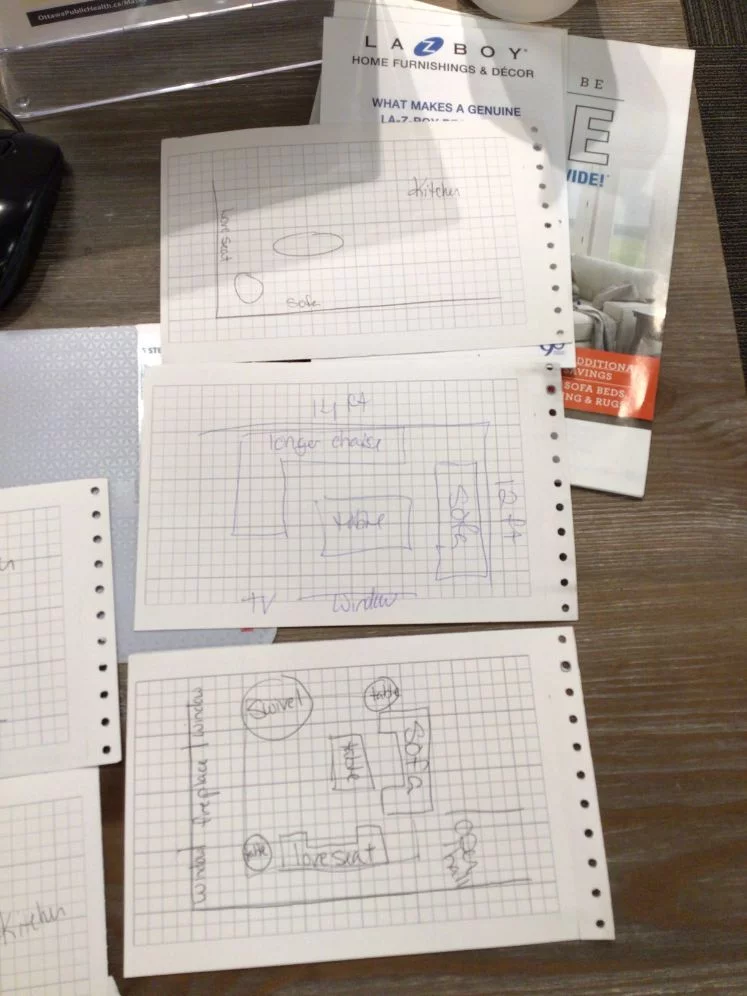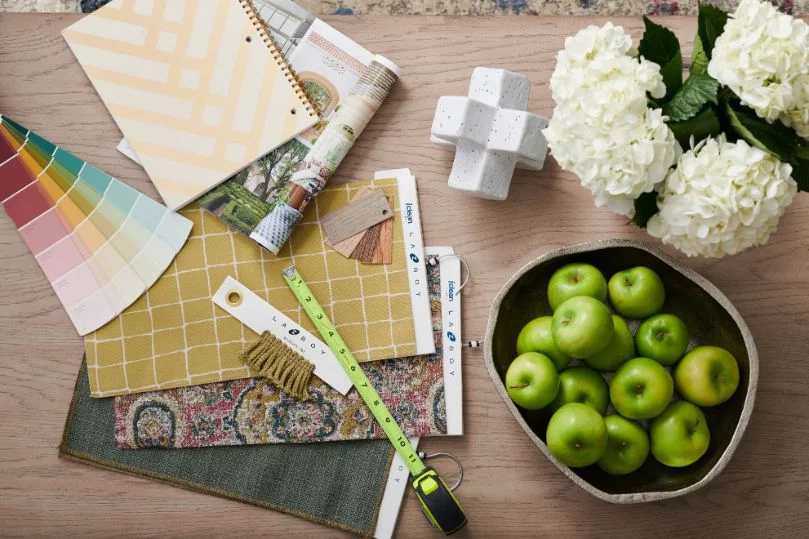 Step Four- In-Store Presentation; Preview Floor Plan with a 3D Digital Planner
Next, your interior designer will arrange a meeting for a final in-store presentation.
In this meeting, your designer will have prepared a detailed floor plan that takes your room measurements and furniture selections into account. You will also have a chance to have a final look at your fabric selection.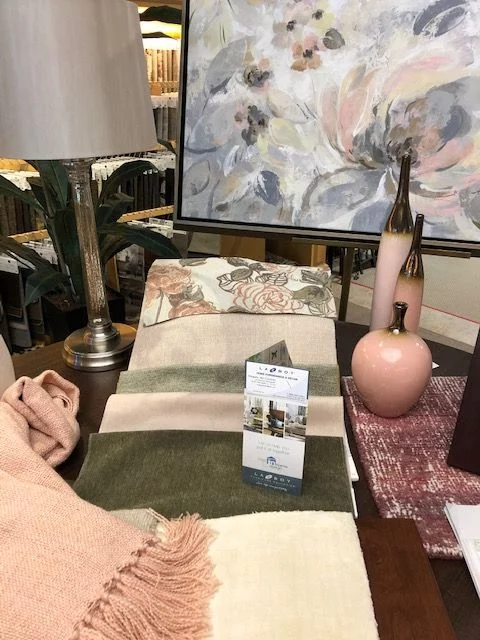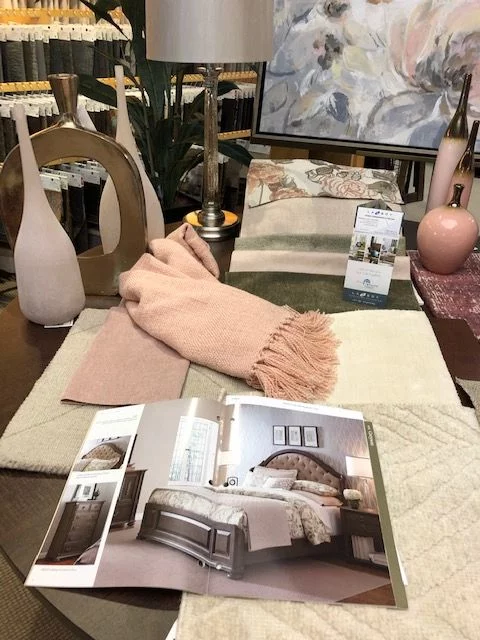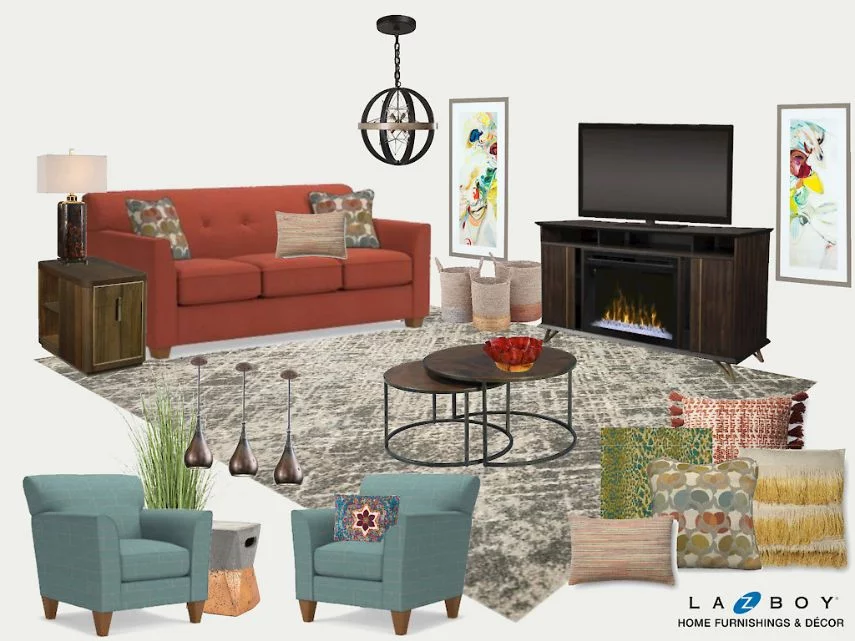 Before making your final decisions, you will be able to see your room come to life with the latest technology in 3D digital room planning. This helps you visualize what your room will look like so that you feel comfortable and confident with your final decision.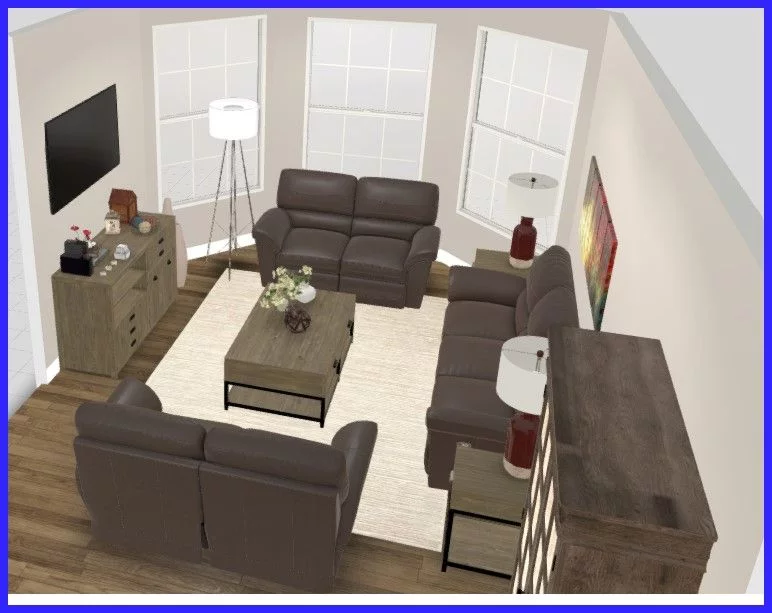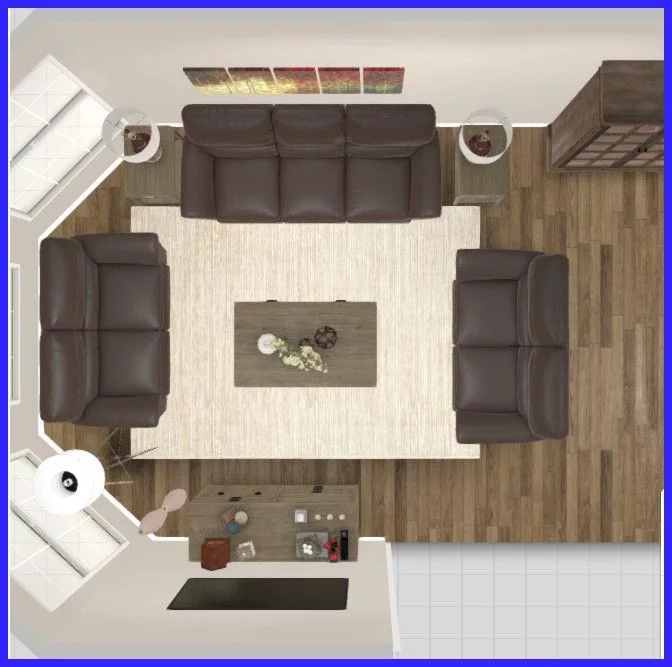 Step Five – Place your Order & Delivery
Once you and the Interior Designer are satisfied with all of the final selections, the Design Consultant will place the order.
We realize that designing and furnishing an entire room can make quite a dent in the pocketbook. Furniture financing services can be a helpful tool when it comes to affording such an investment.
To learn more about our furniture financing options at La-Z-Boy, take a look at the article Furniture Financing: Everything you need to know.
Within 24 weeks the furniture will be delivered to your home.
Keep in mind, delivery times are currently delayed due to the current COVID-19 pandemic. For more information, take a look at the article How COVID-19 is Affecting Furniture Delays and How to Plan Ahead. Further, here is Our Response to COVID-19 at La-Z-Boy Ottawa & Kingston.
At La-Z-Boy, we have a white-glove delivery service in which our delivery team will unpack and assemble your furniture. They will place the furniture in the room based on the floor plan.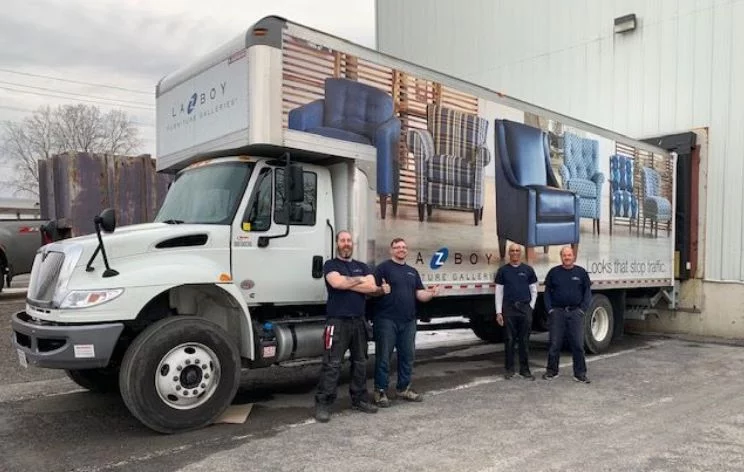 Step Six – Time for the Grand Reveal
By this point in the process, the furniture should be placed and arranged in your room. You may have even started breaking it in.
We expect that you will be thrilled with the final result of our in-home design services and be excited to show off your new room!
Watch the design story video featuring Gloucester couple Ray and Colleen recount their La-Z-Boy in-home design experience, from their first meeting to the delivery and installation of their new furniture.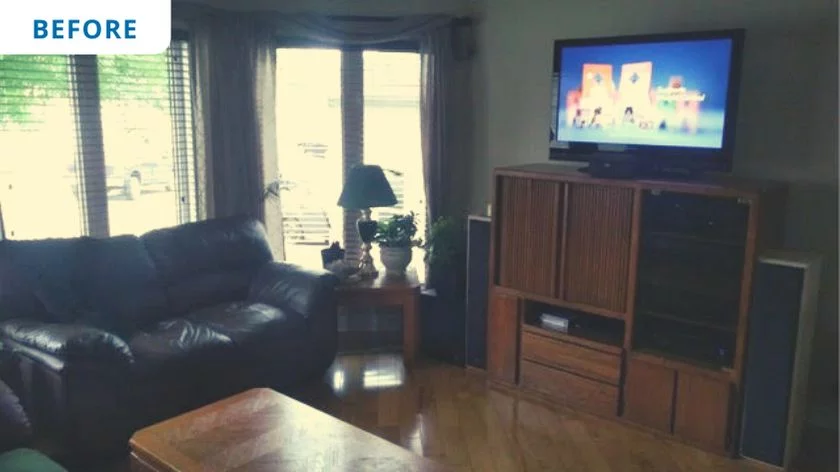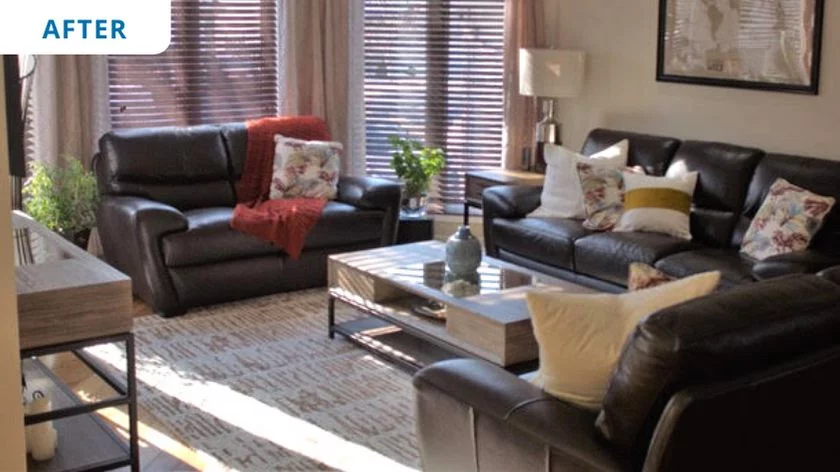 If you are exceptionally happy with your experience, you may even consider participating in a Before & After testimonial at La-Z-Boy. Take a look at some of our successful Before & After interior design projects for some inspiration!
Product Info Request
Please provide us with your name and email and we'll get back to you as soon as possible regarding this item.