Are Lift Recliner Chairs Tax Deductible in Canada?
March 19, 2021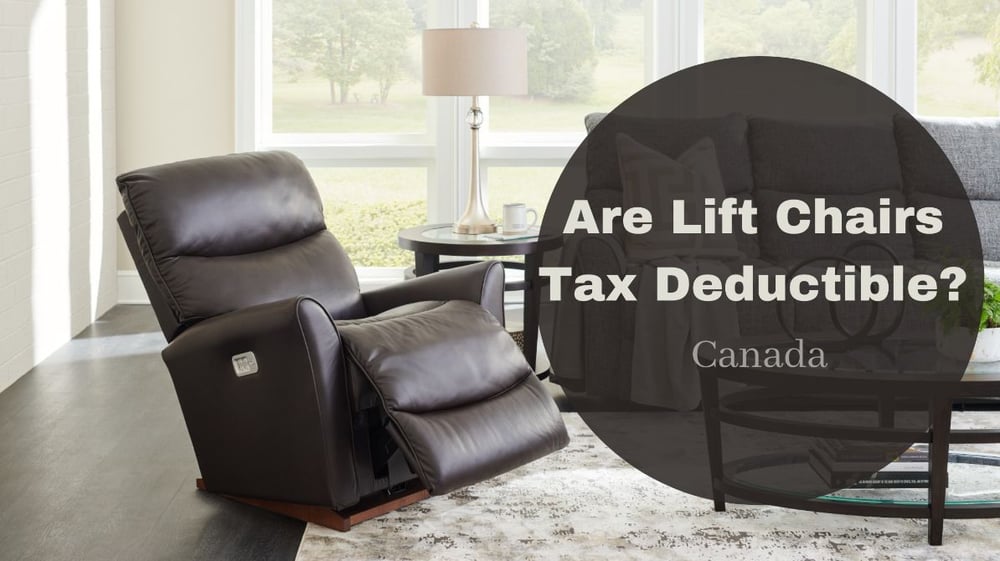 Does yourself or a loved one experience difficulty getting in and out of a seated position?
Have you ever considered purchasing a Lift Recliner Chair?
As the inventor of the iconic recliner chair, La-Z-Boy has over 90 years of experience in manufacturing comfortable, quality, and innovative reclining upholstery products. This does not exclude the lift recliner chair.
At La-Z-Boy Ottawa & Kingston, our professional and skilled consultants regularly help clients find the ideal lift chair that suits not only their comfort and physical needs but also their style preferences and budget.
If you have done some research on lift chairs, you're aware that this new furniture piece will be an investment. Given the price tag and its assistive benefits, we often get asked at La-Z-Boy, are lift chairs tax deductible? A fair question indeed!
This article will break down the Canadian tax policies and regulations regarding lift chairs as a medical mobility assistive device. In addition to relevant tax information, this article will include some additional information about finding the right fit, warranty, furniture financing, and delivery at La-Z-Boy, that you may find helpful when considering such a purchase.
Before diving into answering the big question, let's first set the scene by introducing the features and costs of a lift chair.
What is a Lift Chair?
A lift recliner chair is a very effective and helpful mobility assistance device.
A lift recliner chair helps those with physical limitations who find it challenging to sit down and rise up from chairs. The chair features an electric motor that raises the chair to an elevated position to assist the user move from a sitting to a standing position. The use of this chair requires minimal effort! In fact, you can effortlessly lay back and stand up simply with the touch of a button.
Not only are lift chairs essential for the recovery of those who have experienced fall-related injuries, but lift chairs are also desired by seniors who wish to "age in place". Lift chairs can help create a space for the injured and the elderly that is safe, secure, comfortable, and user-friendly.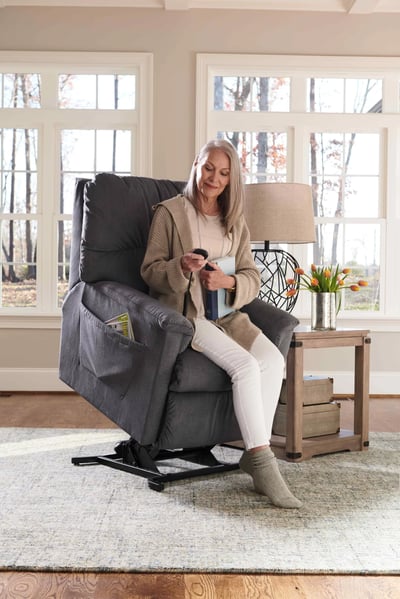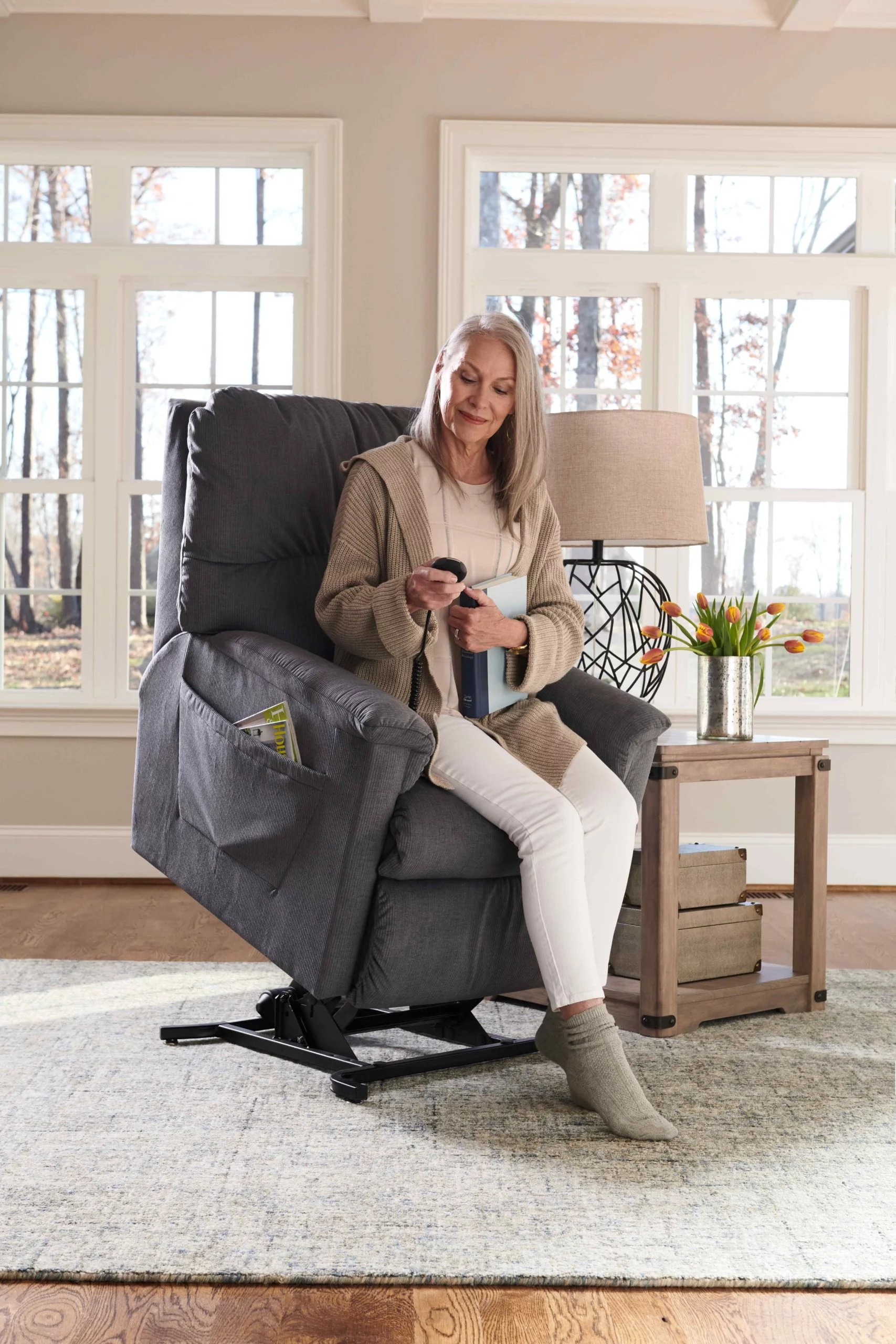 Cost of Lift Chairs
If you experience a mobile disability, you may have already looked into improving your comfort by purchasing a lift chair. With this, you know that a lift chair is a significant investment.
In fact, the cost of lift recliner chairs ranges from $800 - $2,300 or higher in the market today. At La-Z-Boy, the cost of lift chairs ranges from about $1800 - $3000 or more.
*All La-Z-Boy prices listed in this article are subject to change. We aim to update all cost-related articles twice per year. This article was last updated in May, 2023. Please visit lzb.com and select an Ottawa or Kingston La-Z-Boy store location to view the most up-to-date pricing.
Although a lift chair is often a necessary investment in comfort, health, and safety, it is quite an expense.
So … Are Lift Chairs Tax Deductible?
The simple answer to this question is yes, lift recliner chairs are tax-deductible.
With this being said, there are specific criteria outlined by the Canadian government and the Canadian Revenue Agency (CRA) in order to qualify for a tax deduction.
Criteria for Tax Deduction
The lift chair must have all the features of a chair.
"The Canada Revenue Agency (CRA) considers a "chair" to be a type of seat with a specific form consisting of a base or frame that sits on the ground (often with four legs), a surface area for sitting, and, in most instances, a back. A chair generally provides the ideal height and stability that allows the chair to be used on its own by an individual as a seat."
The lift chair is specifically designed for use by an individual with a disability.
"A lift chair is specially designed if it has design features that assist an individual with a disability to get in and out of the chair independently without which an individual would not be able to do so. A specially designed lift chair includes design features such as:
a lifting mechanism that raises and slightly tilts the chair to raise the individual from a sitting position to a standing position and back again, and

the base or frame of the lift chair is stable and remains stationary.

the lift chair is supplied on the written order of a specified professional for use by a consumer named in the order."
The lift chair is supplied on the written order of a specified professional for use by a consumer named in the order.
"The CRA considers a written order as a written instruction or instructions that govern the plan of health care for an individual patient or client.
The written order should contain the individual's name, the specified professional's signature, date, and confirmation that the individual has a disability that the features of a specially designed lift chair can address. The written order should be separate from any order form or invoice against which the chair is supplied."
Tax Break on the Purchase of a Lift Recliner Chair
If all of the criteria outlined by the Canadian government and CRA are satisfied, there are two ways to receive a tax break on the purchase of a lift recliner chair.
Exempt From or Refund of Sales Tax
Given that a lift chair is a mobility assistive device and considered a medical expense if you can provide an official written medical order from a physician you will not have to pay the sales tax on the chair at the time of purchase.
Further, if you cannot provide an official medical order at the time of purchase, La-Z-Boy Ottawa & Kingston retailers will grant you up to 4 months after the sale to return with this written documentation. At the time of return, La-Z-Boy will refund the cost of the sales tax that was charged with the sale of the lift chair.
As the owner of a lift chair, you can also receive a tax break by declaring the purchase of your lift chair as a medical expense in your yearly income tax report.
By doing so, you will receive a certain percentage as a return on your initial investment.
Lift Recliner Chairs at La-Z-Boy
Our consultants at La-Z-Boy Ottawa & Kingston are dedicated to helping clients find the ideal products that suit their personal needs and preferences.
This is especially true for the sale of lift recliner chairs, given the importance of the client's comfort and safety with this type of purchase.
Finding the Right Fit
With a wide range of sizes, features, and designs, it can be an overwhelming process to attempt to identify the perfect lift chair for you. There is no one-size-fits-all when it comes to lifting recliner chairs. In fact, it is crucial that you get professionally fitted for a lift recliner chair in order to experience all of the health benefits of the chair.
Learn more about the La-Z-Boy sit test and the process of getting fitted for a lift chair in the article How to Find a Recliner That is the Right Fit for You?
Warranty
There is no question that a lift recliner chair is a significant investment. But we can also agree that it is an investment in your health and safety that is well worth the cost. With this being said, you want to ensure that your investment is protected.
Rest assured knowing that lift chairs at La-Z-Boy are built with high-quality materials and craftsmanship. These chairs are certainly made to last. Additionally, La-Z-Boy lift chairs are sold with a manufacturer's warranty that covers the repair and replacement of specific aspects of the chair.
More specifically, the lift mechanism and spring assembly on a lift chair are covered for 3 years. The frame of a lift chair is covered for a lifetime.
For a more detailed breakdown of the manufacturer's warranty at La-Z-Boy, check out the article Are La-Z-Boy Recliners Guaranteed for Life?
Financing your Purchase
Another helpful tool in affording the purchase of a lift recliner chair is furniture financing.
Furniture financing is offered by many retailers through a partnership with a third-party financial institution. Instead of being forced to break the bank, furniture financing eases the blow by allowing you to pay for your purchase over a given period of time.
Some financing plans require that you pay an administration fee and/or interest, while some plans offer interest-free payments so long as you make your payments on time.
At La-Z-Boy, we have a partnership with Flexiti Financing in order to provide furniture financing options for our clients.
To learn more, read Everything You Need to Know About Furniture Financing.
Delivery
The final consideration when purchasing a lift recliner chair is delivery. It is important this precious piece of cargo is delivered to your home safely and in-tact.
Delivery of lift recliner chairs is especially important given that you should not be doing any heavy lifting. This purchase should bring you nothing but relaxation and rest at the effortless touch of a button.
With that being said, furniture retailers in Ottawa offer delivery services at a range of costs.
La-Z-Boy offers a white glove delivery service that includes set up, assembly, rearranging furniture, and disposal of old furniture at an additional cost.

At La-Z-Boy, local Ottawa & Kingston delivery costs $129.99, and out-of-town delivery costs $169.99. For an additional fee of $25 per furniture piece, we can assist with either moving out old furniture from different rooms or bringing it to the curb.
What's Next?
Hopefully, this article answered all of your questions regarding the Canadian tax deduction on lift chairs, and more!
So what is holding you back from effortless comfort and relaxation? Start shopping for a lift recliner chair today.
When beginning the hunt for the perfect chair, it can be helpful to see what other La-Z-Boy clients have purchased and enjoyed. Check out the Top 5 Best Selling Lift Chairs at La-Z-Boy Ottawa & Kingston.
When you are ready, we welcome you to visit a local Ottawa or Kingston showroom to benefit from the expertise of our consultants and take the sit test.
Product Info Request
Please provide us with your name and email and we'll get back to you as soon as possible regarding this item.