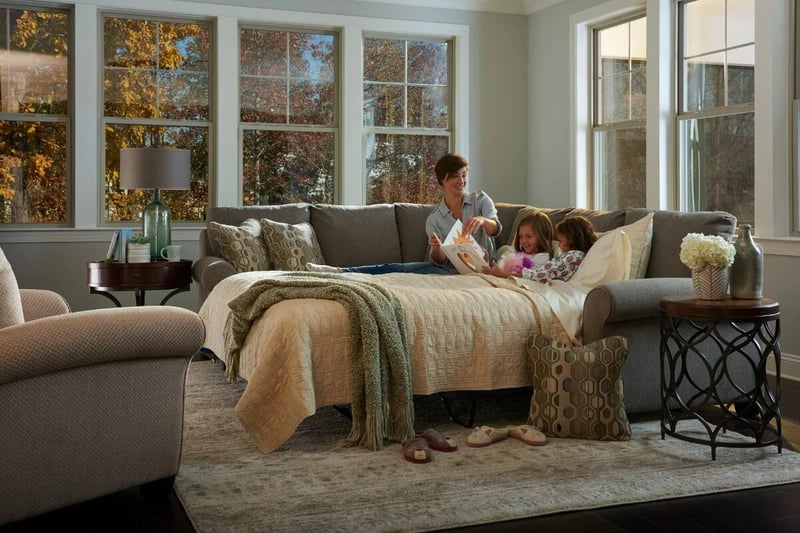 The Most Comfortable Sofa Bed Mattress
An inviting sofa by day … a luxurious guest room for two at night. Pamper your overnight guests with luxury accommodations.
La-Z-Boy sleeper sofas maximize your space and make guests feel right at home. We offer three sofa bed sizes including twin, queen or full, and they all come standard with a luxurious innerspring coil mattress. You can also upgrade to our SlumberAir or Memory Foam mattresses for an even more restful night's sleep.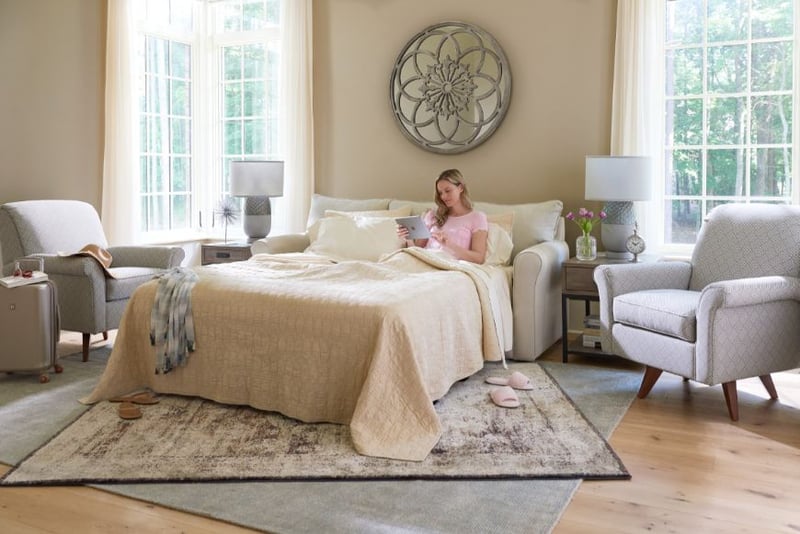 La-Z-Boy is the top-selling sofa bed manufacturer in North America!
Here are 3 Reasons That Come to Mind!
Upgraded Mattress Option
Elevated Head Rest
A design that doesn't let you feel the bar on your back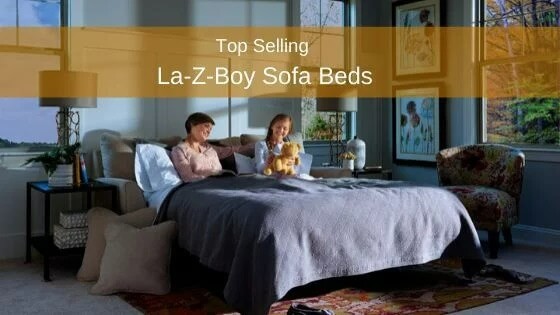 Top Selling La-Z-Boy Sofa Beds
Are you looking for a comfortable place for our guests to sleep? When shopping for sofa beds in Ottawa and Kingston, people want to know, "what are your top-selling sofa beds?"
Buying furniture is a significant investment. If your goal is to make your next purchase a staple in your home, you'll want to make sure you make the right choice. In this article, we'll list our most popular sofa beds.
Leah Premier Supreme Comfort™ Queen Sleep Sofa
A petite style that's big on comfort. A sleek profile designed for comfort with gently curved roll arms, box seats and pillow backs. With a queen-size Supreme Comfort™ innerspring coil mattress to pamper overnight guests.
Watch the video or read our in-depth review to learn more!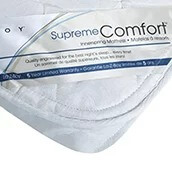 Choose Your Mattress
Supreme Comfort™ Mattress System
A perfect night's sleep starts with a Supreme Comfort mattress for your La-Z-Boy sleeper. To optimize comfort, the mattress comes standard on all sleepers and features a luxurious innerspring coil system topped with an extra layer of padding. So rest easy – on a supreme mattress system designed for cushioning and support.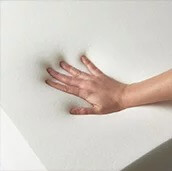 Memory Foam
The beauty of upgrading to a Memory Foam mattress goes way beyond good looks. A Memory Foam mattress features high resiliency (HR) memory foam that conforms to all body types for complete support and returns to shape after each use. The .5″ quilted top features a circular knit bamboo polyester cover, a rayon polyester flame retardant barrier and a .5″ layer of gel foam. The mattress core is comprised of a 3″ 1.8 lb. polyurethane foam base, topped with a 1″ layer of 2.5 lb. viscoelastic memory foam. Available on most Queen, Full and Twin sleeper styles.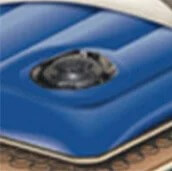 SlumberAir® Mattress System
Imagine a mattress with air-cushioned softness that conforms to every curve. With a luxurious SlumberAir mattress, you can bring it home. Featuring a 6" cushion of air over a 4" innerspring coil base, it inflates in an instant with the easy-to-us hand-held pump. And you can customize the firmness level in a matter of seconds. Then, relax – everybody sleeps better with head-to-toe support.
Kennedy Queen Sleep Sofa
Kennedy is the sleek and casual sleeper that fits both large and small spaces. A combination of clean lines, narrow track arms, welt trim and decorative wood legs give it a classic, understated style that blends easily with any decor.
Watch the video or read our In-depth Review!
Product Info Request
Please provide us with your name and email and we'll get back to you as soon as possible regarding this item.