Leah Queen Sofa Bed - Review
October 23, 2019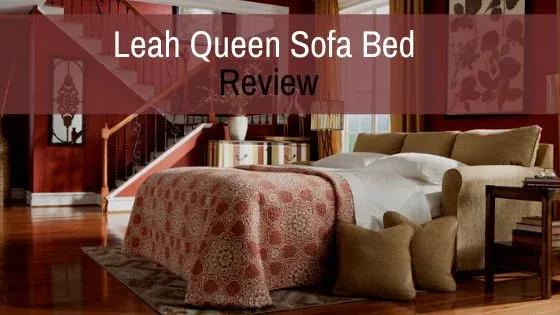 Leah Premier Supreme Comfort™ Queen Sleep Sofa
Are you looking for a stylish stationary sofa with the ability to transform into a bed? Read this article to learn about the Leah Queen Sofa Bed!
The Leah is a versatile piece of furniture, perfect for hosting overnight guests. Its sleek profile is perfect for smaller spaces, yet it opens up to become a super comfortable Queen bed. Not to mention, this sleeper is a true beauty too, with curving rolled arms, welt trim, and complementary accent pillows.
The Leah Sofa Bed is a great choice, but is it the right choice for you?
Read on for an in-depth review of the Leah Queen Sofa Bed, including unique features, size & dimensions, options & upgrades, cost, and customer testimonials.
Description of the Leah Queen Sofa Bed
The Leah sofa bed has a sleek profile designed with curved roll arms, box seats, pillow backs, and two matching accent pillows. With a petite style, it works well in small spaces. With a queen-size Supreme Comfort™ innerspring coil mattress for your guests. It sleeps two people comfortably.
Features unique to La-Z-Boy sofa beds:
An elevated headrest for reading or watching tv

Sofa bed design that doesn't let you feel the bar on your back

A sofa bed that doesn't

sit

like a sofa bed

Choose a style, then customize it with your choice of fabric, leather, and other options.
Leah Queen Sofa Bed Dimensions

Body depth: 38.5" , Height: 38", Width: 82"
Seat depth: 20.5 , Height; 21.0, width: 68.5"
Fully extended depth: 90.5"
Queen mattress dimensions: Length 71.5" X Width 60" X Height 5.5"
Recommended Queen Sheet Size: Length 110" X Width 90"
Leah Full Sofa Bed
It is important to note that the Leah Sofa Bed is also offered in a Full Bed Size, offering smaller dimensions. Below are the dimensions of the Leah Full Sofa Bed.
Body Depth 38.5" , Height 38", Width 60.5"

Seat Depth 20.5", Height 21", Width 60.5"

Full mattress dimensions 71.5" L x 52" W x 5.5" H
Recommended Full sheet size 104" L x 81" W (approx.)
Leah Sofa Bed Options & Upgrades
Cover Upholstery Options
Your choice of fabric upholstery is a pivotal decision when selecting a sofa for your home. The Leah has over 900 hundred cover options so you can custom-create a look that's uniquely yours. Choose from the latest colours, patterns and textures. There are options to suit every style and budget.
Select iClean fabric colours included in the variety of fabrics available. These fabrics offer a barrier of protection that repels spills before they turn into stains.
If you have pets, you might consider taking advantage of our Pet-Friendly fabric that has a high level of cleanability and durability, including the iClean technology.
Another specialty fabric option at La-Z-Boy is the antimicrobial fabric. This fabric protects against mould, mildew, and odour-causing bacteria
A subset of covers is available in "conserve" fabric. Soft, durable, and sustainable "conserve" fabric is made out of recycled water bottles. We use as many as 110 recycled water bottles to create a sofa with this eco-friendly material.
As with conventional furniture fabrics, conserve covers are wear-tested for safety, quality and durability. So, they stay comfortable and beautiful for years after delivery. They come in a wide range of colours and patterns to complement your room.
Seat Cushion Upgrade
The Leah Sofa Bed comes with standard La-Z-Boy cushions.
At an additional cost, firmer seat options are available, plus you can choose to upgrade both the seat and back cushions.

Please note that furniture purchased prior to January 2021 had the option to upgrade to ComfortCore® GEL seat cushions. This cushion has seven layers of comfort technology that includes gel-infused memory foam that provides exceptional support as it conforms to your body.
Choose your Mattress
Supreme Comfort™ Mattress System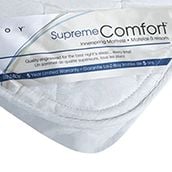 The Leah sofa bed comes standard with the supreme comfort mattress. It features an innerspring coil system topped with an extra layer of padding. This supreme mattress system is designed for cushioning and support.
Memory Foam Mattress System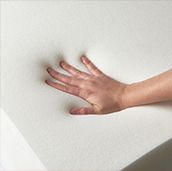 Upgrade the Leah Sofa bed to a memory foam mattress. It features high resiliency memory foam that conforms to all body types for complete support and returns to shape after each use. The .5″ quilted top features a circular knit bamboo polyester cover, a rayon polyester flame retardant barrier and a .5″ layer of gel foam. The mattress core is comprised of a 3″ 1.8 lb. Polyurethane foam base, topped with a 1″ layer of 2.5 lb and viscoelastic memory foam.
SlumberAir® Mattress System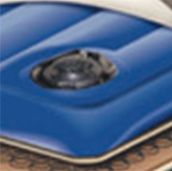 The SlumberAir mattress Featuring a 6" cushion of air over a 4" innerspring coil base is another upgrade option for the Leah sofa bed. It inflates with the easy-to-use hand-held pump. You can customize the firmness level easily and It provides proper body support.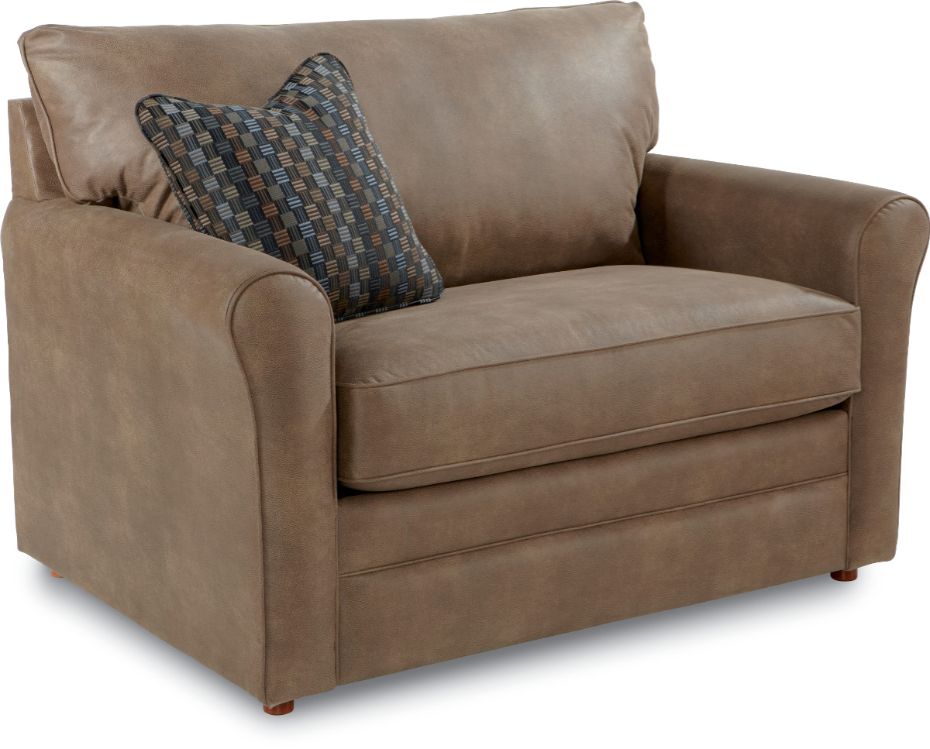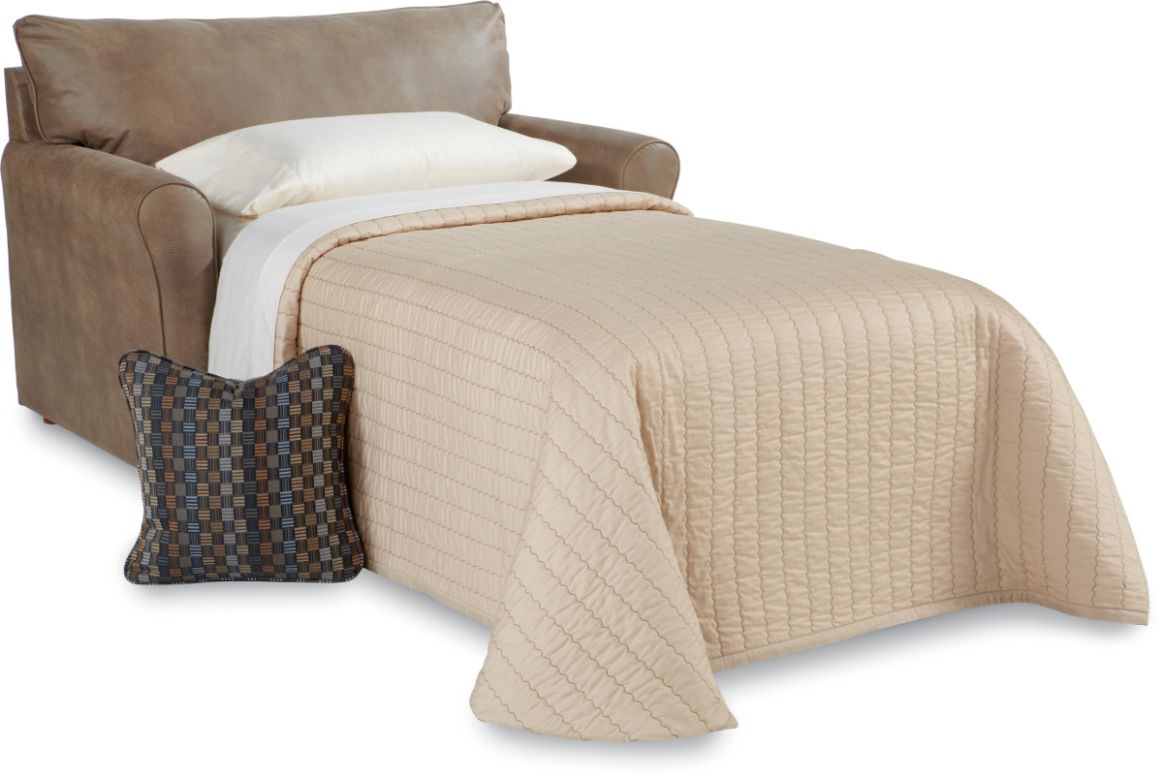 Cost
At the date of publication, the cost of the Leah Queen Sleep Sofa started at $3,949. This cost is subject to increase based on the customization and upgrade options mentioned above.
*All La-Z-Boy prices listed in this article are subject to change. We aim to update all cost-related articles twice per year. This article was last updated in October 2022. Please visit lzb.com and select an Ottawa or Kingston La-Z-Boy store location to view the most up-to-date pricing.
.
Is the Leah Queen Sofa Bed Right for Me?
The Leah sofa bed comes in three sofa bed sizes, including a queen, full and twin and they all come standard with a luxurious innerspring coil mattress. You can also upgrade to our SlumberAir or Memory Foam mattresses.
The Leah has a transitional/classic design, so If you're looking for a more contemporary look, it might not be your first choice.
Also, a sofa bed tends to be on the smaller side for sitting. If you are a very tall person or have longer legs, the Leah sofa may not be the right fit for you.
Reviews
What some clients are saying about the Leah Sofa Bed:
This sleep sofa currently has a five-star rating in North America:

"We bought two sleeper sofas from Lazy boy and just raved about the high quality, color, comfort and ease of use. My mother in law has the full and we have the queen size both in different colors. Just lovely! [sic]"
Angela G

"We purchased this sofa just under a year ago. I waited to write the review until I had had a number of guests. This sofa is amazing! It is beautiful. Clean lines. Excellent construction. Very very comfortable to sit on. The bed pulls out nearly effortlessly. We upgraded the mattress to the memory foam and knew we made the right choice. Every guest has raved about how well it sleeps. No pressure points and no feeling your partner in bed next to you. Everyone slept great and looked forward to staying with us again. The price tag was a bit more than we had budgeted for, but considering how often we have visitors, it has made the investment worth it![sic]"
Mary S

"Very comfortable, not too hard or soft and seat depth is perfect for shorter people. Very pleased that the sleep sofa is memory foam. I wish that the cushions were detachable so they could be rotated.[sic]" Andrea J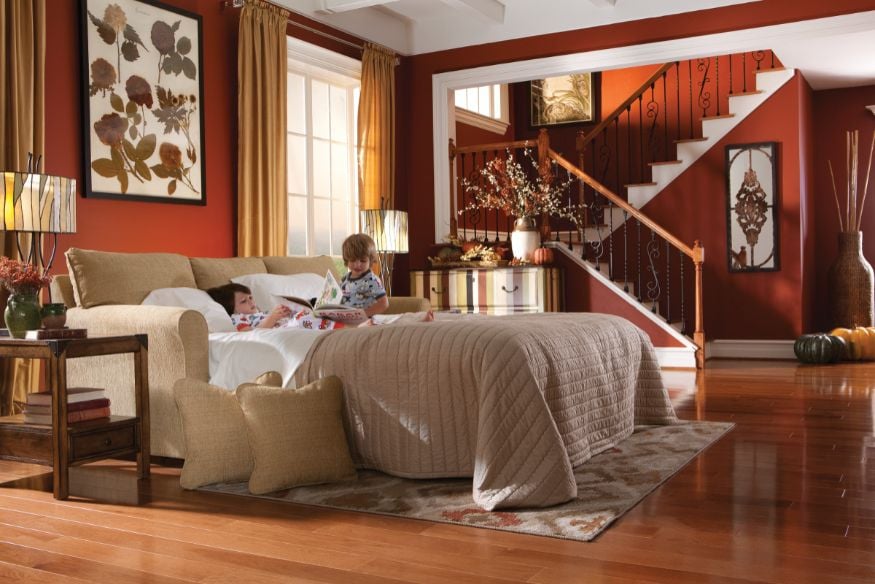 Next Steps:
Hosting guests in the coming months? If so, It's time to think about where everyone is going to sleep.
La-Z-boy has over 90 years of experience in furniture and boasts the most comfortable sofa bed mattress. A La-Z-Boy Sofa bed can turn any room into a stylish and functional room. An inviting sofa by day, a luxurious guest room for two at night. Pamper your overnight guests with luxury accommodations.
We're happy to answer your sofa bed pricing questions, contact us today.
Check out the Leah supreme comfort queen sofa bed in brown in-stock details and pricing.
Related links:
The Leah Queen Sleep Sofa custom prices
Top Selling La-Z-Boy Sofa Beds
Product Info Request
Please provide us with your name and email and we'll get back to you as soon as possible regarding this item.