Review of the La-Z-Boy Talbot Chair
February 22, 2021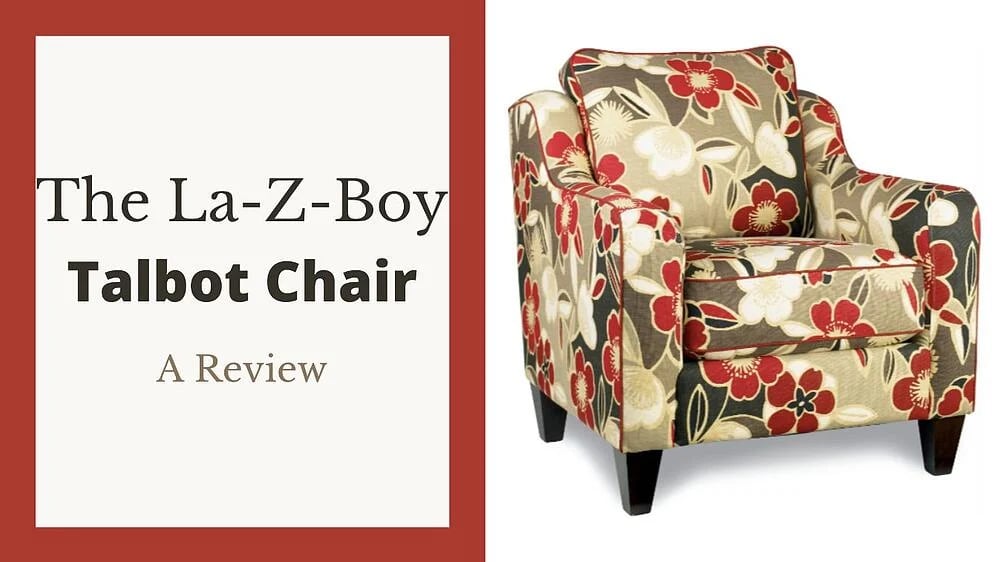 ***Please note that the Talbot Chair, as well as other Talbot products, is currently discontinued. If you like this review, take a look at some similar review articles.***
Review of the Cleo Furniture Family
Review of the Kennedy Furniture Family
Review of the Mackenzie Furniture Family
The Talbot Chair is casual comfort at its finest! The Talbot Stationary Chair is clean and informal.
Lina Naija, an experienced Design Consultant at the La-Z-Boy Kanata store, says that the Talbot is one of La-Z-Boy's most stylish chairs. In fact, the chair can be customized with contrasting welt trim to give off a really sharp look.
More specifically, Lina says that the Talbot chair is "stunning in leather".
It is not too big, nor too small. While it is considered to be one of the smaller chairs offered at La-Z-Boy, Lina says that a taller person can still comfortably sink into the large bucket seat of the chair. No matter your size, "the Talbot really hugs you when you sit in it".
Lina likes the Talbot chair because it offers a classic look while also appearing modern and up-to-date. You can see this in the rolled arms of the chair. According to Lina, the arms have a classic round look without looking old-fashioned. Instead, they give off "modern and sleek lines".
Not only does Lina love the Talbot Chair, but most La-Z-Boy clients also agree. The Talbot Chair is one of the Top 5 Best Selling Accent Chairs at La-Z-Boy showrooms in Ottawa & Kingston.
Are you looking for a comfortable and stylish accent chair to complete a room? The Talbot Chair may be exactly what you are looking for.
Read on for a comprehensive review of the Talbot Chair.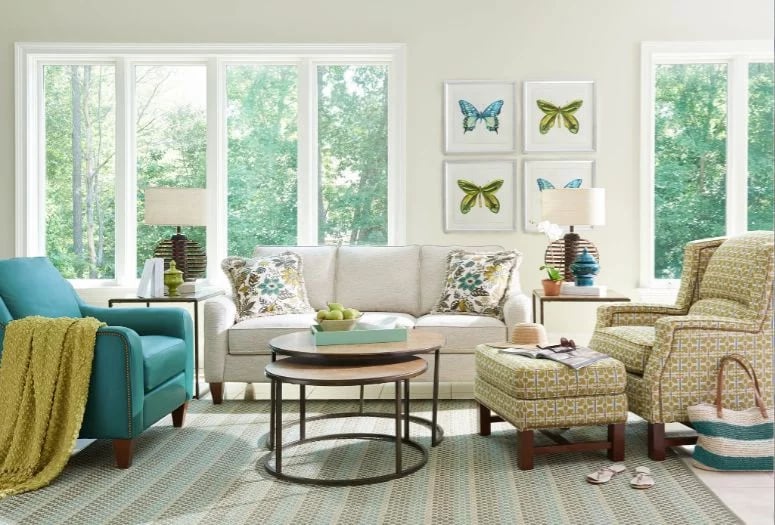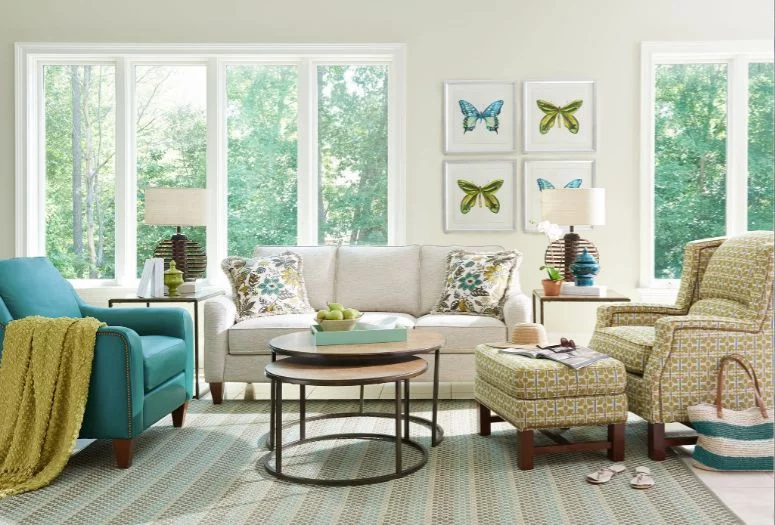 Features & Dimensions
The Talbot Chair is a stylish, yet comfortable, stationary chair.
Available in an array of premium grade fabrics of multiple colours & patterns, the chair can be dressed up as an accent chair in a formal setting or dressed more casually for a family setting.
Optional pillow accents, contrasting welt, and nailhead trim are also available to help you create the look that's right for you.
The Talbot chair rests on decorative wooden legs in a standard coffee finish.
Although the chair may appear stiff in its stationary form, the chair offers unexpected comfort with its patented ComfortCore® cushioning.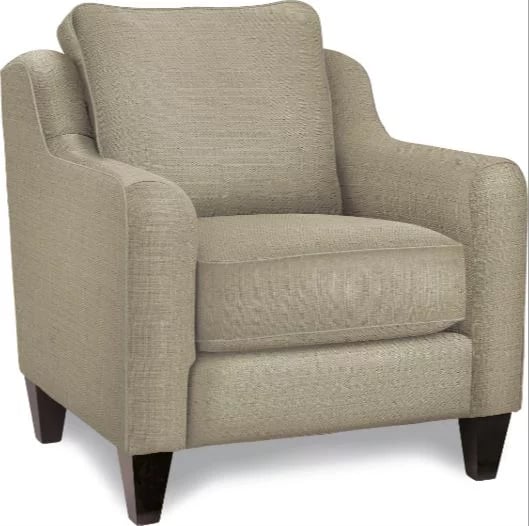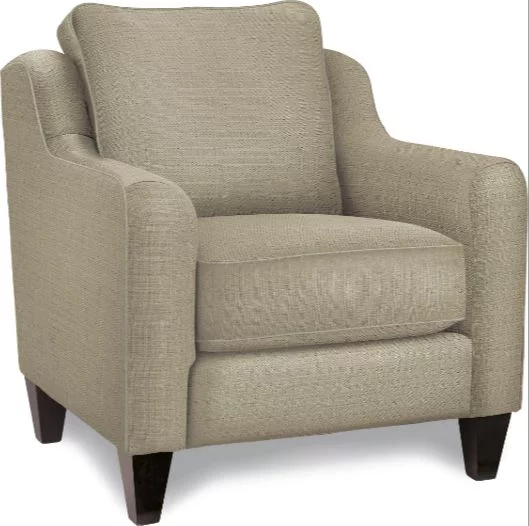 Dimensions
The dimensions of the Talbot Chair is best suited for taller individuals with heights between 5'10" and 6'2".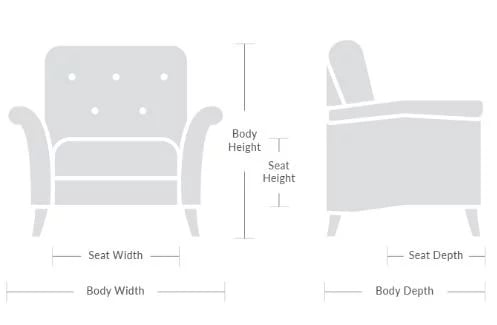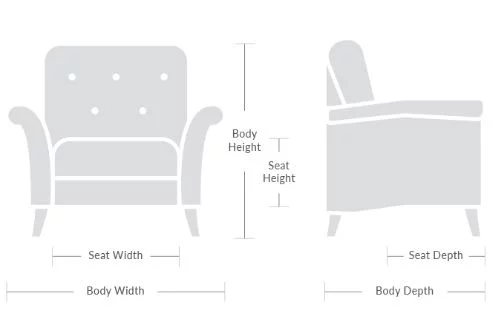 Body Depth: 35.5

Body Height: 37.0

Body Width: 33.5

Seat Depth: 20.5

Seat Height: 21

Seat Width: 22
How it's Made – Premier Construction
La-Z-Boy's quality construction offers countless hours of durability and comfort. More specifically, for most non-reclining frames, La-Z-Boy has developed a Premier method of construction.
These stationary styles of sofas and chairs are built with premier features targeting the frame, spring system, cushion, and padding.
With this, the Stationary Talbot Chair is made and manufactured with Premier Construction.
Learn more about Premier construction and how the Talbot Chair is made …
Features of Premier Construction:
OSB, hardwood solids, and laminated hardwood frame construction

Fully padded outside back, outside arms, and front post

No-Sag Sinuous wire seat and back springs

La-Z-Boy non-skid Logo Decking

ComfortCore Seats

Toss Pillows

Zippers
For more detailed information, take a look at the article Premier Construction at La-Z-Boy.
Options & Upgrades
At La-Z-Boy, everything is customizable, including the Talbot Chair. You can make customizations to the fabric, seat cushions, wood finish, contrasting trims, and accent pillows to make the chair uniquely yours.
Upholstery/Cover Options
The cover that you choose is crucial in determining the overall look and feel of your Talbot Chair.
At La-Z-Boy, there are over 900 fabrics and leathers to choose from. With this, there is something unique for every budget and style.
In addition to fabrics with a variety of textures, patterns, and colours, the Talbot Chair is also available in premium-grade specialty fabrics.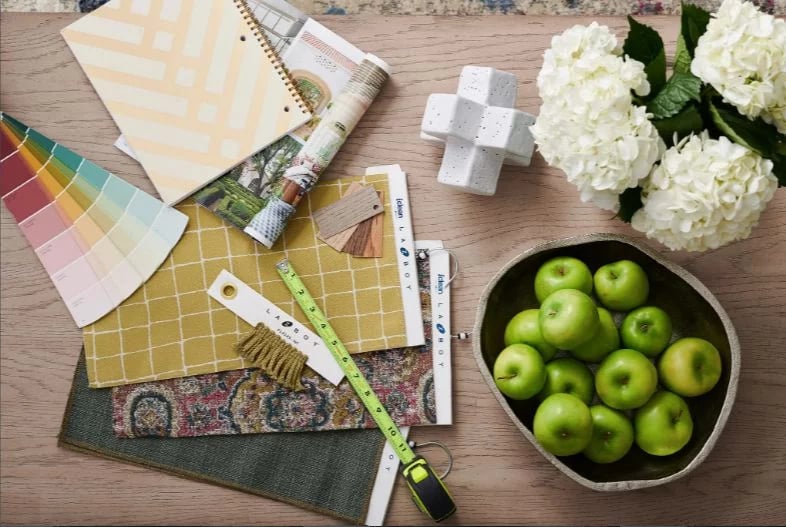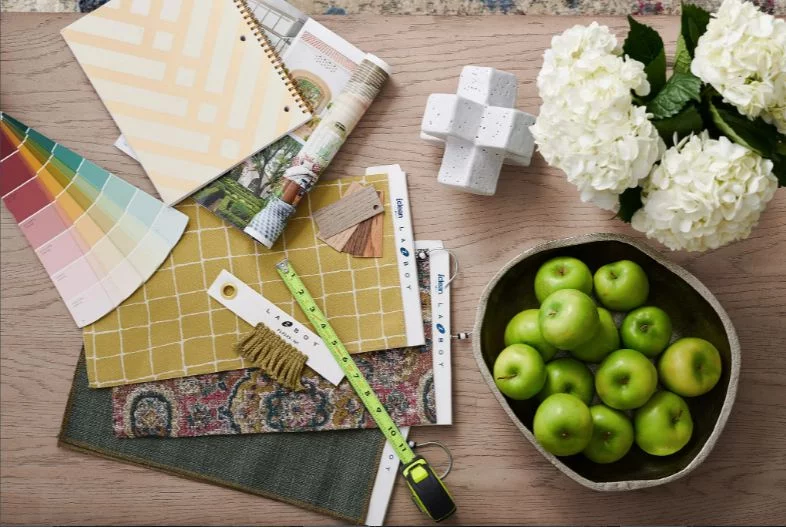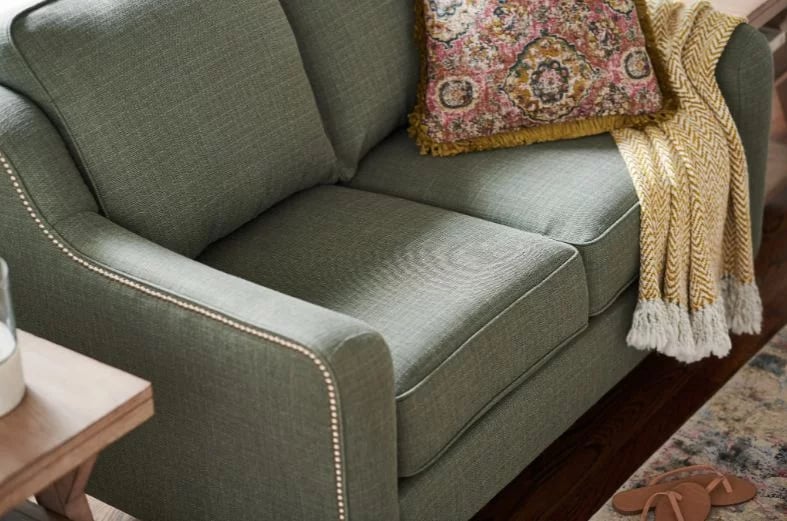 Stain Resistant
Innovative iClean technology surrounds each fabric fiber, creating a barrier that repels spills before they turn into stains.
Tested to simulate the scratches and wear pet can cause, to ensure a durable and easily washable fabric.
Antimicrobacterial *New
Antimicrobial properties surround each fiber to protect against mold, mildew, and odor-causing bacteria.
Performance
Superior stain and fade resistance properties make these fabrics easy to clean and incredibly durable.
Eco Friendly
Conserve Sustainable Fabrics are soft, durable, and made from recycled water bottles.
Seat Cushions
Raise your comfort level by upgrading to ComfortCore® GEL seat cushions for your Talbot Chair.
The cushion has seven layers of comfort technology that includes gel-infused memory foam. This cushioning provides a firmer seat and support that conforms to your body.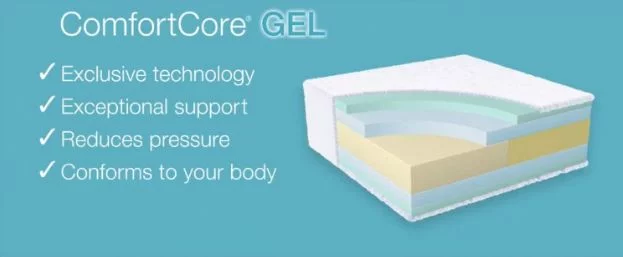 At an additional cost, firmer seat options are available, plus you can choose to upgrade both the seat and back cushions.
For more information please see our stationary furniture collection catalogue and our in-depth Review of La-Z-Boy's Chair and Sofa Seat Cushions.
Please note that furniture purchased prior to January 2021 had the option to upgrade to ComfortCore® GEL seat cushions. This cushion has seven layers of comfort technology that includes gel-infused memory foam that provides exceptional support as it conforms to your body.
Wood Finish
Customize the look of your Talbot Chair by opting for a different wood finish. This is a great way to match your Talbot Chair to the current decor in your home.
The Talbot Chair comes in a standard coffee finish. Optional finishes include brown mahogany, driftwood, and graphite.
Nailhead Options & Contrasting Welt Trim
Commonly used on more traditional pieces, nailhead trim is making a comeback in home design. To accentuate the lines of your Premier Constructed sofa, customize the nailhead trim.
Choose from black, platinum, or brass nailhead.
In addition, welt trim provides a tailored look to sofa seat cushions. You can opt for contrasting welt trim on your Talbot Chair to add some personality and decorative detail.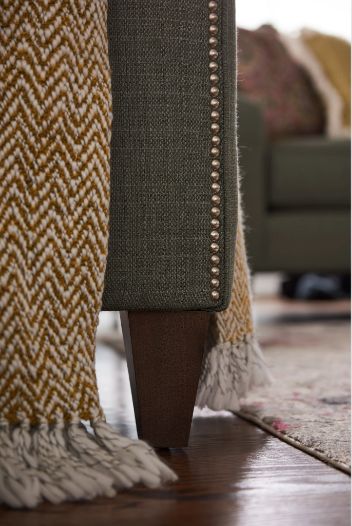 Pillows
The Talbot Chair comes with matching pillows. If you are going for a bolder look, select contrasting accent pillows to make your Talbot Chair pop.
Additionally, you can choose to add cord or fringe to the pillow edge for a more decorative appeal.
For upgraded comfort opt for FeatherLite fill feathers.
Cost
The Talbot Chair falls within the mid-price range of stationary chairs offered at La-Z-Boy. Starting at $1,839, the Talbot Chair is subject to increase based on your selection of customizations and upgrades.
The cost of the Talbot Chair is determined by a variety of factors including the quality of materials and methods of construction.
Some may consider the Talbot Chair pricy, but as a part of the Premier Construction collection, this chair is of high quality, comfort, and durability.
*All La-Z-Boy prices listed in this article are subject to change. We aim to update all cost-related articles twice per year. This article was last updated on October 4th, 2022. Please visit lzb.com and select an Ottawa or Kingston La-Z-Boy store location to view the most up-to-date pricing.
Limited Lifetime Warranty
As a piece of La-Z-Boy Premier Constructed furniture, the Talbot Chair backed by a Limited Lifetime Warranty assuring the protection of your investment and overall satisfaction.
The Limited Lifetime Warranty covers the repair or replacement of the frame, spring systems, and the mechanism, given that they are quality-crafted and built for long-lasting comfort.
While still quality-crafted, other aspects of the product, such as fabrics, leather, and cushion, are not meant to last a lifetime. These parts are still covered by the La-Z-Boy Manufacturer's Warranty for a given period of time.
Customer Reviews
As one of the top 5 selling accent chairs at La-Z-Boy, the Talbot Chair is enjoyed by many La-Z-Boy clients.
The Talbot Chair is rated 4.9 stars out of 5 stars in North America. This rating is based on a combination of comfort, quality, and design.
Find out what customers are saying about the Talbot Chair in the following four and five-star reviews …
Most Comfortable Room in Our Home
I am overjoyed with our new Talbot Chairs. I made an appointment and a list of chairs I wanted to try. The sales associate was terrific and took me all through the store to sit on each one of them. I chose the Talbot chair because it was so comfortable and I thought the scale would fit the room. There was a huge selection of fabric that felt great. I love how they look and better yet, how it feels to sit in them. This is my new favorite place to hang out and relax.
ML Bear
I love this chair!
I love the modern look of this chair, but it is also comfortable and roomy to sit in. My favorite part is the fun pattern on the fabric, which we were able to see on the computer when we placed our order.
Sandy P.
The Perfect Chair
Very comfortable and was exactly what I had been looking for. So pleased with the product and the on-time delivery. We have been La-Z-Boy customer for years.
Monica K.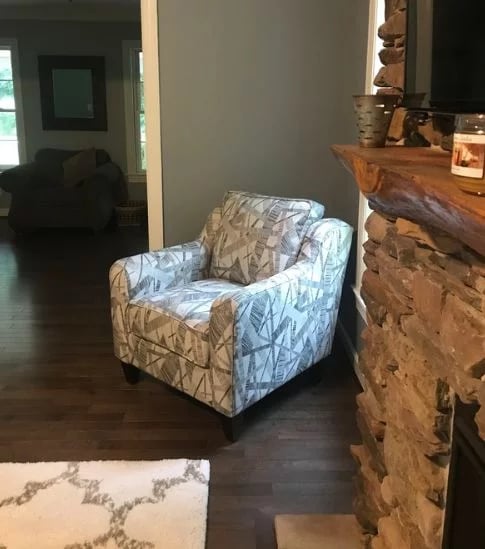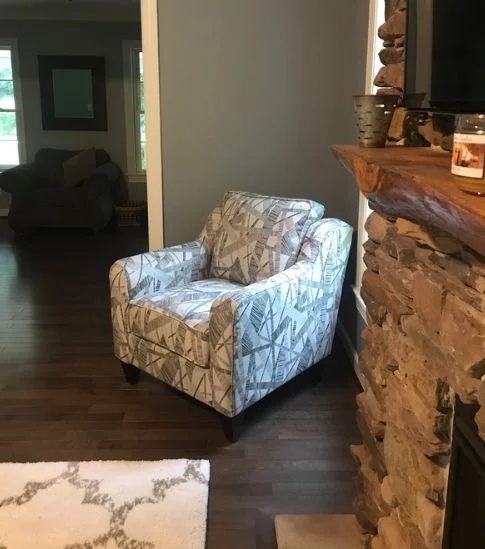 Although there are many positive customer reviews, the Talbot Chair may not be for everyone.
First and foremost, the cost of the Talbot Chair may be an area of concern. If this particular model is out of your price range, we offer a wide variety of recliners and may have another style that better matches your budget.
Further, the Talbot Chair may not be the best choice for you if you are exceptionally tall. Although taller clients can find comfort in the large bucket seat of the Talbot chair, it may not provide tall individuals with the proper lumbar and knee support if you intend on sitting in the chair for long periods of time.
Other Products in the Talbot Style
If you like the Talbot Chair, there is much more where that came from!
The Talbot style is offered as a stationary sofa, loveseat, and ottoman.
In fact, the Talbot Stationary Sofa is on the Top 5 Selling Sofas at La-Z-Boy.
If you are furnishing a living room, you may consider purchasing multiple pieces of furniture in Talbot style for a cohesive look.
Take advantage of La-Z-Boy's complimentary Design Services to achieve the exact interior design look you are envisioning.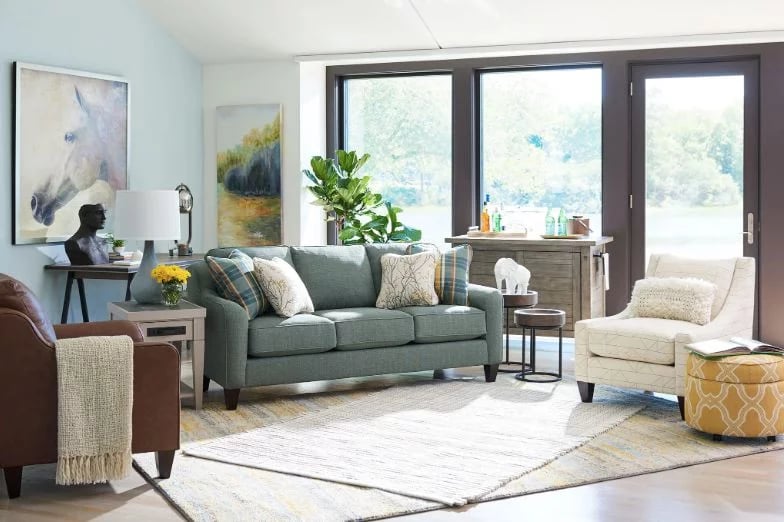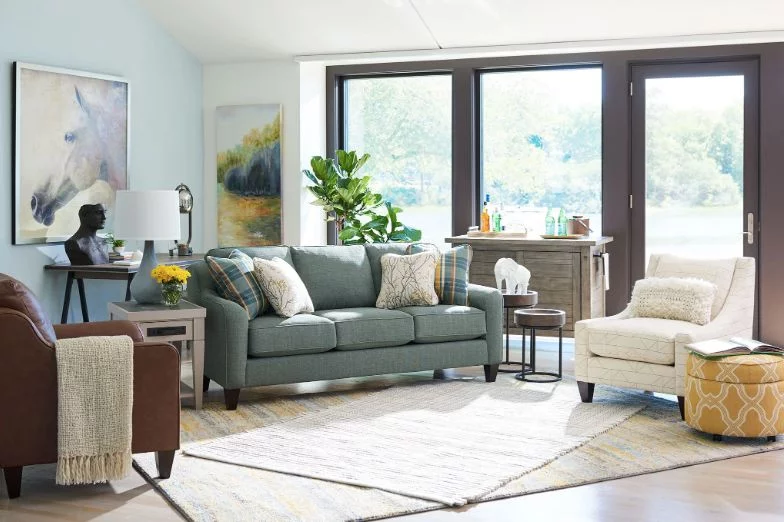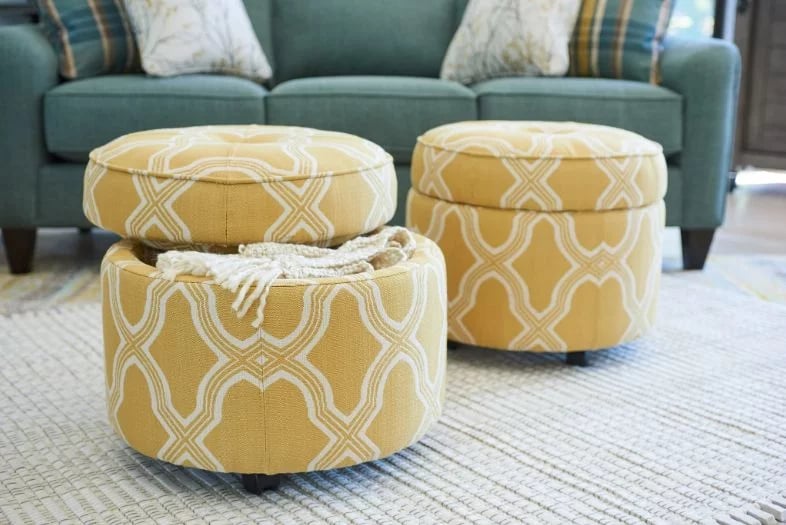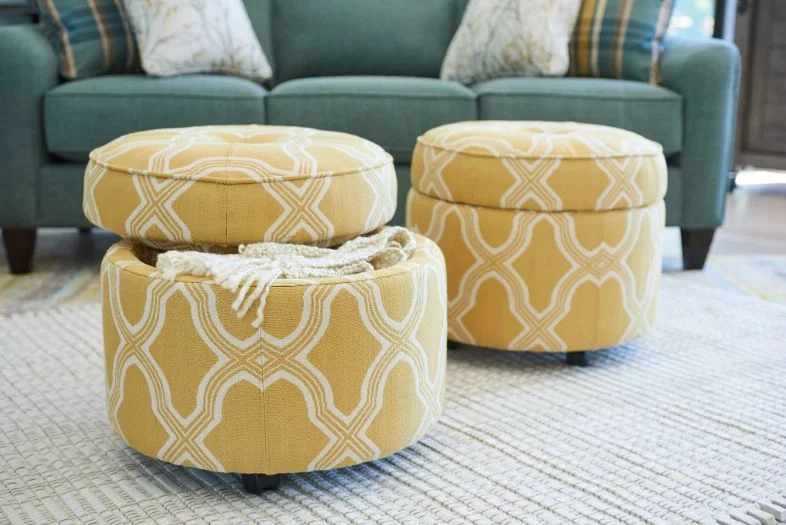 Is the Talbot Chair right for you?
The Talbot Chair is a beautiful piece of furniture. But is it right for you?
Lina says that the Talbot Chair is ideal for the average-sized person. More specifically, between the height of 5'10" and 6'2".
According to Lina, the Talbot Chair is particularly great for those who are downsizing or live in a small apartment. The chair is one of the smaller styles offered at La-Z-Boy but it also provides exceptional comfort.
The Talbot Chair may also be a great choice as an accent piece. Perhaps you are looking for a stylish chair to place in the corner of a bedroom or to complete a home office?
Lina suggests that customizing your Talbot chair in a bold pattern or fabric can be the perfect final touch to a stylish room. Lina says that the chair can look great in many rooms depending on how you decide to customize it or dress it up.
About Lina …
Lina Naija is a Design Consultant at the local La-Z-Boy showroom in Kanata. Lana has many years of experience with furniture and decor, including previously owning her own furniture store before she moved to Canada.
Fluent in both English and Arabic, Lina loves helping clients create beautiful and comfortable rooms that fit their lifestyle and budget.
Product Info Request
Please provide us with your name and email and we'll get back to you as soon as possible regarding this item.