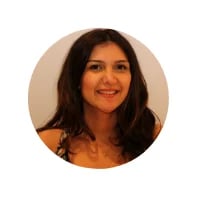 In-Home Designer
Dea Attar
La-Z-Boy 290 W Hunt Club road, Ottawa
A trilingual interior designer and design researcher with extensive design education and years of working in the industry. Dea Attar holds a BFA in Interior Design and MDES in Industrial Design with a focus on designing for the aging population. She's been with La-Z-Boy for six years now. A peak performer in Design with La-Z-Boy since 2015 and was awarded the top 6 designers in Canada for 2016.
Questions & Answers with Dea Attar
What are your tips for customers looking for a new furniture piece?
Think about your lifestyle, your wants and your needs. Also, consider the design of the existing pieces of furniture that are staying in the room. This helps you determine the styles, colours and fabrics you choose.
What is the design tip you just can't stress enough?
Plan everything before you buy anything. It is very easy to make mistakes. Often times, clients start their project with an idea that gets evolved by the end of the design process. So to do it right, you have to think of the final outcome and the project as a whole from the architecture to the smallest details such as pillows and accessories.
How do you determine the right style for your customers?
By interviewing them and asking them lots and lots of questions. It is a process that requires lots of explorations and investigations. Together, we test the furniture and explore fabric and texture options to get a clear idea of their styles and tastes. Sometimes we go over pictures of different designs to get the creative juices flowing. Never a dull moment.
What is your favourite part of designing a client's home?
I love it when my clients receive their furniture and they are in awe. What a rewarding feeling! Providing my clients with a design unique to their home and tailored to satisfy their vision and requirements.
Where do you go to find inspiration?
I find inspiration in the conversations I have with my clients. It is a window to their soul, interests and way of life. Sometimes the inspiration comes from the artifacts they display in their own environment.
Name one thing that is on your bucket list and tell us why.
Meet Karim Rashid, my all-time favourite designer. He is renowned for pushing the boundaries and creating the most innovative products and spaces.
What made you choose a career in interior design?
Growing up in a family of architects, I developed an understanding of design from an early age. I sketched my ideal playroom before I even knew what interior design was. So you could say that Interior design has been my passion since I was a kid.
What is a common question you get from customers regarding the design process?
Most of my clients don't know where to start. Planning the project is the hardest part. If done right, the process flows naturally and can be a very enjoyable process.
Contact our interior designer at our Hunt Club location in Nepean or schedule an appointment for a consultation.
Product Info Request
Please provide us with your name and email and we'll get back to you as soon as possible regarding this item.