Great Room Makeover in Embrun
March 31, 2021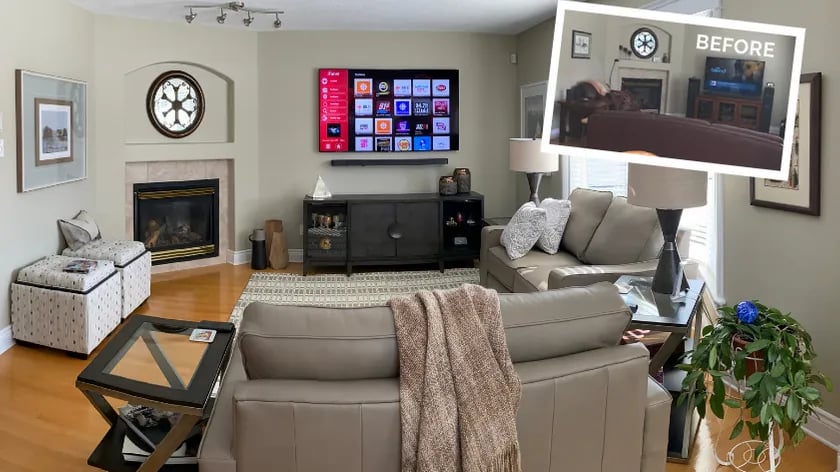 In-home designer Magaly del Castillo met Fiona and Lyse last summer when they walked into the La-Z-Boy showroom on Cyrville Road in Ottawa. They wanted to update the great room in their open-concept Embrun home and were ready to meet with a designer. They asked for help modernizing the great room's look, a large room with a tv and fireplace that is open to the kitchen and eating area. This space is used daily and is the heart of the home.
Before the Makeover
The family room was filled with large and dark furniture. There was a chair and ottoman in front of the fireplace, which wasn't being used and gave the room an unwelcoming appearance. The couple wanted to sit together while watching TV and have enough space for entertaining family and friends, but it wasn't really possible in this space.
The breakfast nook included a wicker table and chairs that were overwhelming and needed updating with a more functional and less cumbersome yet comfortable set.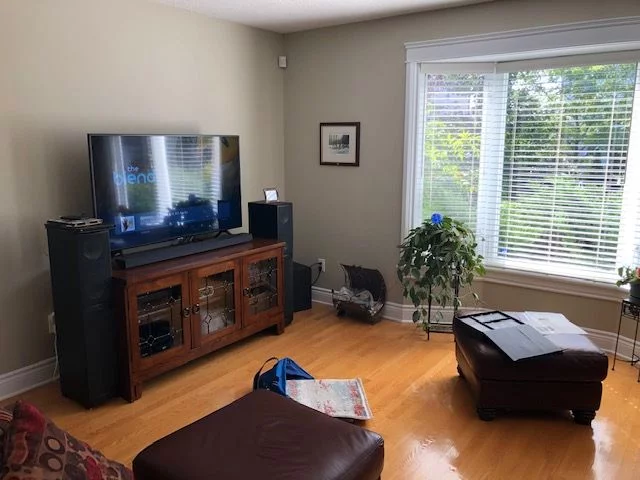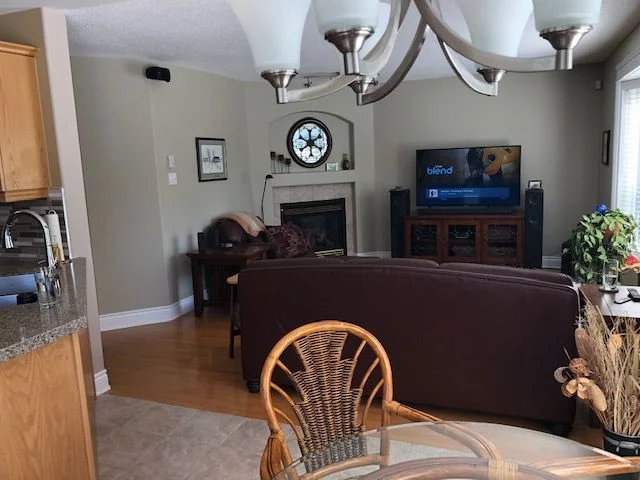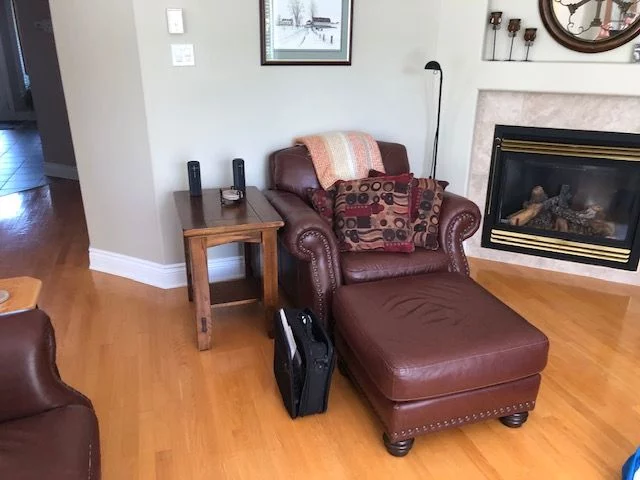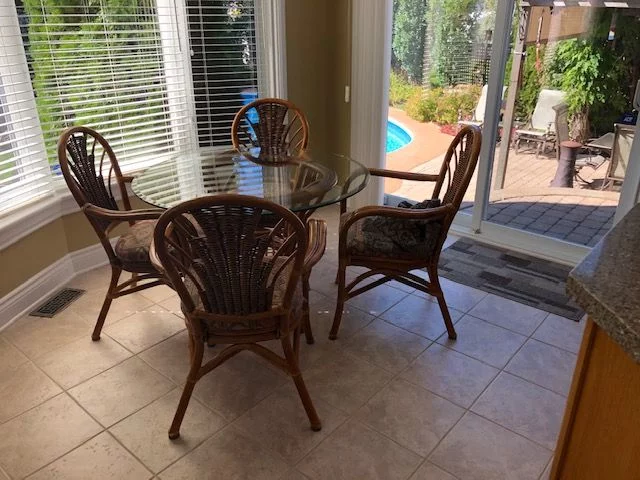 What were the Client's Wishes for the Living Room?
Fiona & Lyse used the rooms daily and wanted a complete update from their dated decor style, while still keeping a warm and homey feeling. They also had some key pieces that were meaningful to them that they wanted to keep. The metal architectural piece over the fireplace was one such item. They had picked this up during their travels and hoped to incorporate it into the new design.
They also wanted extra seating for their family and friends when they had company.
The clients wanted leather; Magaly says they liked the ease of care and leather look and feel. They wanted something that would last a long time, and Magaly believes that leather is the best for longevity, style and always elevates the room's tone.
Wishes for the dining/breakfast nook were for it to be more comfortable and streamlined with updated clean lines that would complement the great room's changes. They chose a crisp yet comfortable set from our Canadel collection.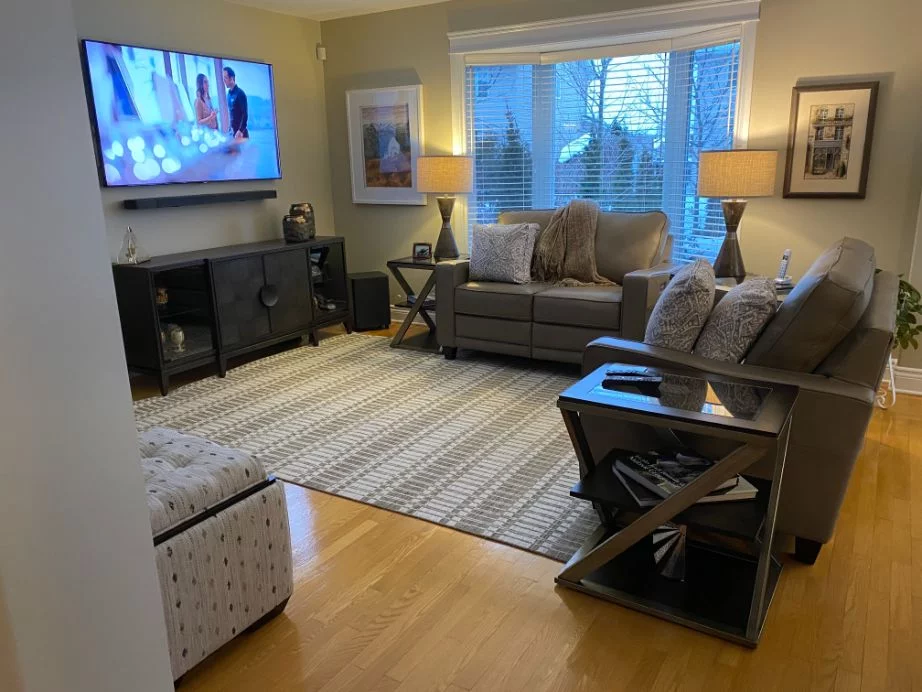 Design Budget/ Cost
The clients came in wanting to spend $10,000 – $15,000; the final price tag was a bit more given their choice of leather. (When you purchase leather, its longevity means you replace it less often and ends up costing about the same, without the fear of stains and spills).
It's important to remember that you should typically spend 30 to 40% of the room budget on accessories as they are the finishing touches and jewelry for the room. Pieces that complement and add layers to the space are essential to the continuity and colour palette flow of the home.
How Will the Rooms be Used?
Lyse and Fiona want to use the family room every day to sit, relax and watch TV with family and friends; we wanted to give them an inviting and comfortable space for the next couple of decades.
They will use the eating area as a breakfast nook, intimate meals for 2-4 people, and as a place for them to sit and enjoy company while meal preparations are going on in their open concept kitchen.
The Designer's Concept & Vision
The family room is a grey colour (Revere Pewter), but Magaly also needed to consider the Dijon (yellow) colour in the kitchen when designing the whole space. It had to work with the yellow-toned hardwood flooring in the room.
Her ultimate vision was to provide furniture with clean lines and a modern urban look yet still making it feel warm and welcoming. Her goal was to give the clients an updated contemporary decor, extra comfortable seating, and more storage.
At the same time, she wanted to create a seamless and comfortable feeling for people when they walked into the great room space.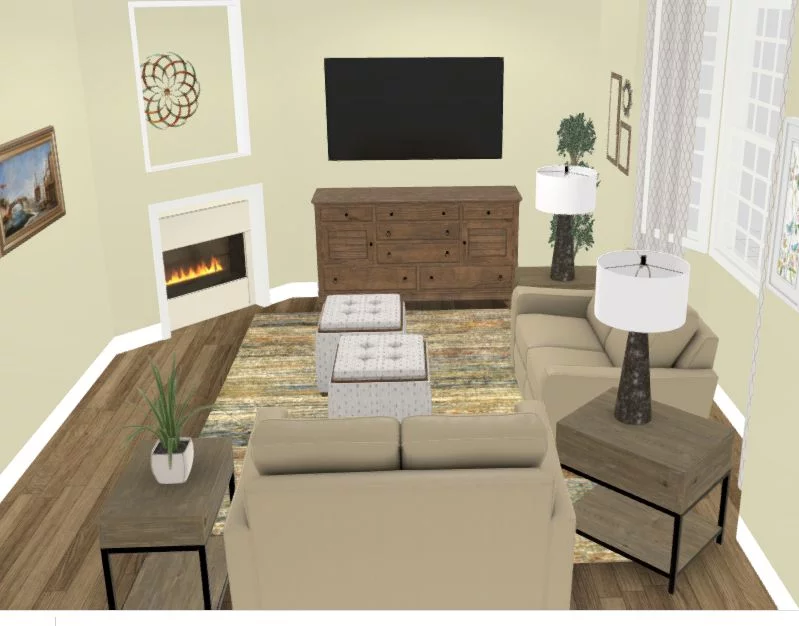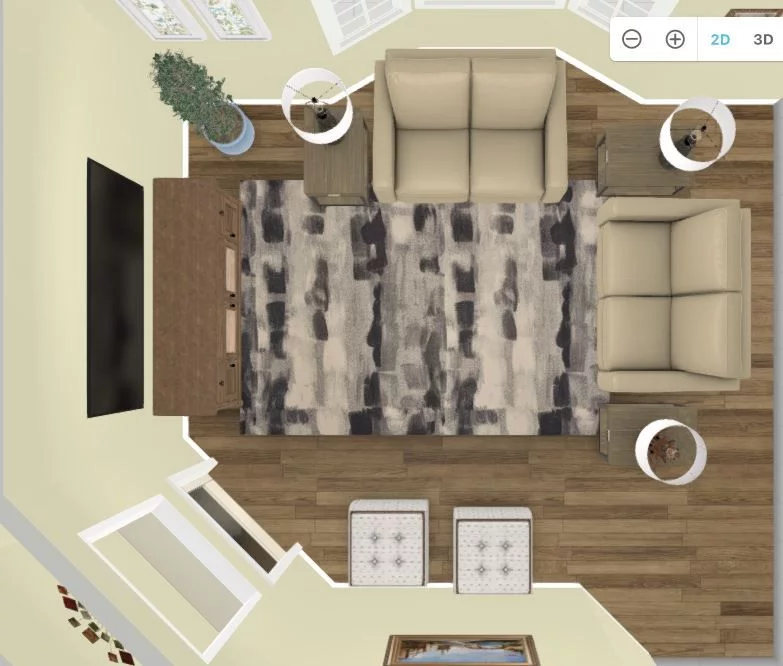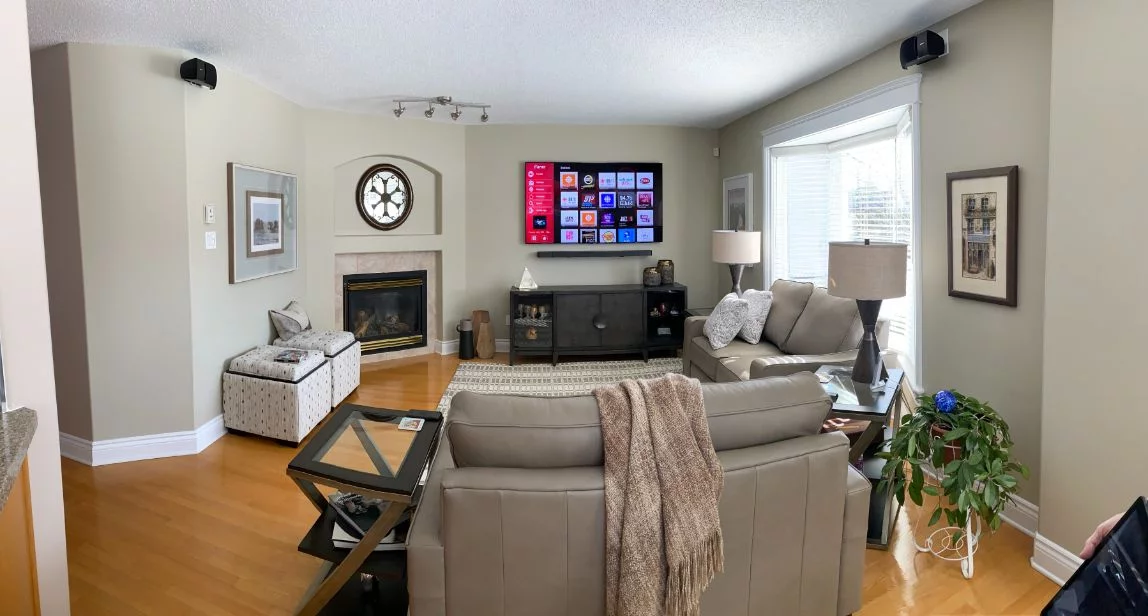 Furniture & Accessories Chosen for the Family Room
2 X Leo Ottoman: Leo Ottoman can be used for storage and as extra seating when guests come and visit.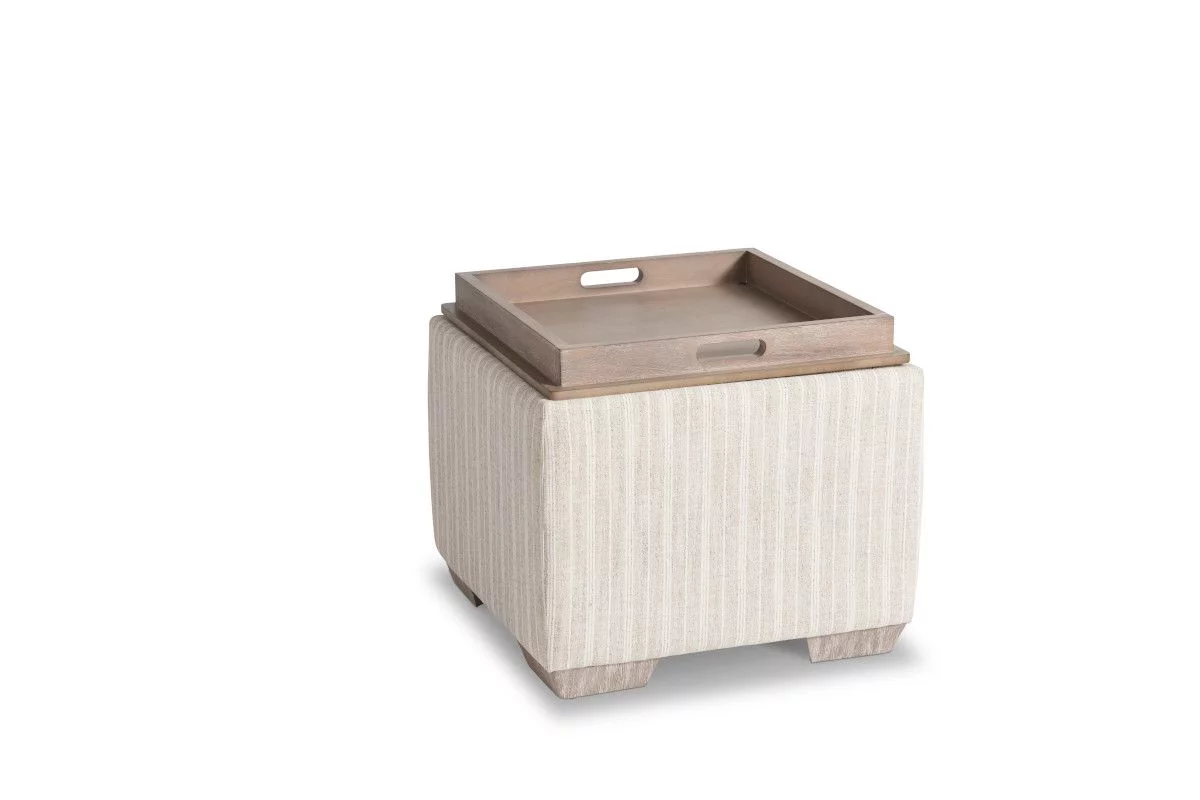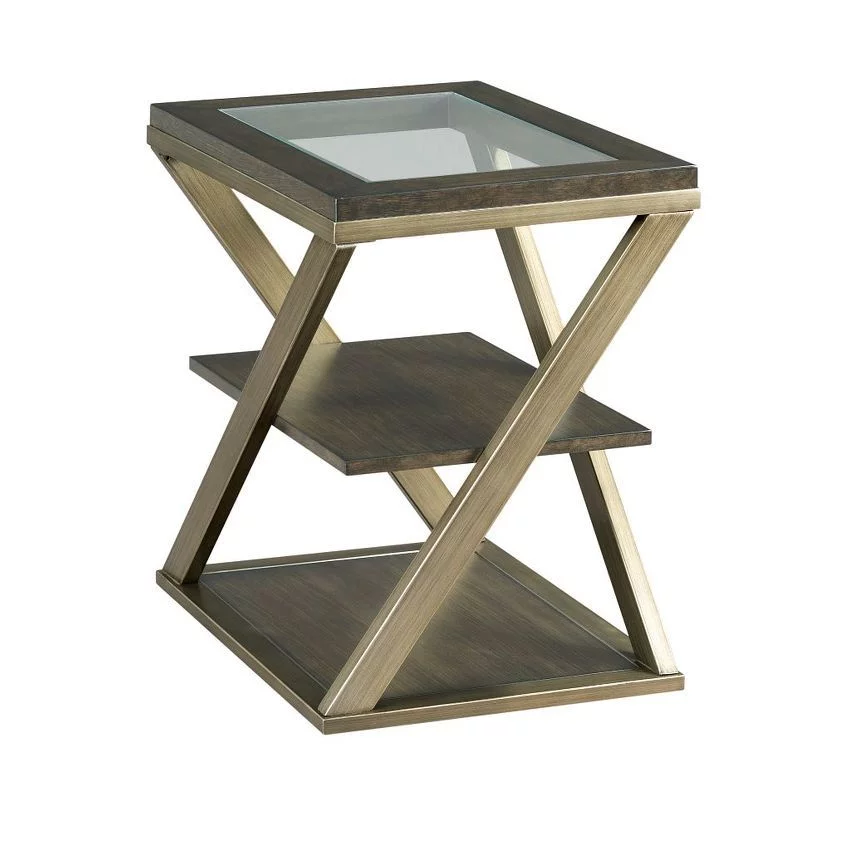 They also incorporated a tv console, lamps, area rug and accessories. They also added in some artwork, a mirror, and a bookshelf for the hall.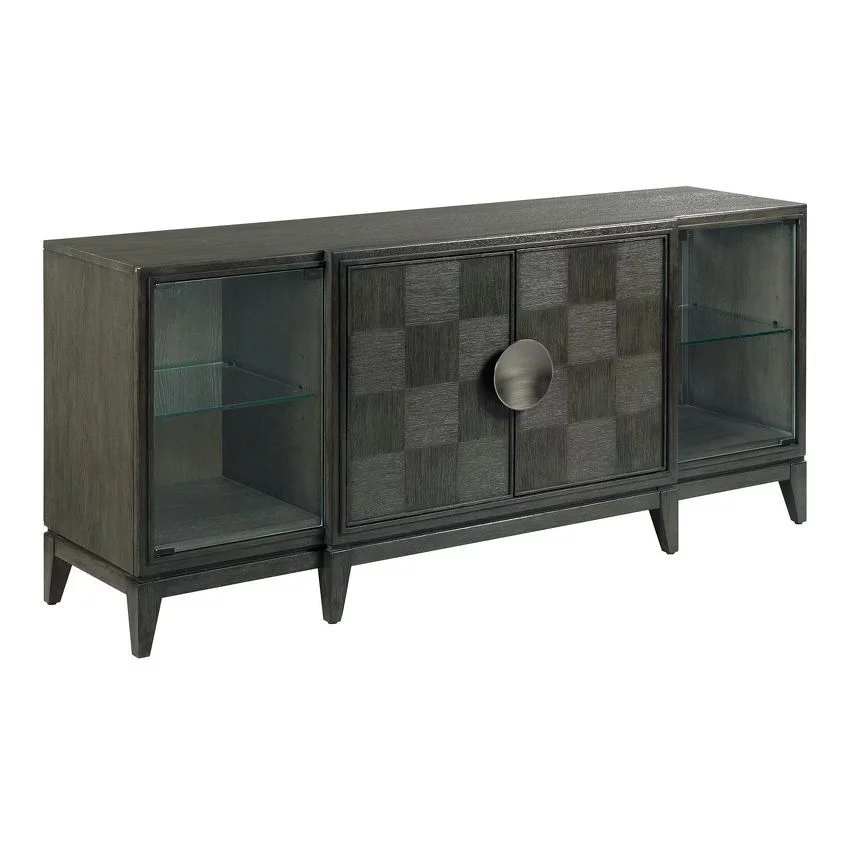 Table lamps from Renwil.
Vases, pillows and blankets from the La-Z-Boy showroom.
Artwork from Mercanna.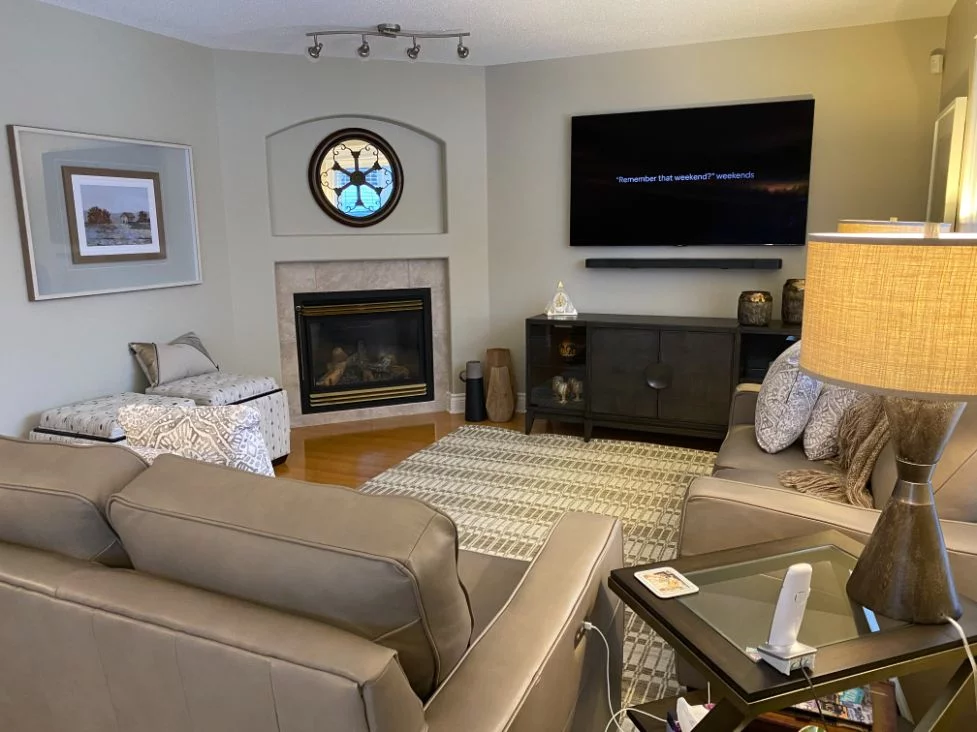 Furniture & Accessories Chosen for the Breakfast nook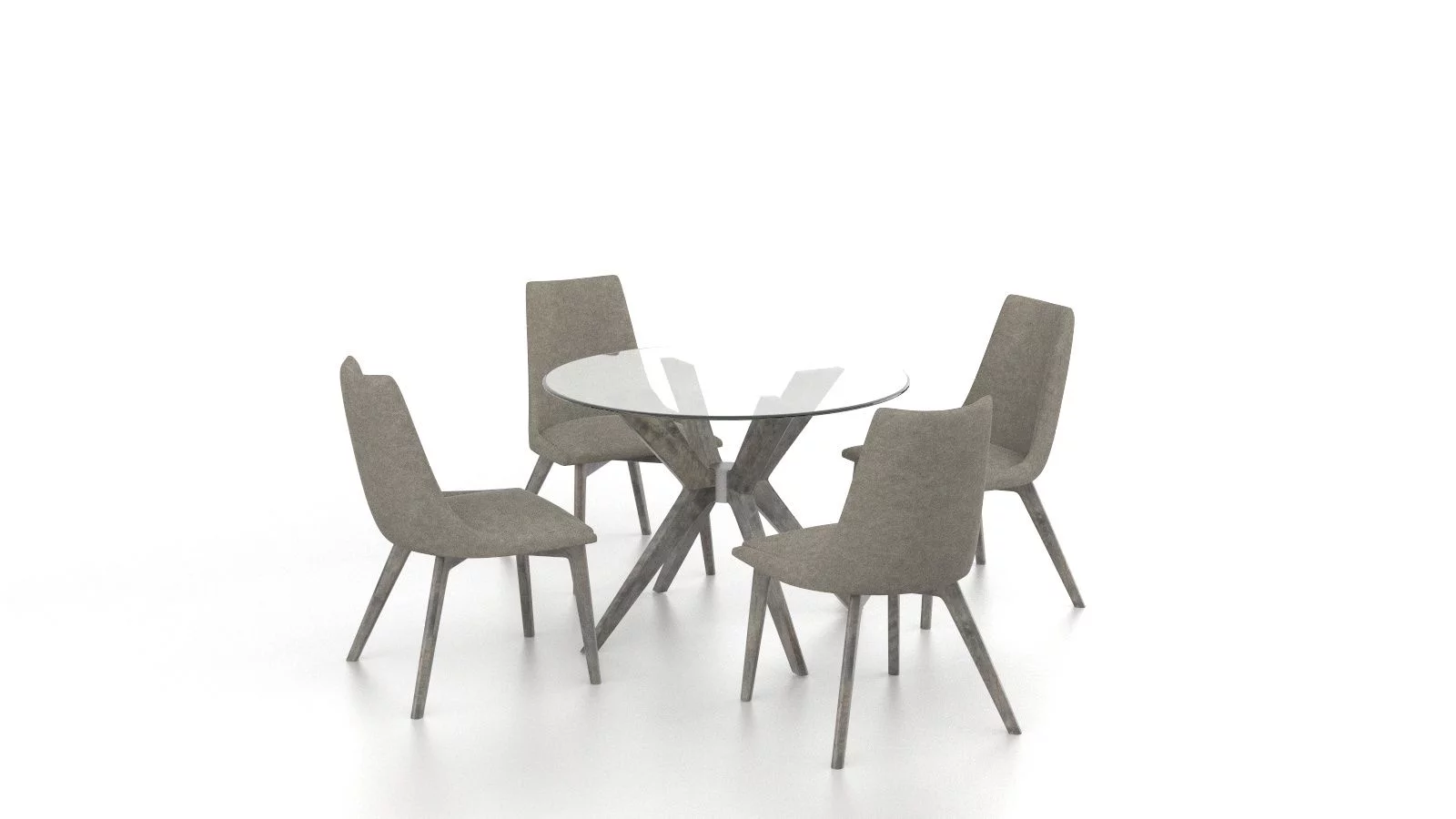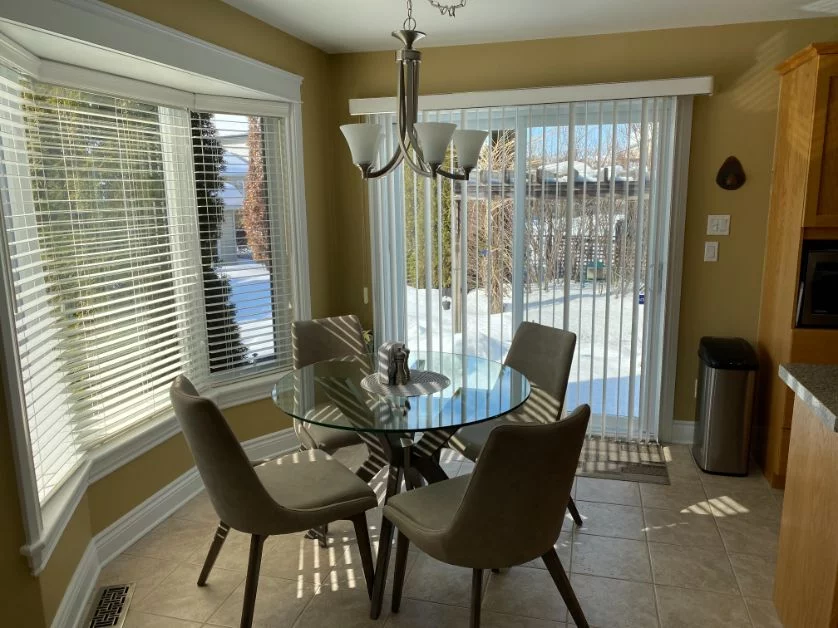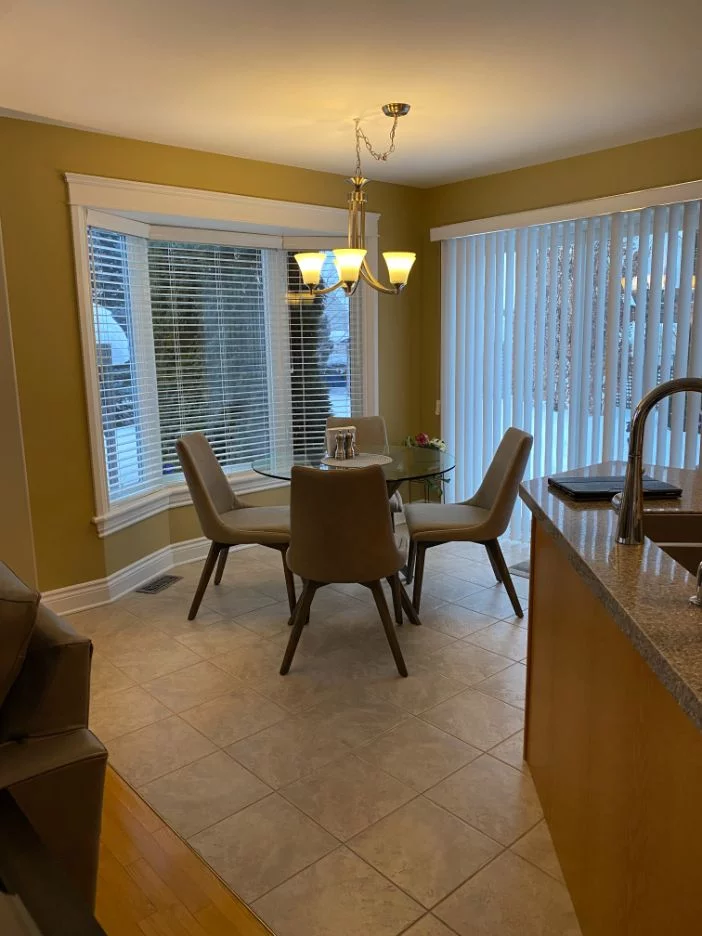 The "After" Result for the Living and Dining Room Makeover
The clients wanted their place to feel welcoming and cozy, a place where you can kick off your shoes and relax. Magaly says the Makenna power loveseats from the Duo La-Z-Boy collection in leather achieve that in this room and were the best solution. The power reclining feature provides personal comfort unequal to other more conventional manual pieces. Both Fiona and Lyse understand the qualities and benefits of top grain leather as they have had experience with it beforehand.
The loveseat now backs on to the eating area and is in a prime location for tv viewing.
Sometimes people say leather feels cold. However, the top grain leather warms up quickly, and the clients understand and love its luxurious and easy care feature.
If you want to learn more about leather's pros and cons, Magaly can provide expert advice on leather. That is what she currently has in her own living room.
Or check out our article What is the best cover for my sofa? (Leather vs Fabric)
The breakfast nook is more accessible as the loveseats' smaller size provides more open traffic flow to the backyard and kitchen. The seating is a colour complementary to the adjacent loveseat, and therefore can be brought into the great room if needed.
After the whole redesign experience in the great room, Fiona and Lise plan to tackle their living room next!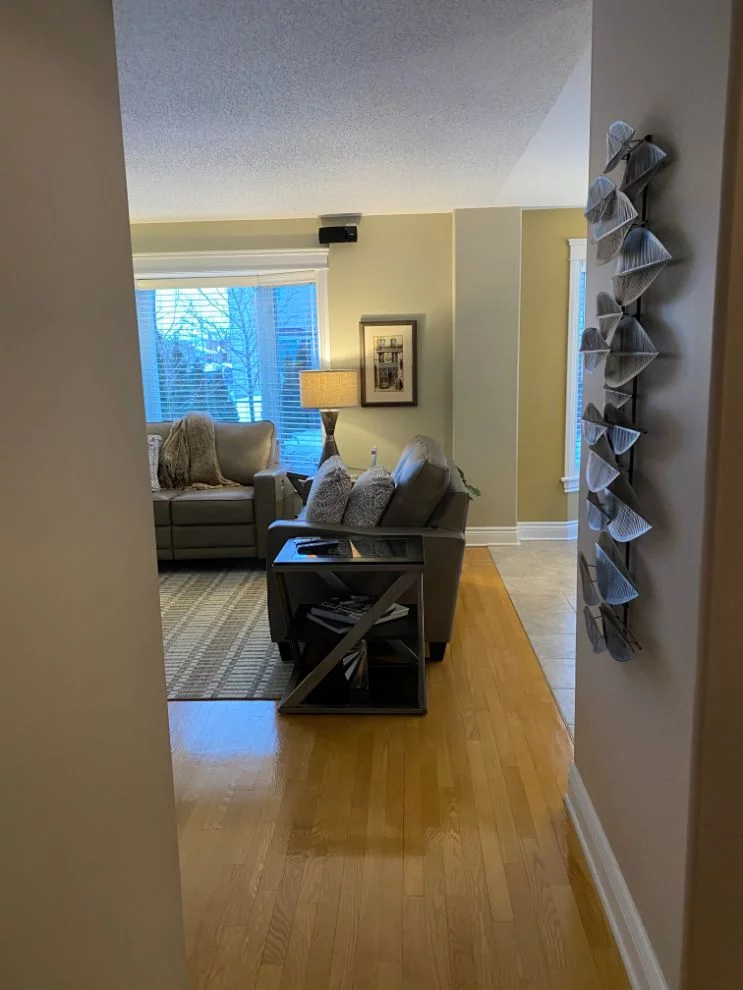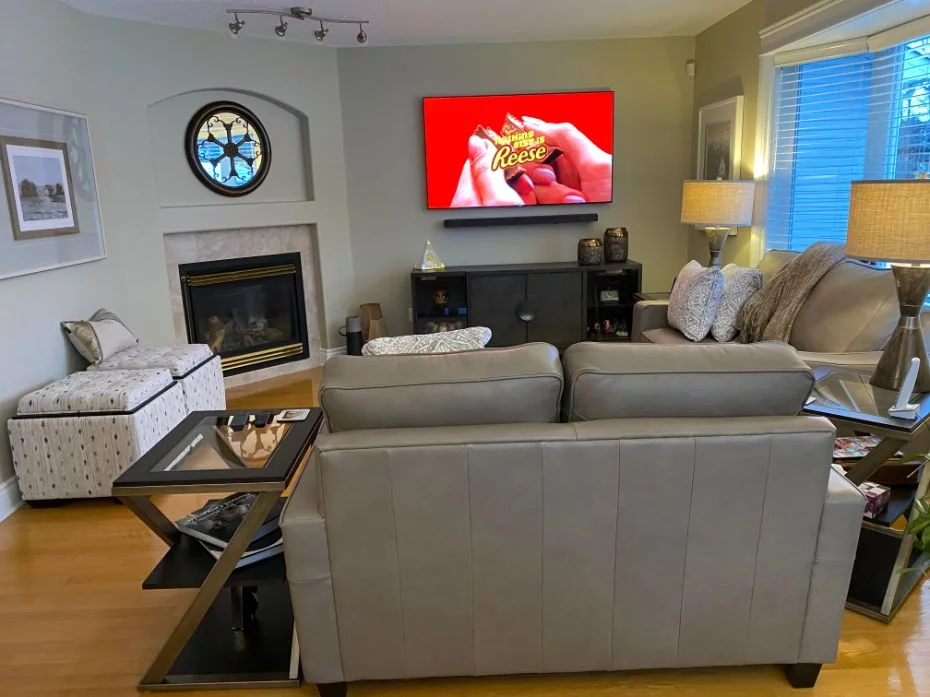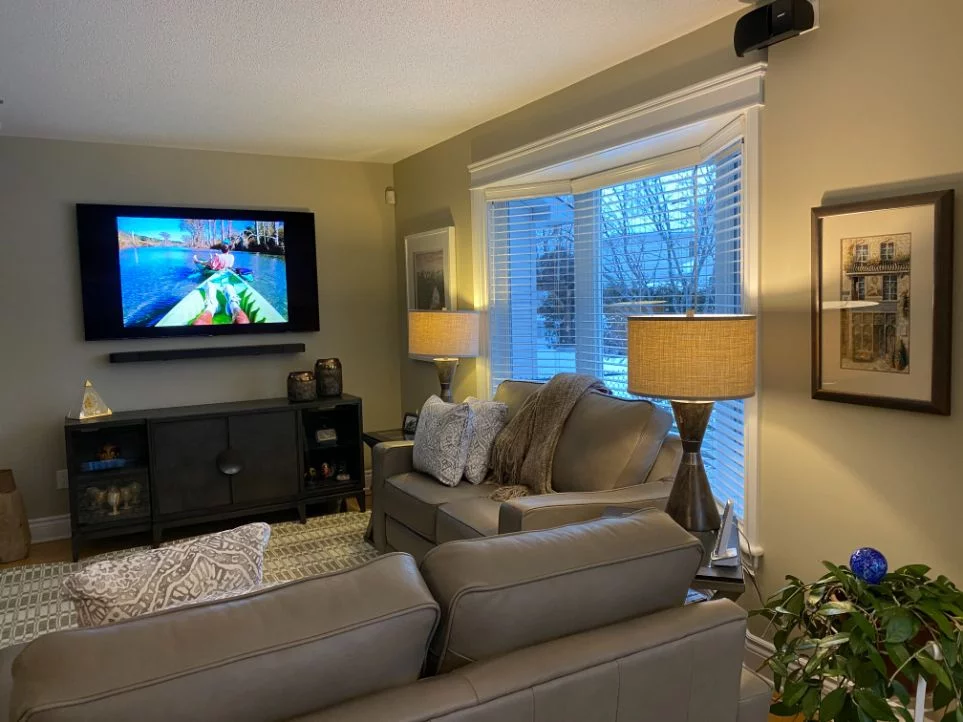 The Client's Reaction to the Makeover
Working with the designer (Magaly) was fun and painless. She helped us by giving us great options for our space & lifestyle.
We absolutely love the new spaces and have had lots of compliments on it. It's warm and cozy and is like having a new home.
Love it & thank you
Lyse & Fiona
Complimentary In-Home Design
La-Z-Boy interior designers provide complimentary design services for your home. But what's the first step in beginning the design process with La-Z-Boy?
Watch the video to find out.
Product Info Request
Please provide us with your name and email and we'll get back to you as soon as possible regarding this item.