La-Z-Boy Augmented Reality App
April 16, 2020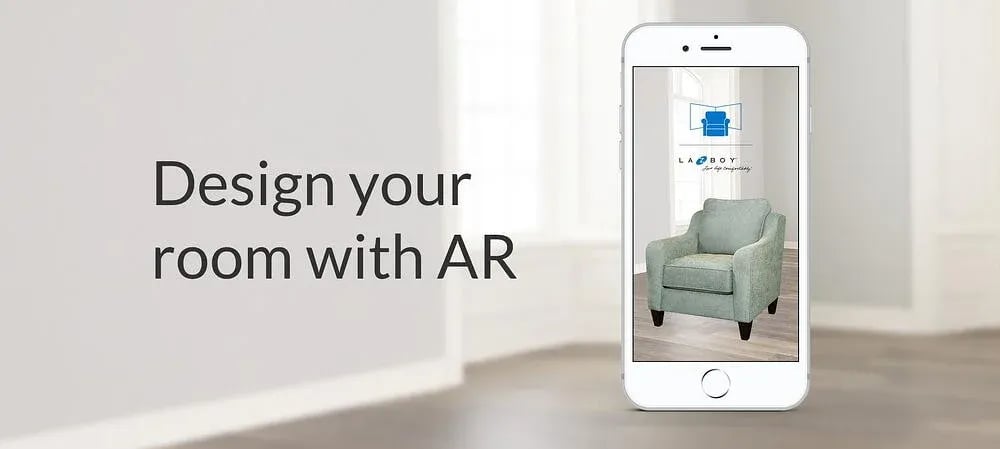 Review: La-Z-Boy Augmented Reality App
How to see furniture virtually in your home
Thinking about adding some style and comfort to your home? Want to see what it would look like before you purchase? La-Z-Boy makes it easy with the help of our free augmented reality (AR) technology.
During these unprecedented times of staying at home and social distancing, you are probably spending a lot of time indoors. You may be looking around your living room and thinking, "my home needs some new furniture, stat!" But how can you tell what it will look like in your home without going into the store or using the help of an interior designer?
This is where augmented reality can help. Augmented reality (AR)* is the state-of-the-art technology that allows you to add computerized 3-D images to "real life" situations. If your kids play Pokémon Go, then you've probably seen AR in action.
La-Z-Boy developed this application to make furniture shopping easier and to help you find the perfect piece for your space. It's also really fun to do!
Here's what you can do with La-Z-Boy AR:
View a wide variety of La-Z-Boy furniture in augmented reality.

Discover how the furniture will look and fit in your room.

Resize and rotate the furniture for incredibly realistic results.

Customize your selection with your choice of fabric or leather.

Browse and shop in the comfort of your own home.

Save images that you can text, email or share on social media.
What do I need in order to use this free app?
Currently, La-Z-Boy AR is available for iPhone via the App Store and Android (and iOS) with Google play.
How to get started?
Download the free La-Z-Boy AR app to get started. View a La-Z-Boy chair, recliner, loveseat, sofa or sectional and customize it with the fabric or leather of your choice.
When you're ready to see it in your home, tap the "view virtually in your space" button for an incredibly realistic AR image.
With La-Z-Boy AR, you'll see exactly how your new furniture will look and fit in your room. You can even save images that you can text, email or share on social media. La-Z-Boy AR is fun and easy to use and it's free! There's even a tutorial to help you get started.
How do I use the app?
For best results, stand up and hold your phone about 5 feet off the ground. Point your camera toward the floor and tap the circular icon to make your product appear.
To manipulate the virtual furniture image, slide one finger on the touchscreen to move the image forward, backward, left and right. Twist your thumb and index finger (like you were turning a knob) to rotate the image.
Which products are viewable in AR?
Most La-Z-Boy chairs, recliners, sofas, loveseats, ottomans are viewable in AR. (Look for the button that reads "View Virtually in Your Space" on the product pages.) Choose from hundreds of furniture and cover options to try.

| | |
| --- | --- |
| Chairs: | 37 different chair options |
| Recliners | 227 recliner options |
| Sofas | 100 different sofa options |
| Loveseats | 118 different loveseats |
| Ottomans | 10 different Ottomans |
How to save your AR image
Press the white shutter button to snap a photo that you can save to your iPhone or share via text or email. As 'they' say, a picture is worth a thousand words. There really is no better way to get that advice from your friends and family than showing them a picture of what your ideal piece will look like in your home. You can also post it to your favourite social media account.
Can La-Z-Boy AR make my son's room appear neater?
No, but that would really be something, wouldn't it?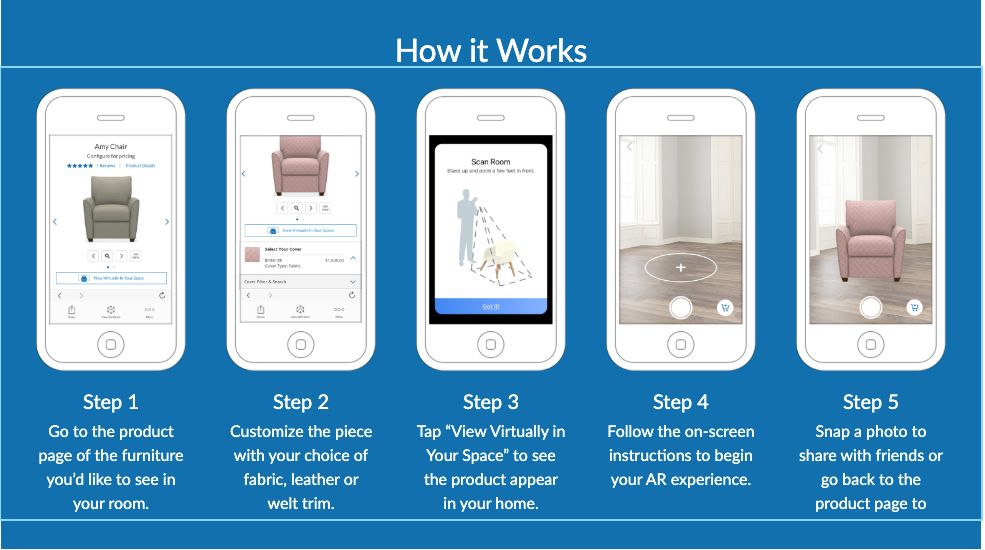 AR App tutorial:
Browse products: look through our AR compatible products and select one to place in your room.

Place in your room: Use your camera to place and view your chosen product in your room. You can even place it over top of your existing furniture.

Placing products in AR: For best results, start scanning from a height of approximately 5 feet.
The tutorial will appear the first time you launch the La-Z-Boy AR app. After that, you can access the tutorial any time by tapping the "More" menu.

Next Steps:
An interior designer will tell you their best advice when purchasing new furniture for your home is to measure your space and to test out colour & pattern swatches in your home. That way you won't be disappointed when the delivery day finally arrives and your new piece doesn't fit or look right. The AR app takes the guesswork out of what a new piece of furniture will look like in your home gives you peace of mind.
The app is a great way to visualize the piece of furniture you have your eye on in your home. Why not take advantage of this opportunity today.
For questions about how to use this app please contact us at one of our La-Z-Boy Ottawa & Kingston locations or schedule an appointment for an online or in-store consultation.
Be sure to visit Stylemeetscomfort.ca for ideas and inspiration and visit La-Z-Boy.com for furniture and home accent options.
*Definition of augmented reality from Oxford dictionary: a technology that superimposes a computer-generated image on a user's view of the real world, thus providing a composite view.
Product Info Request
Please provide us with your name and email and we'll get back to you as soon as possible regarding this item.