La-Z-Boy In-Store Design Presentation: What to Expect
May 19, 2021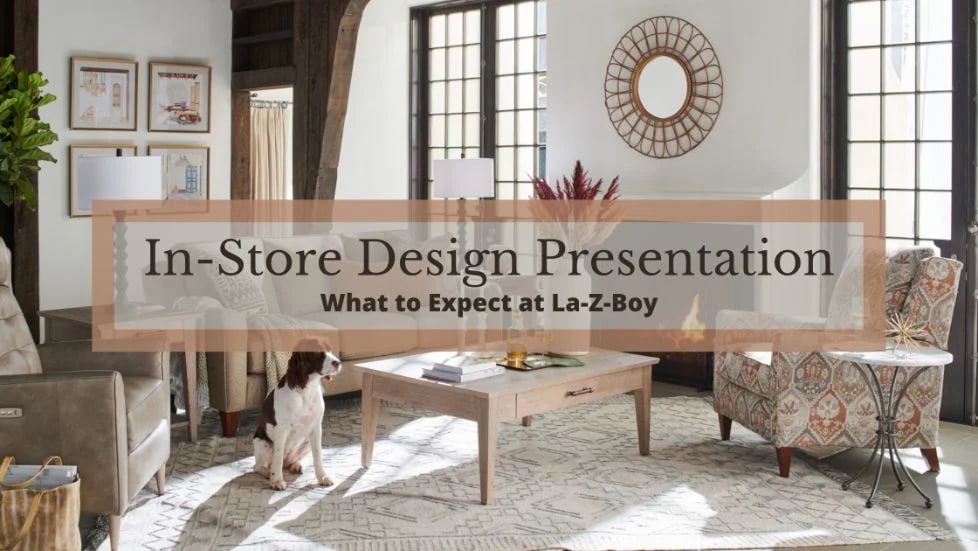 Interior design doesn't come easy to everyone. You may have a specific vision for your home decor or have accumulated ideas through magazine clippings and a dedicated Pinterest board that you want to replicate. But don't know where to begin in bringing this vision to life.
At La-Z-Boy, our talented and trained interior designers have a special eye for coordinating the right colours, shapes, and textures. Through collaboration, our interior designers are here to relieve the pressure and stress by taking the lead in designing the room of your dreams.
If you are reading this article, you have already met with an interior designer to discuss style and design details, and now you are anxiously waiting for your in-store design presentation.
As the date quickly approaches, this article will outline what you can expect from your in-store design presentation.
Interior Design Services at La-Z-Boy
Before we dive into what you can expect from an in-store design presentation at La-Z-Boy, let's quickly learn about the interior design services offered at La-Z-Boy.
At La-Z-Boy, we understand that comfortable furniture is only one part of the equation. It is equally as important for furniture to complement and enhance the overall style of your room, with the use of fabrics, accents, and accessories.
La-Z-Boy offers complimentary in-person and virtual interior design services. Our team of expert designers are skilled at understanding your needs and interior design vision and making it your reality.
If you haven't yet met with an interior designer, you may find more value in our article What to Expect When Working with an Interior Designer at La-Z-Boy, outlining the entire process of design services at La-Z-Boy.
Take a look at some of our Before & After Design Projects at La-Z-Boy Ottawa & Kingston.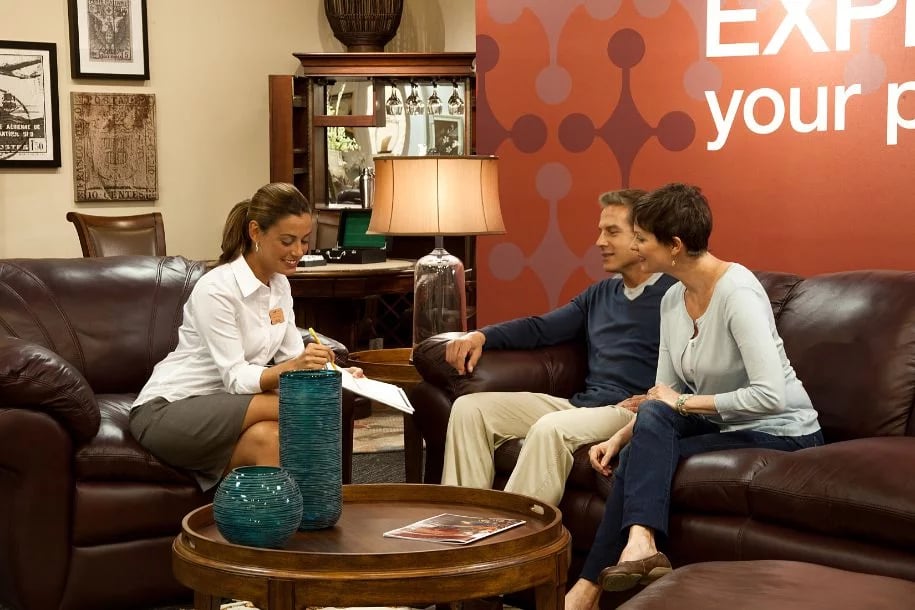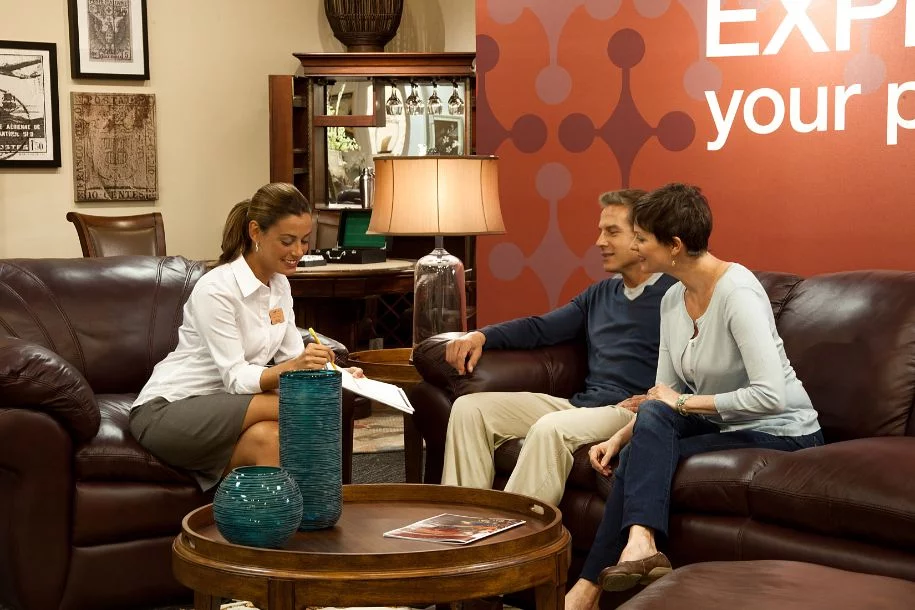 Steps Prior to the In-Store Design Presentation …
(1) Initial Store Visit
You will visit one of our local Ottawa or Kingston La-Z-Boy locations and work with a design consultant, expressing your interest in our interior design services.
With the help of a consultant, you will settle on the furniture frames, style, and design details of your room, which will be passed along to your interior designer.
Upon meeting with your designer, you will also share specific details about your room such as measurements, images, and possibly a sketch.
After sharing your vision and making these preliminary decisions, the room design has been left in the hands of an interior designer. You are now on the edge of your seat waiting to see how your room will come together.
(2) In-Home Visit
Next, your interior designer will visit your home to get a clear idea of your space and the design that you envision for your room.
To learn more about this step in the design process, check out our article The La-Z-Boy In-Home Design Appointment: What to Expect.
In-Store Design Presentation: Step by Step
Following your initial store visit and possibly the designer's exploration of your home, they will be hard at work for about a week choosing fabrics, frames, and accessories that align with your requirements and home-design vision. These elements will be available to preview in both a digital 3D model of your new room and samples within the showroom.
So what should you expect when you arrive for your scheduled appointment?
Step One – Revisit the Showroom
Your in-store presentation will take place in the showroom that you initially visited, where your interior designer has been pulling the pieces together to transform your room.
A time and date would have been arranged between you and your designer so they will be prepared for your arrival. They will greet you upon entrance and your in-store presentation will begin.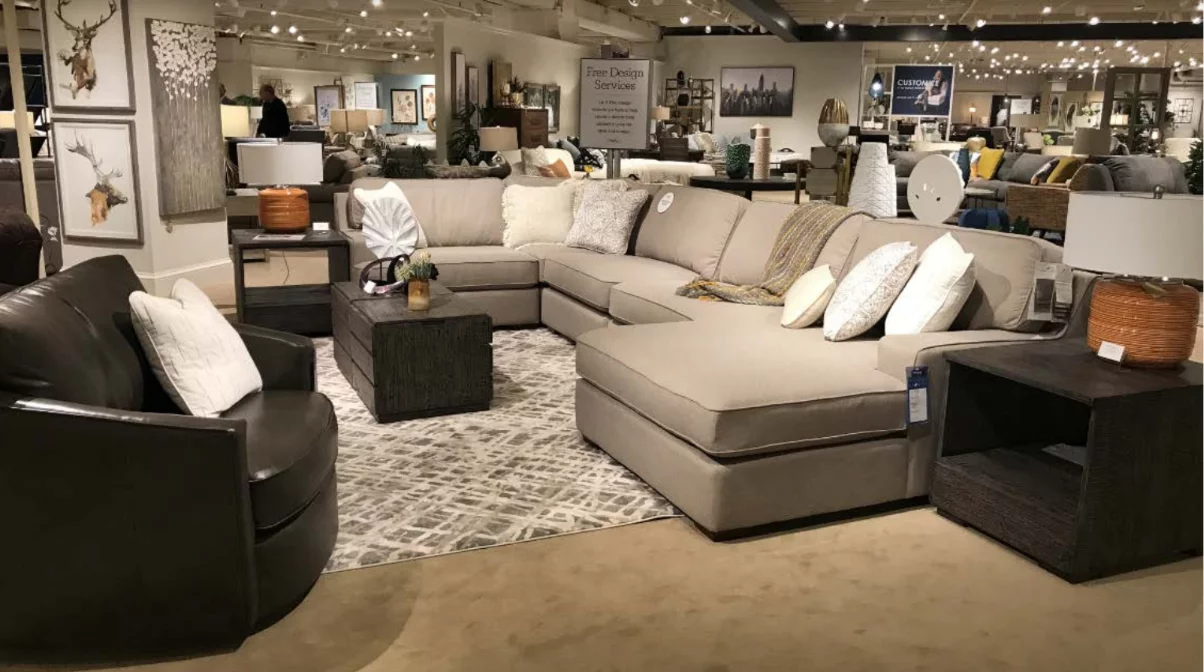 Step Two – Visit Your Chosen Furniture Frames
Your interior designer will take you through each aspect of your room design, beginning with your chosen furniture frames.
You will be guided through the showroom visiting the furniture selections for your room to ensure that they still match your comfort and style preferences. At this point in the presentation, you may also discuss customization options with your designer.
It is also important that you take a seat in the furniture to make sure that they still fit your body type properly and provide superior comfort.
To prepare for this part of the presentation, take a look at our articles on recliner fit and sofa fit. These articles offer tips that will be helpful for your final sit test.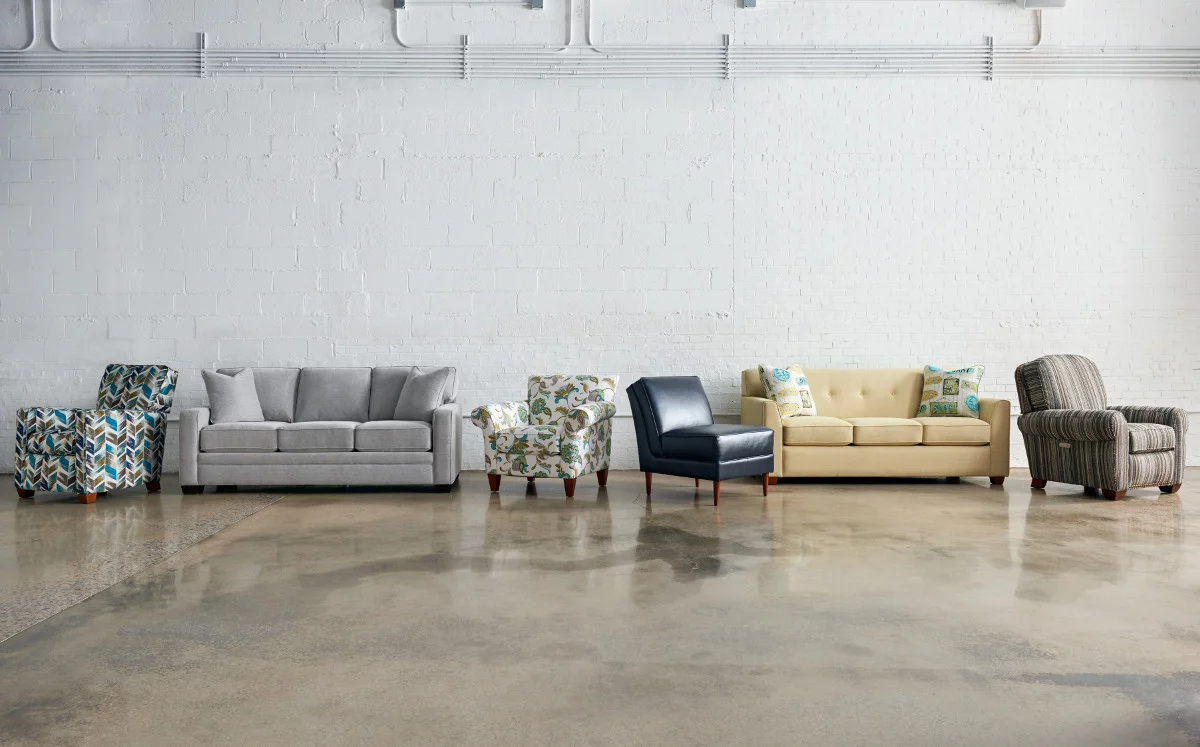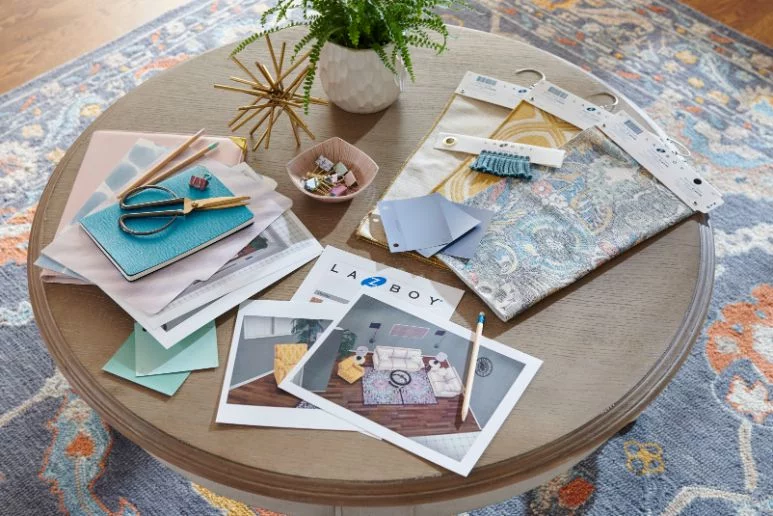 Step Three – Take a Look at Your 3D Floor Plan
Next, your designer will show you the digital 3D floor model of your new room.
The 3D model is based on your room measurements and images. The interior designer then arranges your chosen furniture selection within this rendering of your floor plan to show you how the furniture will fit in the room.
This advanced technology allows you to visualize exactly what your room will look like so that you feel comfortable and confident with your final decision.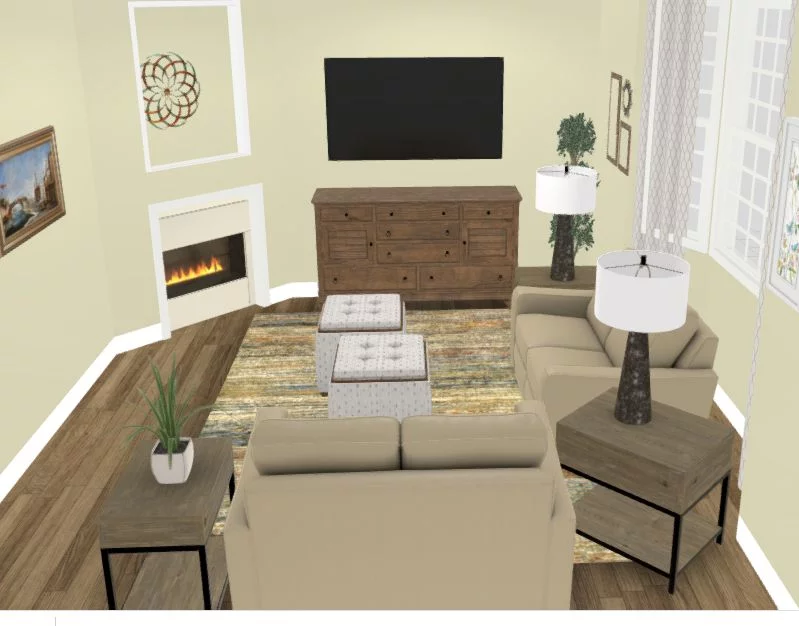 Step Four – Presentation of Design Elements
After reviewing the 3D model of your room, the fun really begins!
Your designer will now present all the design elements of your room. This includes a display of fabric samples, artwork, lamps, accessories, and even an area rug that you'll be able to touch and feel
By this point in the presentation, you will see the overall vision of your room be pulled together. Furniture aside, it is ultimately the layering of accessories, blankets, and artwork that really makes a room.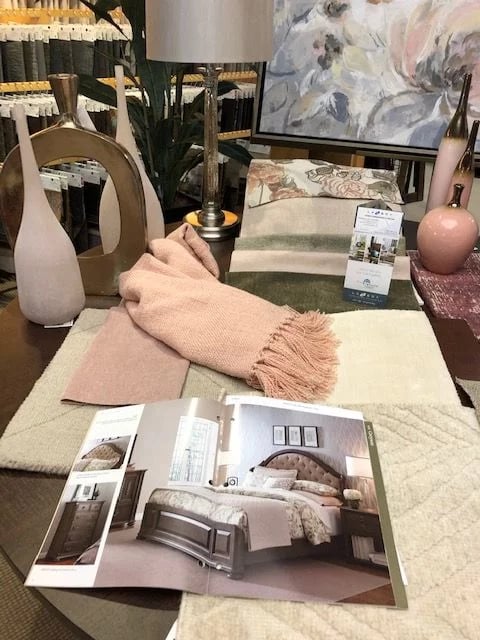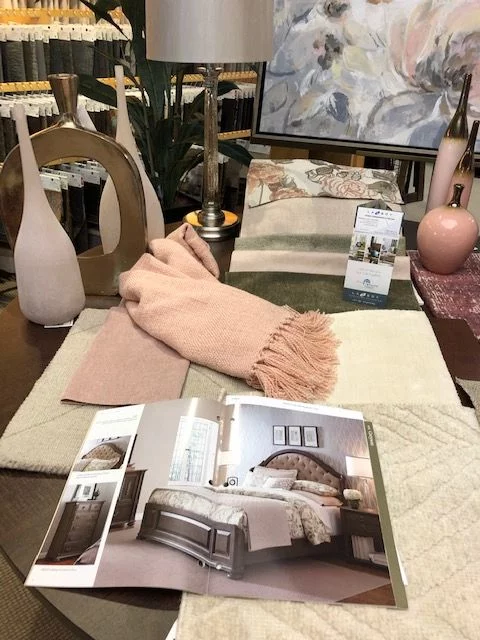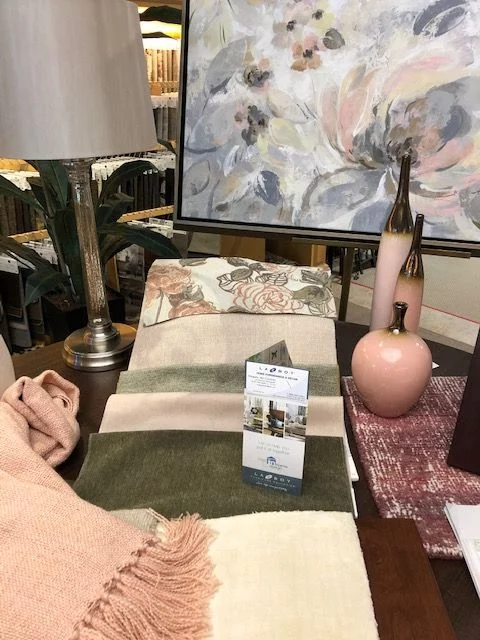 Step Five – Place Your Order
After reviewing all aspects of your room (the furniture frames, the 3D model, and the presentation of design elements), you and your designer will ensure that you are happy with the final product.
Once you've reviewed all available options and feel satisfied with the final selections, your designer will place the order.
(1) Financing Options
We realize that designing and furnishing an entire room can make quite a dent in the pocketbook. Furniture financing services can be a helpful tool when it comes to affording such an investment.
To learn more about our furniture financing options at La-Z-Boy, take a look at the article Furniture Financing: Everything you need to know.
(2) Warranty & Protection Plan
It is important to have peace of mind knowing that the value of your purchases are protected.
Most furniture is sold with a manufacturer's warranty, but many furniture retailers offer additional protection plans to cover accidental damage to furniture that may not be covered by warranty.
These protection plans come at an additional fee, often relative to the cost of the furniture.
Learn about if La-Z-Boy's Extended Warranty Service Plan is Worth it?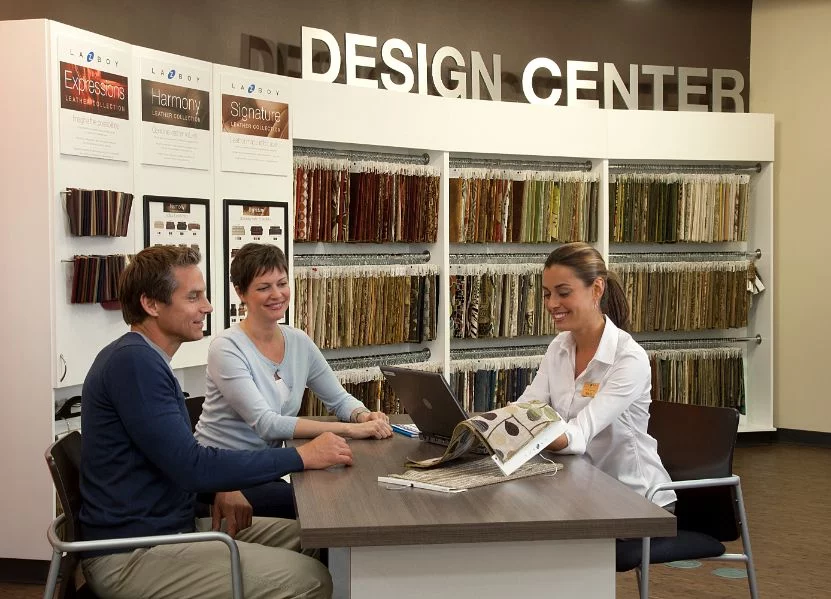 After the In-Store Design Presentation …
The room of your dreams is only one step away from being complete.
After your in-store design presentation, all you have to do is wait for your furniture and accessories to be delivered to your home.
Within 24 weeks the La-Z-Boy delivery team will arrive with your order.
Keep in mind, delivery times are currently delayed due to the current COVID-19 pandemic. For more information, take a look at the article How COVID-19 is Affecting Furniture Delays and How to Plan Ahead. Further, here is Our Response to COVID-19 at La-Z-Boy Ottawa & Kingston.
At La-Z-Boy, we have a white-glove delivery service in which our delivery team will unpack and assemble your furniture. They will place the furniture in the room based on your 3D floor plan.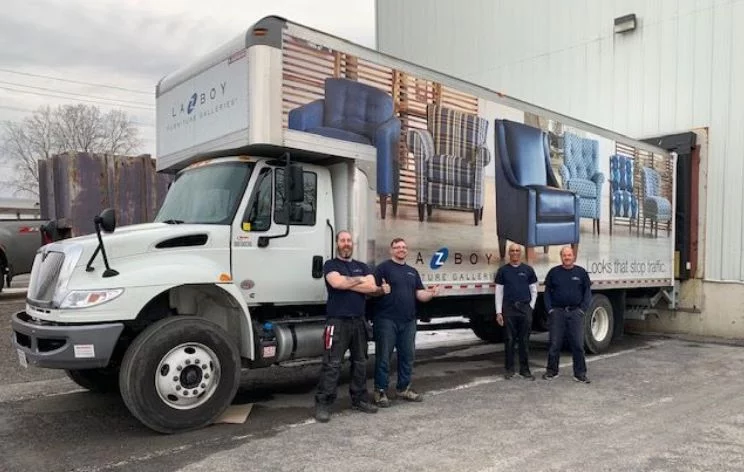 Product Info Request
Please provide us with your name and email and we'll get back to you as soon as possible regarding this item.