Pantone Colour of the Year 2022
March 7, 2022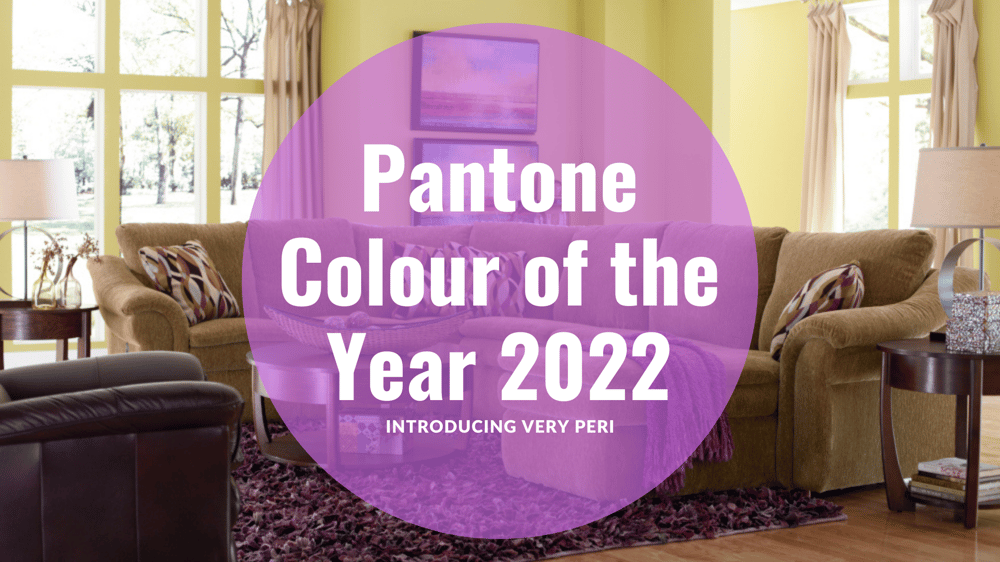 Est. Reading Time: 7.5 Mins
It seems that nowadays, everyone is looking for furniture from the same tired colour pallet. A lot of individuals are choosing blacks, whites, greys, and browns to match their neutral and minimalist aesthetics.
However, there are others out there that are desperately looking for something unique to put in their rooms. Something dynamic, and memorable. Well, what if I told you that you might be seeing a burst of colour this year, especially in periwinkle.
May I introduce you to Pantone's colour for the year 2022, Very Peri! Pantone describes their latest colour as a courageous presence, which encourages innovation and creativity.
Interior Designer at La-Z-Boy Kingston, Mary Lee Smyth, is in love with this year's colour, expressing that it is a "safe colour, but also an outlier." She also states that it can match any setting it pleases without being too over the top. The perfect colour to introduce for those who may want a little less monochromatic design in their home.
But you might be wondering, what goes well with this colour? What designs does Very Peri compliment? Continue reading to find out more about the versatility that is Very Peri.
In this Article…
Who Is Pantone?
Before we get into discussing Pantone's colour of the year, some of you may not be familiar with who Pantone is. For starters, the Pantone company is known as the leading colour expert worldwide.
With a wide array of colours to choose from, Pantone surpasses far beyond any colour company with its vast selection of colours. They provide many different services to a variety of companies, such as picking the right colour for brands, consultations for perfect colour combinations, and educating those interested in emerging colour trends.
This purple colour chart shows exactly how diverse Pantone is with its colour selection.
Pantone's Colour of the Year Selection Process
Every year, Pantone, along with other notable colour companies, chooses a colour that will set the tone for the upcoming year. They do this by looking at trends from the past year across different industries like home design, advertising, social media, technology, fashion, and everyday life.
After carefully considering different tones for different meanings, they release a colour that shows what they hope to see in the upcoming year.
For example, last year, they showcased two colours for their colour of the year (Ultimate Gray and Illuminating Yellow), expressing that 2021 would be the year of support and hope after such uncertainty in 2020.
Though Grey and Yellow don't normally mix well together, Pantone wanted to show that two independent colours can join to support each other for an uplifting outcome.
This year, Pantone made an unprecedented decision to create a whole new colour to showcase for the first time in 22 years of business. The colour Very Peri is a colour created by Pantone representing change and innovation.
After two years of a tiresome pandemic, people are desperately looking for a change in their lives. Everyone is looking for something positive and different. Very Peri expresses this in every setting it encompasses, showing optimism like last year, and innovation for a new landscape of reality.
How to Use Pantone's Colour of the Year in Home Design
Mary Lee is a fan of Pantone! In fact, she is always carrying her Pantone colour fan for times that La-Z-Boy customers are looking for a specific colour but can't quite place their finger on it.
When discussing the latest Perwinkle shade, she says that it is the right amount of tone to be either neutral or an outstanding colour in a room. "It is a bridge between the hot reds and the cool blues."
Interestingly, Mary Lee reports that most people might hate the colour blue or red as a fabric, but when they see purple they love it. "A lot of people look good in purple. It is a very flexible and approachable colour."
But how could Very Peri fit into your home design? This section will dive into colour palettes, and design styles that compliment Very Peri for inspiration!
Colour Palettes that Compliment Very Peri
As previously mentioned, Pantone's colour of the year is a very adaptable colour, meaning it can work well with most colour combinations.
Mary Lee notices this colour's versatility as well, stating that it can work well with neutral colours like grey, or with natural colours, like cream and green. The colours she specifically calls out are creamy yellow, grey and citrine.
Mary Lee also mentions that Very Peri is reminiscent of a periwinkle myrtle flower, meaning earthy tones and other flower colours will go well with this colour too.
Her observations actually aren't that far off to what Pantone's page has to say about their colour of the year. Pantone lists four main settings that Very peri would work well in:
The Balancing Act: Similarly to what Mary Lee said about purple matching with greys and creams, Very Peri compliments rooms that have different earth tones.
Wellspring: This design brings a more harmonious and colourful approach to Very Peri, matching very well with greens and other kinds of colours you could find in the spring season.
The Star of the Show: Monochromatic colours like black, white, grey and brown are popular furniture colours. And when Very Peri goes into that mix, neutral colours surprisingly become much more dynamic.
Amusements: Going back to Periwinkle being associated with certain flowers, this whimsical palette showcases how spontaneity with different flower colours can work well within a coloured room.
Design Styles & Furniture that Call for Very Peri
As mentioned before, Very Peri is a versatile colour, meaning lots of different design styles can work well with this colour.
Most people may know purple as being the colour of royalty, making any shade of purple an eye-catching colour as a furniture fabric in any room you might see it in.
Mary Lee mentions Very Peri working well in traditional or contemporary furniture, emphasizing the diversity this new colour exudes.
Unfortunately, we do not offer a Very Peri fabric at La-Z-Boy, but we do have furniture that could complement a Very Peri wall or other accent pieces.
In a perfect Very Peri living room, Mary Lee envisions a light-coloured sofa, like La-Z-Boy's Paxton Sofa against a Veri Peri accent wall. "The silhouette of the cream sofa would be a standout against the wall." Yellow pillows can also be added for a contrast of colour.
Mary Lee also can see a cream chair, specifically La-Z-Boy's Birmingham Chair, in this position as well.
Since Very Peri is an uncommon colour for furniture to be shown in, some might be a little hesitant to put it in their rooms. However, as each year passes by, interior designers, like Mary Lee, are seeing a shift in people favouring dynamic colours, like purple, over monochromatic colours.
In fact, this trend we are seeing is reminiscent of the history of colour trends over decades past.
After huge events like the First World War and the Second World War, people were looking for a change. Instead of the classic neutral colours that people preferred, some started to seek out more dynamic colours. This varied from fashion statements to bold interior design choices.
Because we are living in an unprecedented time in history, it's not a surprise to colour trend experts that dynamic colours are taking the forefront of people's attention now, instead of the regular monochromatic people used to seek out.
Believe it or not, embracing bold colour palettes, with colours like Very Peri, is an emerging home design trend for 2022.
Mary Lee theorizes this is just the beginning and a burst of colour will take form again in people's homes. Definitely, something to look out for in the upcoming years.
Who Would Love Pantone's Colour of the Year?
Periwinkle is not exactly the traditional colour you would normally see on furniture. However, incorporating accent colours has been a trend in home design for a long time. With this, furniture in Very Peri would be a great choice for someone looking for the perfect accent piece in their home.
Given that this colour is multifaceted, it can appeal to a lot of different personalities, as mentioned in the style section of this article. As such, Very Peri can work within a subtle and understated design or a bold and dynamic environment.
But who would enjoy this colour in their home more? Well, Mary Lee points out that she sees lots of women asking for shades of Periwinkle whenever someone is looking for a unique colour to put in their room.
She also points out that nature lovers would adore this kind of colour as well. If they're looking for something out of the box, or something toned down with earthy and creamy tones, Very Peri fits the bill, which is exactly what Pantone says on their website.
Overall, purple complements a lot of people and home design in a number of ways. Very Peri is a dynamic colour! The question you must ask yourself is are you dynamic enough for Very Peri?
2022 Colour Trends Beyond Pantone's Very Peri
Though Pantone was innovative in creating the unique Very Peri, they are not the only ones to release a colour of the year. As a matter of fact, other paint and colour companies release their own colours of the year for 2022.
Across the board, there seemed to be a general tendency towards dynamic colours, possibly solidifying this theory of dynamic colours taking the forefront of people's tastes instead of monochromatic. Moreover, most of these colour choices also symbolized optimism for the future.
A great example of this is Minwax's colour of the year which is Gentle Olive. This washed green is the perfect tone for giving off a relaxing and zen atmosphere, according to Minwax. This type of colour goes well with wooden patterns or brightly lit areas.
Similarly, Sherwin Williams announced Evergreen Fog as their 2022 colour of the year. Sue Wadden, Sherwin Williams Director of Marketing, describes this colour palette as "natural and effortless".
Another example of an influential colour taking form is Krylon's colour of the year, Satin Rolling Surf. This deep blue is meant to show stability, balance and, yet again optimism for rejuvenating any space that may need a new aesthetic.
What's Next?
Think you can use a little more Very Peri in your life after reading this article?
Why not check out our fabric selections at any La-Z-Boy location? La-Z-Boy has over 800 uniquely coloured fabrics to choose from, making the possibilities to customize your furniture truly endless.
If you are unsure of how to incorporate Very Peri into your current home design, consider taking advantage of our complimentary design services and working with an interior designer, like Mary Lee.
Visit us at any of our Kingston & Ottawa Locations or book an online appointment to talk to a design consultant if you have any questions or concerns.
We hope to see you soon!
Related Articles:
10 Interior Design Trends to Look Out for in 2022
Colour Trends 2020 Including Pantone's Colour of the Year
Product Info Request
Please provide us with your name and email and we'll get back to you as soon as possible regarding this item.