Richmond Design Story: Open Concept Custom Design
October 13, 2021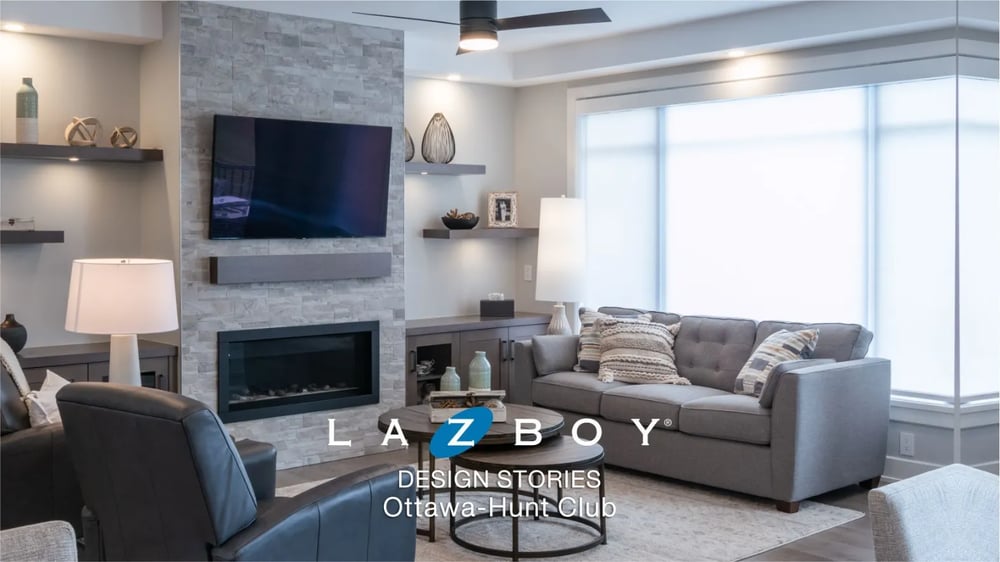 The First Meeting at La-Z-Boy
Vickie and Stan were building an open-concept bungalow in Richmond Ontario when they visited La-Z-Boy in Nepean looking for design inspiration. Our in-home designer, Dea Attar got a chance to work with them and design their brand-new forever home.
Watch the Video to hear Vicki speak about her La-Z-Boy design experience.

What the Client was Looking to Achieve
The house had an open floor plan, so they wanted to create a cohesive look between the kitchen, the dining, and the living. This house is their forever home, so they wanted a simple design that would stand the test of time. They also wanted the rooms to be functional, welcoming, and comfortable without compromising the look.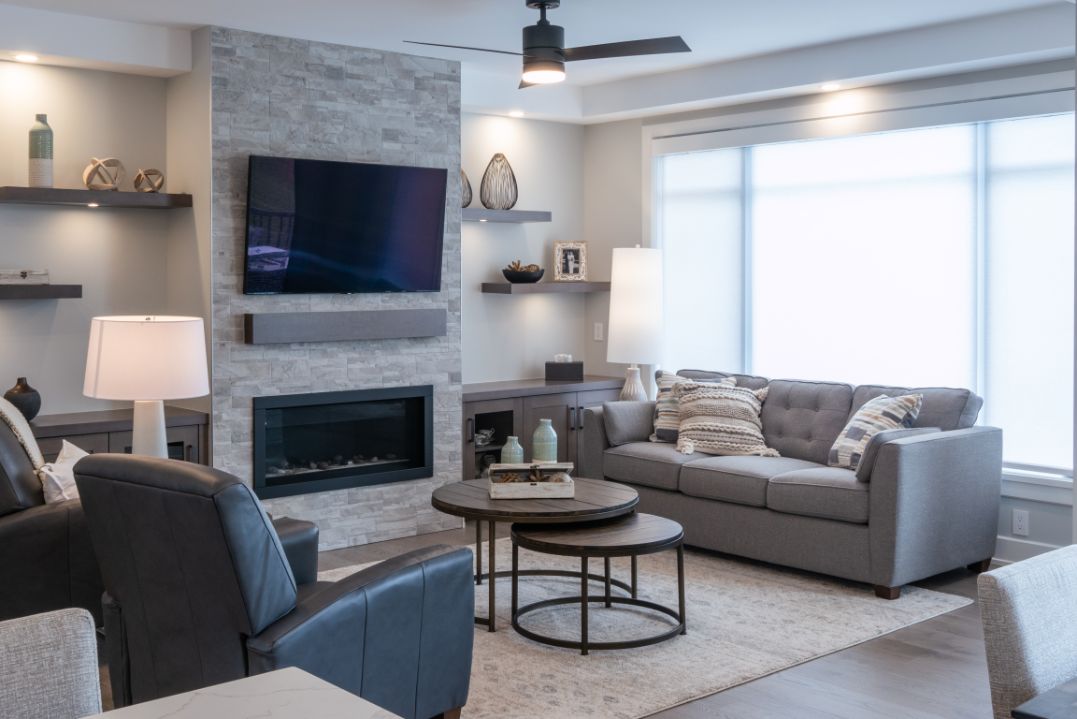 Designer's Inspiration and Design Choices
The inspiration stemmed from Dea's conversation with Vickie and Stan about kitchen ideas for their space. They were seeking a simple look rich in materials and finishes.
Dea opted to go with a neutral dominant transitional look. She used different shades of warm greys, cool taupes and charcoal throughout the space. She also added accent colours using accessories to tie in the colour of the island and create a theme.
The design had an abundance of materials to add more visual interest. For example, a distressed dining table with chunky legs reclaimed wood and a raw bronze coffee table. In addition, Dea added leather chairs, a fabric sofa, a medium pile rug, ceramic and stone lamps, and braided pillows.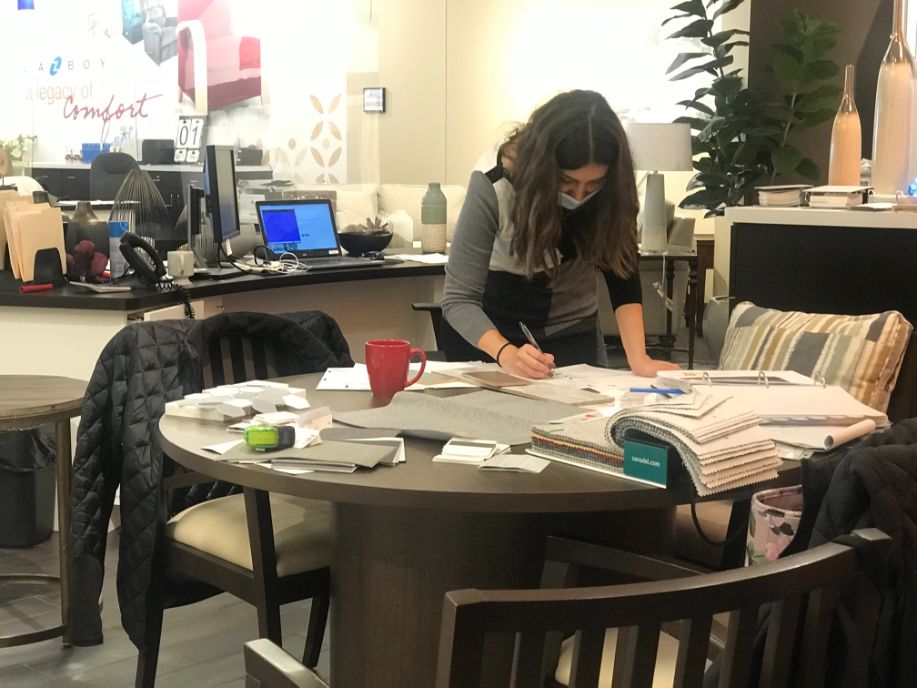 The Furniture and Accessories Chosen
In Dea's words "We didn't go matchy matchy, but we coordinated the colours together using contrasts and similar undertones. I love this neutral colour story. And, did you notice the accessories on the floating shelves? All oversized and substantial. No small knickknacks and visual clutter."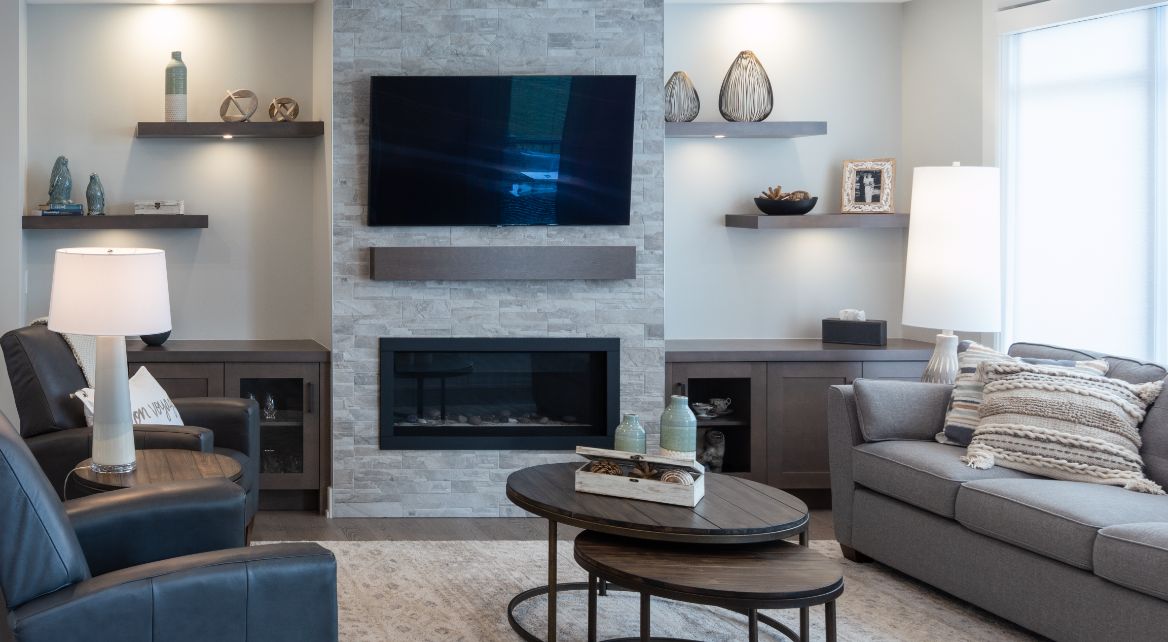 This dining table creates a cozy corner off the kitchen! " The table can be extended with a leaf to maximize the seating when needed! What you can't see is the rustic exposed wood used to make this table and the beautiful textured fabric of the chairs. They really create a nice contrast with the soft tones of this kitchen."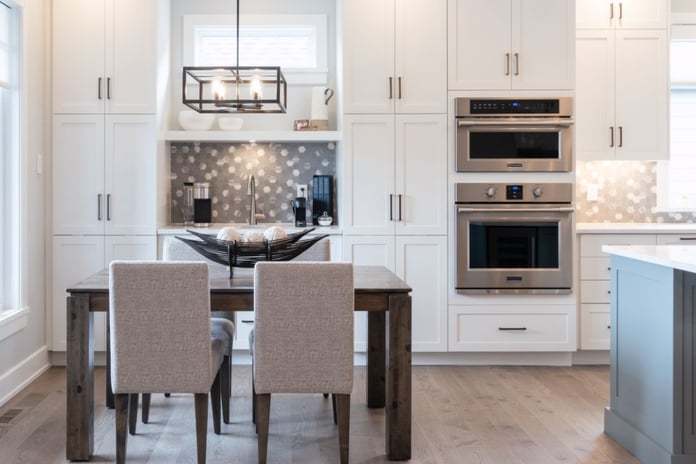 Watch the video to find out more about Vickie's La-Z-Boy design experience.
The client's Reaction to the Final Design
"People are amazed at how our open shelves look with all the accessories. Dea put it all together for us. We are really proud of our house and we love showing it off!" Vickie & Stan
To find out more about what to expect with our in-home design service watch the video below:
Product Info Request
Please provide us with your name and email and we'll get back to you as soon as possible regarding this item.