7 Expert Tips on How to Design a 'Woman Cave': Feminine Living Room Design
February 7, 2022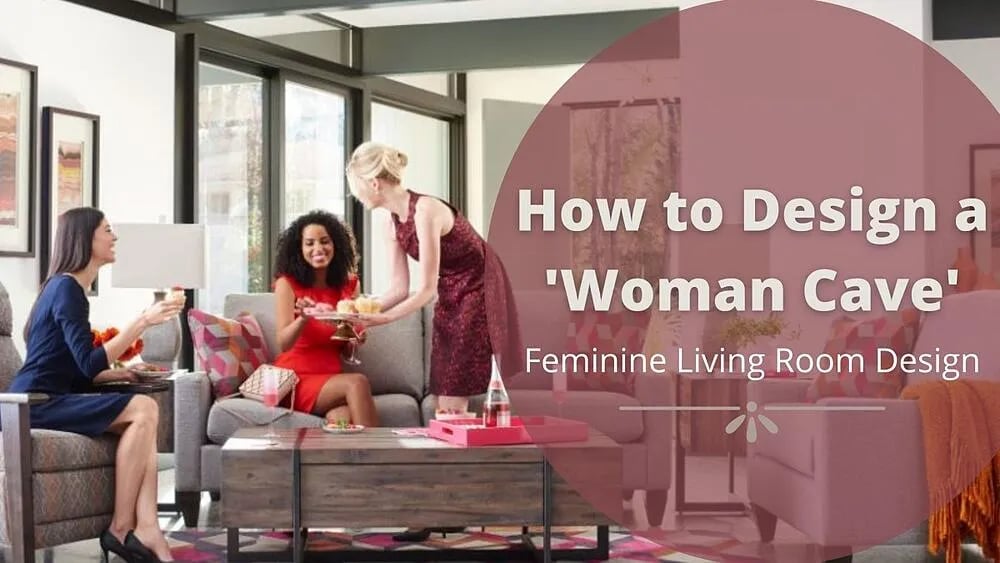 We have all heard of the infamous Man Cave. The room in the home that's reserved for plasma-screen tv's and plush, reclining sofas with built-in cupholders. A cave to enjoy beers, sports, and video games!
But why should men have all the fun?!
Introducing the concept of the 'Woman Cave'! A feminine room design that accentuates and celebrates the guilty pleasures of the woman in the home. Stylish recliners, patterned wallpaper, and aromatic candles … you name it!
Magaly del Castillo, the interior designer at La-Z-Boy Cyrville, has over 25 years of experience designing homes. As a woman herself, she is an expert at putting together a feminine living room design that appeals to a woman's relaxation styles and interests.
For a woman who is craving a feminine room in her home, this article will outline 7 expert tips from Magaly on how to design your very own 'Woman Cave'.
7 'Woman Cave' Design Tips in this article ...
1. Consider your Colour Palette
The first way to set the tone of a Woman Cave is to choose a feminine colour palette. Generally speaking, Magaly says water colours, pastels, and soft hues create a tranquil ambience for a feminine living room design.
While you might initially think of pinks and mauves, these colours are rarely used in current home design. Instead, Magaly actually suggests choosing a combination of blues, such as spa teal, aqua, and turquoise.
She says, "blues can look feminine while also making a strong statement". She also says, "don't be scared to put two different blue tones in the same room".
Moreover, she suggests playing with a navy and white colour palette. This combination looks "crisp, fresh, and coastal", creating a serene scene for the Woman Cave.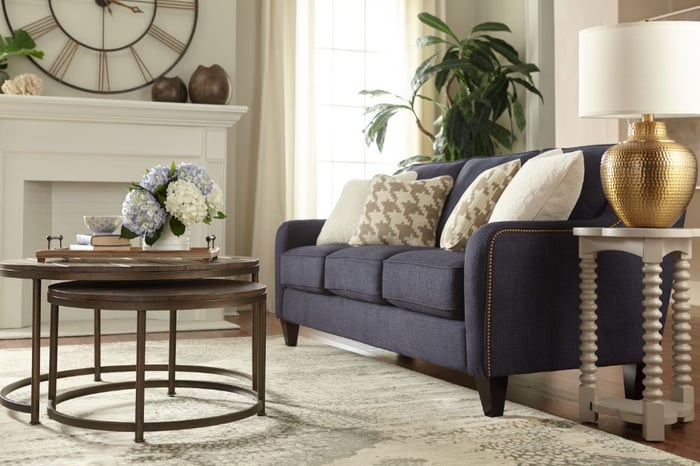 2. Feminine Furniture Recommendations
When it comes to furniture recommendations, Magaly has many! In a Woman Cave, you want to choose stylish and feminine-looking furniture that doesn't sacrifice comfort.
With this, Magaly first suggests a recliner that doesn't look like the typical plush or bulky recliner model. At La-Z-Boy, we refer to these as secret recliners. They appear as an elegant accent chair, but transform into a recliner chair by simply pushing back.
She first recommends the Haven High Leg Recliner. The Haven is a cool combination of classic design and laid-back reclining comfort. Updated styling includes uniquely sculpted rolled arms, a tight back, tapered wood legs and decorative welt trim on the back seat and arms.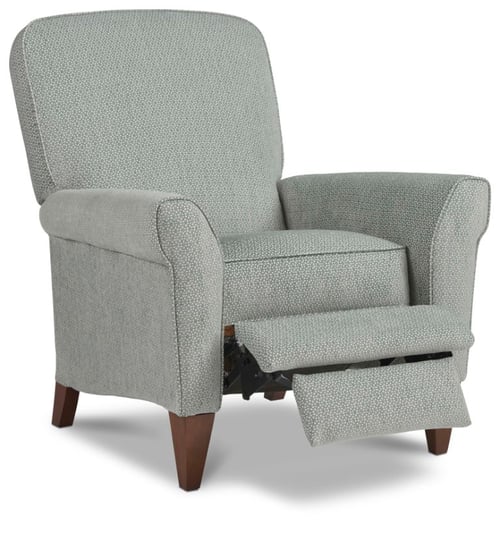 Magaly also suggests the Scarlette High Leg Recliner. This versatile chair features casually tapered arms and tall wooden legs.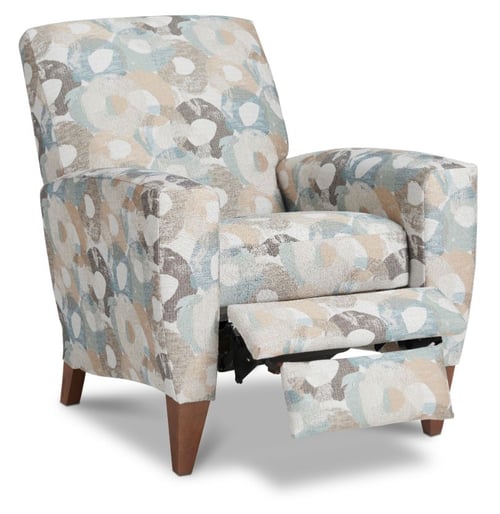 Another option for an accent chair, that does not recline, is a swivel chair. Magaly highlights the Allegra Swivel Chair, with its slightly flared arms, tight back and crisp welt trim on a 360-degree swivel base, gives a stylish perspective all around!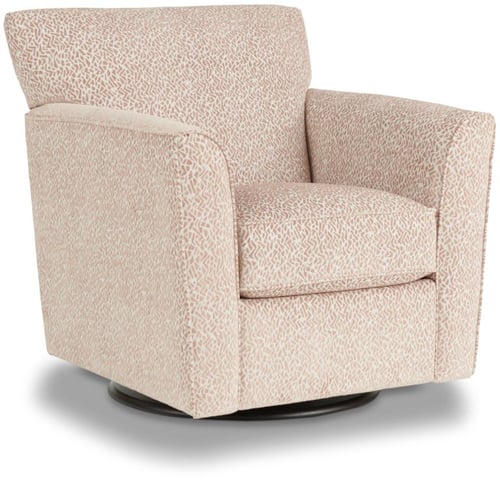 The Allegra even comes with a matching ottoman, perfect for kicking your feet up.
With these accent chairs in mind, no living room arrangement is complete without a sofa.
For a Woman Cave, Magaly first recommends the Laurel Sofa. While the Laurel is traditional looking with its button-tufted back, Magaly says its crisp and clean silhouette makes it look perfectly up-to-date.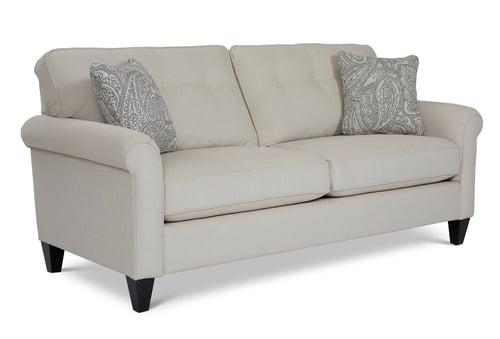 Magaly also highlights the Lennon reclining Sofa because , which looks delicious in a cream coloured leather.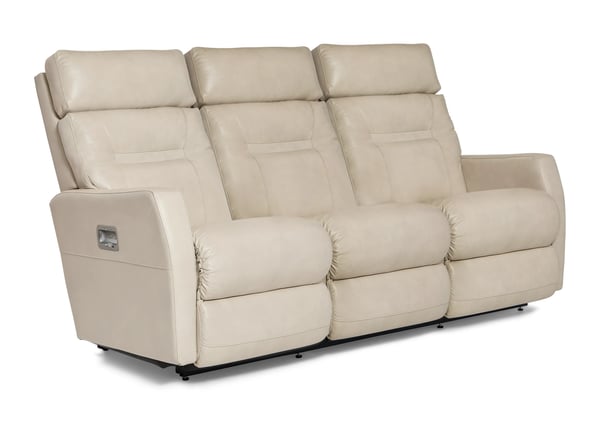 With any of these recommendations, the upholstery cover you choose can completely transform the overall look. In fact, at La-Z-Boy you can customize your upholstery with over 800 fabrics and leathers to choose from.
While there are some beautiful colours, textures and patterned fabrics that can complement a Woman Cave, Magaly emphasizes that "leather can also look very girly and chic"!
Magaly says a leather sofa, decorated with colourful throw pillows is very "entertaining to the eye". Just be sure to anchor the leather sofa with an area rug, she says.
If you'd prefer a fabric sofa, consider throwing in a pop of leather with a stylish leather ottoman.
3. Accessorize with Textured Throws, Pillows, & Drapes
Speaking of style, you can bring the Woman Cave to life by accessorizing with textured throw blankets, accent pillows, and drapery.
Magaly loves to play with textures, pom poms, fringe, and cord when decorating a feminine living design. These elements can make the room feel especially ladylike and fun!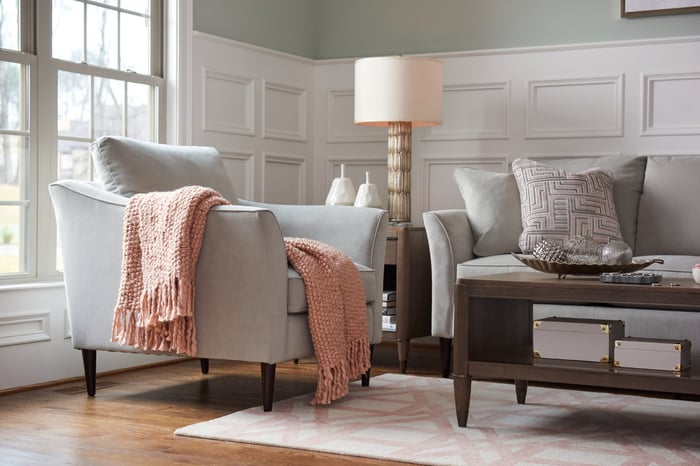 4. Select Exposed Woods
Another essential element of any living room design is a coffee table, side tables, and perhaps an entertainment unit.
When choosing casegoods for a feminine living room design, Magaly suggests steering away from dark, rich wood tones, and opting for lighter, exposed woods.
For example, Magaly says exposed oak gives off an airy feel and would look gorgeous in a Woman Cave.
For tips on shopping for wood furniture, check out our articles The Quality of La-Z-Boy Wood Furniture and How to Mix & Match Wood Furniture.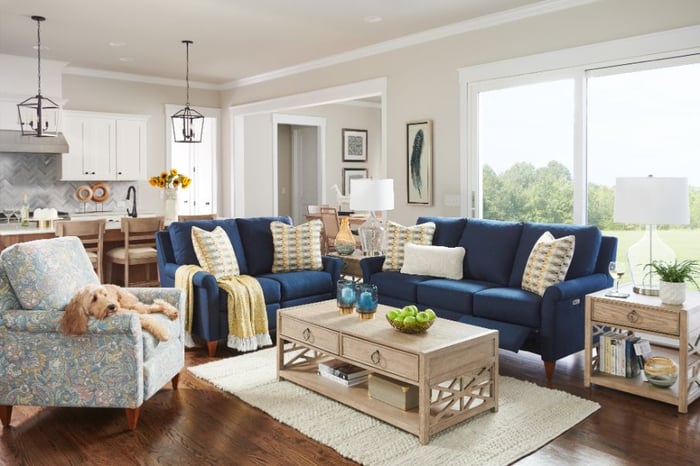 5. Dress Up the Coffee Table
Once you have chosen a coffee table, it is time to dress it up.
For the purposes of a Woman Cave, decorating a coffee table can be lots of fun as you can accentuate your personality and interests.
If you are a fashion lover, consider stacking a pile of chic fashion magazines. To set the mood, add a few candles to the arrangement. Flowers can be another beautiful and feminine addition to a coffee table.
When creating your coffee table arrangement, Magaly reminds you to decorate in odd numbers with either one, three, or five elements. This creates a balanced design.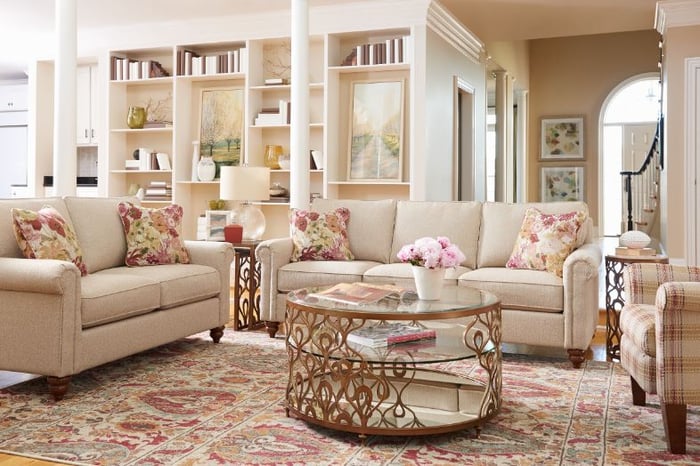 6. Incorporate Soft Gold Accents
Now let's get into accents!
We are all familiar with the rose gold jewelry trend that women go crazy for. With this, Magaly suggests incorporating gold accents into your feminine living room design.
Rather than brassy gold, Magaly suggests soft gold, copper gold, and rose gold, because these tones give off a warmer feel.
You can introduce these gold accents in coffee table design, drawer hardware, decorative vases, and light fixtures.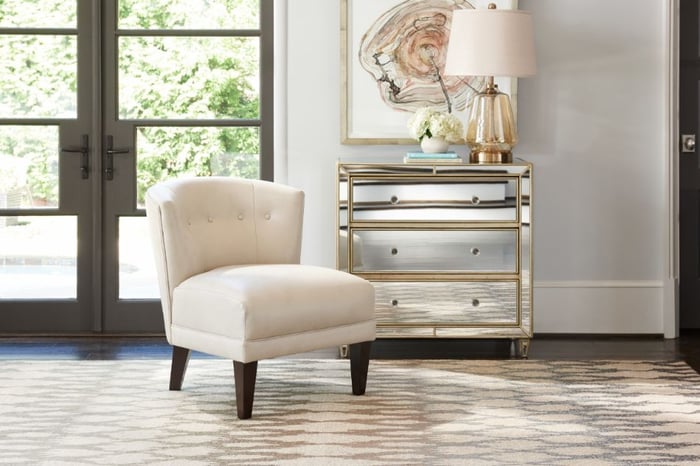 7. Play with Wallpaper
Finally, Wallpaper is another great way to achieve a feminine living room design for your Woman Cave. In fact, patterned and textured wallpaper is trending as a 2022 design trend!
Magaly says you can play around with wallpaper to achieve whatever look you want. You can cover the whole room with wallpaper, use wallpaper for an accent wall, or just cover half a wall with wallpaper.
The wallpaper itself can feature a pattern, such as florals, polka dots, or stripes. Alternatively, you might consider a solid wallpaper with an interesting texture, like burlap or seagrass.
Magaly also emphasizes that a black wallpaper accent wall is a very popular design trend right now. Black wallpaper can be a bold and spunky addition to a Woman Cave.
What's Next?
With 7 expert tips from Magaly, you are now ready to create a lovely Woman Cave of your own.
As you create your feminine living room design, we are here to help. At La-Z-Boy, we have a wide variety of quality, comfortable, and stylish living room furniture. Much of this selection can fit seamlessly into your Woman Cave.
Further, our team of design consultants and interior designers can help you select furniture and make necessary customizations to achieve your design vision. You may even consider taking advantage of our complimentary design services to create your Dream Woman Cave with the help of an interior designer from start to finish.
Visit us at a local Ottawa or Kingston location to get started today. If you prefer to plan in advance, schedule an appointment online.
Related Links:
How Much Does a La-Z-Boy Living Room Cost?
4 Designer Tips: How to Mix & Match Furniture
Ideas for Decorating Your Living Room
Product Info Request
Please provide us with your name and email and we'll get back to you as soon as possible regarding this item.