Ideas for Decorating your Living Room: Tips from a La-Z-Boy Designer
September 17, 2021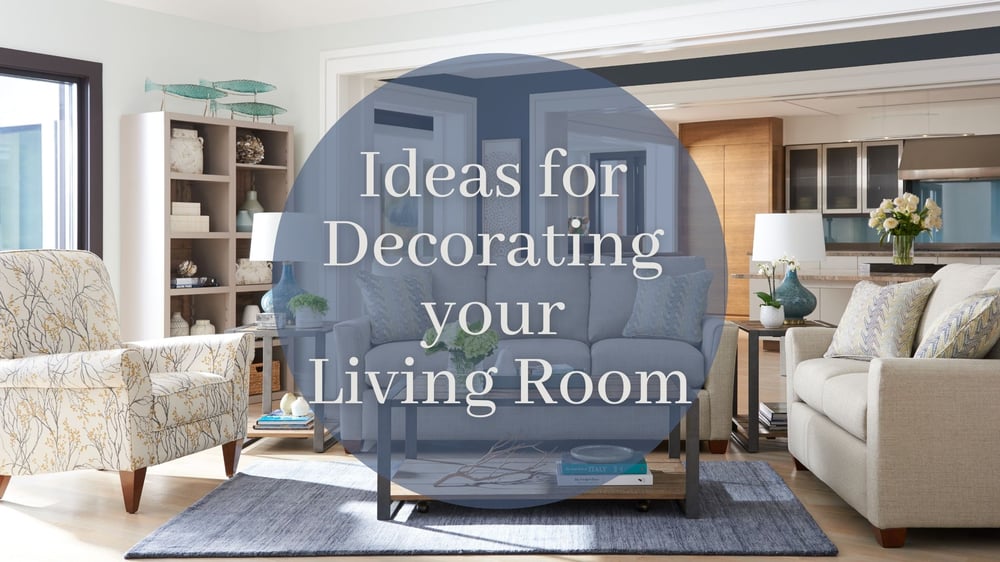 A well-designed living room should appear effortlessly arranged and inviting. With this being said, there is much more than what meets the eye when it comes to creating a living room of such form.
Behind every colour pallet, throw pillow, and lampshade, there is an abundance of creativity and thoughtful decision-making.
While some homeowners have a knack for interior design, others need a little more help turning their vision into a reality. That is where interior design services come in!
At La-Z-Boy Ottawa & Kingston, we offer complimentary design services. Our qualified interior designers are experts in developing functional furniture arrangements and creating beautifully decorated spaces. In turn, many clients ask our interior designers for tips on decorating a living room.
Zeina Badawi, the interior designer at La-Z-Boy Kanata, is an award-winning designer of residential spaces with extensive design education and years of experience working in the industry. Zeina has put together a list of helpful tips and ideas for decorating your living room, just like the experts do!
Table of Contents
1. How to Get Started on Designing your Living Room
2. Best Living Room Decorating Ideas
b) Incorporate Layers & Textures
c) Use Table Tops for Form & Function
d) Create Visual Interest with Artwork
How to Get Started on Designing your Living Room ...
Designing a living room from scratch can feel overwhelming. As you begin your design process, Zeina recommends breaking it down into some preliminary steps.
Before diving into intricate design details like artwork or drapes, start by developing the bigger picture. Find some design inspiration, determine your style, think about colours, and consider your space.
Create a Vision Board
First and foremost, Zeina suggests finding design inspiration and creating a vision board.
You can find boundless inspiration from interior design magazines, blogs, and furniture retail stores. With this, collect pictures of everything you like, from completed living room designs to furniture you want to purchase.
Zeina says you can use an online platform like Pinterest or create your vision board the old-fashioned way, with scissors and glue!
This exercise will help you create the whole vision of your living room design. From this vision, you can then begin to narrow down the details.
Determine your Design Style
With a completed vision board, it is time to determine your design style.
There is a wide range of interior design styles to choose from. Traditional, contemporary, modern, country farmhouse, and boho chic … just to name a few.
At La-Z-Boy, we have a range of furniture that is customizable to coordinate with almost every interior design style. More specifically, we categorize our furniture styles by Classics Revisited, Modern Retreat, Family Favourites, and Comfortably Casual.
If you are unsure of which style you are trying to achieve, refer back to the images on your vision board to determine the specific look you are attracted to.
Choose a Colour Palette
In conjunction with determining your design style, you will also need to choose a colour palette. These two decisions often go hand-in-hand as a colour palette can influence the design style of a room.
Zeina says, "when you think of colours, think of the colours already in your home … not just the colours you like". Coordinating the colours throughout your home is very important when it comes to a successful home decor journey.
Think of Function
Believe it or not, Zeina says function and practicality play a large role in your living room design.
As you begin selecting furniture, consider the functionality of your living room. How will this living room be used? Who will be using this living room? How many people will be using the living room?
The answers to these questions will determine what type of furniture will serve your needs, says Zeina.
Consider Traffic Flow
A well-designed living room not only looks beautiful but also allows for good traffic flow.
Good traffic flow allows the room to be used and accessed easily. Consider the way you move through the space as you live in it and pass through it.
As you choose upholstery, coffee tables, end tables, and ottomans, you want to ensure that your furniture arrangement does not cut off or block movement.
Now Make Your Vision a Reality ...
Having established your design vision, design style, colour pallet, and functionality, you can now begin bringing your vision to a reality by defining the more decorative details.
As you decorate your living room, be sure to continue thinking of the room as a whole, not just pieces, says Zeina. Look at the whole picture as you pick fabrics, an area rug, and accessories. Zeina says, "this is the key to success."
Best Living Room Decorating Ideas
Below are Zeina's best five ideas for decorating your living room ...
1. Choose a Focal Point
The focal point is where people's eyes first land upon entering the living room.
It could be a sectional sofa, a large window, a fireplace, or an accent wall. A focal point could also be created with interesting lighting, built-in cabinetry, or an entertainment unit.
Decorating the room can be done by arranging the furniture around the chosen focal point, says Zeina.
2. Incorporate Layers & Textures
For an interesting and multi-dimensional living room design, it is important to decorate with a variety of layers and textures.
This can be done with area rugs, wallpaper, furniture upholstery, decorative pillows, throw blankets, wallpaper, and window coverings.
Zeina says to "think of these layers as the jewelry of the living room".
As you plan your living room decor and incorporate these layers, designers follow a rule called the 60-30-10 rule. This means the main design theme should be 60% of the room. Start with the larger items, a rug, the wallpaper, or upholstery. The second pattern should be 30% of the room such as the curtains, an accent chair, or an accent wall. Finally, the 10% account for your accent colour including things like throws, cushions, and artwork.
Keep this rule in mind as you plan these layers yourself.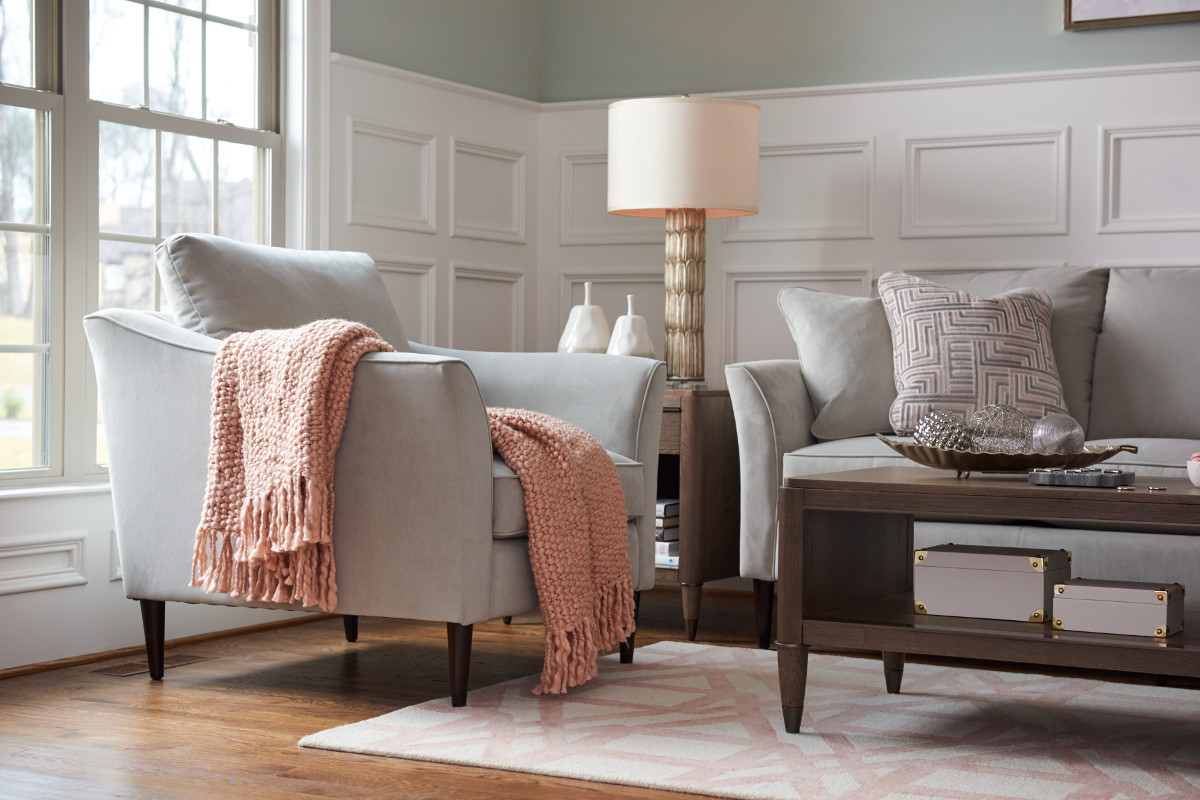 Area Rugs
Picking an area rug of the right size, colour, and texture is a key for decorating your living room. In fact, Zeina suggests choosing an area rug first and building the other layers around the large colours and patterns featured.
When you choose a rug, think of three main things:
Size of the area rug to the size of furniture
Size of the area rug to the size of the room
Size of the pattern in comparison to the rest of the patterns in the room
For more detailed information, take a look at the article How to Select the Perfect Area Rug For Your Home.
Wallpaper
According to Zeina, the only place where a painted wall looks better than wallpaper is in a room that already features many patterns. If you have a printed sofa or curtains, then wallpaper with too strong of a print will likely clash. "You should let one or the other be the star of the space", says Zeina.
With that being said, wallpaper is always an effective way to add a statement to a room and determine the overall style of the space.
Zeina says, "I think it's a great way to personalize the design of any room. I also find textured wallpaper prints add warmth, depth, and comfort to any room."
To incorporate wallpaper in the right spot you have to think of the full room as a whole. It typically looks best on a feature wall, such as behind shelving, beside the fireplace, or on the side of a staircase.
Keep in mind that the wallpaper, an area rug, and window coverings are the three biggest decorative elements in a room. If you want to incorporate wallpaper, the size, color, and feel of the pattern must complement these other elements, not fight against them.
Window Coverings
Of the larger design elements, window coverings should be chosen last.
Window coverings are meant to enhance and coordinate with other, more prominent, elements in the room, the window coverings should be chosen carefully based on all prior selections.
Further, it is a good idea to choose window coverings that are subtle and timeless, typically 3 to 4 shades darker than the wall colour. You want the eye to transition effortlessly from the wall to the window treatment.
For recommendations from our designers on where to purchase window coverings, take a look at the article Best Stores for Window Coverings in Ottawa.
Decorative Pillows
Layering decorative pillows of different sizes, colours, textures, and patterns are a magical way to add depth to any room.
Have fun playing around with different pillows in contrast with other elements of the living room.
Check out 7 Tips for Accessorizing with Decorative Pillows.
Throw Blankets
Finally, and similar to decorative pillows, the texture and colour of throw blankets are a great way to add depth to your sofa and make the room feel cozier and inviting.
3. Use Table Tops for Form & Function
A common mistake in living room design is choosing the wrong sized tables in proportion to other elements of the room.
For example, don't place a small end table next to a big sofa. Or a large coffee table beside an understated accent chair. Instead, coordinate the size of the furniture with the size and style of tables in your living room. If you are limited in space, consider nesting tables that can expand for additional surface or contract into a compact unit..
Moreover, choosing the right size, shape, and table placement will help achieve smooth traffic flow, as previously mentioned.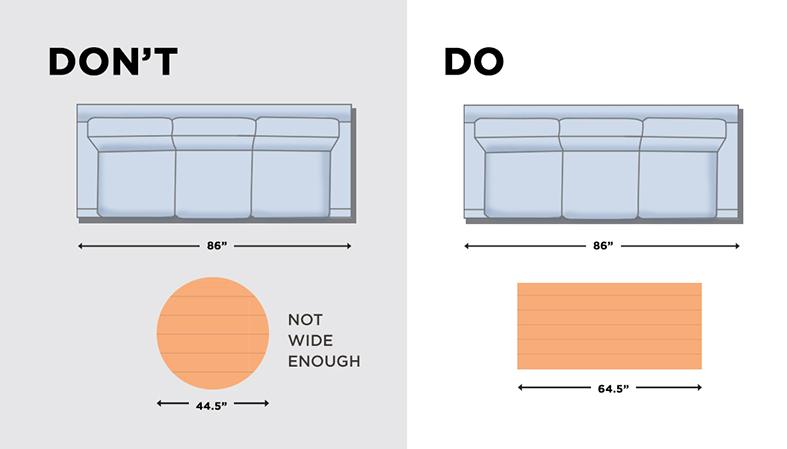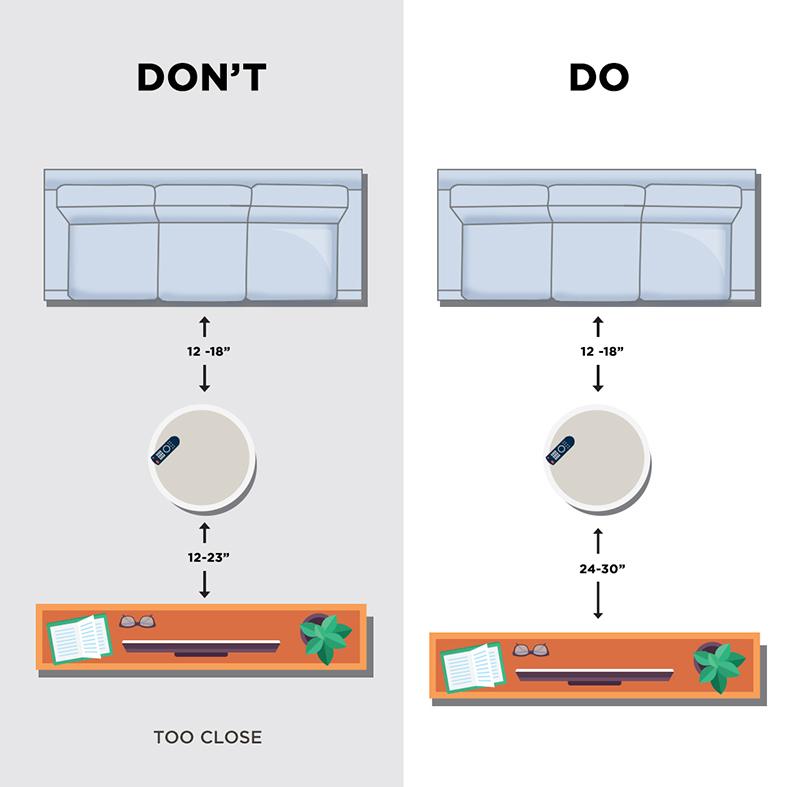 Size and shape aside, tables in a living room are not only practical but can also be decorative. Jazz up your coffee and end tables with some accessories!
When it comes to accessorizing an occasional table, odd numbers are the most appealing to the eye, says Zeina.
ONE ELEMENT
If you decide to start with one piece to accessorize the table, it will have to work in proportion to the size of the table. If the decorative piece that you love is too small for the size of the table, a tray can help achieve balance.
Usually a bowl and something green is a go-to when accessorizing tables.
THREE ELEMENTS
For three elements, Zeina's rule is three different sizes and three different heights.
It is a common mistake to place accessories of the same size together but a variety of dimensions is what creates visual interest.
FIVE ELEMENTS
On a larger table, you may want to accessorize with five elements.
Consider this arrangement …
A Tray - Great for creating a cohesive look when accessorizing with multiple items. It also comes in handy when you want to quickly clear the table.
A Book (or two) - Stacked books can be used to add height to the arrangement. Other decor can be nicely placed on top of the books.
Something Green - A wooden occasional table, or any table of that matter, is complemented well by a green accent.
A Candle - Candles are great for creating ambiance.
A Sculptural Object - Sculptural pieces add dimension and shape to the design.

4. Create Visual Interest with Artwork
Artwork is one of the final cherries on top of the sundae in the world of home design.
Have fun with this part and let your personality shine through in your choices!
Zeina has three suggestions for choosing artwork in your living room:
One Big Piece of Art
One statement piece of art is a great way to add interest to any room. A statement piece of art can also dual as the focal point of the room.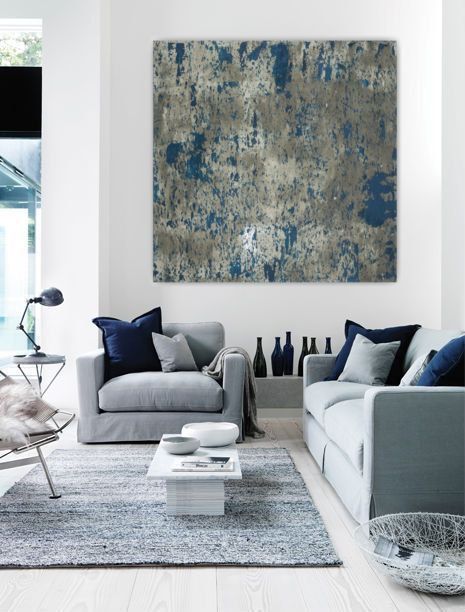 Create a Collage
Consider creating a collage with either multiple pieces of artwork or family photos.
Zeina's advice for a successful artwork collage wall is to coordinate the style of frames. Similar, or the same, frames will create a sense of unity and structure in your collage.
Further, if we are creating a collage of photography, be sure that the hue in the images compliments the colour palette in your room. Black and white photography can be an easy way to ensure your collage does not clash with your room.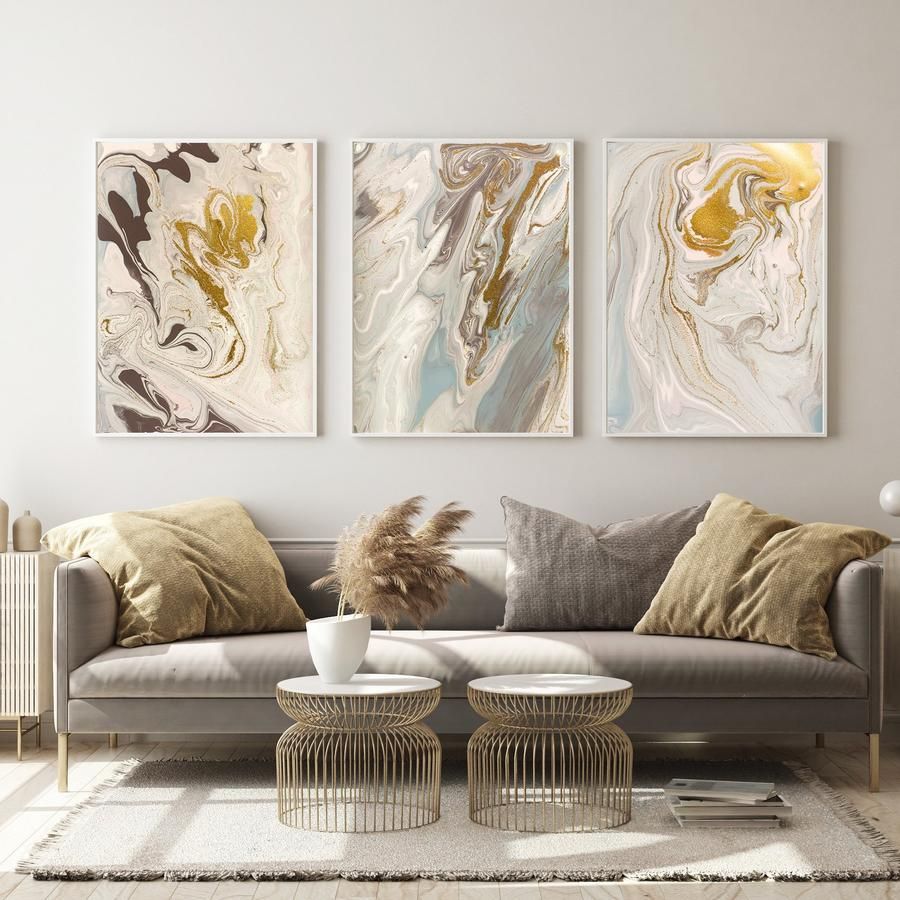 Sculptural Art
Think outside of the box and incorporate something other than traditional art. Sculptural art is a unique way of creating visual interest in your living room. Especially if you have a lot of walls with traditional artwork, a sculpture piece is a good way of mixing things up.
Zeina says sculptural art is ideal in large, open concept living room spaces.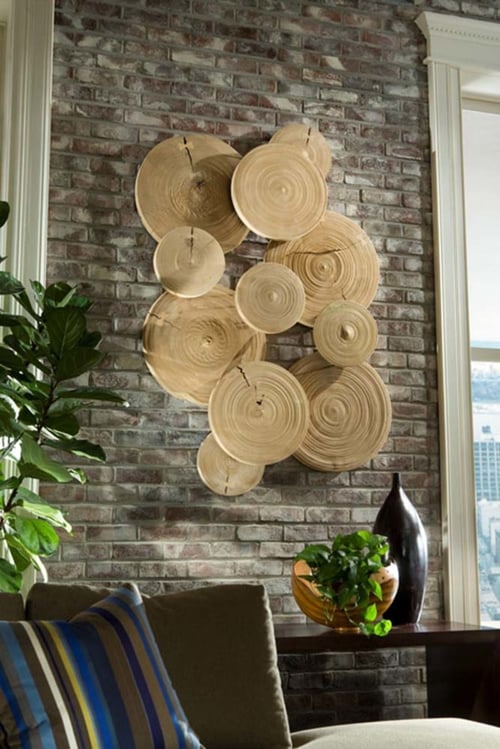 For more detailed information, take a look at the article Tips on How to Hang Artwork Properly.
5. Add Proper Lighting
Finally, illuminate your beautifully decorated living room with proper lighting.
In a living room, Zeina says ideally you want three points of light: ambient lighting, task lighting, and accent lighting.
You likely already have ambient lighting installed. These are typically ceiling lights or pot lights. Every room needs a single ambient light.
For task lighting, Zeina suggests using table lamps.
Table lamps are generally 24 to 34 inches tall. When you choose table lamps, you don't want to choose a lamp that is too large for the table it is sitting on.
Finally, you can achieve complementary accent lighting with a decorative floor lamp. You want to balance the height of the lamps with the height of the sofa. The height of both pieces should be around 58-60" tall.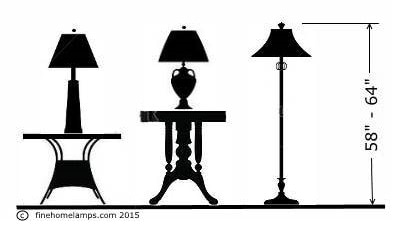 What's Next?
With these expert design tips from Zeina, you are well on your way to designing your very own living room!
If you find yourself seeking more inspiration or design help, our design team at La-Z-Boy is always here to help, offering complimentary design services.
While decorating your living room is exciting, having a furnished living room is essential. Be sure to check out our wide selection of quality and comfortable living room furniture at La-Z-Boy.
Get started by taking a look at the following best sellers at La-Z-Boy Ottawa & Kingston:
Our consultants would be thrilled to help you find living room furniture that suits your space, style, and budget.
Visit us at a local Ottawa or Kingston location to get started today. If you prefer to plan in advance, schedule an appointment online.
We look forward to meeting you!
Related Links:
Four Tips on How to Mix & Match Patterns
Product Info Request
Please provide us with your name and email and we'll get back to you as soon as possible regarding this item.