Review of the Allegra Accent Chair
June 12, 2020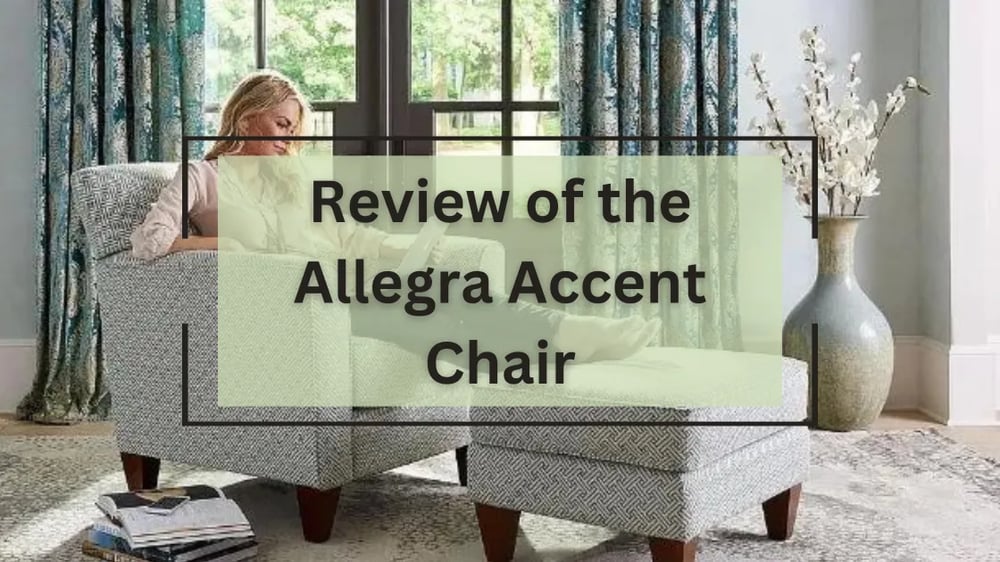 Are you looking to find out more about La-Z-Boy's Allegra accent chair? You may be wondering what the Allegra's features and benefits are and whether it is the right fit for you.
Mary Lee Smyth has worked as an interior designer in the Kingston showroom since 2017. "Most of the questions I have are from customers who know that their room is not working but are flummoxed at the process of Interior Design. I assist by answering questions about the colour, fabric types, rug sizes, styles, lighting."
During her six years with La-Z-Boy, she has helped fit hundreds of customers to their perfect chair.
She says, "I love the Allegra chair for its versatility. It has a lovely boxy shape that fits well into a living room or bedroom. I can order the Allegra as stationary, swivel or glider, which adds to its value." Depending on how you cover it, it can work in many differently designed spaces."
In this review, find out why the Allegra made number one on our list of the top five best-selling accent chairs in Ottawa and Kingston.
Unique Features
The Allegra Stationary Chair combines a streamlined look with subtle details to complement today's casual decor. It features an inviting box seat, welt trim, slightly flared arms, and decorative tapered wood legs. A solid foam back and ComfortCore® cushion provide optimum support for a long or short sit.
The Allegra also features a padded outer back which complements the padded outer arms, giving it a more refined and open look.
What's more, not only does this accent chair come as a stationary piece, but you can also choose to have it with a swivel base. "The swivel is a nice addition to any household with an open concept space. I would recommend it for anyone who wants to stay in the center of all the action!" Mary Lee says.
The gentle gliding motion that eases you into relaxation and the swivel base that gives you the freedom to change your focus without ever getting up makes the Allegra swivel glider the perfect chair for a nursery.
the Allegra can also come with a matching ottoman, which you can use as extra seating or to relax with your feet up.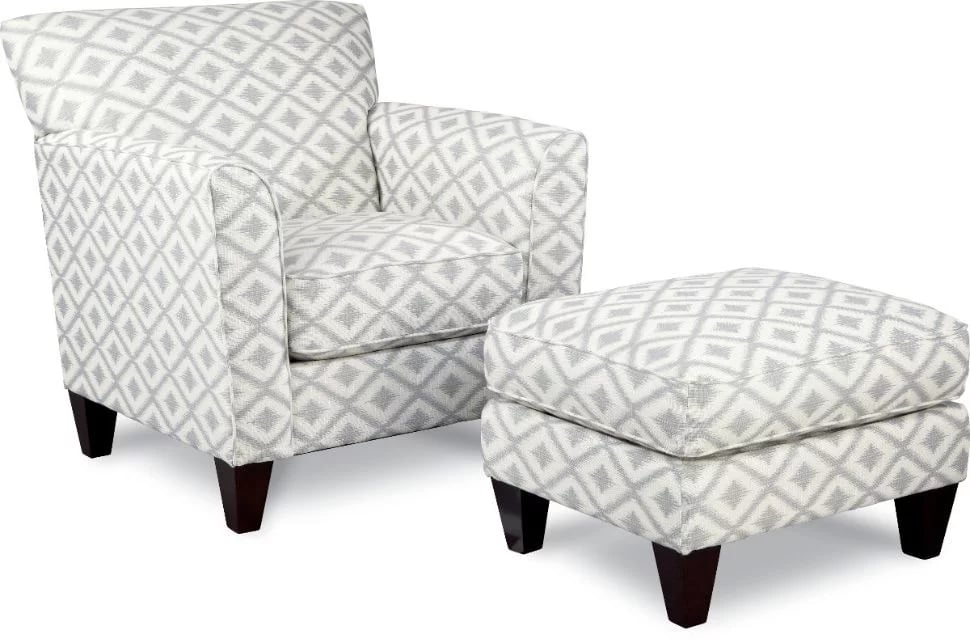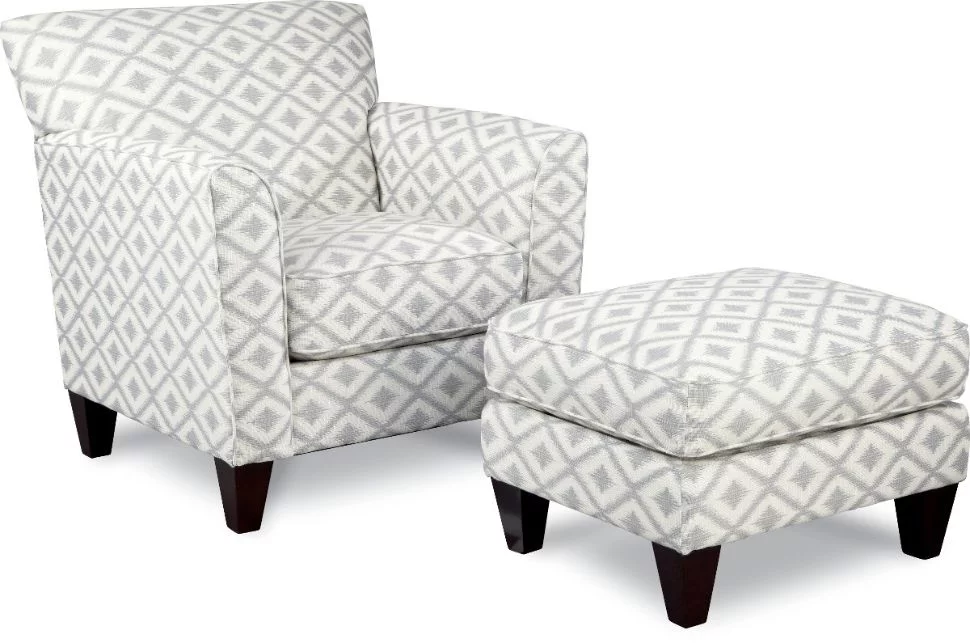 Size & Dimensions
The size and dimensions of a piece can be a deciding factor on whether to purchase it or not.

As mentioned before, the Allegra can work in an open concept space if it has a swivel base. If not, however, its size can also work in numerous locations in your home.
"I've put the Allegra in pretty much every corner of the home you can think of," Mary Lee says, which included living rooms, bedrooms and basements.
That being said, the frame of the Allegra is bulky, and may not fit every small space as well as some other chairs. Further, the dimensions of the Allegra makes it suit taller individuals, specifically those between the heights of 5'10 to 6'2".
"This is due to the higher back and overall puffiness of the frame. However, I sold two to a woman who was only 4'11, and she loved to relax with her legs curled up under her while she read."
While your height can be a considerable factor, it is important to note that height guidelines are NOT set in stone. The way you sit in a furniture item can drastically affect how someone might find a seat comfortable.

This is why we highly recommend coming in-store and taking a sit test to determine if the [Product Name] is right for your unique body type. To learn more, take a look at our article How to Find a Recliner That is The Best Fit For You.
Allegra Weight: 43 lbs

Body Depth: 34 in.




Body Height: 35.5 in.




Body Width: 34 in.

Seat Depth: 20 in.




Seat Height: 20.5 in.




Seat Width: 20.5 in.
Options and Upgrades
The Allegra has various customization options available. while each customization option is optional, it is important to note that most options and upgrades will affect the overall price of your product.
Fabric Options
La-Z-Boy has over 800 fabrics and leathers to choose from, making the experience of personalizing your furniture seemingly endless.
The Allegra is actually a part of La-Z-Boy's Designer's Choice Furniture collection.
With Designer's Choice Furniture, you can expand your selection of upholstery covers with over 100 fabric options at no extra cost. This is a considerable increase from the standard 4 or 6 cover choices included in the starting price.
In terms of leather, however, the Allegra does come in a leather selection, including recycled leather.
Keep in mind that
leather selections
will always increase the overall cost. There are pros and cons to both
fabric and leather
upholstery, and the choice is ultimately up to you.
Please note that this article's leather or fabric options may be discontinued or unavailable without prior notice. We recommend contacting your local
Ottawa or Kingston La-Z-Boy store
by phone or in-person to confirm availability. We apologize for any inconvenience caused by any changes to our upholstery selection.
In addition to the cover options mentioned above, the Allegra is offered in specialty fabrics that offer unique features and benefits…
Stain Resistant Covers
Innovative iClean Technology surrounds each fabric and leather fibre, creating a barrier that repels spills before turning into stains.
Tested and formulated to withstand the scratches and wear that a pet can cause to ensure a durable and easily washable fabric.
Antimicrobial properties surround each cover to protect against mould, mildew, and odour-causing bacteria.
Performance
Superior stain and fade resistance properties make fabrics easy to clean and incredibly durable.
Eco-Friendly
Conserve Sustainable Fabrics are soft, durable and made from recycled water bottles.
Energy Restoration
Restore by Nanobionic®
features a mineral-based fabric coating that transforms natural body heat into energy using infrared technology.
Seat Cushions
At an additional cost, [Furniture frame] cushions can also be upgraded to include firmer cushioning, meaning over time, your furniture will remember your unique figure and enhance the comfort of your furniture. This could be a great option for people with mobility issues, allowing you to get in and out of your furniture more comfortably.
​For more information on whether this upgrade is right for you, view our Designer's Choice Furniture Collection Catalogue.
Contrasting Welt Trim
Customers have the option to choose a contrasting welt trim to accentuate the design of any Allegra Chair or Ottoman. Furthermore, patterned welt trim options are available, which can enhance the aesthetics of the furniture frame.
Wood Finish Options
La-Z-Boy is all about customization, including customizing the bottom of the furniture. The Allegra stationary, swivel chair and ottoman can have a different wood leg or swivel base colour. Customers can choose between one of the three options...
Brown Mahogany (Standard Finish)
Coffee (Additional Cost)
Graphite (Additional Cost)*
*Graphite is only available on the wooden legs and not on the swivel base.
Cost
The Allegra chair price comes in at the mid-high range for chairs now available in the market. The quality of materials used and the customization of fabric options are the main reasons for the higher price range.
The cost of the Allegra stationary chair starts at $1,499, while the swivel chair starts at $1,369. Additionally, the ottoman has a starting price of $589.

These prices are subject to increase based on chosen customization and upgrades.
*All La-Z-Boy prices listed in this article are subject to change. We aim to update all cost-related articles twice per year. This article was last updated on May 3rd, 2023. Contact your local Ottawa or Kingston location by phone or in person for up-to-date pricing.
The Allegra accent chair currently has a 4.9-star rating in North America. Find out what customers are saying in the following reviews.

Allegra means Happy—and, I am!
I am so happy with my Allegra chair! As a matter of fact, I'm sitting in it right now as I write this. We purchased three seating pieces for our family room, but I still needed a guest chair for a small reading area. I shopped for three months trying to find something comparable but ultimately ended up back at La-Z-Boy working with Anel, their designer who is just wonderful and helped us find the perfect piece with the perfect fabric. Delivery is always a pleasure and I would not hesitate to purchase La-Z-Boy again in the future. I'm all about the options, but in this case my only option was La-Z-Boy.[sic] Vanessa & Bernardo R.

Great chair
We have been very happy with the chair. We did get the cushion upgrade and love the comfort. The chairs look great and we love that lazy boy can put our choices on the computer. And we can see how it will look in our home. That helped us decide to go with Lazy Boy because we knew we would like how our furniture and fabric choices looked.[sic] Scott and Gayle P.

Allegra Chair
We had a custom fabric which goes perfectly with our decor. Good comfortable chair. [sic] Judy G.
Is the Allegra Accent Chair Right for You?
Now that you're aware of everythign you need to know about the Allegra Accent Chair, the question still remains... is this the right chair for you? To help you clarify this answer, let's take a look at your budget, the functionality of the furniture and the overall style.
Beginning with price, the cost of the Allegra is within the low-price range at La-Z-Boy. Because it is considered a best selling accent chair, it has a competitive price from other furniture frames at La-Z-Boy. however, this price is still considered lower.
It's important to keep in mind that while La-Z-Boy furniture may have a higher upfront cost, it typically lasts longer than less expensive options on the market, making it a worthwhile investment that can save you money in the long run. If you're looking for furniture that will provide long-term enjoyment, the Allegra might be the right choice for you.
To browse more affordable options, you might be interested in the selections in our Most Affordable Chairs.
When it comes to the functionality of the Allegra, some people may feel as though it is too big for their space, or that a stationary piece is not enough. if you're looking for something minimalist, while also looking to cover more room in your home, the Allegra might be the right chair for you.
If you live in a small space, however, or feel like a recliner is better suited for your needs, this accent chair may not be right for you. To learn more about the difference between Stationary and Reclining Furniture, take a look at this article.
Lastly, in terms of style, Mary Lee suggests that the Allegra is transitional, meaning it can go well with many different types of living room aesthetics. "Some people object to the shape of the arms. They may prefer a traditional rolled arm rather than the transitional style," she says.
Even though the Allegra can come in multiple different patterns and colours, some people may feel as though it isn't as stylish as other pieces. If you are looking for something more unique from La-Z-Boy, Mary Lee recommends the Reegan.
The Reegan high leg swivel chair fits more closely to the body than the Allegra, making it a slimmer frame visually. The Reegan also sits more upright and does not have the depth of cushioning that one will find with the Allegra. "Reegan's legs are also more defined and make for a stellar show stopper in your room," she says.

What's Next?

The Allegra has been available at La-Z-boy since 2010. Its versatility has allowed it to gain popularity as it's ultimately become the number one best selling accent chair in North America!
To learn more about the accent chairs that La-Z-Boy has to offer, check out the list of our most popular accent chairs.
Now that you have a better understanding of the Allegra and its features, why not consider adding the Allegra to your home?
You can start shopping by visiting one of our local showrooms located in Ottawa or Kingston. You can also schedule a visit online before coming in.
Our design consultants are always eager to lend a helping hand. Take advantage of our interior design services to see how the Petra furniture could fit in your home.
If the Allegra wasn't what you were looking for, take a look at some of our other stationary furniture family reviews:
Product Info Request
Please provide us with your name and email and we'll get back to you as soon as possible regarding this item.