Review of the Allegra Accent Chair
June 12, 2020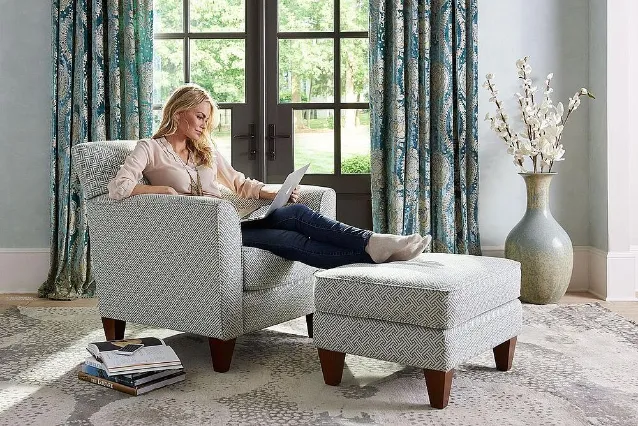 Are you looking to find out more about La-Z-Boy's Allegra accent chair? You may be wondering what the Allegra's features and benefits are and whether it is the right fit for you.
Mary Lee Smyth has worked as an interior designer in the Kingston showroom since 2017. "Most of the questions I have are from customers who know that their room is not working but are flummoxed at the process of Interior Design. I assist by answering questions about the colour, fabric types, rug sizes, styles, lighting."
During her three years with La-Z-Boy, she has helped fit hundreds of customers to their perfect chair.
She says: "I love the Allegra chair for its versatility. It has a lovely boxy shape that fits well into a living room or bedroom. I can order the Allegra as stationary, swivel or glider, which adds to its value." Depending on how you cover it, it can work in many differently designed spaces.
In this review, find out why the Allegra made number one on our list of the top five best-selling accent chairs in Ottawa and Kingston.
1.Unique Features
The Allegra Stationary Chair combines a streamlined look with subtle details to complement today's casual decor. It features an inviting box seat, welt trim, slightly flared arms, and decorative tapered wood legs. A solid foam back and ComfortCore® cushion provide optimum support for a long or short sit.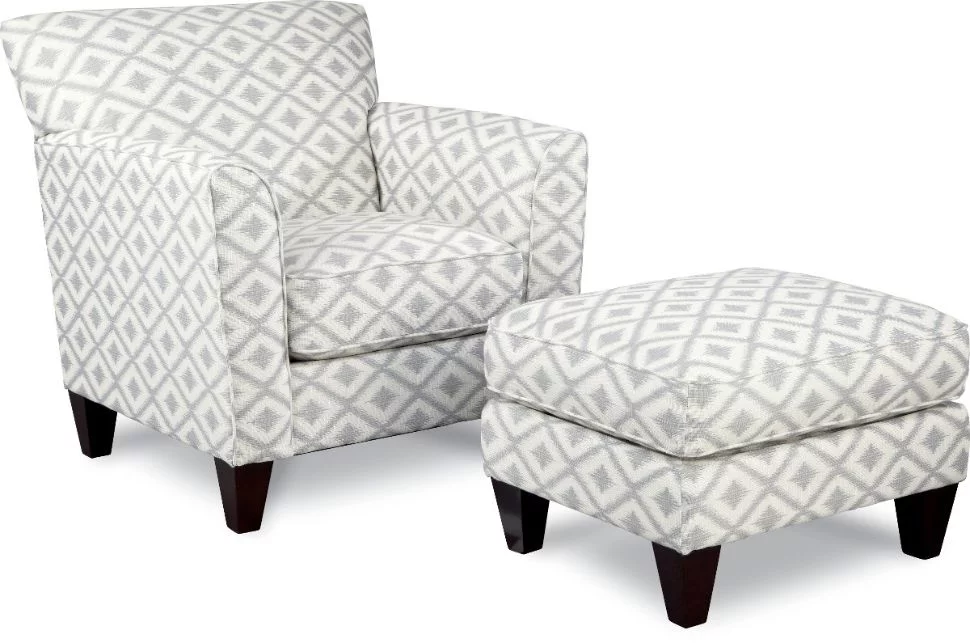 Other features of the Allegra chair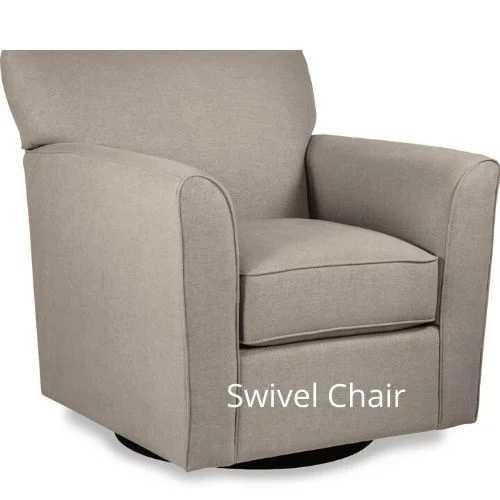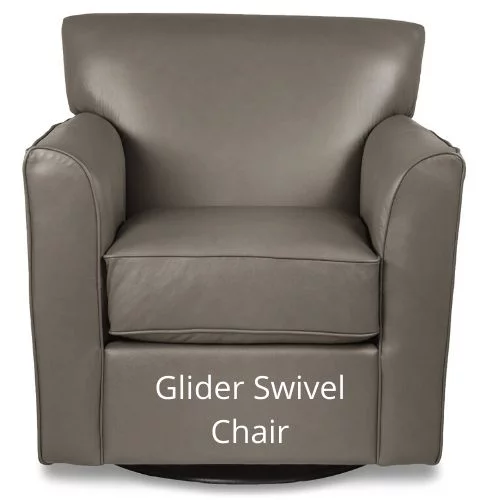 The gentle gliding motion that eases you into relaxation and the swivel base that gives you the freedom to change your focus without ever getting up makes the Allegra swivel glider the perfect chair for a nursery.
2. Dimensions of the Allegra
The Allegra is 34 inches from outside arm to outside arm. It's most suitable for many body types with an average height of 5'3 – 5.9′.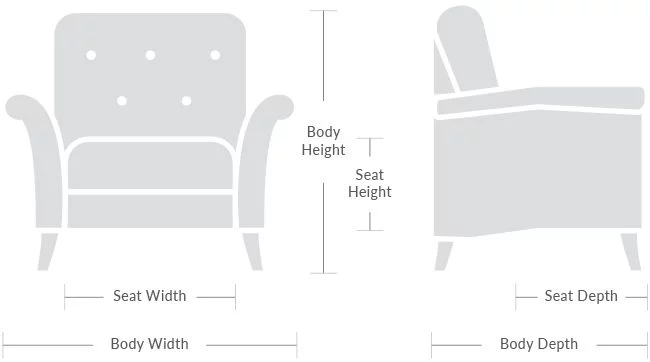 Seat Width: 20 inches
Body Length: 34 inches
Body Height: 35.5 inches
Seat Height: 20.5 inches
Body Depth: 34 inches
Seat Depth: 20 inches
3. How Much Does the Allegra Accent Chair Cost?
The Allegra chair price comes in at the mid-high range for chairs now available in the market. The quality of materials used and the customization of fabric options are the main reasons for the higher price range.
The cost of the Allegra stationary chair starts at $1,599. The swivel and swivel glider models start at $1,839.
These prices are subject to increase based on chosen customizations and upgrades.
*All La-Z-Boy prices listed in this article are subject to change. We aim to update all cost-related articles twice per year. This article was last updated on October 12th, 2022. Please visit lzb.com and select an Ottawa or Kingston La-Z-Boy store location to view the most up-to-date pricing.
4. Options and Upgrades
Take some time to investigate your options so that your new chair doesn't just suit your home; it suits your way of living. The Allegra has various customization options available.
Upholstery / Cover Options
Your choice of fabric and leather upholstery is a pivotal decision when selecting a chair for your home. The Allegra has several hundred cover options so you can custom-create a look that's uniquely yours. Choose from a wide variety of colours, patterns and textures.
Life can be hard on furniture, so our fabrics are wear-tested for quality and durability, ensuring they stay beautiful for years to come.
Select iClean fabric colours included in the variety of fabrics available. These fabrics offer a barrier of protection that repels spills before they turn into stains.
If you have pets, you might consider taking advantage of our Pet-Friendly fabric that has a high level of cleanability and durability, including the iClean technology.
Another specialty fabric option at La-Z-Boy is the antimicrobial fabric. This fabric protects against mould, mildew, and odour-causing bacteria
A subset of covers is available in "conserve" fabric. Soft, durable, and sustainable "conserve" fabric is made out of recycled water bottles. We use as many as 110 recycled water bottles to create a sofa with this eco-friendly material.
As with conventional furniture fabrics, conserve covers are wear-tested for safety, quality and durability. So, they stay comfortable and beautiful for years after delivery. They come in a wide range of colours and patterns to complement your room.

Seat Cushions
High-quality polyurethane foam gives your chair cushions increased softness and support while providing exceptional durability.
At an additional cost, firmer seat options are available, plus you can choose to upgrade both the seat and back cushions.
For more information please see our stationary furniture collection catalogue and our in-depth Review of La-Z-Boy's Chair and Sofa Seat Cushions.
Please note that furniture purchased prior to January 2021 had the option to upgrade to ComfortCore® GEL seat cushions. This cushion has seven layers of comfort technology that includes gel-infused memory foam that provides exceptional support as it conforms to your body.
5. Determining the Right Fit
Mary Lee says, "this chair works extremely well for a myriad of body types 5'6″ to 6'2 in height. However, I sold two to a woman who was only 4'11, and she loved to relax with her legs curled up under her while she read."
"Some people object to the shape of the arms. They prefer a traditional rolled arm rather than the transitional style."
In comparison to other popular La-Z-Boy accent chairs:
The Reagan high leg swivel chair fits more closely to the body than the Allegra. The Reagan also sits more upright and does not have the depth of cushioning that one will find with the Allegra.
The Bellevue sits similarly to the Allegra but has a higher back, which can accommodate a taller person.
The Talbot and the Reagan are both smaller chairs than the Allegra. Although they are fine for a "company" chair in the living room, a larger person usually prefers how the Allegra sits.
The Roxie is often the choice for anyone who likes the Allegra's comfort but prefers the rounded arms. The Roxie also has a more traditional look because of the bun feet rather than the Allegra's tapered leg.
To learn more about the accent chairs that La-Z-Boy has to offer, check out the list of our most popular accent chairs.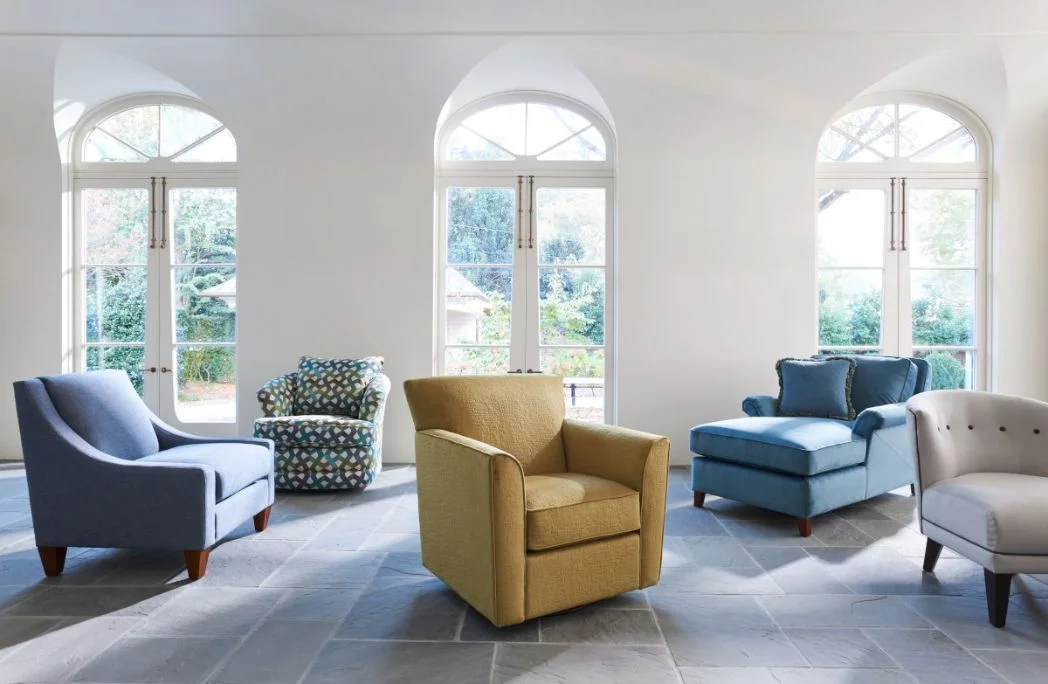 6. Customer Reviews
The Allegra accent chair currently has a 4.9-star rating in North America. Find out what customers are saying in the following reviews.

Allegra means Happy—and, I am!
I am so happy with my Allegra chair! As a matter of fact, I'm sitting in it right now as I write this. We purchased three seating pieces for our family room, but I still needed a guest chair for a small reading area. I shopped for three months trying to find something comparable but ultimately ended up back at La-Z-Boy working with Anel, their designer who is just wonderful and helped us find the perfect piece with the perfect fabric. Delivery is always a pleasure and I would not hesitate to purchase La-Z-Boy again in the future. I'm all about the options, but in this case my only option was La-Z-Boy.[sic] Vanessa & Bernardo R.

Great chair
We have been very happy with the chair. We did get the cushion upgrade and love the comfort. The chairs look great and we love that lazy boy can put our choices on the computer. And we can see how it will look in our home. That helped us decide to go with Lazy Boy because we knew we would like how our furniture and fabric choices looked.[sic] Scott and Gayle P.

Allegra Chair
We had a custom fabric which goes perfectly with our decor. Good comfortable chair. [sic] Judy G.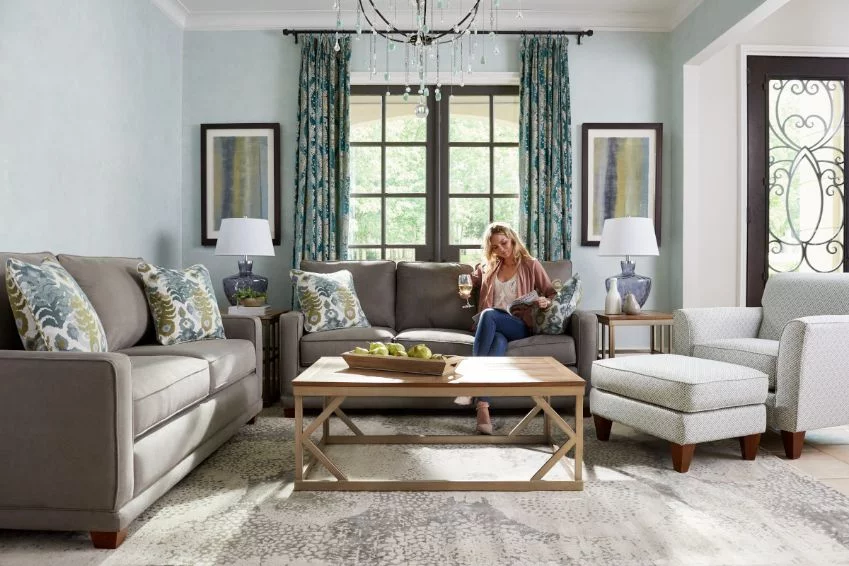 Next Steps
The Allegra has been available at La-Z-boy since 2010. Its versatility has allowed it to gain popularity as it's ultimately become the number one best selling accent chair in North America!
Mary Lee says:
"What I like about the Allegra is that I can dress it up in a very tailored elegant fabric, and it fits into a sleek, upscale design with ease. (Think of James Bond in a white tux sitting in the Allegra)
Then I can turn around and cover the Allegra with a soft floral chintz, and I have transformed it into a comfortable, cozy chair ready for a good book and cup of tea in the sunroom or farmhouse kitchen.
I can change it up again by covering Allegra with a bright and bold print to feel at home in a Toronto loft apartment."
As inventors of the reclining chair back in 1927, you can rest easy knowing your Allegra chair possesses 90 years of innovative design experience. Alone or in a pair, people love the Allegra, it's an excellent addition to any room.
We are here to help. You can browse our furniture online and schedule a phone consultation or a virtual visit.
Product Info Request
Please provide us with your name and email and we'll get back to you as soon as possible regarding this item.