How to Furnish and Design a Sunroom: 9 Tips From a La-Z-Boy Designer
June 27, 2022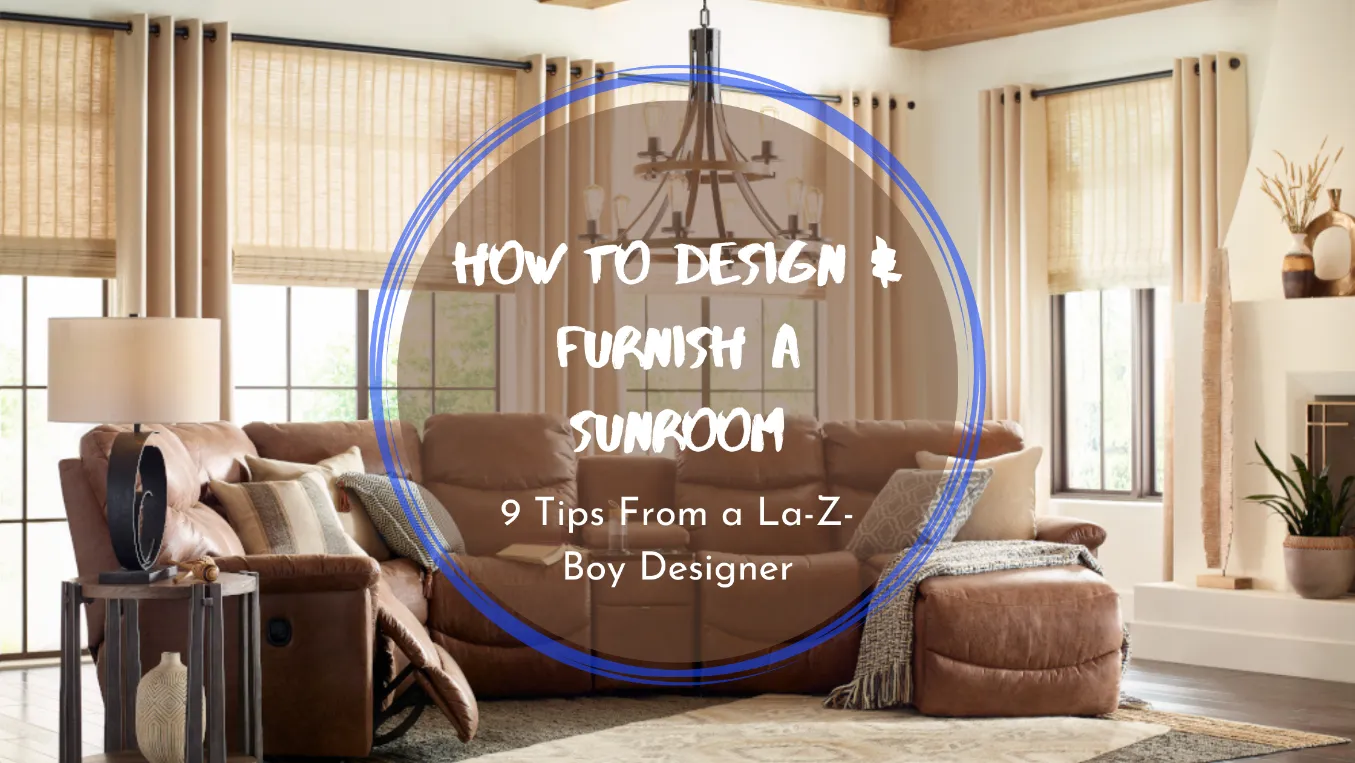 Est. Reading Time: 9 Mins
Furnishing and designing a room can be a difficult task. In fact, unconventional rooms like sunrooms might be even harder to furnish because there isn't a clear picture for people to go off.
Michelle MacLellan, an interior designer at La-Z-Boy Hunt Club, has helped clients with furnishing and designing a sunroom and says, "everyone has a different style they go for when creating the 'perfect sunroom'; there is no clear way to design these rooms."
Though it may seem hard to come up with ideas for your sunroom, fear not. This article has all sorts of tips for furnishing and designing a sunroom.
After reading this article, you will have all the tips you need in making sure your sunroom has a bright future!
In This Article…
9 Tips On How to Furnish & Design a Sunroom
1. Let in as Much Sunlight as Possible!
When designing a sunroom, it is important to be able to let in as much sun as possible. After all, it wouldn't be a sunroom if you can't see the sun!
Michelle shares a time when a couple was designing a sunroom that bled into the main living area. This kind of idea was good in theory, but the overall outcome led to some satisfying results. "Their living room had absolutely no windows so it was very dark and had minimal sunlight coming in," she said.
With this in mind, it is important to realize that sunlight is important in a sunroom. If you are interested in your sunroom bleeding into your living room, Michelle recommends enlarging the windows in your living room so that the look and feel of the rest of the living room can match the sunroom.
She also recommends adding a skylight if you want as much light in your room as possible.
2. Arrange Your Furniture Around the Sun
When furnishing a sunroom, Michelle says that the placement of furniture is key. Since the purpose of a sunroom is to enjoy the sunshine, consider placing your furniture in a way that allows you to get the best views of the light.
She says, "Some people may prefer seeing the sunrise or the sunset. Maybe you want to see both if your room allows you to do that."
This type of decision-making also depends on where your sunroom is located in your home. For example, the sun might rise in a part of the house where the sunroom cannot view, and when it does reach your sunroom, the sun is already setting.
If you don't mind the sun being in your eyes, you place your furniture directly outside. Alternatively, if you prefer the sun the hit you from the side or behind, you can place your furniture centred around something else. Ultimately, the decision is up to you.
3. Determine the Purpose of Your Sunroom
Michelle adds that this is also important to consider the purpose of your sunroom when furnishing it. How will you use this room and who will use it?
Do you want it to be used as another living area for napping or reading? Maybe a dining room so you can enjoy a good view while eating? Or maybe you want it to be used as a bright at-home office space.
Michelle states that people have begun to be more creative with their workspaces due to the pandemic.
Once you have a clearer picture of the use of your sunroom, it'll become easier to decide what kind of furniture you want to fill it with.
4. Limit Your Sunroom to One Focal Point
After determining the purpose of your sunroom, it is important to choose a central focal point in the room so that you, your family, and your friends can gather around to socialize.
However, one thing to avoid when furnishing a sunroom is keeping just one focal point in the room. Michelle says "This is a general rule for any room you want to furnish. If your room has more than one focal point, it can create a busy room, which isn't ideal".
An example of having two focal points is having furniture in one area of the room, and then having something else like a fireplace in another section of the room. If you do want something like a fireplace or a TV in your sunroom, you should have your furniture centred around this, because it is your focal point.
But you might be wondering, isn't the sun the focal point in your sunroom? Yes, it absolutely is! Although the sun can be a nice view, your sunroom doesn't have to be dedicated to just enjoying the view of the sun.
If you are looking for something more, Michelle recommends putting something like a fireplace or a TV on the same wall as the view for the sunroom. This way the focal point of the room still remains in one area.
5. Create the Illusion of a Large Room
This next design tip is probably more costly than what you might expect when designing a sunroom, but might be worth the investment.
Michelle points out that some sunrooms have vaulted ceilings, which are ceilings that are angled upwards instead of being flat. Vaulted ceilings also bring in more sunlight and create the illusion of your room being larger than it appears to be.
The unfortunate downside to this is that it is very expensive to vault an existing flat ceiling. Depending on the square feet of your room, some vaulting projects can be as costly as $20,000. The cost of vaulting a ceiling depends on the number of square feet in your room.
If you want your sunroom to feel open and spacious, vaulting your ceiling is a design element that could be worth the investment. However, if this is out of your budget, focus on making your sunroom a cozy, yet welcoming, a nook in the home.
6. Sunroom Flooring is Important for Function & Ambiance
The type of flooring is important in designing any room.
Sunrooms have a way of merging the indoor/outdoor experience, especially in the summertime. For example, if you own a pool, and your sunroom leads to your backyard, Michelle says that you can place tiles on the floor so that your floor doesn't stain if people come in with wet feet.
However, some people may feel that hard tiles are not the most comfortable material on their feet. In this case, Hardwood floors are a great alternative for a sunroom.
Regardless of the flooring you choose, Michelle recommends adding area rugs to the room. Area rugs are perfect for adding a little extra character and warmth to your sunroom.
You can learn more about How to Select an Area Rug and the Cost of Area Rugs by checking out these articles.
7. Don't Forget to Decorate!
The decor is a huge part of any room. Other than furniture, decor and accessories can create a more personalized style with smaller details in a room.
With a sunroom, Michelle says you would want to take advantage of the sun. With this, plants would be a great addition to any sunroom. A sunroom is ideal for plants simply because this would be the room where they would thrive the most, for obvious reasons.
For more tips on using houseplants in home design, check out our article 7 Expert Tips on How to Incorporate Biophilic Design into Your Home Decor.
Houseplants also blend well with a farmhouse or woodland aesthetic, which just so happens to be the popular design choice for people when furnishing a sunroom.
If this rustic/farmhouse aesthetic interests you, Michelle recommends integrating shiplap beams, which are beams that are attached to the ceiling that creates a barn house look. While these can also be a more expensive option, they can help tie together the look of your sunroom.
8. No Leather Furniture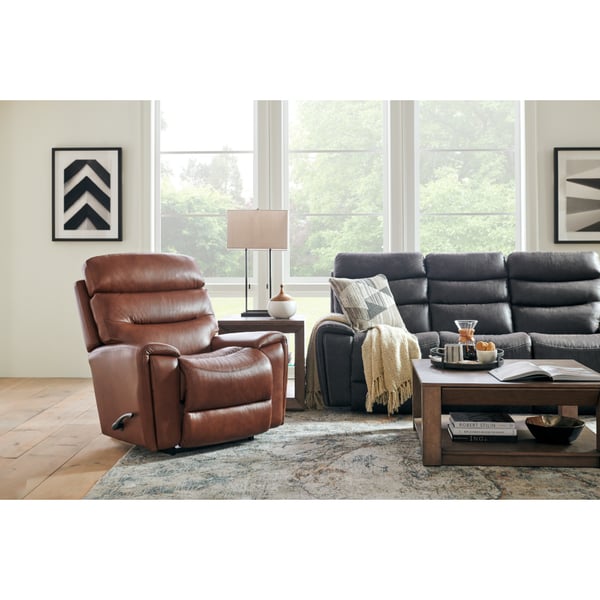 When furnishing a sunroom, the first thing that Michelle tells people to stay away from is leather furniture. Although leather is a durable and adaptable furniture cover, it does have the downside of fading faster when exposed to sunlight.
In fact, fading is a Common Problem with Leather Furniture. Instead, customers looking to furnish a sunroom should stick to strictly fabric covers for their chairs, recliners, sofas, or sectionals. Michelle does warn that fabric can also be damaged by the sun, but it wouldn't have the same effects as leather would.
Ultimately, the fabric is the better option to have in a sunroom.
9. Maintain Consistency in Your Home
Michelle says, there is a lot of creativity that can come with designing the perfect sunroom. However, one thing to remember is that your sunroom should match your house's look.
If the design of your sunroom takes on a completely different look, it can, unfortunately, create an imbalance in your home, which isn't always the best.
"The reason why we want every room in the house to match is because we as humans like consistency; we become satisfied when things are the same in one environment. If one room of your house is a different look than the rest of your house, people will notice and might feel out of place," says Michelle.
Examples of Sunroom Furniture at La-Z-Boy
Regardless of what you choose to use your sunroom for, make sure you choose comfortable and relaxing furniture to go with it.
In this section, we will cover 5 La-Z-Boy furniture items you can put in a sunroom.
1. Swivel Accent Chairs
The first option that Michelle recommends for a sunroom is swivel chairs. La-Z-Boy's accent swivel chairs are the perfect cherry on top of any living room arrangement.
Michelle specifically mentions the Ferndale and Birmingham as great additions to a sunroom because of their looks and swivel functionality.
Not only are swivel accents chairs like the Ferndale and Birmingham perfect for a sunroom, but they have the added bonus of swivelling at a full 360-degrees. This way, you can look at the view of the outside from any angle.
You can learn about the Best Selling La-Z-Boy Swivel Accent Chairs by checking out this article.
2. Rocking Recliners
The next furniture item that can be perfect for a sunroom is rocking recliners. Rocking recliners at La-Z-Boy move in a smooth and graceful motion, keeping you feeling relaxed and comfortable in style.
With this, you can kick your legs up and recline while enjoying a good book in the sunlight. Not to mention, rock back and forth for enhanced relaxation.
Rocking recliners at La-Z-Boy can either be Manual or Power, and some have additional upgrades available like Headrest & Lumbar Support or Heat & Massage.
Michelle specifically mentions the Rowan is a great example of a rocking recliner in a sunroom because of its stylish look.
You can learn more about rocking recliners by reading this comparison article on Rocking vs. Wall Recliners.
3. Small, Stylish or Sofa Beds
If your sunroom is large enough, it may benefit from a sofa. A sofa will offer more seats for guests to enjoy your sunroom as well.
Michelle says that furniture from the Duo Collection can be a perfect addition to any sunroom because it doesn't take up a lot of space. With the Duo collection, your sofa will look stationary but has the hidden ability to recline.
Michelle also recommends sofa beds in sunrooms that have skylights. "This way, people can sleep among the stars while still being able to sleep on our furniture. It's the best of both worlds," she says.
You can learn more about the Best Selling Sofa Beds at La-Z-Boy by checking out this article.
4. Leone Tables by Hammary
La-Z-Boy incorporated has three subdivisions that sell occasional living room furniture. These companies include Hammary, American Drew and Kincaid. Each of these companies offers case goods that help accentuate the look of any living area, including a sunroom.
Michelle specifically points out the Leone occasional table collection from Hammary, which comes in 4 different table selections:
These occasional tables are great for a sunroom because they carry a rustic appearance, which is a common look that people tend to go for in a sunroom.
If you want to learn more about Choosing the Right Coffee Table Shape & Size, take a look at this article.
5. Canadel Custom Dining Furniture
Perhaps you intend on using your sunroom as an extra dining space. In this case, you may consider furnishing it with Canadel dining furniture.
Canadel is a custom dining furniture store that has partnered with La-Z-Boy for quite some time now. Canadel has been around for 30 years now, selling high-quality custom dining room furniture for many to enjoy.
While Canadel has multiple collections to choose from, Michelle recommends the Champlain and East Side collections for a sunroom dining area. These collections give off a rustic and woodland aesthetic, which, as previously mentioned, looks great in a sunroom.
Learn more about these collections by reading some of our in-depth review articles:
Canadel also has extensive customization options to choose from for its dining room furniture. With this, you can create dining room furniture that matches the unique vision of your sunroom.
If you want to learn more about Canadel Customization Options, take a look at this article.
What's Next?
Now that you have a better understanding of how to furnish and design your own sunroom, you're ready to start shopping for furniture! With that being said, why not shop at La-Z-Boy?
After seeing some examples, you can see that La-Z-Boy has lots to choose from. Visit us at a local Ottawa & Kingston La-Z-Boy location to view our selection in person and take a sit test. You can also schedule an appointment online.
Our design consultants are always eager to lend a helping hand. Additionally, consider taking advantage of our interior design services and working with an interior designer to see how our furniture could fit in your sunroom design.
Related articles:
Are La-Z-Boy Recliners Guaranteed for Life?
7 Problems with La-Z-Boy Furniture
Product Info Request
Please provide us with your name and email and we'll get back to you as soon as possible regarding this item.