Top 5 Best Selling La-Z-Boy Chair & a Halfs in Ottawa/Kingston
April 26, 2021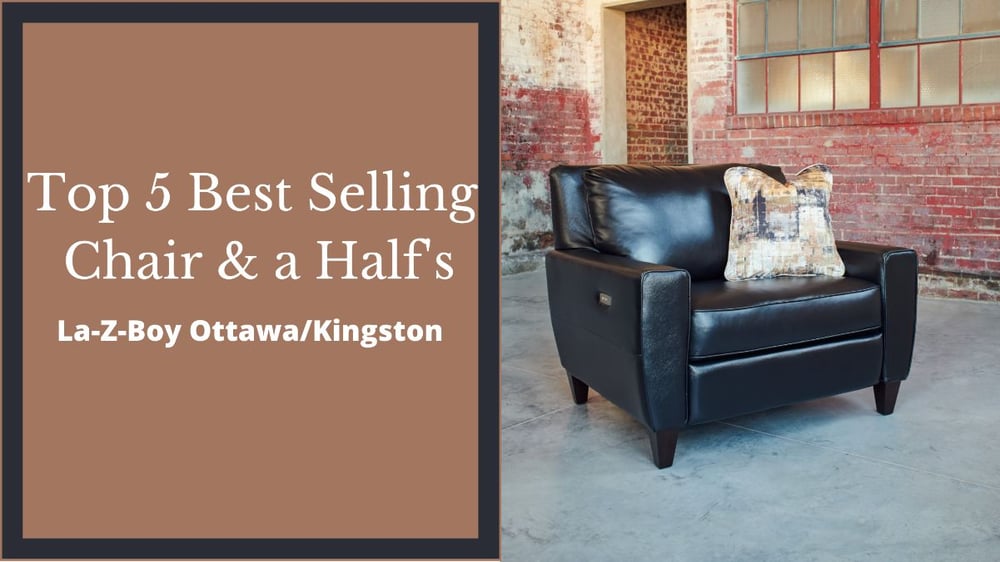 "Not too big … not too small … but just right!"
If you have ever read the old folktale Goldielocks and the Three Bears, then you must be familiar with this saying.
You may even relate to this phrase while shopping for furniture. A loveseat is too big, a chair is too small, but a chair & a half is JUST RIGHT!
A chair & a half is often the perfect way to complete a coordinated furniture arrangement. Perhaps it is exactly what your cozy den is missing? Or maybe a chair & a half would be the perfect place for you to cuddle with your newborn in the nursery?
When shopping for chairs at La-Z-Boy, clients often ask us, "what are your top-selling chairs & a half?"
Furniture can be a significant investment and you want to ensure that the chair and a half that you choose is a hit in your home. To get you started on your search for the perfect chair and a half, take a look at our top 5 best-selling chairs & a half offered at La-Z-Boy.
Many of our clients have enjoyed these products and you might too!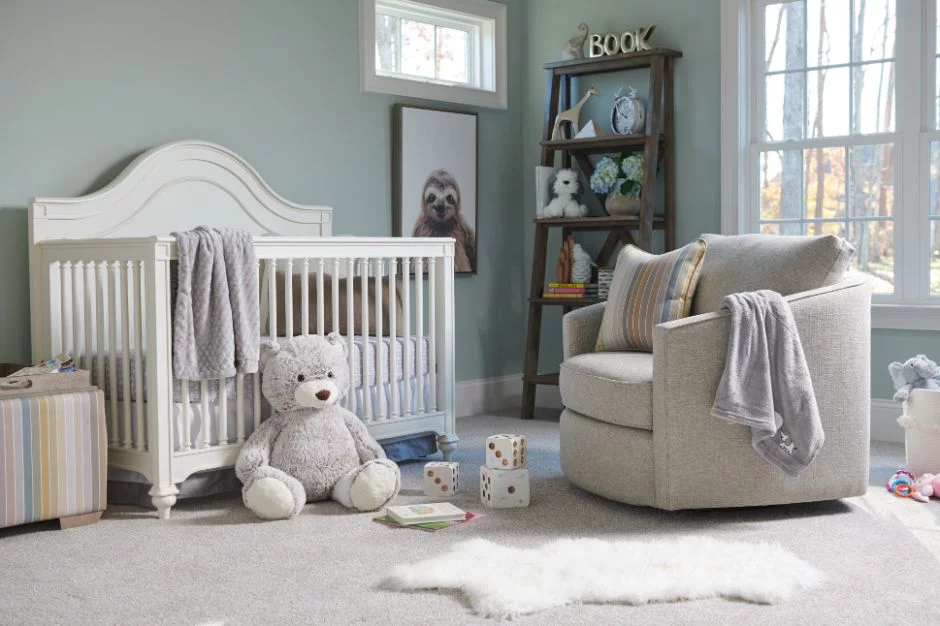 1. The Edie duo® Reclining Chair & a Half
Understated style meets oversized comfort with the Edie Reclining Chair & a Half, part of our award-winning duo® collection. Its clean and casual design features padded outer arms, a padded back, tapered wood legs, and welt trim.
Beyond the style, however, is the unexpected power to recline. Simply use the side-mounted 2-button control panel to recline and raise the leg rest. A built-in USB port charges your phone or tablet.
Shop the Edie duo® Reclining Chair & a Half
Read the Review of the Duo® Furniture Collection
The Edie is also available as a 2-Seat Sofa and Sectional. Take a look at the Review of the Edie Furniture Family.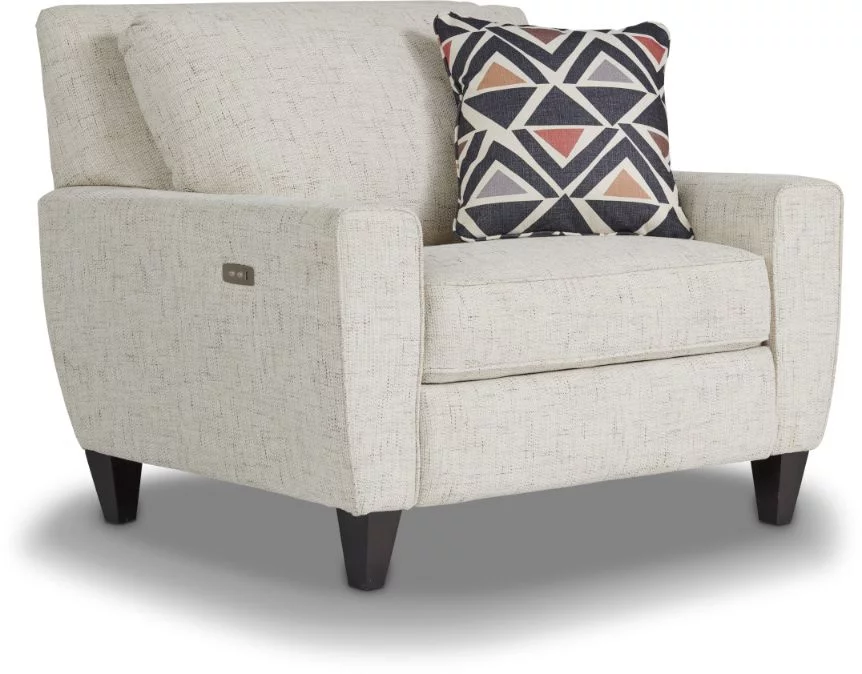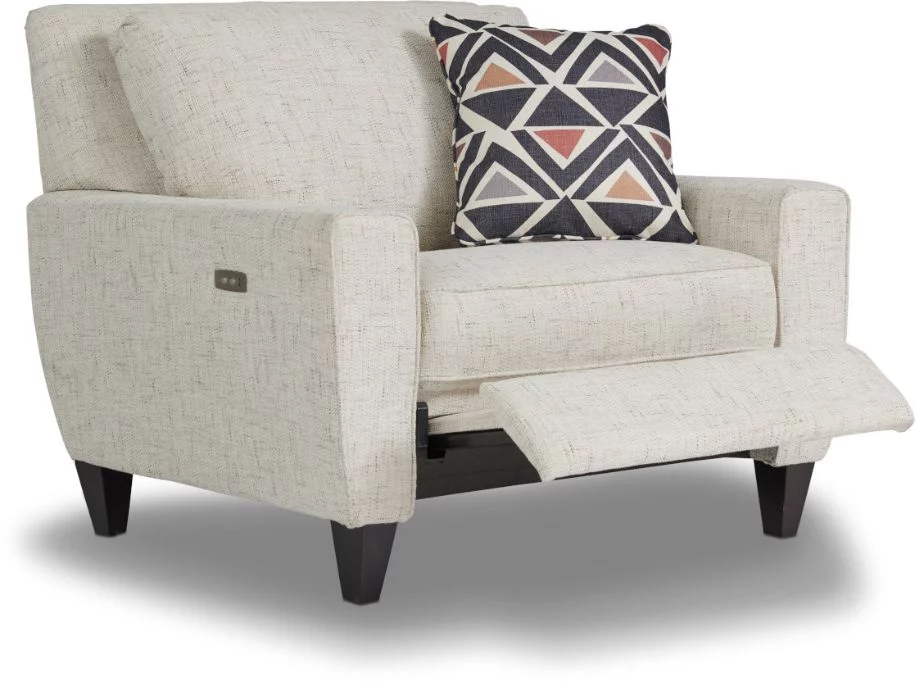 2. The Laurel Chair & a Half
Our Laurel Chair & a Half has an understated look that complements your laid-back lifestyle. Simple elements like petite rolled arms, welt trim, decorative wood legs, and button detail on the back make this roomy piece a welcome addition to any living room, den, or nursery.
Includes one 18" accent pillow. A matching ottoman is also available.
Shop the Laurel Chair & a Half
The Laurel is also available in a matching Laurel Sofa and Laurel Ottoman.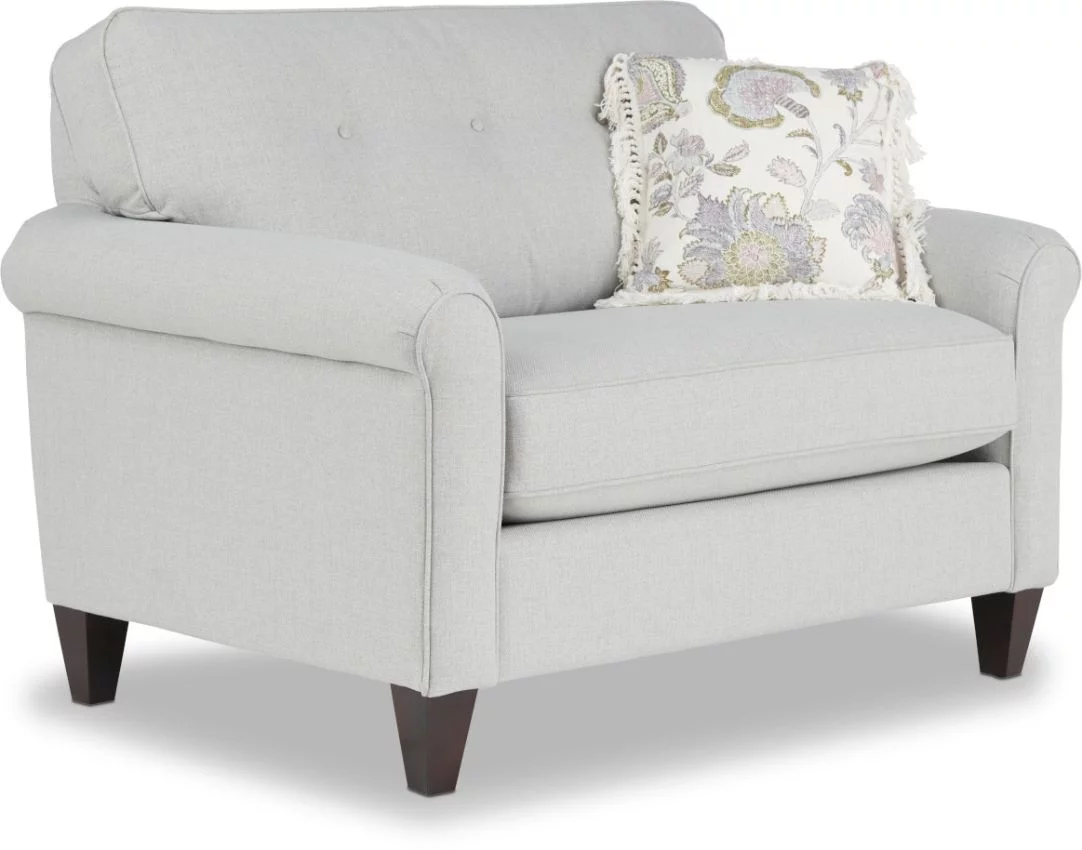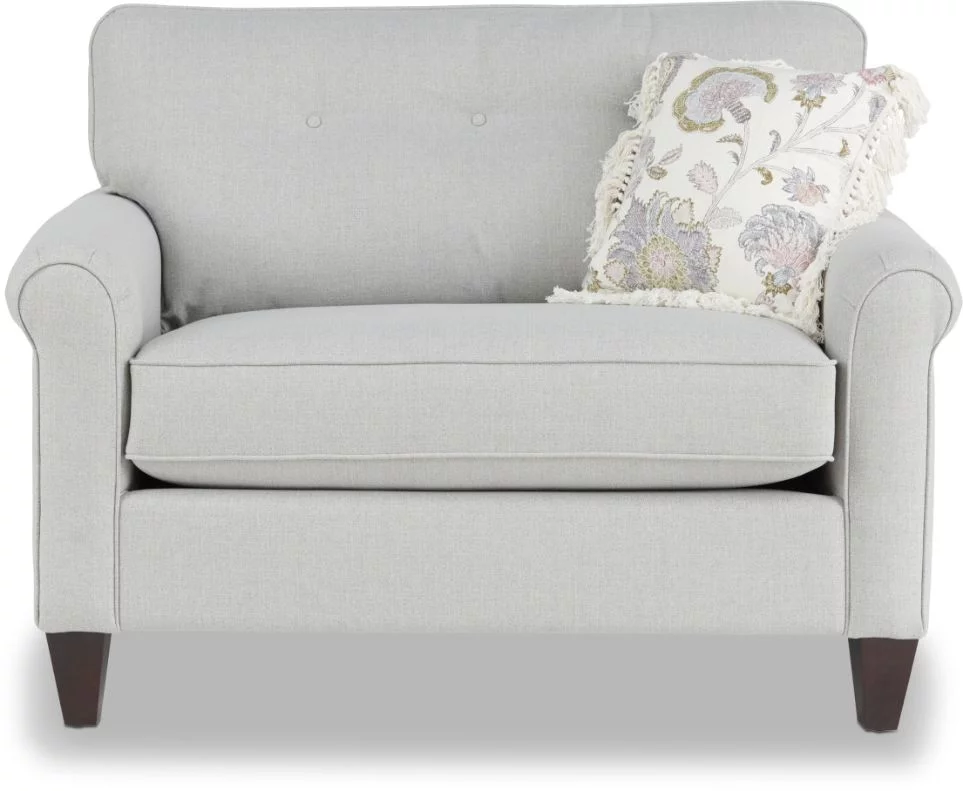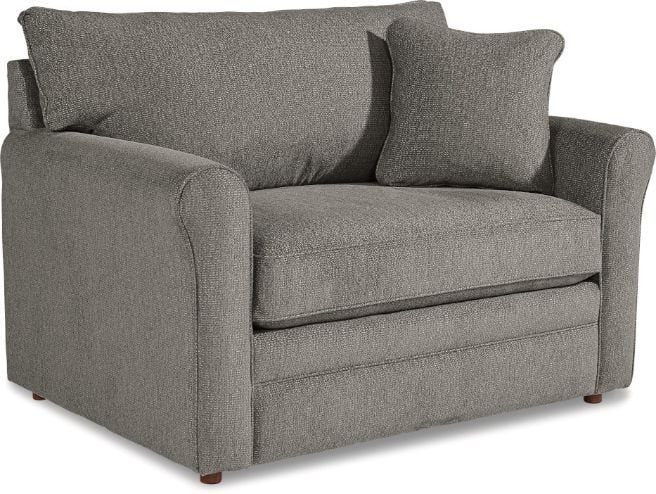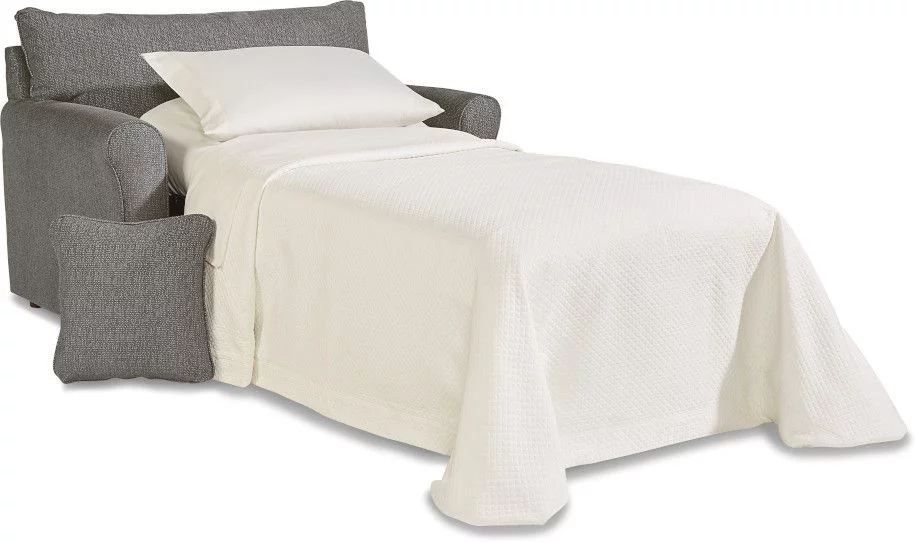 4. The Dillon Chair & a Half
Looking for comfort that complements your space? The new Dillon Chair and a Half has a mixable, transitional style that pairs easily with existing decor. Part of our Comfortably Casual series, this oversized chair features clean, thin arms, a button pull back, and decorative wood legs.
Shop the Dillon Chair & a Half
If you like the Dillon, the Dillon style is also available as a Sofa, Full Sleep Sofa, Queen Sleep Sofa, Apartment Size Sofa, Loveseat, Ottoman, and Sectional.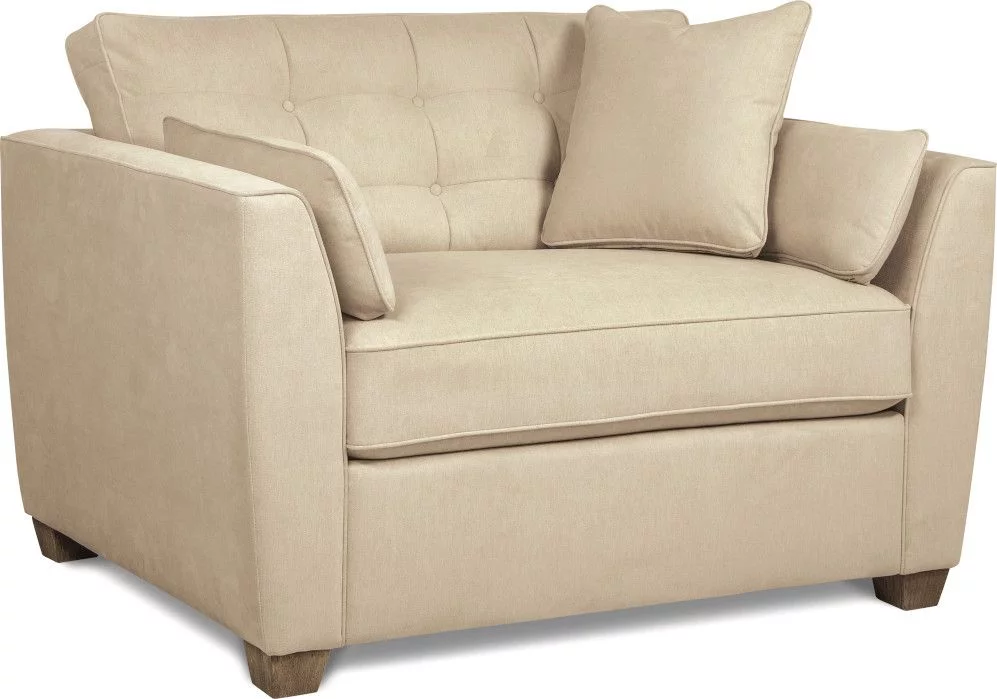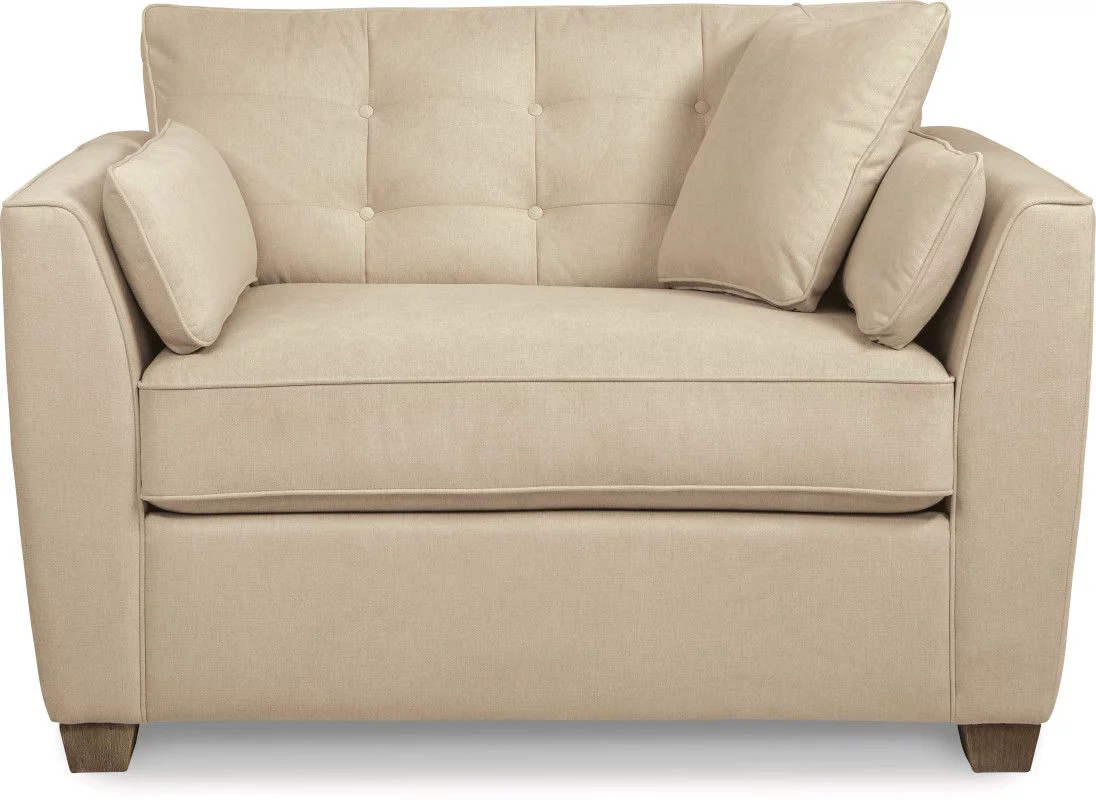 5. The Paxton Chair & a Half
Our new Paxton Chair and a Half is the casual and relaxed seating that invites you to kick back and get cozy. But, its clean lines and crisp welt trim give it a neat and structured silhouette.
Paxton features a deep, T-shaped seat cushion, low-profile wood legs, and a chamber-filled back cushion that maintains its shape and support over time.
A matching ottoman is available separately.
Shop the Paxton Chair & a Half
If you are designing an entire room, the Paxton is also offered as Sofa, Loveseat, Ottoman, and Sectional offering a cohesive look.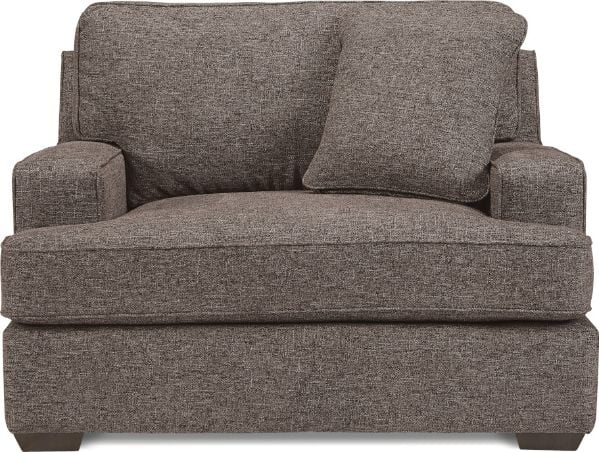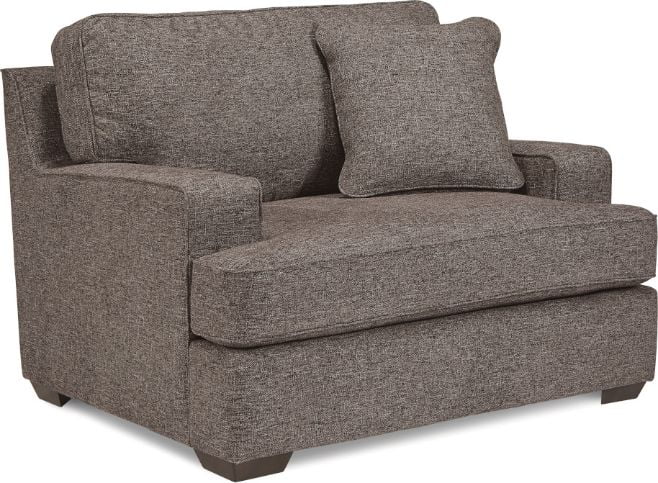 The Clover Premier Swivel Occasional Chair (Honourable Mention)
Enjoy the grace, style, and freedom of the Clover Swivel Chair. This fun and functional barrel-style chair is oversized, resembling the scale of a "Chair and a Half". It's perfect for reading to children or snuggling with pets.
Clover features a 360-degree swivel base and a rounded seat that follows the curve of the rail back and arms. Includes one 18" accent pillow.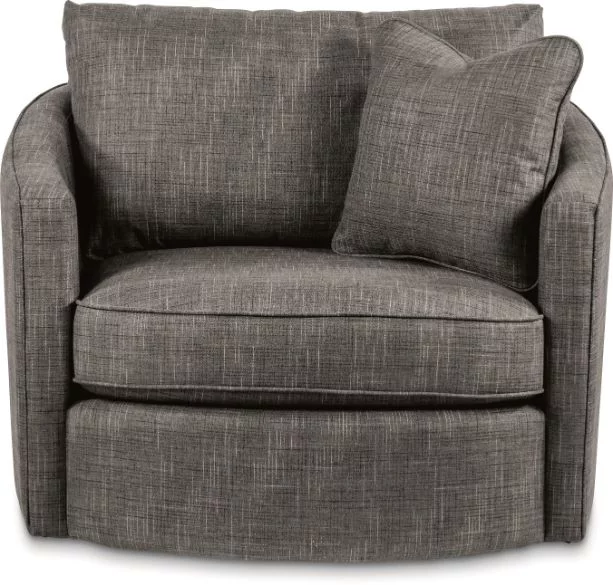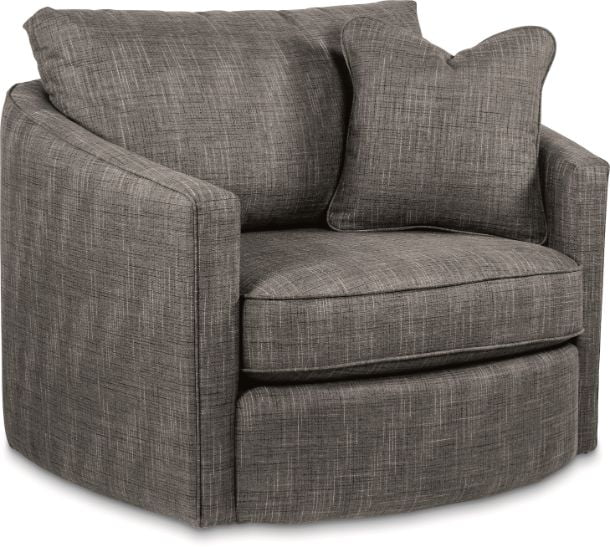 Enjoy Premier Construction …
These top five best-selling Chair & a Half products are popular for a reason. Not only are they stylish and versatile, but they are also all built with La-Z-Boy's premier method of construction.
*Note: The Clover is not built with Premier Construction.
To put it simply, Premier construction includes quality-crafted frames padded to enhance the style's design lines.
In more detail, Premier Construction features …
OSB, hardwood solids, and laminated hardwood frame construction

Fully padded outside back, outside arms, and front post

No-Sag Sinuous wire seat and back springs

La-Z-Boy non-skid Logo Decking

ComfortCore® Seats

Toss Pillows

Zippers
Learn more about Premier Construction at La-Z-Boy.
Available Options & Upgrades
Everything at La-Z-Boy is customizable, including our top five best-selling Chair & a Half products. You can customize your new Chair & a Half to be uniquely yours based on your personal requirements and preferences.
Upholstery/Cover Options
The cover that you choose is crucial in determining the overall look and feel of your Chair & a Half.
At La-Z-Boy, there are over 800 fabrics and leathers to choose from. With this, there is something unique for every budget and style.
In addition to fabrics with a variety of textures, patterns, and colours, the Chair & a Half products are also available in premium-grade specialty fabrics.
Stain Resistant iClean –

Innovative

iClean

technology surrounds each fabric fiber, creating a barrier that repels spills before they turn into stains.

Pet Friendly

–

Tested to simulate the scratches and wear that pets can cause to ensure a durable and easily washable fabric.

Antimicrobacterial –

Antimicrobacterial properties surround each fiber to protect against mold, mildew, and odor-causing bacteria.

Performance –

Superior stain and fade resistance properties make these fabrics easy to clean and incredibly durable.

Eco-Friendly Conserve Fabric –

Conserve Sustainable Fabrics

are soft, durable, and made from recycled water bottles.
Cushion Upgrade
All five Chair & a Half products mentioned in this article are made with patented ComfortCore® cushion. These cushions provide just the right support for a short or a long sit.
To raise your comfort level by upgrading to ComfortCore® GEL seat cushions.
The cushion has seven layers of comfort technology that includes gel-infused memory foam. This cushioning provides a firmer seat and support that conforms to your body.
Finish Options
Many Chair & a Half products feature decorative wood legs. Several alternative wood finish options are available to help ensure your chair fits seamlessly with your current home decor.
Welt Options
Welt trim provides a tailored look to sofa seat cushions. You can opt for contrasting welt trim on your Chair & a Half to add some personality and decorative detail.
Pillows
If your chosen Chair & a Half comes with matching throw pillows, you may consider customizing these pillows with contrasting fabric for a bolder look.
Additionally, you can choose to add cord or fringe to the pillow edge for a more decorative appeal.
For upgraded comfort opt for a FeatherLite fill feathers.
What's Next?
Although these products are our best sellers, there are many more chair options available at La-Z-Boy. Whether you choose one of these products or go for something entirely different, you know which chair & a half products are most popular.
After browsing these products, you may have realized that a chair & a half isn't "just right" after all. Maybe you'd prefer a smaller chair or would like the extra space offered by a loveseat.
Whatever it may be, our team of design consultants at La-Z-Boy can help you find exactly what you are looking for. Don't hesitate to take advantage of our complimentary design services to ensure that whatever you choose fits seamlessly into your home.
Visit us at a local Ottawa or Kingston La-Z-Boy showroom, or if you prefer to plan ahead, schedule a visit.