5 Expert Tips for Avoiding a 'No-Fit' Furniture Delivery
January 21, 2022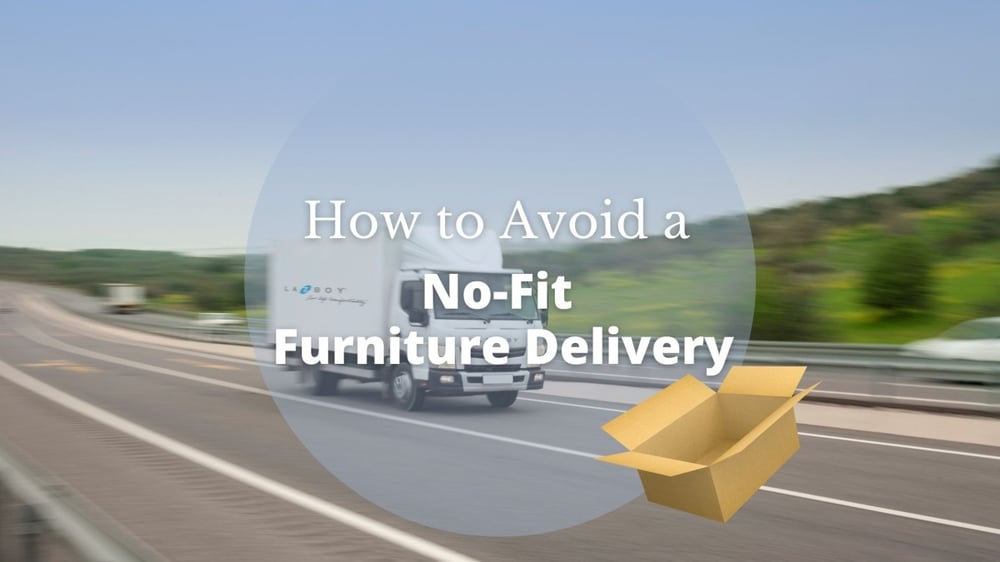 Purchasing furniture is an expensive and time-consuming process! Needless to say, after the entire shopping experience is over, the last thing you want is for something to go wrong during your furniture delivery.
Let me set the scene …
You have had your sofa for over 20 years. Its colour is fading and it has lost its crisp shape, not to mention, the style is extremely outdated. It is time for a new sofa!
So you begin the hunt for the brand new sofa of your dreams. You do your research, visit multiple furniture stores, and set aside a healthy budget to afford something nice. Finally, you find the perfect sofa that you imagined and you place an order.
Thrilled about your purchase, you cannot wait to see your newly purchased sofa in your home … but it is not that easy! The furniture salesperson informs you of your estimated delivery time and you have no choice but to sit patiently and wait.
A couple of months later, your delivery day arrives. You are practically bursting at the seams with excitement! The delivery team unloads the truck and is bringing your dream sofa into your home when the edge of the sofa gets stuck on the corner of a doorway. Persistently they twist, turn, and push the sofa in every possible direction … only to conclude that the sofa will not fit.
While this story feels tragic, unfortunately, it is not uncommon. In the furniture world, we call this scenario a "No-Fit Delivery".
At La-Z-Boy, we have been selling and delivering furniture of all shapes and sizes for over 90 years. Our delivery team is very skilled at navigating furniture around corners, through doorways, and upstairs, but even our delivery team has experienced no-fit furniture deliveries.
If you are in the process of purchasing new furniture, you will want to ensure that this does not happen to you! That is why we have put together 5 expert tips for avoiding a no-fit furniture delivery.
In this article ...
1. Measure your Space for Furniture Delivery
The first step in avoiding a no-fit furniture delivery is to measure your space.
Before you even start looking for furniture, it is crucial to take accurate and detailed measurements of your space as a guideline for selecting furniture that will fit.
Further, as you create this room sketch, be sure to indicate the desired placement of your furniture with regard to other furniture in the room.
According to Mary Lee Smyth, the interior designer at La-Z-Boy Kingston, creating a simple sketch of your room's measurements is not difficult and will take about 20 to 30 minutes.
Take a look at this video for detailed instructions on how to measure your room.
2. Make Sure Design Elements do not Impede Furniture Delivery
The measurement process does not end here. Once you have recorded accurate wall measurements, you must now add additional design details to your sketch.
You must take into account specific details in the room and indicate their location and dimensions on the sketch. These include:
Windows
Ceiling fixtures or fans
Fireplace details/hearth
Light fixtures or wall switches
Handrails
Outlets
Ductwork
Wainscotting
Floor or wall vents
Radiators
TV
While these details may seem irrelevant, they can actually be crucial in the delivery process. More times than none, a no-fit delivery will occur due to a stubborn handrail or the placement of a light fixture.
As you take note of these design elements, you want to be sure that the furniture you select can be delivered without causing structural damage to your home.
3. Measure Entry Ways for Furniture Delivery
Now, consider the exact path the delivery team will take, from the truck to the desired furniture placement in your home. Which entryways will they have to pass through with the furniture? Each entryway must be accurately measured to ensure the furniture will fit through.
Depending on the structure of your home, entryways may include doorways, stairways, or even an elevator.
Measuring Doorways
As you measure doorways, you will want to record these measurements in two ways, (1) with the trim/frame, and (2) without the trim/frame.
Why? If there is a trim or frame on the doorways, it might impede furniture placement. It is crucial with door measurements to know the width of the opening (without trim) to determine if the furniture can pass through. Lastly, you want your sketch to illustrate the location of the opening on the wall.
As you face the door, you will need to record the following measurements:
Left wall placement:

measure from the left corner of the wall to the edge of the opening or trim.

Width including trim/frame:

measure across the opening from outside edges of the trim.

Width excluding trim/frame:

measure across the opening from the inside of the trim (door: inside door jambs).

Right wall placement:

measure from the right side of the opening trim to the right corner of the wall.

Top wall placement:

measure from the ceiling to top of the trim.

Height including trim/frame:

measure from the outside edge of top trim to outer edge of bottom trim (or the floor for a doorway/entryway).

Height excluding trim/frame:

measure the height from inside edges of trim (for a door from the head, the interior top frame, to the door sill, the inside bottom frame).

Bottom wall placement:

measure from outer trim to the floor.

Diagonal Depth excluding the frame (important door measurement):

measure from the inside top left corner of the door frame to inside bottom right.
It is also important to note when measuring the opening of a door (width, height, and diagonal depth excluding frame) to factor in objects that can affect furniture passage through the doorway. These include door swing, how wide the door(s) open, door strips, doorknobs, handles, hydraulic door closers, and hinges.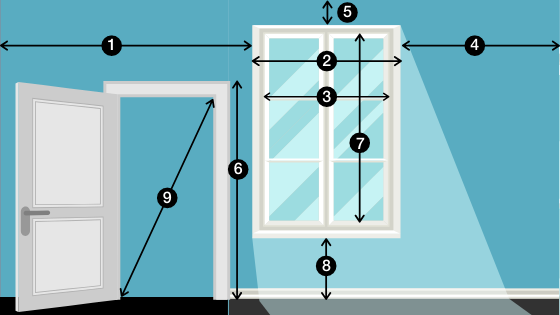 Measuring Stairways
If your new furniture must travel up or down a staircase, you will need to carefully measure the staircase.
First, measure the entryway of the staircase. Next, measure the width of the staircase passage, from wall-to-wall and railing-to-railing.
Now remember, the furniture will be transported on a diagonal up or down the staircase. With this, be sure to measure the diagonal width of the staircase and take note of the width and depth of the staircase steps.
Measuring Elevators
If you live in a condo or apartment building, you must also be sure that the furniture can fit into your building's elevator.
Measuring an elevator is much like measuring a room and a doorway.
First, take note of the elevator's wall-to-wall measurements. Next, measure the entryway of the elevator, taking the trim or frame of the elevator door into account.
Moreover, if you live in a condo or apartment building, you might be required to book your elevator for the delivery. Once you have been informed of your delivery date, be sure to book your elevator.
4. Be Conscious of Corners for Effortless Furniture Delivery
By now you will have detailed measurements of your space, taken note of design elements, and measured entryways. But what is often forgotten is the corners that will need to be turned in a hallway or down a staircase.
To ensure that your furniture will fit around the corners in your home, measure the distance between the edge of the corner and the wall that is parallel to the corner. The width and depth of your furniture must be able to fit through this space.
5. Ensure a Clear Pathway from Delivery Truck to the Front Door
It is important to remember that the delivery process begins outside of your home. With this, you must ensure that there is a clear and safe pathway for the delivery men to transport your furniture from the truck to your front entrance.
Depending on where you live, whether it be the busy downtown core or in a quiet suburb, be sure to look into parking restrictions outside of your building or home. Is there room for the delivery park to truck safely and out of traffic?
Next, be sure that the pathway is clear. Is there dangerous ice or snow blocking the path? Is your gardening equipment in the way? Did your child leave their bike laying in the drive way?
6. Evaluate Furniture Dimensions & Features
With such detailed measurements of your space, you can now begin selecting furniture. As you choose furniture, you will consider several factors, including the quality, style, and cost, but with your room measurements in mind, you must also access the furniture dimensions.
Furniture is measured at the tallest, deepest and widest points of the product including overhangs, angles, outward curves and arms.
At La-Z-Boy, our website will provide depth, height and width for most pieces of furniture. Product furniture tags in any of our La-Z-Boy Ottawa & Kingston stores will detail the same dimensions.
Keep in mind that diagonal depth (dd) measurement for furniture is not standard nor included in most product details. This measurement can be vital to determine if the piece can pass through tighter entryways at an angle.
To determine the diagonal depth, place a straight edge from the highest point of the back frame (not including pillows) to the front of the arm. Then measure from the bottom rear corner of the sofa/chair up to the point that bisects the straight edge. This measurement is your diagonal depth.
With these measurements in mind, you must now compare these dimensions to the measurements of your space. The furniture width and diagonal depth must be less than the height of any entryway.
Additionally, keep in mind that some larger pieces of furniture may come apart into multiple pieces. For example, a sectional is often delivered in multiple modular pieces or a recliner may have a removable back.
It is important to take note of these furniture features as they may make the delivery process much easier.
Furniture Delivery at La-Z-Boy Ottawa & Kingston
At La-Z-Boy, we offer top of the line white glove delivery service. Our delivery team is hired and trained in-house. Given that our delivery people are trained to work specifically for La-Z-Boy, our white-glove service is standardized ensuring a high level of care with every delivery.
With this, our skilled delivery men will unpack, inspect, and set up the furniture in your home. The delivery team will also remove any waste.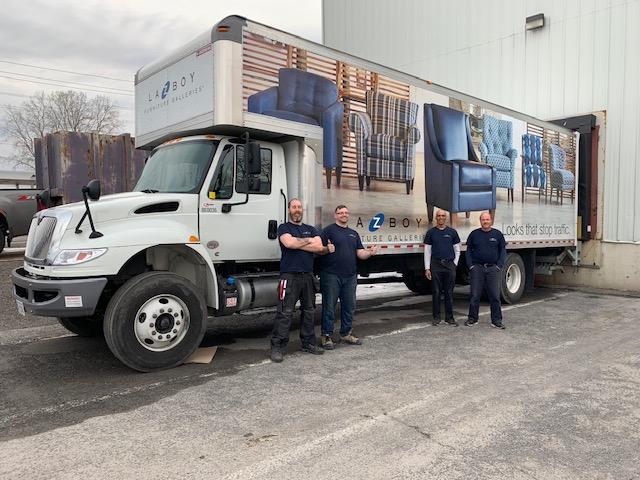 Delivery is charged at a flat fee of $129.99 (local Ottawa & Kingston fee). For orders delivered outside of Ottawa & Kingston, our white glove delivery fee is $169.99.
Additionally, we offer the option to dispose of any old furniture in a local landfill at an extra charge of $40 / per piece.
To learn more about delivery at La-Z-Boy, check out our delivery service page: La-Z-Boy Ottawa and Kingston Furniture Delivery Service.
How La-Z-Boy Handles a No-Fit Delivery
When a No-Fit delivery occurs at La-Z-Boy, we typically follow our standard return policy with re-selection, re-stocking fees, and additional delivery charges.
With this being said, Kim Wade, the store manager of La-Z-Boy Cyrville, says "we don't want to leave a customer with furniture that is not suitable so we have to look at each no-fit on a case by case basis".
What's Next?
After reading this article and recording careful measurements of your own, you have all the information necessary to avoid a no-fit furniture delivery. You can await your delivery with confidence that your new furniture will fit your space perfectly with little to no adjustments needed!
If you are interested in purchasing new furniture from La-Z-Boy, we have an abundance of selection. More specifically, we offer quality, stylish, and versatile furniture for multiple rooms in the home, including the living room, bedroom, and dining room.
Our design consultants would be happy to help you find furniture that is the perfect fit for your space! In fact, at La-Z-Boy all of our upholstery furniture is customizable to match your unique taste and preferences. Further, by taking advantage of our complimentary design services, our talented team of interior designers will ensure that the style of your new furniture compliments your home design.
Visit us at a local Ottawa or Kingston location to find what you are looking for today. If you prefer to plan in advance, schedule an appointment online.
Related Links:
Do You Tip a Furniture Delivery Person?
Furniture Delivery Cost in Ottawa
Product Info Request
Please provide us with your name and email and we'll get back to you as soon as possible regarding this item.