Colour Trends 2020 Including Pantone's Colour of the Year
January 3, 2020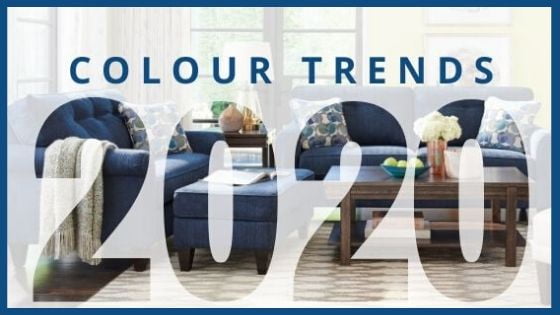 Colour Trends 2020 including

Pantone's Colour of the Year
As new year dawns, you may be looking to breath new life into your home. Are ready to take on a larger project and completely redesign a room — what better place to draw inspiration than the colour trends of 2020.
Each year, authoritative colour expert Pantone and paint companies release their colour of the year and trends. You will start seeing these colours in many applications, including clothing and also within the home.
It may seem that this year's colour choices are playing it a bit safe since studies have indicated that bluish hues are a favourite across the world. They are also a marked contrast from the brighter hues of years past, such as Pantone's 2019 Living Coral and 2018 Ultra Violet.
Read on to learn more about:
1. This year's colour picks
2. Choosing a colour
3. Tips for incorporating them in your décor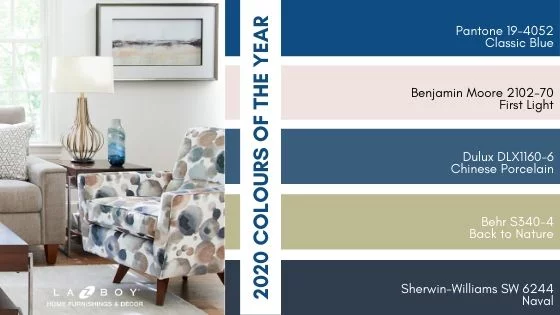 2020 Colours of the Year
PANTONE – CLASSIC BLUE
For over 20 years, Pantone's yearly colour choice has influenced product development in many industries. This includes fashion, home furnishings, as well as product packaging and graphic design.
They announced PANTONE 19-4052 Classic Blue as their colour of the year for 2020. In a BBC radio interview, Leatrice Eiseman describes Classic Blue as somewhere between a dark navy and a royal blue. Furthermore, it has a slightly red undertone, so it is not quite as deep as navy, and the red adds a bit of excitement.
As Executive Director of the Pantone Color Institute, Eiseman explains on the Pantone website "we are living in a time that requires trust and faith. It is this kind of constancy and confidence that is expressed by PANTONE 19-4052 Classic Blue, a solid and dependable blue hue we can always rely on. Imbued with a deep resonance, Classic Blue provides an anchoring foundation."
Based on Pantone's colour word-association studies, safety, protection, and stability are the first automatic reactions to the blue colour family. Reminiscent of the evening sky at dusk, Classic Blue will have you thinking about winding down for the day and getting some peace and relaxation. It is elegant in its simplicity and the kind of colour you are comfortable wearing.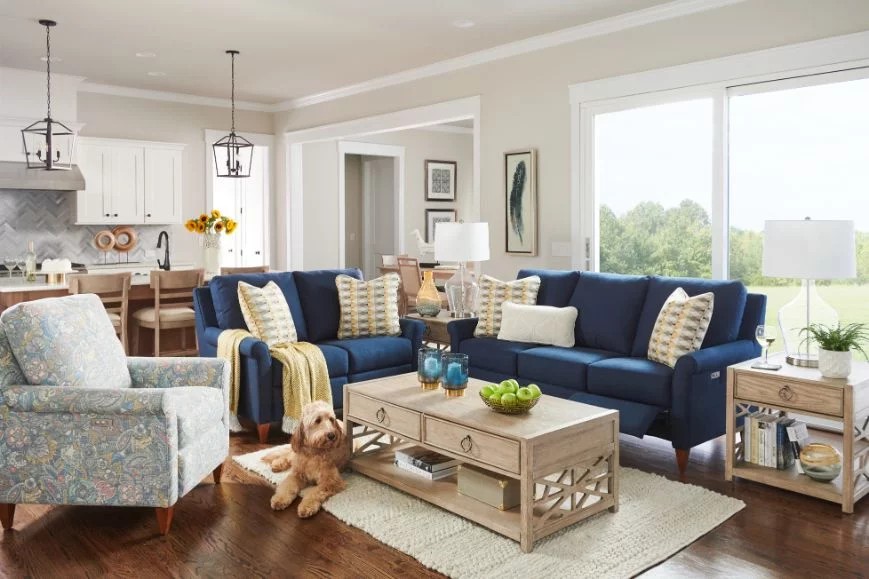 HOW DOES PANTONE CHOOSE A COLOUR
The colour experts at the Pantone Colour Institute, a part of Pantone company, help companies make informed decisions about colour for their brands or products. This group of experts travel the world each year looking for new colour indicators that may come from many influences. These can include:
• A travelling art exhibit that visits various museums across the world
• Entertainment industry and films in production (ex. is there a particular colour attached to the movie)
• Technology and all areas of design (ex. colours and finishes for cars on drawing boards and helmet designs)
• Fashion and cosmetics
• Upcoming sporting events capturing worldwide attention such as the Olympics (ex. which country is hosting and is there a colour story around that area of the world)
• Psychology of the colour, what emotion the colour invokes and is it telling a story or mood about the people they are observing and talking to
Pantone Colour Institute takes all their observations and distills it down to a colour that is the most symbolic.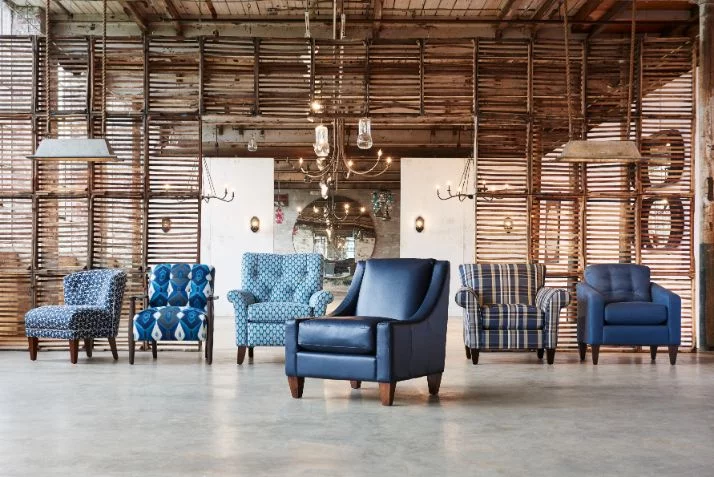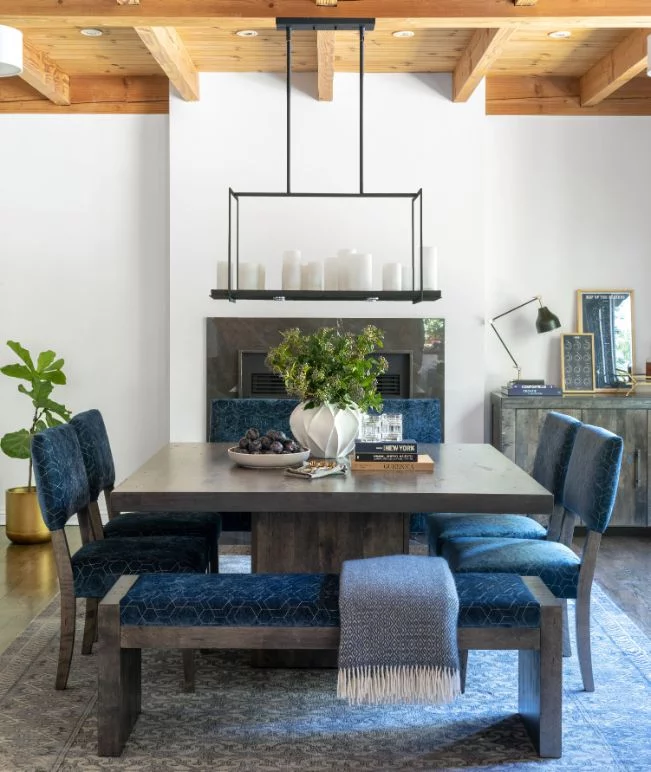 Other Colours of the Year and Trends
DULUX – CHINESE PORCELAIN
Chinese Porcelain DLX1160-6 is the "best possible entry point from the world of neutrals to the world of colours." This blue is also the perfect backdrop to incorporate more vibrant or lighter pops of colour.
Dulux's annual colour trends forecasting is a combination of months of research and customer input from around the world. They have colour experts in more than 25 countries that gather local insights. Along with their colour of the year, extra trending hues are identified plus stain colour of the year that have taken inspiration from earth's elements.
SHERWIN-WILLIAMS – NAVAL
Naval SW 6244, is a rich navy. It creates a calm and inspirational environment. An empowering shade that works well with polished marble, shiny metals, soft leather and sophisticated patterns.
BENJAMIN MOORE – FIRST LIGHT
A soft, rosy hue, First Light 2102-70, is the backdrop for a bright new decade. Benjamin Moore's corresponding Colour Trends 2020 Palette offers modern paint pairings and a timeless way to lighten things up. There is a colour trends brochure to provide inspiration and examples, as well as a Pinterest board.
BEHR – BACK TO NATURE
Back to Nature S340-4 is a therapeutic and revitalizing green hue that engages the senses. Also, it pairs well with other colours both inside and outside your home. Natural elements inspired Behr's colour trends palette. Each hue works well alone or in combination to create a unique look for your home and style.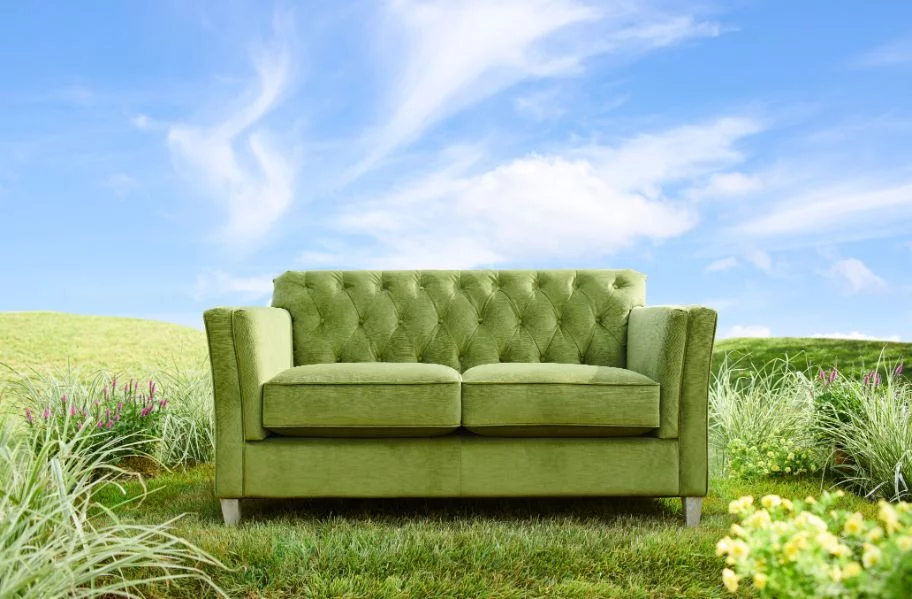 Tips for Incorporating Colour Trends in Your Décor
Pantone's Classic Blue, along with most of the 2020 colour of the year picks, are very versatile. They are going to be able to depend on and work with other colours already in your room or home.
If the thought of choosing colours stresses you out, here are some tips on indulging in new hues and how to best use them in your home.
1. Neutral Primary Colour
Incorporating a soft, neutral shade as a primary canvas will ease other colour selections. You can't go wrong with white. Bring pops of blue into neutral spaces for a perfect accent that never overwhelms.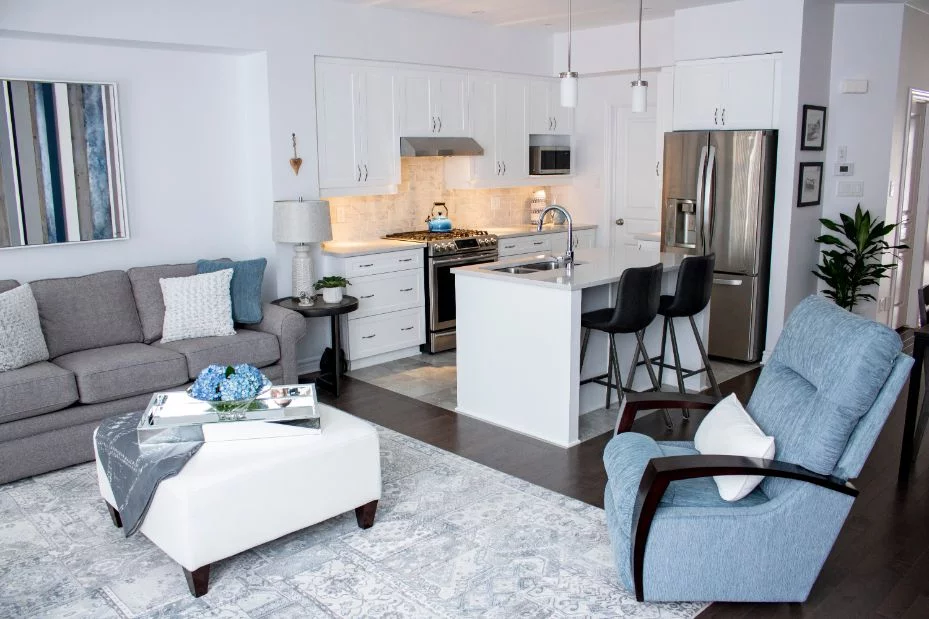 With white as the main focal colour, La-Z-Boy designer Zeina created the above urban country look in a newly built home in Stittsville. The homeowner's goal was to create an elegant, bright 'adult' space with elements that blended in with their country living.
The soft blue and white fabric on the cushions and pillows are the stars of this show. Choosing this colour scheme allowed Zeina to introduce a relaxing and soothing feeling. The art "Slatted Sky" by Patrick St Germain, adds maximum impact. It's pleasing to the eyes and provides a touch of the abstract.
2. Pull Inspiration from a Treasured Item
Get inspired by photography, a view from your window, a treasured painting, a rug, or even fabric on a pillow you love! Start by selecting 3-5 colours and create your pallet.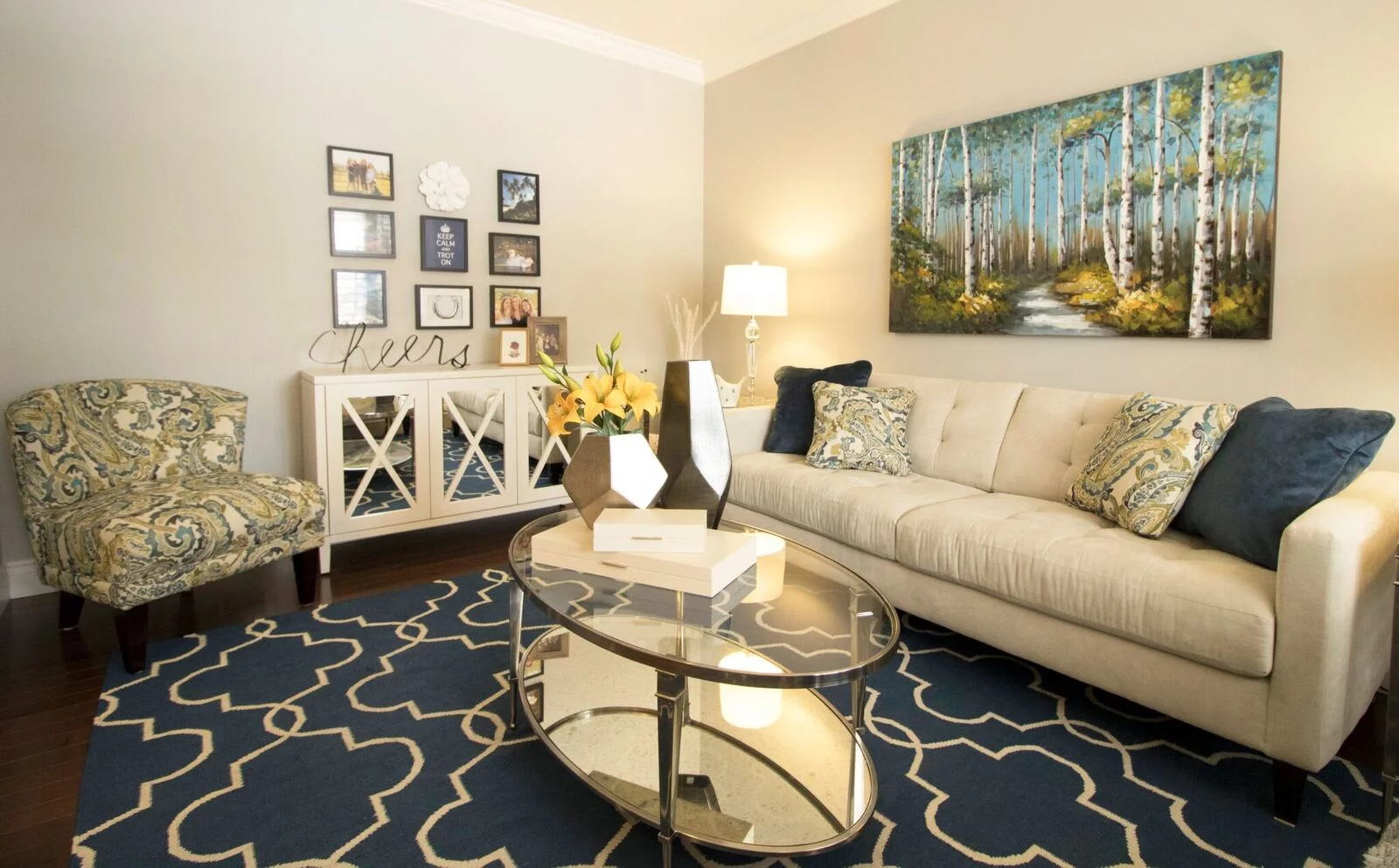 Inspired by the vibrant colours in the artwork above, designer Dea planned to use the blues and greens from this year's colour trends as accents. She wanted the larger pieces in this Orleans living room makeover, such as the furniture, to remain neutral. Indeed this would make the accents pop.
3. Use Available Colour Tools
Most paint companies will have colour palettes that you can explore online for any given colour of interest. Moreover, you will discover similar colours as well as coordinating palettes to make picking colours a breeze.
Adobe Kuler: Color Wheel provides you with two options to create a colour palette or scheme:
1. You can play around with the wheel and generate colour schemes according to your choice
2. Upload an image and let the Adobe Kuler create one for you.
A great way to get colour codes if you happen across an image or item that inspires you and reflects colour trends of 2020.
Apart from this, some colour brands will have tools that help you visualize how a colour looks in your room or home by merely uploading a digital photo. Behr's Paint Your Place® lets you preview your décor and in your lighting conditions.
4. Paint Your Swatches
Painting your own swatches will allow you to assess each colour in the room it's meant for. Make sure that the colours in visually linked spaces work together.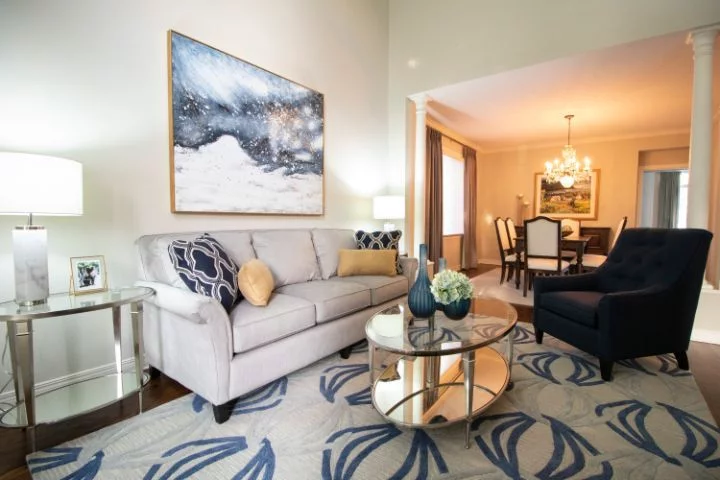 Designer Estefanie coordinated an adjoining living room and dining in Greenboro-Ottawa by first creating a blue pallet mood board. The homeowners loved navy blue and grey and wanted it used as much as possible. Estefanie chose a distressed dining table and buffet from Canadel's Champlain collection. It's a classic yet rustic look with a greyish undertone that ties in beautifully with the living room décor. Two complimentary Surya rugs define each space and harmonize with the blue artwork and accessories.
5. Create a Mood/Ambience
Colours influence perceptions, and how people are affected by different colour stimuli varies from person to person. Blues are serene and mentally calming, as described by the feelings invoked by Pantone's Classic Blue colour trend. Knowing what mood or ambience you would like your room to portray is an essential factor when choosing colour.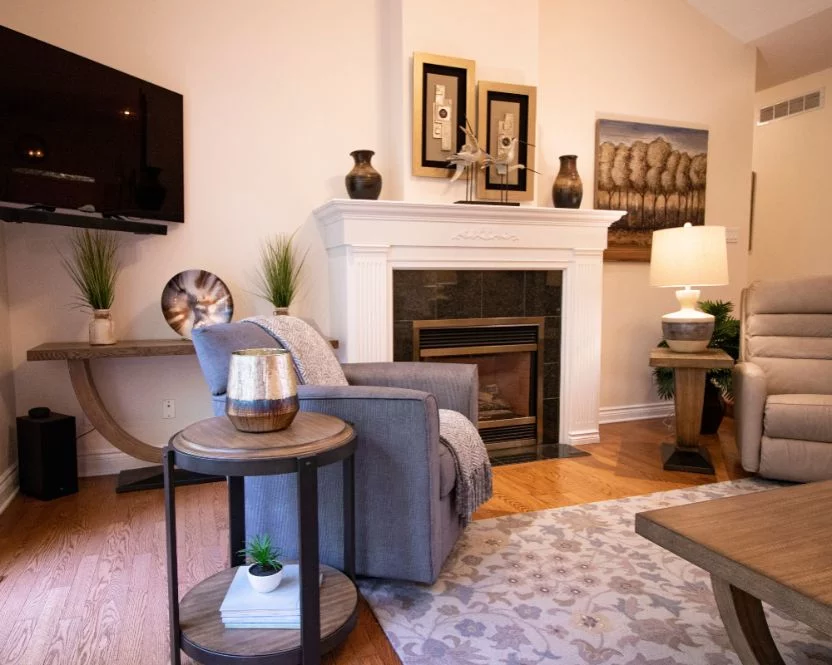 In the above Navan great room makeover, the homeowner specifically liked the calming zen feeling a neutral colour palette with both blue and teal accents created. Designer Magaly introduced a more substantial area rug with the tones of the furniture pieces, which worked well with the rest of the serene flow and feel of the home. The area rug has a classic yet updated scroll pattern that is repeated in pillows, a throw, vases, and artwork — the key to making the eye travel easily throughout the room.
Next Steps
As we cross the threshold into a new era, our lives are busy, and technology continues to race ahead of our ability to process it all. Understandably, we would gravitate to colours that create a calm and restful environment where we feel protected. Incorporating the colour trends of 2020, including Pantone's Classic Blue, will help you achieve a sense of tranquillity in your home.
Take the fun quiz to see which design style best fits your lifestyle!

Every home is more than a house. It should be exactly what you want it to be. At La-Z-boy we know that transforming a house into a home takes a lot of work. It takes care, preparation, inspiration and innovation.
Product Info Request
Please provide us with your name and email and we'll get back to you as soon as possible regarding this item.