Pantone Colour of the Year for 2023
February 23, 2023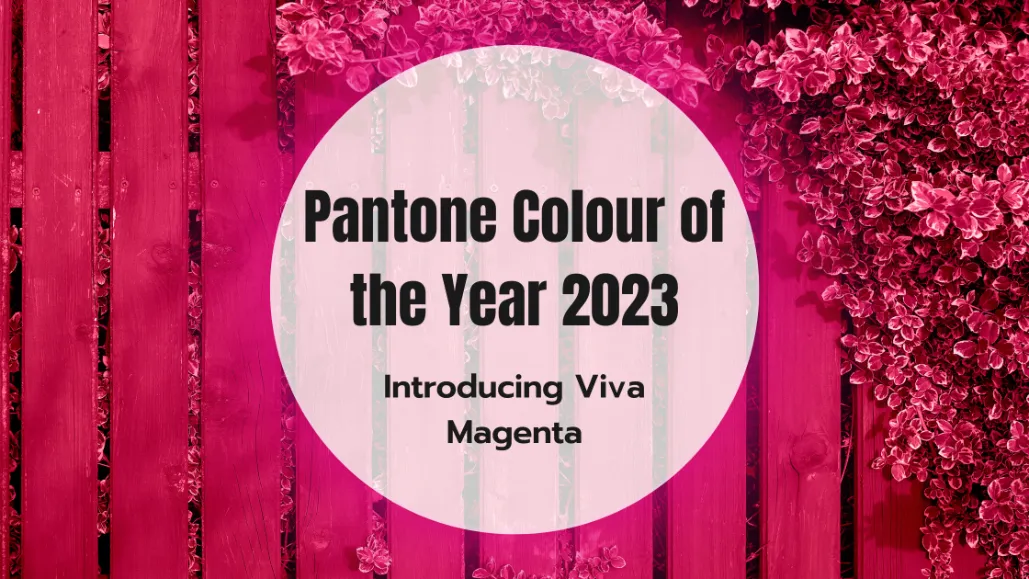 Est. Reading Time: 5 Mins
2023 is finally here, and while some may have reservations since the events of 2020, others are looking ahead and wondering what the future has to hold.
While we may never know exactly what's to come, Pantone wants us to embrace the future with open arms — one that is bright and bold.
With their latest colour release, Pantone makes a fierce impression on the new year with their latest colour of the year, called Viva Magenta.
Interior Designer at La-Z-Boy Kingston, Mary Lee Smyth, is an avid Pantone follower and finds the Pantone Colour of the Year 2023 is "aggressive, but also calming to the eye." This loud yet cool red colour is a perfect follow-up to last year's theme about creativity and innovation.
You might wonder, what goes well with this colour? How does Viva Magenta fit in your home? This article will cover everything you need to know about Pantone's latest colour of the year.
In This Article…
What is Pantone?
Before we discuss the colour of the year, you may need clarification on Pantone itself. The company Pantone is known as the leading colour expert worldwide.
With a wide array of colour selections to choose from, Pantone surpasses far beyond any other colour company. They provide various services to various companies, such as picking the right colour for brands, consultations for perfect colour combinations, and educating those interested in emerging colour trends.
Pantone's Colour of the Year Selection Process
Every year, Pantone, along with other notable colour companies, chooses a colour that will set the tone for the upcoming year. They do this by looking at trends from the past year across different industries like home design, advertising, social media, technology, fashion, and everyday life.
After carefully considering different tones for different meanings, they release a colour that shows what they hope to see in the upcoming year.
If we were to take a look at 2022's Colour of the Year, Pantone introduced an entirely new colour that was invented for the occasion. Very Peri represented change and innovation for the year to come.
Staying on the theme from last year, Pantone still strives for a creative future that drifts away from a monochromatic palette to something more colourful. Something bold.
That is why they picked Viva Magenta, a restorative red colour representing appreciation and strength for the natural world. In Latin, Viva means "Long Live," so Pantone's colour is actually saying Long Live Magenta.
This saying represents what Pantone expects for 2023, which is a renewed appreciation of nature, sustainability and authenticity for a bright and bold future.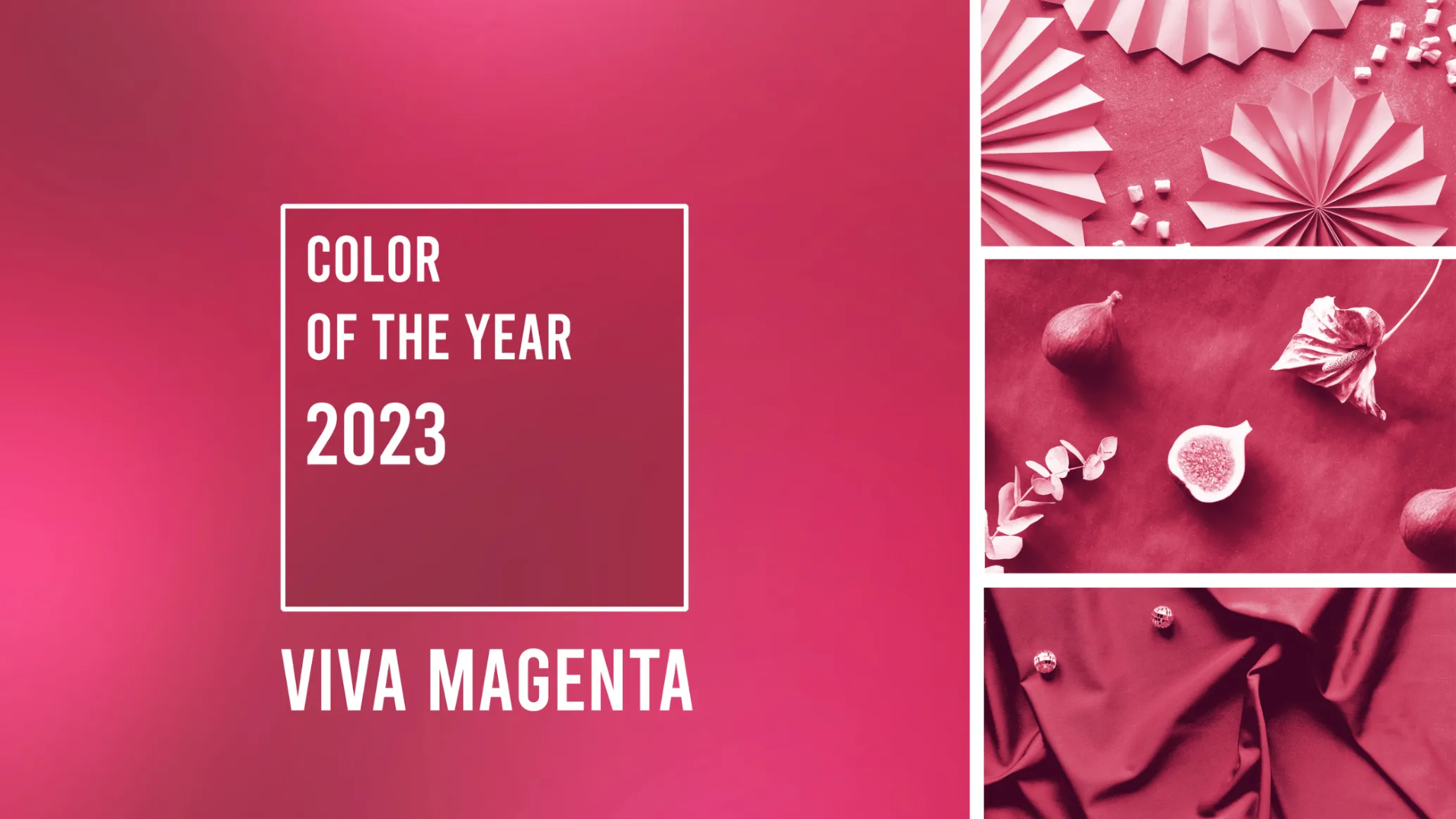 How to Incorporate Pantone's Colour of the Year in Your Home
As mentioned before, Mary Lee is a Pantone fan and is up to date with all of the Colour and Design Trends for 2023. "I always have my Pantone colour picker with me whenever someone needs a better visual of what I'm describing," she says.
With Viva Magenta, Mary Lee describes this year as a tropical and fun colour. "It's definitely a bold colour, but not as bold as other reds that you would naturally find in nature. This one has the right amount of coolness, meaning it can work in both hot or cold-toned rooms."
She also notes that everyone, regardless of gender, is very drawn to this particular colour this year. "When you think of magenta, some might think that it's a girly colour. But this shade of magenta seems to attract the attention of a lot of different people."
The fact that the colour resonates with males is best represented by Pantone's collaborations this year with Motorola and Cariuma.
Colour Palettes that Compliment Viva Magenta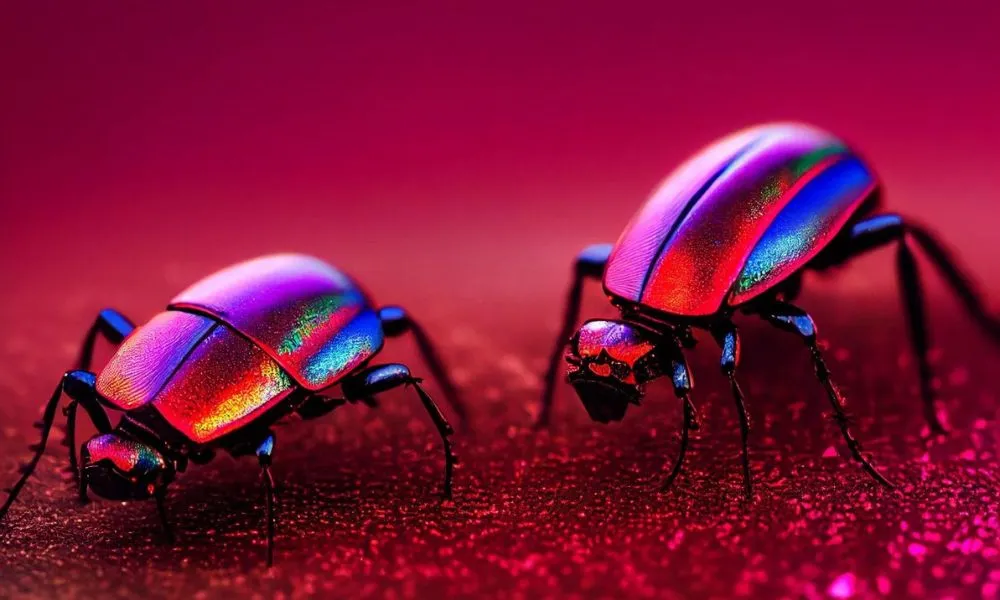 So, how can Viva Magenta complement your colour palette? How does this colour work well in your home?
Reflecting on Pantone's main inspiration behind Viva Magenta, Mary Lee says this colour would work well in rooms centred around natural tones. "Anything that is biophilic or showing a lot of light, earthy, lilac or creamy colours."
One of the only natural magenta colours found in nature is in the Cochineal Beetle, used to make natural red dyes.
Along with the naturalistic theme that Viva Magenta exudes, Pantone sees this colour as more of an accent piece in a room, as shown on their website.
Design Styles & Furniture That Call for Viva Magenta
Mary Lee agrees that Viva Magenta works well as an accent colour. However, accents are not bound to just furniture.
If you're looking to revive a dull room, Viva Magenta could work well in sprucing up a space. "This colour is easy to bring into a room because it gets noticed right away," says Mary Lee.
Because it has both warm and cool tones, this colour is versatile in style. If you're looking to change your decor throughout the season, Viva Magenta could help carry the warm hues of the summer, as well as the festive colours during the holiday season. You can learn more about Decorating for Each Season by checking out this article.
Mary Lee also says, "You don't have to have a huge amount of Viva Magenta to make an impression in a room," which is why she mostly recommends it in smaller furniture pieces or decor items like throws and pillows.
Specifically, she says La-Z-Boy furniture frames like the Jazz, the Scarlett or the Finley.
According to Mary Lee, the Jazz is a strong choice for Viva Magenta due to its strong profile and petite stature. "The Jazz likes to pack a punch in a room," she says. The Jazz is also a popular Stationary Accent Chair at La-Z-Boy.
If you're looking for a stylish and comfortable recliner to pair with Viva Magenta, Mary lee says the Scarlett High-Leg Recliner works well when blending in with stationary furniture. The Finley Recliner is also a great choice since the boldness of the colour would work well with its slim structure.
Who Would Love Pantone's Colour of the Year 2023?
Now that you know the inspiration behind Viva Magenta and what it can bring into your home, do you think you would enjoy this colour of the year?
Mary Lee says that this colour isn't just for anyone. "It depends on how energetic you want your room to be." If you're looking for more neutral colours in your room, you may find Viva Magenta a little too bold.
However, if you're looking for more colour in your home, Viva Magenta might be just what you need. This colour would work in high-traffic areas like a white kitchen or a living room.
Mary Lee also recommends incorporating Viva Magenta in a room with natural materials. "This colour is very fond of all things nature. If you add it in a room that has a lot of wood, greens and browns, it can really bring your room together."
If you're looking for a more bohemian look, like the 2020 CHEO Dream Home, Mary Lee says that Viva Magenta can complement shades of blue, green, and orange very well. "You can even do a tropical theme and tie it all down with dark brown accents," she says.
2023 Colour Trends Other Than Viva Magenta
Pantone might be the most anticipated colour each year, but they are not the only colour company that shares predictions. Other companies have released their 2023 top colours, reflecting a different perspective on what they expect in the coming year.
For example, Benjamin Moore released a similar shade of red to Pantone's called Rasberry Blush. This red tone may not be as bold as Viva Magenta, but it's great for combining a lighter colour palette.
Benjamin Moore recognizes that people are starting to bring colour back into their homes, and they hope homeowners use this charismatic shade of red for an extra pop of colour they might be missing.
Another example is Sherwin Williams, which picked Redend Point as its colour of the year. Red is the colour to watch this year! Although not a dynamic colour, Redend Point is the right amount of beige and blush not to be considered a neutral hue.
"Redend Point was inspired by the idea of finding beauty beyond ourselves. It is a heartening hue that invites compassion and connection into any space," says Sue Wadden, the Director of colour marketing at Sherwin Williams.
Lastly, the paint company, Krylon, handpicked Spanish Moss as their colour of the year for 2023. Spanish Moss, according to Krylon, is supposed to represent a vintage look, meaning anything can be made new again with their restorative green colour.
Inspired by warm and cool accents, like Viva Magenta, this colour of the year is a shade that feels comforting and reassuring. This sentiment is in the hopes that we find contentment in our future, thanks to the reassurance found in our past.
What's Next?
As mentioned before, Viva Magenta is not for the faint of heart. It is a colour meant to make a statement in your home and hopefully revive the lost excitement you once had for your room.
With that being said, do you have the personality for Viva Magenta?
You can start by checking out our complimentary design services to see how Viva Magenta can work in your home. Working with an interior designer like Mary Lee can help relieve the stress of doing it yourself and make the process seem effortless.
Visit us at any of our Kingston & Ottawa locations or book an online appointment to talk to a design consultant if you have any questions or concerns.
If you're looking for some inspiration from La-Z-Boy, check out our Pinterest Board dedicated to Viva Magenta!
Related Articles:
Design Trends to Look Out For in 2023
Product Info Request
Please provide us with your name and email and we'll get back to you as soon as possible regarding this item.