Top 5 Interior Designers in Kingston, Ontario
November 11, 2022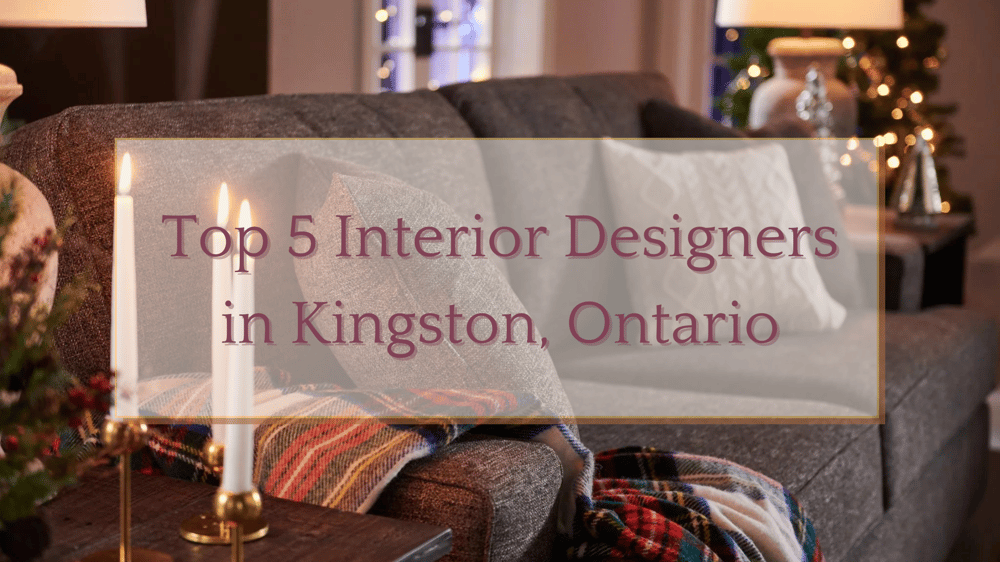 Est. Reading Time: 5 Mins
Sometimes designing a room can be challenging without a clear vision. When considering a new design for a room, you need to know what kind of style speaks to you.
Are you someone who loves a modern or traditional look? Maybe you're someone who knows exactly what aesthetic they want, like an Industrial or Parisian design, but you aren't sure what you need to do to get there.
Consider an interior designer to ease some of your design anxieties. Not only can an interior designer help pick furniture and home decor to match your style, but they will also help choose a coordinated colour palette to create an aesthetically pleasing room.
At La-Z-Boy Ottawa & Kingston, we offer a complimentary interior design service. Although we have very talented designers, we understand that our design services might not be right for everyone.
Mary Lee Smyth, the interior designer at La-Z-Boy Kingston, tells us that there are plenty of interior designers in the Kingston area to choose from. "I have worked with many of them and I have never had a terrible experience with any of them."
With the help of Mary Lee's interior designer knowledge, we have compiled a list of interior designers you can consider checking out if you need help putting a room together.
The following designers are listed in alphabetical order.
In This Article…
1. Design by Angela
The first designer on our list is Design by Angela, named after the owner, Angela. As an interior designer, this company dedicates their craft to "create kitchens, bath, and living spaces that combine clean, classic designs with the 'wow' factor."
Design by Angela does not have a showroom. Instead, she relies on other furniture stores that she likes to find the proper furniture and decor pieces, ultimately bringing the client's request to fruition.
Given this, Angela's services are fee-based, meaning it depends on the quality of furniture and decor items she picks out, which affects the overall cost of her services.
Design by Angela also offers a wider scope than the other interior designers on this list. Not only does she offer residential interior design services, but she also provides commercial services for local businesses and home staging for houses that are on the market.
Location:
2. Jolie Home
Next on our list is Jolie Home, another locally owned and operated Kingston design company. Owned by couple Lisa & Peter since 2015, these two hand-select Canadian-made custom furniture, fabrics, leathers, and woods for any style you wish.
Their interior design services include a 1-hour design consultation to measure the space and determine furniture selection, a floor plan layout, an in-store presentation of the room design, and furniture provided by Jolie Home, all for $250. Furniture and decor purchased within these services come at an additional cost.
Their interior design services aim to create a stunning and timeless home that is "tres jolie."
Location:
3. Reid & Siemonsen Design Group
Up next is Reid & Siemonsen, a small design group of fewer than 10 workers that have been working in Kingston for quite some time.
Created in 1994, the concept behind this well-known local group was to "create a business that offered a full spectrum of unique interior design services all in one convenient location."
Mary Lee says that she has worked with Reid & Siemonsen a lot in the past. "What they do is they come to your house and they have samples of fabric and wood that customers can choose from and they use that knowledge to choose furniture and home decor items," she says. These furniture and decor items can come from their showroom or other retailers.
Reid & Siemonsen offers full design services that cater to those looking for a complete room or home design. This includes anything from artwork, lighting, furnishings, colour coordination, and much more.
Mary Lee says this service is not inexpensive. According to one of their designers, the set fee for full interior design services is $150/hour, which does not include purchasing furniture or decor items.
Location:
4. Stone & Associates Interior Design
Drawing itself away from the other designers on this list is Stone & Associates Interior Design. This design company was founded in 1978 and specializes in four main design areas: home design, office design, retail design, and condominium development.
Even though they split these services evenly, Mary Lee says, "Their primary focus tends to be commercial design."


According to their website, every project "receives the same high level of creativity, professionalism, attention to detail, and commitment to quality."
Even though they are based in Kingston, Stone & Associates has worked in other areas, such as Toronto, Ottawa, New York, and even Los Angeles.
Stone & Associates has an intricate design process where they act as if no two projects are identical. Because of this, they can go into a project with an open mind, with sketches of the room and working to see what they can do to create a fantastic space.
There is, unfortunately, no cost associated with their services due to their services being dependent on how big the project is. They also source all of their furniture and decor items from exterior retailers.
Location:
5. Taylor Dawson Designs
Last but certainly not least, on our list is an independent designing company called Taylor Dawson Designs. Founded by, you guessed it, Taylor Dawson, Taylor Dawson Designs work under the fundamental design philosophy that "everyone has their own unique taste."
"Throughout my career, I have learned that the best way to create a quality design is to cater to the specific requests of my clients, and to go out of my way to make sure that the work I do is a reflection of their own tastes and preferences." - Taylor Dawson
Taylor Dawson offers design services for any room of the house. Clients can choose between a simple design consultation ($400 for 2hrs), a colour consultation ($250 for 1½ hrs), or an hourly rate for the full interior design service ( $150 an hour).
Taylor Dawson Designs also has a local collaborating package with Jolie Home, which is listed above. This package includes furniture and decor selections from Jolie Home. The collaboration package is the same as Jolie Home's interior design services mentioned above:
A 1-hour design consultation, floor plan layout, an in-store presentation, and furniture provided by Jolie Home. This collaboration package is, once again, $250.
Location:
Interior Design Services at La-Z-Boy Ottawa & Kingston
At La-Z-Boy Ottawa & Kingston, we also offer complimentary interior design services at no extra charge. Kingston's La-Z-Boy offer design services from the talented Mary Lee Smyth, who has been working for La-Z-Boy for 5 years now but has been an interior designer for almost 5 decades.
Because Mary Lee has been in the business for so long, she knows exactly what works in a room and what doesn't. "What you're gonna hear from me is honesty," she explains.
Mary Lee, along with our other La-Z-Boy interior designers, helps clients in any capacity. Whether in person or virtually, each interior designer dives deep into each client's brain by asking questions about the layout of their home and what is furnished in it.
With the help of our design consultants, our interior designers can pick out the perfect furniture and decor items that will work well in your home.
To learn more about What to Expect from Our Interior Design Services, check out this article for our step-by-step process.
What's Next?
Now that you're aware of what kind of interior designers are in Kingston, as well as a glimpse of what La-Z-Boy offers, it is now up to you to decide which one is right for you.
If you think you might enjoy our interior design services, make sure to stop by any of our Ottawa & Kingston locations to get started. You can also book an appointment before coming in.
If you're interested in learning more about our furniture products, take a look at some of our best-selling furniture articles:
Related Articles:
How Much Does an Interior Designer Cost
Product Info Request
Please provide us with your name and email and we'll get back to you as soon as possible regarding this item.